The Best Chocolate Loaf Cake – Made with cocoa powder and melted chocolate, this is an intensely rich, moist and melt- in -your- mouth chocolate cake.  This cake can be eaten on it own or spread with creamy chocolate mascarpone. It is perfect for small gatherings or celebrations. 
Chocolate cake shouldn't just be for celebrations. You should be able to treat yourself  to chocolate cake without all the fuss. Especially on cool autumn days with a cup of tea or coffee.
Over the last year  I have been testing out this chocolate cake recipe and I am very happy with the results. This cake is not only easy to make but also produces a soft, chocolatey, delicious cake.   
Key Ingredients for making this Chocolate Loaf Cake
This amazing cake is made using some simple key ingredients.
Flour- All-purpose or plain flour is all you need for this.
Brown & White Sugar- Adds sweetness to the cake.
Espresso powder– Espresso enhances the flavour of the chocolate. It is optional, but I definitely recommend this.
Cocoa Powder– Use cocoa powder which contains potassium carbonate or Dutch- process cocoa powder. This type of cocoa is mellow in flavour and produces a darker richer cake.
Baking powder & bicarbonate of soda- Both of these ingredients give the loaf its rise.
Butter- Use room temperature unsalted butter to ensure that the ingredients mix together easily and also produce evenly baked goods.
Eggs- They keep the cake moist and add rich flavour to the cake.
Buttermilk- This contributes to the leavening of the cake and when combined with bicarbonate of soda gives the cake its rise. If you haven't got any buttermilk, make some by mixing 1 tablespoon of lemon juice or white vinegar with 250 ml (1 cup of milk and leave to stand for 10 minutes.
Vanilla Extract- Adds great flavour to the cake.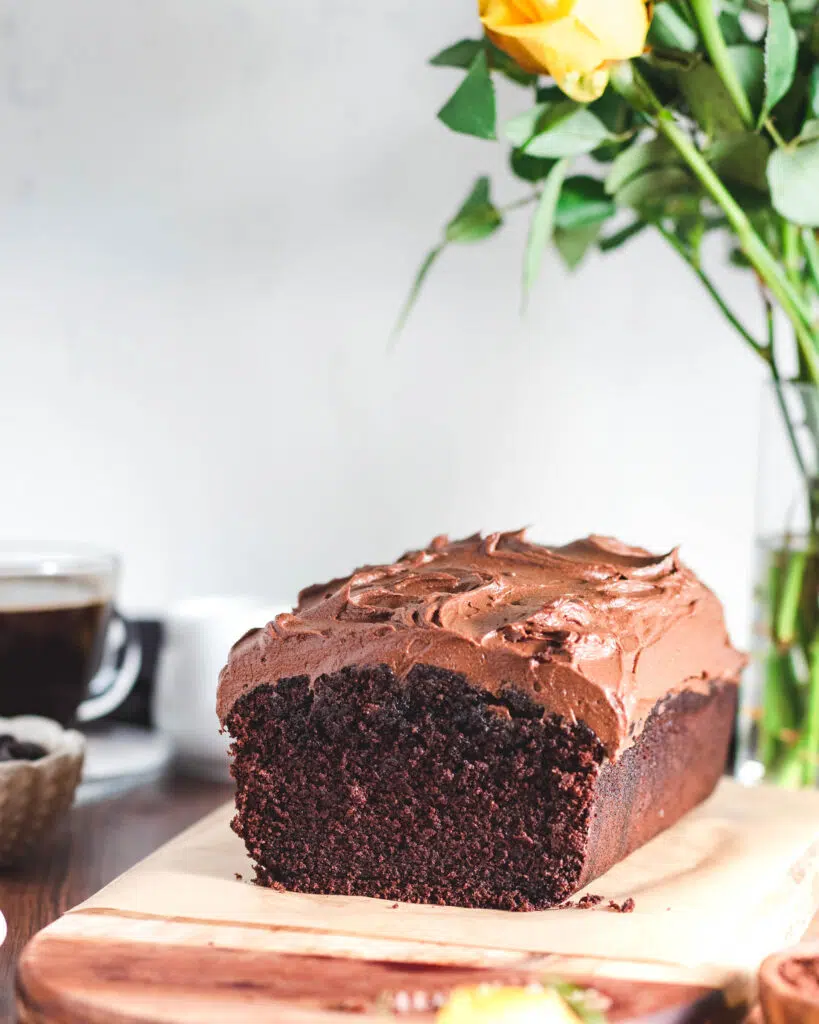 Let's get into the details for making this Chocolate Loaf Cake
Start the batter off by creaming room temperature butter and sugar until fluffy. Dairy ingredients combine easier when at room temperature  and will disperse more evenly into the batter. Melted chocolate ensures the cake is extra chocolatey and espresso powder elevates the flavour of the chocolate. Buttermilk aides in the rise of the cake. If you haven't got any, there is a recipe homemade version in the notes. 
Before pouring the batter into the loaf tin, I would recommend greasing and lining it with parchment or baking paper. This will prevent the cake from sticking to the tin and guarantee's your cake coming away from the pan perfect.
Frosting for this Chocolate Loaf Cake 
This cake is delicious enough to be eaten on it's own, however I frosted it with this creamy chocolate mascarpone cream. It spreads just beautifully over the cake.  Whip together mascarpone cream,  icing sugar and melted chocolate to make the frosting
For more chocolate cake recipes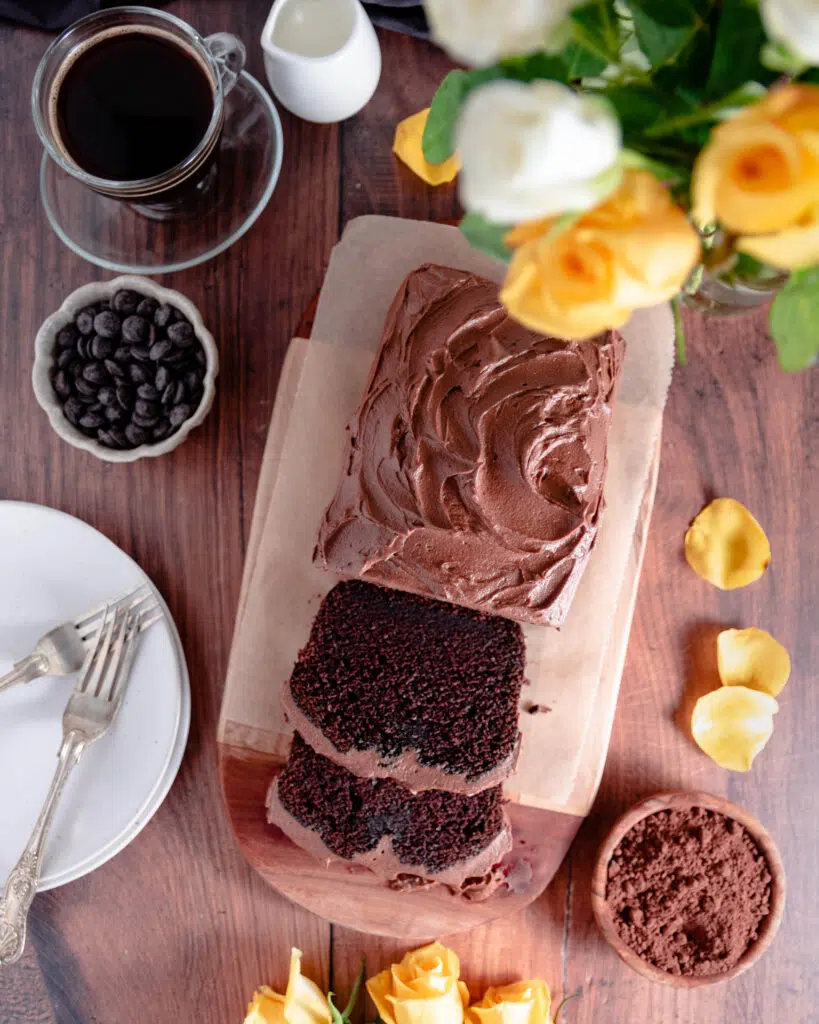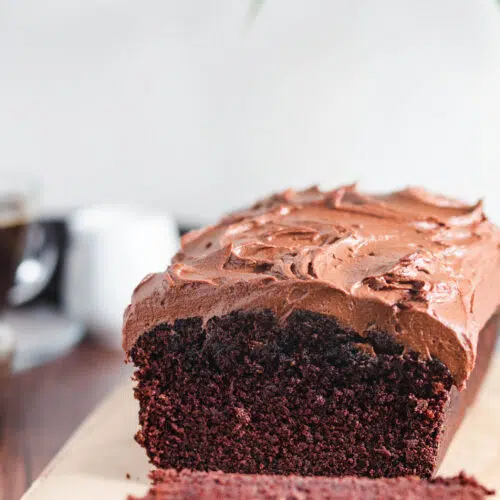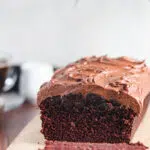 The Best Chocolate Loaf Cake
Made with a combination of cocoa powder and chocolate calets, this is an intensely rich chocolate cake. This cake is perfect for small gatherings and celebrations. This the only chocolate loaf recipe you will ever need.
Print
Pin
Rate
Ingredients
175

grams

(¾ cup) unsalted butter, room temperature

150

grams

(¾ cup) granulated or caster sugar

50

grams

(¼ cup) brown sugar

3

eggs, room temperature

1

teaspoon

vanilla extract

50

grams

dark chocolate, melted

180

grams

(1½ cups) plain or all purpose flour

50

grams

(¼ cup) cocoa powder

½

teaspoon

salt

1

teaspoon

bicarbonate of soda or baking soda

½

teaspoon

baking powder

120

ml

(½ cup) buttermilk, room temperature

1

teaspoon

espresso powder

120

ml

( ½ cup) hot water
Chocolate Mascarpone Cream
150

grams

(5.3 ounces)n dark chocolate, chopped

150

grams

(5.3 ounces) mascarpone cheese

50

grams

(½ cup) icing sugar, sifted

½

teaspoon

vanilla extract
Instructions
Preheat the oven to  160°C Fan/180°C/350°F. 

Lightly grease a 9 X 5" loaf tin, Line the bottom and sides with parchment paper, leaving an overhang on the sides for easy removal of the loaf after baking.

In a bowl, sift flour, cocoa powder, baking powder, baking soda and salt. Set aside.

In the bowl of stand mixer, beat butter and sugars until light and fluffy, about 5 minutes. Add eggs one at a time, beating well after each addition and occasionally scrapping down the sides of bowl. Add in vanilla extract.

Mix in melted chocolate. With the mixer low, alternately add the flour mixture and buttermilk, beginning and ending with flour mixture.

Dissolve espresso in hot water and stir into the cake batter until incorporated.

Pour batter into the lined loaf tin. Put in the oven for 45-50 minutes or until a toothpick inserted into the cake comes out clean with a few crumbs sticking to it.

Leave the cake to cool in the pan for 10 minutes and then using the parchment paper lift the cake out of the pan. Let it cool down completely on a wire rack .
Chocolate Mascarpone Cream
Place the chopped chocolate and cream in a bowl safe bowl and microwave in 30 second bursts, stirring, until melted and smooth. Set aside and leave to cool before using.

Beat mascarpone cream and icing sugar on low speed until smooth.

Add the melted chocolate and whisk together until the frosting holds peaks. If the frosting is runny, cover with cling film and refrigerate for 1 hour before icing the cake.

Spread the top of the cake with the frosting.
If you made this recipe, I would love to hear from you.
Tag Bakes By Chichi on Instagram or hashtag #bakesbychichi