Chocolate Cake soaked with Chocolate Syrup and filled with whipped cream and crushed oreo cookies.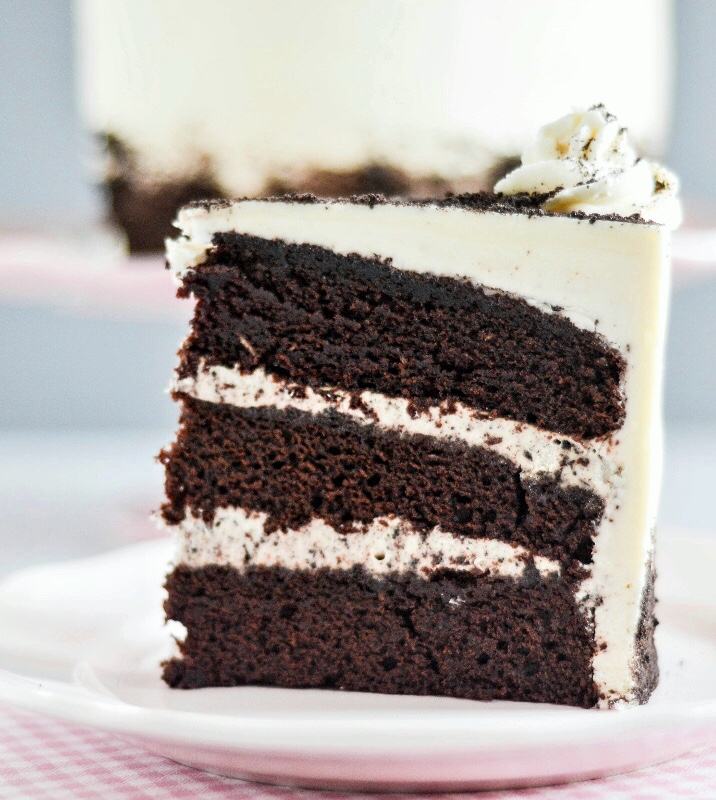 My blog is one year and a bit. I can't believe how quickly a year has come. It has been an incredible journey. Funny thing is i have always been social media shy. So for me to start a blog was a big deal, a year ago i wouldn't even share a picture of cake i made on facebook. Until Toyin, a wonderful incredible lady challenged me to start blogging and set up my facebook page. When i say incredible, Toyin is all that and more. She has a website called Thirty after Thirty, go take a look. My family have had a year of being my unpaid tasters, prop holders and many many unpaid roles. I owe them a massive thank you for being so supportive, for sharing my posts and spreading the word. They encouraged me not to give up. I am grateful for the all the people who took the time to visit my blog, thank you for your comments and the shares on social media. Thank you to the all the talented people out there who have shared tutorials, beautiful creations and delicious recipes.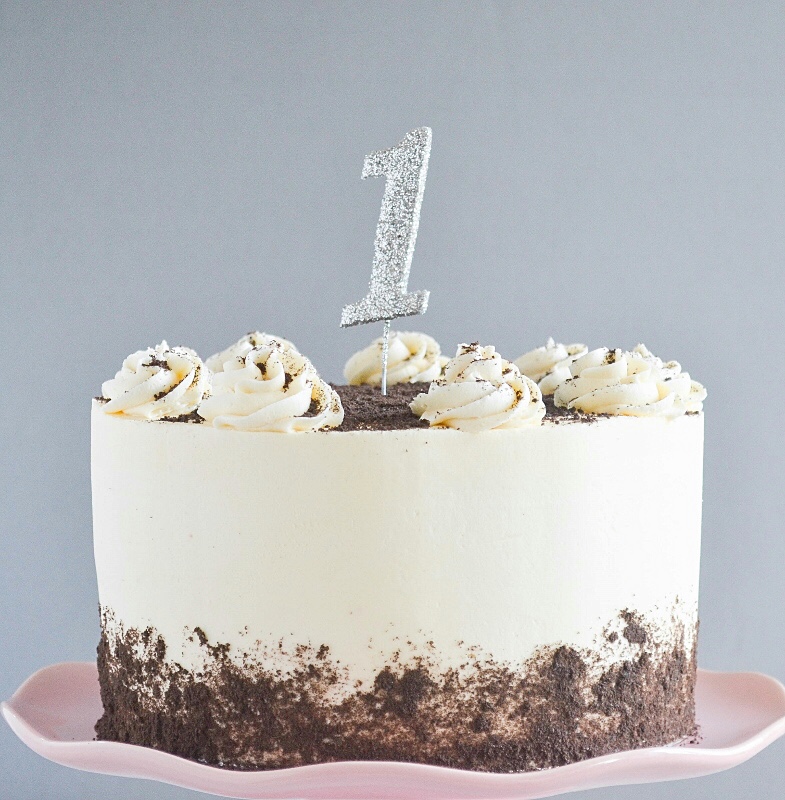 It is layers of rich chocolate cake, soaked in chocolate syrup and filled with whipped cream and crushed cookies. With each bite you get moist cake, creamy filling and a slight crunch from the chocolate cookies. The idea for this cake came from my daughter Esme and her friend. I took my favorite chocolate cake recipe and made some variations. Brown sugar was substituted for white sugar. The brown sugar aids in producing a more moist cake and the flavour from the molasses in the brown sugar compliments cocoa in the cake. The layers of chocolate cake was dabbed with chocolate syrup using a pastry brush when i was stacking and filling the chocolate cake. For the filling of the chocolate cake i made cookies and cream frosting. Cream and icing sugar was whisked till stiff peaks formed and crushed chocolate cookies folded in . To stabilise the cream melted gelatin was added. The gelatin stiffens whipped cream and makes the it hold shape longer. The cookies and cream filling is light , fluffy and delicious. To finish off i frosted the outside of the chocolate cake with vanilla buttercream.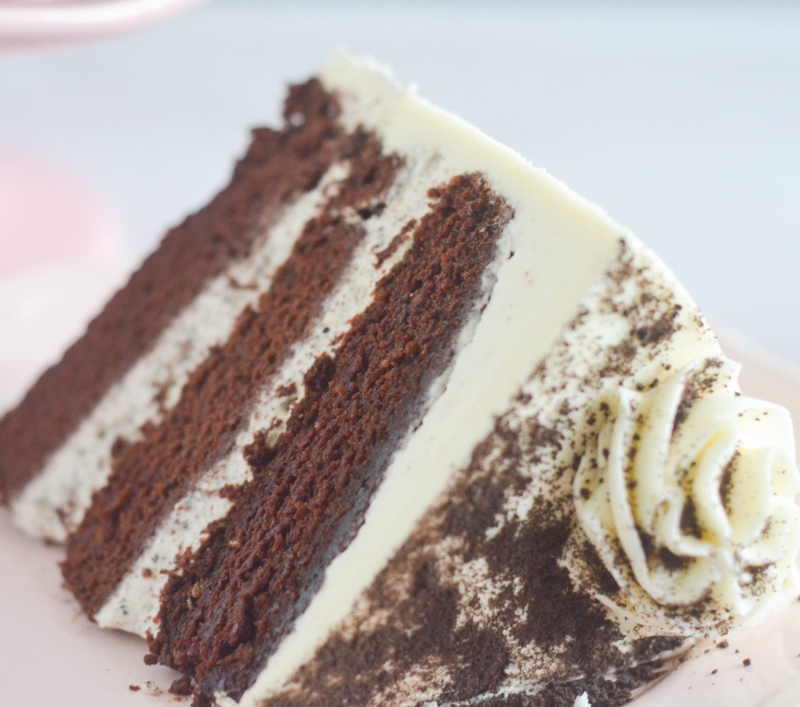 This blog has evolved into so much than i thought it would be. It started out as Cakes by ChiChi and i decided to make a slight name change to Bakes By ChiChi. Here's to celebrating Bakes By ChiChi.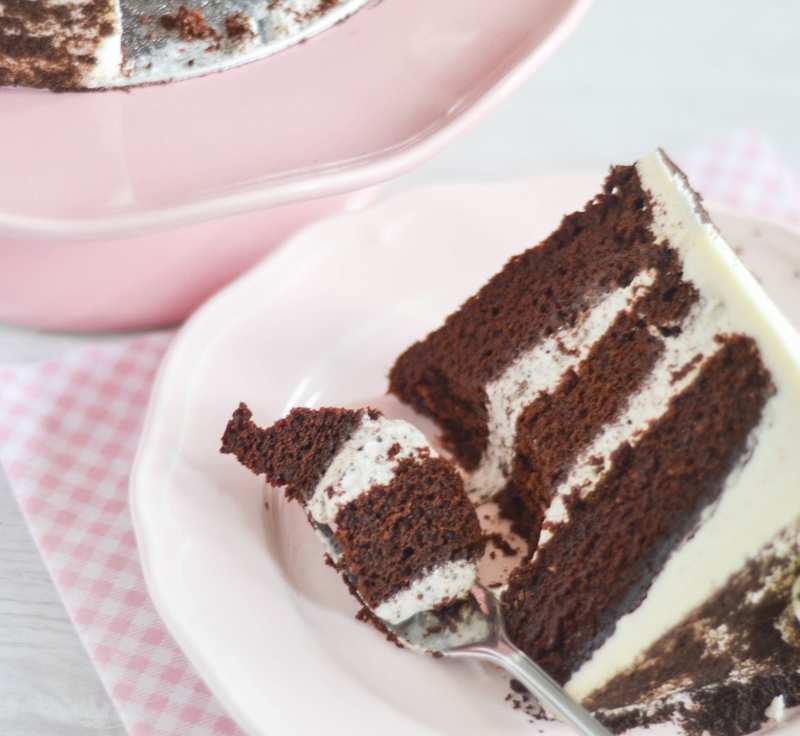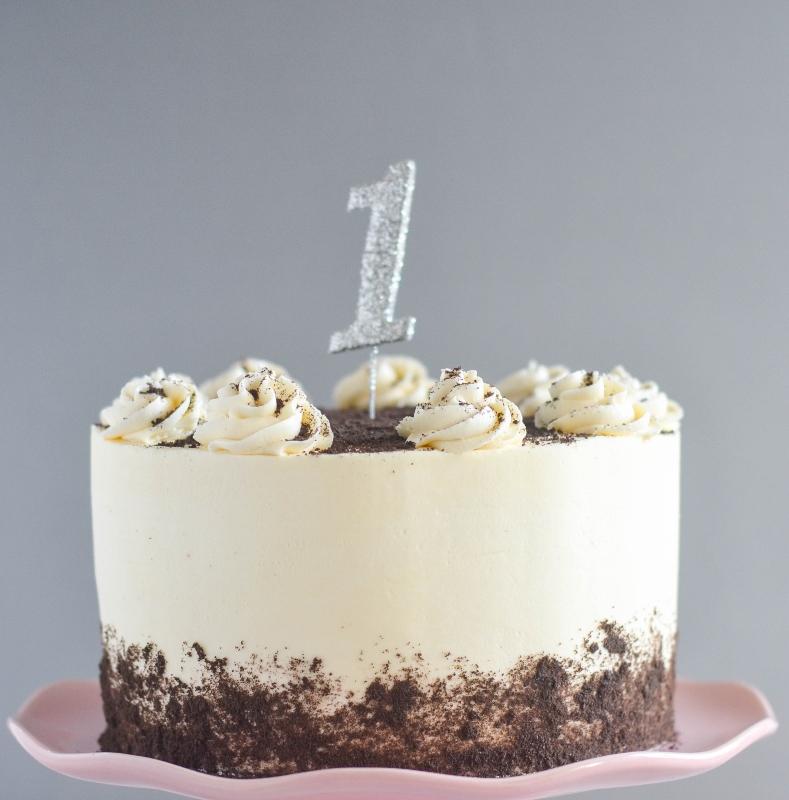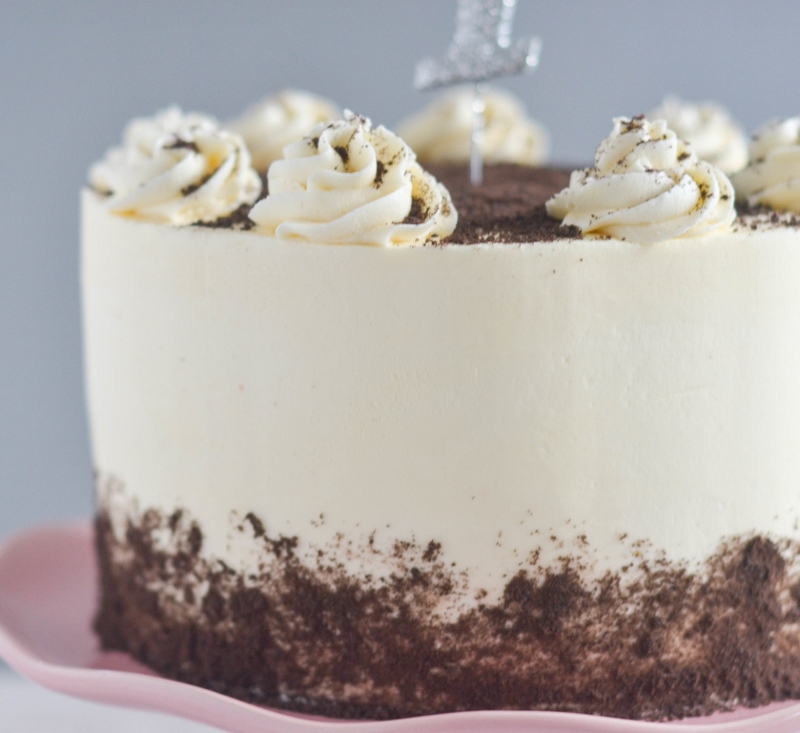 Stay up to date with Bakes by ChiChi on:
Facebook | Instagram | Pinterest | Google Plus | Bloglovin
Cookies and Cream Filled Chocolate Cake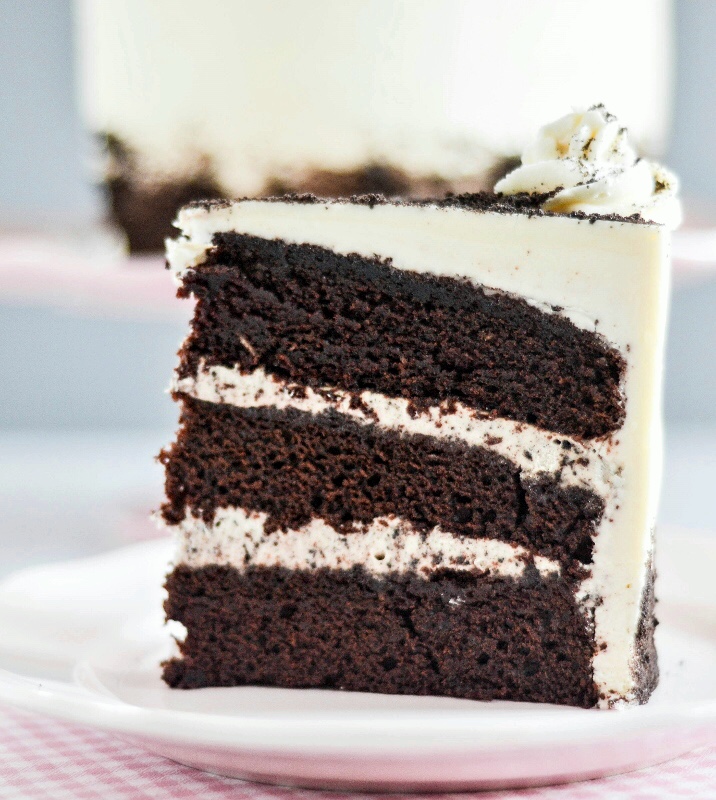 Ingredients
Chocolate Cake

210g (13/4 cup) all purpose or plain flour
270g (13/4 cups) light brown sugar
120g (1 cup) cocoa powder
11/2 teaspoons bicarbonate of soda
11/32 teaspoon baking powder
1/2 teaspoon salt
2 eggs
120ml (1/2 cup) sunflower oil
2 teaspoons vanilla extract
120ml (1/2 cup) milk
120ml (1/2cup) sour cream
240ml (1 cup) hot water

Chocolate syrup

50g (1/4 cup) sugar
60ml (1/4 cup) water
2 teaspoons chocolate extract

Cookies and Cream Frosting

480ml (2 cups) whipping cream
50g (1/2 cup) icing sugar, sifted
2 teaspoons gelatin
30 ml (1/8 cup) cold water
100g crushed oreo cookies (without cream in the middle)

For Vanilla Buttercream

240g (1 cup) unsalted butter, room temperature
500g (5 cups) icing sugar
60ml (1/4 cup) whipping cream
2 teaspoons vanilla extract
Instructions
Chocolate Cake
Preheat oven to 160 degrees Celsius. Grease and line the base and sides of three 8 - inch round cake tin with greaseproof paper.
In the bowl of your stand mixer sift together cocoa powder, sugar, flour, bicarbonate of soda, baking powder and salt.
In a measuring jug or bowl combine eggs, oil, milk, sour cream and vanilla extract. Add sour cream mixture to flour mixture and beat on medium speed until smooth and incorporated. Stir in hot water.
Divide chocolate cake batter equally between the cake tins.
Bake for 30 minutes or until a toothpick inserted in the centre comes
Cool in cake tin for 10 minutes before then invert onto rack gently, discard parchment paper and cool completely
Chocolate Syrup
In small saucepan over medium high heat, bring water and sugar to a boil.
Cook until mixture thickens slightly, about two minutes.
Remove from heat, stir in chocolate extract and let cool to room temperature.
Cookies and Cream Frosting
In a small bowl, combine gelatin and cold water; let stand until it blooms.
Microwave for 5 seconds,until the gelatin dissolves.
Leave to cool (do not allow it to set).
Whip the cream with the icing sugar, until slightly thick.
While slowly beating, add the gelatin to whipping cream.
Whip at high speed until stiff.
Fold in crushed oreo cookies
For buttercream frosting
In bowl of stand mixer beat butter until light and creamy , about 5 minutes.
Add icing sugar and mix well until combined. As frosting thickens add whipping cream and beat until frosting is light and fluffy. Add vanilla extract and food colouring and beat until evenly incorporated.
To assemble chocolate cake
Using a serrated knife level each cake by cutting the domed top.
Spread a thin layer of icing on your cake board. .Place one layer of cake, flat side down on top . Use a pastry brush and dab chocolate cake with chocolate syrup and plop a big dollop of cookies and cream frosting in the middle. Spread the frosting carefully. Once it is nice and flat, stack the second cake, flat side down . Brush with chocolate syrup and spread another generous amount of cookies and cream, then place final cake, flat side down and brush with chocolate syrup
Spread a thin layer of frosting on the sides and then top of cake. It helps to use a turntable when frosting a cake. Hold a scraper flat against the side of the cake and then turn the turntable and scraper to make a nice, smooth coat of icing. Smooth the top of cake with scraper, drawing the peaks o the top edges of cake into the centre.
Chill crumb coated cake in fridge for 30 minutes until buttercream is nice and firm.
Once cake is chilled, cover evenly with buttercream using an off set spatula and then use a scraper to smooth the edges. Pipe decorative borders and sprinkle with crushed cookies if desired.
Notes
Wrap cake in cling film and chill in the fridge overnight before cutting and icing. It is always best to work on a chilled cake. Use a turn table to easily rotate the cake whilst icing and smoothing Crumb coat is a thin layer of icing applied to seal in the crumbs For smooth edges i use a bench scraper
3.1
https://bakesbychichi.com/chocolate-cake-filled-with-cookies-and-cream/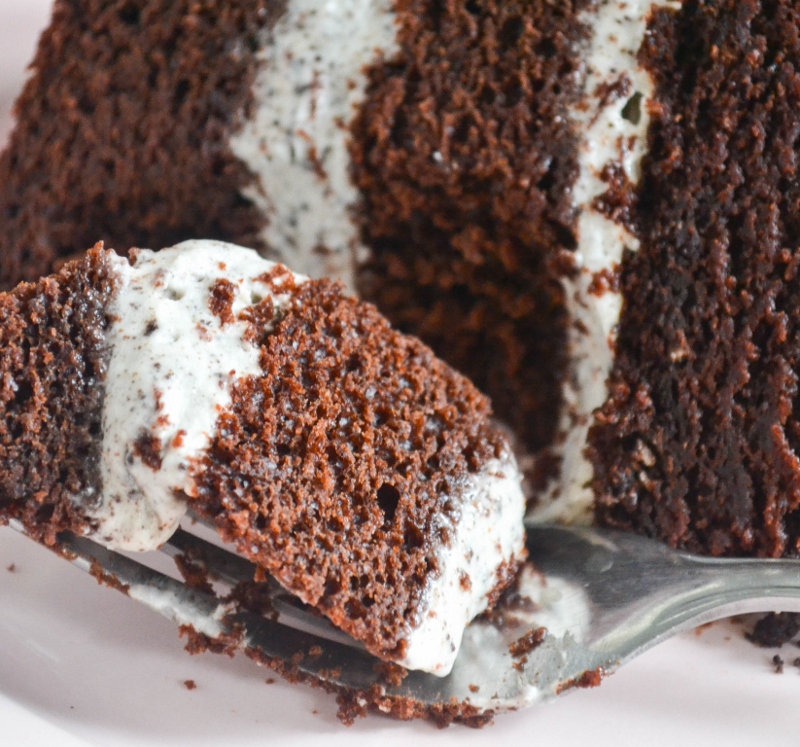 More layered cake recipes:
Vanilla Confetti Cake with Whipped Vanilla Buttercream