Moist layers of chocolate cake filled with satiny vanilla swiss meringue buttercream and decorated with an pretty ombre design.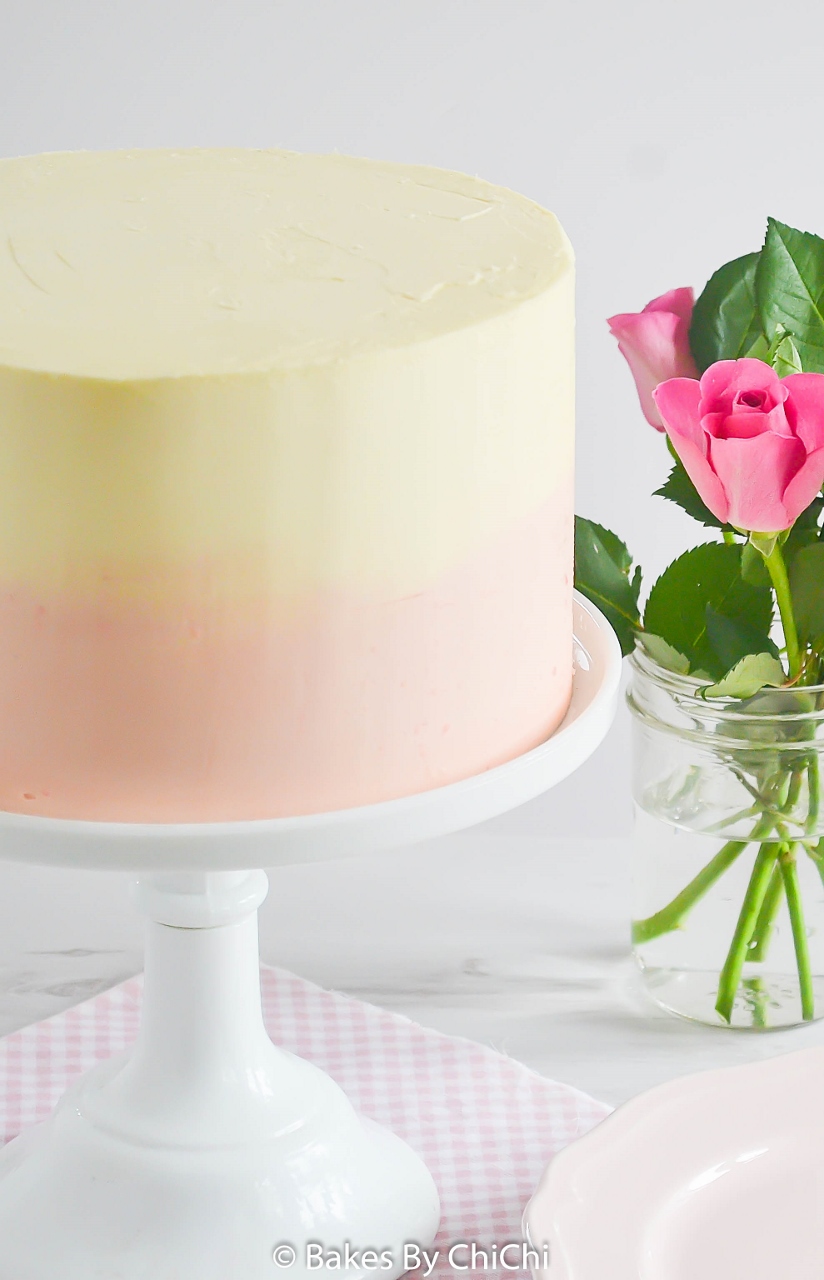 It feels like I have been on a cake hiatus for a while. And this cake is my welcome back. I love a good chocolate cake. To a me a good chocolate cake should be rich, moist and extra extra chocolatey. And today's recipe is all of that.
Let's talk about how this chocolate cake came together. You will need cocoa powder, for that really dark and rich taste. And also some melted chocolate, for extra chocolatey-ness. What I also added to the cake was 1 teaspoon of coffee extract. The extract elevates the chocolate flavour . If you haven't got coffee extract you can use also brew some strong coffee and use 1 teaspoon of it.
Brown sugar was another important ingredient needed in making this chocolate cake. I love the moisture and flavour it adds to baked goods.
You will also need some buttermilk. Buttermilk is one of the reason's the cake crumb is so moist. The acidity of the milk combined with baking soda in a recipe helps add a lightness and tenderness to the cake. If you are out of buttermilk, you can make yours. Measure out a 1 cup or 240 ml of milk and to that add 1 tablespoon of fresh lemon juice. Stir and let sit for about 5- 10 minutes. Your milk will be curdled and ready to use.
The recipe for the chocolate cake is for a four layer cake. I baked an extra layer of chocolate to add more height to my cake. I seem to love tall cakes. 🙂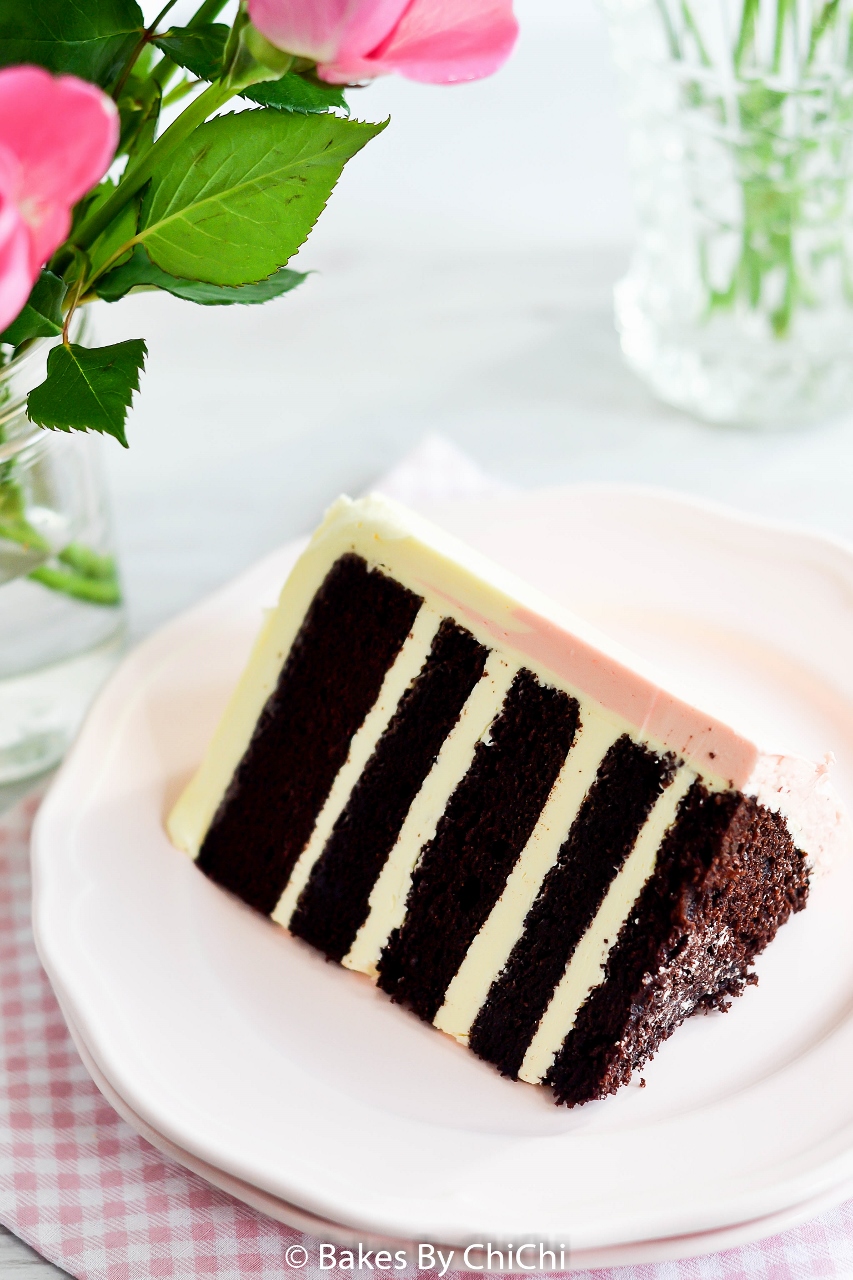 And finally the frosting. The chocolate cake is filled generously with satiny not too sweet vanilla swiss meringue. Swiss meringue buttercream is my all time favourite frosting for decorating cakes. It goes on so beautifully. The buttercream starts off with a whisked sugary meringue base. The sugary base is created by heating and whisking white sugar and egg whites over a simmering water on the stove (bain marie) until the sugar melts, before whipping the meringue. And then lots and lots of butter whipped into it. When making swiss meringue it is important that all equipment used are grease free. So before you start, get a paper towel, soak with lemon juice and clean all equipment. Any sign of grease and we won't have the 'meringuey' bit. Once the buttercream is made you are ready to fill and frost your cake.
The design of the cake is pretty easy. I went with a pink and white ombre cake design. Some of swiss meringue was tinted with a little drop of sugarflair pink colour paste(or with a colour of your choice). When using colour paste a little goes a long way. Stack and fill your cake with plain swiss meringue. Then apply a thin layer of frosting to the cake to hold any loose crumbs in and chill for up to 30 minutes. Frost the top and half of cake with un-tinted frosting and the bottom with pink frosting and smooth.
If you are a visual person, I have a helpful video here that shows how to fill and frost a cake.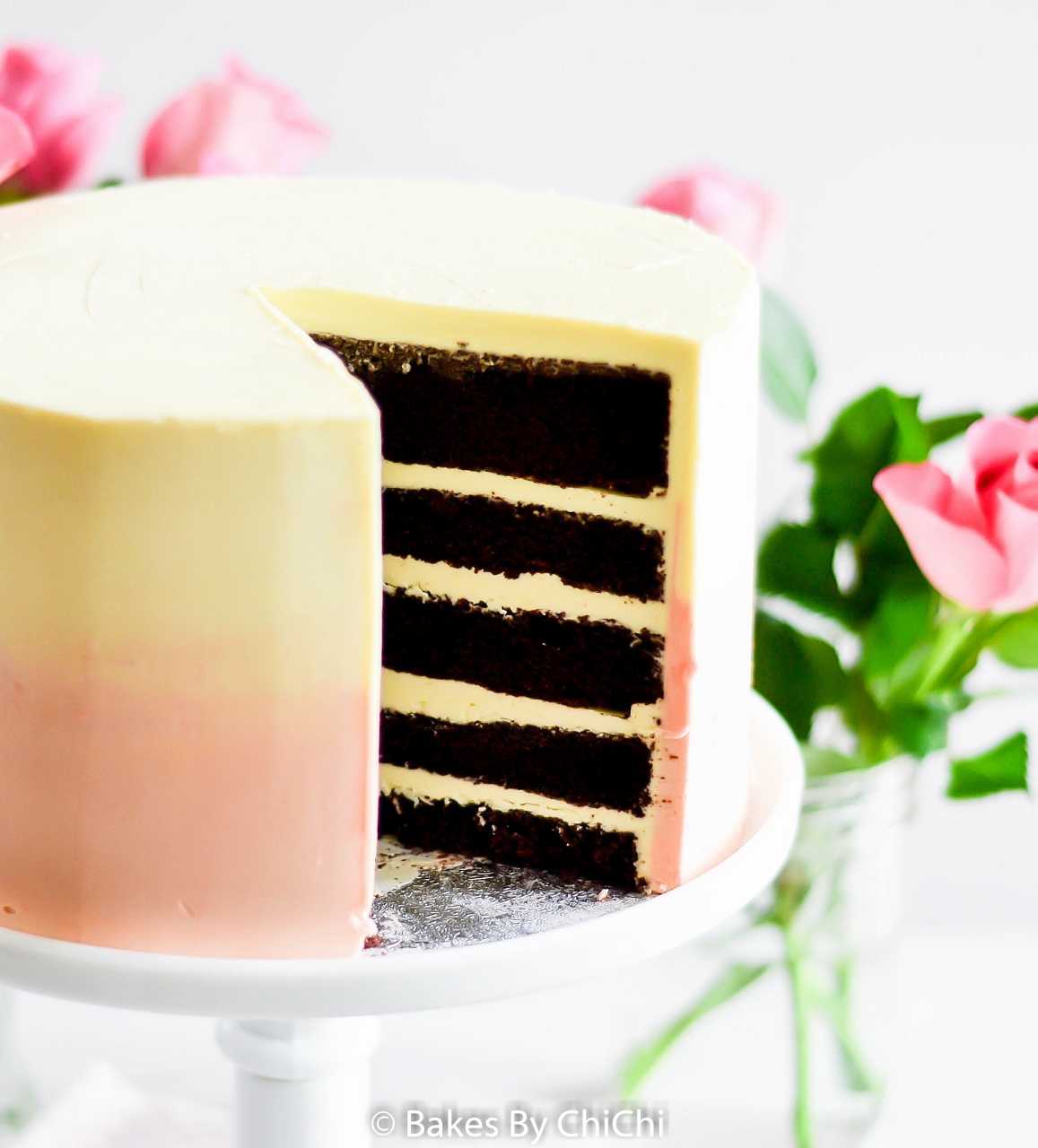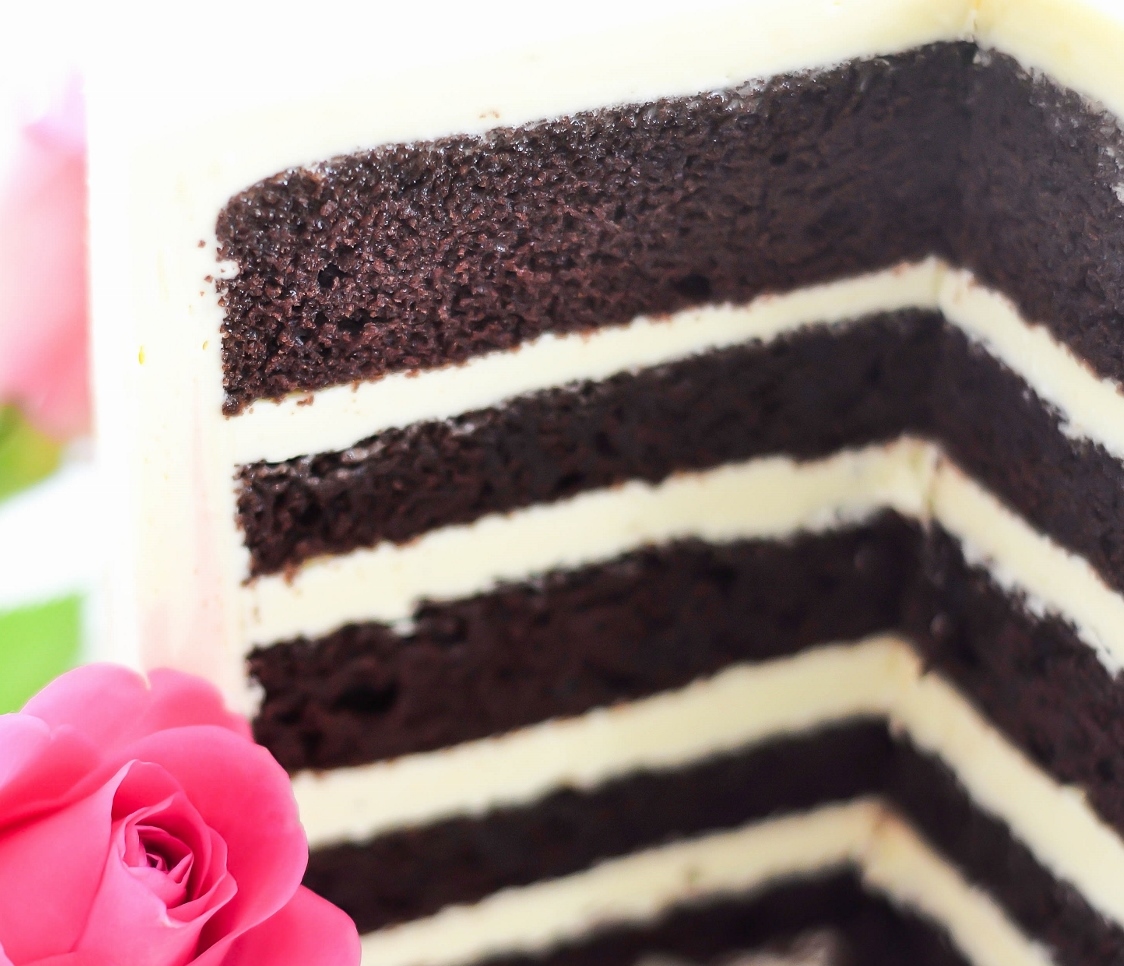 I hope you enjoy this cake as much as we did.
Stay up to date with Bakes by ChiChi on:
Facebook | Instagram | Pinterest | Google Plus | Bloglovin
or you can subscribe to my weekly newsletter
Chocolate Cake & Swiss Meringue Buttercream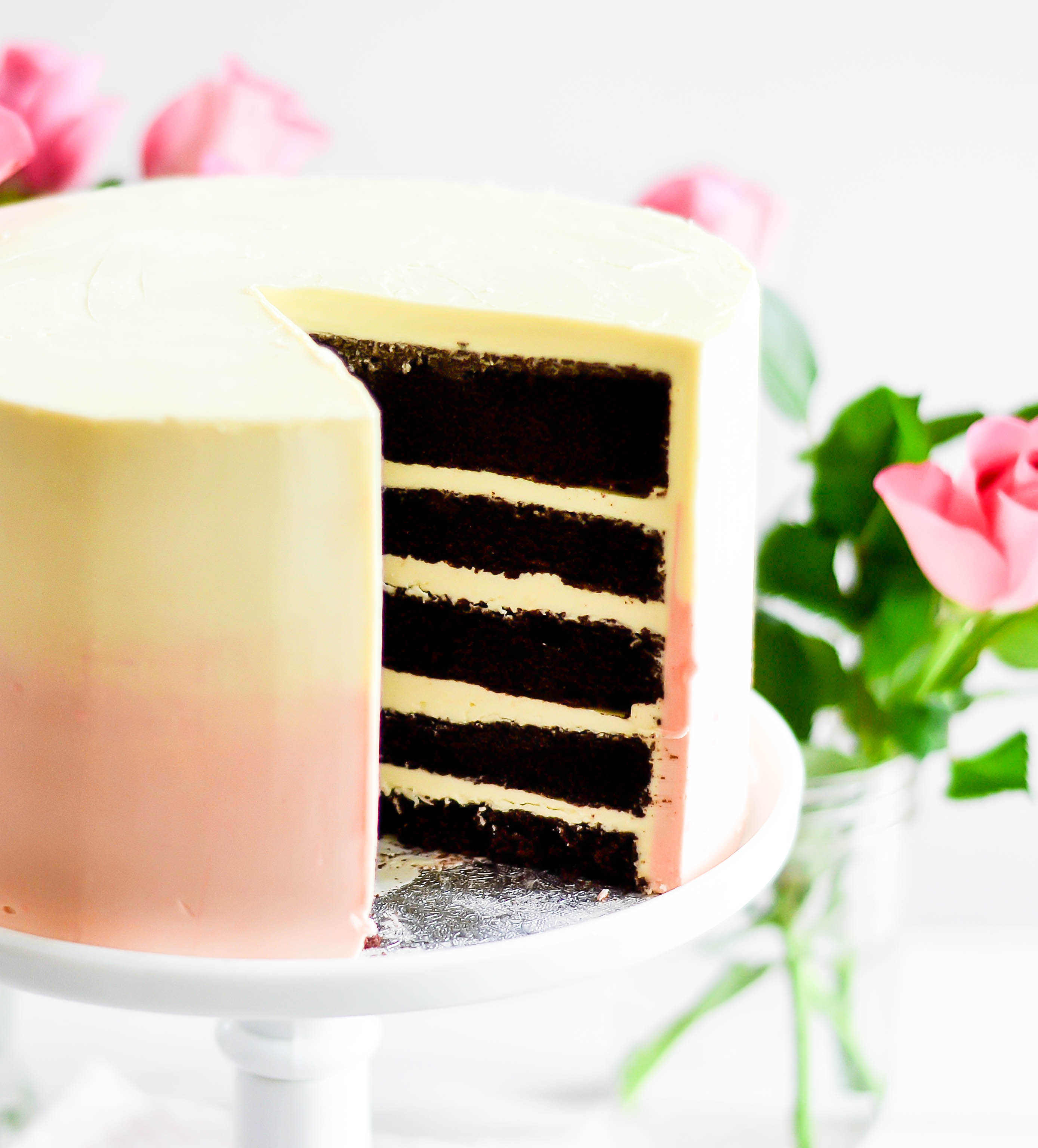 Ingredients
Chocolate Cake

112 g (4 oz.) dark chocolate, melted and cooled
270 g (1 1/2 cups) packed light brown sugar
240 g (1 cup) unsalted butter, room temp
4 eggs
1 teaspoon vanilla extract
1 teaspoon coffee extract
210 g (1 3/4 cups) plain flour
60g (1/2 cup) cocoa powder
1/2 teaspoon baking soda
1 teaspoon baking powder
1/2 teaspoon salt
240 ml (1 cup) buttermilk

Vanilla Swiss Meringue

450 g (15 large) fresh egg whites
750 g (3-3/4 cups ) sugar
1080 g (4 -1/2 cups) unsalted butter, cut into cubes and cool
4 teaspoons vanilla extract
pinch of salt
tiny drop of pink food colour paste (optional)
Instructions
Chocolate Cake
Preheat oven to 170 degrees celcius. Grease bottom and sides of 2 , 8 -inch round cake tins and line bottom and sides with parchment paper.
Microwave chocolate in 30 second bursts until melted, stirring in between bursts. Cool to room temperature.
In the bowl of stand mixer beat butter and brown sugar until light and fluffy, about 5 minutes.
Sift together flour, cocoa powder, baking soda, baking powder and salt, set aside.
Add eggs one after the other beating well after each addition. Add vanilla and coffee extract and beat until combined. Gradually add melted chocolate and beating until combined.
With mixer on low, alternately add the flour mixture and buttermilk, beginning and ending with flour mixture.
Divide batter evenly between cake tin. (I used a measuring cup)
Bake for 30 - 35 minutes or until tooth pick inserted in centre comes out clean. Leave to cool tin on wire racks for 10 minutes, then invert onto rack gently, discard parchment paper and cool completely.
Swiss Meringue Buttercream
Wipe bowl of mixer , attachments and whisk with a paper towel and lemon juice to remove any trace of grease.
In bowl of stand mixer combine sugar, egg whites and salt over a pot of simmering water. Gently whisk constantly until mixture is warm to touch and sugar has completely dissolved and or until temperature reaches 140 degrees F on a candy thermometer.
Using a whisk attachment starting to whisk until meringue is thick and glossy and completely cool, about 10 minutes.( Test by touching bottom of the bowl)
Switch to a paddle attachment and with mixer on low speed add butter cubes one at a time mixing well after each addition and beat until frosting is smooth. Add vanilla and beat on low speed until well combined.
To assemble cake
Using a serrated knife level each cake by cutting the domed top. And slice cake layer into two.
Spread a thin layer of icing on your cake board. Place one layer of cake, flat side down on top. Plop a big dollop of buttercream in the middle. Spread the frosting carefully. Once it is nice and flat, stack the second cake, flat side down. Do the the same for the third layer. And spread another generous amount of buttercream, then place final cake, flat side down.
Take some swiss meringue buttercream and tint pink or colour of your choice.
Spread a thin layer of frosting on the side and then top of cake. It helps to use a turntable when frosting a cake. Hold a scraper flat against the side of the cake and then turn the turntable and scraper to make a nice, smooth coat of icing. Smooth the top of cake with scraper, drawing the peaks o the top edges of cake into the centre.
Chill crumb coated cake in fridge for 15 - 30 minutes until buttercream is nice and firm.
Take some pink buttercream and spread a thick layer using an off set spatula, starting at the bottom of the cake. You want to spread the pink buttercream halfway up the cake.
Drop a big dollop of the plain buttercream on the top of your cake and using your spatula to smooth out over the top of the cake and down the sides. Going halfway down the cake.
Use a scarper to smooth the edges of the cake,(wiping off any excess buttercream)spinning your turn table at the same time.
Notes
Wrap cake in cling film and chill in the fridge overnight before cutting and icing. It is always best to work on a chilled cake. Use a turn table to easily rotate the cake whilst icing and smoothing. Crumb coat is a thin layer of icing applied to seal in the crumbs For smooth edges I use a bench scraper
3.1
https://bakesbychichi.com/chocolate-cake-swiss-meringue-buttercream/