This chocolate cheesecake cake has 2 layers of chocolate cake sandwiching a baked chocolate cheesecake and filled and frosted with Nutella frosting.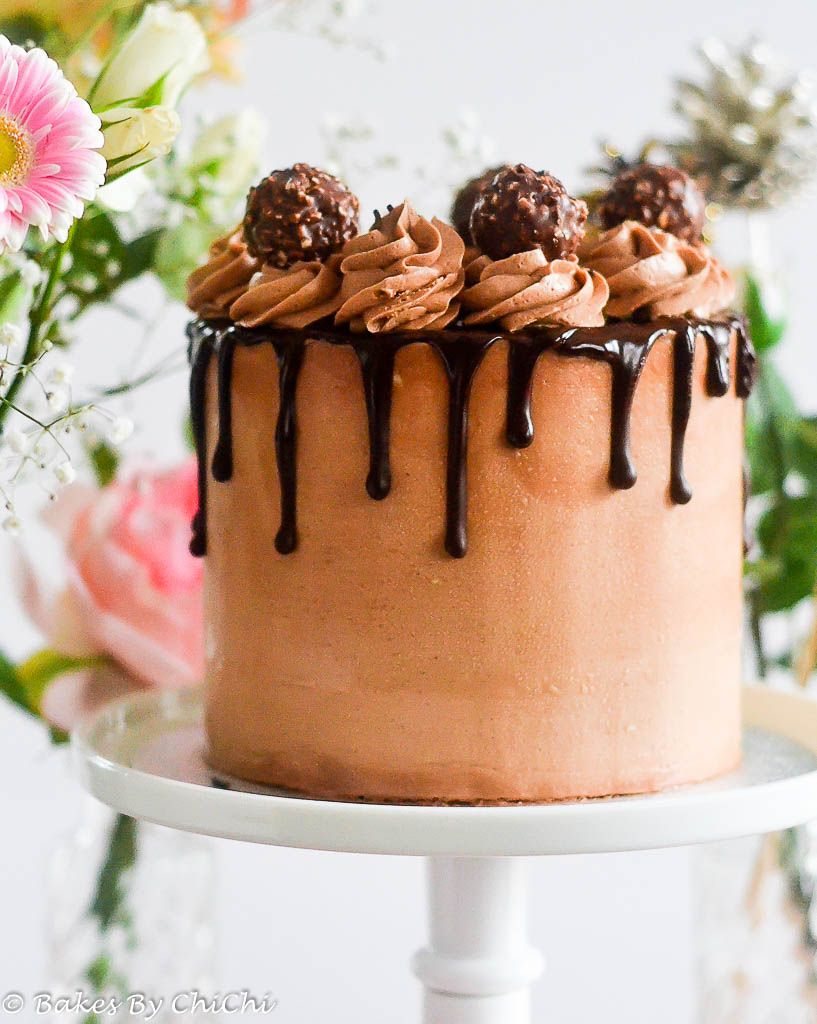 I love combining sometimes two, maybe three delicious desserts and turning them into one delectable dessert. It makes eating the dessert less guilt free. If you are a chocoholic, then this is just the dessert for you. A chocolate cheesecake cake with creamy delicious Nutella frosting.
The preparation of this chocolate cheesecake cake came together over the course of a weekend. There are three parts to this cake.
Chocolate Cake
Chocolate Cheesecake
Nutella Frosting
I recommend making parts of this cake in advance.
Make the chocolate cheesecake layer first because it has the longest baking and chilling time. This layer can even be made a week in advance. When baked and cooled, simply wrap the baking tin with cling film, pop in the freezer until you are ready to use it.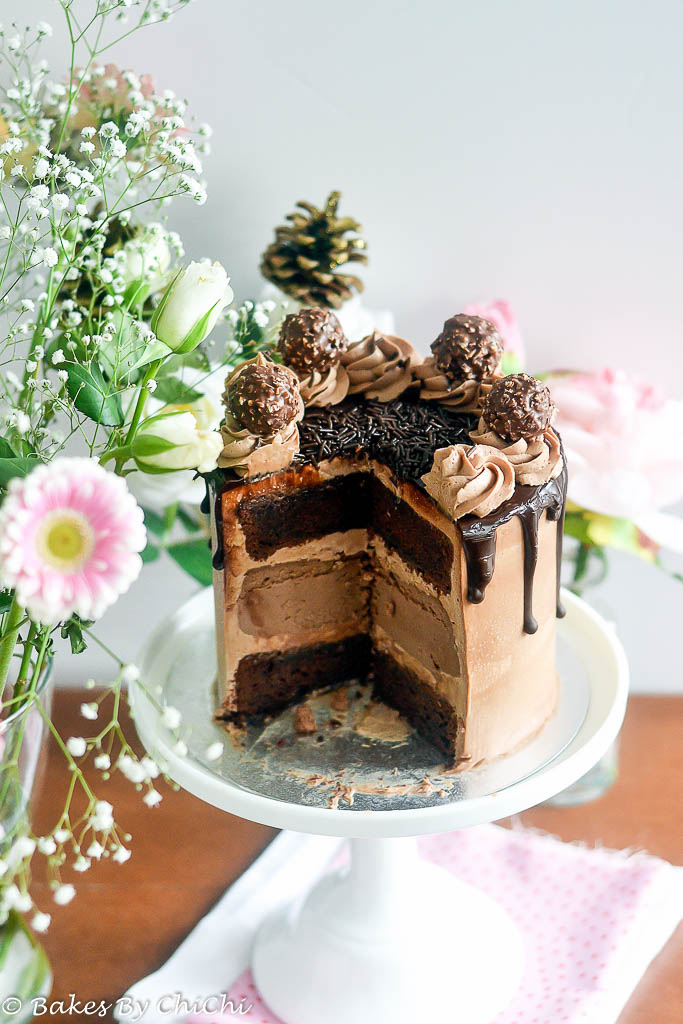 Next is the chocolate cake layer. I baked the chocolate layers the night before and chilled it overnight. Chilling the chocolate cake overnight will give the crumbs time to settle and make this soft chocolate cake easier to handle.
The final part of the prep work for this cake is the Nutella frosting. You can make the frosting just before assembling the cake. Once you have all three parts of the cake ready, it's just a matter of putting the cake together.
Now let's talk flavors.
The chocolate cake has a double dose of chocolate. I used a mix of cocoa powder and melted dark chocolate, to make this cake extra fudgy. The taste of the cake is pure chocolate heaven.
Buttermilk and brown sugar add moisture and flavor to the chocolate cake. The molasses in brown sugar make the chocolate soft and moist. If you haven't got any buttermilk at hand, make some by mixing in 1 tablespoon of lemon juice or white vinegar with 120 ml (1 cup) milk and leave to stand for 10 minutes.
Between the two layers of chocolate cake is chocolate cheesecake. Cream cheese, condensed milk, sugar, eggs, melted chocolate and vanilla extract create the decadent cheesecake layer. This layer is not for the faint-hearted. It is creamy, extremely rich and delicious.
The Nutella frosting is light, fluffy and mousse like. The ingredients are butter, vegetable shortening, icing sugar, Nutellla and mascarpone cheese. Have a taste of the frosting when it is done. Add more Nutella if you think the frosting needs more Nutella. By all means, customise it to suit your taste buds.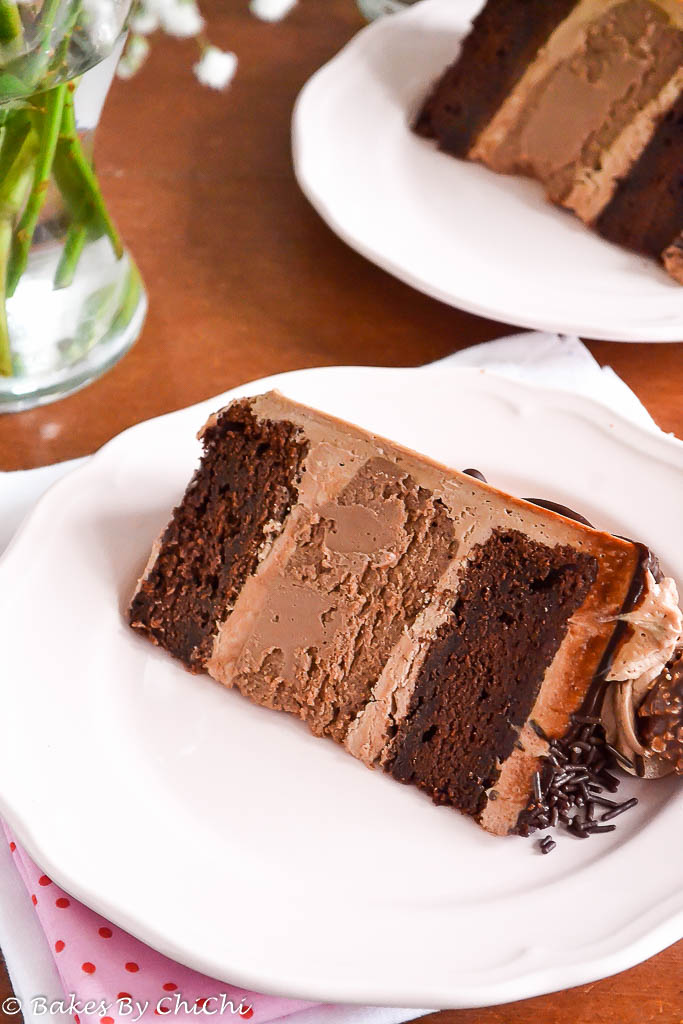 After the cake is frosted, it's time to add some embellishment. Drizzle ganache around the side and top of the cake. Then pipe swirls on top of the cake with a 1M open star tip. To finish off sprinkle chocolate sugar strands over the ganache and then the top the swirls with Ferrero Roche chocolates.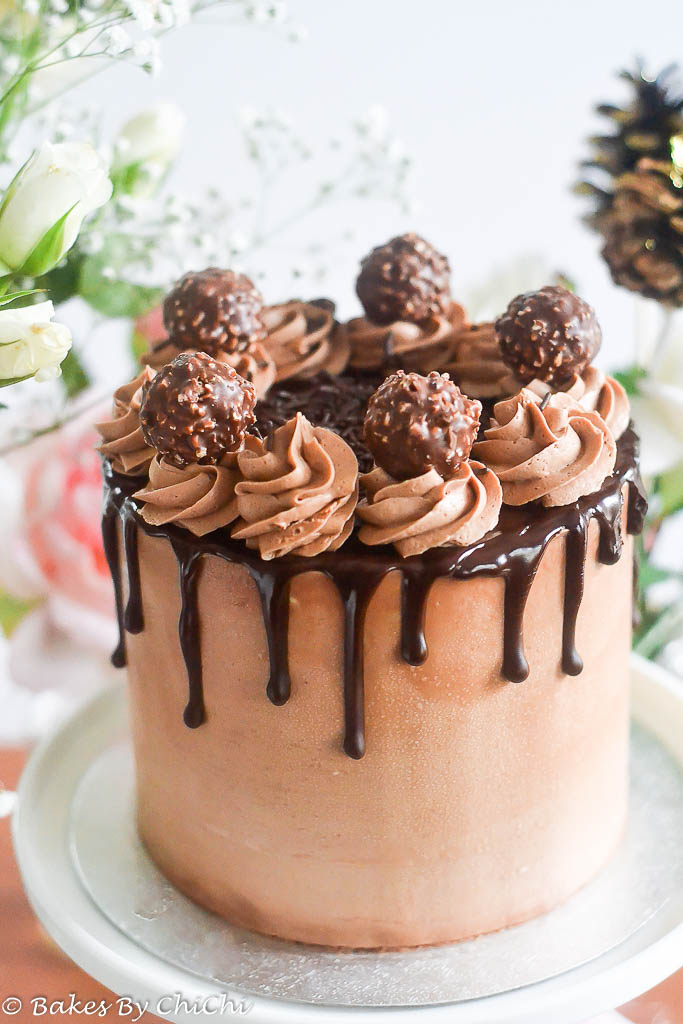 Et voila, cake done.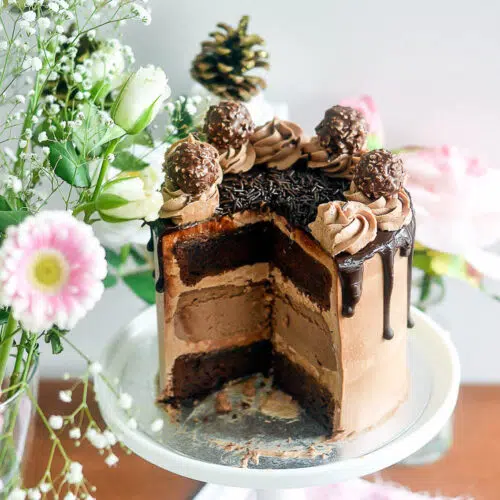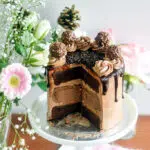 Chocolate Cheesecake Cake with Nutella Frosting
This chocolate cheesecake cake has 2 layers of chocolate cake sandwiching a baked chocolate cheesecake and filled and frosted with Nutella frosting.
Print
Pin
Rate
Ingredients
Chocolate Cake
120

grams

(1/2 cup) unsalted butter, room temperature

200

grams

( 1 cup) brown sugar

1

egg

1

egg yolk

100

grams

(3.5 ounces) melted dark chocolate

1

 teaspoon 

vanilla extract

180

grams

(1½ cups) plain flour

25

grams

(¼ cup) cocoa powder

½

 teaspoon 

baking powder

½

 teaspoon 

bicarbonate of soda

¼

 teaspoon 

salt

125

ml

whole milk. room temp

125

ml

hot water
Chocolate Cheesecake
380

grams

(13.4 ounces) cream cheese

½

can, condensed milk

25

grams

caster or granulated sugar

¼

teaspoon

salt

2

eggs

2

teaspoon

vanilla extract

200

grams

dark chocolate
Nutella Frosting
240

grams

 (1 cup) unsalted butter, room temperature

190

grams

 (1 cup) trex or vegetable shortening

600

grams

(6 cups) icing sugar, sifted

300

grams

(1 cup) Nutella

200

grams

( 7 oz) mascarpone cheese

60-120

ml

 ( ¼ cup – ½ cup) whipping cream

2

teaspoons

vanilla extract
Chocolate Ganache
(3.5 ounces) dark chocolate

(¼ cup) whipping or heavy cream
Instructions
Chocolate Cake
Preheat oven to 170°C. Grease and dust the bottom and sides of 2 X 6 inch baking tin with flour or cocoa powder.

Boil some water. Pour your hot water onto your cocoa and whisk until your cocoa dissolves completely. Set aside to cool slightly

Beat unsalted butter and brown sugar for 5 minutes until light and fluffy.

In a mixing bowl sift together flour, baking powder, bicarbonate of soda and salt. Set aside.

Add whole egg and egg yolks and beat well. Scrap down the sides of bowl. Mix in melted chocolate.

Alternatively add the flour mixture and milk in 3 parts, beginning and ending with flour mixture.

Mix in cocoa mixture.

Divide chocolate batter equally between the two tins.

Bake for 25-30 minutes or until a tooth pick inserted in centre comes out clean. Leave to cool tin on wire racks for 10 minutes, then invert onto rack gently and leave to cool completely.

Wrap cakes in cling film and chill in the fridge for 1- 3 hours or overnight.
Chocolate Cheesecake
Grease the bottom and sides of a 6 inch loose bottom or springform tin, line the base and sides with greaseproof paper. Wrap two layers of foil around the bottom and sides of pan.

Melt chocolate and leave to cool.

In the bowl of a stand mixer (or using hand mixer) beat the cream cheese and condensed milk until smooth and creamy. Slowly beat in sugar. Add salt. Scrape the sides of bowl as needed.

Beat in eggs one at a time until incorporated . Add vanilla extract. Mix in melted chocolate and beat until well incorporated.

Place a springform tin in a larger roasting tin/tray and place it into the oven. Pour hot water carefully into a baking tray to one third height of the springform tin.

Bake for 1 hour or until set .Turn off oven and leave cheesecake in oven for one hour with the door shut.

Remove cheesecake from oven and carefully lift out of water bath. Let cool completely on rack.

When cool, place in the freezer and let cheesecake freeze completely. Either for several hours or overnight.
Nutella Frosting
In the bowl of stand mixer beat butter and vegetable shortening on medium speed until light and creamy, about 5 minutes.

Turn the speed of the mixer to low and add n sifted icing sugar a cup at a time and beat well until combined.

Add Nutella and beat on medium speed. Add mascarpone cheese and beat until combined. As frosting thickens add whipping cream and beat until frosting is light and fluffy. Beat in vanilla extract.
Ganache
Place chopped chocolate and cream in a microwave safe bowl. Melt in 30 second bursts in microwave, stirring with a whisk after each time, until completed melted. Stir ganache gently with a whisk until smooth and no streaks of cream remain.

Leave chocolate ganache to cool for about 10 minutes before using.

If ganache is thick, add a couple of teaspoons of vegetable oil until you are happy with the consistency.

Spoon some of the ganache into a squeeze bottle.
Assemble the Cake
Using a serrated knife level each cake by cutting the domed top

Spread a thin layer of icing on your cake board. .Place one layer of cake, flat side down. Fit a piping bag with a large round piping nozzle, fill with Nutella frosting and pipe onto the cake. Remove chocolate cheesecake from freezer, remove from tin carefully and peel away grease proof paper. Place cheesecake layer onto the cake.

Pipe Nutella frosting onto cheesecake layer. Place second cake layer on top of cheesecake. If cheesecake layer is wider on the sides than chocolate cake, trim sides using a knife to the same size as cheesecake,

Spread a thin layer of frosting on the sides and then top of cake. It helps to use a turntable when frosting a cake. Hold a scraper flat against the side of the cake and then turn the turntable and scraper to make a nice, smooth coat of icing. Smooth the top of cake with scraper, drawing the peaks on the top edges of cake into the centre.

Chill crumb coated cake in fridge for 30 minutes until frosting is nice and firm.

Once the cake has chilled, cover evenly with Nutella frosting using an off set spatula and then use a scraper to smooth the edges.

Place the cake back in the fridge for an hour.

Whilst cake is chilling, make your ganache.

Spoon some of the ganache into a squeeze bottle.

Remove the cake from the fridge and add drips of ganache using a squeeze bottle or a spoon over the top edge of the cake. Next, spoon more ganache on the top of the cake, pushing it just to the edge with a small offset spatula or back of the spoon.

Fit an open 1M star nozzle into a piping bag. Fill with Nutella frosting and pipe swirls on top of cake. Top with hazelnut truffles.
If you made this recipe, I would love to hear from you.
Tag Bakes By Chichi on Instagram or hashtag #bakesbychichi
Stay up to date with Bakes by ChiChi on:
Facebook | Instagram | Pinterest | Google Plus | Bloglovin
or you can subscribe to my weekly newsletter