Updated 31 May 2020
These buttermilk scones are rich, light and buttery. It is the perfect scone recipe. Serve warm from the oven with whipped cream and jam.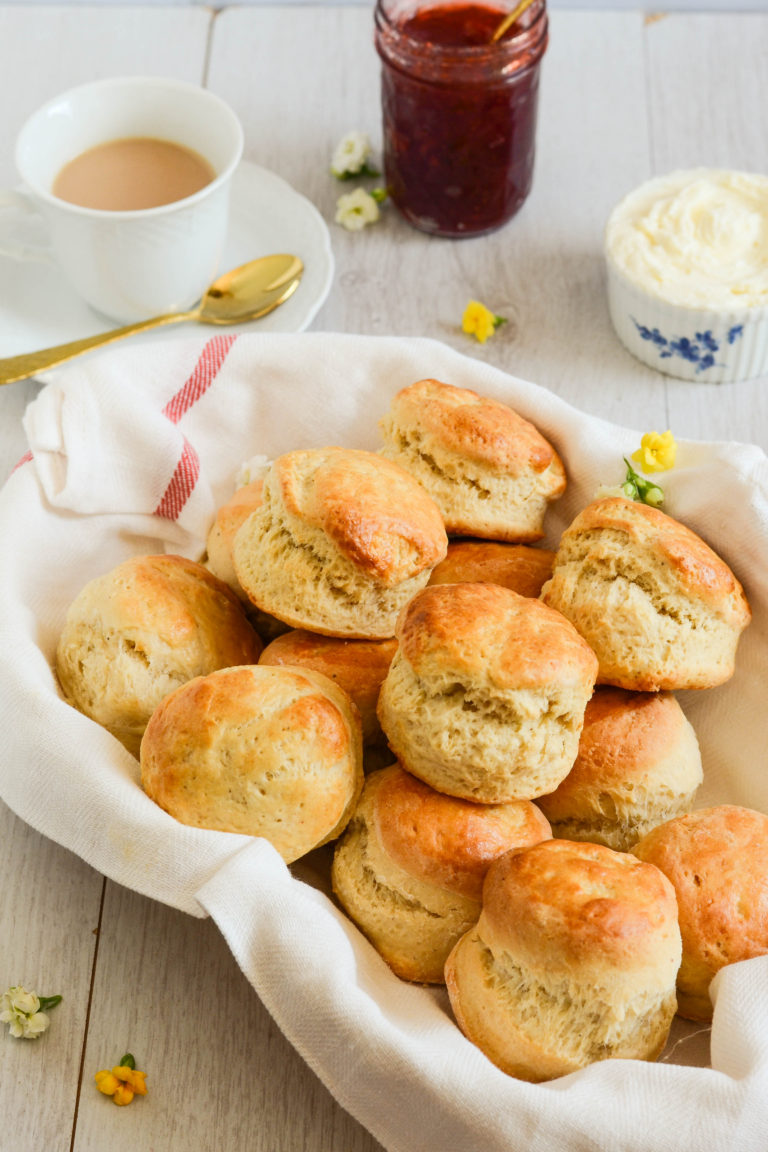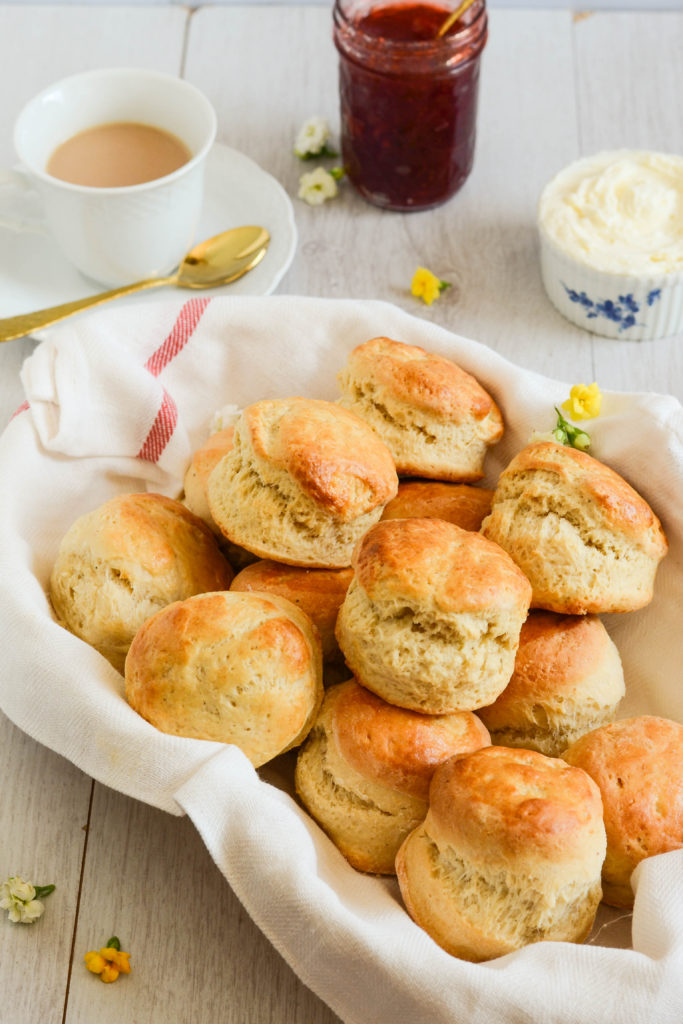 How do you drink your tea? With milk or black? Are you are sugar or sweetner kind of person? Do you leave it to brew for a long time?
I usually drink mine with honey and milk.. My tea has to be strong so I leave it to brew longer. When I'm on a diet I switch to fruity flavored tea. A favorite of mine is Twinnings Mango and Strawberry tea. Tea season as I like to call it has started for me. Cue the cold and tea drinking begins. My trusty travel mug has already made its debut on the weekly commute to work.
Tea and scones are just meant to be together. And these buttermilk scones are a delicious treat to serve with tea. The addition buttermilk gives these scones an extra light texture and gives them a tangy flavour.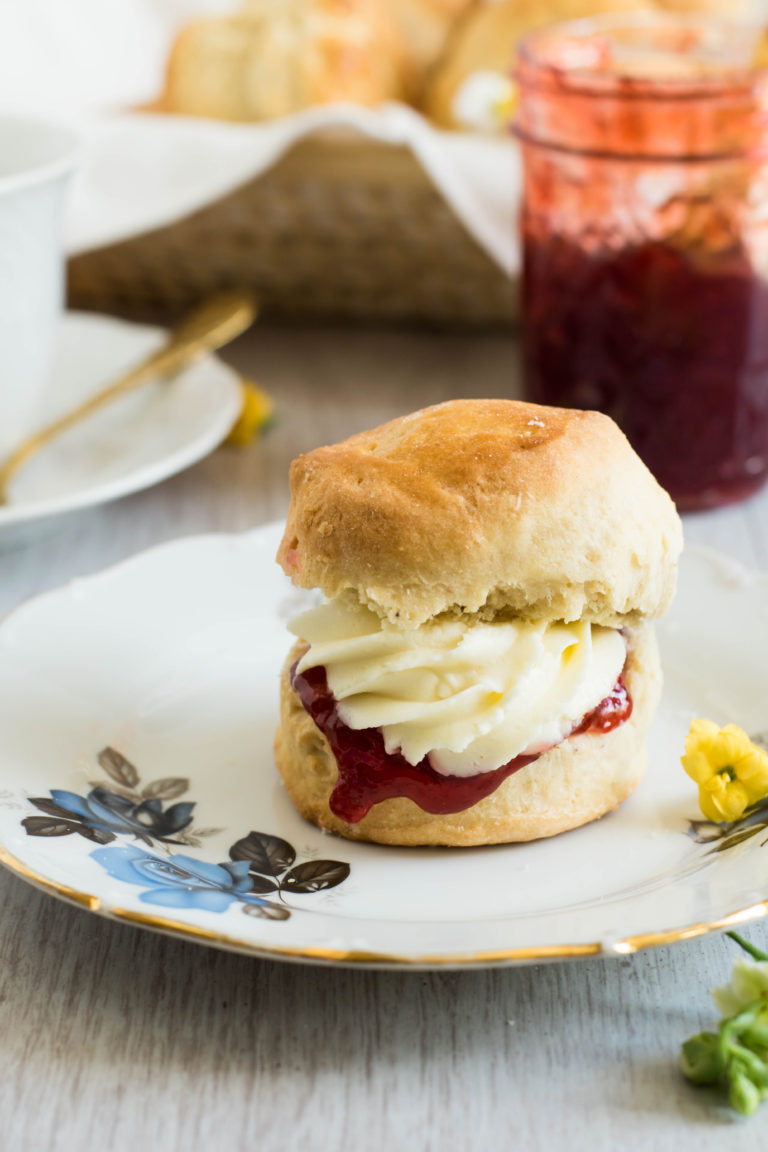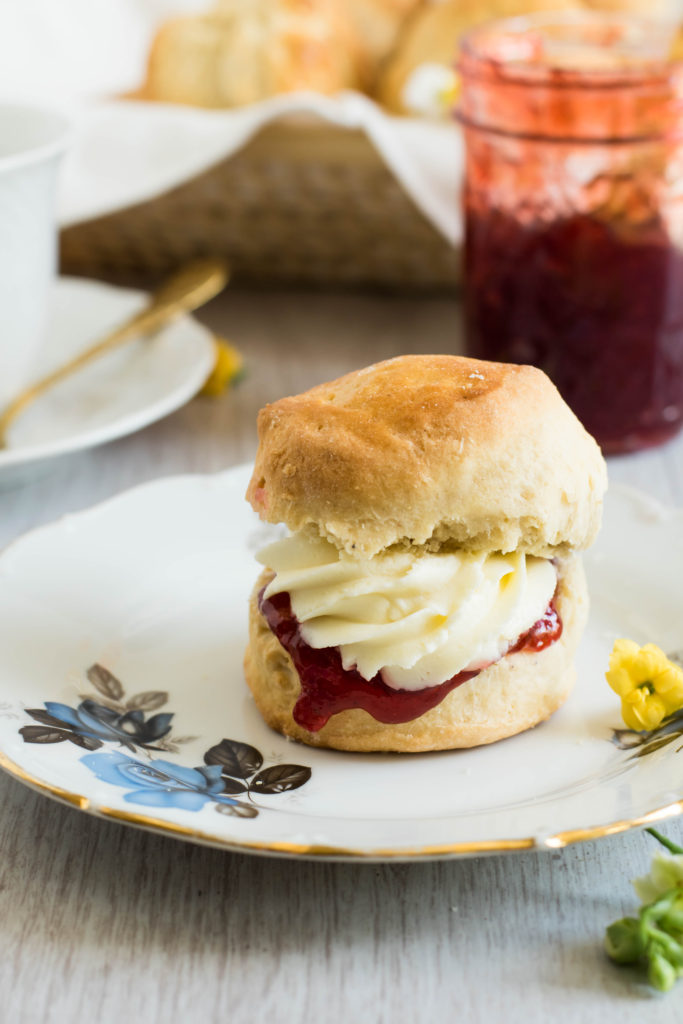 Tips for making these delicious Buttermilk Scones
Use self raising flour. It is lower in protein than other kinds of flour . This impacts on the way the flour behaves. Food made with self raising flour tend to have a classic fluffy, light more crumbly texture. Self raising flour contains salt, so be sure to use unsalted butter.
Be sure to use Cold butter. They help make the scones rise higher.
Avoid overmixing the dough or handing the dough too much before baking for light textured scone. Overmixing will lead to scones that are tough.
Lightly knead the dough for 30 seconds. Turn it out onto a floured surface and knead lightly until the dough is no longer sticky. Pat the dough gently with the palm of your hand or roll out the dough and then cut into rounds with a round cutter. Reuse the scraps by kneading lightly together an then re-roll.
Brush the tops of the scones with the egg and buttermilk mixture for a golden top.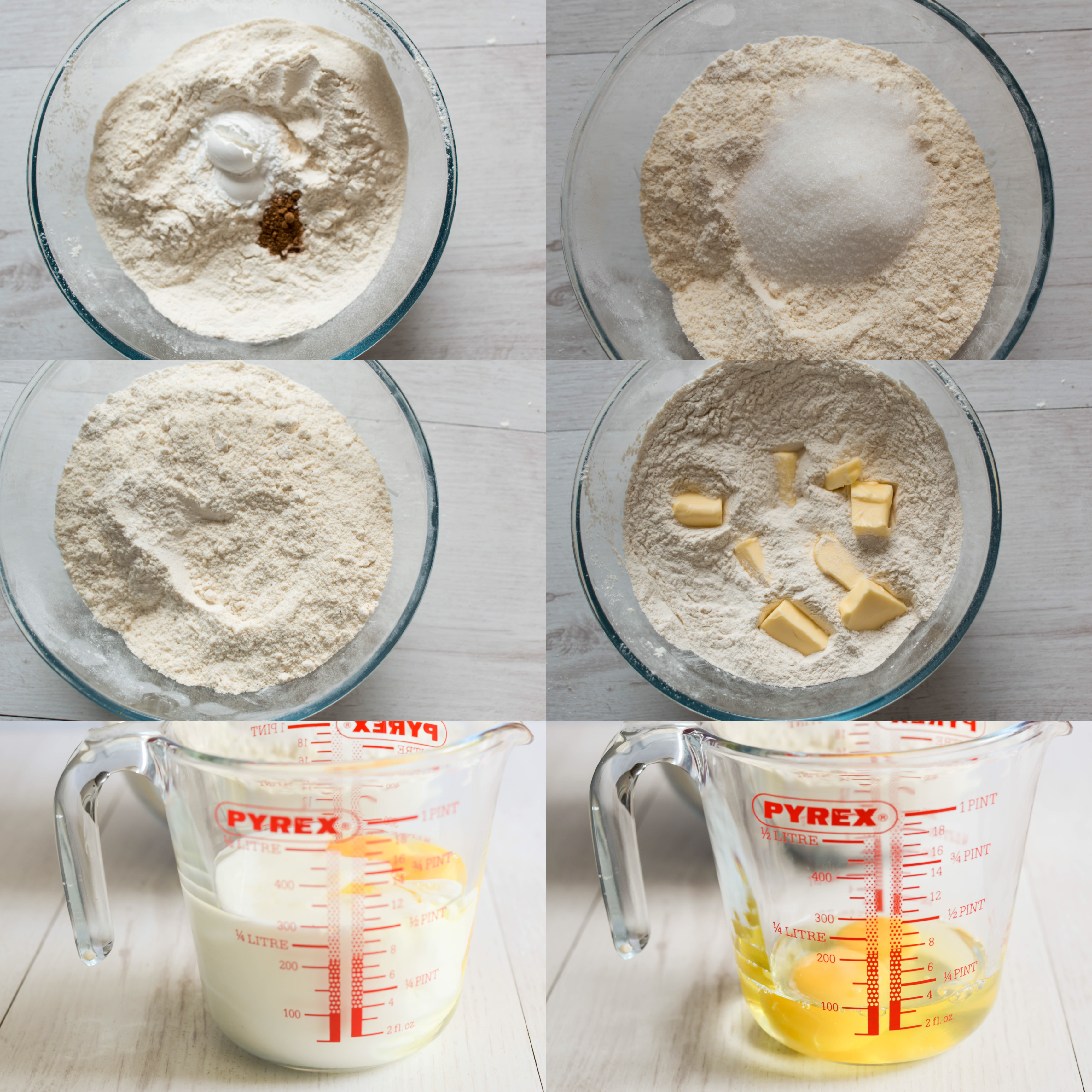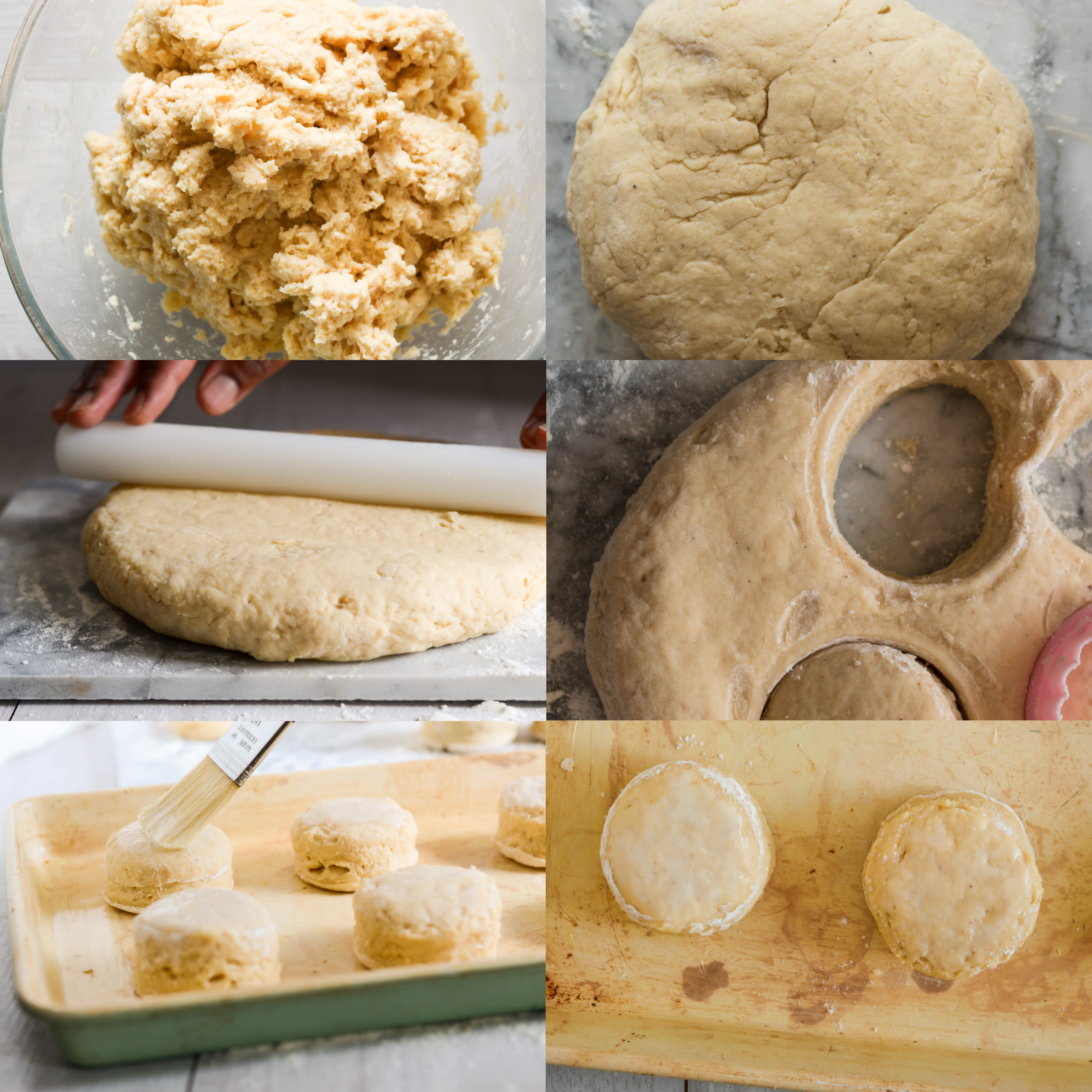 These rich tender buttermilk scones are best when they are still warm from the oven. They are just so tasty served with jam and whipped cream.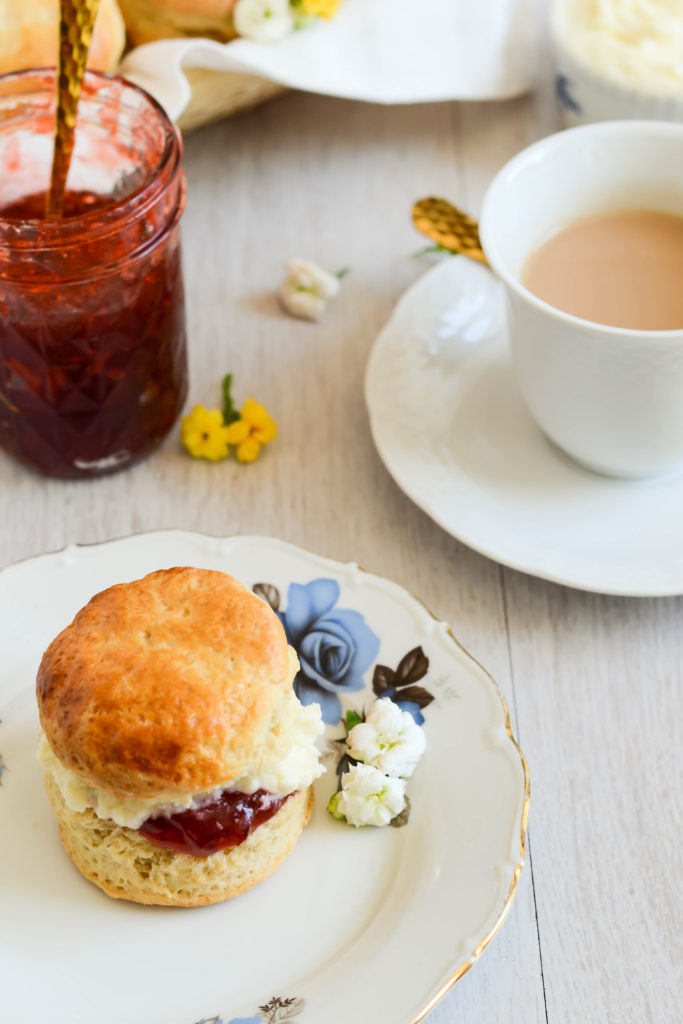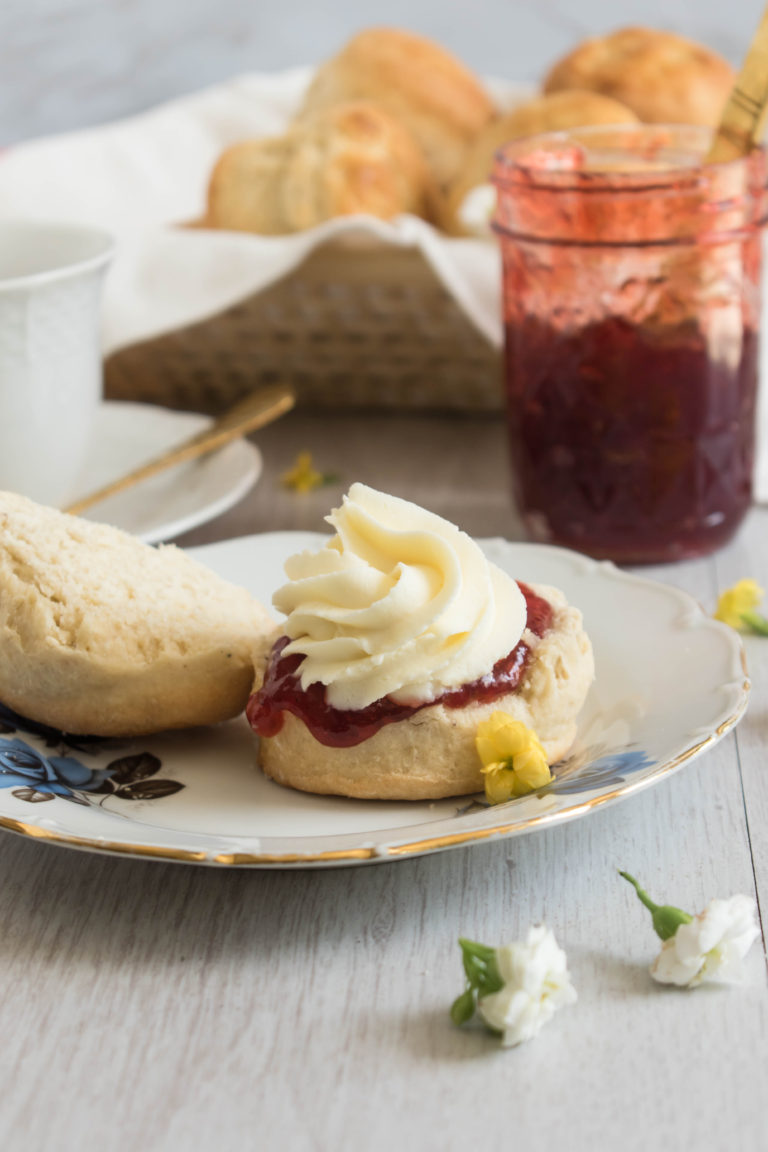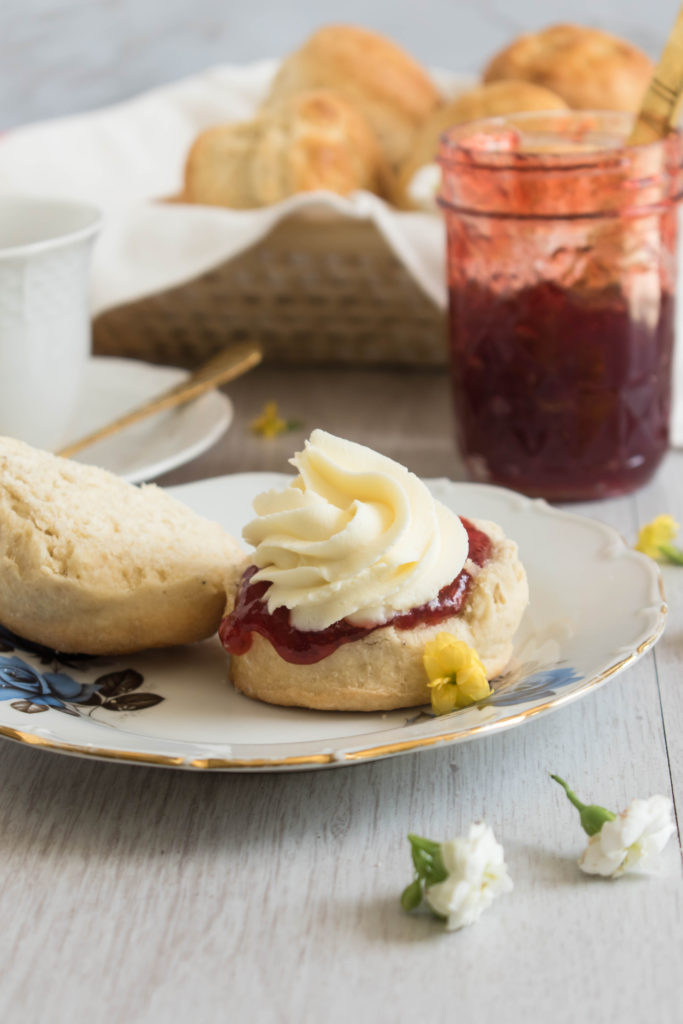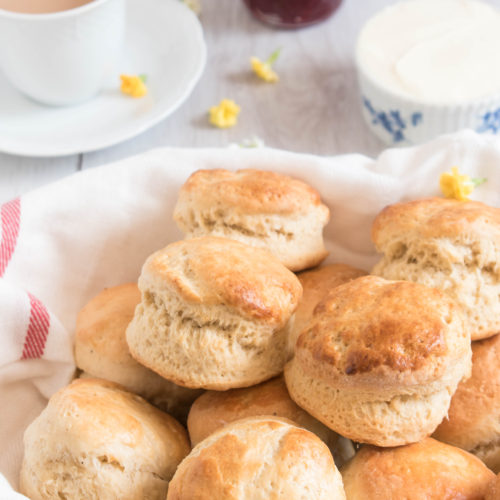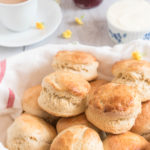 Buttermilk Scones
These buttermilk scones are rich, light and buttery. It is the perfect scone recipe. Serve warm with whipped cream and jam.
Print
Pin
Rate
Ingredients
450

grams

450g (3 3/4cup)self raising flour (see notes)

2 rounded

teaspoons

baking powder

½

teaspoon nutmeg (optional)

75

grams

( 1/4 cup + 1 tbsp) cold butter

50

grams

(1/4 cup)sugar

2

large eggs

225

ml

(8fl oz) buttermilk (see notes)
Instructions
Heat the oven to 220 degrees Celsius. Lightly grease baking a baking sheet.

Sift the flour, baking powder and nutmeg into a bowl. Mix in cold butter and rub it in until the mixture resembles fine breadcrumbs.

Stir in sugar. Beat the eggs together and make up to 300ml (10fl oz)with the buttermilk. Put about 2 tbsp aside in a cup for later.

Add the egg mixture to the dry ingredients stirring it in until you have a soft dough.

Scatter some flour onto the work surface and turn dough onto it. Sprinkle the dough with a little bit of flour and then gently knead the dough until it is a little smoother.

Flatten it to a thickness of 3cm-4 cm. Use a 21/2 inch cutter (smooth edged cutters tend to cut more cleanly giving a better rise)  plunge into the dough, straight down then lift it out straight out. Repeat process. Gently  push dough together, knead, flatten and cut out more scone.

Arrange on the prepared baking sheets and brush the tops with the reserved beaten egg mixture.

Bake for 10 – 15 minutes until well risen and golden on top.

Transfer to wire rack and leave to cool.
Notes
To make self raising flour sift together 2 teaspoons of baking powder, half a teaspoon of salt and 120g (1 cup) of flour.
To make homemade buttermilk add 1 tablespoon of white vinegar or lemon juice to 240ml (1 cup) of milk. Leave to sit for 5 minutes, then use.
Recipe adapted from Mary Berry
Did you make this recipe?
Please tag @bakesbychichi on Instagram.
I  would love to see your pictures ❤
If you made this recipe, I would love to hear from you.
Tag Bakes By Chichi on Instagram or hashtag #bakesbychichi