This chocolate cheesecake with chocolate mousse topping is just decadent. It starts off with an oreo crust, followed by a layer of lush  creamy chocolate cheesecake then finished off with creamy chocolate mousse.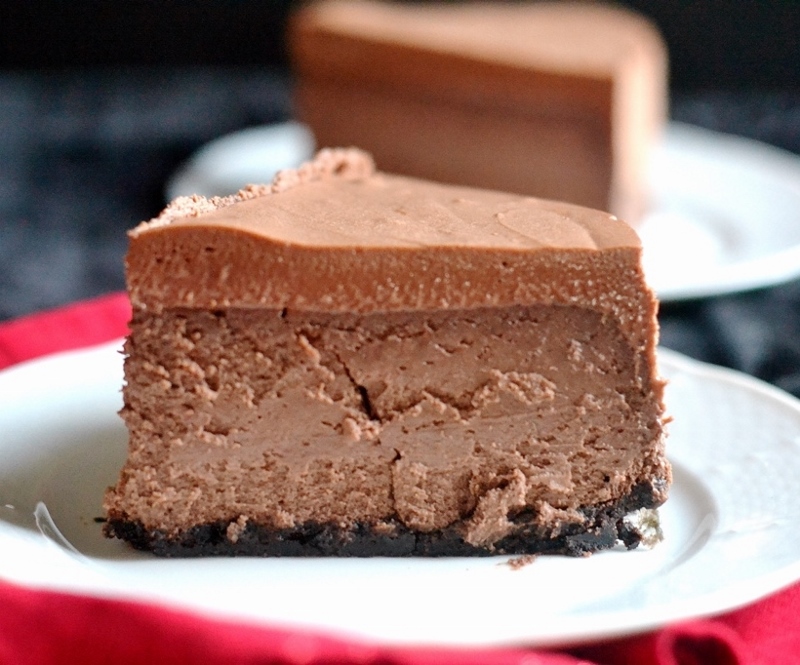 If you are chocolate lover like me you are going to love this chocolate cheesecake. It's filled with chocolate, chocolate and more chocolate.  Beginning with a chocolate crust made with crushed oreo cookies and melted butter. This was baked in the oven for 10 minutes whilst i prepared the chocolate cheesecake filling.
I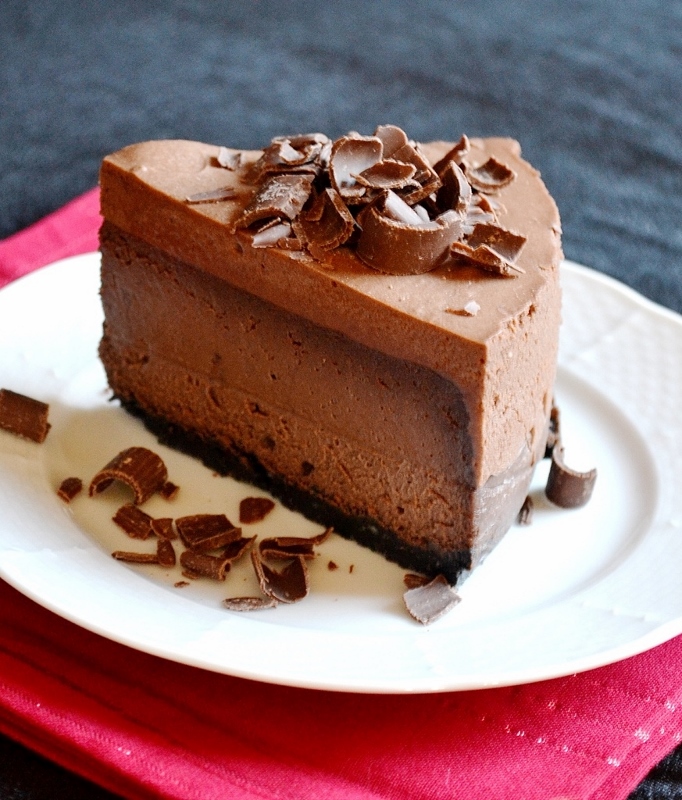 The chocolate cheesecake filling has a mixture of melted chocolate, cocoa powder, eggs, cream cheese, mascarpone, sugar and sour cream.  To save time bake the chocolate cheesecake filling the night before.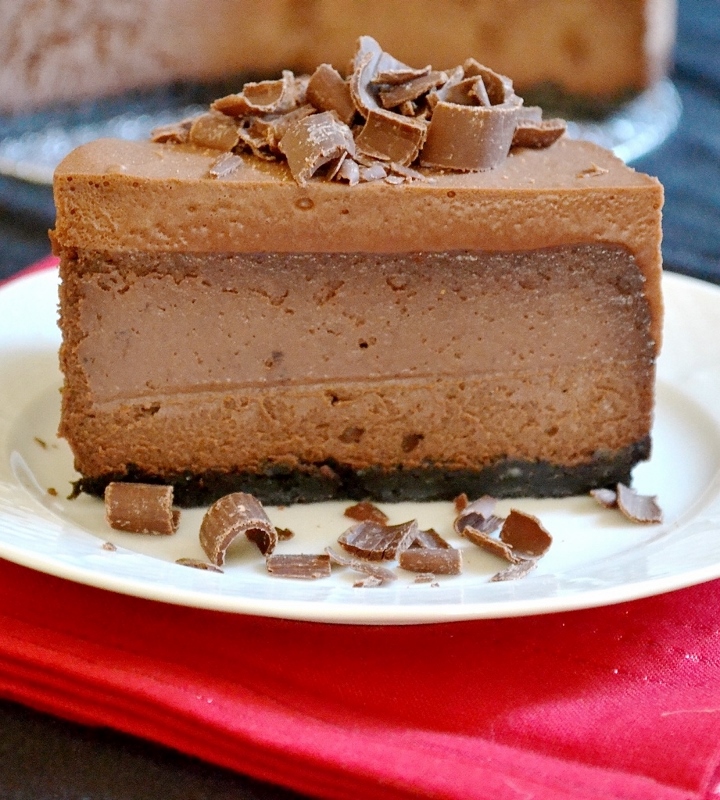 Top this chocolate cheesecake once set with a rich and silky chocolate mouse.
Rich and chocolatey this delightful chocolate cheesecake is just right for Christmas dinner dessert.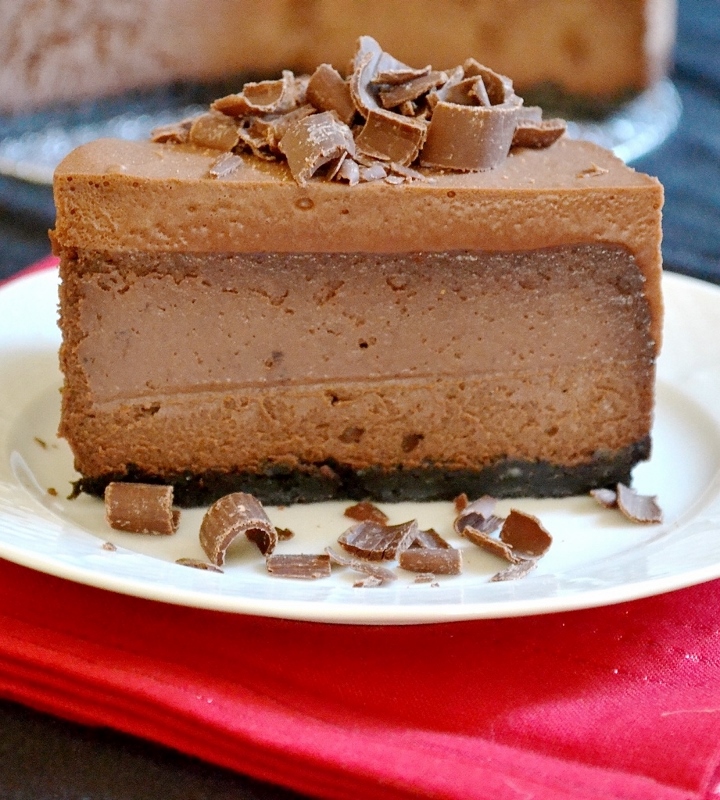 Chocolate Cheesecake with Chocolate Mousse Topping
Ingredients
Crust

100g oreo crumbs(1 pack of oreo cookies with filling removed)
60g (1/4 cup) unsated butter, melted

Chocolate Cheesecake

250g mascarpone cheese, room temperature
500g cream cheese, room temperature
150g (3/4 cup) caster sugar
2 teaspoons vanilla extract
6 tablespoons cocoa powder
3 eggs
180ml (3/4 cup) sour cream, room temperature
230g (8 ounces)semi sweet chocolate, chopped

Chocolate Mousse

113g (4 ounces) semi sweet chocolate, chopped
160ml (2/3 cup) whipping cream, divided use
1 teaspoon gelatin powder
1 tablespoon water
Instructions
Oreo Crust & Chocolate Cheesecake Filling
Preheat oven to 160 degrees celcius.
In a bowl mix oreo crumbs and melted butter together.
Prepare an 8 inch loose bottom or springform tin by greasing and lining the base and sides with parchment paper. Make sure the parchment paper is tall enough that it is at least as high as the sides of the tins.Wrap two layers of foil around the bottom and side. Press the crust into the bottom of the tin using the back of a spoon or a flat bottom cup to form an even layer.
Bake in the oven for 10 minutes. Set aside to cool.
Melt chocolate in the microwave at 30 second bursts until melted. Set aside to cool.
In bowl of mixer (or using hand mixer) beat the cream cheese and mascarpone cheese until smooth and creamy, slowly beat in sugar. Scrape the sides of bowl as needed.
Beat in eggs one at a time until incorporated. Add melted chocolate, vanilla extract and sour cream mix until well incorporated and smooth.
Place springform tin in a larger roasting tin/tray and place it into the oven. Pour hot water carefully into a baking tray to one third height of the springform tin. Place a large tray onto the lower rack , then carefully pour hot water into it. This will create a water bath what will give off lots of steam while the cheesecake bakes)
Bake cheesecake until centre is set , about 1 hour 30 minutes)
Turn off oven and leave cheesecakes in oven for one hour with the door shut.
Remove cheesecake from oven and carefully lift out of water bath. Leave to cool completely on rack.
Chill, loosely covered for at least 4 hours or overnight.
Chocolate Mousse
In a bowl combine chopped chocolate, 80ml (1/3 cup) of cream. Microwave at 30 second bursts stirring in between until chocolate has melted. Let chocolate cool to room temperature , stirring occasionally.
Whilst chocolate mixture cools, whisk together gelatine and water in a small bowl and allow gelatin to bloom. When the chocolate is at room temperature microwave bowl of gelatin for 15 seconds until melted. Whisk gelatin into chocolate mixture.
In the bowl of stand mixture (or using a hand mixer) whip up 80ml of cream until it just holds stiff peaks
Fold the whipped cream in the chocolate mixture gently but thoroughly.
Spoon the mousse on top of the chocolate cheesecake and spread it intio an even layer. Chill for at least 4 hours until set.
When ready to serve, run a blunt knife around the edge of cheesecake to loosen it from springform.
3.1
https://bakesbychichi.com/chocolate-cheesecake-with-chocolate-mousse-topping/