Creamy cheesecake covered with sweet strawberry compote and topped with fresh strawberries. Buttery biscuit base filled with a thick cream cheese filling that just melts in your mouth.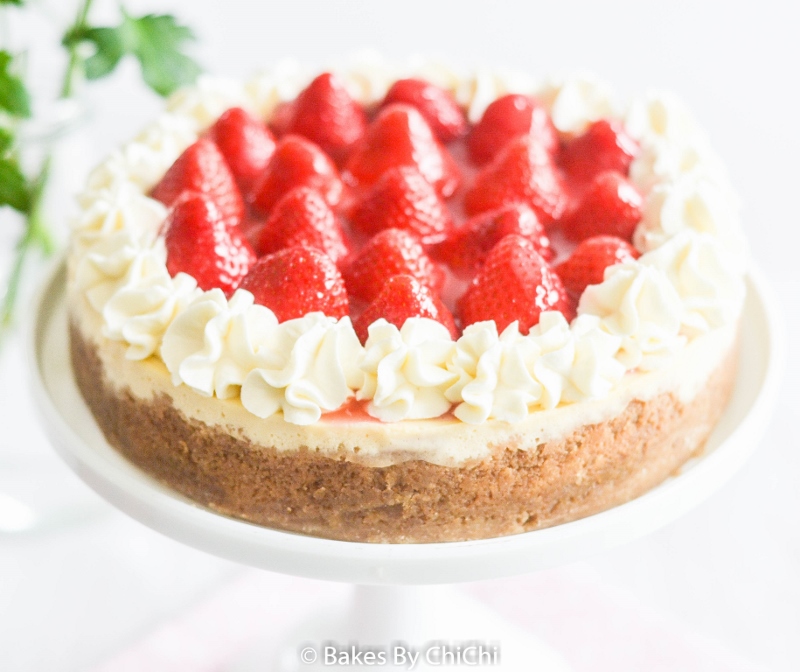 Cheesecake is one of my favourite desserts. Who can resist a well made delicious creamy cheesecake, I certainly can't. There was a debate between my Mr and I about how thick the crust of cheesecake should be. I lean more on the side of a thin biscuit crust whilst he loves a thick crust. What about you?  Thin or thick crust? With this cheesecake I doubled measurement for the crust and filled it with a thick cheesecake filling.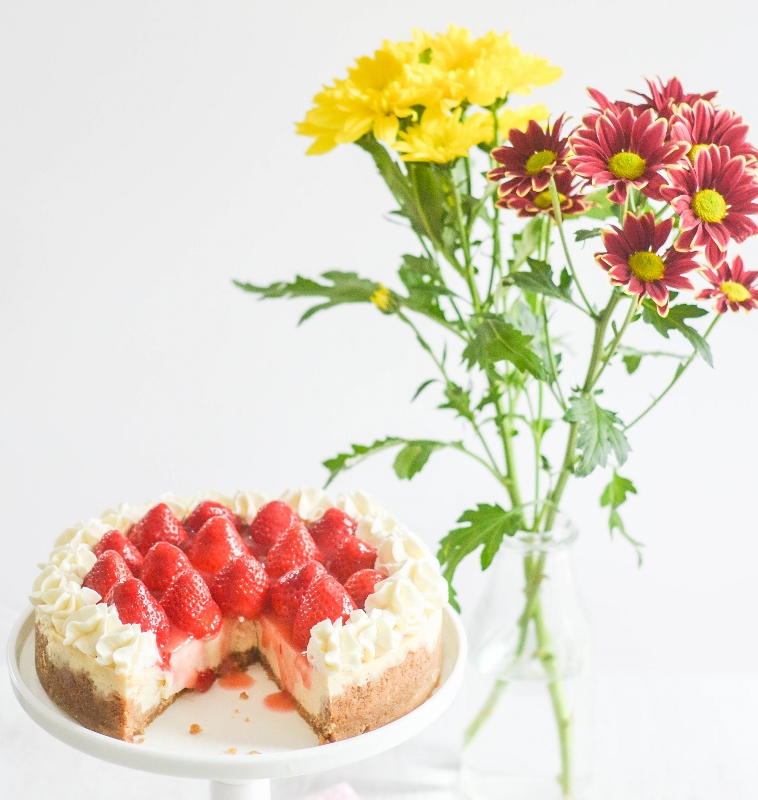 The crust is made from crushed digestive biscuits and melted butter . You can crush your biscuits in a food processor or place the biscuits in a zip lock bag and bash with a rolling pin. I am more a fan of the rolling pin technique, it's a good stress reliever, lol.  For the filling I combined cream cheese, sugar, eggs, vanilla extract and sour cream. This creates an absolutely decadent cheesecake.
My cheesecake is then baked in a water bath. This is prevent any cracks on the cheesecake and also to ensure it bakes evenly.  To prevent any water from seeping into the cheesecake aluminium foil is wrapped around the bottom and halfway up the sides of the cake tin. The bottom the of a  springform tin is inverted (to create flat bottom, which will make it easier to remove cheesecake from pan) and then the sides and base are greased and lined with parchment paper. It makes the removal of the cheesecake from the tin easy.
Finally lets talk about the strawberry compote. Made with fresh strawberries, lemon juice and sugar, this comes together in about 5 minutes. A teaspoon of corn flour was added to thicken the compote a little bit. You may not need all the strawberry compote for the cheesecake, so save the rest for pancakes, waffles , ice cream, oats porridge and much much more.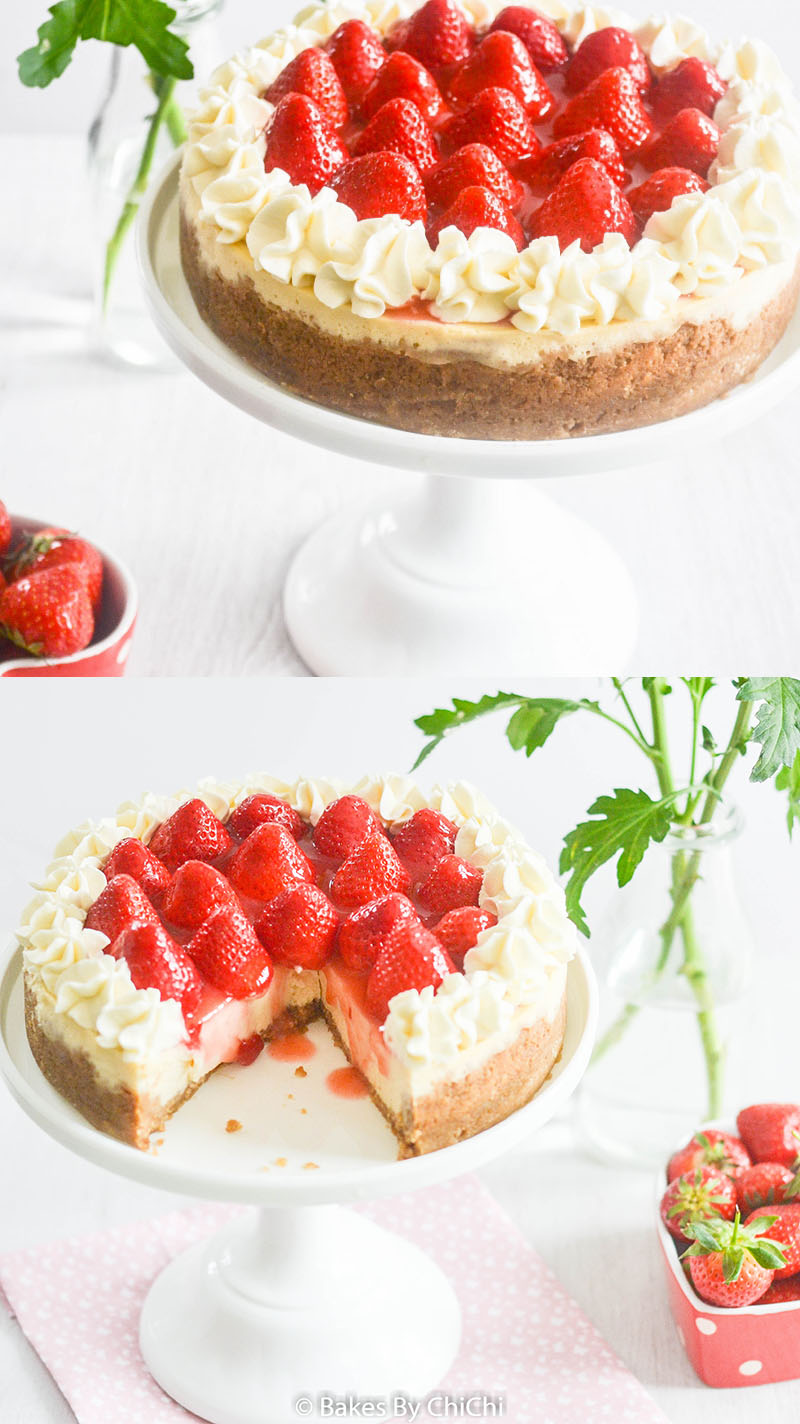 Creamy Cheesecake with Strawberry Compote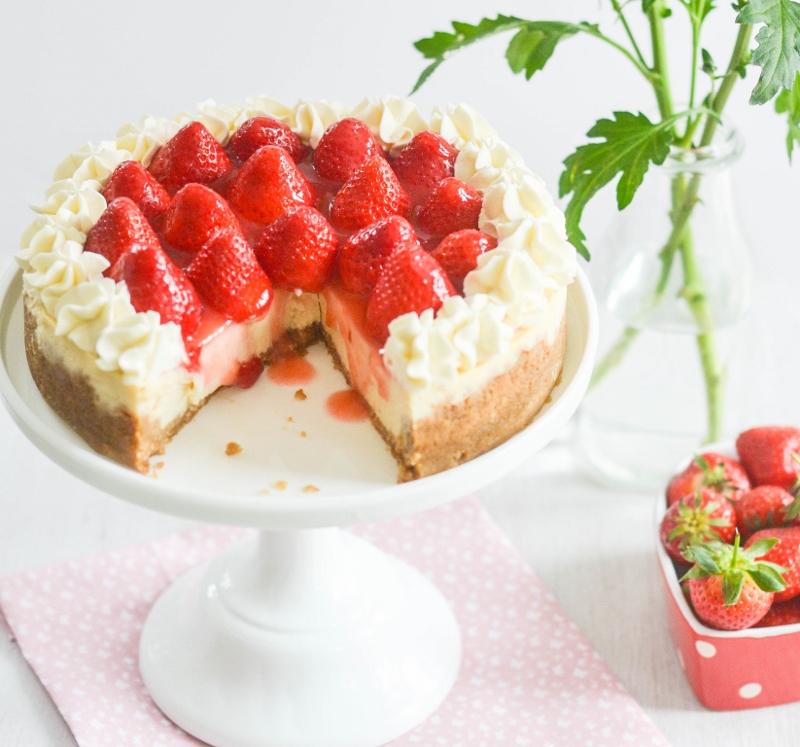 Ingredients
For crust

300 g (2 cups) crushed digestive biscuits
60 g (1/4 cup) melted butter

For Cheesecake

560 g (19.75 oz) cream cheese
150 g (3/4 cup) sugar
1/8 teaspoon salt
3 eggs
2 teaspoons vanilla extract
120 ml (1/2 cup) sour cream

For Strawberry Compote

200 g (7 ounces ) strawberries
100 g (1/2 cup) sugar
1 lemon juiced
60 ml (1/4 cup) water
3 teaspoons cornflour
Extra strawberries with stems sliced off to decorate
Instructions
For Crust
Preheat oven to 180 degrees C
Grease and line the base and sides of an 8 inch springform cake tin.
In a bowl mix digestive crumbs and melted butter together. Press the crust into the bottom and sides of the tin using the back of a spoon or a flat bottom cup to form an even layer.
Bake the crust in the oven for 10 minutes. Leave to cool.
For Cheesecake
Turn down temperature of oven to 160 degrees celcius.
In bowl of mixer (or using hand mixer) beat the cream cheese until smooth and creamy, slowly beat in sugar. Add salt. Scrape the sides of bowl as needed.
Beat in eggs , one at a time until incorporated . Add the vanilla extract and sour cream and beat until well incorporated.
Pour the filling into the cooled biscuit base.
Wrap two layers of foil around the bottom and side.Place springform tin in a larger roasting tin/tray and place it into the oven. Pour hot water carefully into a baking tray to one third height of the springform tin. This will create a water bath what will give off lots of steam while the cheesecake bakes)
Bake cheesecake for 90 minutes.Turn off oven and leave cheesecakes in oven for one hour with the door shut.
Remove cheesecake from oven and carefully lift out of water bath.Let cook completely on rack.
Chill, loosely covered for at least 4 hours or overnight before serving.
For Strawberry Compote
Place strawberries and sugar in a saucepan and stir to coat all berries with sugar.
Cook strawberries over high heat, stirring occasionally for about 5 minutes.
Stir in lemon juice.
Mix water and cornstarch in bowl until combined. Add mixture a little at a time whisking frequently until sauce has thickened.
Remove from heat and let sauce cool to room temperature. Chill in fridge.
To assemble
To unmold the cheesecake, remove the sides of the pan, then slide a thin metal spatula between the crust and pan bottom to loosen, then slide the cheesecake onto a serving platter or cake stand.
Spoon some strawberry compote on top of cheesecake and decorate with cut strawberries.
3.1
https://bakesbychichi.com/creamy-cheesecake-with-strawberry-compote/
Creamy Cheesecake with Strawberry Compote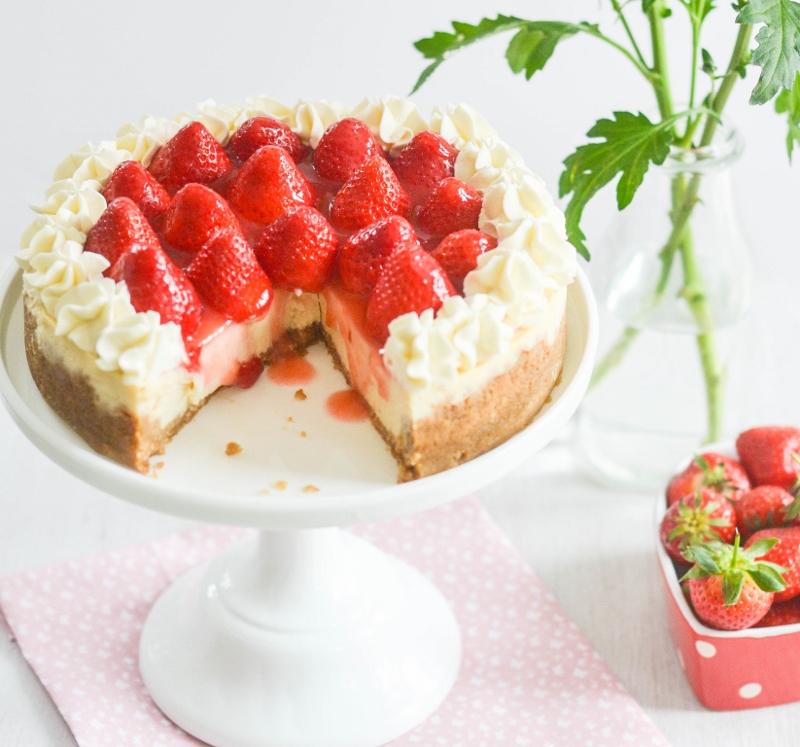 Ingredients
For crust

300 g (2 cups) crushed digestive biscuits
60 g (1/4 cup) melted butter

For Cheesecake

560 g (19.75 oz) cream cheese
150 g (3/4 cup) sugar
1/8 teaspoon salt
3 eggs
2 teaspoons vanilla extract
120 ml (1/2 cup) sour cream

For Strawberry Compote

200 g (7 ounces ) strawberries
100 g (1/2 cup) sugar
1 lemon juiced
60 ml (1/4 cup) water
3 teaspoons cornflour
Extra strawberries with stems sliced off to decorate
Instructions

For Crust

Preheat oven to 180 degrees C

Grease and line the base and sides of an 8 inch springform cake tin.

In a bowl mix digestive crumbs and melted butter together. Press the crust into the bottom and sides of the tin using the back of a spoon or a flat bottom cup to form an even layer.

Bake the crust in the oven for 10 minutes. Leave to cool.

For Cheesecake

Turn down temperature of oven to 160 degrees celcius.

In bowl of mixer (or using hand mixer) beat the cream cheese until smooth and creamy, slowly beat in sugar. Add salt. Scrape the sides of bowl as needed.

Beat in eggs , one at a time until incorporated . Add the vanilla extract and sour cream and beat until well incorporated.

Pour the filling into the cooled biscuit base.

Wrap two layers of foil around the bottom and side.Place springform tin in a larger roasting tin/tray and place it into the oven. Pour hot water carefully into a baking tray to one third height of the springform tin. This will create a water bath what will give off lots of steam while the cheesecake bakes)

Bake cheesecake for 90 minutes.Turn off oven and leave cheesecakes in oven for one hour with the door shut.

Remove cheesecake from oven and carefully lift out of water bath.Let cook completely on rack.

Chill, loosely covered for at least 4 hours or overnight before serving.

For Strawberry Compote

Place strawberries and sugar in a saucepan and stir to coat all berries with sugar.

Cook strawberries over high heat, stirring occasionally for about 5 minutes.

Stir in lemon juice.

Mix water and cornstarch in bowl until combined. Add mixture a little at a time whisking frequently until sauce has thickened.

Remove from heat and let sauce cool to room temperature. Chill in fridge.

To assemble

To unmold the cheesecake, remove the sides of the pan, then slide a thin metal spatula between the crust and pan bottom to loosen, then slide the cheesecake onto a serving platter or cake stand.

Spoon some strawberry compote on top of cheesecake and decorate with cut strawberries.

3.1

https://bakesbychichi.com/creamy-cheesecake-with-strawberry-compote/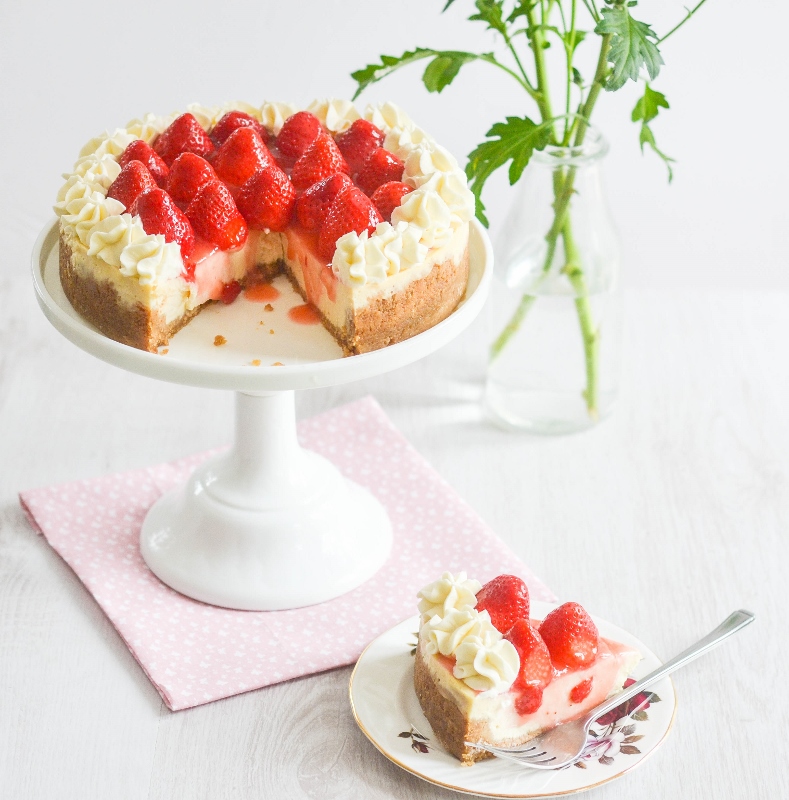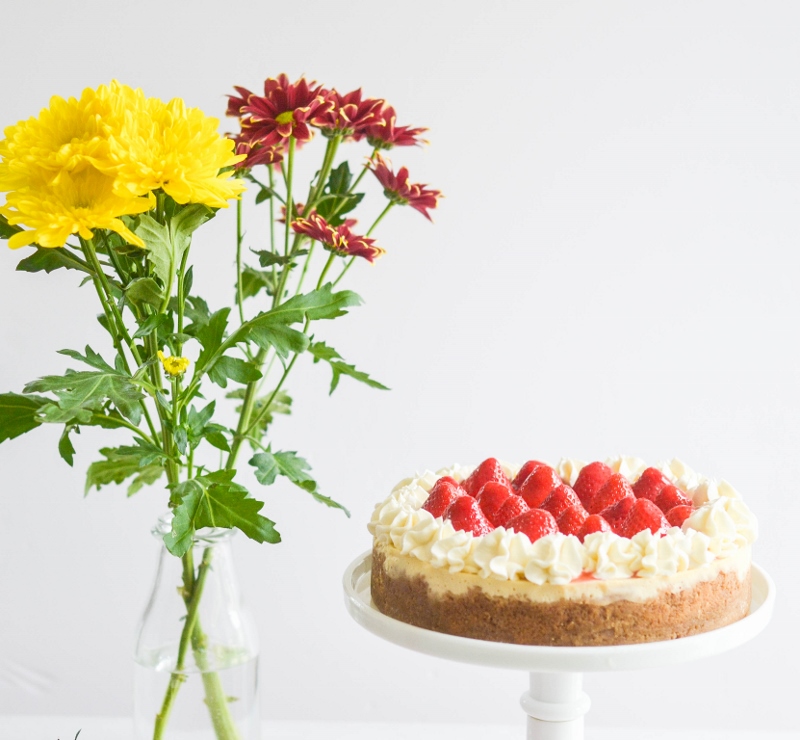 Some more cheesecake recipes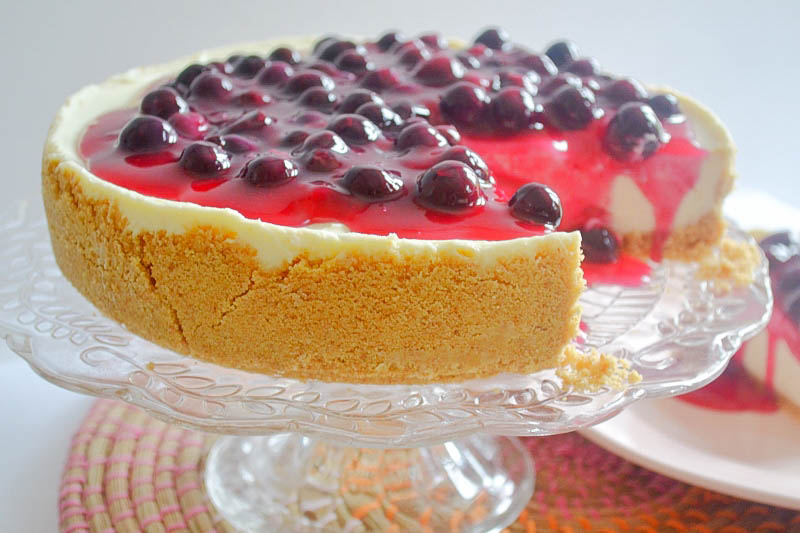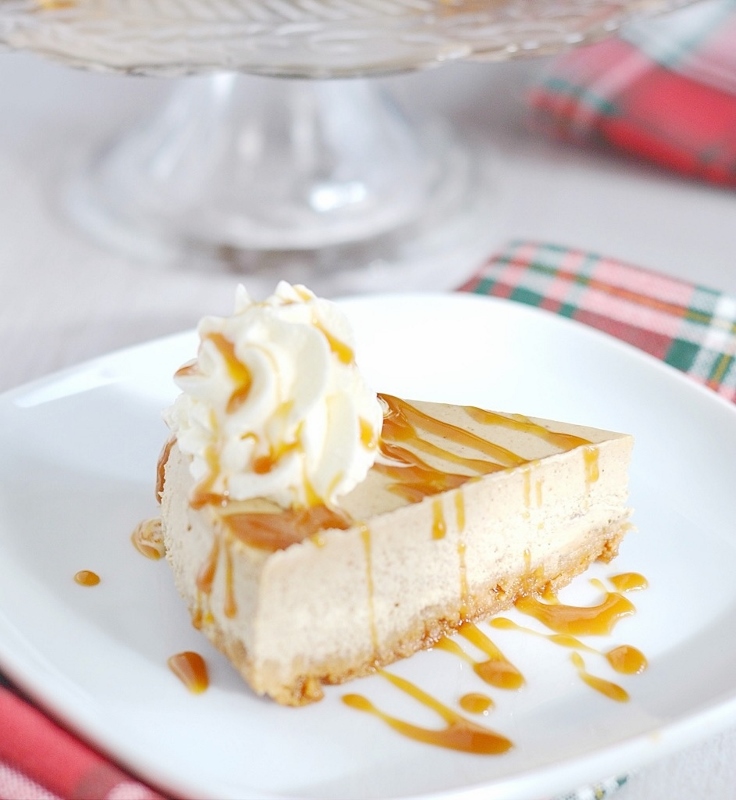 Chocolate Cheesecake with Chocolate Mousse Topping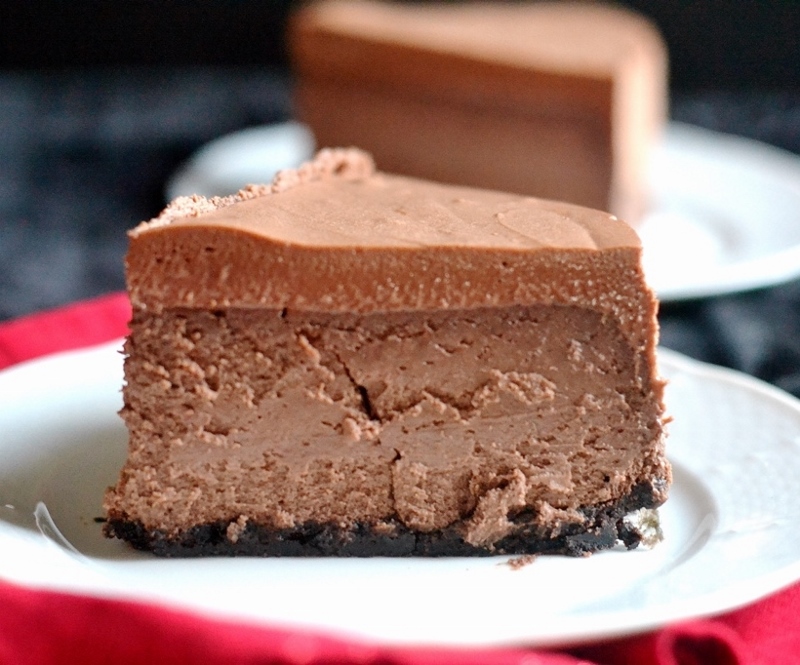 Raspberry and White Chocolate No Bake Cheesecake