Incredibly delicious no bake s'mores cheesecake made with layers of crushed digestive biscuits, creamy no bake marshmallow cheesecake, chocolate ganache and toasted marshmallows. It is absolutely amazing.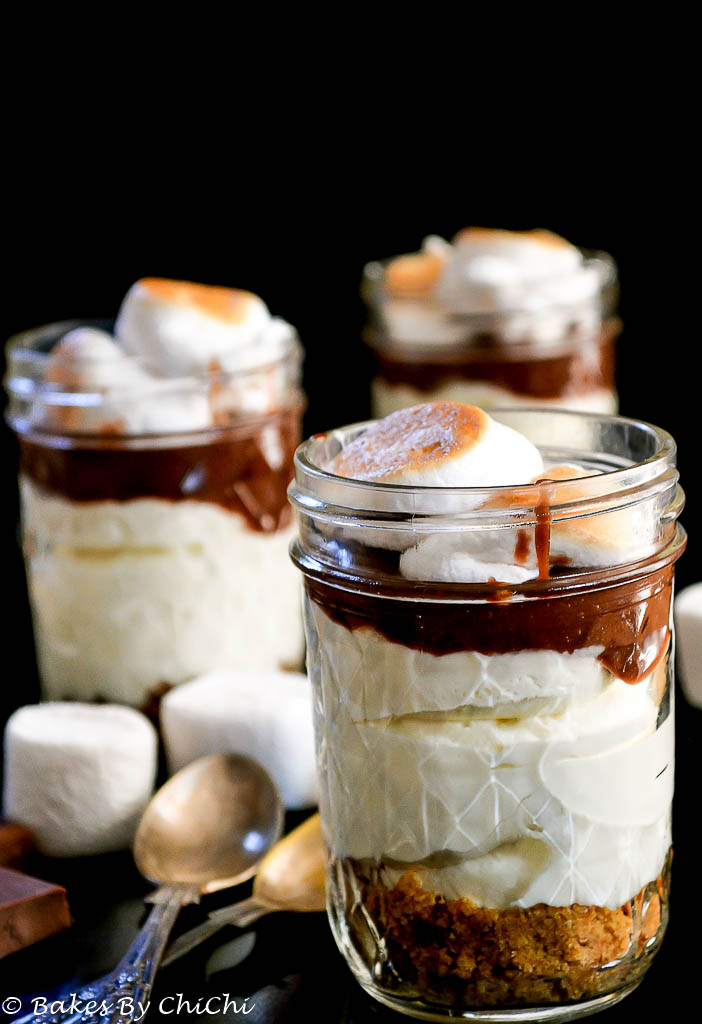 Two cheesecake based desserts in a row. What am I like! I do love my cheesecake.
The funny thing is as a child and in my early adult years I wasn't a big fan of cheesecake. It was after I started baking and trying different cheesecake recipes, that I began to enjoy cheesecakes. What's not to like about cheesecake, it's rich and creamy and quite simply delicious. You can enjoy cheesecake baked or unbaked and make it in many flavours. Fruit, cookies or melted chocolate are some of the many ingredients that you can be add to cheesecake.
I am constantly on the look out for new cheesecake recipes. Like this s'mores cheesecake recipe which I found on My Baking Addiction.
Which I am sharing here today, Well my my version of a no bake s'more cheesecake. 🙂
The s'mores cheesecake starts off with a biscuit crust. Traditionally s'mores are made with Graham crackers. But as I live in country where graham cracker are not easy to get and can be quite pricey, the crust is made with my favourite all time biscuits. Sweet crumbly digestive biscuits. Digestives always bring back memories of my days in boarding school. They were my go to treat in school and still are. Now I use them for some of my cheesecake crusts. Like these individual no bake marshmallow cheesecakes or this creamy chessecake with strawberry compote. To make the crust, mix crushed digestives with melted butter and spoon into your serving dishes.
Next is the incredibly rich and creamy marshmallow filling. I kid you not when I say this cheesecake filling tastes really good. The ingredients are cream cheese, marshmallows, whipped cream, icing sugar and vanilla extract. Prepare the filling by beating together the cream cheese, icing sugar and vanilla extract. Melt the marshmallows in a microwave on high until puffed and begins to melt. Stir with a buttered spatula until smooth. Fold the melted marshmallows into the cream cheese mix. Finish off the cheesecake filling by folding in whipped cream. Then pipe or spoon the cheesecake filling over the crusts.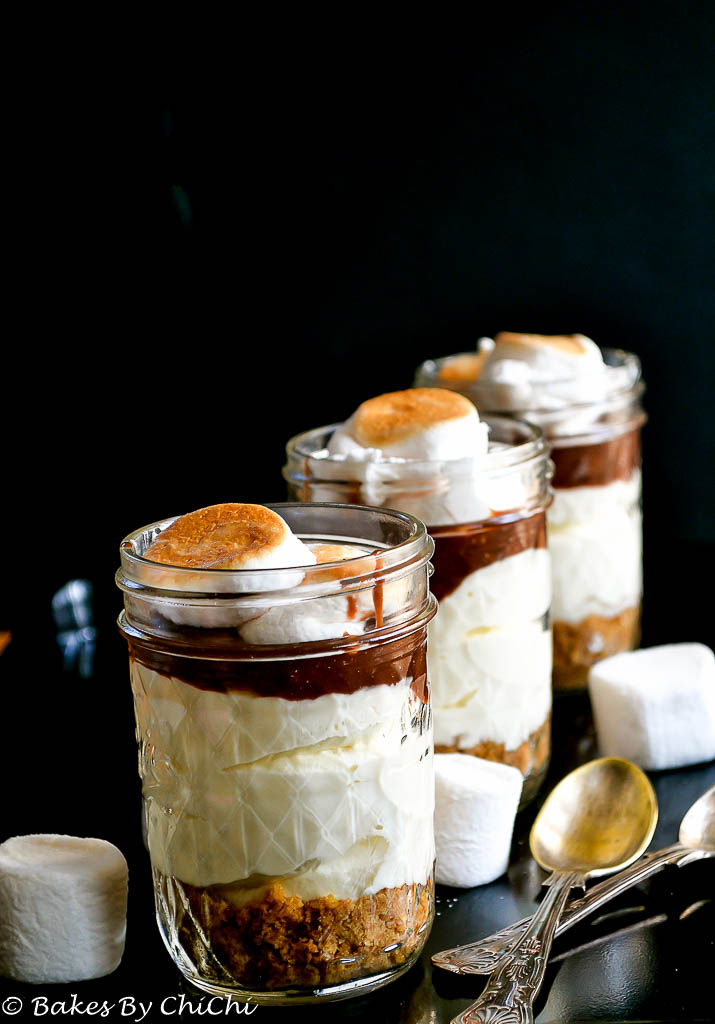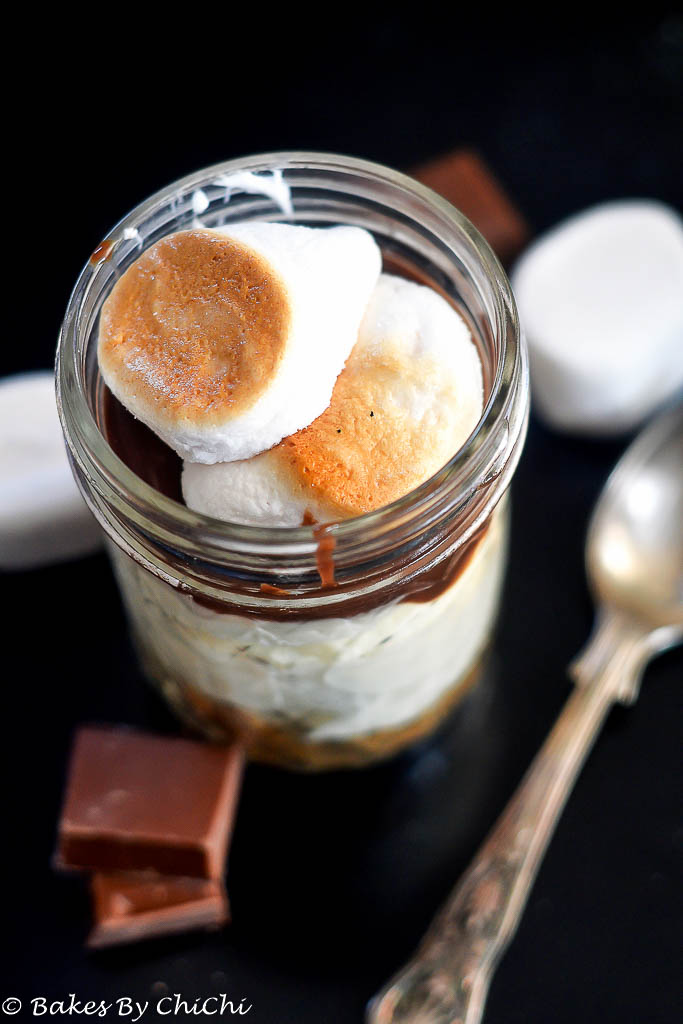 When you are ready to serve drizzle the top of each s'mores cheesecake parfait with chocolate ganache. Make the ganache with milk or dark chocolate that you enjoy eating.
Now for the finishing touch. Top each s'more cheesecake parfait with toasted marshmallows. Place the marshmallows under a grill until golden brown. The marshmallows toast really quickly so watch the oven carefully. Or you could use a kitchen torch to toast the marshmallows.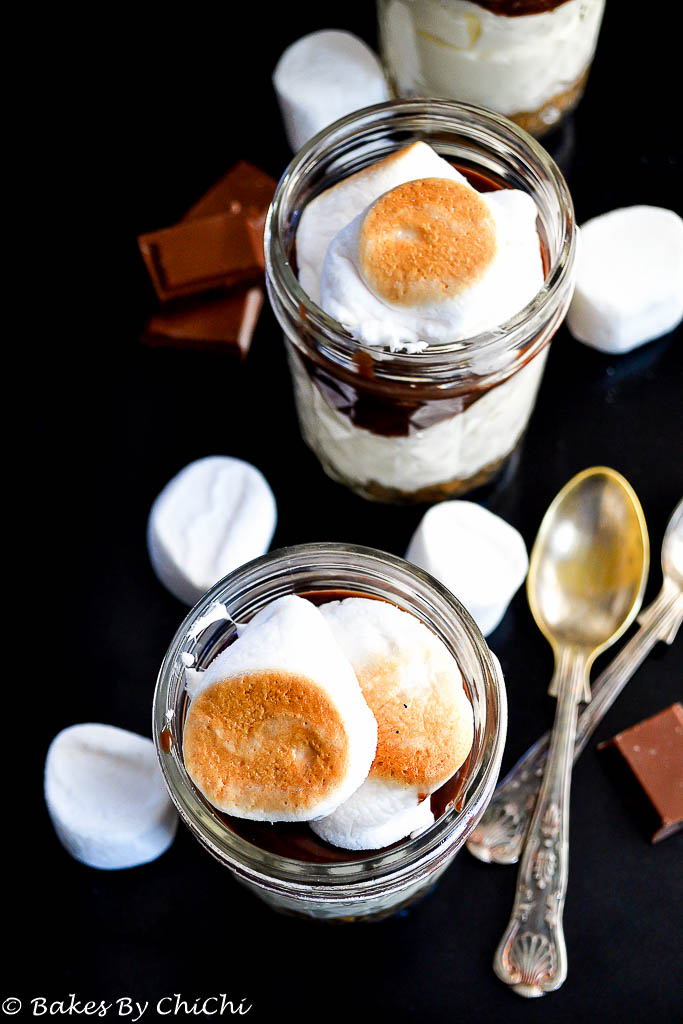 And that's it. So little work for such a luscious dessert. 🙂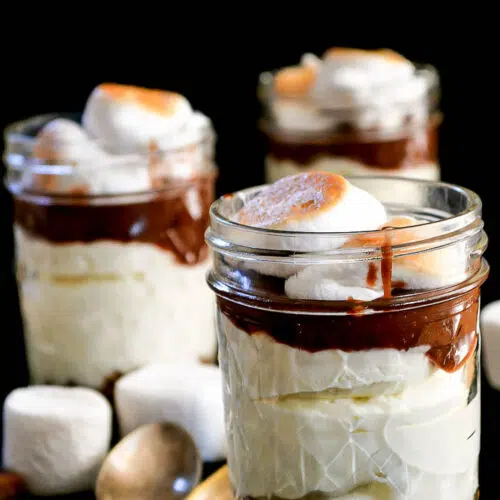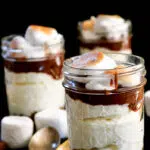 No Bake S'mores Cheesecake Parfait
Incredibly delicious no bake s'mores cheesecake made with layers of crushed digestive biscuits, creamy no bake marshmallow cheesecake, chocolate ganache and toasted marshmallows. It is absolutely amazing.
Print
Pin
Rate
Ingredients
Crust
7

digestive biscuits, crushed

3

tablespoons

unsalted butter, melted
For the filling
360

grams

(12.6 ounces) cream cheese

200

grams

(8 ounces) marshmallows

2

tablespoons

caster or granulated sugar

250

ml

whipping cream

1

teaspoon

vanilla extract
For the topping
100

grams

(3.5 ounces) milk or dark chocolate, chopped

50

ml

(1/4 cup) whipping cream

9

large marshmallows
Instructions
In a bowl, mix together digestive biscuit crumbs and melted butter. Evenly divide the crumbs between 5 serving glasses or dishes. Chill in fridge whilst you prepare cheesecake filling.

Place marshmallow is a big microwave safe bowl and microwave for up to 60 second bursts until marshmallows puff up and begin to melt. Stir the marshmallows using a buttered spatula until smooth.

Beat together cream cheese and sugar in a bowl until smooth. Stir in melted marshmallow and beat until mixed, for about a minute

Whip cream in bowl of stand mixer until stiff peaks form and then gently fold into cheese mixture.

Pour or pipe filling onto the crusts. Cover and chill in the fridge for up to four hours or overnight.
To make the ganache
Place chopped chocolate and cream in a microwave safe bowl. Melt in 30 second bursts in microwave, stirring with a whisk after each time, until completed melted. Stir ganache gently with a whisk until smooth and no streaks of cream remain.

Leave the chocolate ganache to cool for about 10 minutes before using.

Spoon the chocolate ganache onto the cheesecake layers and place back into the refrigerator until you are ready to serve.

Before serving top with individual cheesecakes with marshmallows and toast the top with a blow torch,
If you made this recipe, I would love to hear from you.
Tag Bakes By Chichi on Instagram or hashtag #bakesbychichi