This Pomegranate Mojito is is a flavourful twist on the classic Cuban mojito.  Pomegranate juice, rum, lime, simple syrup and white rum come together to make this refreshing cocktail. This cocktail is perfect  for the festive period or at gatherings.
I always enjoy making cocktails, maybe a tad too much. Especially during the testing stages. 
Mojitos remain my all time favourite cocktail. It's probably because they are so easy to make and I almost always have the ingredients at home. Please don't judge me. 
Today I am sharing another twist to the classic mojito. This version is made with pomegranates which are hailed as super foods. Their seeds have a vibrant jewel like red hue which are juicy. Pomegranates have flavour and are great for making drinks. 
Let's get into this Pomegranate Mojito
The classic mojito originates  is made with lime, rum and fresh mint. I have made twists on the classic version like Strawberry Vodka Mojito and Mango Mojito Sorbet Floats. 
For this pomegranate version, you will need:
Pomegranate Juice  (bottled or freshly made)
Fresh Mint
Lime juice
White rum
Simple syrup
Soda water
Fresh or Shop Bought Pomegranates Juice
This cocktail can be made with either bottled juice or freshly made juice from a pomegranate. For this cocktail you will need 500ml (2 cups) pomegranate juice.  
As this is is quite a large quantity, I recommend purchasing shop bought juice.  Unless you are like me and love making things from scratch. 
Making your own juice is so worth it though.  So if you live in a place where you can get a large quantity of pomegranate, then make some. When picking pomegranates , choose the ones that feel heavy and firm to touch.
To make the juice from a whole fruit, first cut and seed the pomegranate. Then place the seeds in blender , pulse the seeds a few times to break them apart and release their juice. Don't blend them for a long period of time, or the seeds will break apart and create cloudy juice.  Strain the liquid through a strainer into a container. 
If using store bought, get 100% pomegranate juice. If it is sweetened, reduce the simple syrup. 
How to make a Pomegranate Mojito
This cocktail recipe is easy to put together.
Muddle the mint with lime wedges.
Add in lime juice, rum , simple syrup and pomegranate juice.
Shake and  strain into a glass filled with ice.
Garnish with pomegranate seeds and a sprig of mint.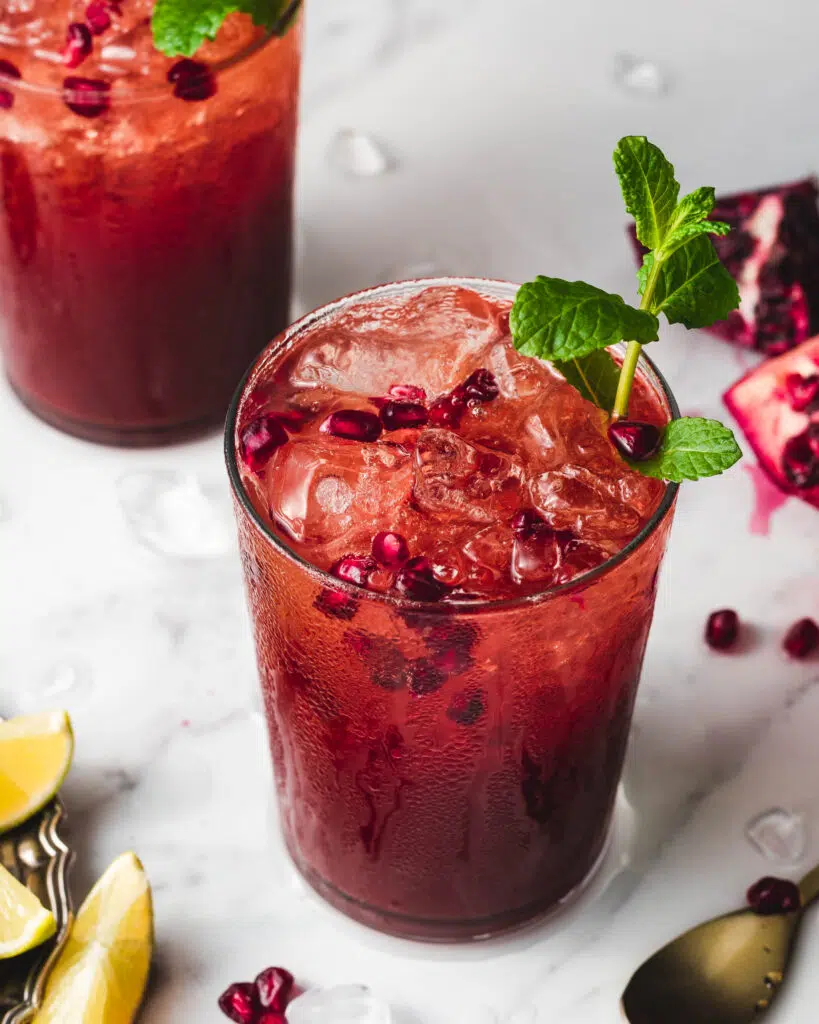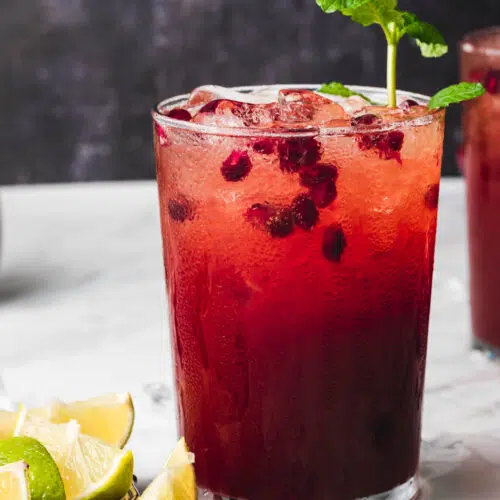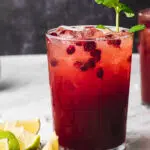 Ingredients
5-7

mint leaves

1

lime, quartered

500

ml

pomegranate juice

60

ml

simple syrup (recipe below)

60

ml

(2 ounces) rum

30

ml

(1 ounce) lime juice

pomegranate seeds, to garnish

mint sprigs
Simple Syrup
50

grams

(¼ cup/) sugar

60

ml

(¼ cup) granulated sugar
Instructions
Simple Syrup
Add sugar and water to a saucepan and heat over a medium heat until sugar melts. Remove from heat and leave to cool be using.
Pomegranate Mojito
Divide mint leaves and limes wedges between two glasses. Add your sugar syrup and muddle gently to release the lime juices .

Fill glass with ice, add the pomegranate juice and rum. Top with a splash of soda water.

Garnish with pomegranate seeds and mint sprigs.
If you made this recipe, I would love to hear from you.
Tag Bakes By Chichi on Instagram or hashtag #bakesbychichi