Rich chocolate cake with a creamy cheesecake filling and frosted with luscious mascarpone cream.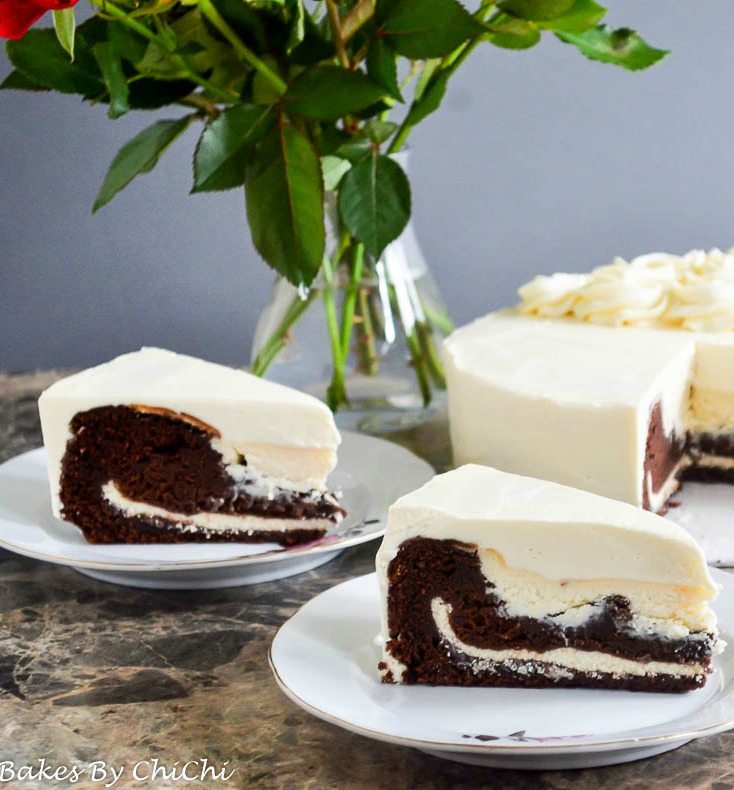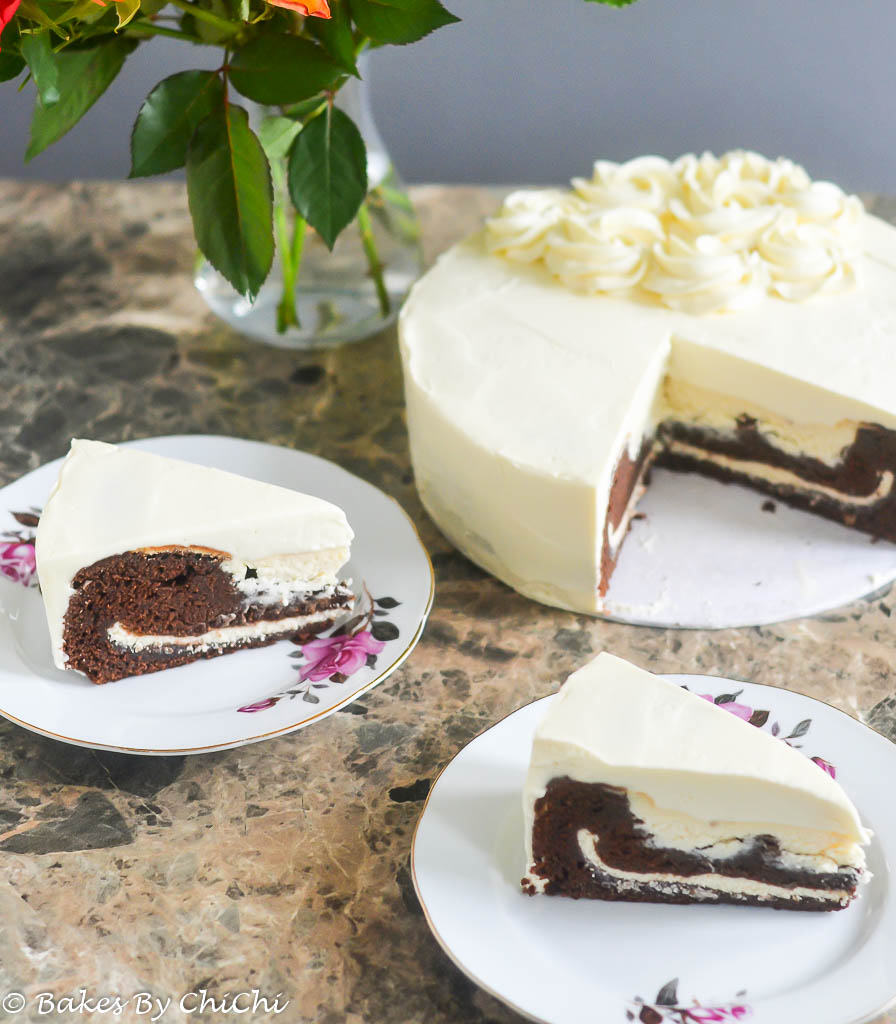 It was only a matter of time before I made a chocolate cheesecake cake. It's no secret my first love is chocolate cake, with cheesecake running a close second. So it only made sense to combine the two. I don't even know why this dessert  hasn't been made sooner. There has already been red velvet cheesecake cake and red velvet cheesecake cupcake.
This chocolate cheesecake cake is a very indulgent dessert. First you have the rich chocolate cake, then the creamy cheesecake and to finish off a no bake mascarpone cream frosting.  What I love about this dessert is that the chocolate cake and cheesecake are baked in one baking tin. Making it easy to whip up.
You can make this dessert a day ahead or even on the day you want to serve it. It can enjoyed warm but without the mascarpone frosting :-). I frosted the cake with mascarpone frosting to add that extra je nais se quoi. Plus I wanted to pipe some pretty roses. I can be extra sometimes.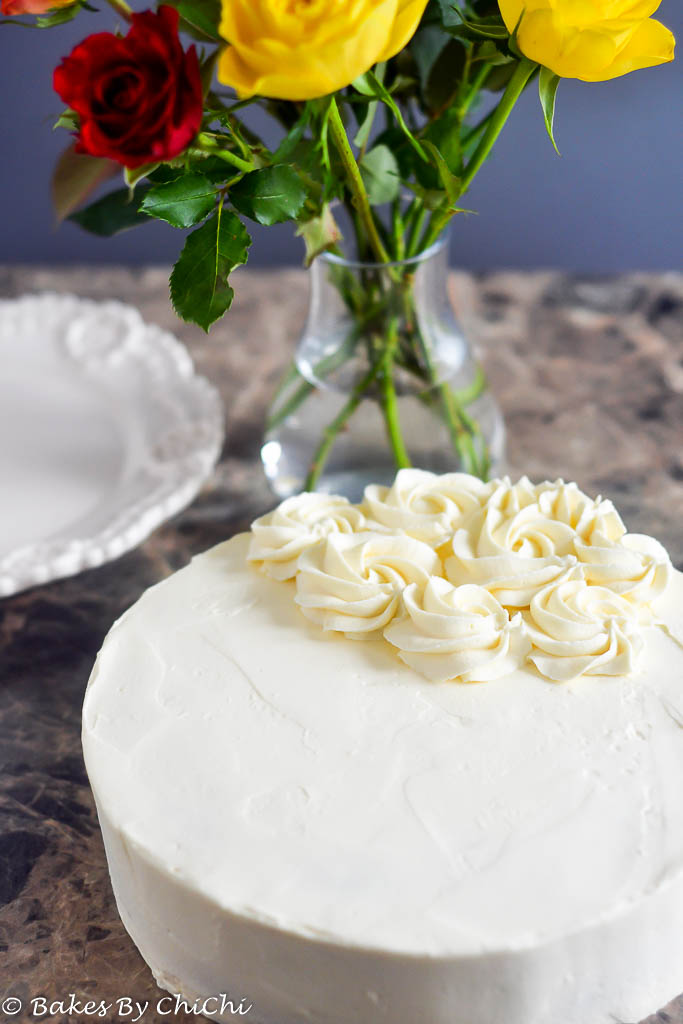 Tips for making this dessert;
Always start off with room temperature ingredients, i.e, eggs, butter and cream cheese.
Line the cake tin with grease proof or non stick paper for easy removal of cake and prevent any breakage.
You can substitute full fat cream cheese for half fat, full fat milk can be substituted for half fat or buttermilk.
Stay up to date with Bakes by ChiChi on:
Facebook | Instagram | Pinterest | Google Plus | Bloglovin
or you can subscribe to my weekly newsletter
Chocolate Cheesecake Cake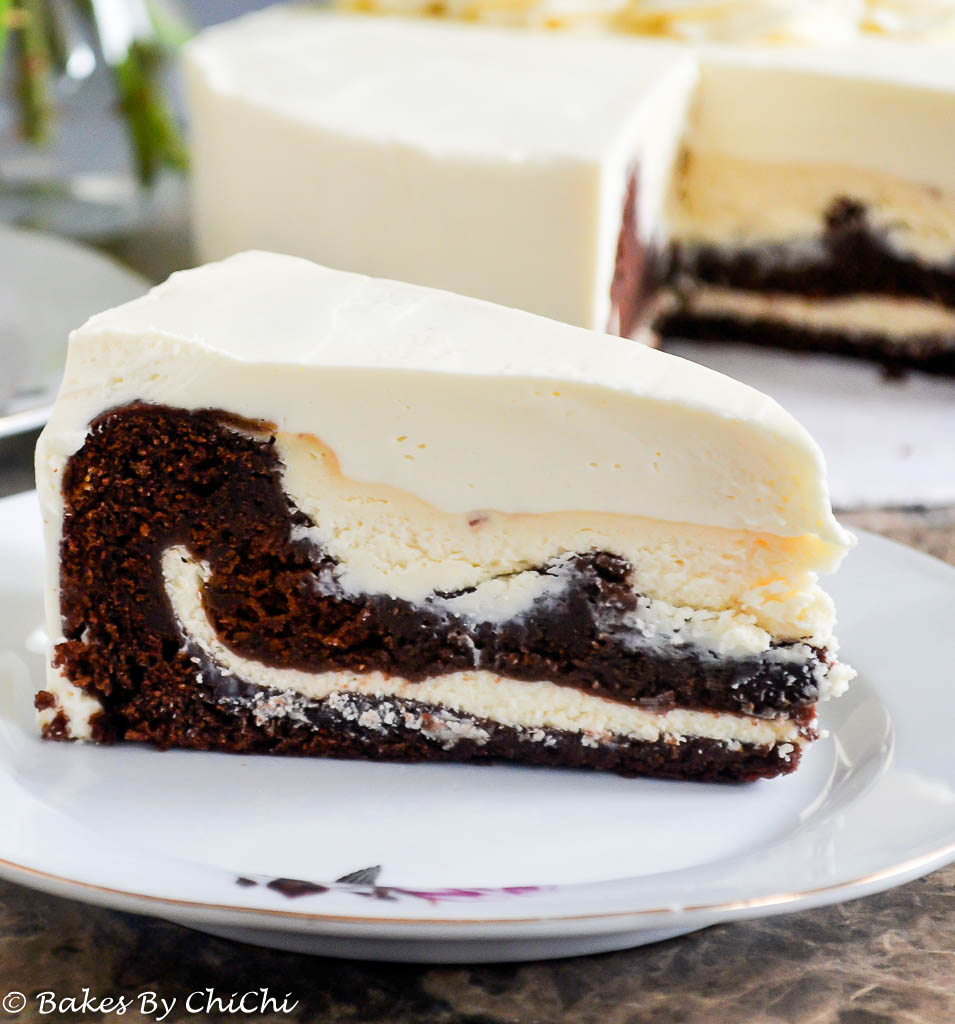 Ingredients
Chocolate Cake

125 g (½ cup) unsalted butter, room temperature
200 g ( 1 cup) sugar
2 large eggs
2 teaspoons vanilla extract
120 ml (½ cup )full fat or semi skimmed milk
180 g ( 1 ½ cup) plain flour
100 g ( ½ cup) cocoa powder
1½ teaspoons level baking powder
1 teaspoon bicarnonate of soda
1 teaspoon salt
120 ml (½ cup) hot water

Cheesecake Layer

300 g (10.5 oz) cream cheese, room temperature
50 g (1/4 cup) sugar
1 egg
1 teaspoon vanilla extract
pinch of salt
50 ml (1/4 cup) whipping cream

Mascarpone Cream

250 g (8.8 ounces) mascarpone cheese
250 ml (1 cup) whipping cream
1 tsp vanilla extract
50 g (1/2 cup) icing sugar, sifted
Instructions
Chocolate Cake
Preheat oven to 170 degrees celcius. Grease and line the bottom and sides of an 8-inch round baking tin with grease proof paper.
Beat unsalted butter and sugar for 5 minutes until light and fluffy.
In a mixing bowl sift together flour, cocoa powder, baking powder, bicarbonate of soda and salt. Set aside.
Add eggs one at a time, beating well after each addition occasionally scrapping down the sides of bowl. Mix in vanilla extract.
Alternatively add the flour mixture and milk in 3 parts, beginning and ending with flour mixture.
Mix in hot water.
Cheesecake Layer
In bowl of mixer (or using hand mixer) beat the cream cheese until smooth and creamy, slowly beat in sugar. Add salt. Scrape the sides of bowl as needed.
Beat in egg. Add the vanilla extract and whipping cream and beat until well incorporated.
Assemble Cake
Pour half of the cake batter into the prepared cake tin (use a spatula to spread the batter to the sides of tin). Pour a third of the cheesecake batter over chocolate cake layer and use an off set spatula to spread (do not swirl).
Pour the remaining chocolate cake batter over the cheesecake batter. Then finish off by pouring the remaining cheesecake mixture over the top to evenly cover the cake.Again use an off set spatula to gently spread the cheesecake over the cake batter.
Bake in preheated oven for 50 -55 minutes, or until the centre is just set.The centre may have a slight wobble.
Turn off oven and leave cake in oven for 20 minutes with the door slightly open. Leave in tin to cool completely, then cover and refrigerate for at least 2 hours.
Mascarpone Cream
Combine mascarpone cheese, double cream, vanilla extract and icing sugar in the bowl of a stand mixer. Beat until thick, like firmly whipped cream. Cover and chill until needed. Will keep for up to 2 days.
Frost Cake
Once cake is chilled, remove from cake tin and place on a serving dish.
Frost the sides and top of the cake with the mascarpone cream using an off set spatula.
Decorate with piped roses using a 1M open star.
3.1
https://bakesbychichi.com/chocolate-cheesecake-cake/