This no bake Nutella cheesecake is packed full of hazelnut flavour. It starts off with an Oreo hazelnut crust, then a layer of Nutella spread and finally a Nutella cheesecake layer. Finish off with whipped chocolate swirls and top with Ferrero Rocher.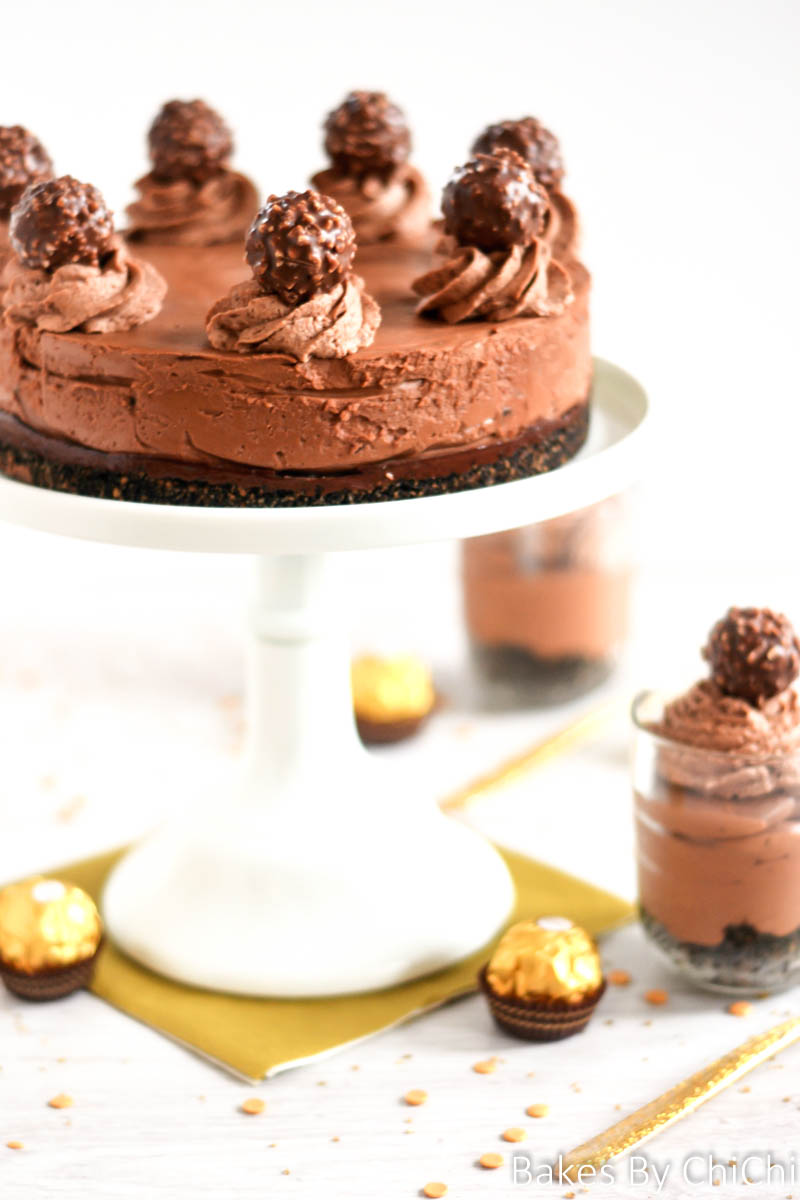 Happy New Year Everyone!!!! Hello 2018.
Do I have any resolutions this year?? I don't think so. I will keep being the best me I can be. Push myself more. Go travelling. My second holiday for this year is in the process of being booked. I need to find some cheap flights.
Oh, and blog more. My blogging was very sporadic last year. That needs to be rectified. And shoot more how-to videos.
This year I plan on sharing a lot more African recipes on the blog.  I am so excited about this and have written so many recipe ideas down already. The idea is to share recipes with ingredients that is accessible to everyone.  I remember when I first moved to London over 15 years ago, I would have to travel hours just to get ingredients to make food from back home. To top it off it these ingredients didn't come cheap. Thankfully things have changed now. Inngredients are a lot more accesible.
I love easy to put together desserts. After all the cooking during Christmas, it's nice to start the new year off relaxed. I went out during the day yesterday and got lots of finger foods to enjoy during the day. For dessert I decided to make a no bake Nutella cheesecake.
Originally, I was going to make just an Oreo crust, then I noticed a bag of hazelnuts I bought in the cupboard. To enhance the flavours of the hazelnuts, I roasted them.
Place them on a baking tray in a pre-heated oven and then roast for about 10- 15 minutes, checking regularly to make sure they aren't burning. I checked mine every 5 minutes. Wrap the hazelnuts in a kitchen towel and rub the nuts in towel to remove loose skins. Cool completely.  Crush Oreo cookies and roasted hazelnuts in a food processor. Mix the crumbs with melted butter and press into the base of an 8-inch springform tin.  Chill for 10 minutes.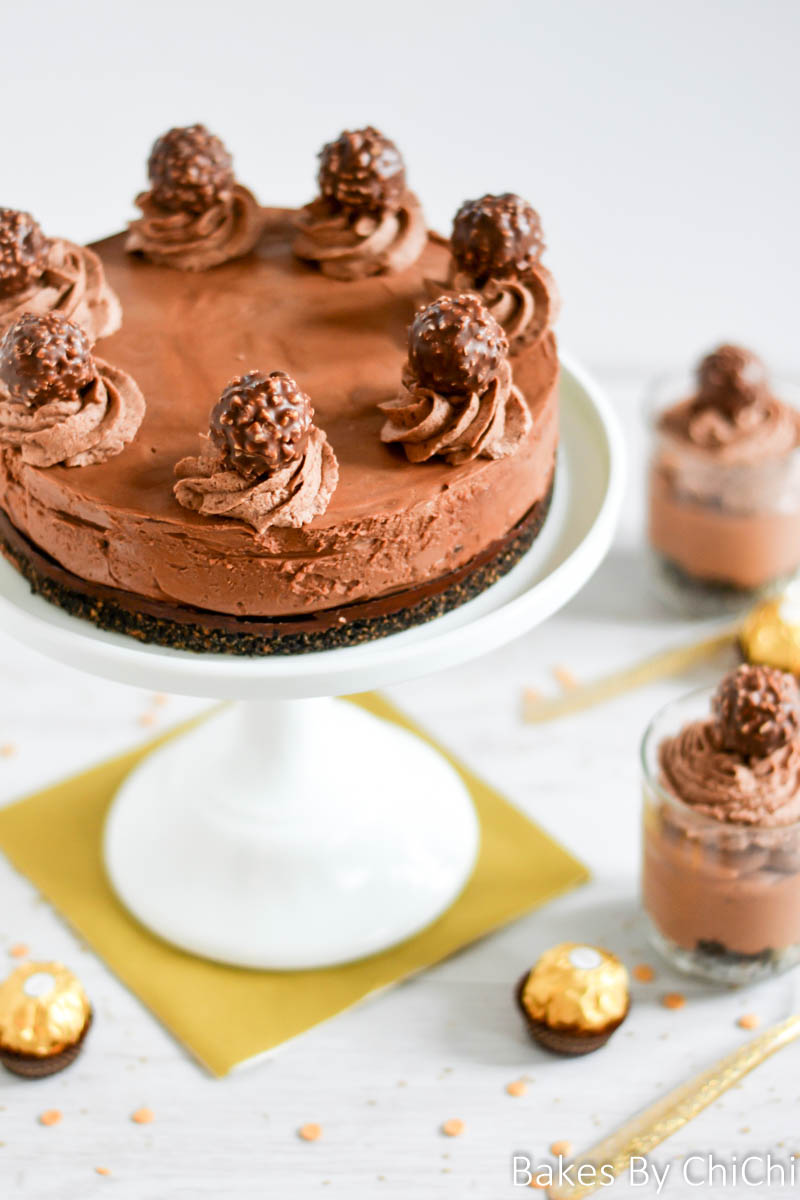 Spread a layer of melted Nutella over the base. Beat cream cheese and sugar, until smooth. Add Nutella and melted chocolate to the cream cheese mix. I used the small 200 g jar of Nutella. And to give the nutella cheesecake a more chocolatey flavour, I also added melted chocolate.  Pour the cream cheese filling over the Nutella and chill for overnight. Once the Nutella cheesecake has set, beat together some melted chocolate and whipping cream until stiff peaks forms. Pipe swirls over the cheesecake and pop Ferrero Rocher chocolates on top of the swirls.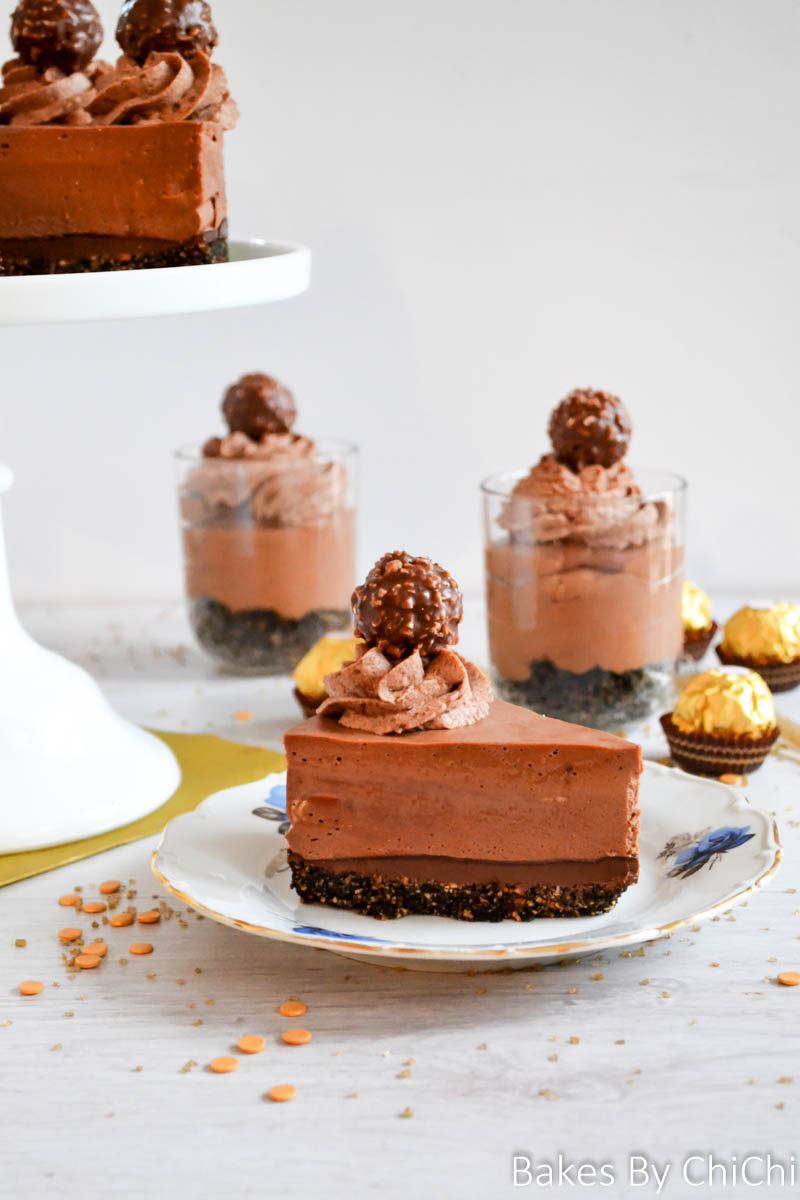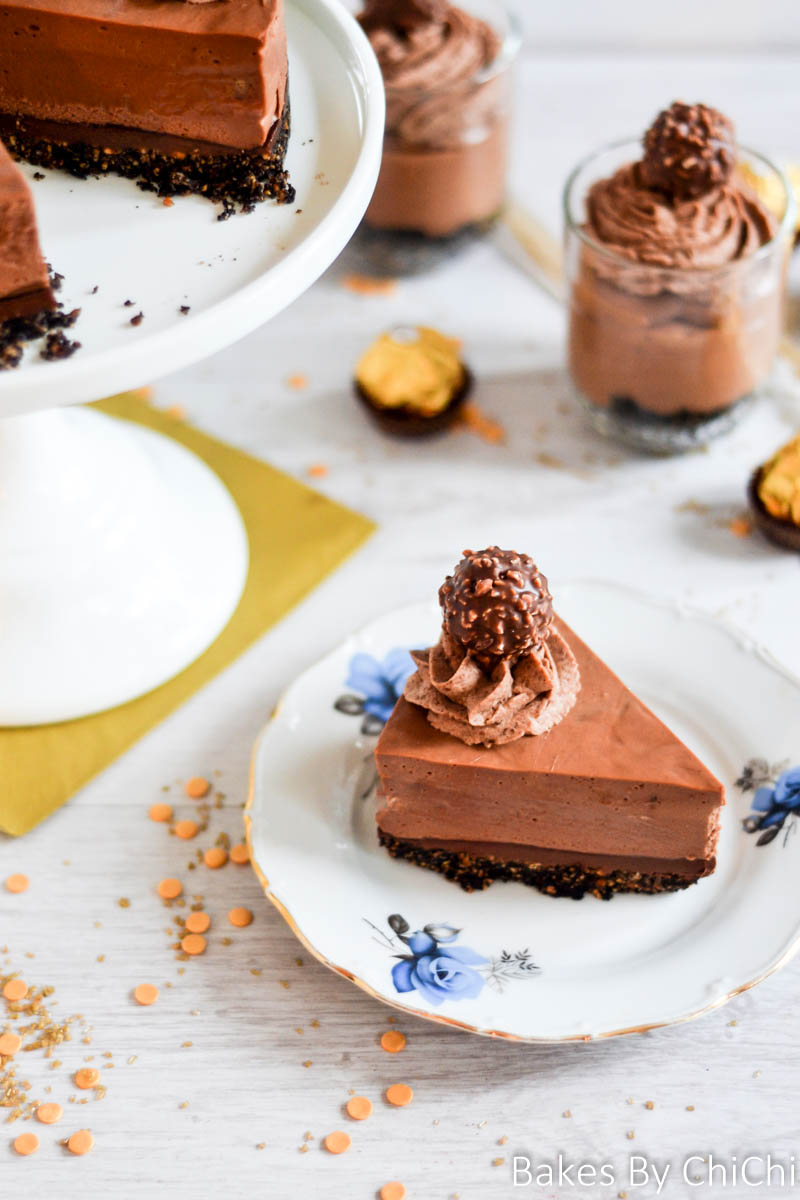 There was some cheesecake batter left over, which I used to make 2 individual cheesecakes in a jar. I am a collector of Nutella jars. After the last morsel of Nutella has been scraped out, I wash the jars and store them to be re-used. Those jars are the perfect size to use to make desserts in a jar.
This nutella cheesecake is so good. It's creamy, rich and packed full of flavour.
Stay up to date with Bakes by ChiChi on:
Facebook | Instagram | Pinterest | Google Plus | Bloglovin
or you can subscribe to my weekly newsletter
No Bake Nutella Cheesecake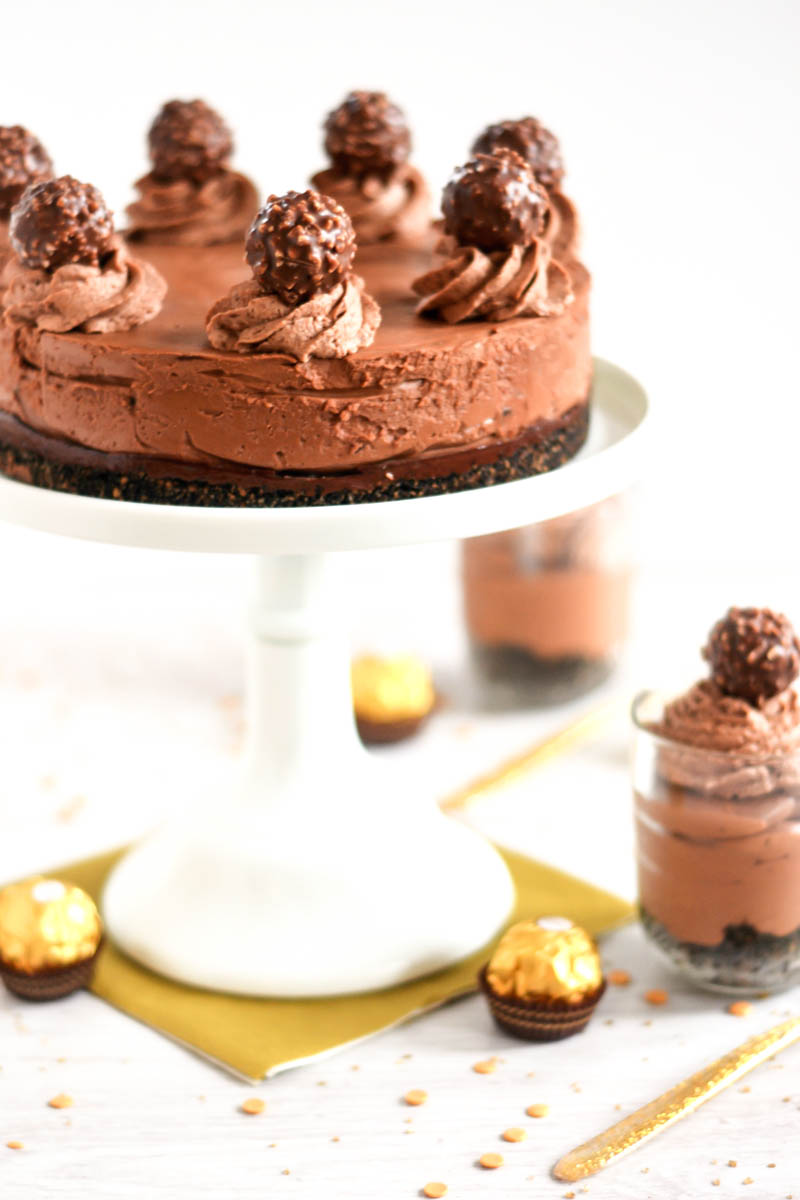 Ingredients
Crust

1 packet oreo cookies, filling removed
125 g hazelnuts, roasted
50 g unsalted butter, melted

Filling

500 g cream cheese, room temperature
130 g caster sugar
1 1/2 teaspoon vanilla extract
200 g (1 small jar) nutellla
100 g melted milk or dark chocolate
250 ml whipping cream
60 ml water
12 g (1 small packet) gelatine powder

Whipped chocolate cream

100 g melted milk or dark chocolate
125 ml whipping cream
Instructions
Crust
Pre-heat oven to 180 degrees celcius. Place the hazelnuts into a baking tray and roast until browned, checking regularly that they aren't burning. Wrap nuts in a kitchen cloth and leave to cool for 1 minute. Close the cloth and give it a rub vigorously to remove the skins.
Transfer hazelnuts into a food processor, add oreo cookies and blitz to form crumbs. Add melted butter.
Grease a 8 inch loose bottom or springform cake tin. Line the bottom with greaseproof paper.
Press crumb mixture onto bottom of the cake tin. Chill in fridge whilst preparing filling.
Nutella Filling
Whisk together gelatine and water in a small bowl and allow gelatin to bloom. Microwave the bowl of gelatin for 15 seconds or more until melted. Leave to cool slightly.
Melt 2 tablespoons of nutella ina microwave for 30 seconds. Spread over the hazelnut oreo crust. Leave in the fridge to chill whilst you prepare the nutella cream cheese filling.
Beat together cream cheese, sugar and vanilla extract in a bowl until smooth. Add nutella and melted chocolate, then beat until combined.
Whip cream in bowl of stand mixer or using a hand mixer until soft peaks form, then add melted gelatine. Beat cream until stiff peaks form and then gently fold into nutella cheese mixture.
Pour filling over the nutella spread and smooth over top with spatula. Cover and put in fridge to chill for 4 hours or overnight.
When you are ready to serve. Melt chocolate at 30 second intervals in a microwave until melted. Leave to cool and beat together with whipping cream, until peaks form. Using a star tip, pipe swirls on top of the cheesecake. Top with ferrero roche chocolates.
3.1
https://bakesbychichi.com/no-bake-nutella-cheesecake/