These Strawberry Cheesecake Cookie Cups have a soft chewy cookie base and are filled with sweet creamy no bake strawberry cheesecake.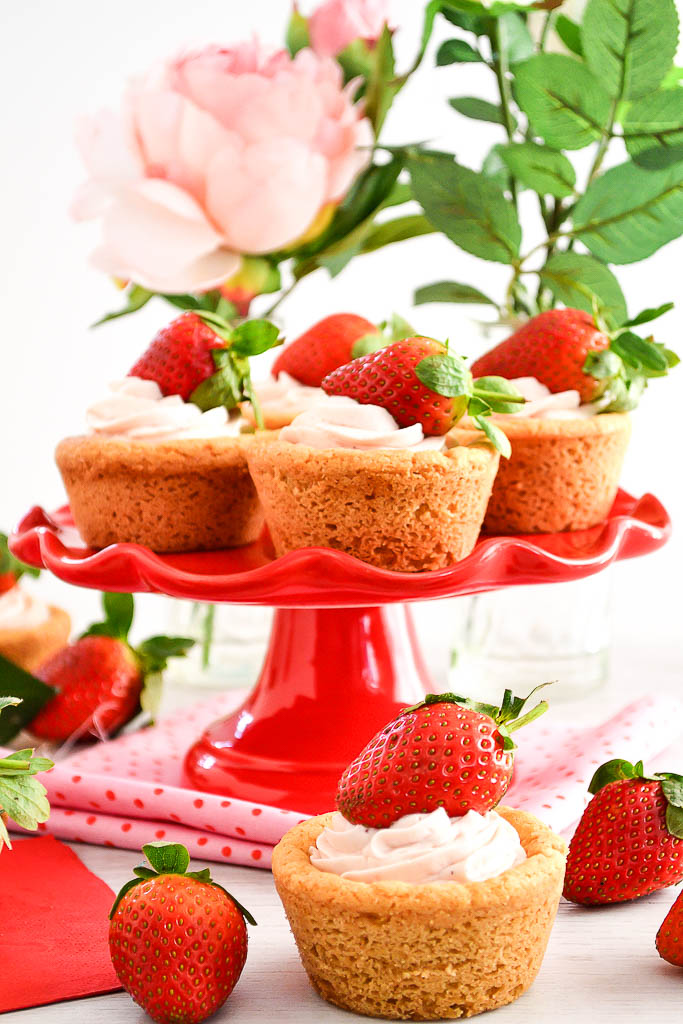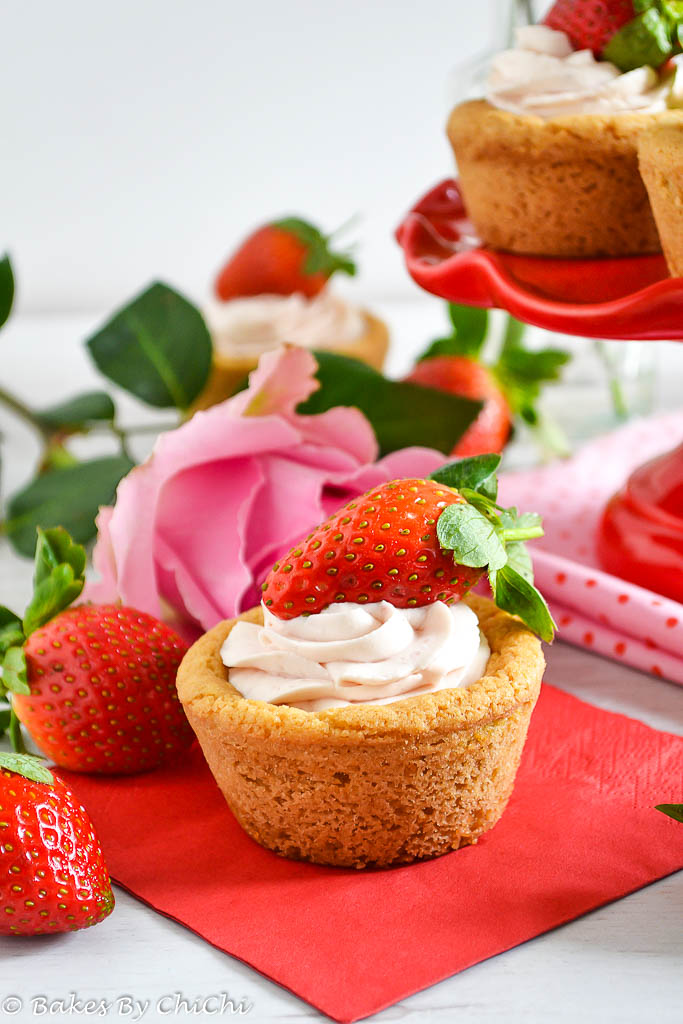 It's been one of those weeks' for me. Who knew running a small food blog could get stressful. I actually considered deleting the website because last Sunday a hacking troll decided to target this website. But I am not going to let them get the best of me. So many sleepless nights and hard work has gone into making this place what it is today. Thankfully, I have got everything under control and the website fortified.
I am not a tech savvy person, but I quickly got myself clued up on what to do. Which I am sharing here with you today. Here are some vital steps that can be taken if your blog ever gets hacked.
First contact your domain host. They run a full scan on my website and were not able to locate any malware on my site. With mine, the hacker made some changes to a blog post. It was a simple matter of removing the compromised post and the website was back to normal.
Change all your passwords. Auto generate a really complicated password. Writing these passwords down is a good idea.
Install a firewall. Tech support staff at Bluehost recommended Cloudflare. CloudFlare's web application firewall quickly stops any malicious traffic and attacks at the network level, before they ever reach your website's servers. There are different plans, which includes a free one.
Lastly back up all your files. You can restore any lost data or file with the backup. Also save copy drafts of all blog posts on your computer. I was lucky to have my compromised blog post saved. So it was only a matter of creating a new blog post.
While waiting for the website to be sorted, I had to keep myself calm and occupied. Baking can be a calming and zen like. So I made these delicious Strawberry Cheesecake Cookie Cups.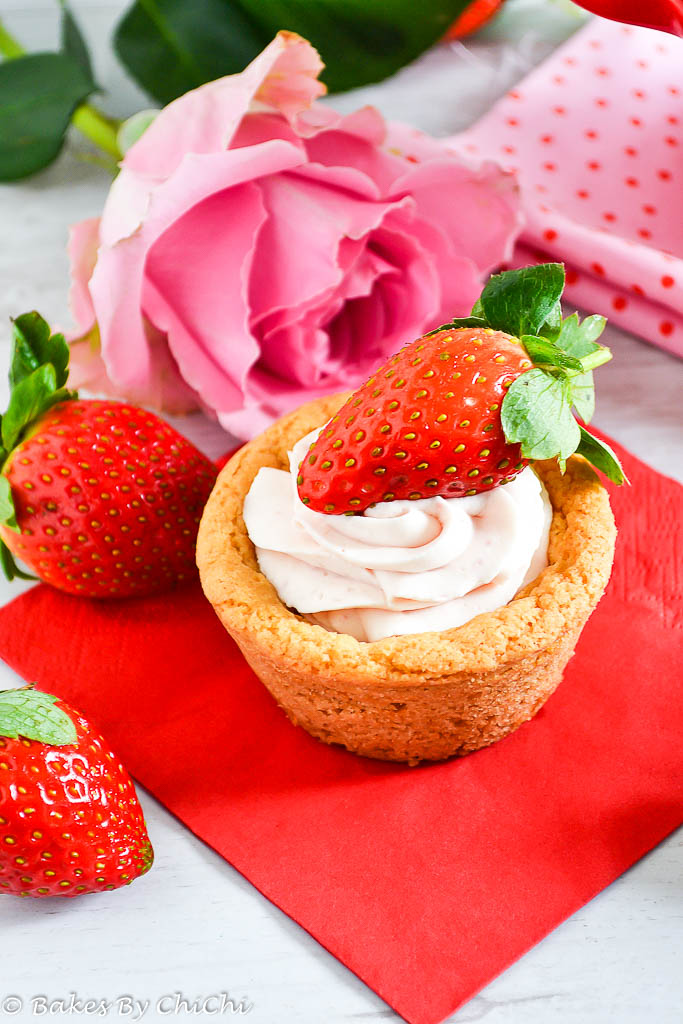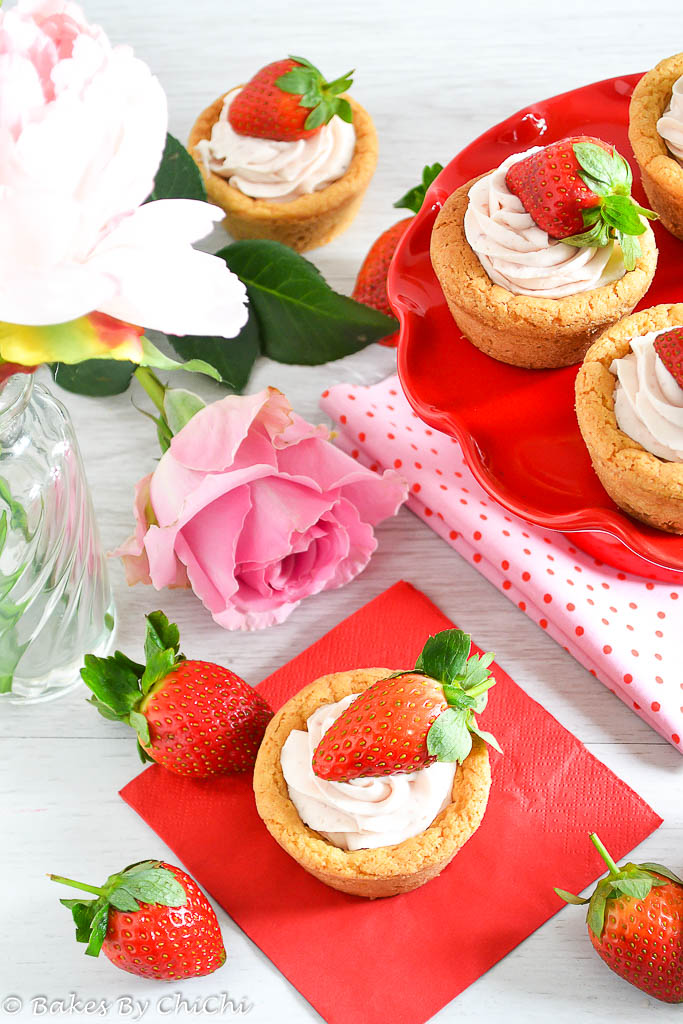 The cookie cups are soft and chewy. Butter, white and brown sugar, an egg, vanilla extract, plain flour, cornflour and bicarbonate of soda (baking soda) are the ingredients. Usually, chilling the cookie dough is mandatory but you will not need to for this recipe. The muffin tin will aid the cookies in holding their shape whilst baking. Bake the cookie cups in the oven for 10 – 12 minutes, until golden brown. The centres of the cookies should fall a bit whilst cooling. Use the end of small jar or a small rolling pin to press the centres down a bit creating a well.
Now the centres of the cookie cups will be filled with creamy strawberry cheesecake. Fresh pureed strawberries, mascarpone cheese, vanilla extract , sugar and whipping cream are the ingredients you will need to cream the delicious cheesecake filling.
Top each strawberry cookie cup with a fresh strawberry.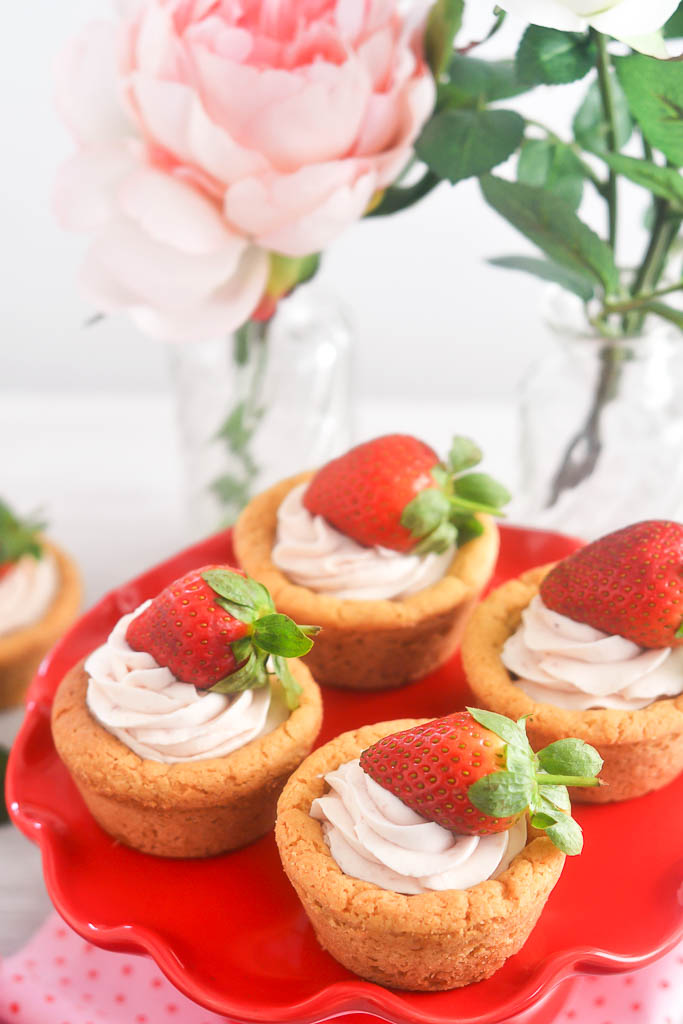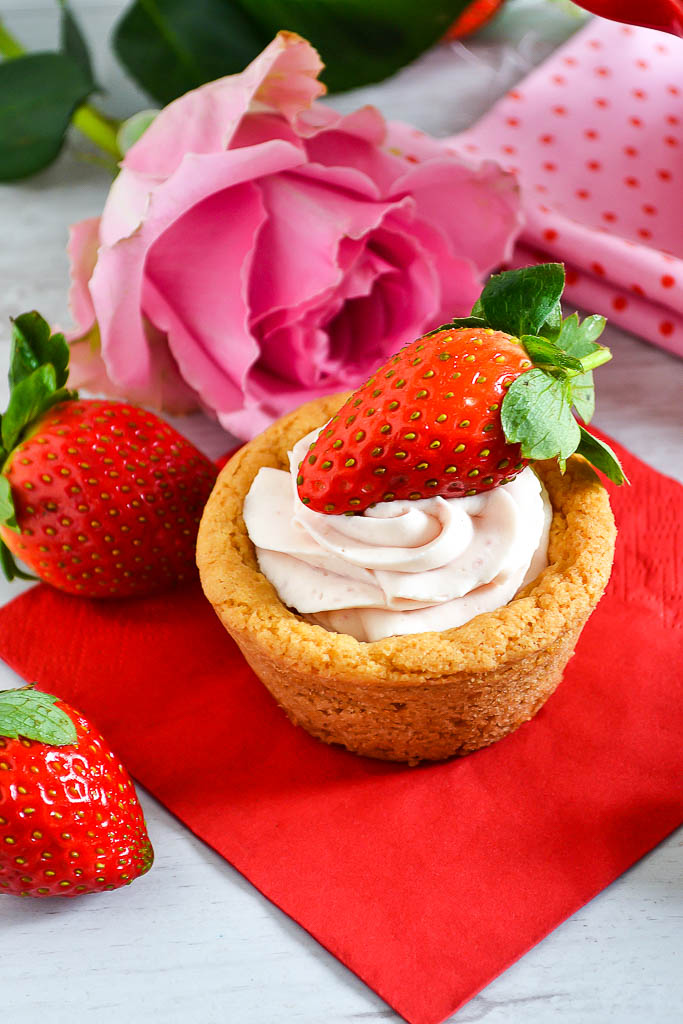 It was rave reviews from my colleagues at work who had the pleasure of eating the cookie cups. That's how seriously good these strawberry cookie cups.
Strawberry Cheesecake Cookie Cups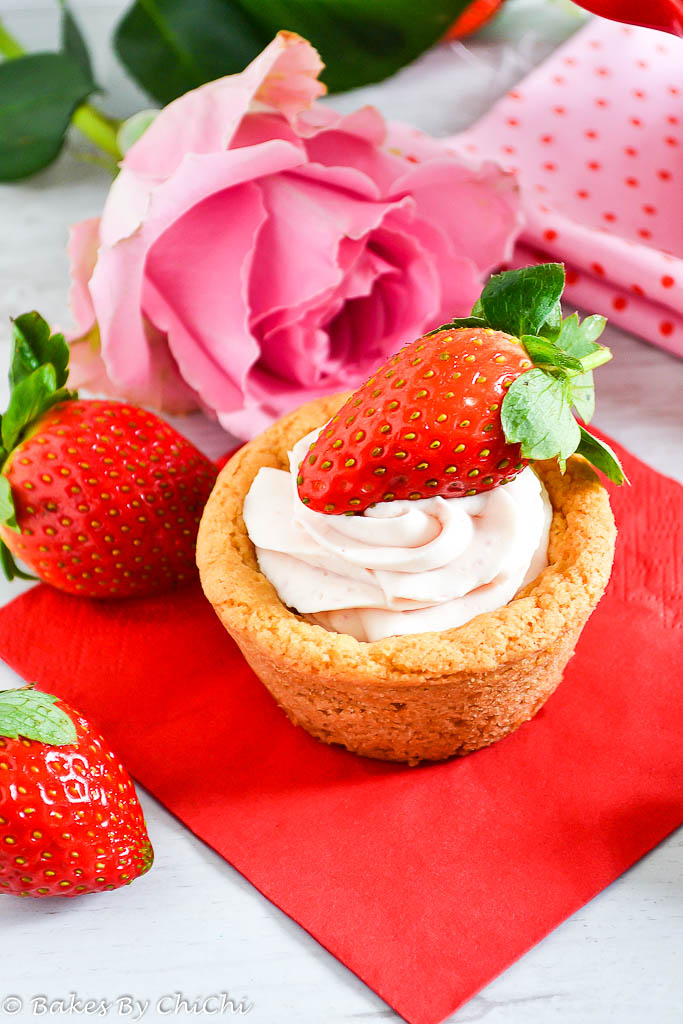 Ingredients
Cookie Cups

180 g (3/4cup) unsalted butter, room temperature
200g ( 1 cup) caster sugar
45g (1/4 cup) brown sugar
1 large egg , room temperature
2 teaspoons vanilla extract
265g (2 cups plus 2 tablespoons ) plain flour
2 teaspoons cornflour
1/2 teaspoon salt
1 teaspoon bicarbonate of soda

No Bake Strawberry Cheesecake

250 g mascarpone cheese
100 g (1/2 cup) caster sugar
1 teaspoon vanilla extract
120 ml (1/2 cup) pureed strawberries
250 ml (1 cup) whipping cream
Instructions
In the bowl of stand mixer beat butter and sugars until light and fluffy, about 5 minutes. Add egg mixing well until combined. Scrap sides as needed. Add vanilla extract.
Sift flour, corn flour, salt and baking soda into mixture. Mix until combined on low speed.
Preheat oven to 165 degrees celcius. Grease a muffin tin.
Roll 2 scoops of cookie dough (I used a small cookie scoop) and press the dough into the bottom of the muffin tin.
Bake for 10 - 12 minutes until the sides of the cookie cups look golden brown.
Remove from the oven and place on a cooling rack. The centres if the cookie cups should fall a bit whilst cooling. Use the end of small jar or a small rolling pin to press the centres down a bit creating a well. Leave to cool in the muffin tin for 10 minutes before removing cookie cups. Place on wire rack to cool completely.
No Bake Strawberry Cheesecake
Beat together mascarpone cheese, sugar and vanilla extract in a bowl until smooth.
Whip cream in bowl of stand mixer until stiff peaks form. Gently fold whipped cream and strawberry puree into cheese mixture. Add some pink food colour if desired.
Pipe strawberry cheesecake filling into the cooled cookie cups and top with a fresh strawberry. Place cookie cups in the fridge until ready to serve.
3.1
https://bakesbychichi.com/strawberry-cheesecake-cookie-cups/