Homemade yeast doughnuts coated with vanilla sugar.  Thin, crisp exterior that opens up to a tender airy centre.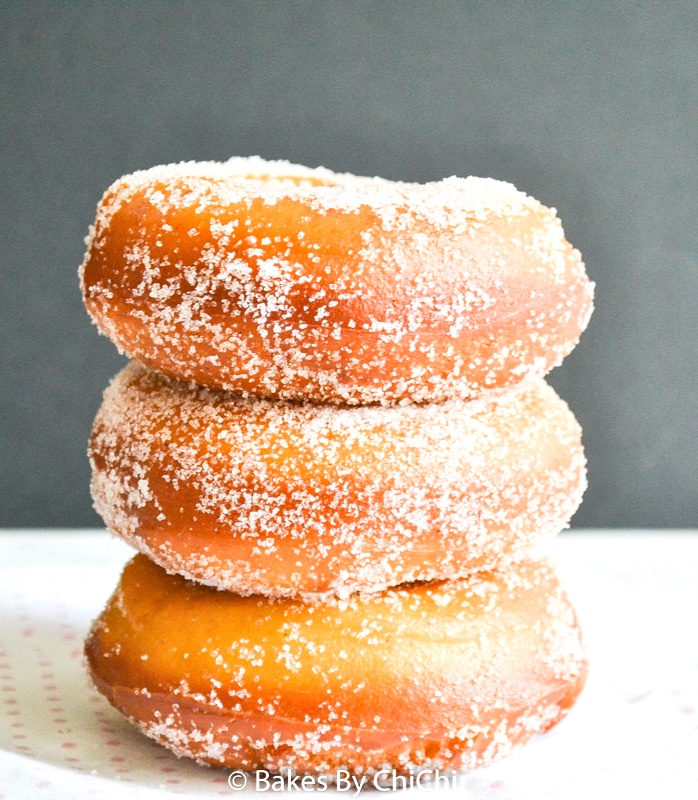 Doughnuts are another favourite treat. Today I will be sharing a delicious raised doughnut recipe.  This yeast doughnuts are not as quick to make as the chocolate glazed spiced doughnuts I posted before. They may take a bit of time, a little effort and it is absolutely worth the wait. A lot of process of making the yeast doughnuts is  spent waiting for the dough to proof (rise).
For these yeast doughnuts we will be mixing together warm milk and butter, warm water and yeast, sugar, eggs, nutmeg, salt and flour. The dough is moist but rollable. Two important steps when making these doughnuts are kneading and to proof (rise). Kneading develops the gluten in the dough and can be done either by hand or with a dough hook. Proof the dough to help create the right size and makes air bubbles. The air bubbles make the dough light and airy.
To fry these doughnuts use a heavy bottomed pot or frying pan which can hold at least 2 inches of oil. Attach a thermometer to the side of the pot or frying pan and bring the temperature of the oil up to 350 degrees Fahrenheit. When the oil reaches the required temperature, reduce the heat to low and monitor the temperature during frying. If you notice the temperature drops between frying batches of dough, turn the heat up slightly .
Glaze the doughnuts with vanilla sugar and enjoy!!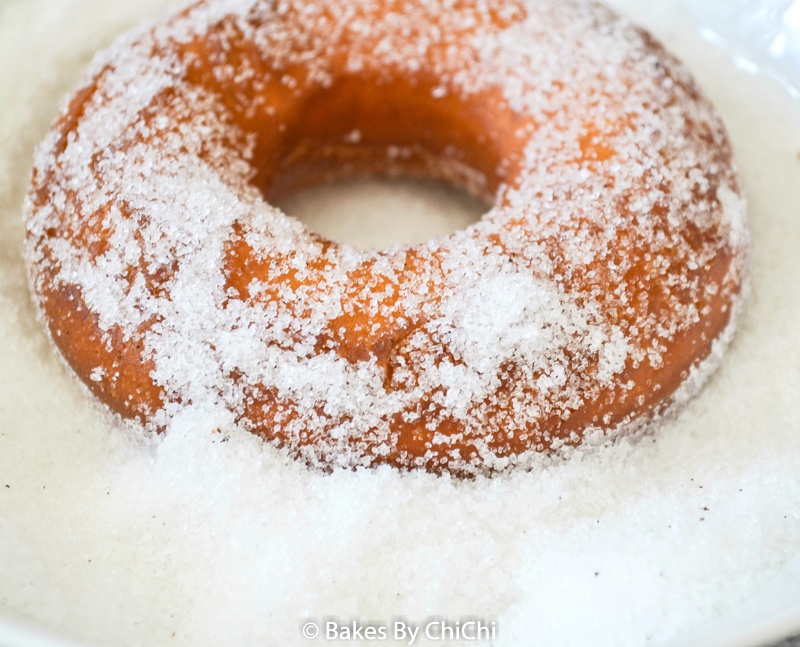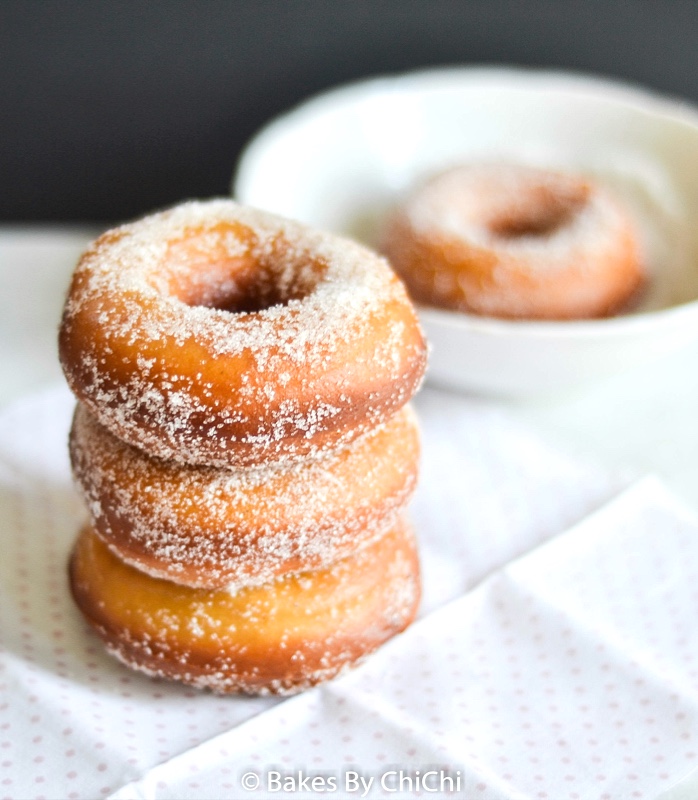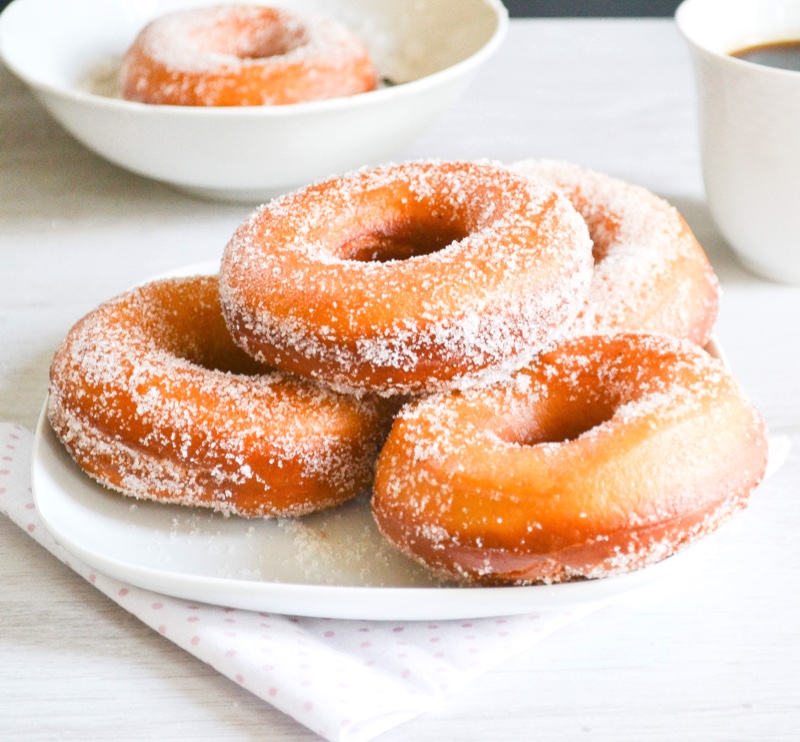 Save the doughnut holes and fry. And if you feel like it, place some slightly warmed nutella in a piping bag and pipe the filling into the doughnut. Trust me it is worth it!!! 🙂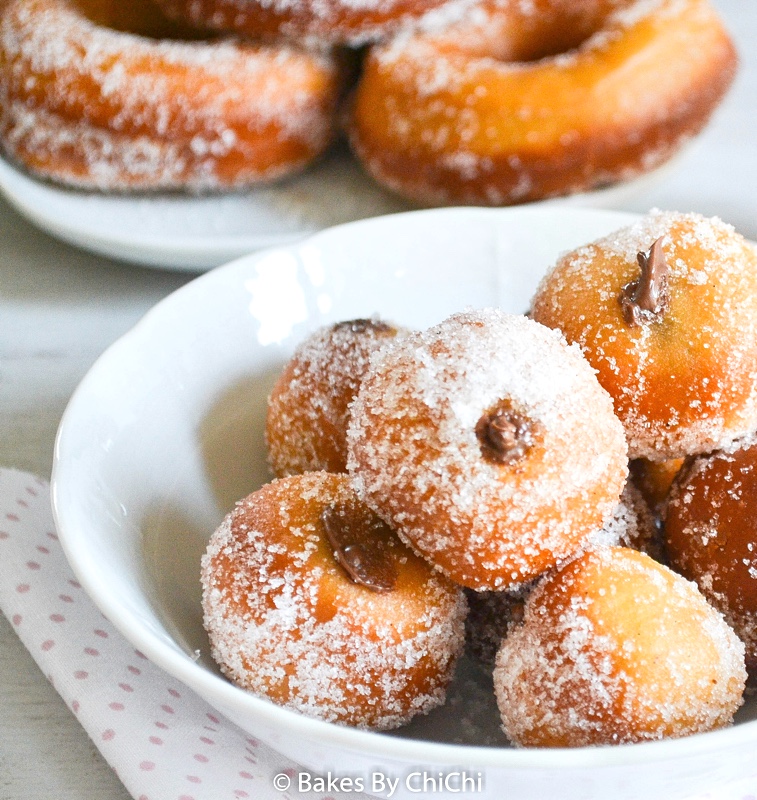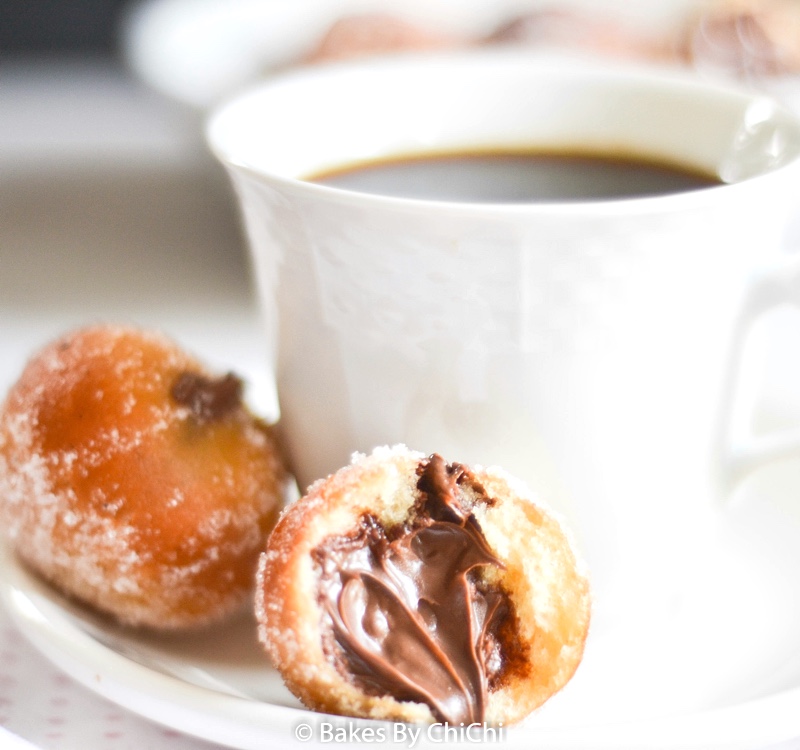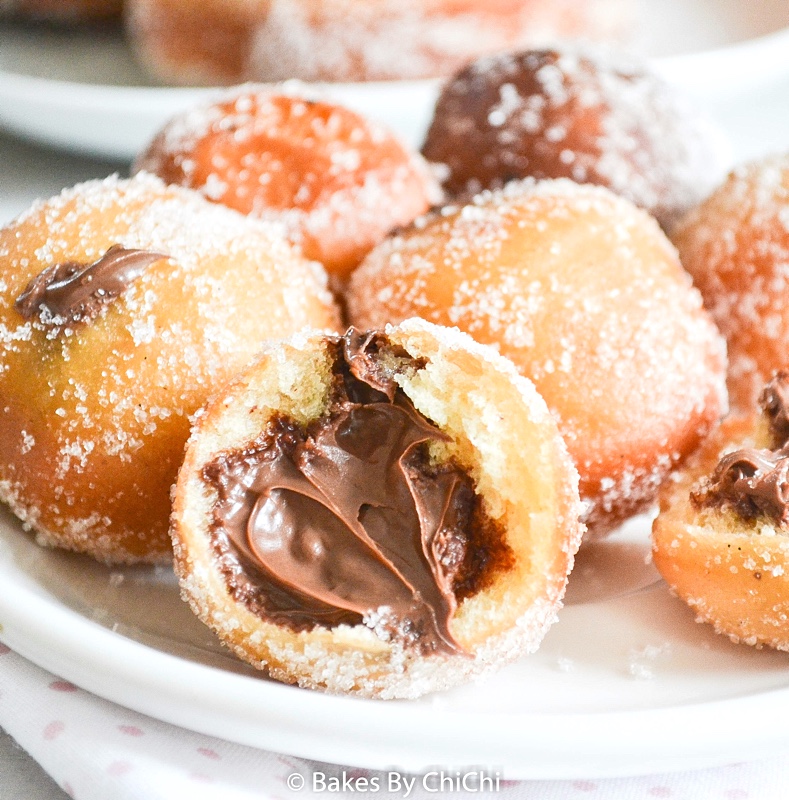 Stay up to date with Bakes by ChiChi on:
Facebook | Instagram | Pinterest | Google Plus | Bloglovin
or you can subscribe to my weekly newsletter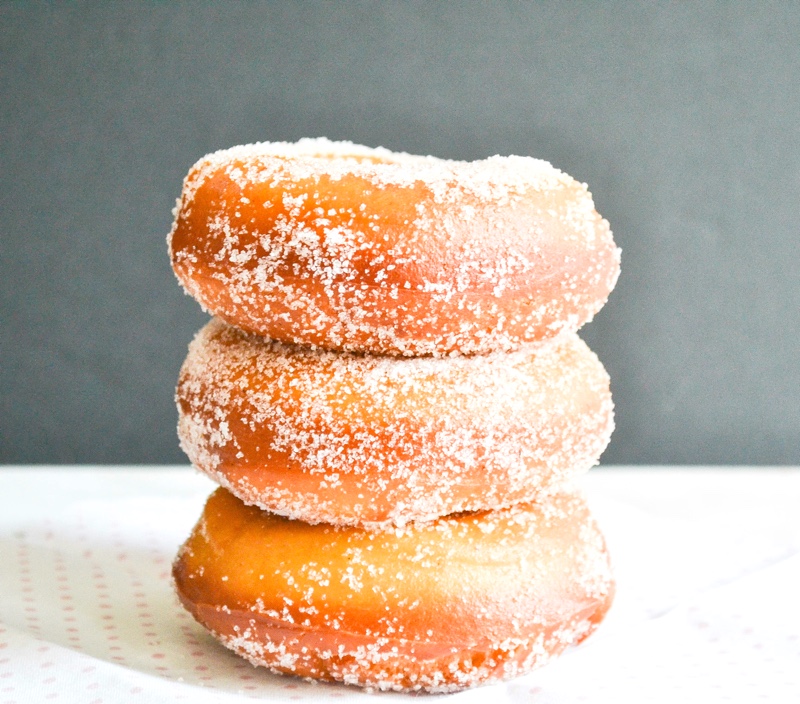 Ingredients
Yeast Doughnuts

90 ml warm water
11/2 teaspoons yeast
160 ml milk
60 g (1/4 cup) butter
65 g (1/3 cup) sugar
1 teaspoon nutmeg
1 teaspoon salt
2 eggs
480 g (4 cups) plain flour, divided use

Vanilla sugar (for coating)

1 cup granulated sugar
1 vanilla bean, scraped

Equipment

Parchment paper cut into 4 inch squares
Candy thermometer
3 inch and 11/2 inch circle cutters or a doughnut cutter
Heavy bottomed pot or wok
Instructions
Place the milk in a medium saucepan and heat over medium heat until it starts to bubble. Place butter in a bowl and pour warmed milk over. Set aside.
In a small bowl, sprinkle the yeast over the warm water and let dissolve for 5 minutes.
Pour the yeast mixture into the bowl of a stand mixer and add the cooled milk and butter mixture. Add the eggs, sugar, salt, nutmeg, and 240 g (2 cups) of the flour.
Use the paddle attachment to combine the ingredients on low speed and beat until well combined.
Add the remaining flour, half a cup at a time mixing well after each addition.
Change to the dough hook attachment of the mixer and beat on medium speed until the dough pulls away from the bowl and becomes smooth, about 3 to 4 minutes. If you haven't got a dough hook, turn dough onto a lightly floured surface and knead for 3 to 4 minutes.
Transfer the dough to a well - oiled bowl. Cover and let rise for 1 hour or until doubled in size in a warm place like your microwave.
On a lightly floured surface, roll out dough to 1/2 inch thick. Cut out dough using a 3-inch round cutter and poke holes in the middle using a 11/2 inch small round cutter or round piping tip . Save the doughnut holes and roll into a smooth ball.
Place each doughnut on a piece of parchment o paper, then place on a baking sheet. Put the tray in the oven. Turn the oven on for 1 minute to barely warm it up, place a cake tin filled with boiling water in the oven. This will keep a skin from forming on the dough. Leave to rise until doubled in size.
Preheat the oil in a deep fryer 350 degrees F. Gently place the doughnuts into the oil, 3 to 4 at a time. Turn the doughnuts as soon as they become golden brown on the underside. Remove from oil and place on a paper towel lined plate.
When cooled slightly roll in vanilla sugar to coat.
Poke a hole in the doughnut holes with a skewer, place some slightly warmed up nutella in a piping bag and pipe the filling into the doughnut
3.1
https://bakesbychichi.com/sugared-yeast-doughnuts/
 Another Doughnut Recipe
Chocolate Glazed Spiced Cake Doughnuts