Soft crumbly vanilla spritz cookies frosted with lemon buttercream. The perfect combination of sweet plus zesty and makes a yummy springtime treat.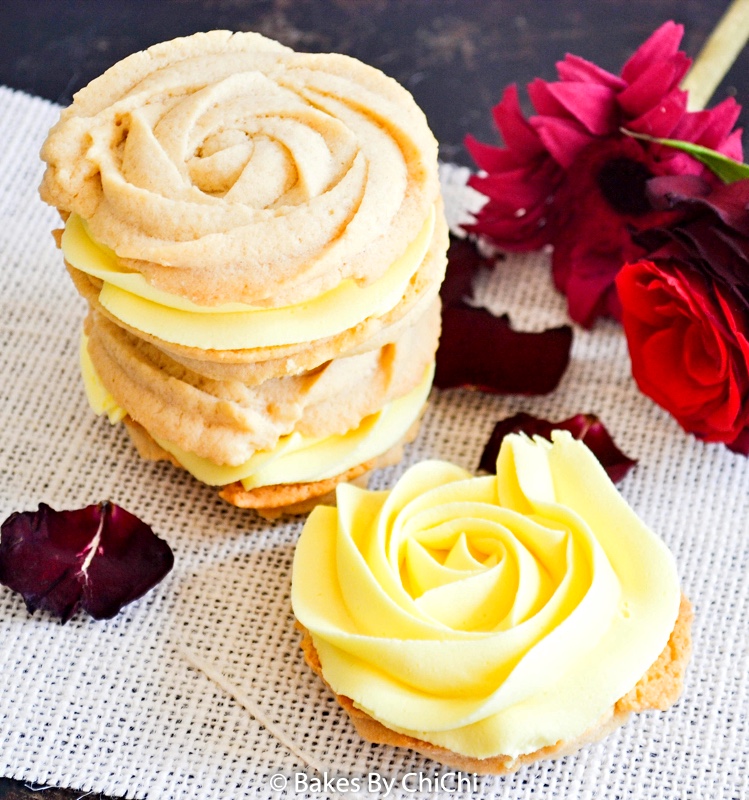 Spritz cookies are simple to make and contain few ingredients. They are made up of butter, sugar, flour , eggs and vanilla extract.  The process of making them is super simple,  cream butter and sugar together until light and fluffy. The eggs are then added one at a time , followed by vanilla extract then the flour is finally mixed in. If you have a cookie press, you can use them to pipe your cookies or fit an open star nozzle into a piping bag and fill with cookie batter and swirl away.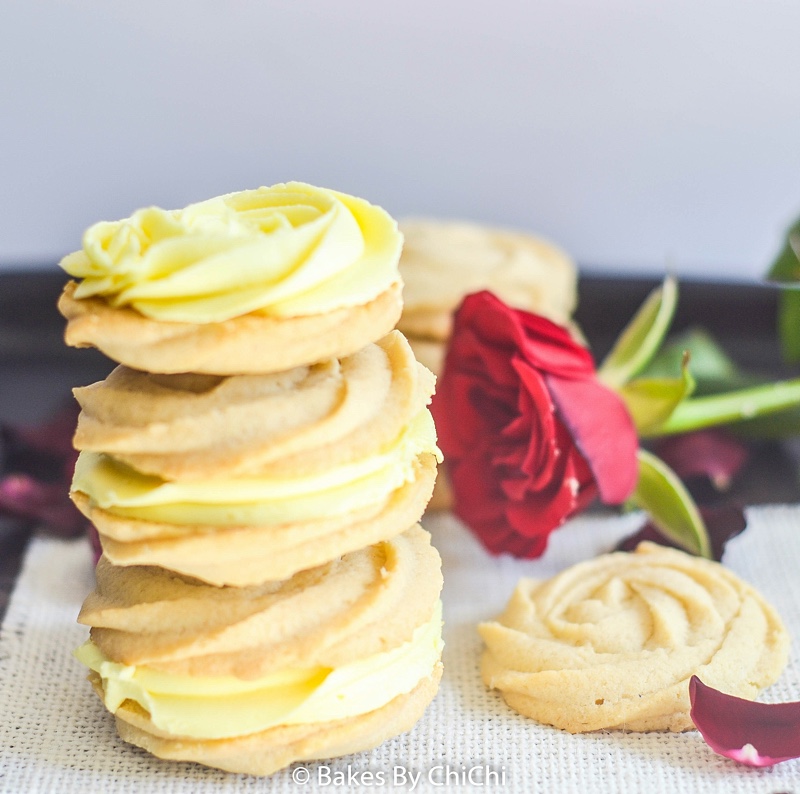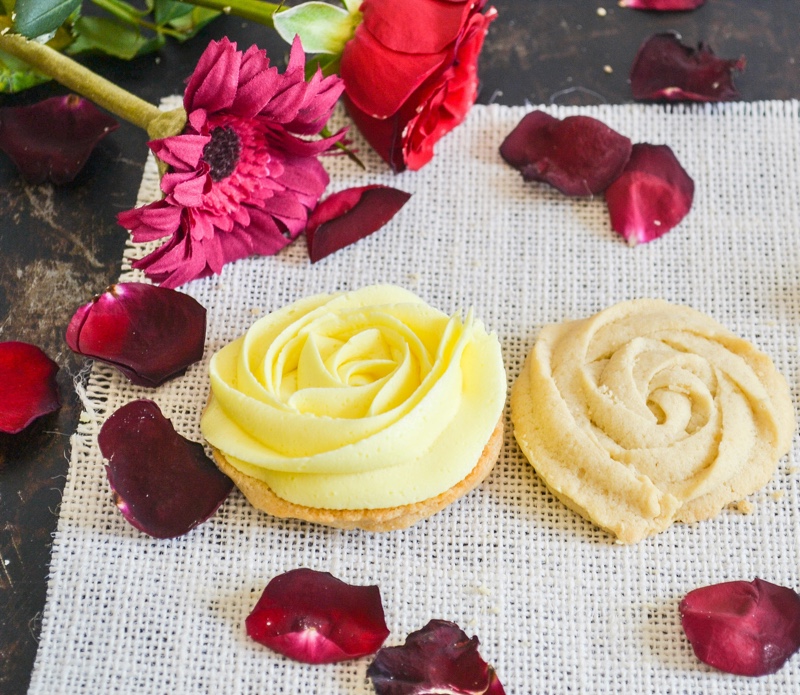 I don't own a cookie press anymore, so it was a piping bag and an open star 1M nozzle for me.  Fill the piping bag with small amounts of spritz cookie batter if you are using a piping bag, it is easier to pipe swirls.  I made two batches of vanilla spritz cookies, the first batch I baked right after piping and found they spread a bit. With the second batch, the cookies were chilled in the fridge for 3o minutes and then baked. The shape of the cookies are more defined if chilled before baking I find.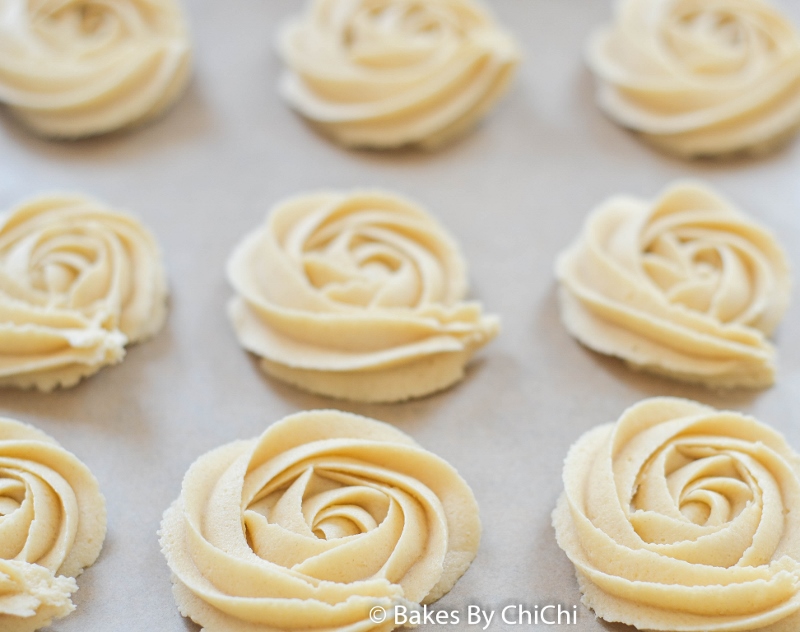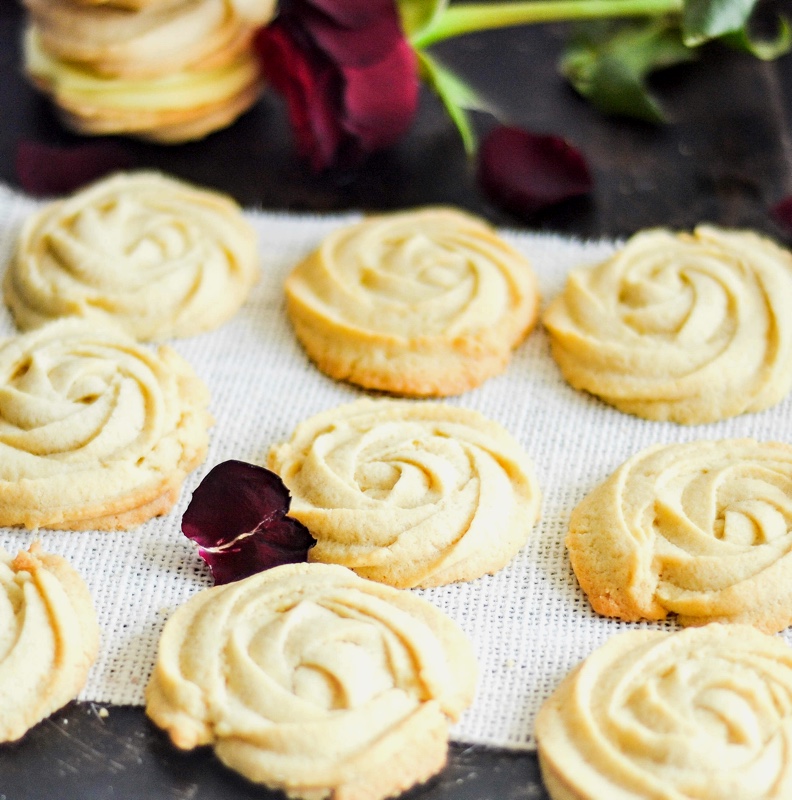 The lemon buttercream  is delicious, not so tart and pairs well with the buttery cookies. You can always use whatever buttercream frosting suits your taste buds to frost these vanilla spritz cookies. Un-frosted spritz cookies can be stored for up to 5 days in an airtight container. Cookie sandwiches can be assembled a day in advance.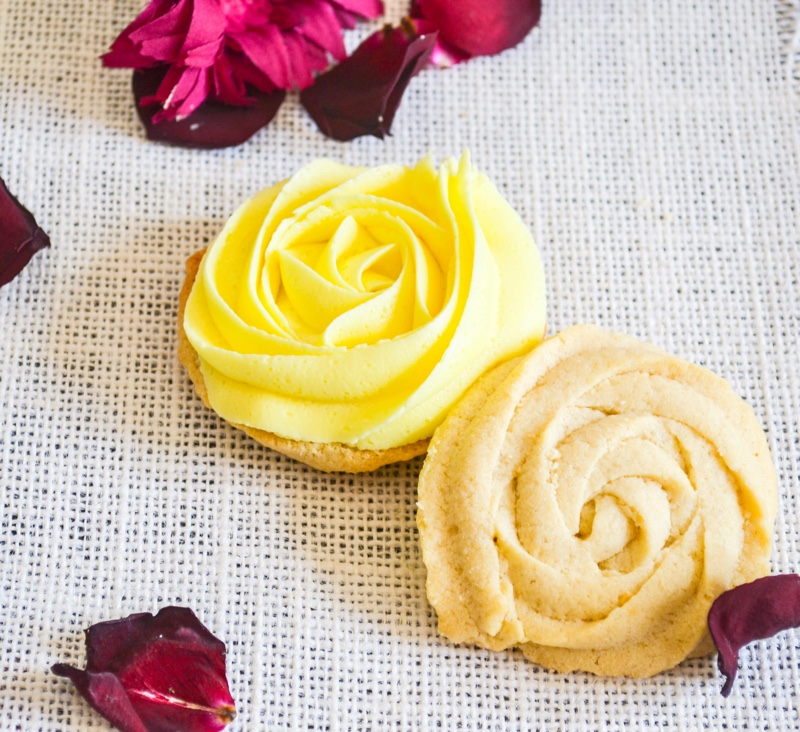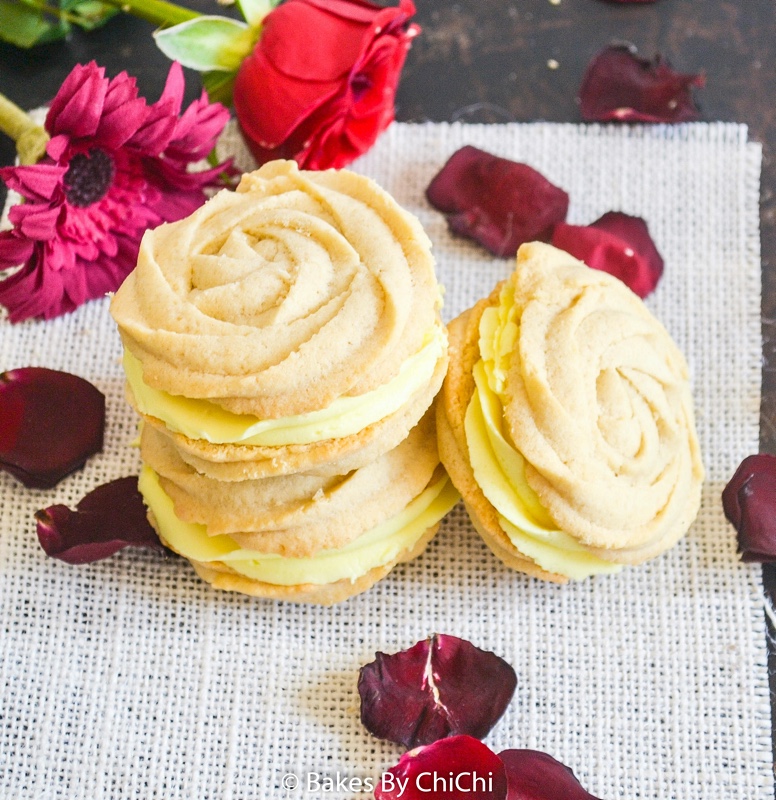 Stay up to date with Bakes by ChiChi on:
Facebook | Instagram | Pinterest | Google Plus | Bloglovin
Vanilla and Lemon Spritz Sandwich Cookies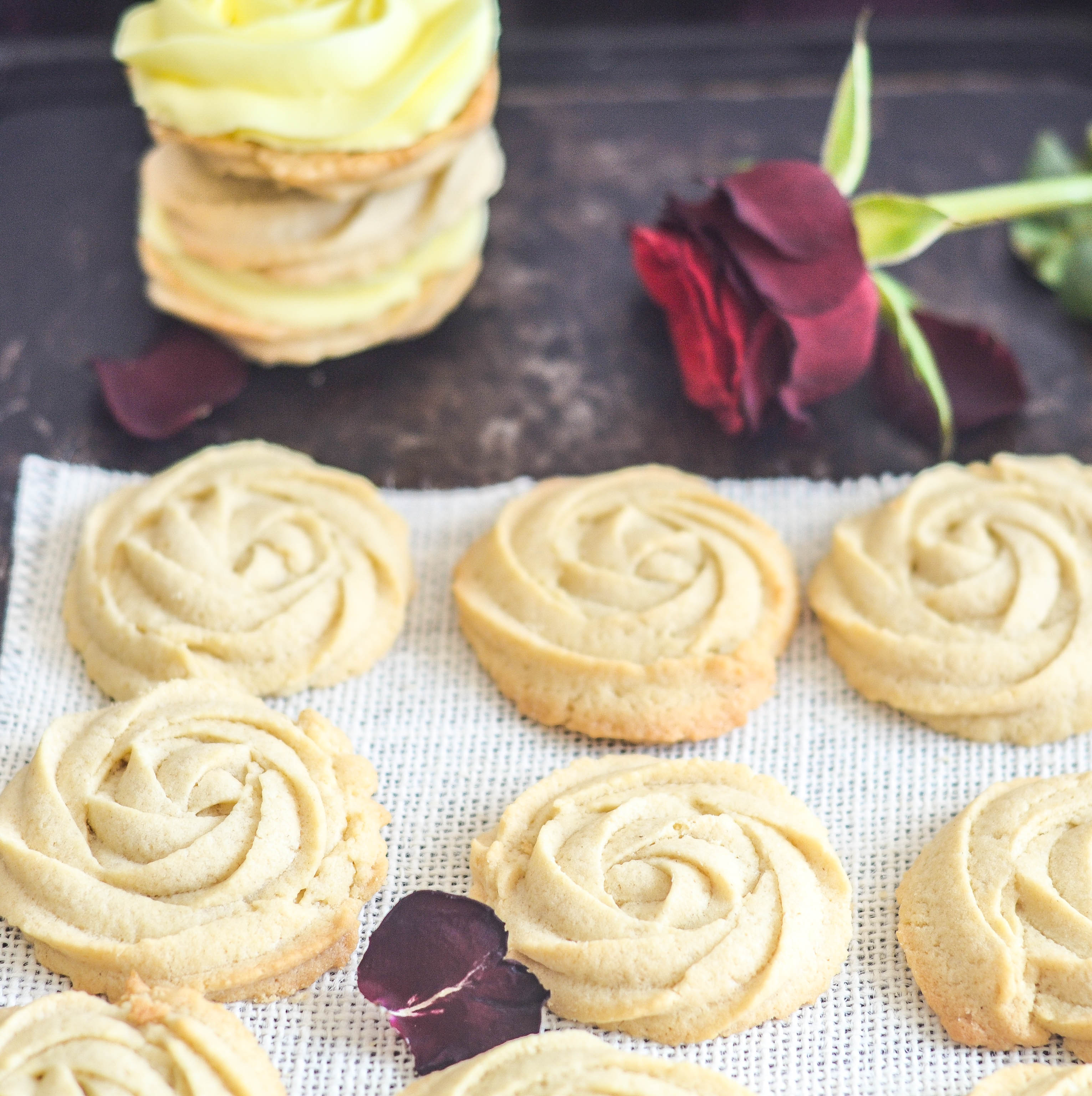 Ingredients
Vanilla Spritz Cookies

180 g (3/4 cup) unsalted butter, room temp
100 g (1/2 cup) caster sugar
1 large egg plus 1 egg yolk
2 teaspoons vanilla extract
210 g (13/4 cups) plain flour

Lemon Buttercream

120 g (1/2 cup) unsalted butter, room temp
150 g (11/2 cups) icing sugar
1 teaspoon lemon extract
Instructions
Vanilla Spritz Cookies
Line two baking sheets with greaseproof or parchment paper.
In the bowl of your stand mixer, cream together butter and sugar until light and fluffy, about 5 minutes.
Add egg and egg yolk and beat until well combined. Mix in vanilla extract.
Add flour to butter mixture and beat until dough is well combined.
Place an open 1M star tip into a piping bag and fill with cookie dough. Pipe dough starting off in the centre and begin piping a circular swirl outward and then taper off.
After piping, chill dough in the fridge for 30 minutes.#
Pre-heat oven to 180 degrees C. Bake cookies for 10-12 minutes or until edges of cookies are golden brown.
Remove cookies from oven and gently transfer to wire rack to cool completely.
Lemon Buttercream
Beat butter until fluffy, about 2 minutes
Sift in icing sugar, then add lemon extract. Beat until combined and fluffy.
To Assemble
Fit a piping bag with an open star tip and fill with lemon buttercream. Pipe a swirl on the underside of one vanilla spritz cookie and place the second vanilla spritz cookie bottom side down on top of filling.
Notes
Un-assembled cookies will keep in an airtight container for up to 5 days.
3.1
https://bakesbychichi.com/vanilla-and-lemon-spritz-sandwich-cookies/