These easy omelette muffins are a delicious breakfast meal to prepare for the week ahead.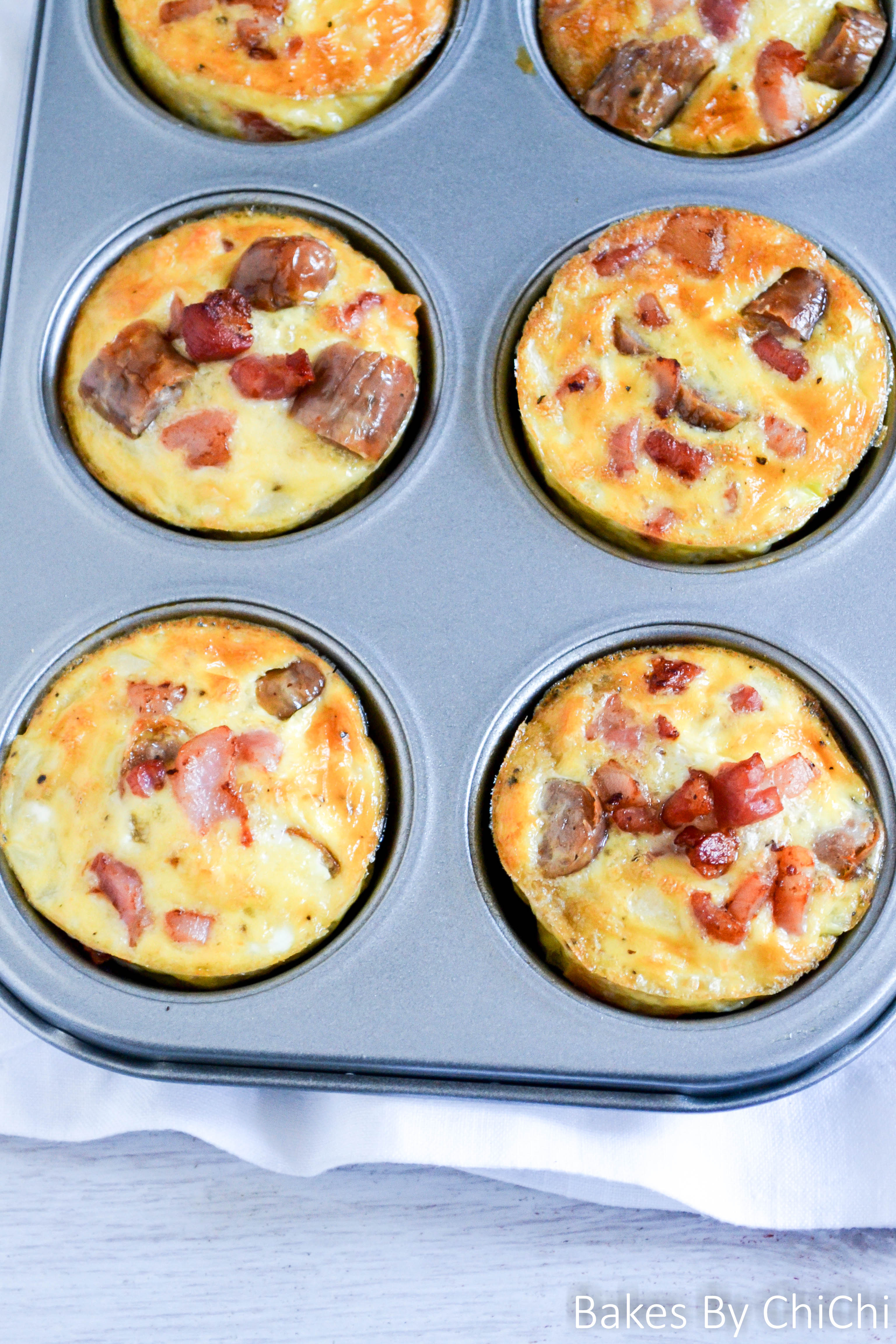 Deciding what to have for breakfast during the week has always been such a struggle for me.  I found myself spending at least 10- 15 minutes  either in a coffee shop  or a supermarket trying to find breakfast. Now with these make ahead breakfast omelette muffins my mornings are less stressful and I get to start my day with a delicious breakfast.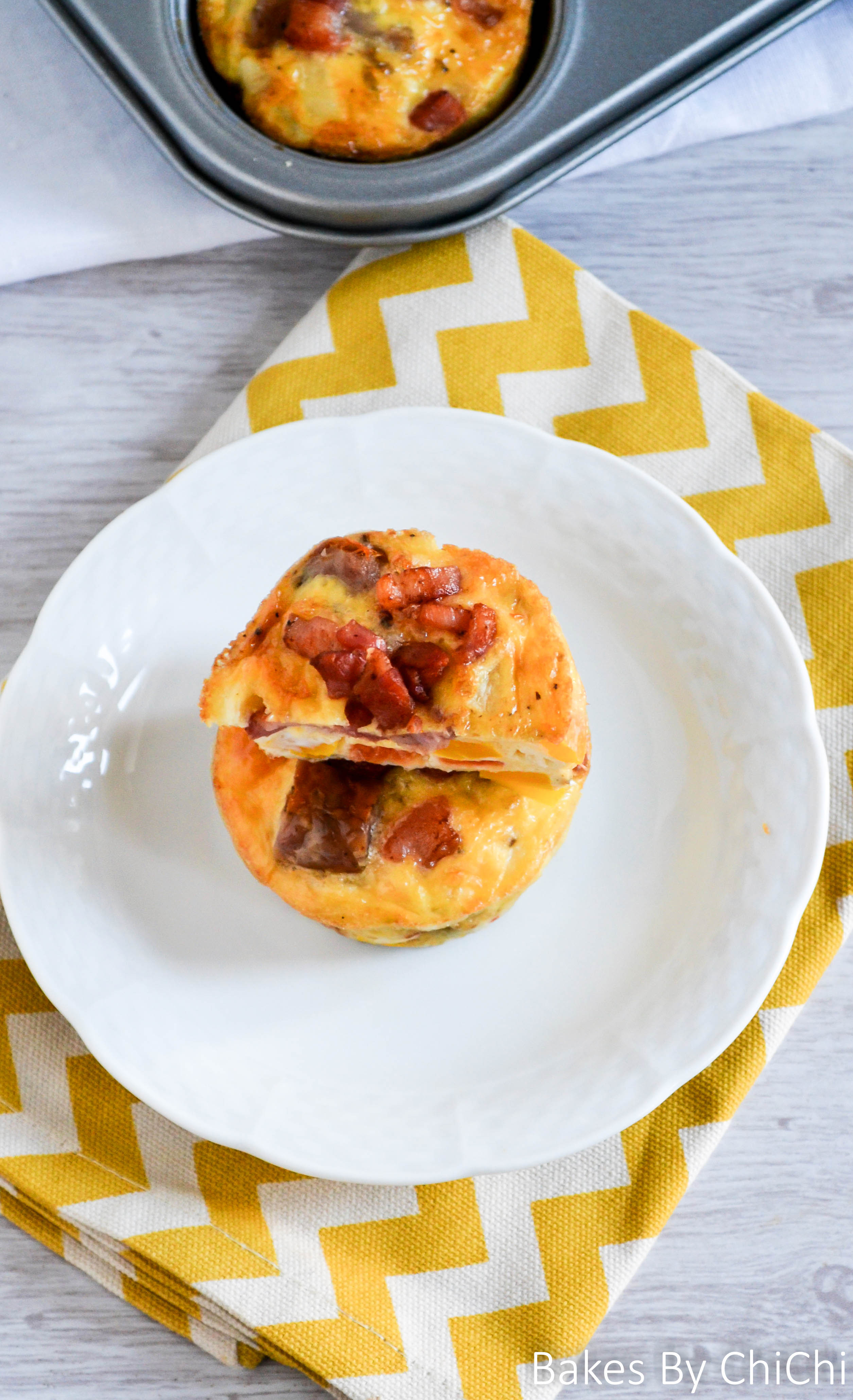 What I also love about these omelette is that you can load it with your favourites vegetables.
For mine I used a combination of white onions, yellow and green bell peppers and chopped vine tomatoes.  Do not limit your vegetables to use. If you love mushrooms add some! Ham, turkey sausage, the additions are endless.
To start off add your chopped vegetables to some eggs and seasoned with some salt and black pepper. Whisk together to combine. Spray a 6-hole muffin tin with olive oil and fill with the whisked egg mixture. Top the egg mixture with some cooked bacon and sausages. Pop the muffin tray in a preheated oven and bake the omelette muffins for 18 to 20 minutes.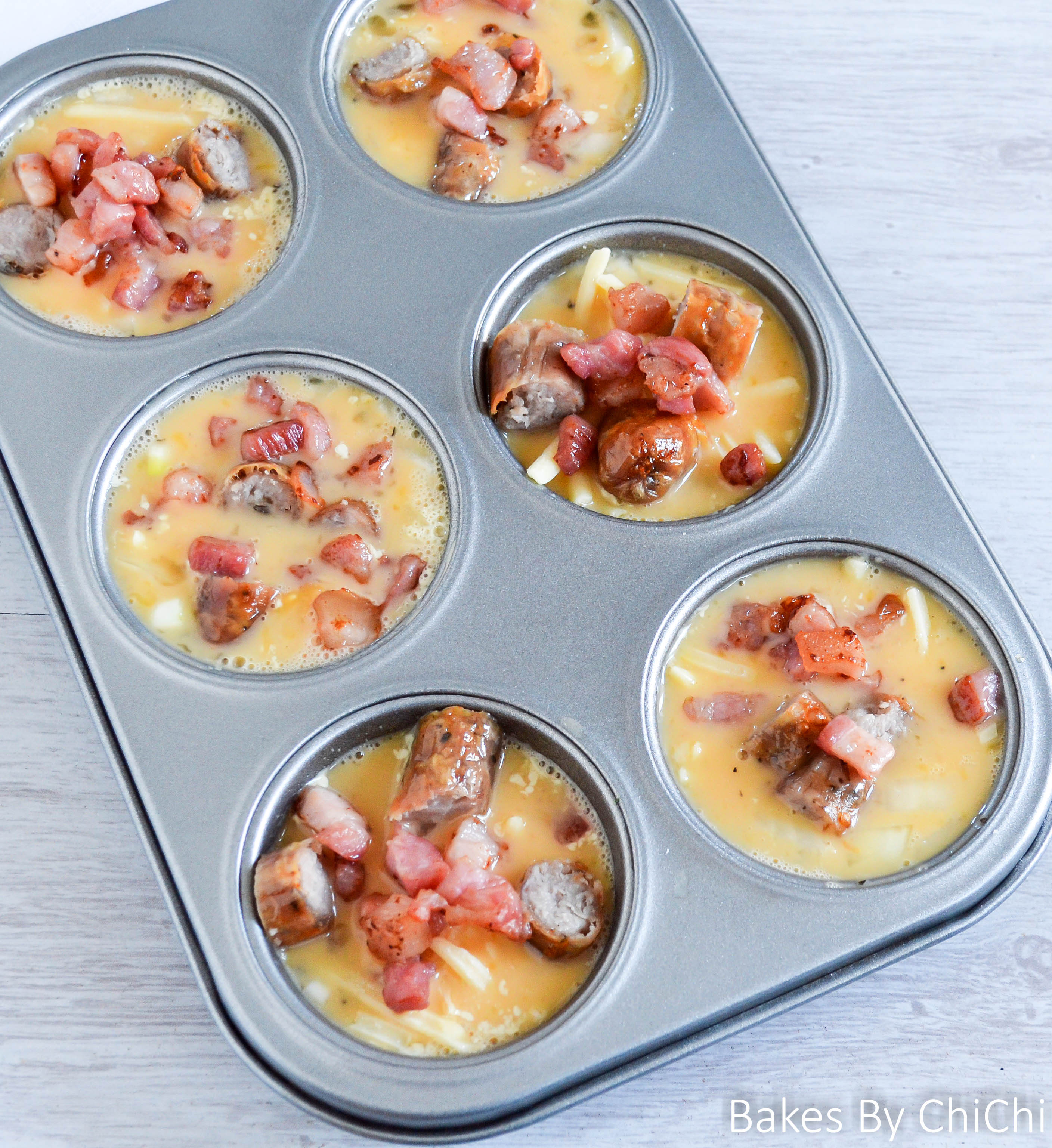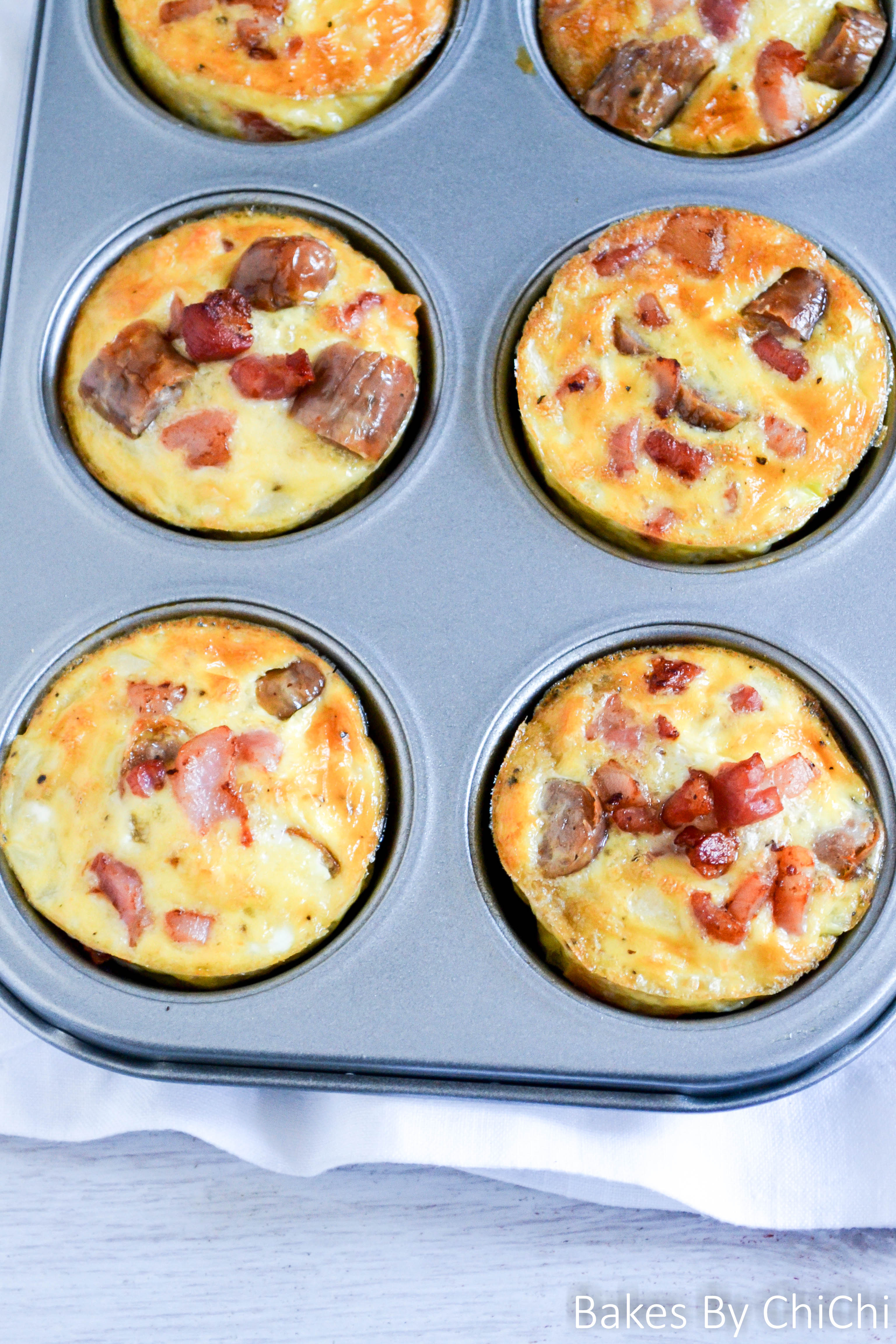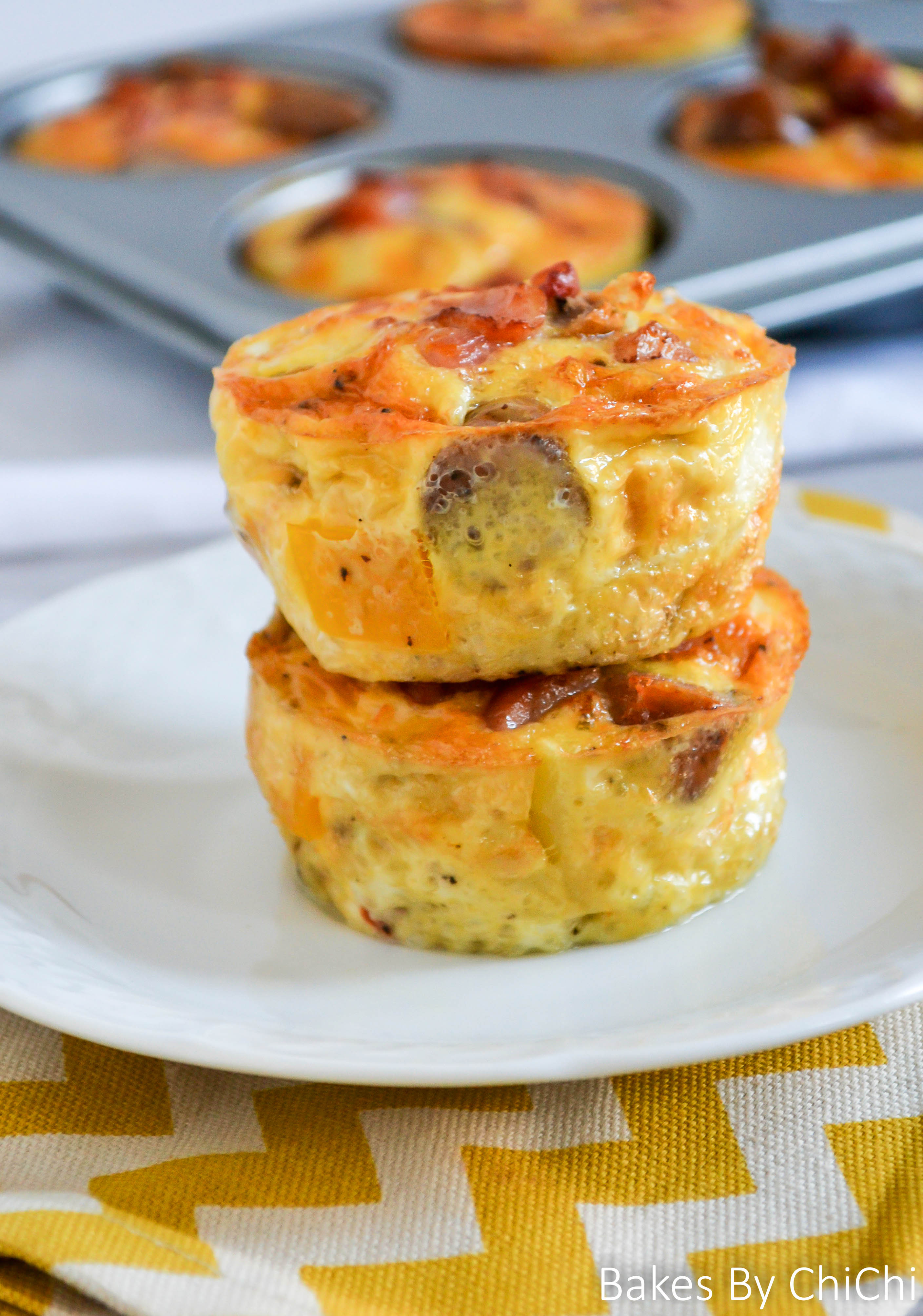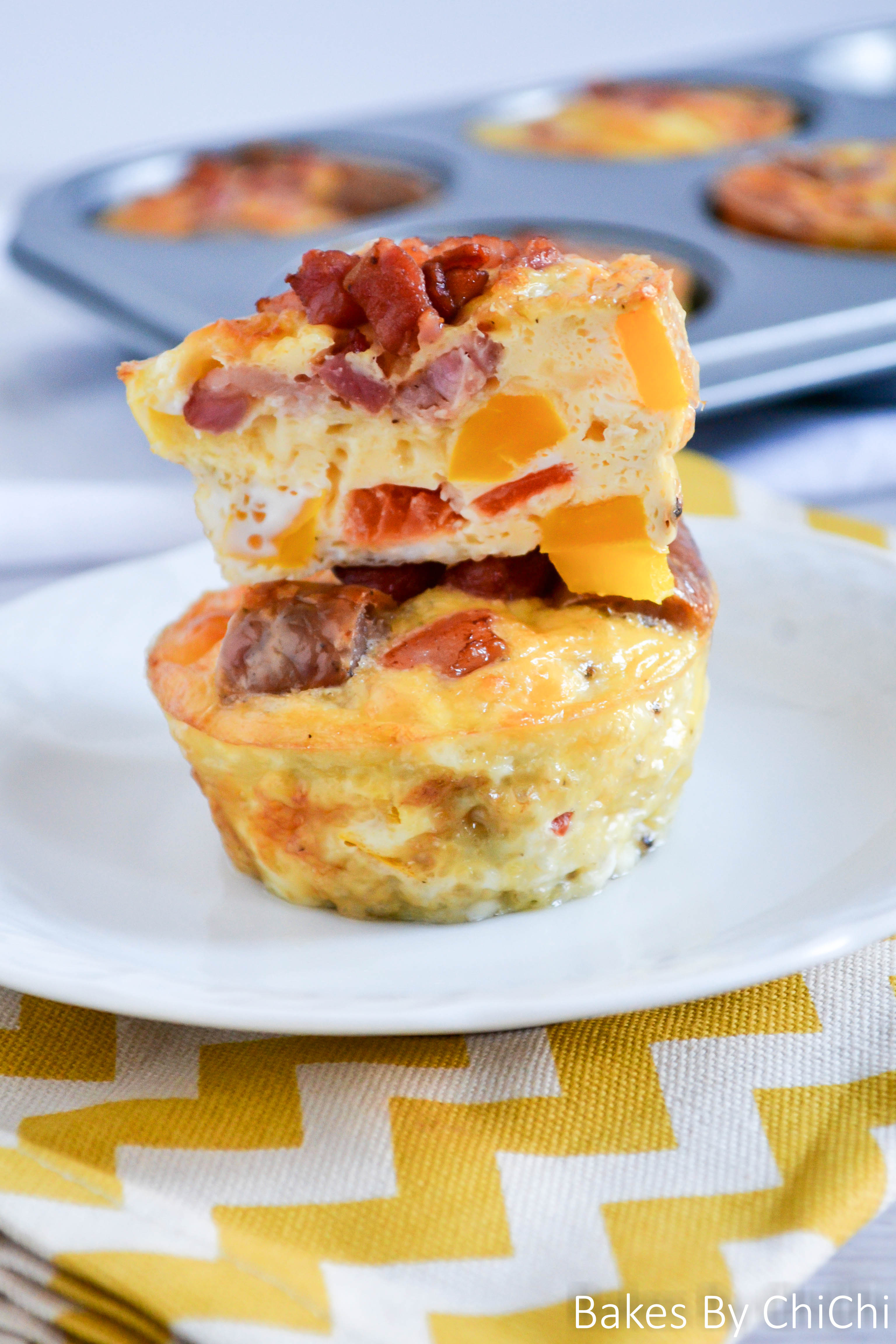 Leave the omelette muffin to cool and then pack then into airtight containers. These omelette muffins can be made the night before and keep for up to 4 days in the refrigerator. Simply warm the omelette muffins in the microwave for 10-15 seconds when you are ready to eat.
You can enjoy these omelette muffins on the own or with a slice of toast, bagel or hush browns.
Breakfast Omelette Muffins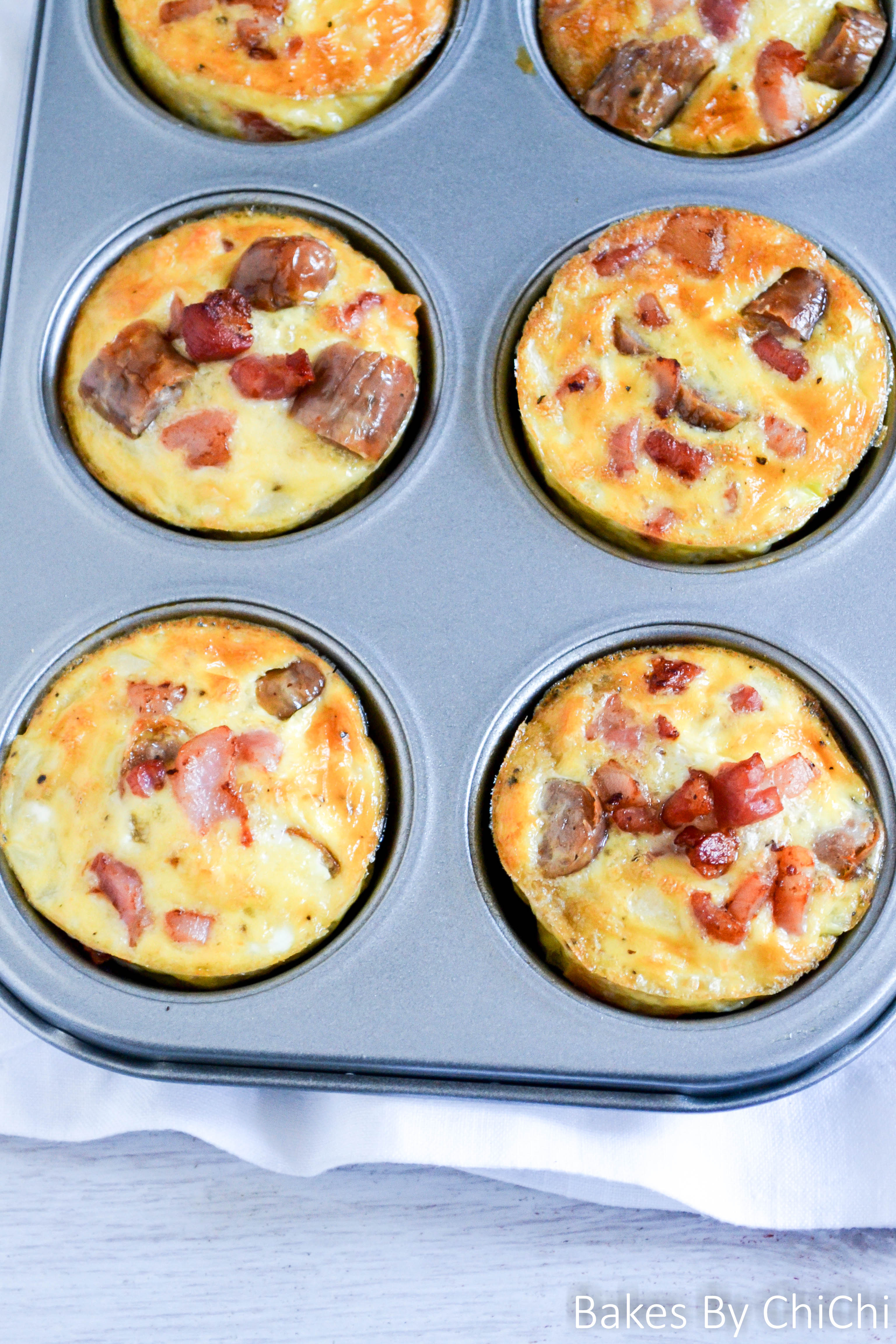 Ingredients
6 eggs
1/2 of a green pepper, diced
1/2 an onion , diced
1 vine tomato, diced
31 g or 1 ounce grated cheddar cheese
2-3 cooked chipolatas sausages or sausage of your choice, cooked
65 g pancetta, cooked
salt and pepper to taste
Instructions
Preheat oven to 350°F | 180°C. Lightly spray a 6-cup muffin tin with oil spray.
In a large bowl, whisk together eggs. Season with salt and pepper, to taste. Whisk in diced green peppers, onions, tomatoes and grated cheese.
Fill the muffin tin up to 3/4 way with the egg mixture.
Divide the cooked sausage and pancetta between the muffin cups.
Bake for 18 - 20 minutes.
Serve or store in an airtight container in the fridge for up to 4 days and reheat when ready to serve.
3.1
https://bakesbychichi.com/breakfast-omelette-muffins/