Marshmallows dipped in candy coating and decorated with red funfetti sprinkles and sparkling sanding sugar. A fun simple treat to make on Valentine's Day.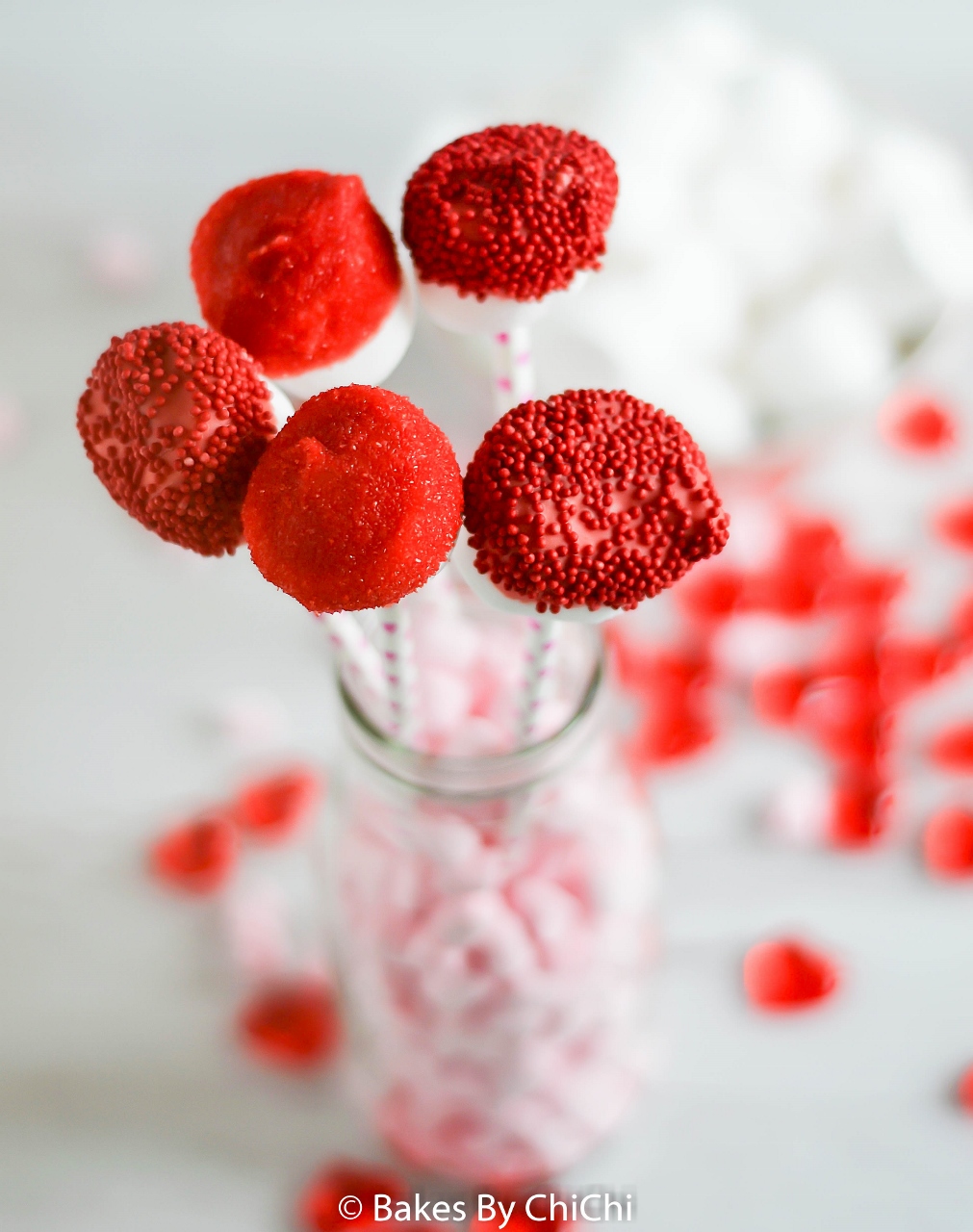 According to my 8 year old Esme, we adults cannot make Valentine all about us. Why didn't anyone tell me that 8 year olds can be fiercely independent. Overnight it's gone from mummy can you help me do this, to I can do it myself mummy. I want my baby back. Don't get me wrong, I love her confidence and independence. But I wasn't prepared for this phase.
Making these marshmallow pops with Esme was fun bonding session for us.  I think we ate more marshmallow than we decorated. It was a case of one marshmallow on the straw and one in our mouths. Lol!!
To start off with, I cut slits in the marshmallow and then Esme inserted the paper straws in. The little slits you cut in the marshmallow helps you insert the straws in easier and also prevents you from squashing the marshmallows too much. Line a baking tray with parchment paper and place the marshmallow pops on them, then pop the tray into the freezer for 10 minutes. This will help the marshmallows stick better to the straws. Whilst the marshmallows  are freezing you want to melt the candy coating and get sprinkles of your choice ready. If you haven't got candy melts, chocolate makes a good substitute. To decorate mine I used red sprinkles and sanding sugar.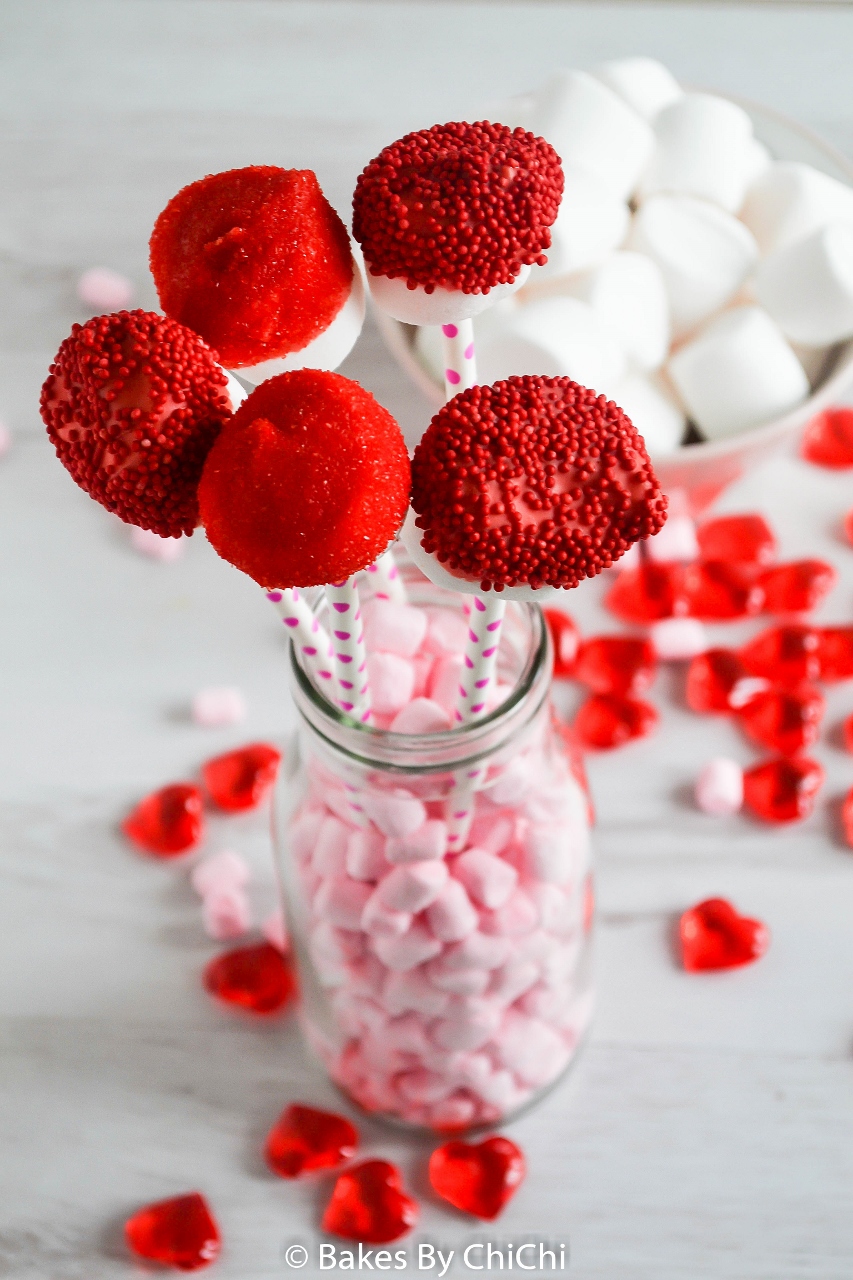 Once the marshamallows are out of the freezer, I dipped them in melted candy coating. Then tapped of the excess and handed it over to my assistant Esme who covered them in sprinkles. The frozen marshmallow will make the candy coating harden quickly so don't wait to long before coating with sprinkles. And that's it. You have a simple delightful treat for all to enjoy.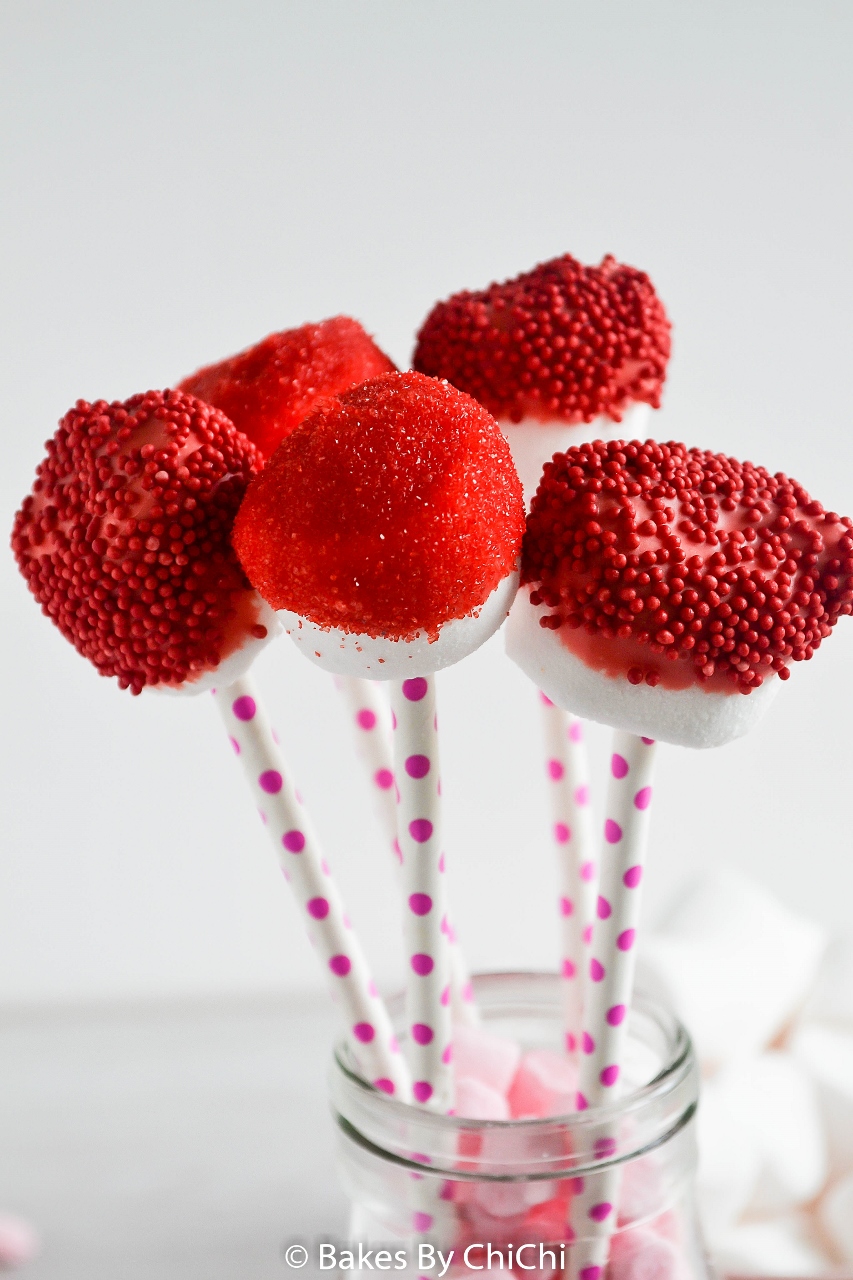 Happy Valentine's Day!!!
Stay up to date with Bakes by ChiChi on:
Facebook | Instagram | Pinterest | Google Plus | Bloglovin
or you can subscribe to my weekly newsletter
Affiliate link to the tools I used to make these cake pops
Valentine Marshmallow Pops
Ingredients
200 g (7 oz) marshmallows
100 g (3.5) candy melts or chocolate, melted
paper straws
assorted sprinkles
Instructions
Line baking sheets with parchment paper. Cut a small slit at the top of each marshmallow and insert a straw, then place on baking sheet.
Put in freezer for 10 minutes. Melt candy or chocolate coating in microwave at 20 second intervals until melted.If coating is too thick add a little vegetable oil to thin it. Dip the frozen marshmallows in candy coating and tap off the excess. Decorate with sprinkles of your choice ad enjoy.
Working one pretzel at a time, dip your pretzel into your melted Candiquik or other candy coating. Tap pretzel gently to shake off excess candy coating. Sprinkle with sprinkles of choice. Place on wax paper to allow to dry, approximately 30 minutes. Repeat with remaining pretzels. Store in a covered container.
3.1
https://bakesbychichi.com/valentine-marshmallow-pops/