Homemade soft gooey brownies made from scratch. Dry cracked crust , a deeply moist centre with an intense chocolate flavour from melted chocolate, cocoa and chocolate chips.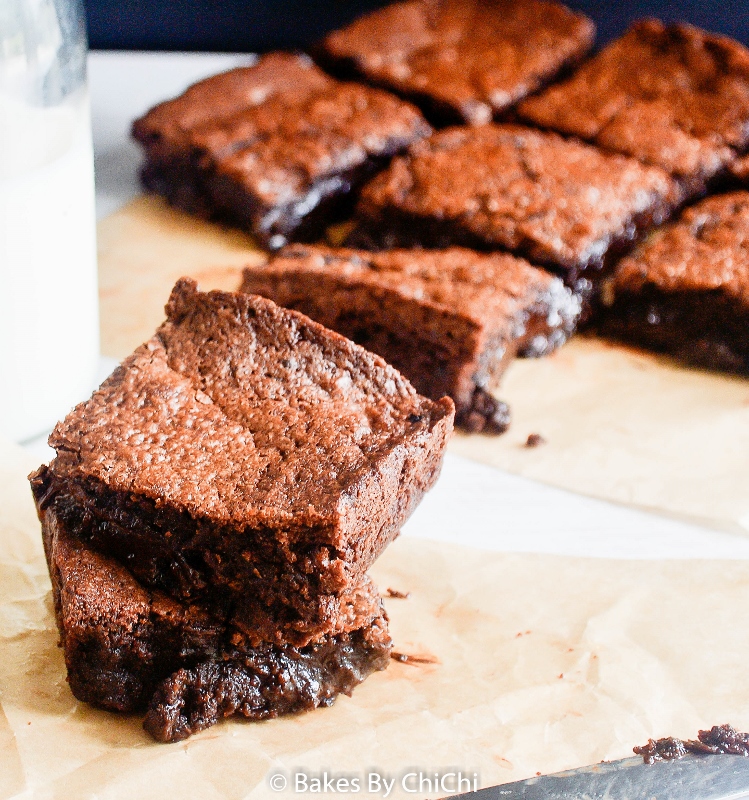 In my home we love chocolatey desserts, most of all Brownies!!! Brownies make the ultimate dessert. The beauty of these brownies is that they are easy to make and made using just one bowl. I love making desserts that do not involve turning the mixer on. All you need is a bowl , spatula and whisk. To begin melt the chocolate and butter over a medium heat, leave to cool slightly then add your other ingredients. Brownies can be made using chocolate or cocoa. I use both, cos I love the double chocolatey goodness . When baking with chocolate I always suggest using whatever chocolate you enjoy eating. Good quality semi sweet, milk chocolate or bittersweet chocolate will do. To the brownie batter I added some chocolate chips as well. You could always substitute your favourite nuts for the chocolate chips. Add some crunch to the brownie.
What you get by mixing together melted chocolate, butter, eggs, flour, cocoa and chocolate chips is this oh so gooey, rich, fudgy, delicious, chocolatey dessert. It doesn't get any better than that. Pinch me, I am in brownie heaven.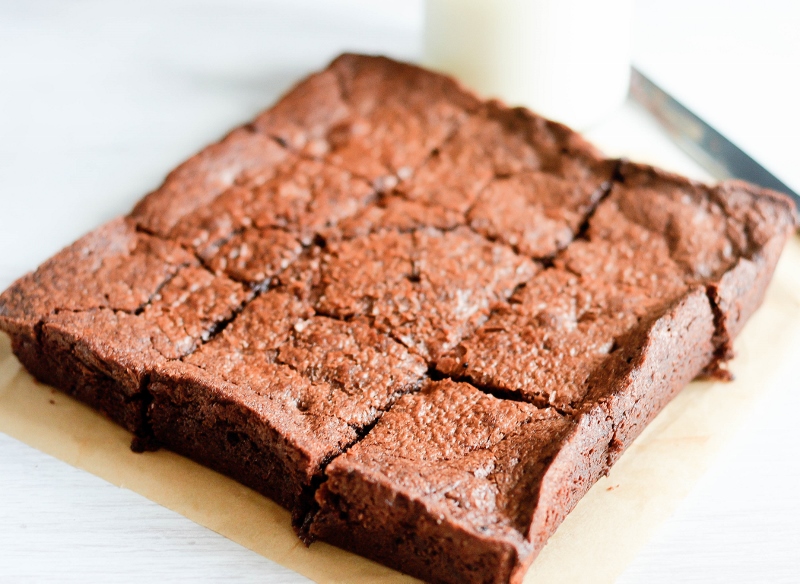 To help lift the brownie out of the cake tin be sure to line with either parchment paper or foil and leave an overhang on the sides. These brownies where baked in the oven for 35 minutes. The brownie is done when toothpick inserted in the centre has a few moist crumbs clinging to it.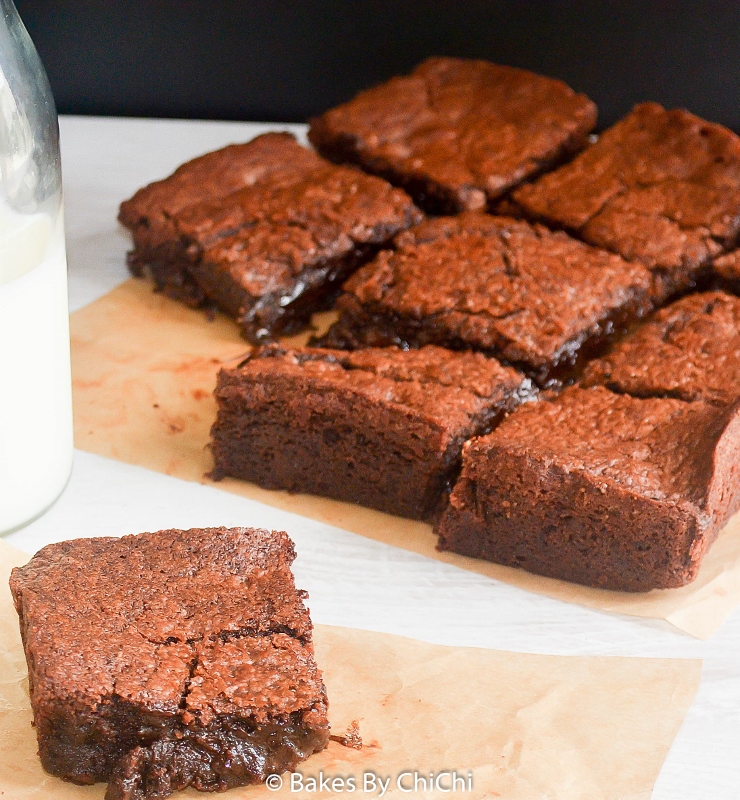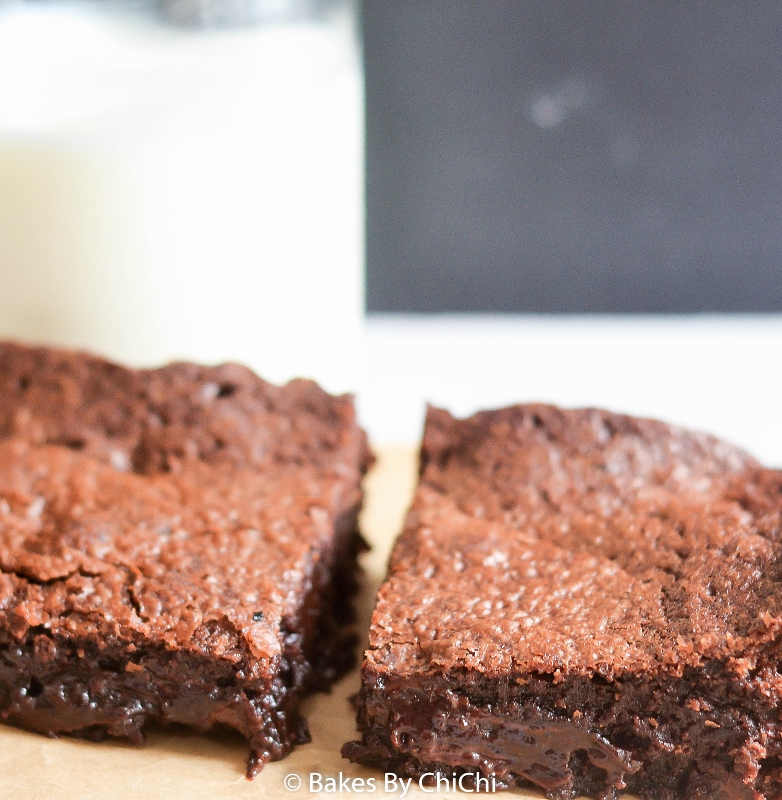 Leave brownies in the tin to cool, then lift out of the tin. Slice into squares and serve with cream or ice cream.
Stay up to date with Bakes by ChiChi on:
Facebook | Instagram | Pinterest | Google Plus | Bloglovin
Soft Gooey Fudgy Brownies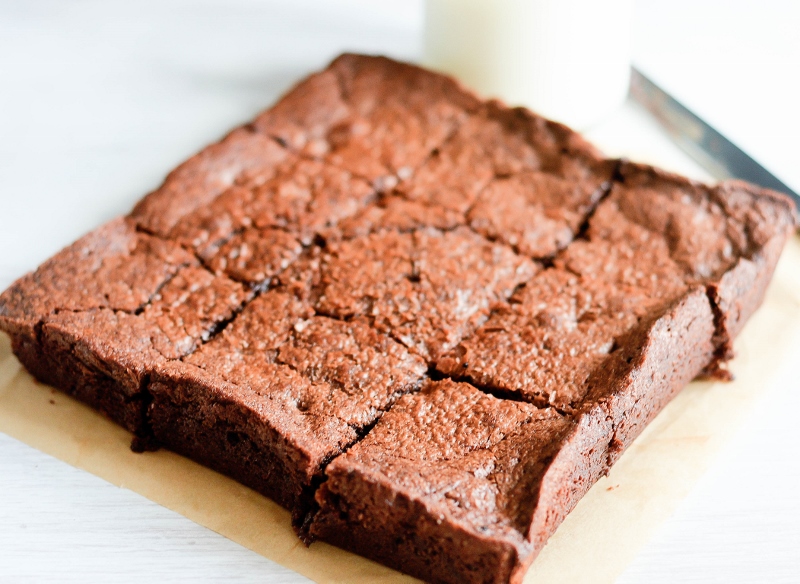 Ingredients
160 g (2/3 cup) unsalted butter
185 g (6.6 ounces ) semi sweet chocolate
200 g (1 cup) sugar
3 eggs
1 teaspoon vanilla extract
80 g (2/3 cup) plain flour
50 g (1/2 cup) cocoa powder
100 g (3.6 ounces) semi sweet chocolate chips
Instructions
In a saucepan over medium heat, melt the butter and chocolate. Remove from heat and leave to cool for about 10 minutes.
Pre-heat oven to 180 degrees celcius. Line the bottom and sides of an 8-inch square baking tin with aluminium foil, leaving an overhang on the sides.
Stir in sugar in chocolate mixture. Whisk in eggs one at a time. Add vanilla extract and fold in flour and cocoa powder. Once combined gently fold in chocolate chips.
Pour the brownie batter into the baking tin, spreading evenly to the edges.
Bake for roughly 35 minutes or until a toothpick inserted in the center of the brownies comes out with a few moist crumbs. Remove from oven and allow to cool completely. Lift the foil out of the cake tin using the overhang on the sides and cut into squares.
3.1
https://bakesbychichi.com/soft-gooey-fudgy-brownies/