Fruity and sweet rosé sangria filled with lots of watermelon and strawberries. Perfect summer cocktail made with just 5 ingredients.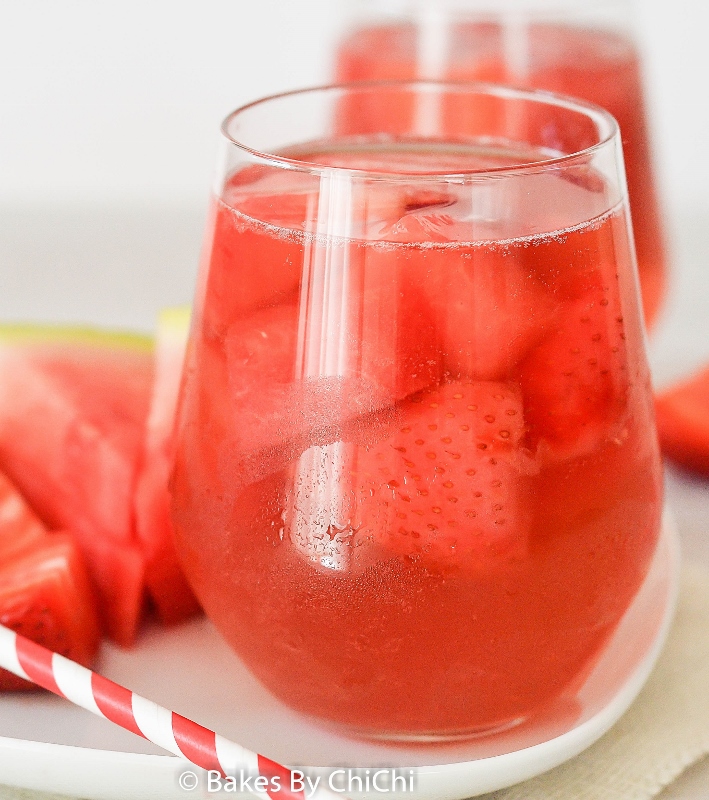 I had a fantastic weekend, it was filled with lots of laughs and jokes. It involved a boat party, barbecue and this delicious watermelon strawberry rosé sangria. No wonder I am still recovering. I miss the days I could party and recover in less than 24 hours. These days 1 night of partying and it is days before I recover. lol.
There was a barbecue at mine to celebrate my bestie visiting from the US. Our friendship has been 20 years and counting. With family life, work and living in different contries we don't get to see each other that often. Having her over was awesome. To celebrate I made a jug of fruity sangria. All you need to make this is 5 ingredients: wine, cognac, lemonade, watermelon and strawberries.
Choosing the wine is the most important part of making this cocktail . I used my all time favourite, juicy smooth Blossom Hill White Zinfandfel Rosé. It is a light fruity summer wine with the aromas of strawberries and watermelon. Next is the liquor aka the hard stuff, I picked cognac to kick my sangria up a notch.
This is just the perfect cocktail for summer barbecues and other occasions. And the beauty of it, is that it can be made ahead of time. Sangria tastes much much when left to sit. Gives the fruit more time to marinate in the wine. Soak up all that wonderful wine, like I want it to. I made mine 24 hours before I was ready to serve.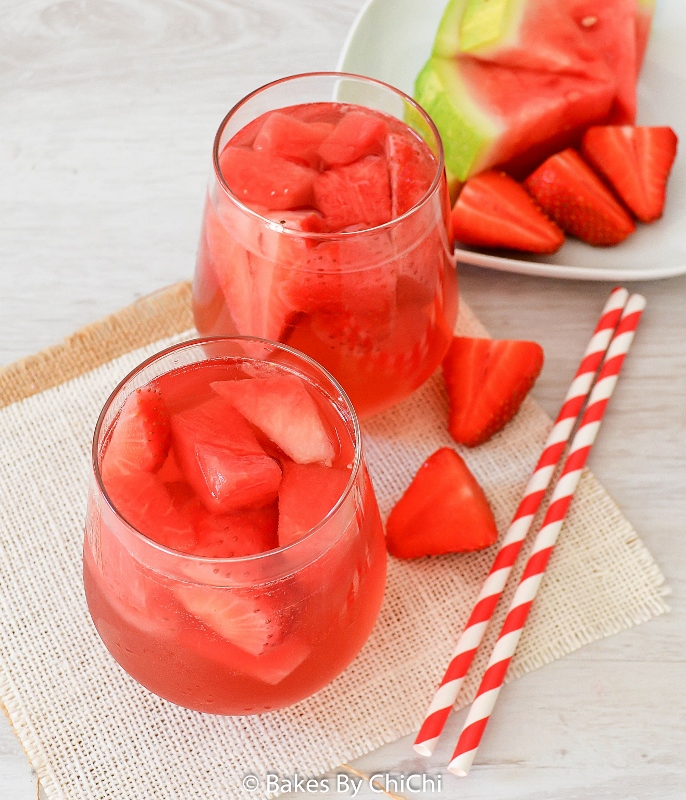 One of the joys of sangria is eating the booze soaked watermelon and strawberries waiting at the bottom of the glass. It's the best part!!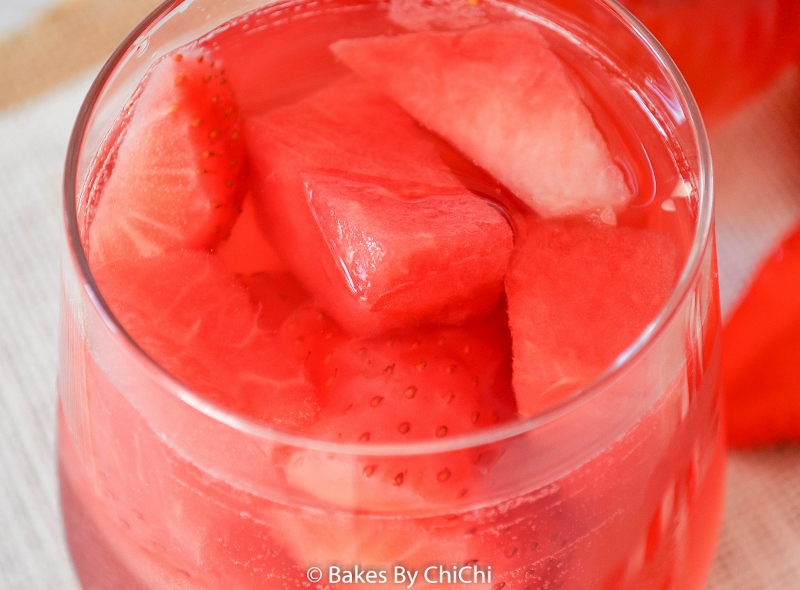 Watermelon & Strawberry Rosé Sangria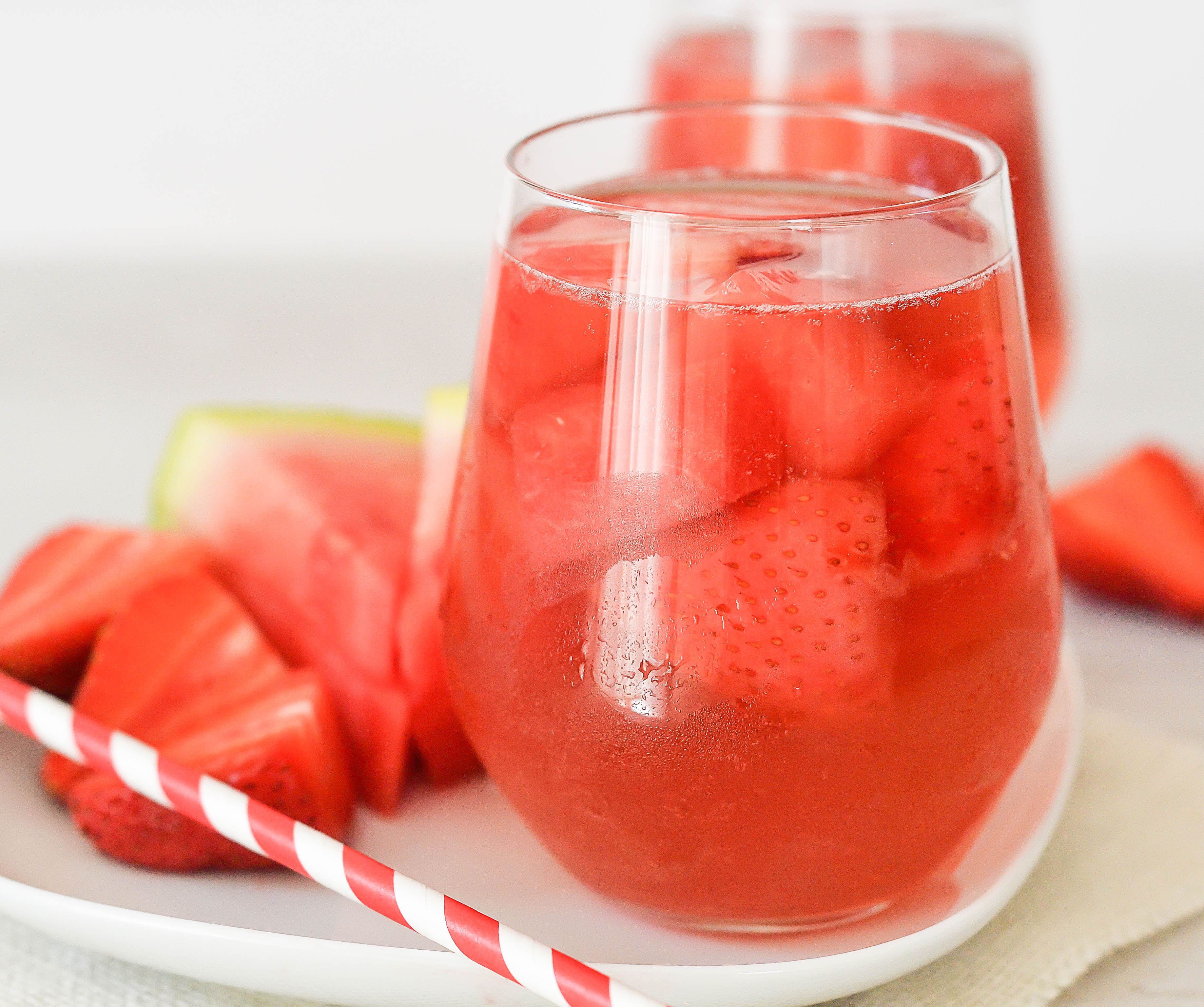 Ingredients
1 small watermelon, peeled and cut into chunks
200 g (7 ounces) strawberries, sliced
1 750ml bottle, white zinfandel rosé
60 ml (1/4 cup) cognac
180 ml (11/2 cup) lemonade
Instructions
In a glass jug place sliced strawberries and watermelon chunks, add wine and cognac. Top with lemonade and stir. Leave to chill in fridge from 4 to 24 hours.
Serve with cold over ice, if desired.
3.1
https://bakesbychichi.com/watermelon-strawberry-rose-sangria/