This mango mojito sorbet float is the perfect cocktail to make this summer. A combination of mango rum sorbet, lime, mint and soda water.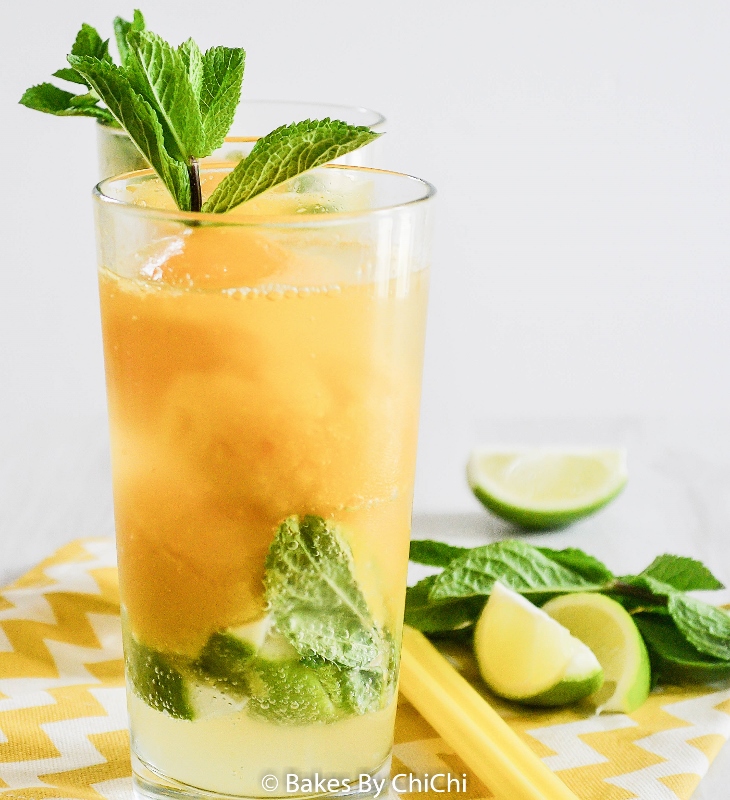 My TGIF began with this dessert based cocktail. Hot weather and my brain goes it's cocktail time. If you are looking to make yourself some cocktails or entertain guests , then you should absolutely try this. I am not sure whether to call it a cocktail or a dessert. All I know is, sorbet meets a mojito.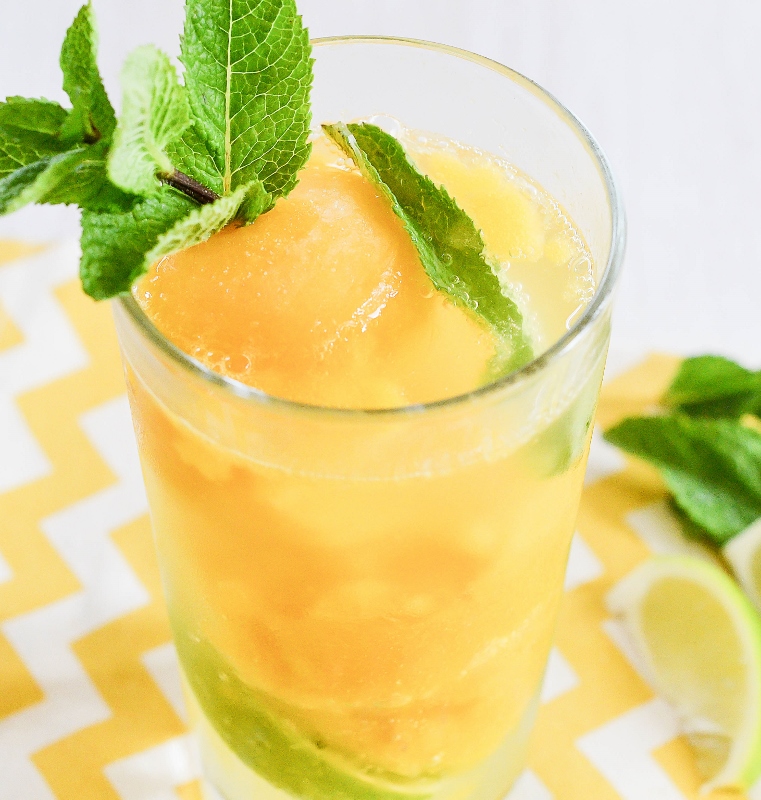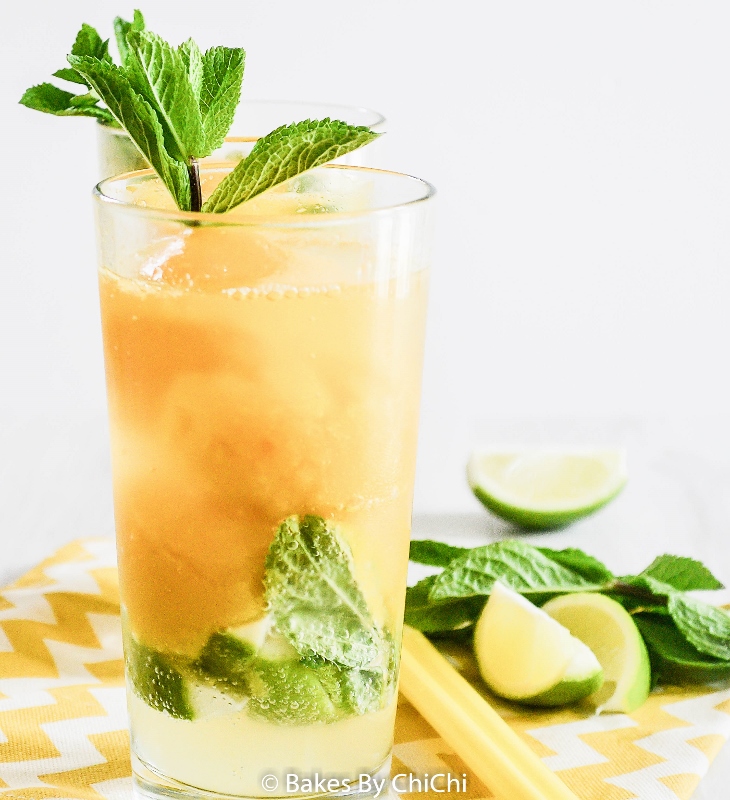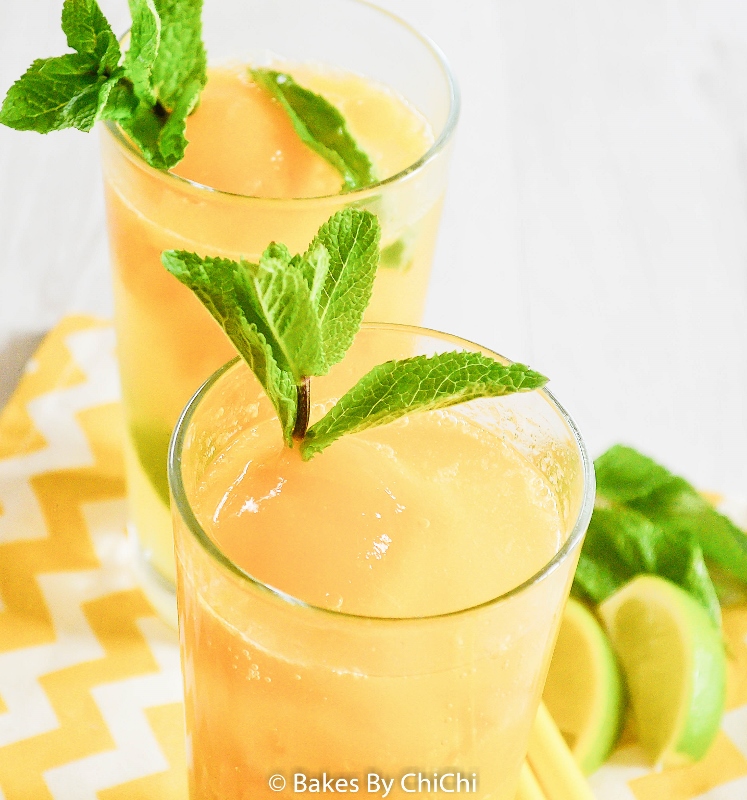 I first made a sorbet based cocktail to ring in the new year and ever since I have been obsessed. The sorbet was featured on Feedfeed Instagram page and also as one of their valentine's day inspiration . Yay me!!! I mean it's always nice to see your work appreciated.
Fruit based cocktails are one of my favourites. I tell myself its all part of my 5 a day fruit and veg . What I love about mojitos is that they are fancy and yet easy to put together. And this mango mojito sorbet float is no exception. The mango rum sorbet is sweet and fruity, with . And it will definitely impress guests. Make the mango rum sorbet a couple of days before you plan to serve. Gives the mango and rum more time to marinate, right!!!
The mango sorbet is pretty simple to make. It takes 4 ingredients, mango flesh, rum, water and sugar. Make sugar syrup with equal amounts of water and sugar and leave to cool. Remove the skin and slice off the flesh of two mango then puree. Mix together the mango puree, rum and sugar syrup , then chill in fridge overnight. Once chilled, pour into an ice cream maker and freeze according to manufacturers instructions.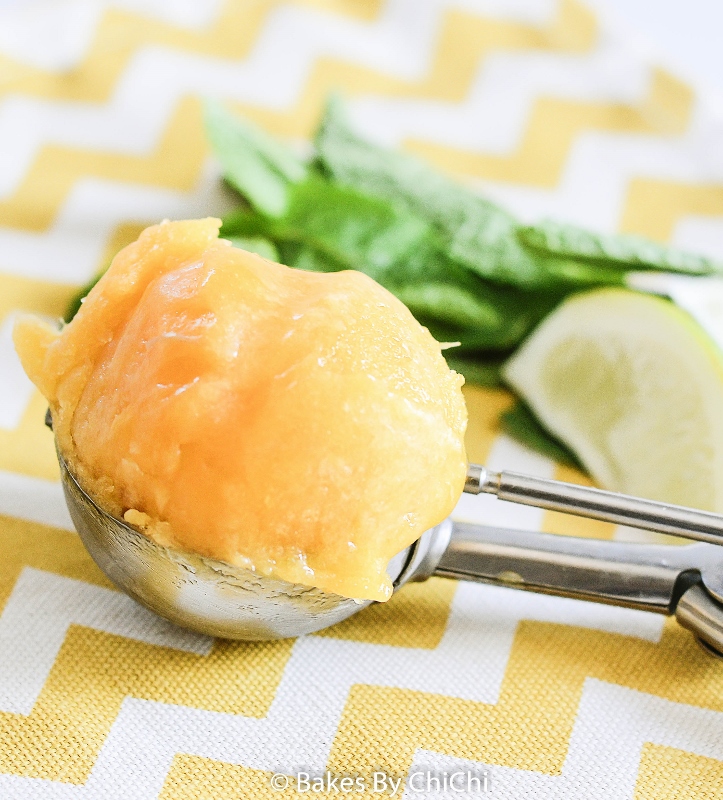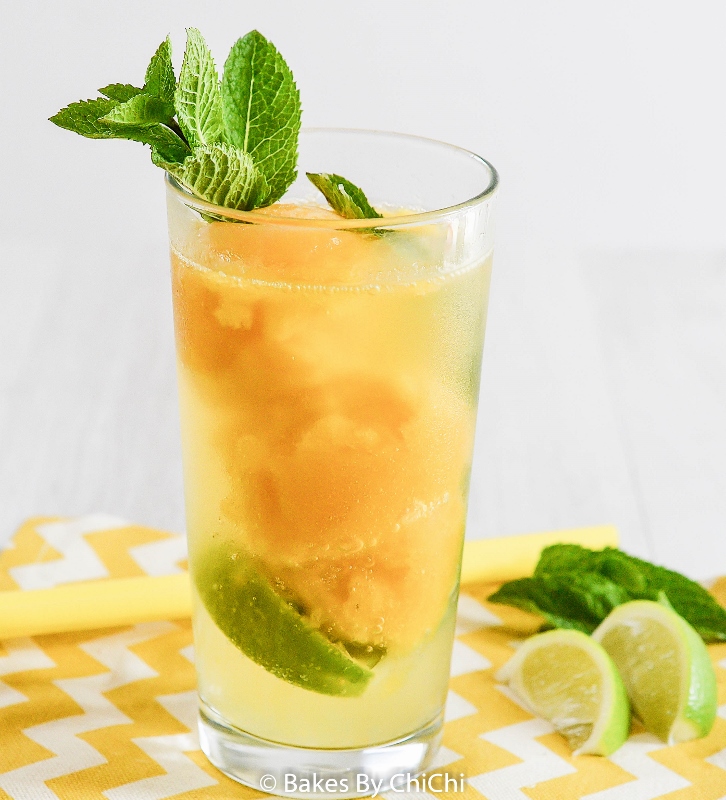 Once you are ready to serve, muddle together lime wedges and mint leaves. Scoop into glasses the mango rum sorbet and top with soda water. The more sorbet you add the better.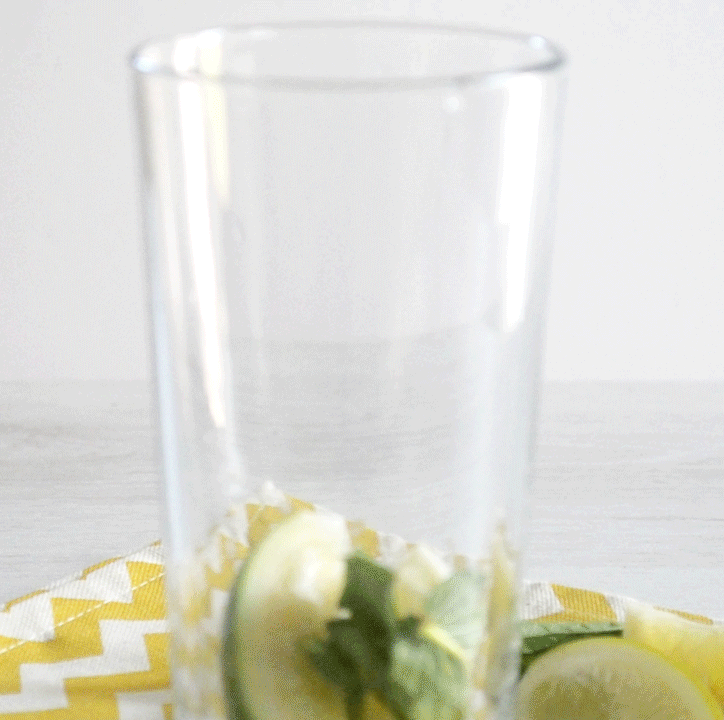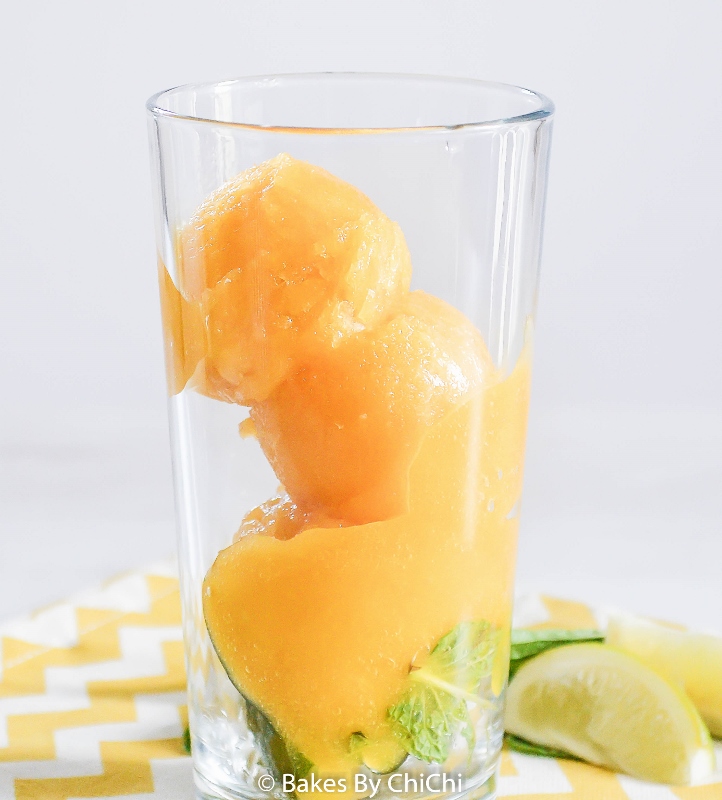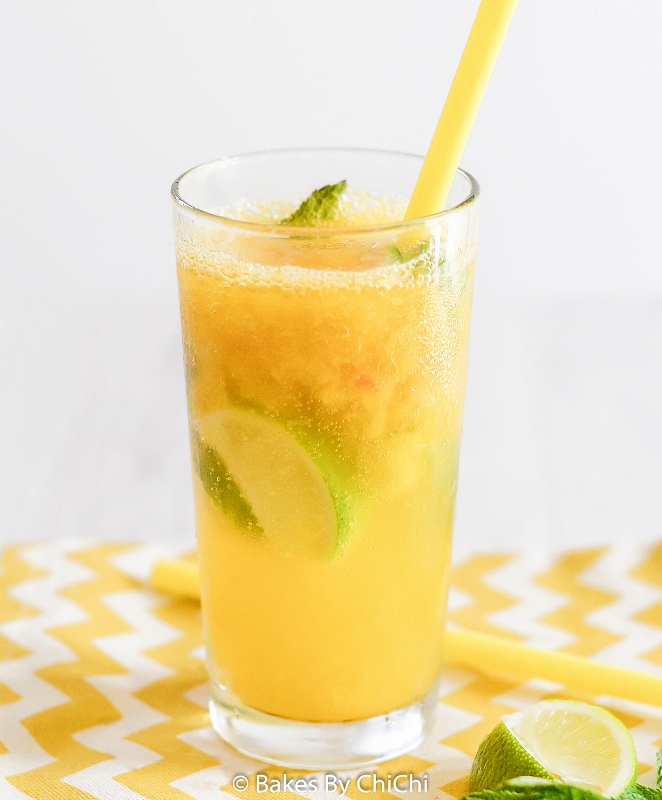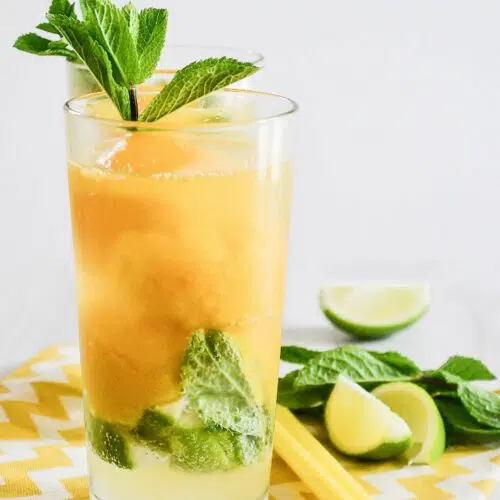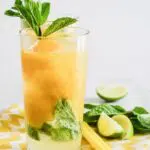 Mango Mojito Sorbet Floats
This mango mojito sorbet float is  the perfect cocktail to make this summer. A combination of mango rum sorbet, lime, mint and soda water.
Print
Pin
Rate
Ingredients
2

large mangoes (450 g mango flesh)

60

ml

(¼ cup) water

50

grams

(¼ cup) sugar

60-120

ml

(¼-½ cup) white rum

1

lime , cut into wedges
Instructions
Stir water and sugar in a saucepan over a low heat until sugar has completely dissolved. Bring sugar syrup to a boil over medium heat, stirring frequently. Remove from heat and allow to cool in fridge for 30 minutes.

Puree mango flesh in food processor or blender until smooth. Set mango puree aside.

Stir together mango puree, cooled sugar syrup and white rum.

Prepare the mango rum sorbet using an ice cream make according to your ice cream maker's instructions.

Pour into a container and freeze until solid.
To make Mango Mojito Sorbet Floats
Divide mint leaves and limes pieces between two glasses. Muddle gently to release the lime juices.

Dollop 2- 3 ice cream scoops of frozen mango rum sorbet to glasses and add chilled soda water over the top.

Garnish with mint springs and serve immediately.
If you made this recipe, I would love to hear from you.
Tag Bakes By Chichi on Instagram or hashtag #bakesbychichi