Healthy, delicious Egusi Stew made with spinach, mushroom , melon seeds, and smoked mackerel. It is incredibly tasty, with lots of flavour from tomatoes, onions, ginger and smoked crayfish .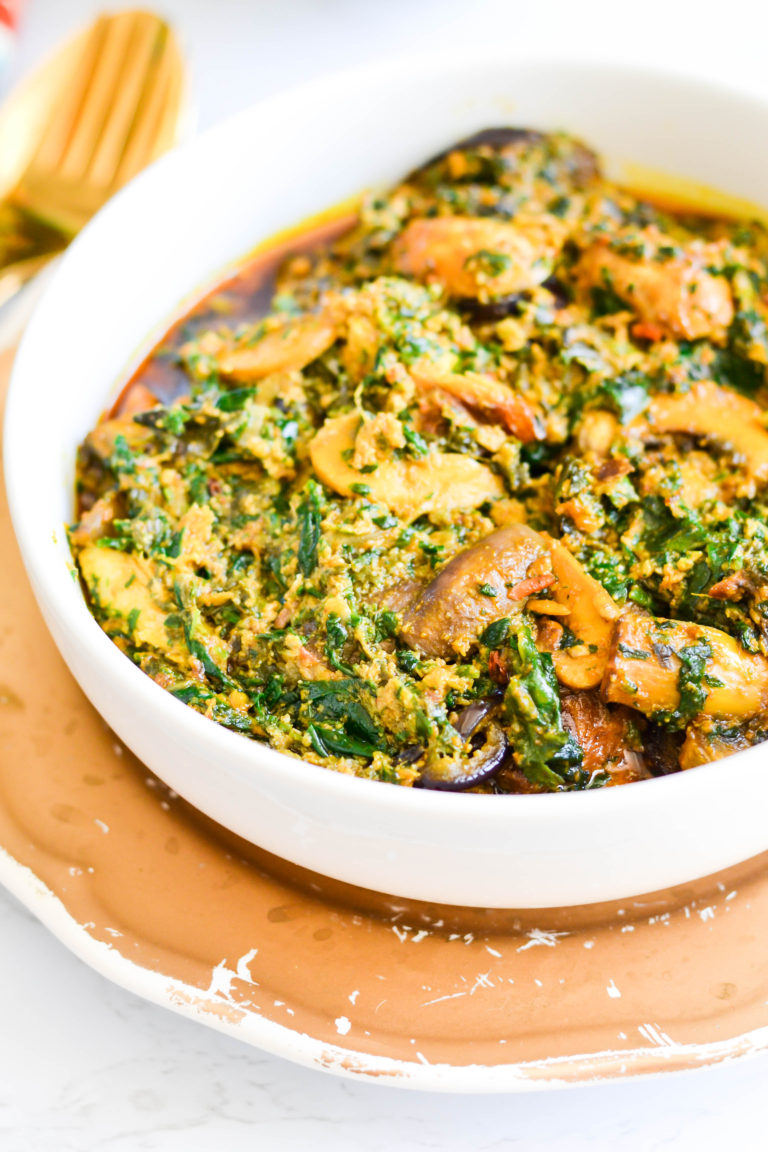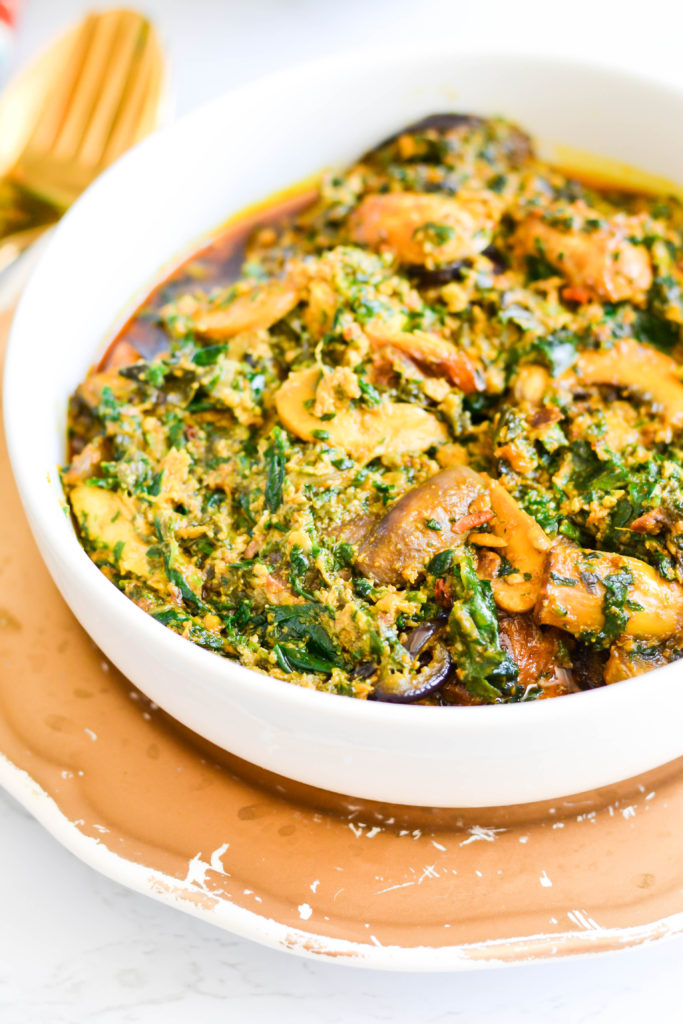 For some strange reason I can't cook soup in small portions. I always end up making a big pot of soup, even when it is my intention to just make a smaller portion. It's a good thing my Mr has a large appetite and loves soup. He can have soup for days. What I can make in smaller portion though, are stews. Really weird.
One of the stews I grew up eating and still eat is Egusi Stew. The name of the stew is attributed to the protein rich melon seeds which are used in making the dish. My mum's egusi stew is the best and I am not just saying this because she is my mum. Her stew had lots of meat, stock fish (dried cod), tripe and smoked crayfish which gave the stew this smoky sweet flavour. Some people call this dish a stew and some a soup. I just stick to stew, because it looks like a stew.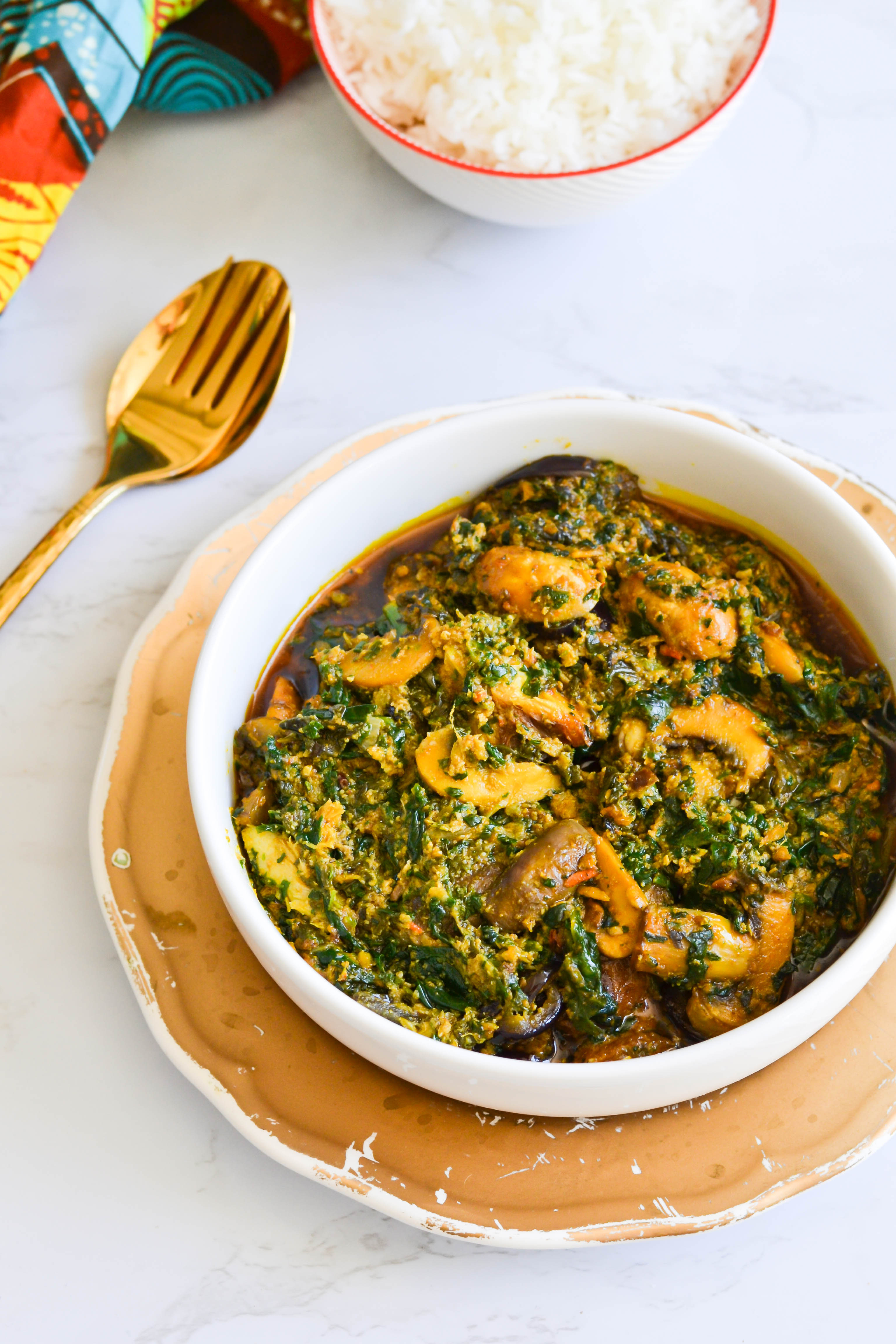 This dish is very popular in Nigerian and in Ghana as well. In Ghana it is called palava sauce. Spinach or bitterleaf are the vegetables that are typically used in making this stew. In my version I will be using lots of iron rich spinach, as it's readily available to me and cheaper. Also added to the stew is chestnut mushroom. I love the meaty texture of chestnuts.
To start off prep all the ingredients needed to make the stew. Food prep makes cooking easier and also makes the experience quite enjoyable. You don't want to start cooking and then start running around to find an ingredient that needs to go in immediately.
Slice your onions, tomatoes and mushrooms and set to one side. Make a paste with the with the ground egusi (melon) seeds by adding two tablespoons of water to it and mixing.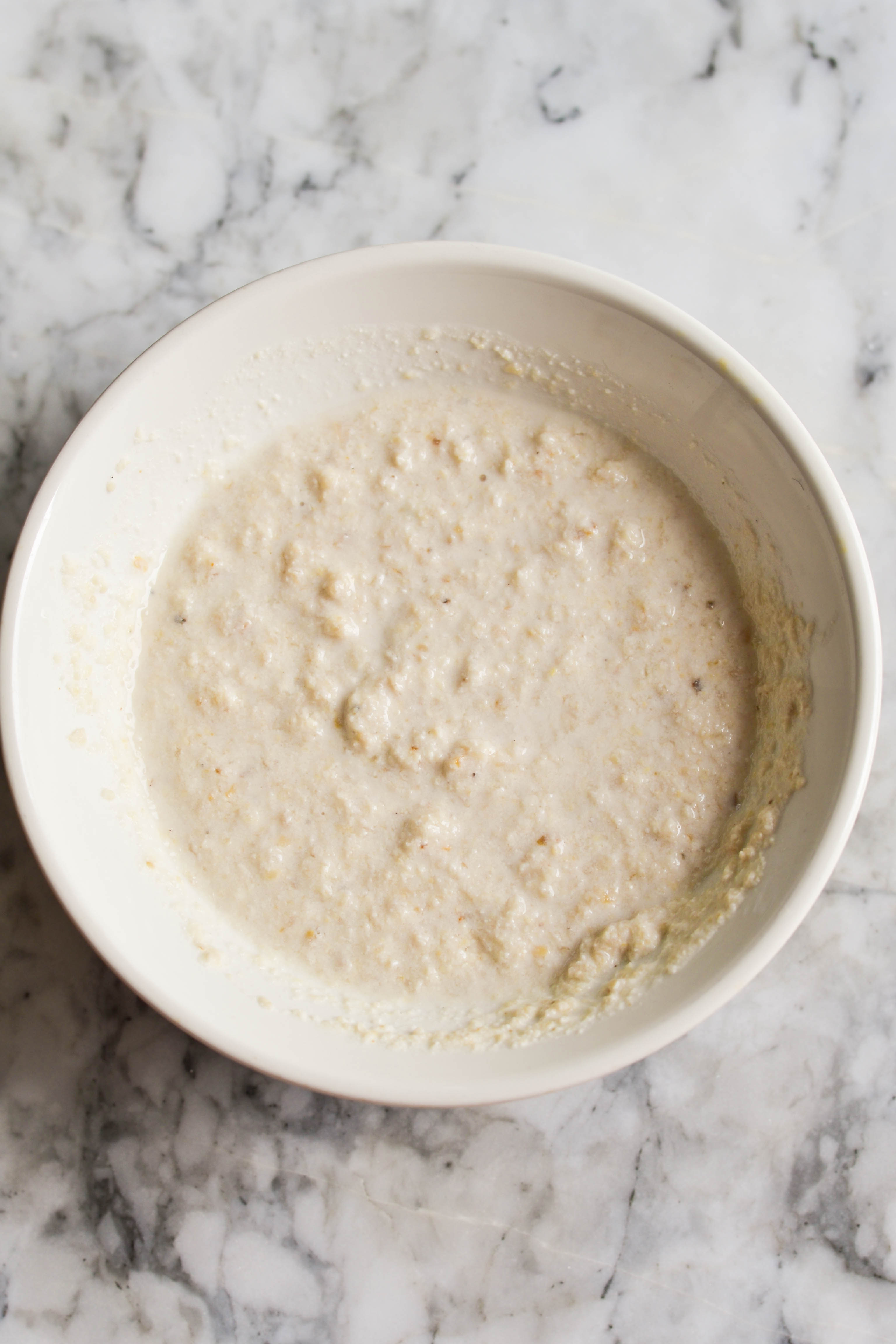 Fresh or frozen spinach can be used to make this dish. Cook your fresh spinach in boiling water for 30-40 seconds until it turns bright green. If you are using frozen, thaw and drain your frozen spinach to remove the water.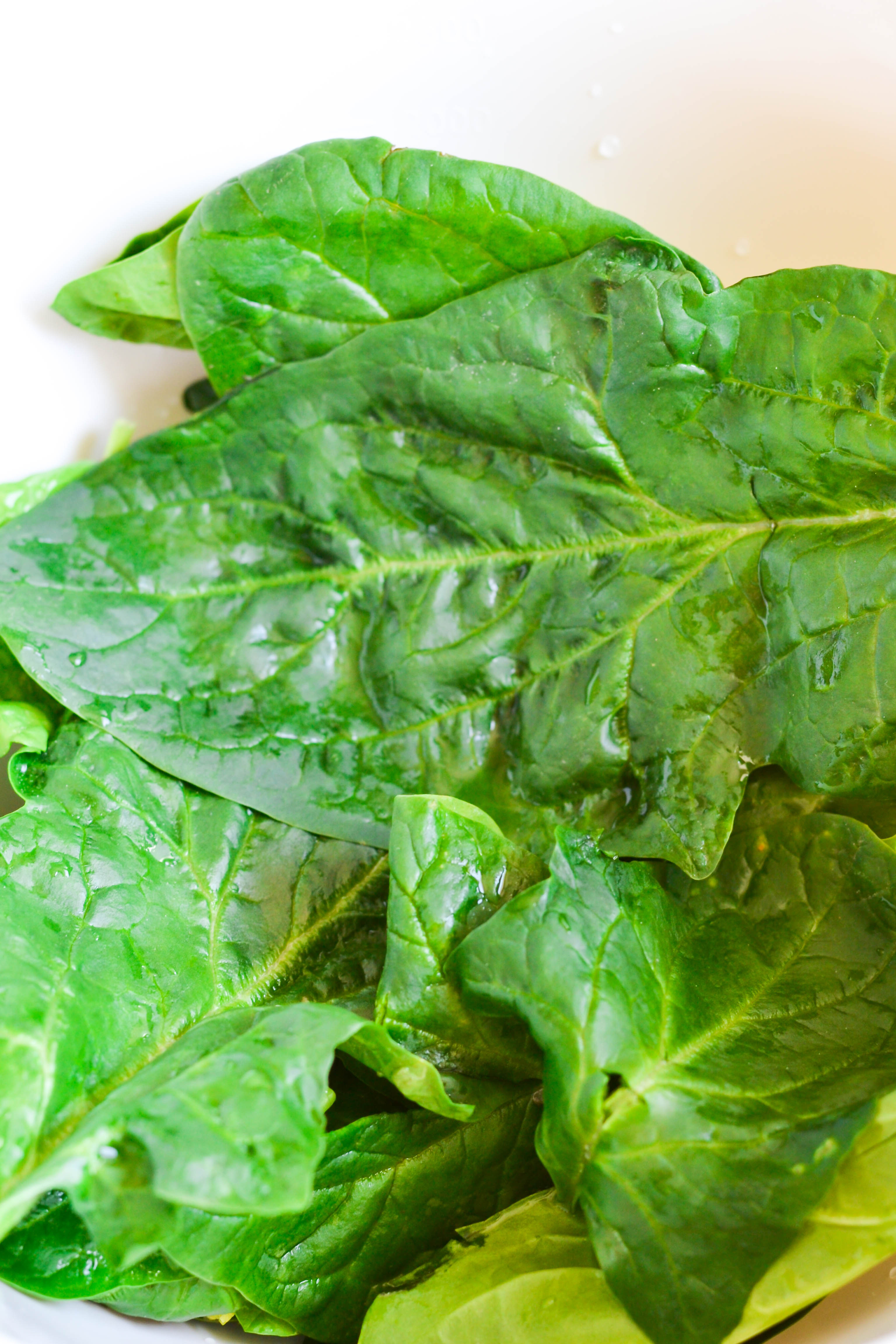 This stew was made with smoked mackerel which is rich in vitamins and minerals. Add ground crayfish was even more flavour. If you are a meat lover, add in steamed beef , mutton or goat meat.
Spinach and mushroom egusi stew is not just delicious, it is packed with nutrients as well. If you haven't tried this before, I absolutely recommend it. Serve with boiled rice, yam or fried plantain. Enjoy!!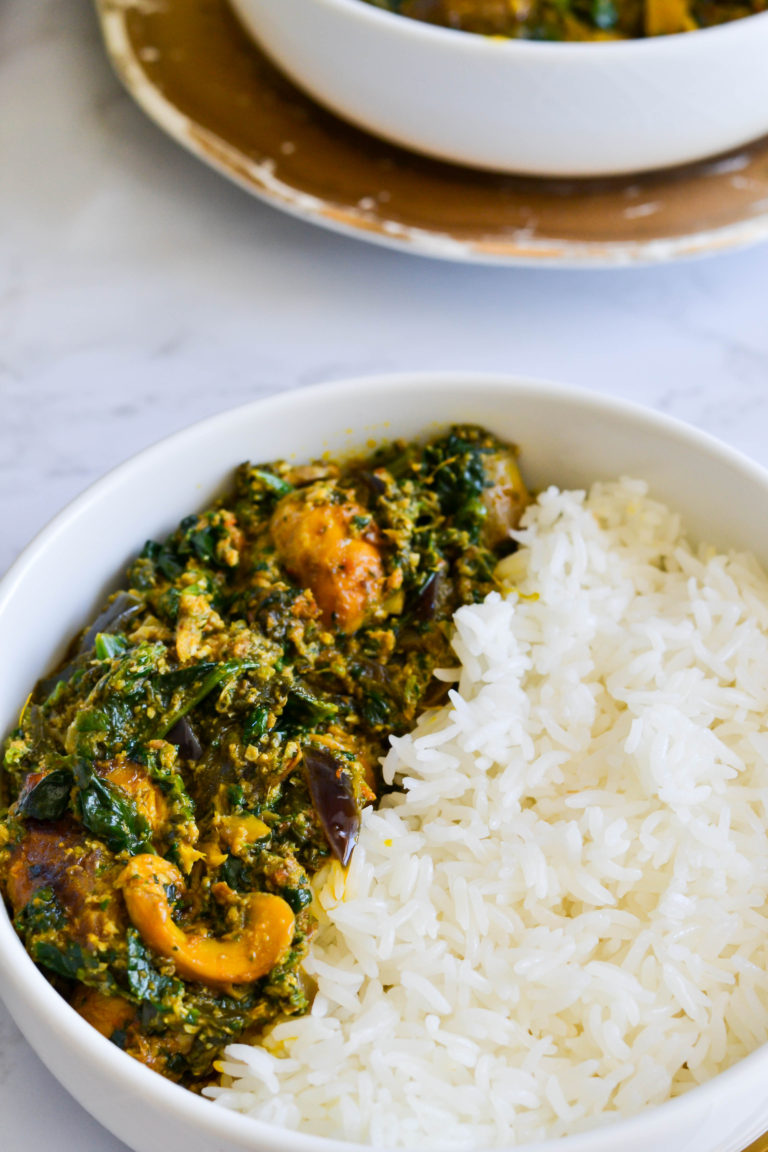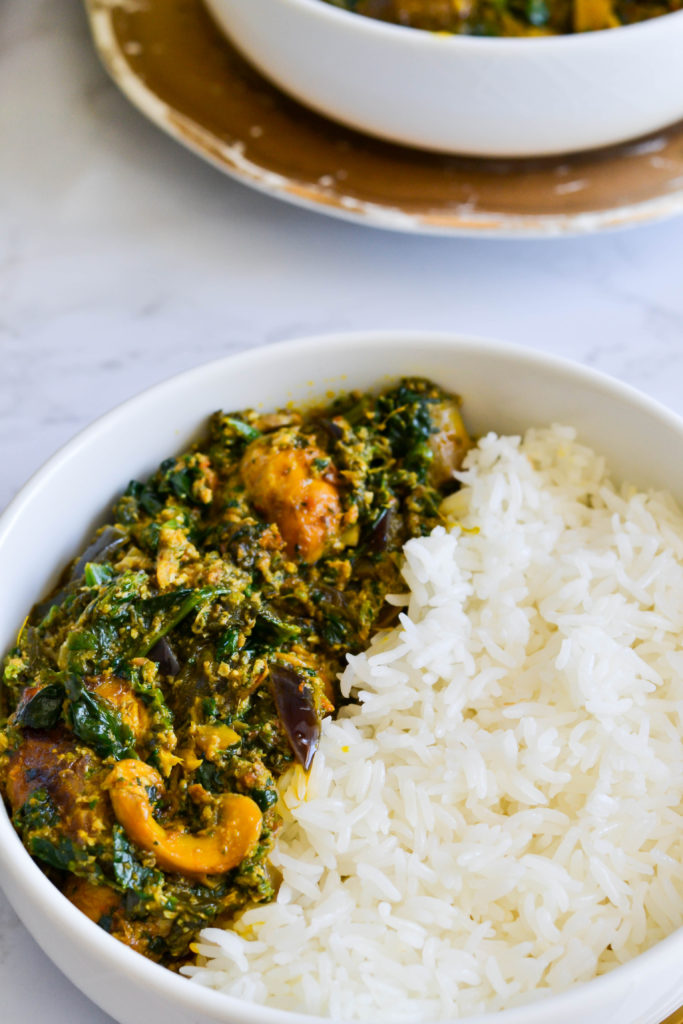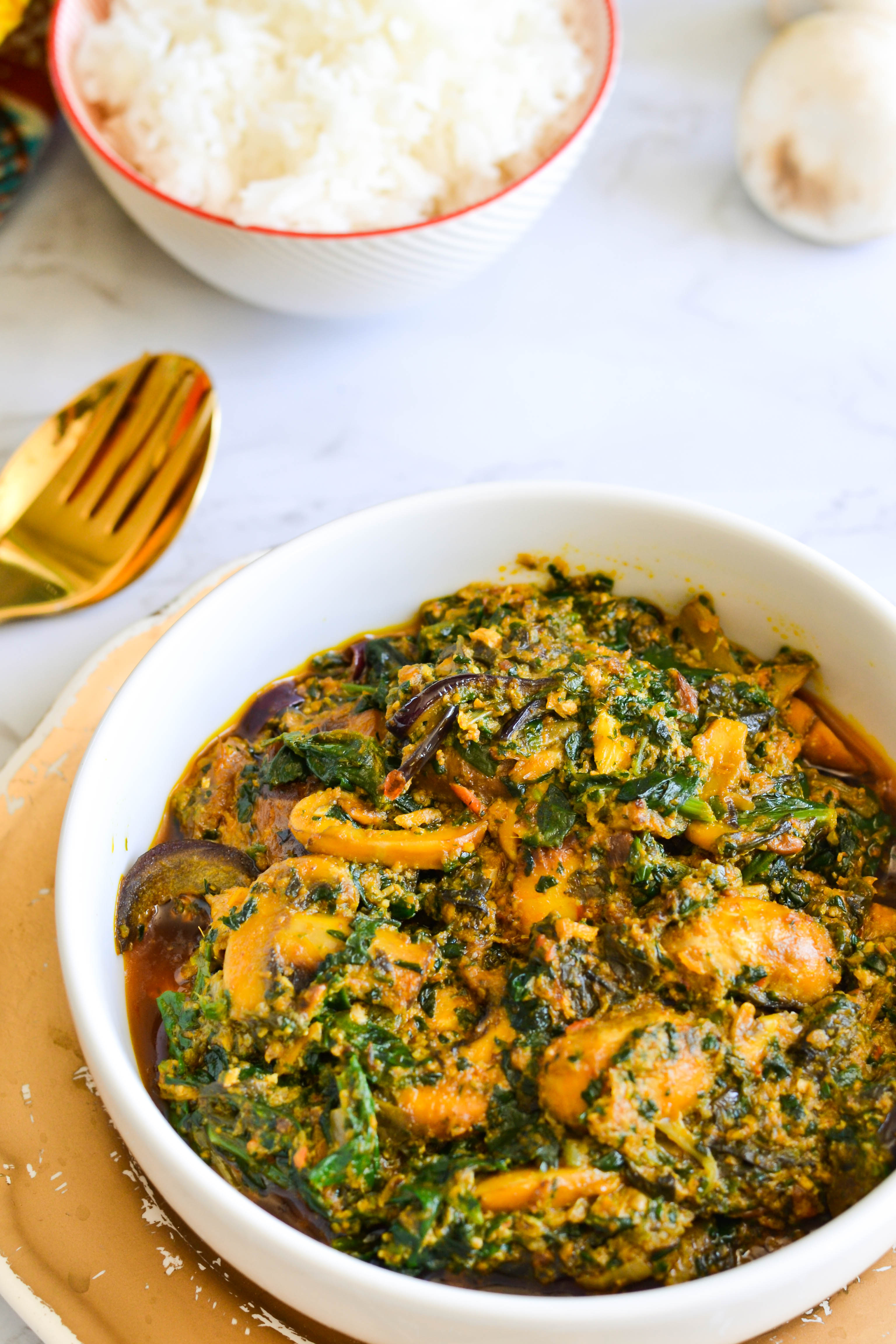 If you make these delicious Spinach and Mushroom Egusi Stew, please leave a comment below and tag @bakesbychichi on Instagram.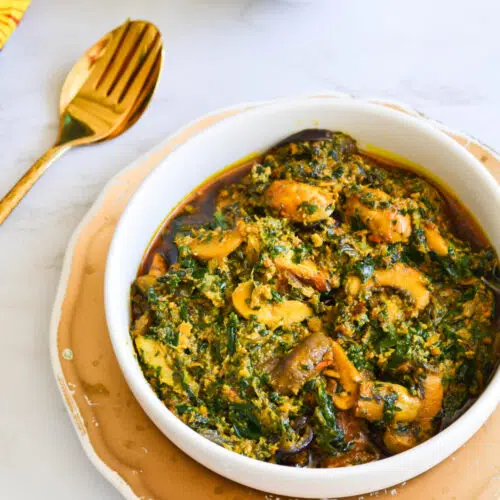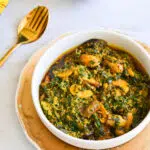 Ingredients
1

white onion·            

2

garlic cloves·

1

small piece of ginger 

120

ml

palm oil

2

red onions     

4

vine tomatoes, chopped

2

scotch pepper, sliced

100

grams

ground egusi (melon) seeds      

2

tbsp

ground crayfish·

smoked mackerel fillets

750

g

fresh spinach

250

g

mushrooms, sliced

1

maggi prawn stock cube

2

tsps

smoked paprika

salt to taste
Instructions
Chop red onions and tomatoes into chunks and set aside.

Puree together 1 white onion, garlic cloves and ginger and set aside.

Make a melon paste by combining ground melon seeds and 2 tablespoons of water.

Steam spinach in hot water for 40 seconds and drain.

Heat palm oil in a saucepan until hot. Saute the onions until soft for about 2 – 5 minutes. Mix in 5 tablespoons of onion, garlic and ginger mix and leave to cook for 5 minutes.

Add chopped tomatoes and scotch bonnet peppers to the saucepan plus half a cup of water and mix. Turn heat down to low and cook tomato sauce for 25 -30 minutes. Stir the sauce occasionally. 

Stir in ground crayfish and then smoked mackerel pieces to sauce and mix in carefully so the that mackerel pieces do not to break up.

Stir in egusi (melon) paste to the stew, and leave to simmer for about 5 minutes a low heat.

To the stew add mushrooms and leave to cook for another 5 minutes before adding the steamed spinach.

Leave stew to simmer for 4- 5 minutes. Add smoked paprika, prawn stock cube and season with salt to taste.
If you made this recipe, I would love to hear from you.
Tag Bakes By Chichi on Instagram or hashtag #bakesbychichi