Rich, creamy luxurious strawberry cheesecake ice cream made by combining simple ingredients, makes an unbeatable summer treat.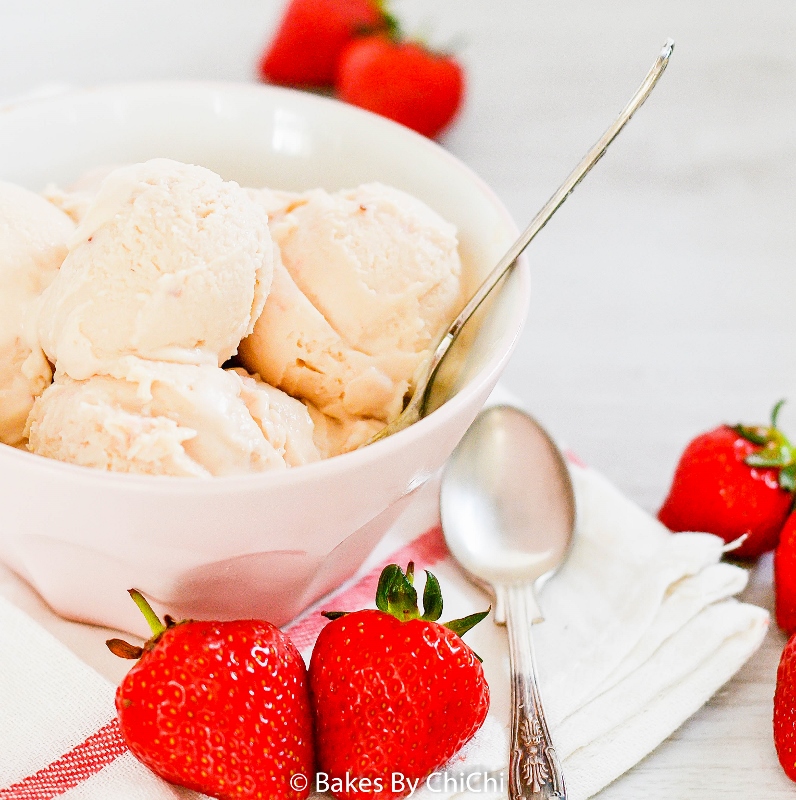 I grew up in a tropical country, so my favourite treats were ice cream. Most Saturdays you would find my sister and I at our favourite ice cream shop placing orders. Vanilla and strawberry ice cream were and are still my favourite flavours. My sister was more of a chocolate and pitaschio  ice cream fan. For me it was one scoop of strawberry followed by vanilla, I just had to finish with strawberry. Save the best for last.
The weather this summer has been fantastic so far. I just hope the lovely weather stays this way the entire summer. What better way to cool down than to have some delicious home made strawberry cheesecake ice cream.  Each bite is full of creamy strawberry cheesecake goodness.
To begin chill your ice cream maker in the freezer until it is frozen. I leave mine in the freezer for about 24 hours. Next comes the custard base.  Milk, cream, vanilla extract and sugar are heated until the sugar melted. Then whipped cream cheese in stirred in. Whisk the milk and cream mixture slowly into eggs yolks.  Cook the custard slowly on low to medium heat to avoid it turning to scrambled egg. Stir constantly with a heat prof rubber spatula, making sure to scrap the bottom as you stir. Once the custard coats the back of the spatula, it is done. Transfer to freezer safe container and chill in fridge overnight.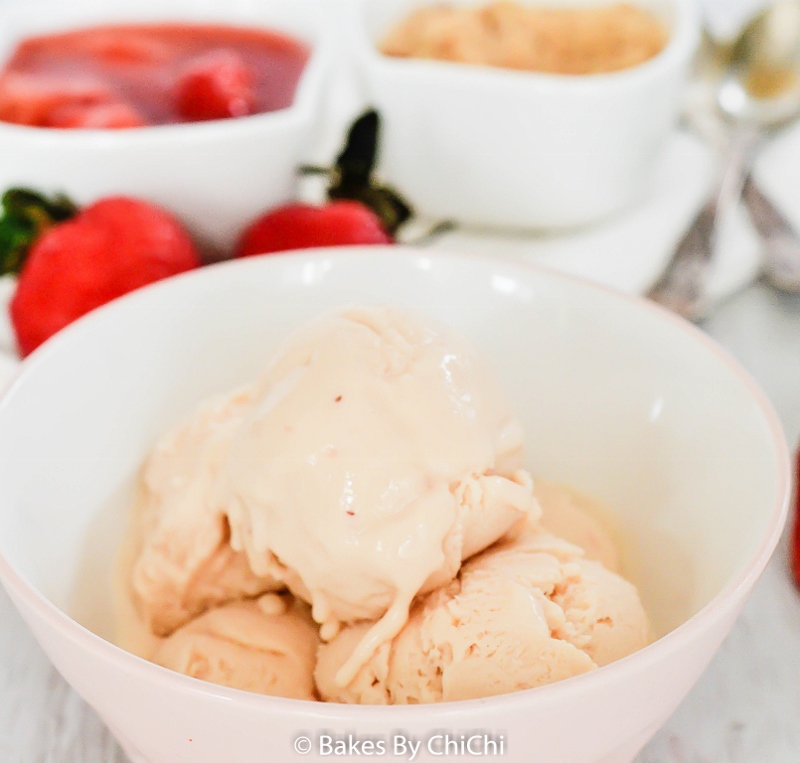 For the strawberry compote which I have made here  also , we will combine fresh strawberries, sugar, water and cornflour. Lemon as well to bring out the flavours of the strawberries. The cooled strawberry compote is added during the last 5 minutes of churning.  Freeze ice cream until ready to serve.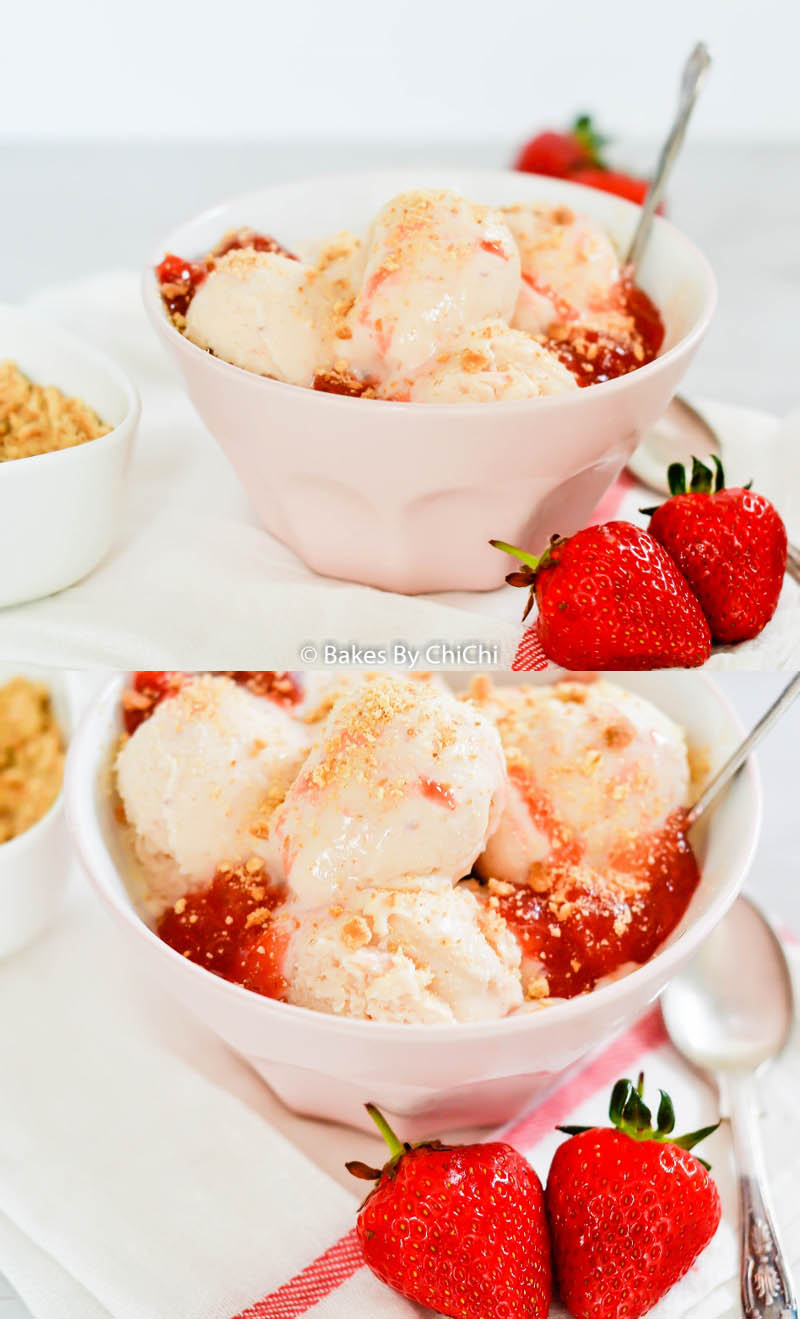 Serve ice cream with digestive biscuit crumbs and more strawberry compote. Raspberries or blueberries can be used in place of strawberries to make this rich and creamy homemade treat. Enjoy!!!
Strawberry Cheesecake Ice Cream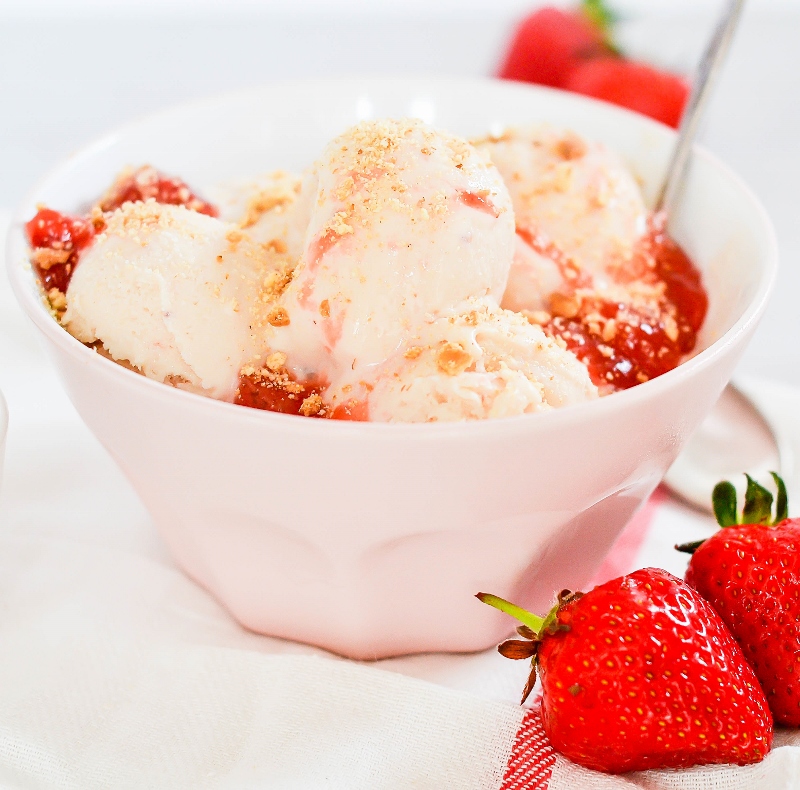 Ingredients
200 g (7 oz) cream cheese
360 ml (11/2 cup) milk
360 ml (11/2 cup) double cream
250 g (11/2 cup) sugar
4 egg yolks
2 teaspoons vanilla extract
300 g (10.6 ounces) strawberries, chopped
50 g (1/4 cup) sugar
1 lemon juiced
60 ml (1/4 cup) water
3 teaspoons cornflour
Instructions
Beat cream cheese until smooth and set aside.
Heat milk,cream and sugar in a saucepan, ensuring the sugar dissolves completely.
Stir in cream cheese.
Stir together the egg yolks in a separate bowl. Gradually sieve milk cheese mixture into the yolks, whisking constantly. Pour warmed yolks back into saucepan.
Now you want to prepare an ice bath by placing a small bowl in a larger bowl partially filled with ice and water. Set a strainer on top of small bowl
Over low heat cook the mixture, stirring constantly with a heat proof rubber spatula or a wooden spoon and scrapping the bottom as you stir. Cook until the custard thickens enough to coat the spatula.
Pour the custard through the strainer into the bowl sitting in the ice bath. Stir over the ice bath until cool. Mix in vanilla extract.
Transfer to freezer safe container and chill mixture in fridge overnight.
To make the strawberry compote, place strawberries and sugar in a saucepan and stir to coat all berries with sugar.
Cook strawberries over high heat, stirring occasionally for about 5 minutes.
Stir in lemon juice.
Mix water and cornstarch in bowl until combined. Add mixture a little at a time whisking frequently until sauce has thickened.
Remove from heat and let sauce cool to room temperature. Chill in fridge.
Once chilled freeze custard in your ice cream according to manufacturer's instructions. During the last 5 minutes of churning, add strawberry compote. (I reserved some of the compote to serve with ice cream, this is optional)
Put ice cream in airtight container and freeze until ready to serve.
3.1
https://bakesbychichi.com/strawberry-cheesecake-ice-cream/