Two layers of soft and moist red velvet cake sandwiching a cheesecake and frosted with white chocolate cream cheese.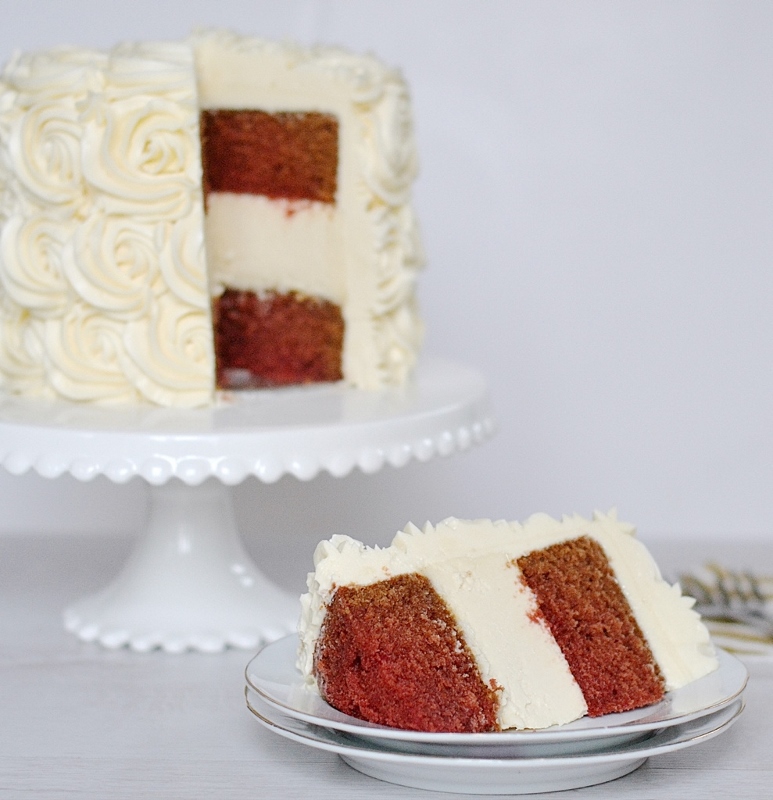 Happy New Year !!!!! Hello 2015. It's a brand new year. Do you have any New Year Resolutions?  I have decided to attend the gym more frequently this year. I signed up last year and it took me about 4 months to see the inside of the gym. This year i am going to do so much better. The weight isn't going to shift itself. Oh and i'm also going to juice more often. My Mr. got me a juicer last year when i was on my juicing obsession. The juicer is currently packed up in it's box. So this 2015 i plan on going to gym often and stick to healthier eating choices. I will be sharing those recipes on here.
Let's talk about this red velvet cheesecake cake. I have baked it a total of 6 times and have never been able to photograph it. It's a favourite of my daughter Esme. We had it for as a dessert for Christmas dinner and I made this as per her request  for New Year's Day. I don't know quite what happened with colour of the red velvet cake. Maybe I didn't mix in the red colour properly. For a minute I almost didn't share it, but things like this happen. The lack of uniformity of the colour doesn't take away from how delicious this red velvet cheesecake truly is.
The name red velvet cheesecake is quite a mouthful, then I had to go add with white chocolate cream cheese. Shame on me!!!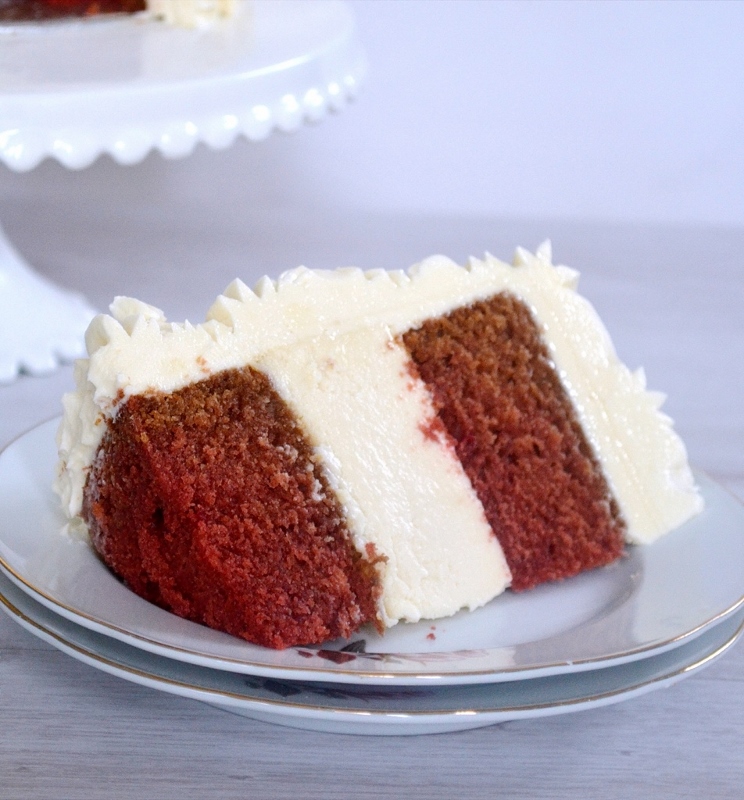 The red velvet cake is moist and with a smooth creamy cheesecake centre, this is just the perfect dessert to start of a new year.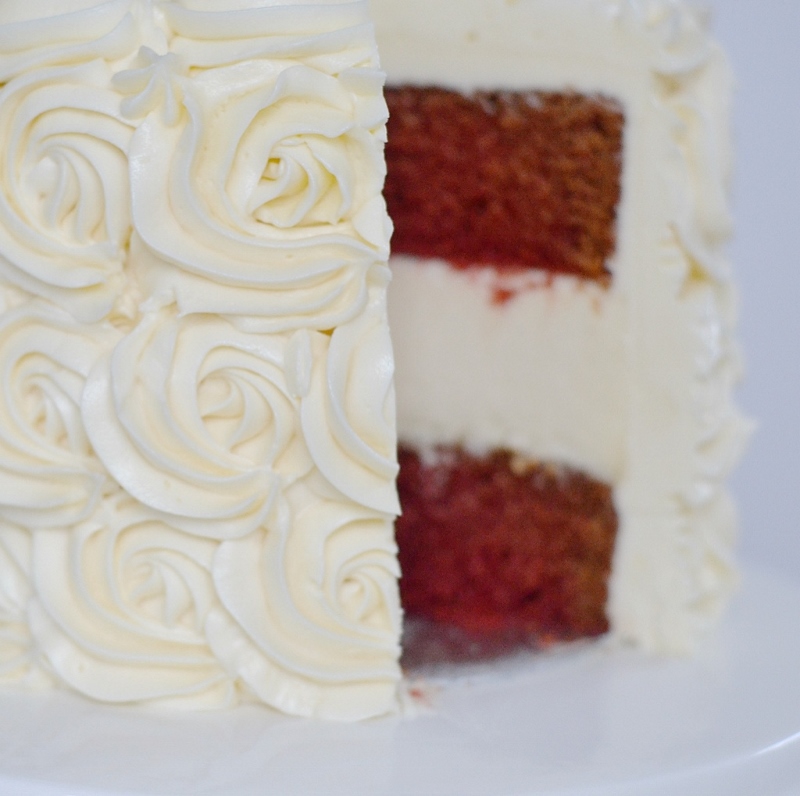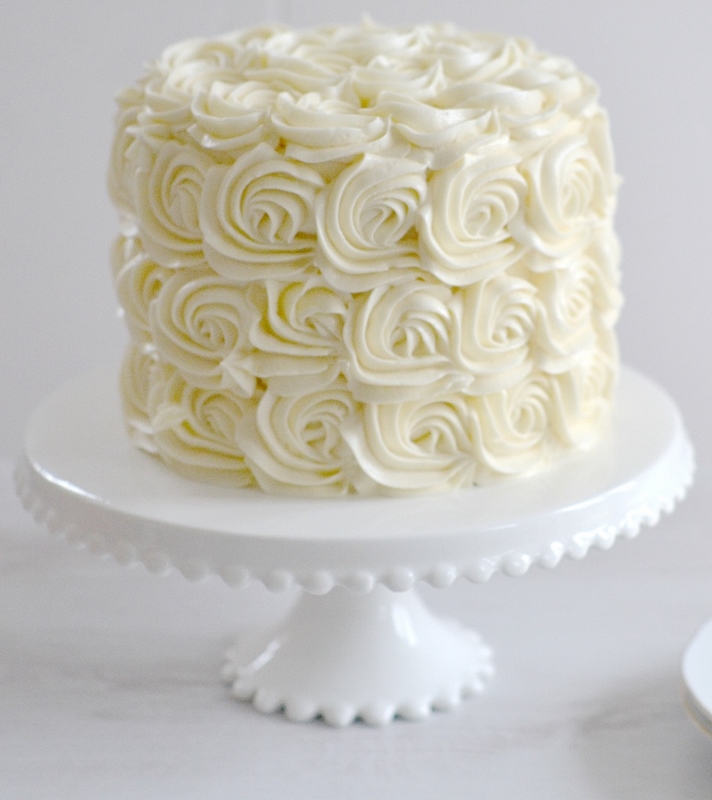 I decided to decorate the cake with one of my favourite piping designs. Using a 1M open star tip I  piped roses around the cake. It doesn't take that much time or effort and you left with a very elegant and beautiful cake. This cake is both beautiful on the outside and the inside. To show how easy it is to pipe roses i made a short video.
Red Velvet Cheesecake Cake with White Chocolate Cream Cheese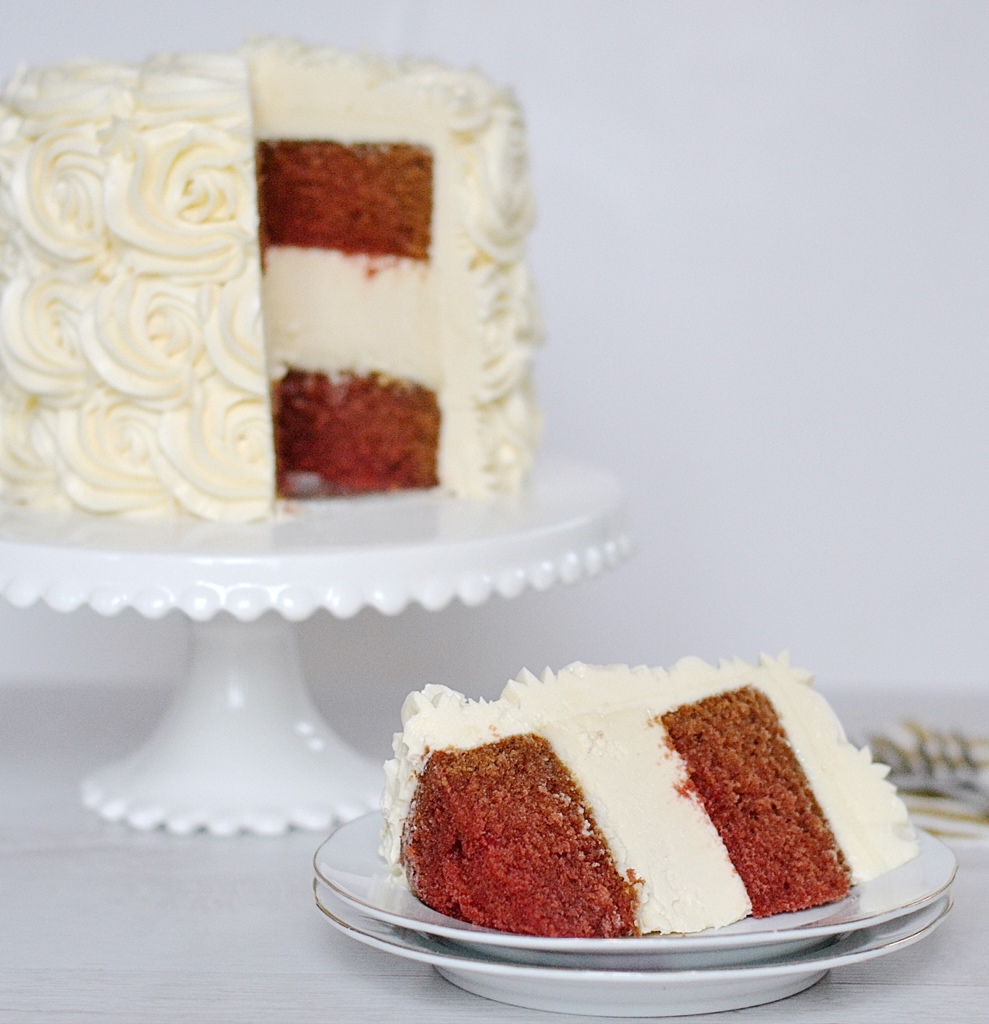 Ingredients
Cheesecake

250g mascarpone cheese
300g cream cheese
130g sugar
1/8 teaspoon salt
2 eggs
160 ml (2/3 cup) sour cream
2 teaspoons vanilla extract

Red Velvet Cake (Recipe adapted from Cake Man)

300g (21/2 cups) cake flour
300g (11/2 cups) sugar
1 teaspoon bicarbonate of soda
1 teaspoon salt
1 teaspoon cocoa powder
350ml (11/2 cup) sunflower or vegetable oil
240ml (1 cup) butternilk, room temp
2 large eggs, room temp
red food colour
1 teaspoon white distilled vinegar
2 teaspoons vanilla extract

White Chocolate Cream Cheese

240g (1 cup) unsalted butter, room temp
125g (2/3 cup) vegetable shortening
600g (6 cups) icing sugar, sifted
2 tablespoons whipping cream
300g cream cheese, room temp
100g white chocolate, melted and cooled

Tools

Turn table
Piping bag
1M open star tip
Instructions
Cheesecake layer
Preheat oven to 160 degrees C .
Grease the bottom and sides of an 8 inch loose bottom or springform tin, line with base and sides with greaseproof paper. Wrap two layers of foil around the bottom and sides of pan
In bowl of mixer (or using hand mixer) beat the cream cheese and mascarpone until smooth and creamy, slowly beat in sugar. Add salt. Scrape the sides of bowl as needed.
Beat in eggs one at a time until incorporated . Add the sour cream and vanilla extract and beat until well incorporated.
Place springform tin in a larger roasting tin/tray and place it into the oven. Pour hot water carefully into a baking tray to one third height of the springform tin.
Bake for about 60 minutes or until set to touch .Turn off oven and leave cheesecakes in oven for one hour with the door shut.
Remove cheesecake from oven and carefully lift out of water bath. Let cool completely on rack.
When cool, place in the freezer and let cheesecake freeze completely. Either for several hours or overnight.
Red Velvet Cake
Preheat oven to 170 degrees celcius. Grease and flour 2X 8 inch round cake tins.
In the the bowl of a mixer sift together cake flour, sugar, bicarbonate of soda, salt, cocoa powder. In a jug mix together oil, buttermilk, eggs, red food colour, vinegar and vanilla extract.
Pour wet ingredients into dry ingredients and mix until well combined and a smooth batter forms.
Divide cake batter evenly between cake tins. Bake for 30 minutes or until a tooth pick inserted in middle comes out clean.
Leave cakes to cool in tins for 10 minutes then run a knife around the edges to loosen them from the sides of the tin.  Then invert the cake onto a cooling rack , rounded sides up. Let cool completely.
Wrap cakes up and chill in fridge for about 30 minutes or until ready to frost.
White Chocolate Cream Cheese
Beat butter and vegetable shortening until light. With the mixer on low speed slowly add icing sugar and beat until well combined. Mix in whipping cream
Add cream cheese to mixture and beat until fluffy.  Beat in vanilla extract and melted white chocolate.
Assemble the Cake
Using a serrated knife level each cake by cutting the domed top.
Spread a thin layer of icing on your cake board. .Place one layer of cake, flat side down. Remove cheesecake from freezer, remove from tin carefully and peel away grease proof paper. Place cheesecake layer on to of first cake. Place second cake layer on top of cheesecake. If cheesecake layer is wider on the sides than red velvet cake, trim sides using a knife to the same size as cheesecake,
Spread a thin layer of frosting on the sides and then top of cake. It helps to use a turntable when frosting a cake. Hold a scraper flat against the side of the cake and then turn the turntable and scraper to make a nice, smooth coat of icing. Smooth the top of cake with scraper, drawing the peaks on the top edges of cake into the centre.
Chill crumb coated cake in fridge for 30 minutes until buttercream is nice and firm.
Once cake is chilled, put a 1M tip in a piping bag and fill bag with frosting. To pipe a rose start at the centre and move your tip in a circular motion around the centre point. Watch the video posted to see how i piped mine
Notes
The cook time does not include the chilling time and assembling. Cheesecake and cakes can be baked and chilled several days before assembling.
!Recipe for Cake Flour
For every cup of all purpose( plain ) flour you take out 2 tablespoons of flour and replace with 2 tablespoons of cornstarch. Sift the flour and cornstarch together, sift again and again. The cornstarch and flour need to be well incorporated and flour aerated. sift the flour and cornstarch mixture about 5 times. You have cake flour.
!Recipe for Buttermilk Substitute
Add one tablespoon to 240ml (1 cup) milk. Leave for 5 minutes
3.1
https://bakesbychichi.com/red-velvet-cheesecake-cake-with-white-chocolate-cream-cheese/