Brown Butter Malted Milk Chocolate Chip Cookies with slightly crisp edges and soft centres. These flavour rich cookies are the best cookies you will ever have. 
Cookies have always been a weakness of mine. I don't like cookies that are full of sugar and just chocolate. Over the years I have put a lot of time into creating a cookie dough which is full of flavour. 
Today I am sharing this with you these delicious Brown Butter Malted Milk Chocolate Chunk Cookies.  Made with browned butter and malted milk, this a recipe I have made many times. And they are perfect for the holiday season.  
Let's get into the details of these Brown Butter Malted Milk Chocolate Chip Cookies
What sets these cookies apart from the other cookie are two key ingredients,  Browned butter and Malted milk powder.
Browned butter to me is liquid cooking gold. It is made when butter is cooked until the fat and milk separate and the milk from the butter sinks to the bottom of the pan and begins to brown creating this rich nutty flavoured butter. French chefs call this butter beurre noisette (hazelnut butter). This rich nutty flavour ups the flavour profile of cookies.
Browning butter is pretty quick. It doesn't take that long, about 5 – 8 minutes. So do not leave it unattended , because it could so easily burn.  Once melted, the butter will begin to turn golden brown and the milk solids at the bottom of the pan will toast. The kitchen will soon be filled with this nutty aroma and brown specks will form at the bottom. Transfer the browned butter to another bowl and make sure to scrape all the specks out of the pan because that's where most of the flavour comes from.
Malted milk is an evaporated powder made with malted barley, wheat and whole milk.  It is has a toasty, buttery flavour and adds a new layer of flavour to the cookies. It will have taste buds excited. 
Important Tips for the Perfect Brown Butter Malted Milk Chocolate Chunk Cookies
I have added a tablespoon of milk to the cookie dough. This is to make up for the loss of moisture in the browning process.
Use good quality chocolate or chocolate you enjoy eating.  My favourites are Finest Belgian  Dark Chocolate Couverture and Lindt Excellence Dark 70% Cocoa Chocolate Bar. I like to mix in milk chocolate chips to balance out the slight bitterness of the dark chocolate and add lush layers to the cookies. 
Chill the cookie dough for at least 24 hours. It gives the flour time to hydrate and further enhances the taste.
To get the same size cookies weigh your cookie dough balls. Mine weighed 45 grams each. 
To get big puddles of chocolate on top of the cookies, use press chunks of chopped chocolate onto the top just before baking. 
For more cookie recipes, check these out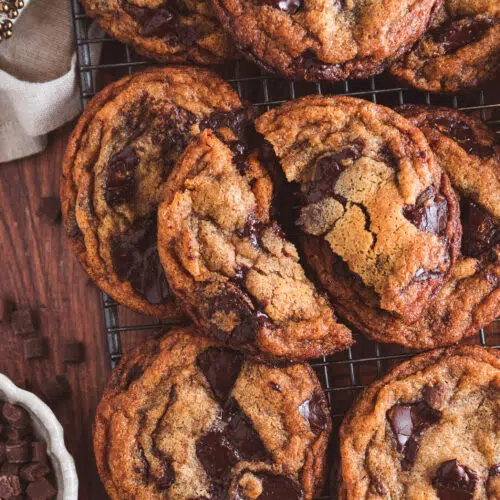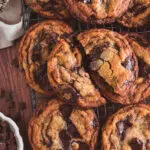 Ingredients
140

grams

(½ cup + 1 tablespoon) unsalted butter, sliced

67

grams

(⅓ grams) granulated sugar

100

grams

(½ cup) light brown sugar

1

medium

egg

1

egg yolk

1½

teaspoons

vanilla extract

180

grams

(1½ cups) plain or all purpose flour

1

teaspoon

baking soda

½

teaspoon

salt

1

tablespoon

milk, room temperature

60

grams

(¼ cup) malted milk powder

100

grams

(3.5 oz) 70% dark chocolate, chopped

100

grams

(3.5 oz) 65% milk chocolate chips or chunks
Instructions
To make the brown butter: Place sliced butter ( butter is sliced so that it melts faster and evenly) in a saucepan over low heat. Slowly melt the butter until it is foamy on the surface. Pour the melted butter into a heatproof or glass bowl. Let it stand for 1 minute. Use a teaspoon and carefully remove the foam from the surface. Return the melted butter to the saucepan and heat until light brown specks begin to form and you smell a nutty aroma. Remove from heat and and pour into a small bowl with all the bits. Leave it to cool for 20 minutes and then place in the fridge to chill for 1 hour.

Sift flour, baking soda and salt in a large mixing bowl. Set aside.

In the bowl of a stand mixer, beat together brown butter, brown sugar and granulated sugar . Add whole egg, then yolk and vanilla extract on low speed and beat until well blended.

Add flour, malted milk powder and beat on low until just incorporated. Mix in milk. Fold in the chocolate chunks.

Cover the cookie dough and chill in the fridge for at least 2 hours or overnight. ( The cookie dough will be quite sticky at this stage to rolls)

Take the dough out of the fridge and leave to soften to room temperature for 10 minutes

Pre-heat oven to 160°C Fan/180°C/350°F. Line 2 baking tray with parchment paper.

Scoop two tablespoons each of the cookie batter and roll into balls. Place cookie balls on the baking tray at least 2 inches apart. If desired, press a few chocolate chunks on top of the cookie dough balls.

Bake for 10 – 12 minutes. Remove from oven and place on cooling rack. The centre of cookies may look slightly under baked. Leave to cool for at least 10 minutes before serving.
If you made this recipe, I would love to hear from you.
Tag Bakes By Chichi on Instagram or hashtag #bakesbychichi