These brownie cookies are soft, fudgy, chocolatey and gooey. Made with a combination of milk and dark chocolate these cookies are luxuriously self-indulgent.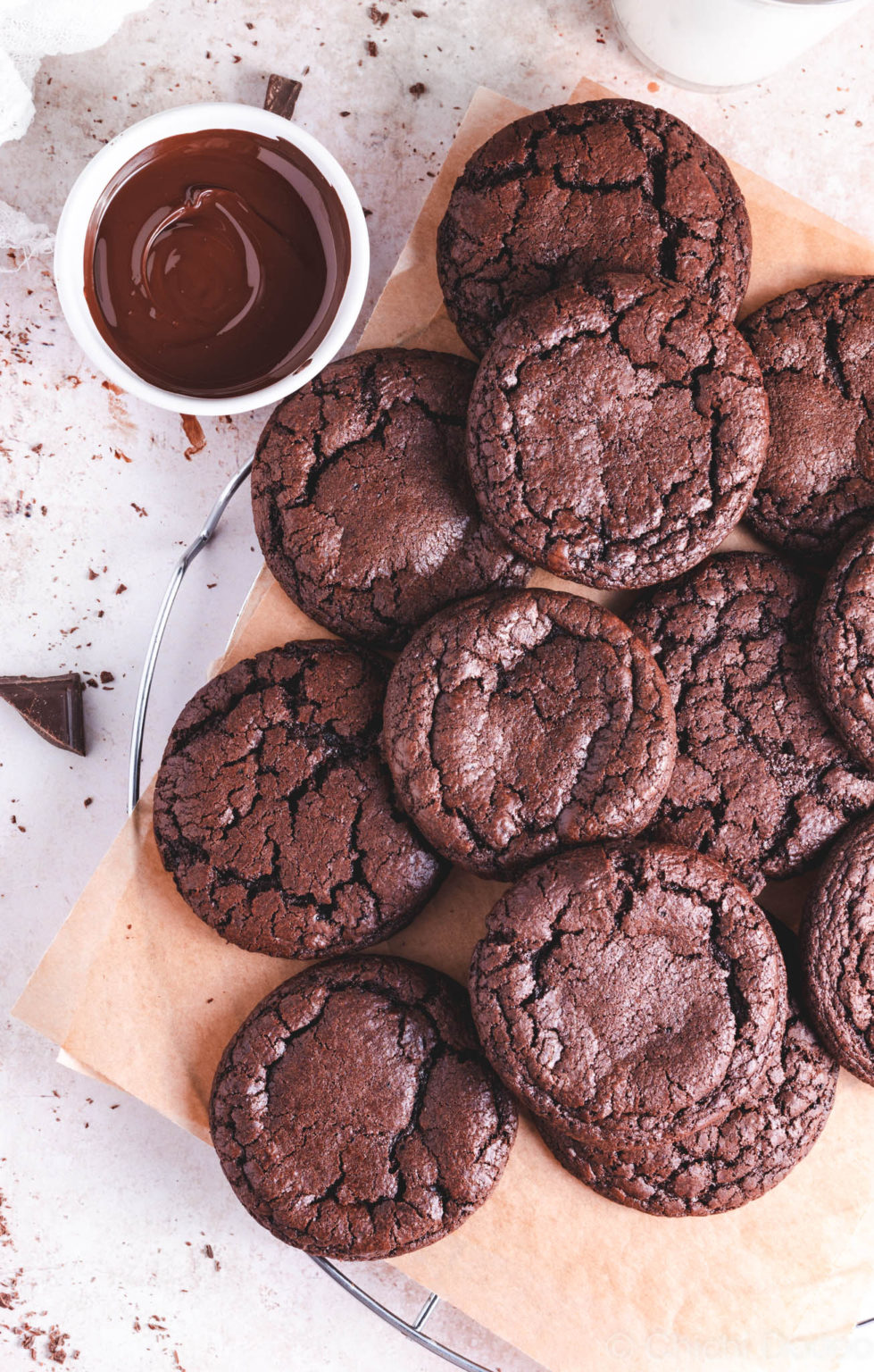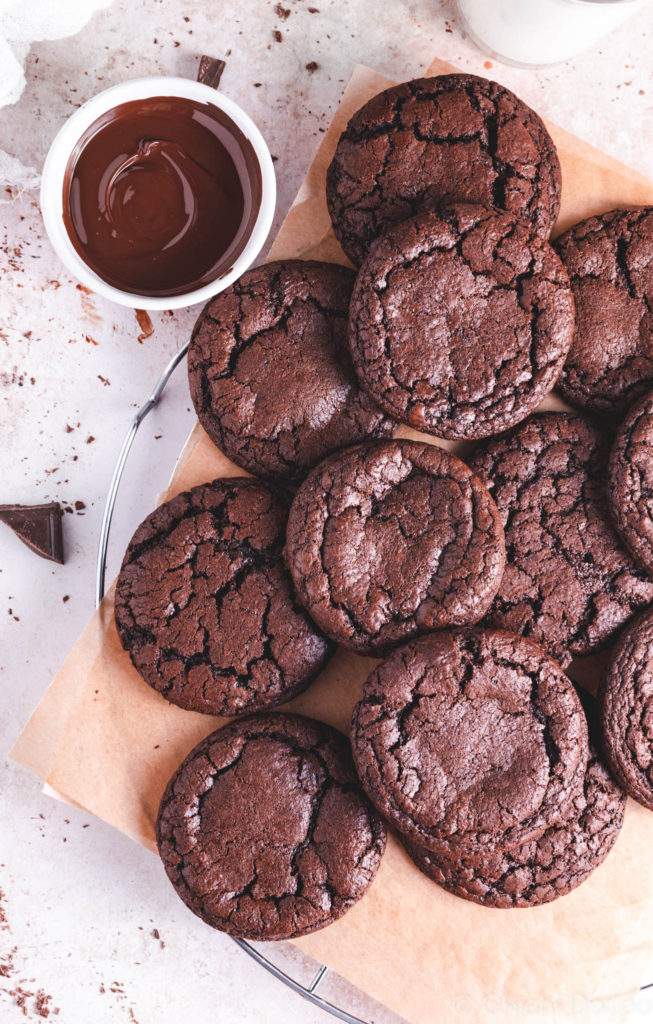 Happy December!! Can't believe it's this time of the year already. And what a year it has been.
Although the way we live has changed, I am grateful for some traditions that still live on. Like cookie season. And I am kicking off mine with these delicious brownie cookies. Imagine biting into a soft fudgy brownie but in cookie form. When you bite into these cookies be prepared for decadence and richness. If you are a chocolate lover, then you will love these. These cookies are delicious served warm with ice cream and/ or cream. If you are craven like me try it with both. Thank me later 😉
I made these cookies three times, just to make sure the recipe was right. The first time I baked these, they spread too thin. Second time around, the cookies looked like a lava had exploded. The final bake was the best of the lot.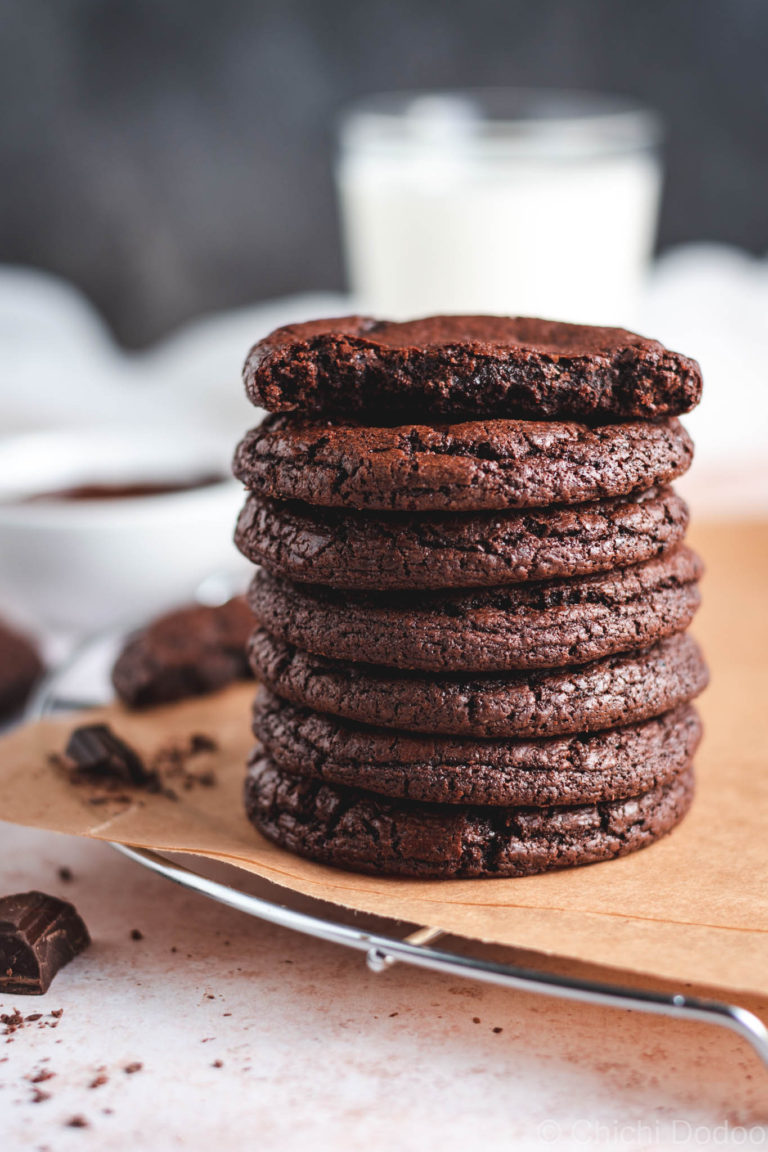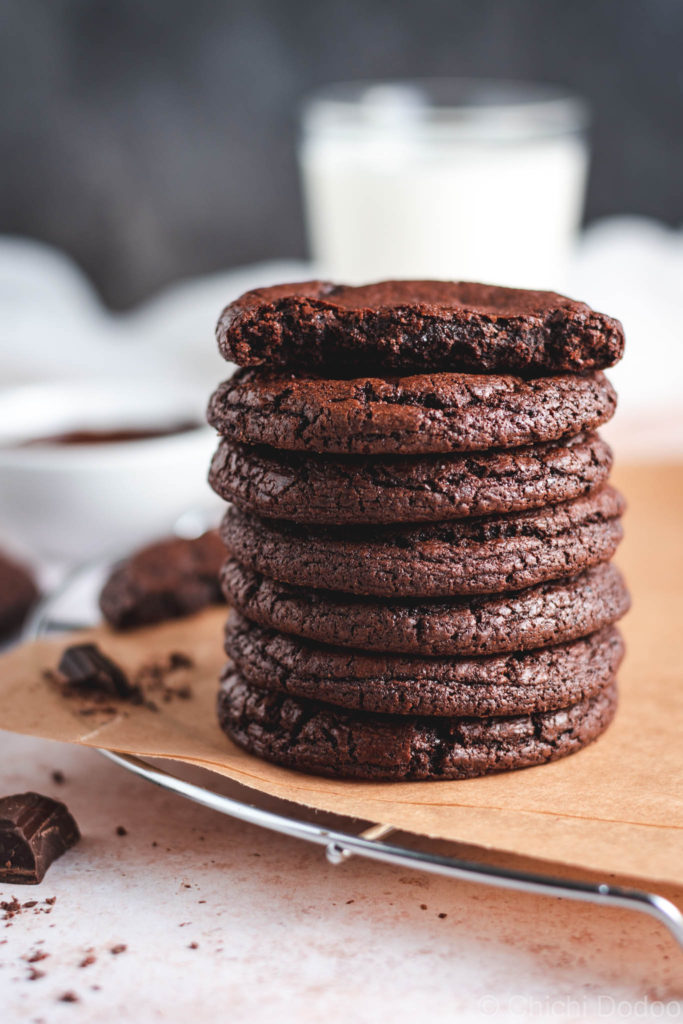 Key Ingredients for these Brownie Cookies
Chocolate: I used a combination of milk chocolate chips and dark chocolate. For a really fudgy brownie use dark chocolate with a cocoa content of at least 70% and more importantly use chocolate you enjoy eating.
Unsalted Butter: Butter tastes so good when baked with. It adds flavour to your baked goods. Melting the butter produces a brownie which is fudgier and has a stronger cocoa flavour.
Brown Sugar: This gives the brownies it's caramel flavour.
Cocoa Powder: Use cocoa powder which contains potassium carbonate or Dutch-process Cocoa Powder as it is popularly known. This type of cocoa is mellow in flavour and does not react with baking soda. It also produces a darker and richer brownie.
Espresso Powder: It enhances the flavour of the chocolate.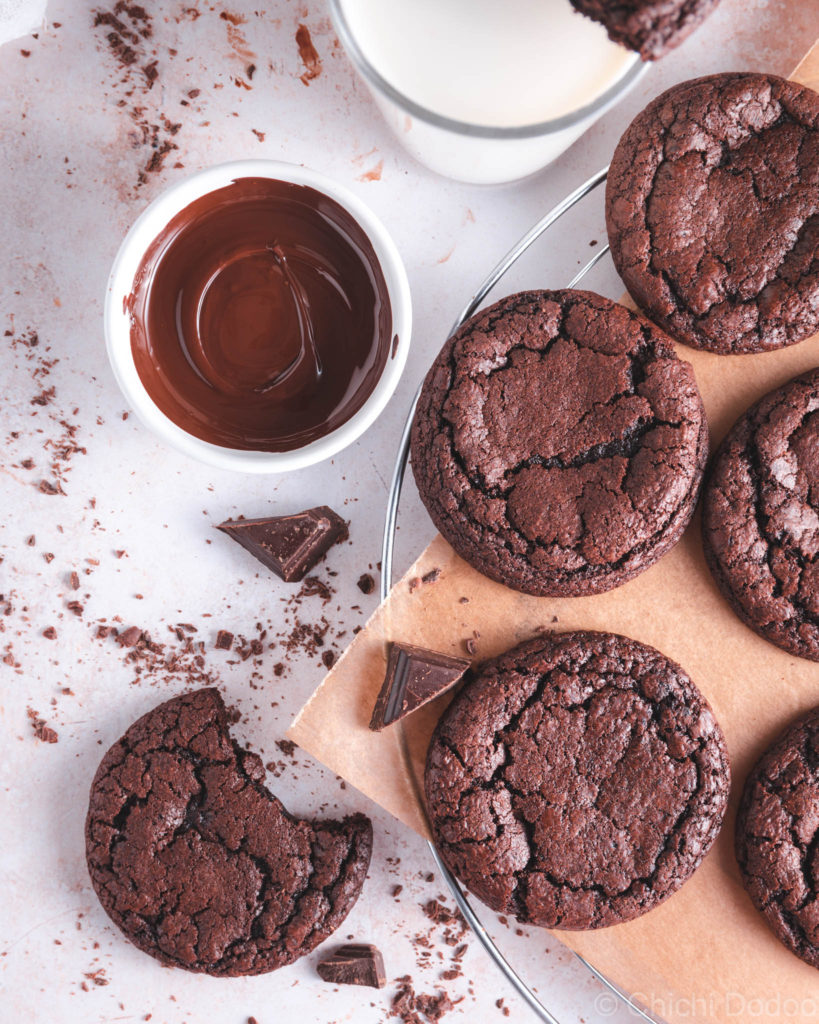 Tips for making the brownies cookies
Grate or chop the chocolate into small pieces before melting with room temperature butter. The chocolate will melt fast and more easily if you do this. Also melt slowly on at a low temperature.
Let the chocolate butter mixture cool before using.
Beat the eggs until light and creamy. This ensure you have a crinkly cookie.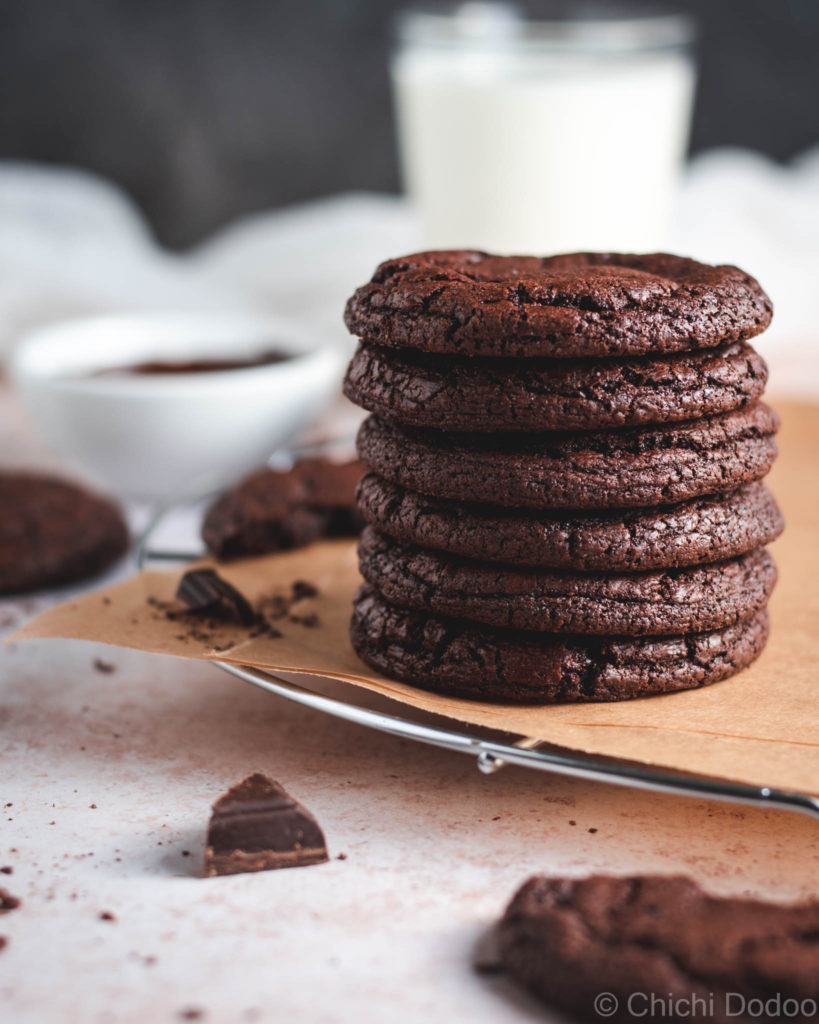 How to Store chocolate brownie cookies
These brownies will stay moist and fudgy for days. Store them in an airtight container to stop them from drying out and preserving their flavour. They freeze well, that's if there are any left 🙂 . To freeze place the cookies in an airtight container with a piece of parchment paper separating each layer. This will help prevent the cookies from sticking to one another. Cookies can be frozen for up to 3 months. To thaw, set the cookies on a plate and allow them to come to room temperature.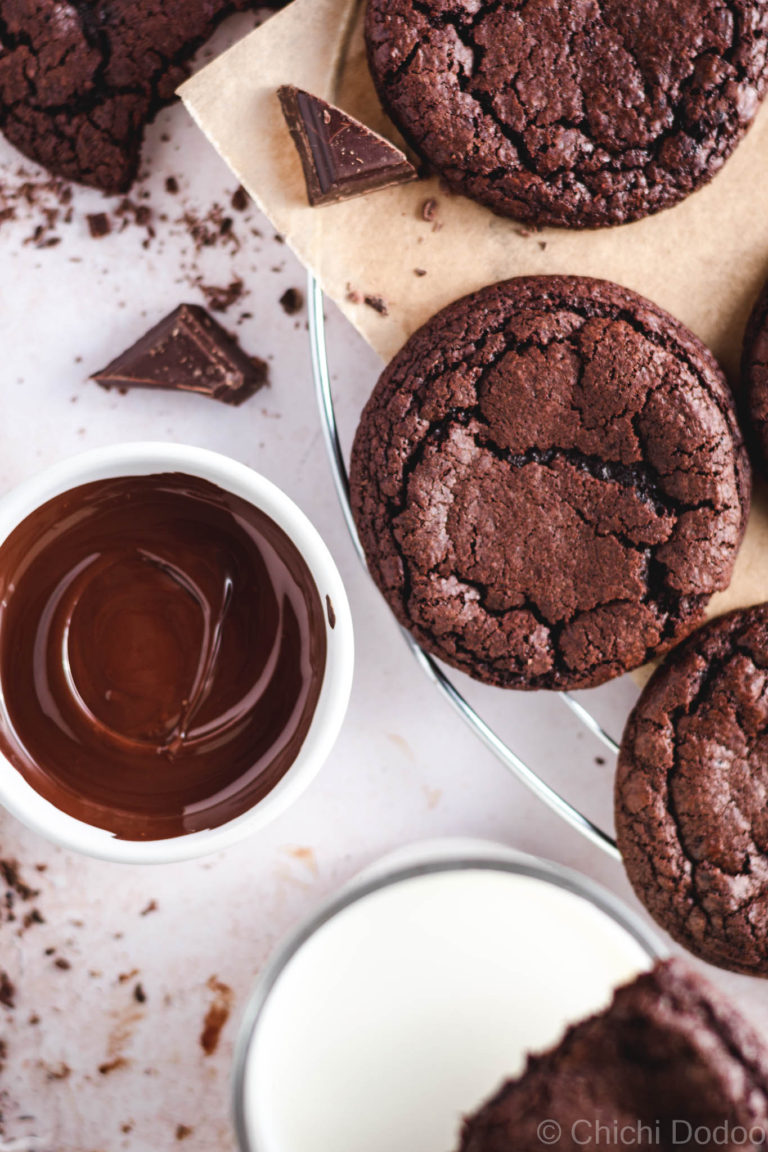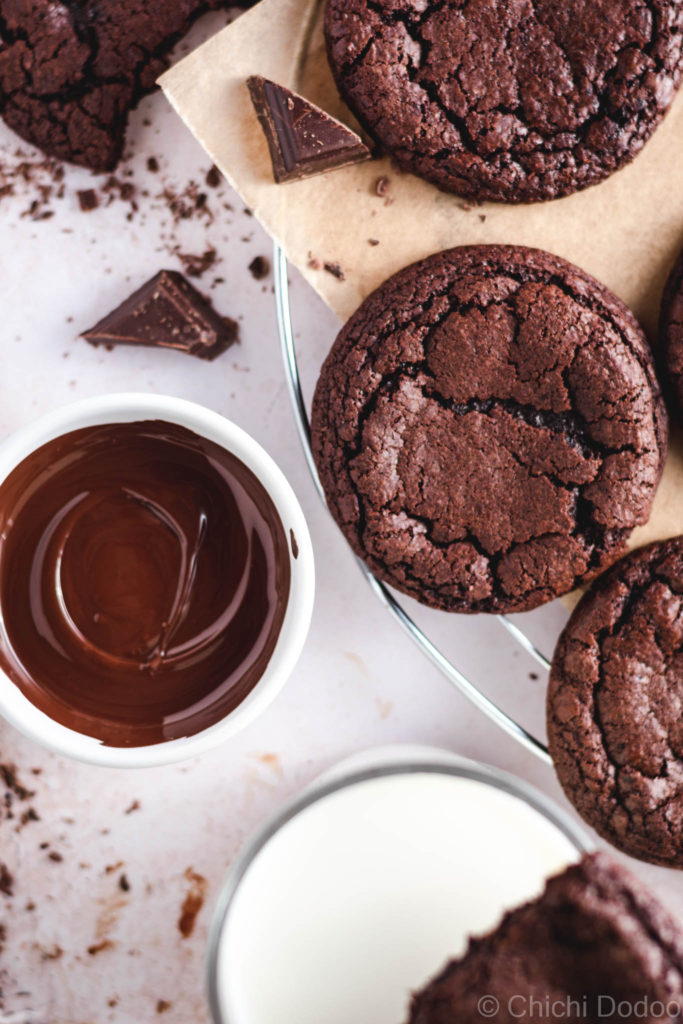 For more cookies recipes
Spiced Chocolate Chip Cookies
Caramel Gingerbread Cookies
Mocha Chocolate Chip Pudding Cookies
Soft Baked Red Velvet Cream Cheese Cookies
Soft Baked Ginger Crinkle Cookies

If you make these soft fudgy brownie cookies, be sure to leave a comment below . I would also love it if you tag @bakesbychichi on Instagram ❤.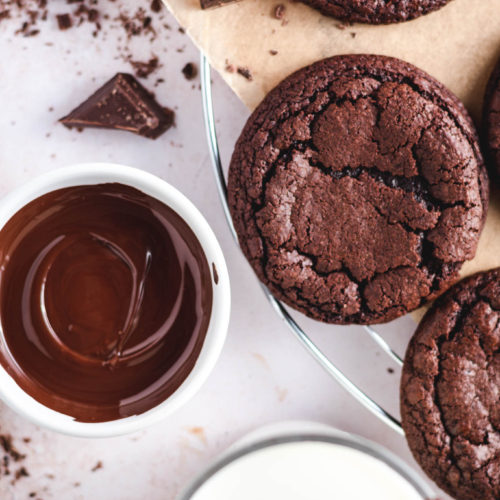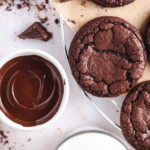 Ingredients
6

tablespoons

unsalted butter, room temperature

100

grams

(3.6 ounces) milk chocolate chips

100

grams

(3.6 ounces) dark chocolate, chopped

29

grams

(1 ounce) dark chocolate, grated (optional)

2

eggs, room temperature

100

grams

granulated sugar

100

grams

dark brown sugar

1

teaspoon

espresso powder

1

teaspoon

vanilla extract

25

grams

(¼ cup) cocoa powder

90

grams

(¾ cup) plain flour

1

teaspoon

baking powder

½

teaspoon

salt
Instructions
In a saucepan over low heat, melt the butter, milk chocolate chips and chopped dark chocolate. Remove from heat and leave to cool completely.

In the bowl of a stand mixer or using a hand mixer, whisk eggs and sugar on medium speed for 5 minutes until pale in colour. Add melted chocolate, vanilla extract and espresso and beat until combined.

Add flour, salt, cocoa powder and baking powder and mix until just combined. Fold in chocolate shavings. Cover the cookie batter and chill for 1 hour or overnight.

Pre-heat the oven to 170°C. Line a baking tray with parchment or greaseproof paper.  Roll 2 tablespoons into round balls. Place cookies 2 inches apart on baking sheet. Bake for 10 -11 minutes, until the edges are just set and the cookies have crackled. Leave the cookies on baking tray for 5 minutes before moving to wire rack to cool. Eat warm or let cool completely.
If you made this recipe, I would love to hear from you.
Tag Bakes By Chichi on Instagram or hashtag #bakesbychichi