Updated 20/06/2020
This Jambalaya Jollof has been infused with wonderful herbs and spices and cooked with prawns, chicken and spiced sausage, giving the popular West African rice dish a Creole twist.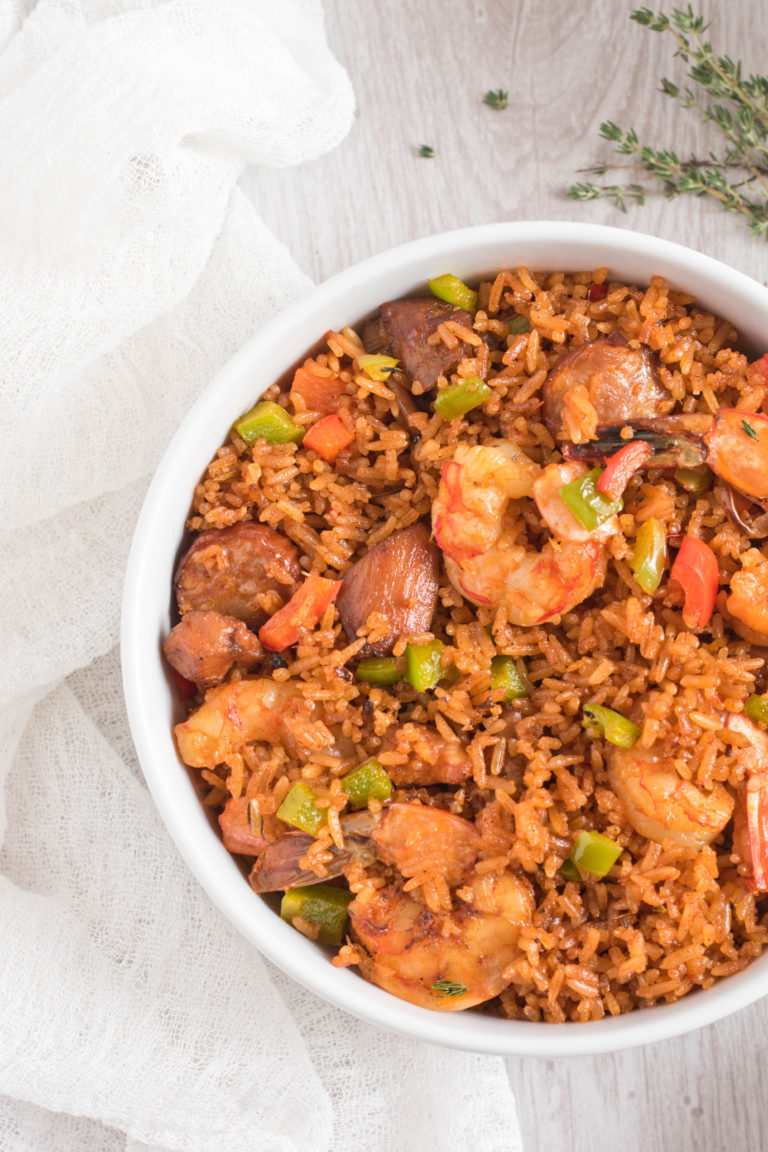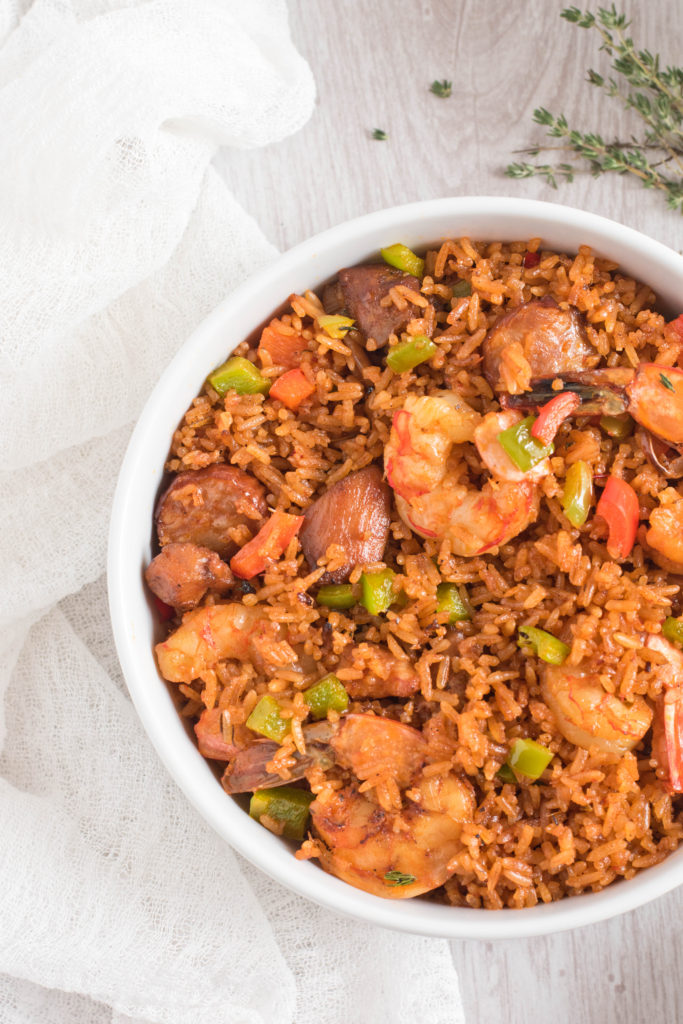 It's 3 days to Christmas and I can imagine some people, namely ' ME' are going through a mad rush to do whatever shopping that is left. With all the work that goes into Christmas, it is always nice to have a dish that you can make partly ahead of time.
Jambalaya is a one pot rice dish which orginates from Louisiana and has African, Spanish and French roots. It a delicious mix of perfectly spiced chicken, juicy shrimp and spicy sausage mixed with rice, bell peppers, onions, celery, tomatoes and a good dose of creole seasoning.
I was amazed at how similar Jambalaya is the world famous Jollof Rice. Both rice dishes are cooked with tomatoes and almost similar spices. So I thought why not add a Creole/Cajun twist to my jollof rice.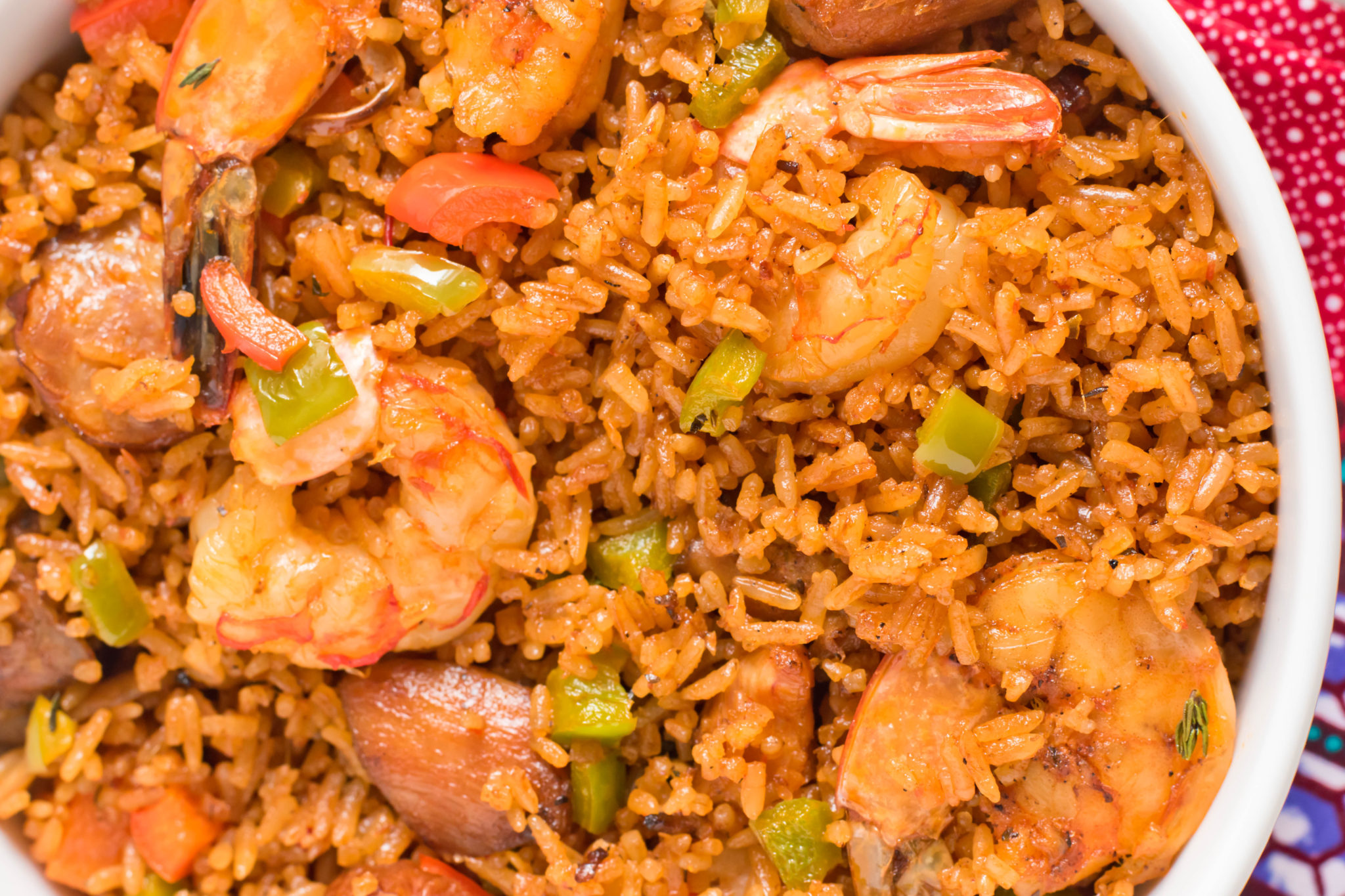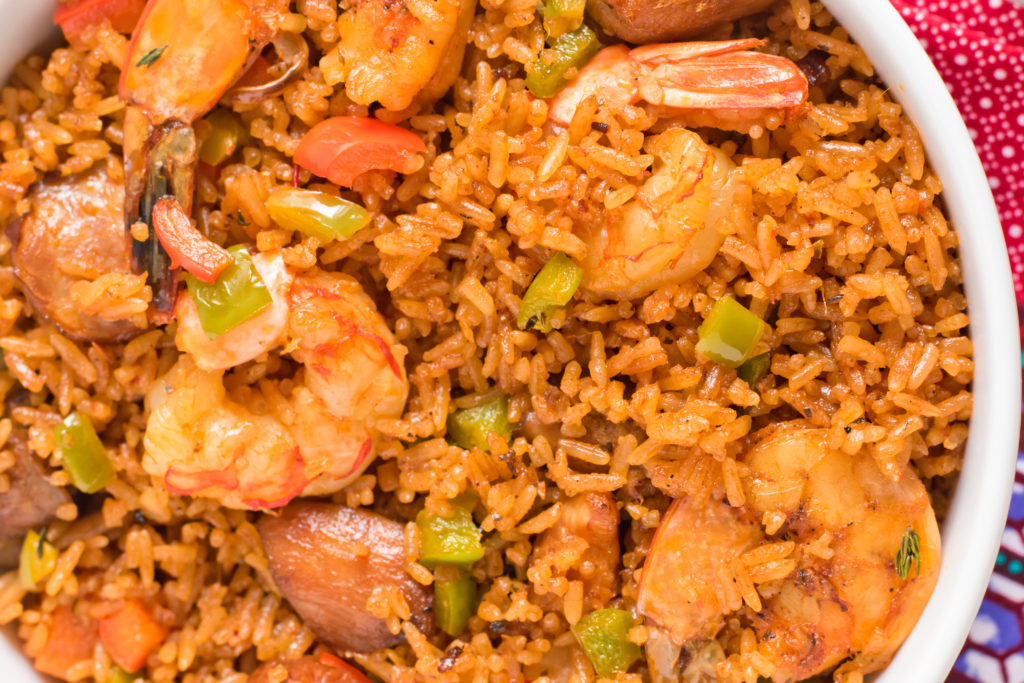 Tips for making this rice dish
Use any Polish sausage if you haven't got andouille sausage.
You can use prawns, crayfish or shrimp.
Use any long grain rice of your choice, like Basmati or Jasmine rice.
Use chicken stock rather than water, for more flavour.
Make the tomato stew in advance and store in the fridge until you are ready to use.
Mix together paprika, cayenne pepper, oregano, thyme, black pepper, onion powder and garlic powder to create a creole spice mix. Use the spice mix to season your chicken and flavour your stew.
You can the jambalaya jollof on it's own, afterall it has all that protein, but I love it with fried plantain. The sweetness of the fried plantain compliments the dish.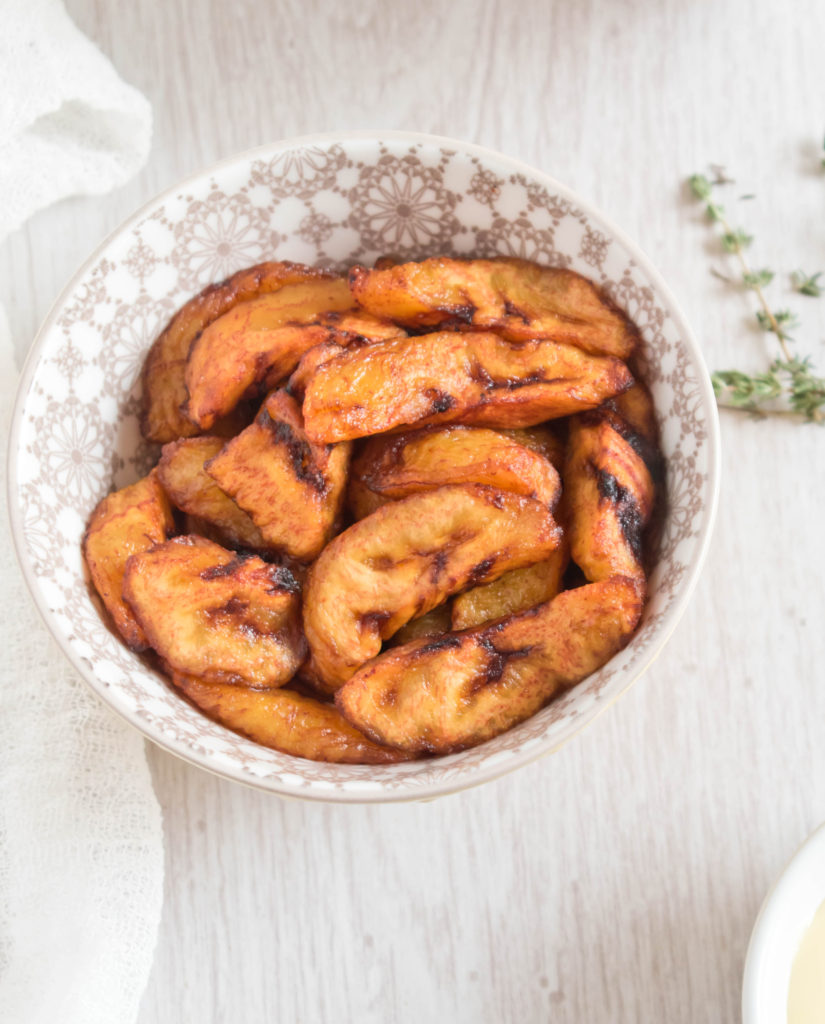 Or you could skip the the fried plaintain and have the jambalaya jollof with some salad. Or both 😊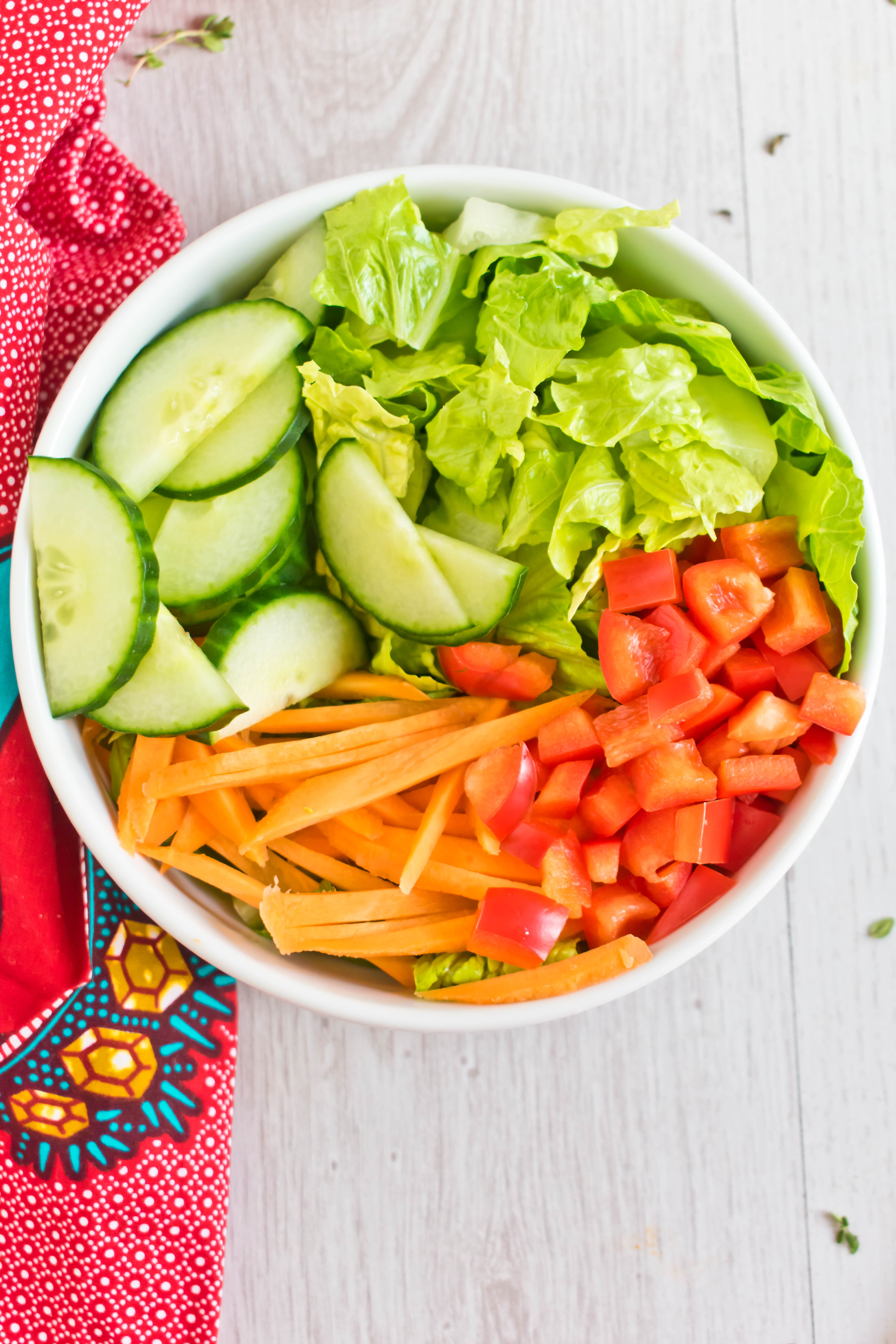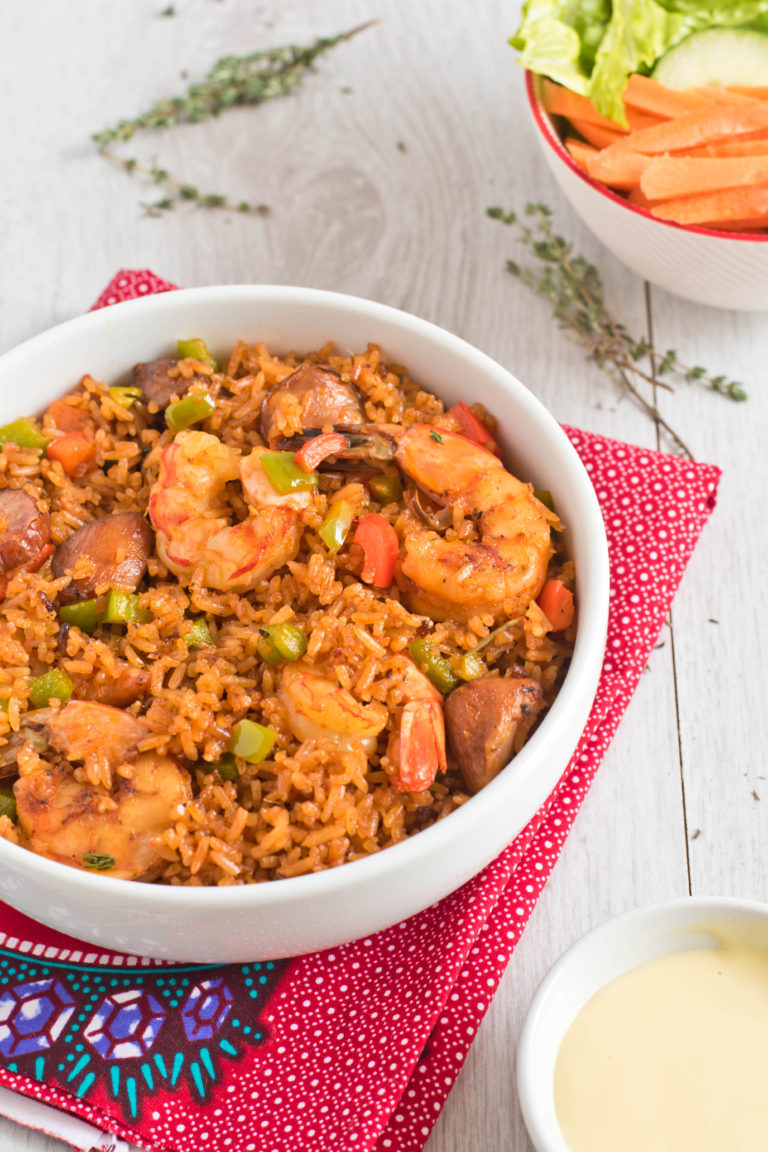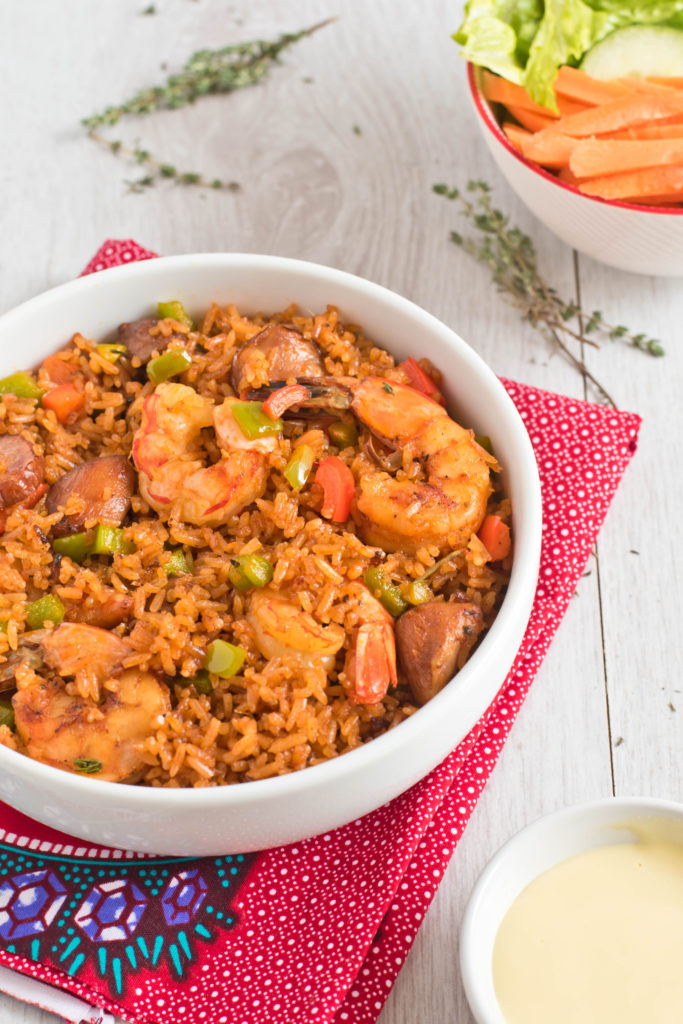 This dish is definitely a crowd pleaser.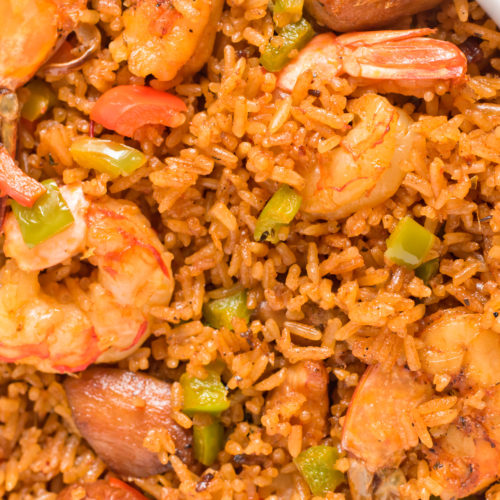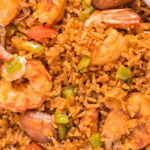 Jambalaya Jollof with Fried Plantain
This Jambalaya Jollof has been infused with wonderful herbs and spices and cooked with prawns, chicken and spiced sausage. Giving the popular West African rice dish a Creole twist.  
Print
Pin
Rate
Ingredients
6 skinless, boneless chicken thighs

2

andouile, kielbasa slaska or any spiced sausage

1

large

onion

2

teaspoons

tomato puree

2

tins

plum tomato

1-2

small

scotch or habanero peppers

3

garlic cloves, pureed

1

tbsp

ginger puree

sprigs of fresh thyme

2

dried thyme

2

tsps

oregano

2

tbsp

smoked paprika

2

teaspoons cayenne pepper

2

tbsp

dried basil

1

tbsp

black pepper

1

tbsp

onion powder

1

prawn stock cube

660

g

(3 cups) Jasmine rice. washed

600

ml

chicken stock

salt to taste
Instructions
Mix together the spices and herbs together and set aside. Blend tomatoes and scotch bonnets and set aside.

Cut the chicken thighs into bite-sized pieces, season with salt and 2 tablespoons of the spice/herb mix. Cut sausage into 5mm slices. Heat the oil in a large non-stick frying pan and brown the chicken for 7 minutes over a medium heat until lightly coloured. Remove from the pan and set aside.

Add 2 tablespoons of oil to large pan and cook onions over gentle heat until soft or translucent. About 5 minutes. Add in sprigs of thyme, garlic puree, ginger puree and 2 teaspoons of the spice mixture and cook for 2 minutes.

Stir in tomato puree and leave to cook for 5 miuntes. Add blended tomatoes and stir.

Cover saucepan and bring the tomato stew mixture to a boil . Reduce heat to low and leave to simmer for 35 minutes until sauce thickens and the oil settles at the top.

Wash the rice to remove excess starch and set aside.

Add the rice and chicken stock. Season with salt. Cover saucepan with the lid and cook over low heat for 30 minutes, stirring in between, to prevent the rice at the bottom from burning.

When the rice has absorbed the liquid cover the rice with foil and replace lid. At this point you want to trap the steam and use it to cook the rice. Cook jollof rice covered with foil for a further 15 minutes or until rice is cooked. Stir in the prawns and chopped bell peppers and cook for about 2 minutes more or until the prawns are hot.
To fry the plantain
Pre -heat up some oil in a frying pan. Peel and slice your plaintain into bite size pieces , sprinkle with salt (optional) and toss. When oil is hot gently lay plantains onto hot oil and fry until both sides are golden brown. Remove with slotted spoon and drain on sieve or paper towel. Serve with the jambalaya jollof rice.
If you made this recipe, I would love to hear from you.
Tag Bakes By Chichi on Instagram or hashtag #bakesbychichi