Soft fudgey brownies topped with a thick layer of chocolate marbled cheesecake.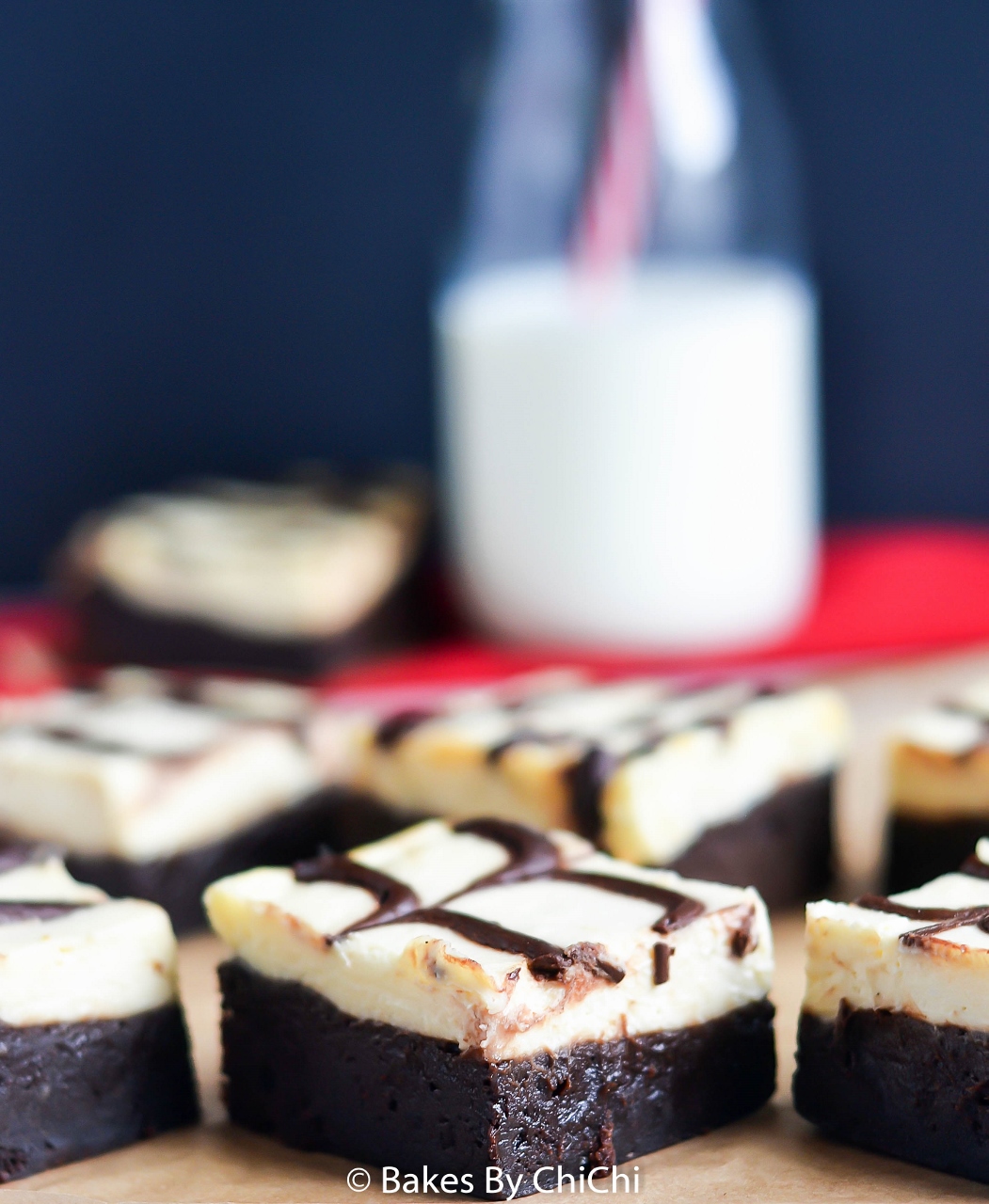 Don't you just love it when you can combine two of your favourite desserts and make it one. A thick layer of soft fudgey brownies topped with a chocolate swirled rich creamy cheesecake. I mean what's not to love. This marbled cheesecake brownie is easy to put together. And it can be made up to a week ahead and stored covered up in the fridge until you are ready to serve.
First off is a from scratch brownie layer. It is a one bowl mix or should I saw one pot mix recipe. My brownie recipe has in it good quality semi- sweet or dark chocolate with at least 70% cocoa solids, unsalted butter, caster sugar, eggs, cocoa powder, flour and a salt. Melt the chocolate with butter and leave to cool for ten minutes. Then into that add sugar and then whisk in eggs. Followed by folding in cocoa powder and flour. Pour into a square baking tin lined with foil and set aside whilst you prepare the cheesecake layer.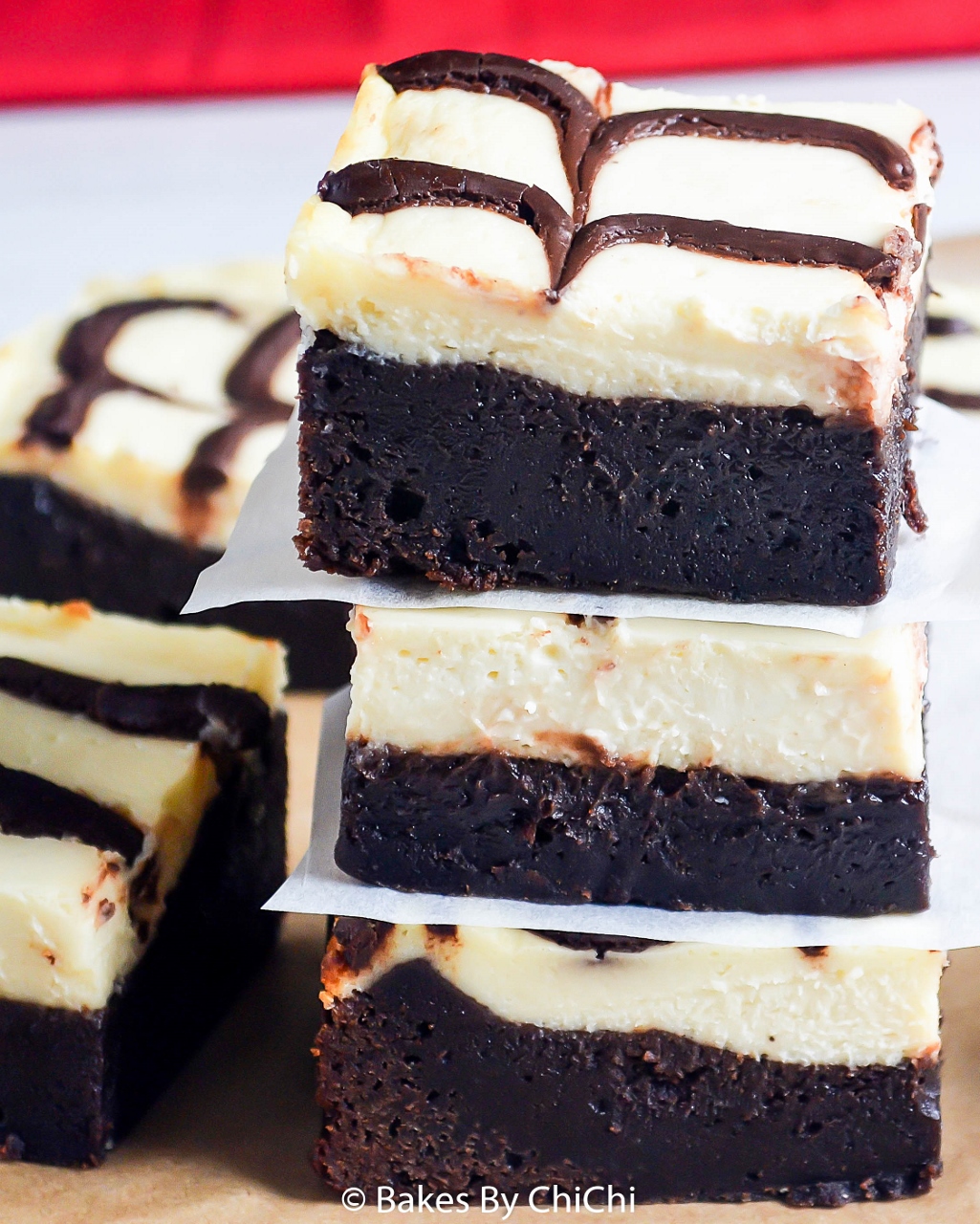 The cheesecake layer is pretty simple to put together. It is a combination of cream cheese, sugar, an egg and yogurt. Spread the cheesecake batter over the brownie batter using an offset spatula.
Creating the marbled part of the cheesecake was the most fun part of putting together this dessert. To finish off melt some chocolate in a microwave in 30 second bursts until melted. Pour into a squeezy bottle or a piping bag then pipe parallel lines of melted chocolate across the cream cheese layer. Take a tooth pick and drag through the melted chocolate for that pretty marbled effect.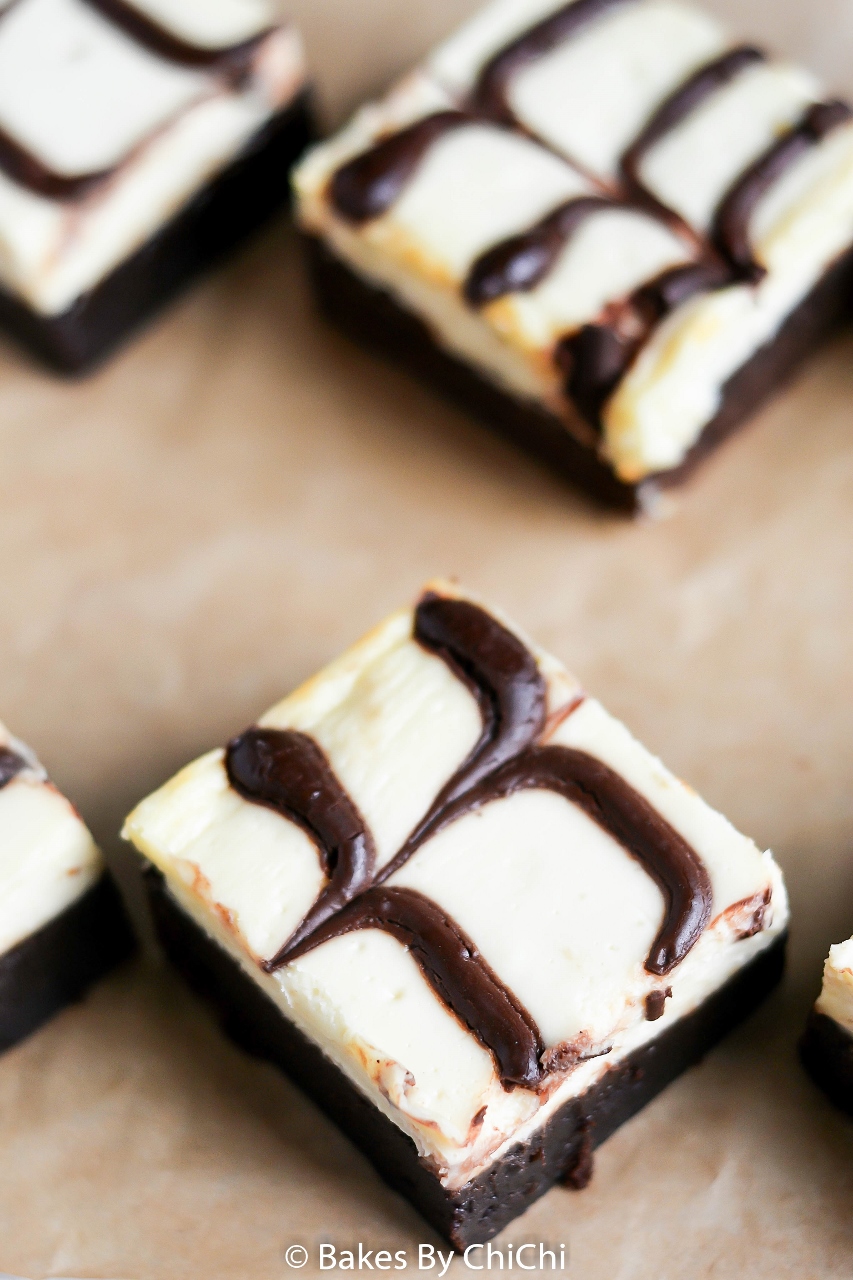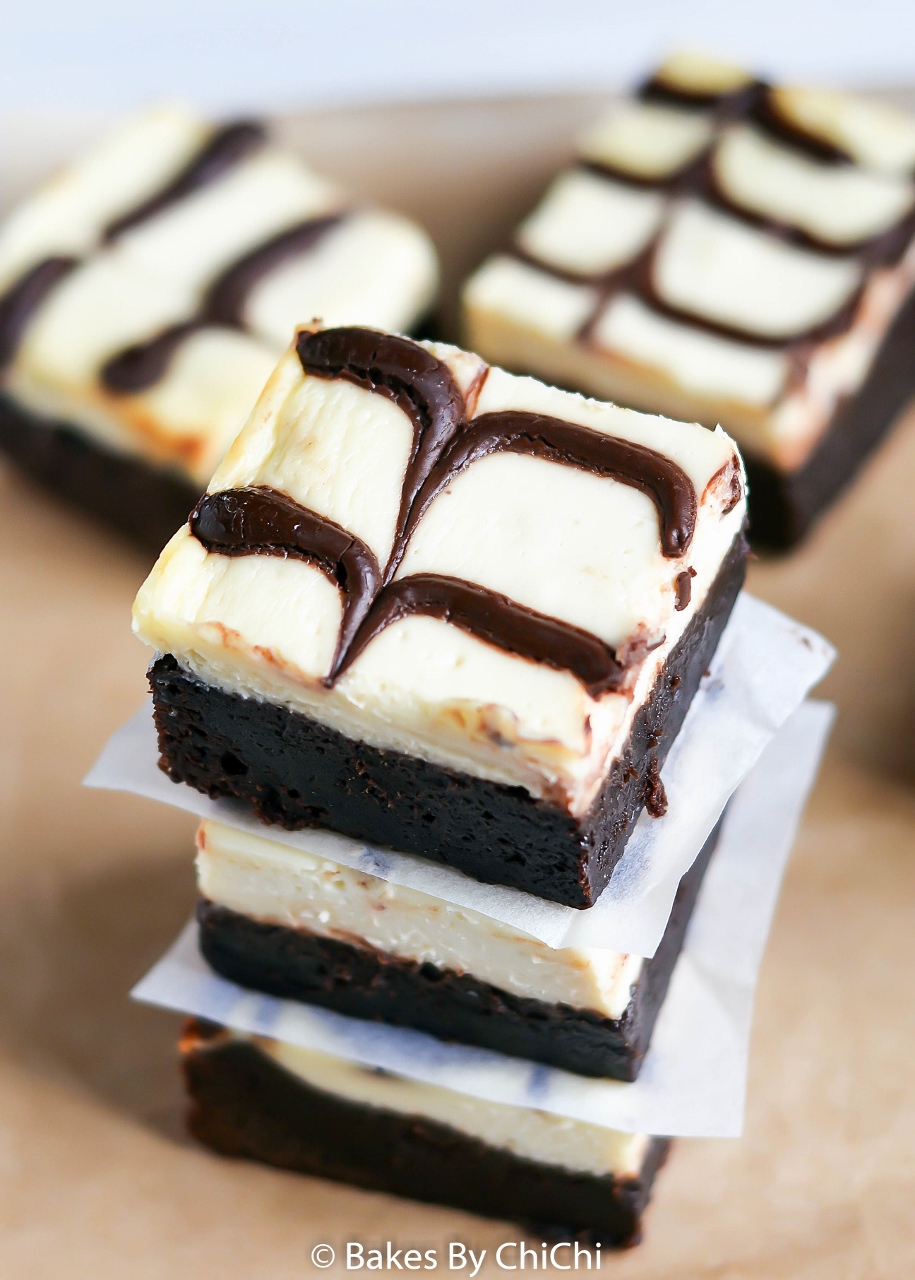 And your dessert is all ready to be baked. What you will get when it is ready is a truly decadent dessert. It is moist rich and best of all delicious.
Stay up to date with Bakes by ChiChi on:
Facebook | Instagram | Pinterest | Google Plus | Bloglovin
or you can subscribe to my weekly newsletter
Marbled Cheesecake Brownie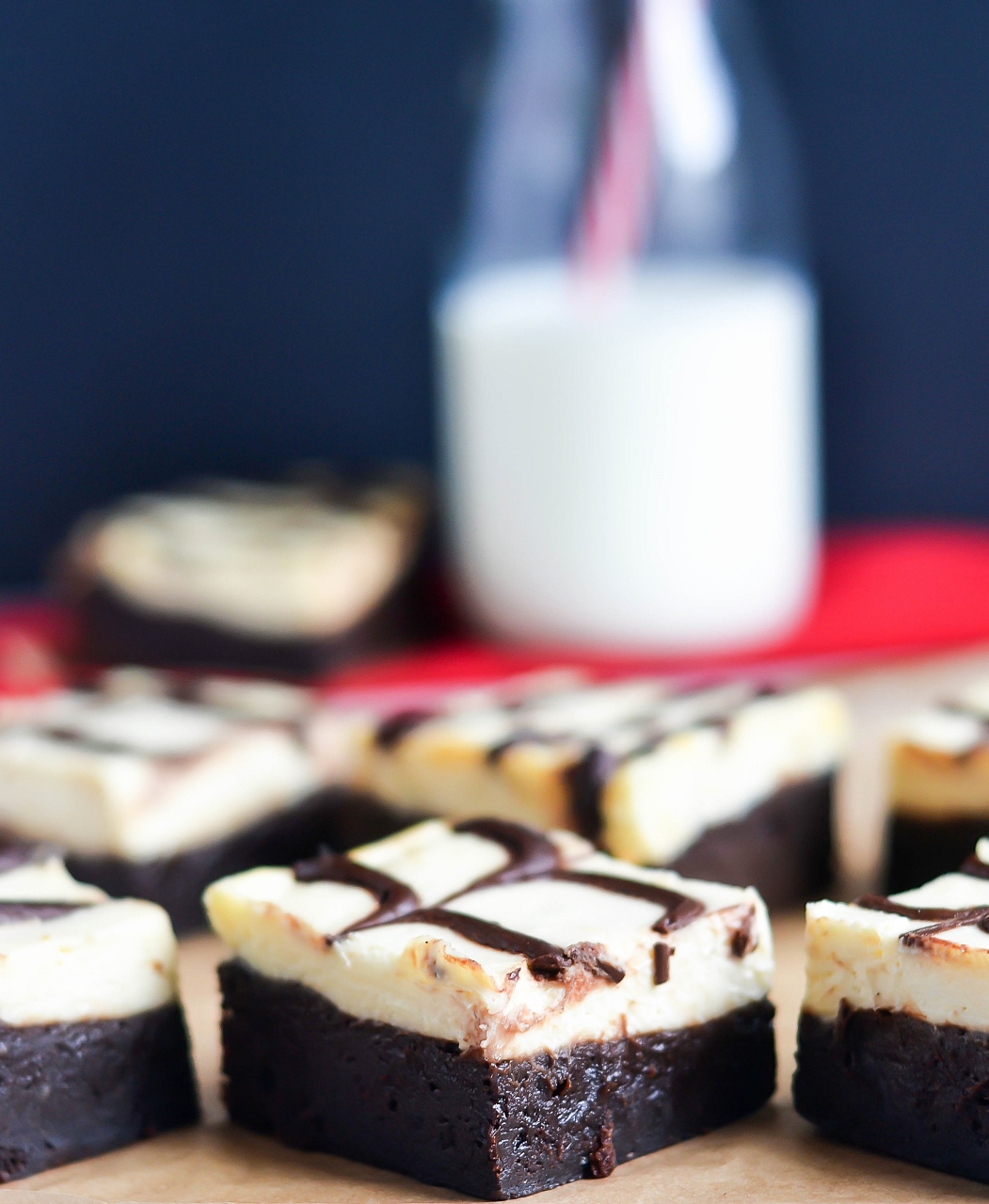 Ingredients
Brownie Layer

120 g (1/2 cup) unsalted butter
185 g (6.6 ounces ) semi sweet chocolate
200 g (1 cup) sugar
3 eggs
1 teaspoon vanilla extract
80 g (2/3 cup) plain flour
50 g (1/2 cup) cocoa powder

Cheesecake Layer

250 g (8 oz) cream cheese, room temperature
50 g (1/4 cup) sugar
1 egg
1 teaspoon vanilla extract
pinch of salt
50 ml (1/4 cup) greek yogurt
50 g semi sweet chocolate, melted
Instructions
In a saucepan over medium heat, melt the butter and chocolate. Remove from heat and leave to cool for about 10 minutes.
Brownie Layer
Pre-heat oven to 170 degrees celcius. Line the bottom and sides of an 8-inch square baking tin with aluminium foil, leaving an overhang on the sides.
Stir sugar into chocolate mixture. Whisk in eggs one at a time. Add vanilla extract and fold in flour and cocoa powder. Once combined gently fold in cocoa powder and flour.
Pour the brownie batter into the baking tin, spreading evenly to the edges.
Cheesecake Layer
In bowl of mixer (or using hand mixer) beat the cream cheese until smooth and creamy, slowly beat in sugar. Add salt. Scrape the sides of bowl as needed.
Beat in egg. Add the vanilla extract and greek yogurt and beat until well incorporated.
Pour cheesecake batter over brownie layer and use an off set spatula to spread.
Pour melted chocolate into a squeezy bottle or a piping bag (snip off end), then pipe parallel lines of melted chocolate across the cream cheese layer. Take a tooth pick and drag through the melted chocolate.
Bake for roughly 35 -40 minutes or until a toothpick inserted in the center of the brownies comes out with a few moist crumbs.
Remove from oven and allow to cool completely in pan. Then cover and refrigerate for at least 2 hours.
Once chilled lift the foil out of the cake tin using the overhang on the sides and cut into squares. I use a sharp knife warmed up in hot water and wiped before slicing.
3.1
https://bakesbychichi.com/marbled-cheesecake-brownie/