This delicious curry tuna pie is perfect for gatherings. The pie crust has excellent texture and flavour and is filled with tuna chunks, curry powder, chilli powder and fresh coriander.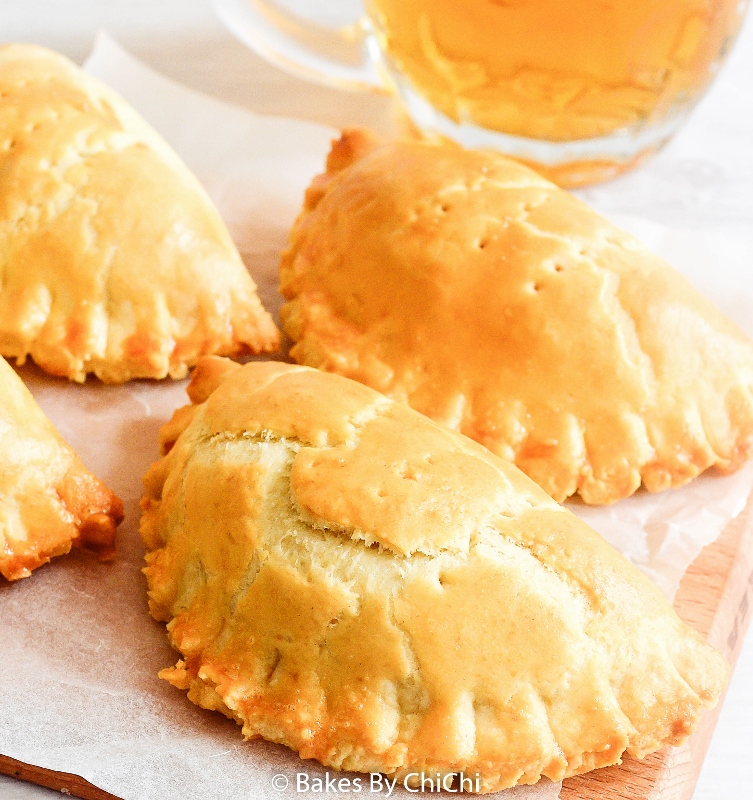 Happy New Month everyone!!! Can't believe it is June already. We are halfway through the year. I spent my Sunday with family celebrating the birthday of my Mr's sister. Usually I would bake cupcakes and take them to gatherings, but I decided to change that this time around. Remember my Ghanaian Meat Pies, a favourite pastry for many Ghanaians and West Africans. That's what I made. When I said it was a favourite, I underestimated how much this snack is loved. My recipe has fast become a popular post on this blog. A friend mentioned to me she googled recipes for meat pie and mine popped up. The wonderful feedback  I have received as well has been humbling.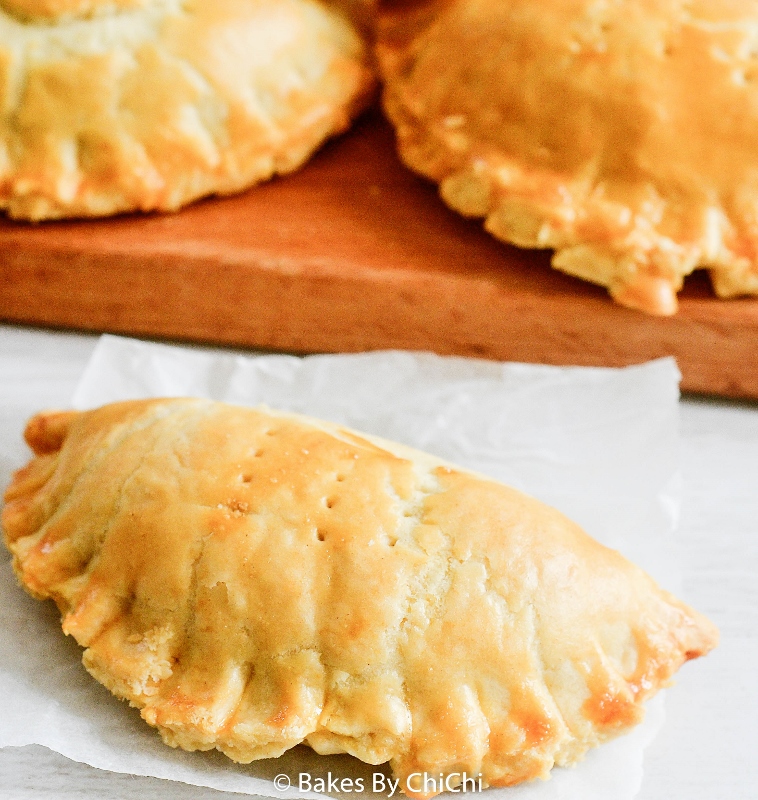 Today I will be sharing any variation to this popular pastry. In this version I use equal amounts of lard and unsalted butter for to make the pastry. Lard is made by slowly heating up the back fat or leaf lard, so that it melts and separates itself from anything else within the fat. This yields lard that is smooth, creamy white in color, and almost odorless.  Lard is a very versatile cooking fat and is perfect for frying and roasting. As well as making stunning flaking shortcrust pastry. Lard makes a rather tasteless pastry when used on its own but when combined with butter makes a pastry with excellent flavour and texture.
Things to note before you begin making the dough for the curry tuna pies:
The amount of fat used should be half that of the flour.
The fat needs to be soft  and at room temperature so it can be mixed into the flour quickly. Cold and hard butter is harder to rub in, resulting in the fat becoming oily. When this happens the pastry can be tough and hard to roll.  Cut the fat into small pieces so it incorporates easier into the flour.  
The less liquid used the better. Use very cold water and just enough to bring the dough together. Add water little by little , sprinkling over a large surface area. Too much water will make the pastry sticky and hard to roll. When baked the pastry will also be hard. Use too little and you will get a very crumbly pastry. 
Mixing of the dough should be done with a light hand and quickly. The fat becomes oily from the warmth of your hands when mixed for too long. This causes the fat to coat more flour than it should and makes the flour unable to absorb water. 
Rest dough before rolling. Flour contains gluten which reacts with water and makes the dough more elastic. Place pastry in a bag and chill in fridge for about 30 minutes. 
For the filling of pies I made a curry tuna filling.  My filling has onions, curry powder, chopped fresh tomatoes, tuna flakes and coriander. Onions, curry powder are slowly cooked together so the flavour permeates. I use fresh tomatoes with the seeds removed.
Once the onions and spices have cooked, add your fresh tomatoes and give the mixture a good stir. Cook for 5 minutes. Add your tuna chunks and give mixture another mix. Season with salt and a stock cube and your filling is ready.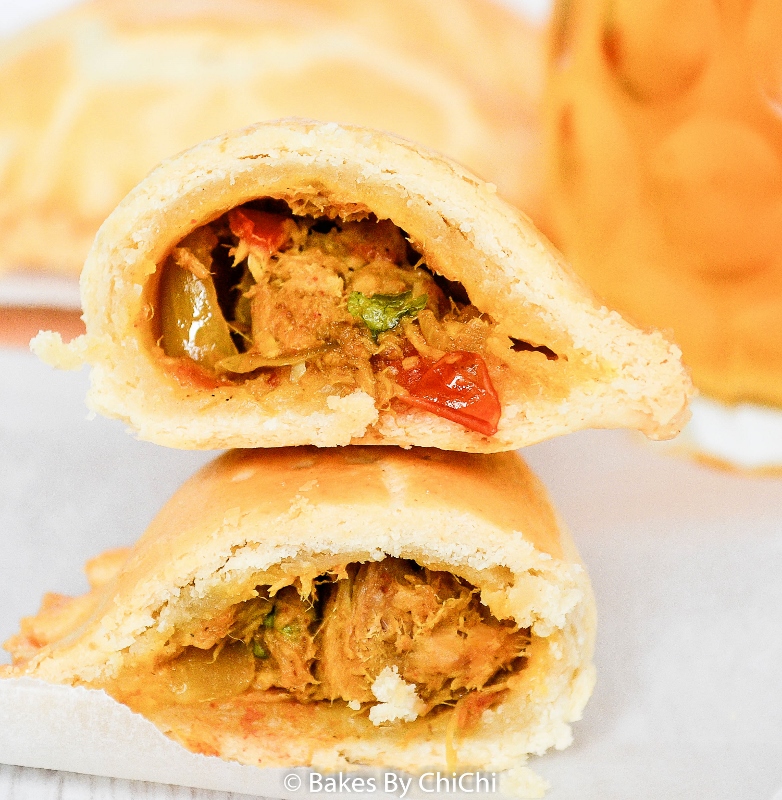 I filmed a short video showing how the filling for was. If you have 1 minute to spare, please have a look.
Flavourful spicy curry tuna filling just ready for the pastry.
Whilst making the filling, your pie pastry has been chilling in the fridge. To save time, make the pastry the night before. That is what I did. Then all you have to do is assemble  curry pies and bake.
If you have some spare time after you make the crust, why not make the curry tuna filling the night before. Saves you lots of time.  Assemble curry tuna pies using my favourite pastry maker. This pastry maker makes putting the pies together easy.
Bake the curry tuna pies in the oven for 20  to 25 minutes or until golden brown.  Let pies cool for a couple of minutes and enjoy!!!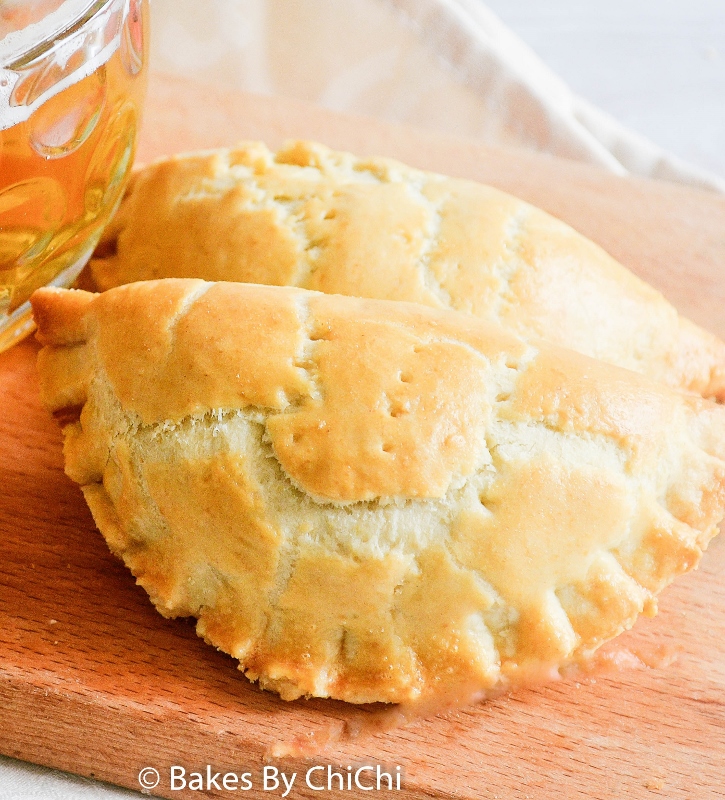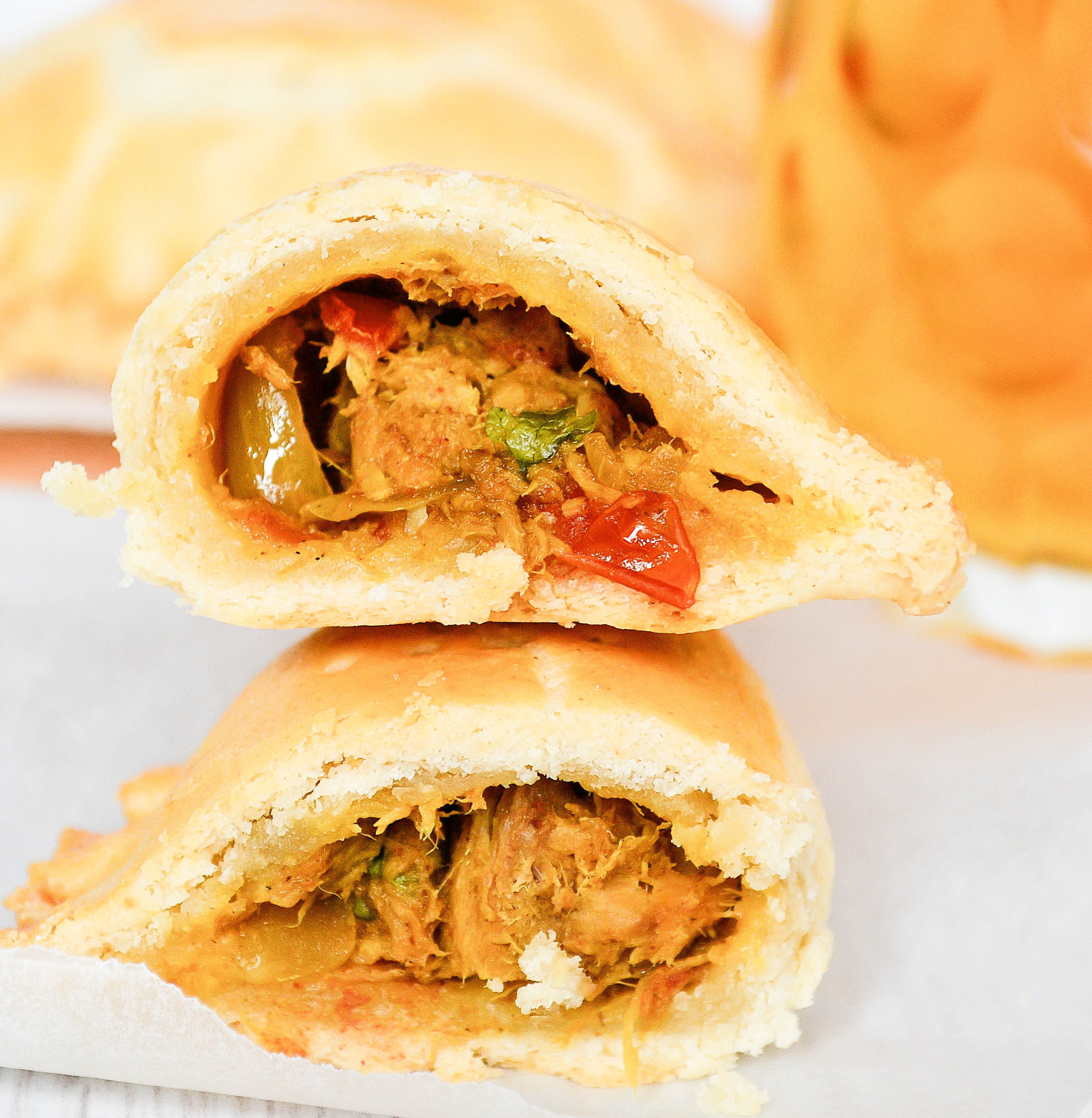 Ingredients
For Filling

2 large vine tomatoes , de-seeded and chopped
1 pink or white onion, chopped
2 teaspoons curry powder
1 teaspoon mild chilli powder
2 X 160 g tins of tuna chunks in brine or sunflower
1 small maggi (stock cube)
Salt to taste
1 tablespoon chopped coriander

For Pastry

500 g (4 cups plus 2 tablespoons) self raising flour
pinch of salt
120 g (1/2 cup) lard, soft and at room temp
120 g (1/2 cup) unsalted butter, soft and at room temp
12 tablespoons very cold water
Instructions
For filling
Pour a little oil to a large frying pan and heat up. Add the onions and cook on medium heat until it soften, stirring in between.
Add curry powder and mix into onions.
Mix in chopped tomatoes and cook for 5 minutes. Drain tuna of brine or oil and add to mixture. Stir in all purpose spice, maggi (stock cube) and salt. Leave over low heat for about 2 minutes so spices an permeate. Remove from heat and leave to cool, then stir in chopped coriander.
For Pastry
Sift flour and salt into a large mixing bowl.
Chop lard and butter into little cubes.
Add fat to the flour. Rub in using your fingertips. Add cold water a little at a time until dough comes together. Use your fingers to bring the pastry together.
Turn the dough onto a lightly floured work surface and knead very lightly.
Wrap dough in cling film and place in fridge to rest for 30 minutes.
To assemble
Pre-heat oven to 180 degrees celcius.
Line a baking tray with greaseproof paper.
Roll out the dough on a lightly floured work surface. Rolling should be be carried out in short, sharp strokes, with light, even pressure in a forward movement only. Turn the pastry as you roll.
Cut circles in the dough and place a quarter cup of curry tuna in the centre of the circle.
Fold dough over making it into a semicircle. Take a pastry brush and dip in water and moisten edges of dough circle then pinch sides together with a fork. Use a fork and poke holes on the top of the curry tuna pies.
Place pies on baking tray.
Brush the tops of curry tuna pies with egg wash and bake in oven for 20 - 25 minutes or until the pies are golden brown.
3.1
https://bakesbychichi.com/curry-tuna-pies/