Spiced Cake Doughnuts with crispy edges yet open up to softy, fluffy almost cake like texture inside and dipped in chocolate glaze.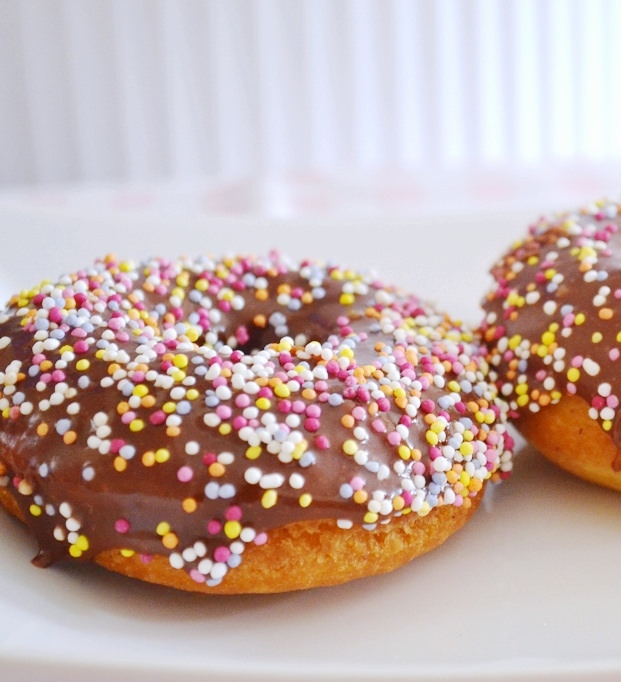 Happy October!! The countdown has began to my birthday.
I love doughnuts they are my guilty pleasure. Glazed doughnuts, sugar coated donuts, apple filled doughnuts, custard doughnuts, i will eat them. Jam doughnuts not so much. My favorite though is custard filled doughnuts. God bless whoever invented them. Is it doughnuts or donuts? I wonder, i get confused.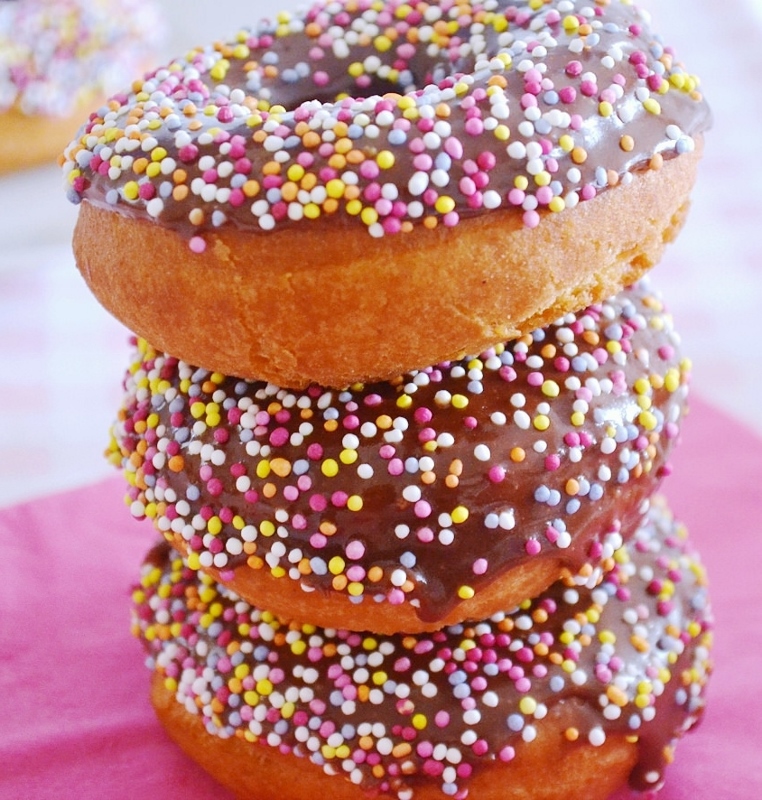 Now this spiced cake doughnut recipe is pretty easy to put together. The cake doughnuts or donuts get their rise from baking powder not yeast which also means they are quite quick to make. And you don't need a donut cutter or a donut pan, just a large and small (for the centre) cookie circle cutter. Roll out cake doughnut batter, cut using the larger cookie cutter then use the smaller one to cut out the centre.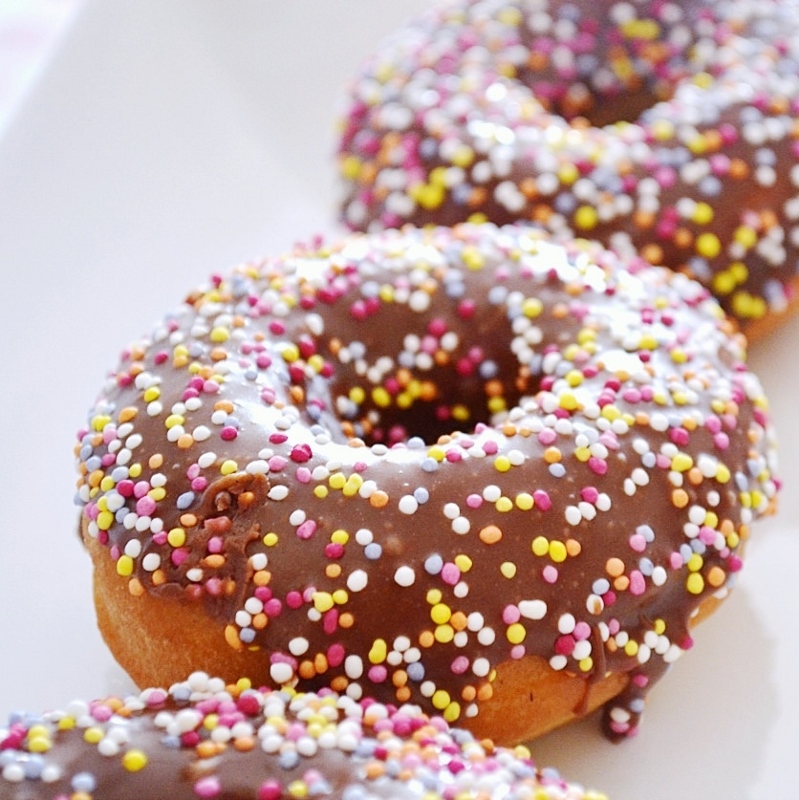 I literally had to stop myself from eating all these spiced cake doughnuts. They where made to sold at the Macmillan Coffee morning at my Mr.'s school, not for me to indulge in. The second batch i made was all for me.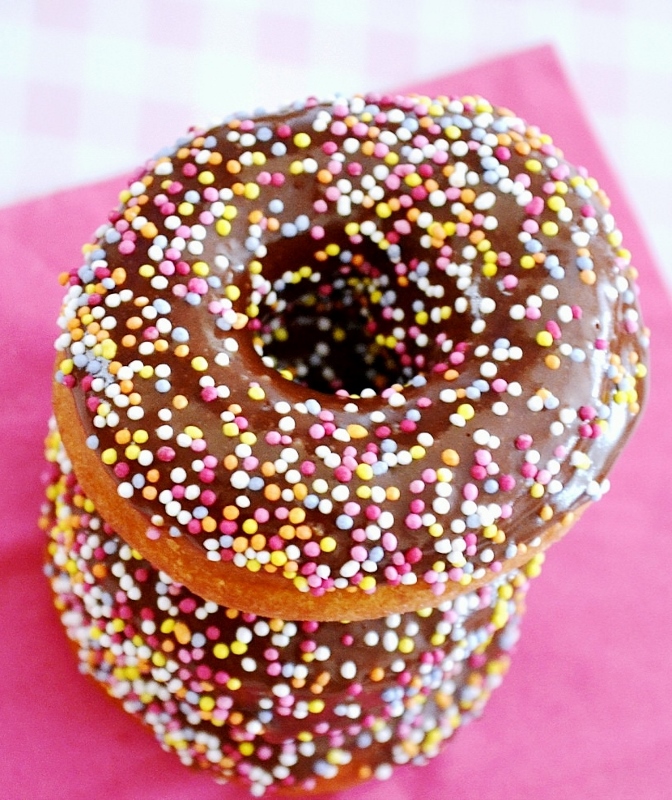 Chocolate Glazed Spiced Cake Doughnuts

Ingredients
Spiced Cake Doughnuts

165g (2/3 cup) caster sugar
2 eggs, room temperature
2 teaspoons vanilla extract
360g (3 cups) plain flour
3 teaspoons baking powder
1/4 teaspoon salt
1 teaspoon grated nutmeg
40 grams (3 tablespoons) unsalted butter, melted and cooled to lukewarm
120ml (1/2 cup) milk, room temperature

Chocolate Glaze

120g semi sweet chocolate chips
60ml (1/4 cup) double or whipping cream
1 tablespoon butter
1 teaspoon vanilla extract
1 tablespoon light corn syrup
100g (1 cup) icing sugar sifted
Instructions

Spiced Cake Doughnut

Sift together flour, baking powder and salt into a bowl. Whisk in ground nutmeg.

In the bowl of stand mixer (or using hand mixer) beast eggs and sugar until pale and thick, about 5 minutes. Beat in vanilla extract.

Turn mixer speed down to low, then alternately add the flour mixture ( in three additions) with milk and melted butter (in two additions), beginning and ending with flour. Batter will be quite soft,

Cover the batter with cling film and leave to sit at room temperature for about 30 minutes or until firm enough to roll.

Flour surface or board, then place dough on and roll to thickness of about 1/4 inch. 

Using a 3 inch or 7 cm round cutter, cut dough, then use small cutter to cut out centre hole. Re- roll the scraps and cut out some more circles until you run out of dough.

Leave doughnuts to sit at room temperature while you heat oil.

Heat oil in a deep frying pan or deep fryer to 185 degrees celcius. Fry doughnuts 2-3 at a time, ( so not to overcrowd pan)  in  hot oil until golden brown, turning once. 

Remove from oil carefully with a slotted spoon and place on plate or baking sheet lined with paper towels. Leave doughnuts to cool completely.

Chocolate Glaze

Place chocolate and cream in a bowl and heat at 30 second bursts in the microwave until chocolate has melted. Stir in vanilla extract and light corn syrup

Add sifted icing sugar and whisk until smooth.

Dip doughnuts in glaze immediately and allow glaze to set before serving.

Notes

Use flavourless oil like vegetable, sunflower or corn oil A candy thermometer, helps monitor the temperature of the oil Leaving the doughnuts to rest while the oil heat allows the dough to get a bit of an outside crust. This prevents them from soaking up the hot oil.

3.1

https://bakesbychichi.com/chocolate-glazed-spiced-cake-doughnuts/