Light, moist, exotic vanilla bean coconut cupcakes frosted with vanilla bean buttercream and topped with toasted coconut flakes that brings your taste buds a flavor of the tropics.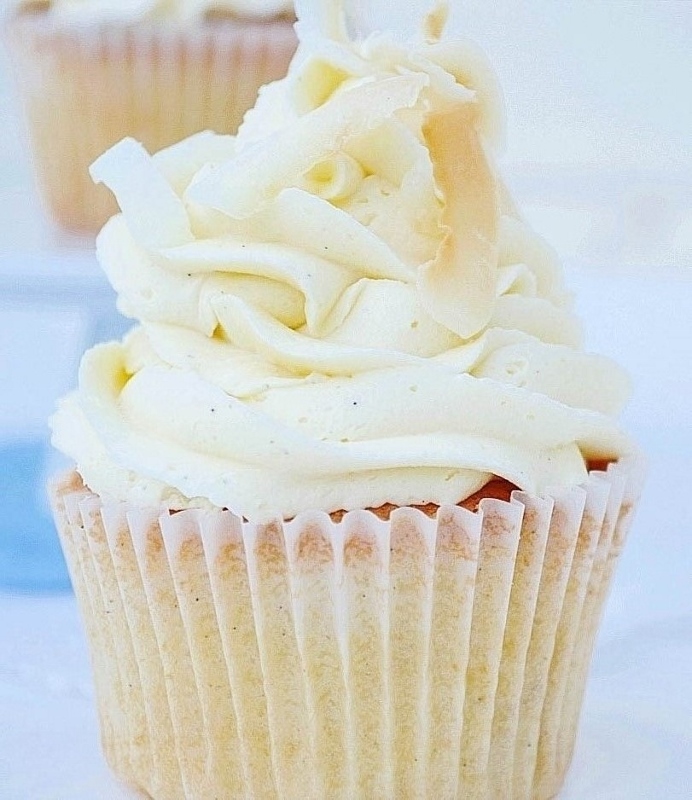 October is birthday month for me and right around each birthday i get nostalgic. Coconut brings back childhood memories for me. We had coconut trees in my childhood home. Attempts at climbing up the tree, which i failed miserably at.  It takes great skill to climb up and the expert tree climbers make it look so effortless. Waiting in anticipation as the fibrous husk of the fresh coconut is skillfully cut with a sharp knife. Drinking fresh coconut water and using the shell of the coconut to eat the soft fruit. This vanilla bean coconut cupcake has the a triple dose of coconut in it, coconut milk, desicatted coconut and coconut flakes. My love for coconut is that strong and fierce, lol.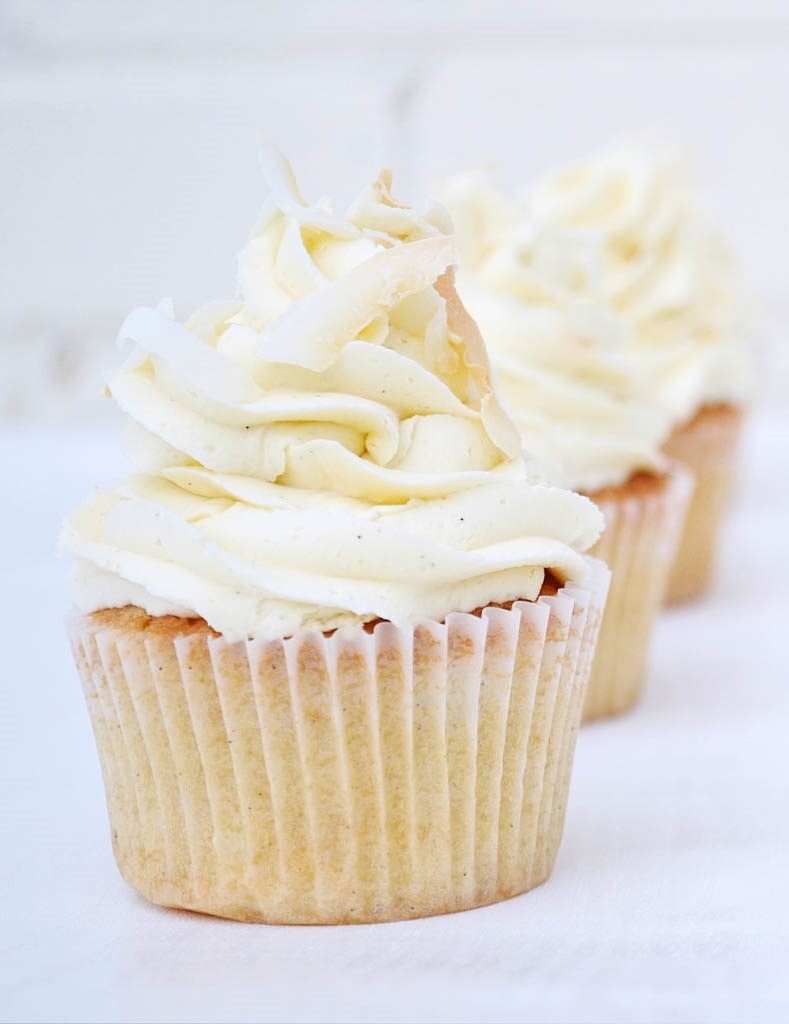 Vanilla bean enhances the taste of the coconut cupcake and i also love the little specks of the bean in the cupcake. The cupcakes are piped with simple vanilla buttercream and topped with toasted coconut flakes.  You could substitute the whipping cream in the buttercream recipe for some coconut milk.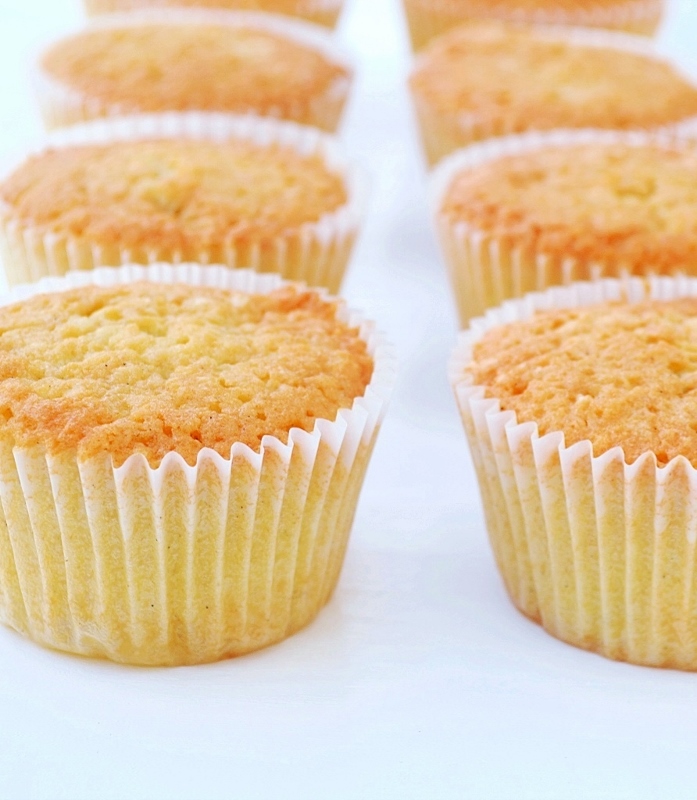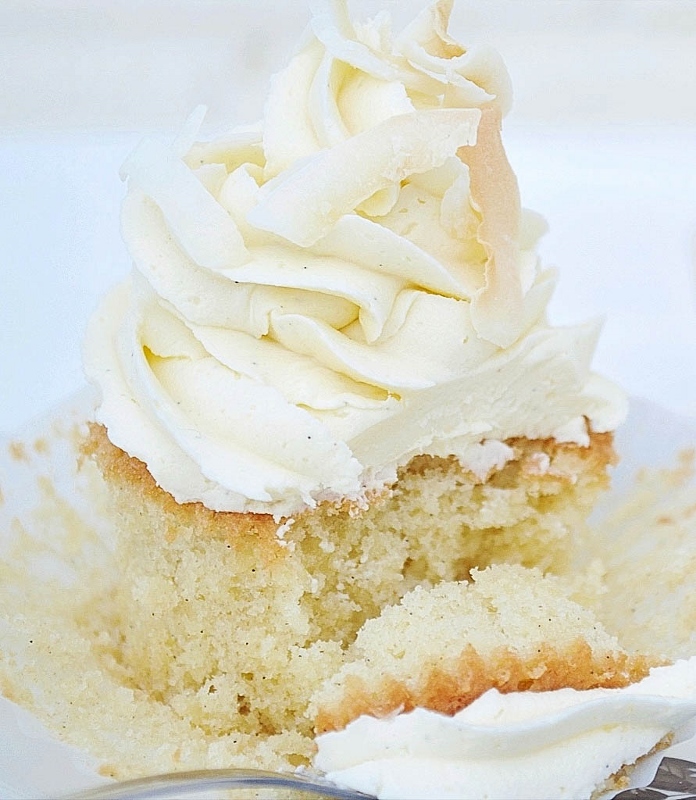 Vanilla Bean Coconut Cupcakes with Vanilla Bean Buttercream
Ingredients
For Vanilla Bean Coconut cupcake

120g (1/2 cup) butter, room temperature
150g (3/4 cup) caster sugar
2 eggs, room temperature
2 teaspoons vanilla bean paste
150g (11/4 cup) cake flour
1 teaspoon baking powder
1/4 teaspoon salt
50g (1/2 cup) desicatted coconut
120ml (1/2 cup) coconut milk

For Vanilla Bean Buttercream

240g (1 cup) butter, room temperature
300g (3 cups) icing sugar
1 teaspoon vanilla bean
1-2 tablespoons whipping cream
Instructions
For Vanilla Bean Coconut Cupcakes
Preheat oven to 170 degrees celcius. Line muffin tray with paper liners.
Sift flour, baking powder and salt and set aside.
In the bowl of stand mixer or using a hand mixer beat butter and sugar until fluffy, about 5 minutes
Add eggs one at a time, beating well after each addition occasionally scrapping down the sides of bowl. Mix in vanilla bean.
Alternatively add the flour mixture and coconut milk in 3 parts, beginning and ending with flour mixture. Fold in desiccated coconut.
Divide batter among paper liners and bake for 20 minutes or until toothpick inserted comes out clean.
Remove cupcakes from oven and place on cooling rack for 10 minutes. Carefully remove cupcakes from pan and leave to cool completely on rack before frosting.
For Buttercream Frosting
In bowl of stand mixer beat butter until light and creamy , about 5 minutes.
Add icing sugar and mix well until combined. As frosting thickens add whipping cream and beat until frosting is light and fluffy. Add vanilla extract ,beat until evenly incorporated.
3.1
https://bakesbychichi.com/vanilla-bean-coconut-cupcakes-with-vanilla-bean-buttercream/