The fluffiest yellow cake filled and frosted with amazing creamy chocolate orange buttercream.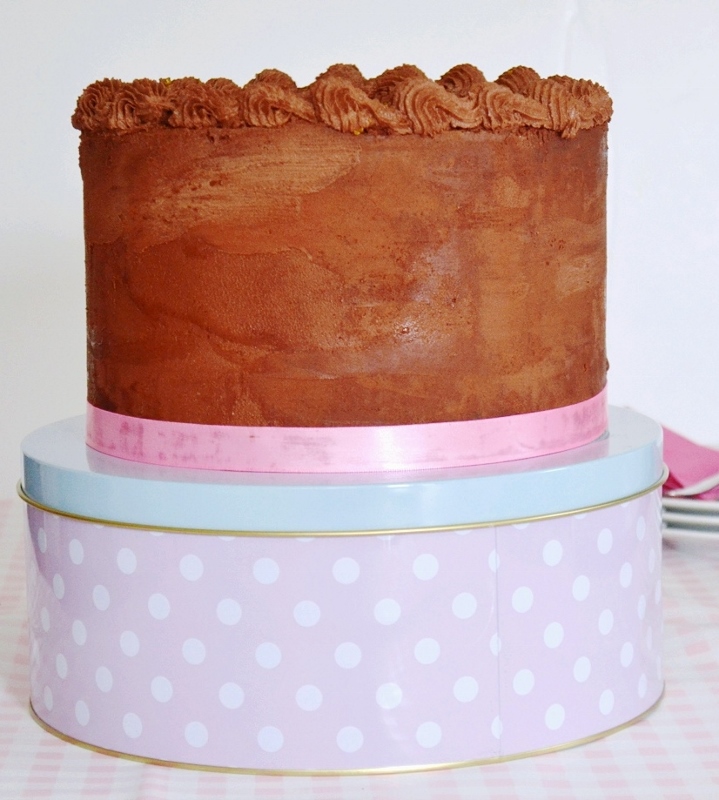 Friday 26th was Macmillan Coffee Morning at Esme's school. A letter from the school was sent home asking us to attend and bring cakes, scones, biscuits or anything for the coffee morning.
The coffee mornings are held to raise money for people living with cancer. This year I made this yellow cake and donated it for the coffee morning to be sold to parents and teachers and raise money.
Lets talk about this yellow cake ; it is layers of rich tender, moist butter cake frosted with creamy delicious chocolate orange buttercream. I love the citrus-y flavour of the buttercream adds that oomph to the chocolate buttercream, absolutely gorgeous. This was the first time i had ever made a yellow cake. I had seen the recipe a lot on pinterest and i just had to try it.  The yellow cake gets it's rich  flavour from the eggs yolks. I adapted my recipe from Joy of Baking's yellow cake which had only egg yolks. With mine i added whisked egg whites which loosened the batter up and added more volume to the cake. After the cake was baked and cooled it was filled and  frosted with chocolate orange buttercream.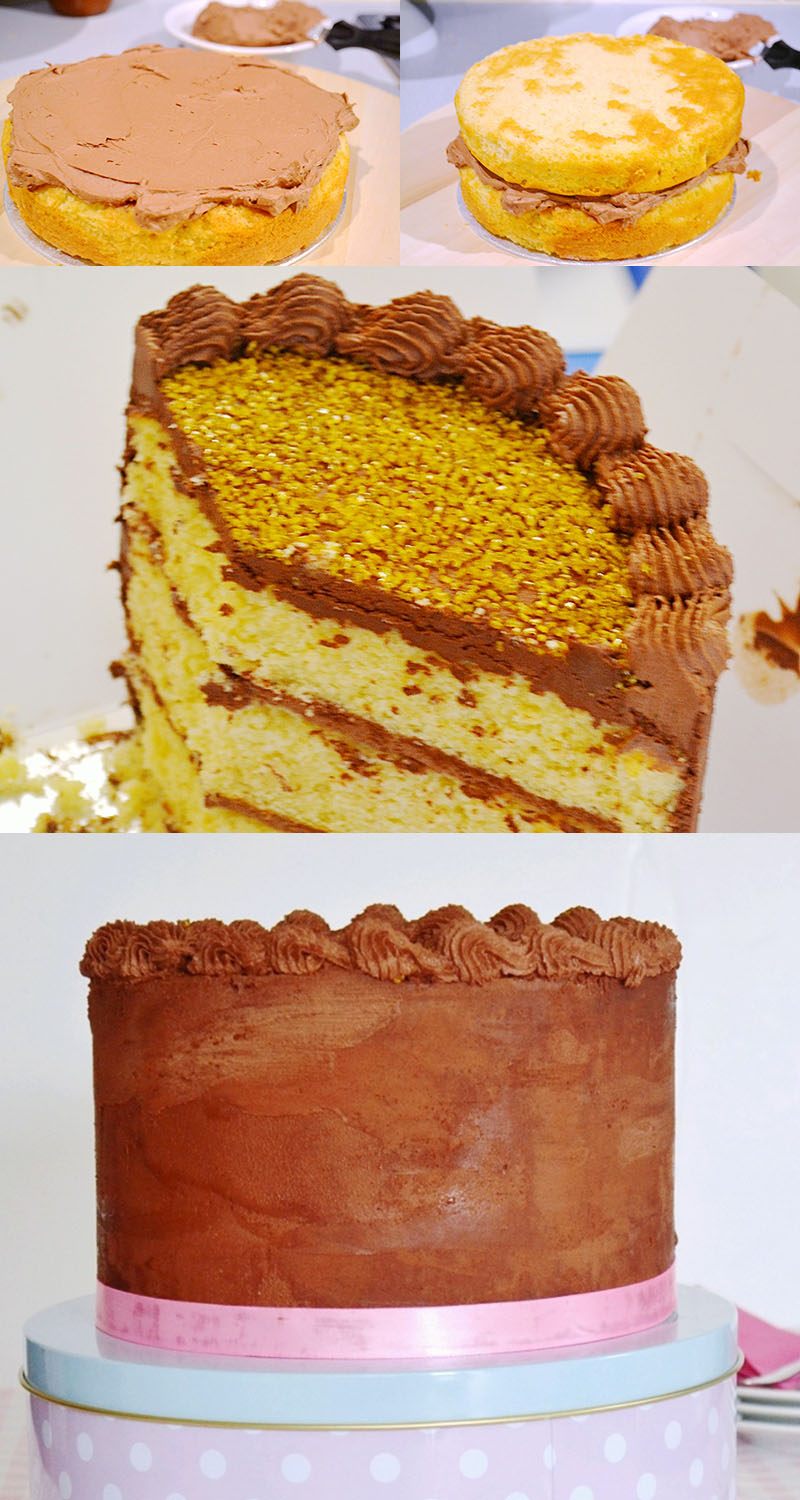 The buttercream had in it melted semi sweet chocolate, butter , icing sugar and orange extract. You can adjust the amount of orange extract to suit your taste.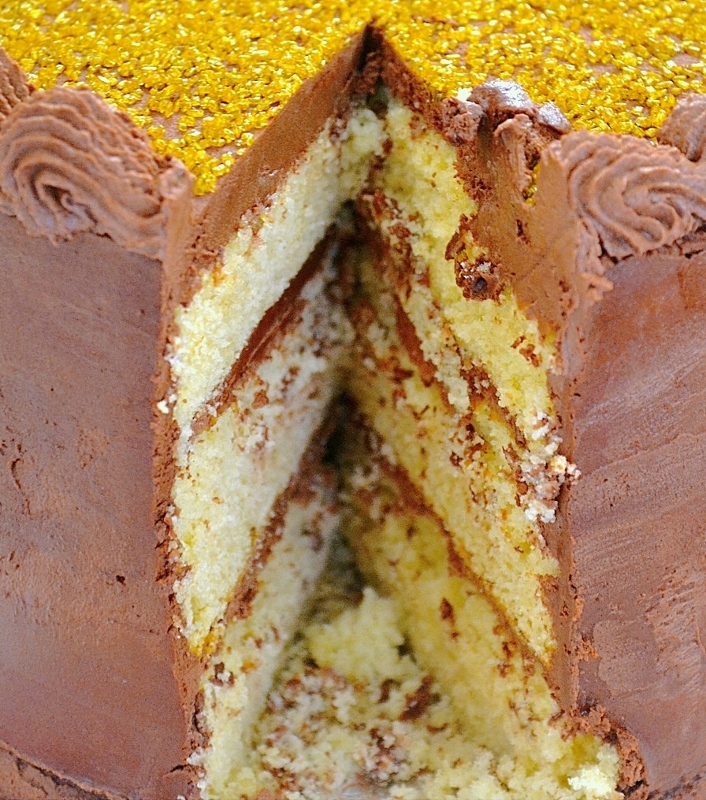 Yellow Cake with Chocolate Orange Buttercream

Ingredients
Yellow Cake

170g (3/4 cup) unsalted butter, room temperature
300g (21/2 cup) caster or granulated sugar
3 eggs separated
2 teaspoons vanilla extract
300g (3 cups) sifted cake flour (see note below)
2 1/2 teaspoons baking powder
1/2 teaspoon salt
240 ml (1 cup) milk

Chocolate Orange Buttercream

200g semi sweet chocolate, chopped
240g (1 cup) unsalted butter, room temperature
190g (1 cup) trex
600g (6 cups) icing sugar, sifted
120ml (1/2 cup) whipping or double cream
2 teaspoons orange extract
Instructions

Yellow Cake 

Preheat oven to 170 degrees celcius. Grease bottom and sides of 2 , 8 -inch round cake tins and line bottom and sides with parchment paper.

In the bowl of stand mixer beat butter and sugar until light and fluffy about 8 minutes.

Sift together flour, salt and baking powder, set aside.

Add egg yolks one after the other beating well after each addition. Add vanilla extract and beat until combined.

With mixer on low, alternately add the flour mixture and milk mixture, beginning and ending with flour mixture.

Whisk egg whites at medium speed until stiff peaks form, then gently fold into batter. Divide batter evenly between cake tins.

Bake for 20 - 25 minutes or until tooth pick inserted in centre comes out clean. Leave to cool tin on wire racks for 10 minutes, then invert onto rack gently, discard parchment paper and cool completely.

Chocolate Orange Buttercream

Put chocolate in a bowl and microwave at 30 second bursts until melted. Set aside and let cool to room temperature.

In the bowl of stand mixer or using a hand mixer beat butter and trex until creamy about 3 minutes.

Sift in icing sugar and beat.As frosting thickens add cream and beat until frosting is light and fluffy

Beat in vanilla extract.  Then add melted chocolate and cream and beat until evenly incorporated,

Increase speed of mixer and beat until buttercream is smooth.

To assemble cake

Using a serrated knife level each cake by cutting the domed top.

Spread a thin layer of icing on your cake board. .Place one layer of cake, flat side down on top and plop a big dollop of icing in the middle. Spread the icing carefully. Once it is nice and flat, stack the second cake, flat side down and spread another generous amount of frosting then place final cake, flat side down.

Spread a thin layer of frosting on the sides and then top of cake. It helps to use a turntable when frosting a cake. Hold a scraper flat against the side of the cake and then turn the turntable and scraper to make a nice, smooth coat of icing. Smooth the top of cake with scraper, drawing the peaks o the top edges of cake into the centre.

Chill crumb coated cake in fridge for 30 minutes until buttercream is nice and firm.

Once cake is chilled, cover evenly with buttercream using an off set spatula and then use a scraper to smooth the edges. Pipe decorative borders and sprinkle with sanding sugar or sprinkles if desired.

Notes

 

Notes

To make your own cake flour, take one level cup of plain or all purpose flour, remove 2 tablespoons and then add two tablespoons of corn starch back in. Sift mixture 4-5 times to evenly distribute the cornstarch.  

3.1

https://bakesbychichi.com/yellow-cake-with-chocolate-orange-buttercream/
More Layered Cake Recipes
Chocolate Cake with Cookies and Cream Filling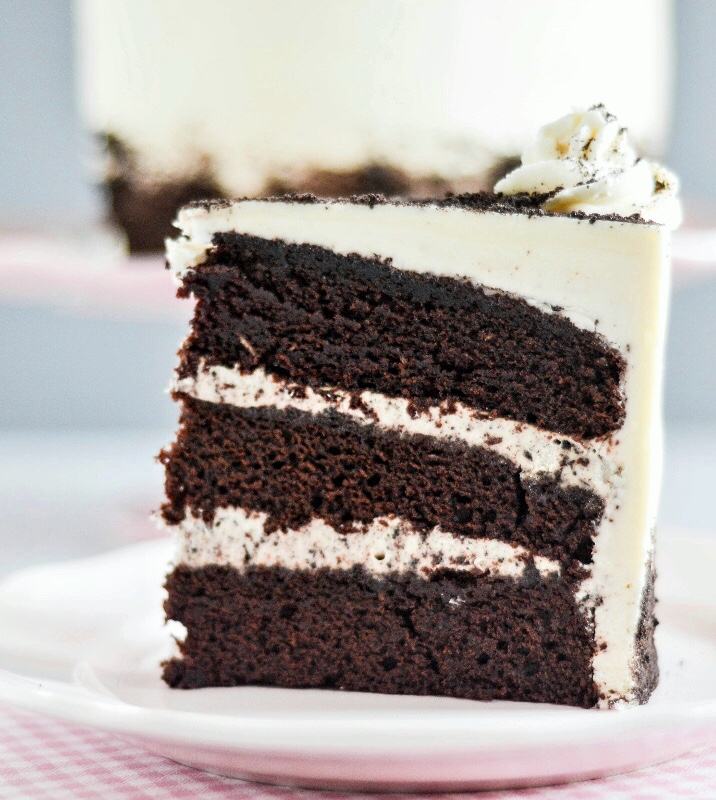 Vanilla Confetti Cake with Whipped Vanilla Buttercream