These chocolate cake doughnuts are soft, light and yummy.  Get a double dose of chocolate by dipping in chocolate ganache and then finish off with lots of sprinkles.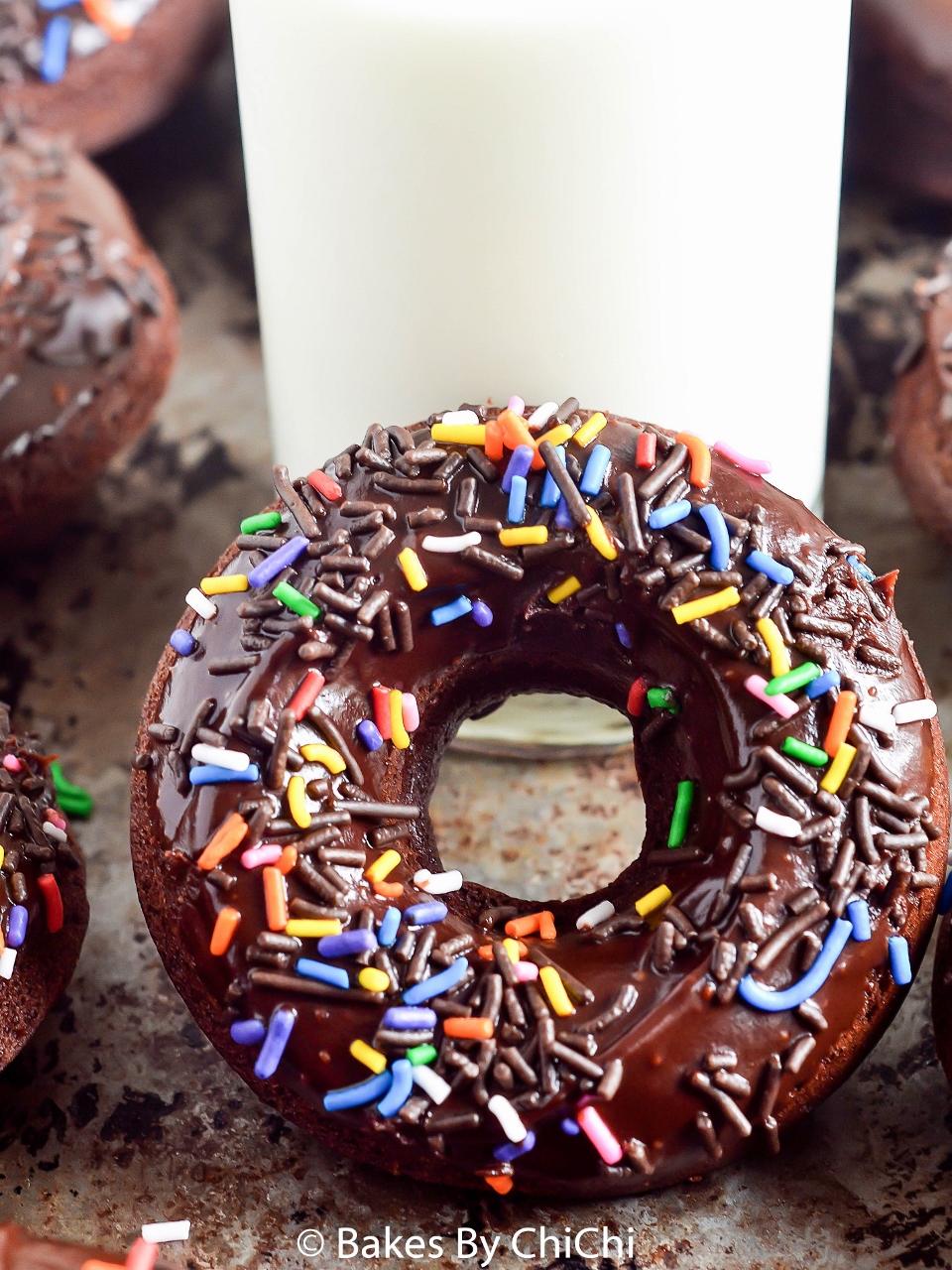 Rainy days are meant for snuggling, onesies, hot drinks and for indulging in delicious treats. Not for battling the wind, damaged umbrellas and trying not to soaked. I live in England, so many times you will read me moan and rant about our 'oh so lovely' weather. Seriously, I need to get used to it. Thanks to the weather though, I drink copious amounts of tea. At work, at home, at my hairdressers. And sometimes, you need something to nibble on with the tea. That's were the perks of being a food blogger comes in.
To bring some cheer into my rainy morning, I made these chocolate cake doughnuts. I found the recipe for these doughnuts on Joy the Baker. The only tweak I made to the recipe, was adding some chocolate extract, for that extra chocolate kick.
Making these doughnuts are so easy.  All you need is a mixing bowl, whisk and a doughnut pan. Dry ingredients are whisked together with wet ingredients , until  well combined. The batter for chocolate doughnuts is quite thick, and spooning them into the doughnut pan can get quite messy.  To make things easier, fill a piping bag with doughnut batter, snip the end and pipe into the cavities of the pan.  So your doughnuts are even, tap the pan on your counter top about 3 times. This forces the air bubbles in the batter to the surface, while also serving to level your batter.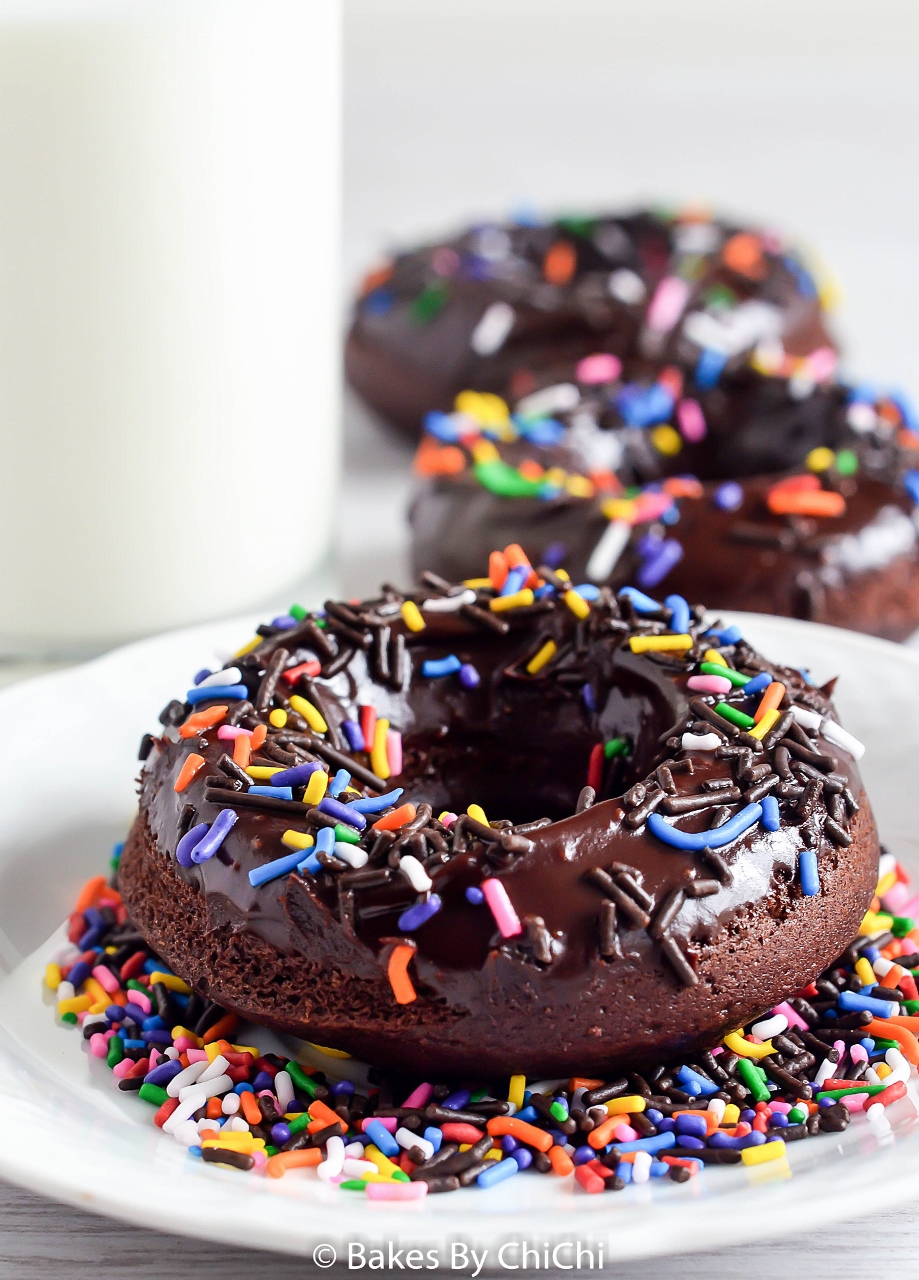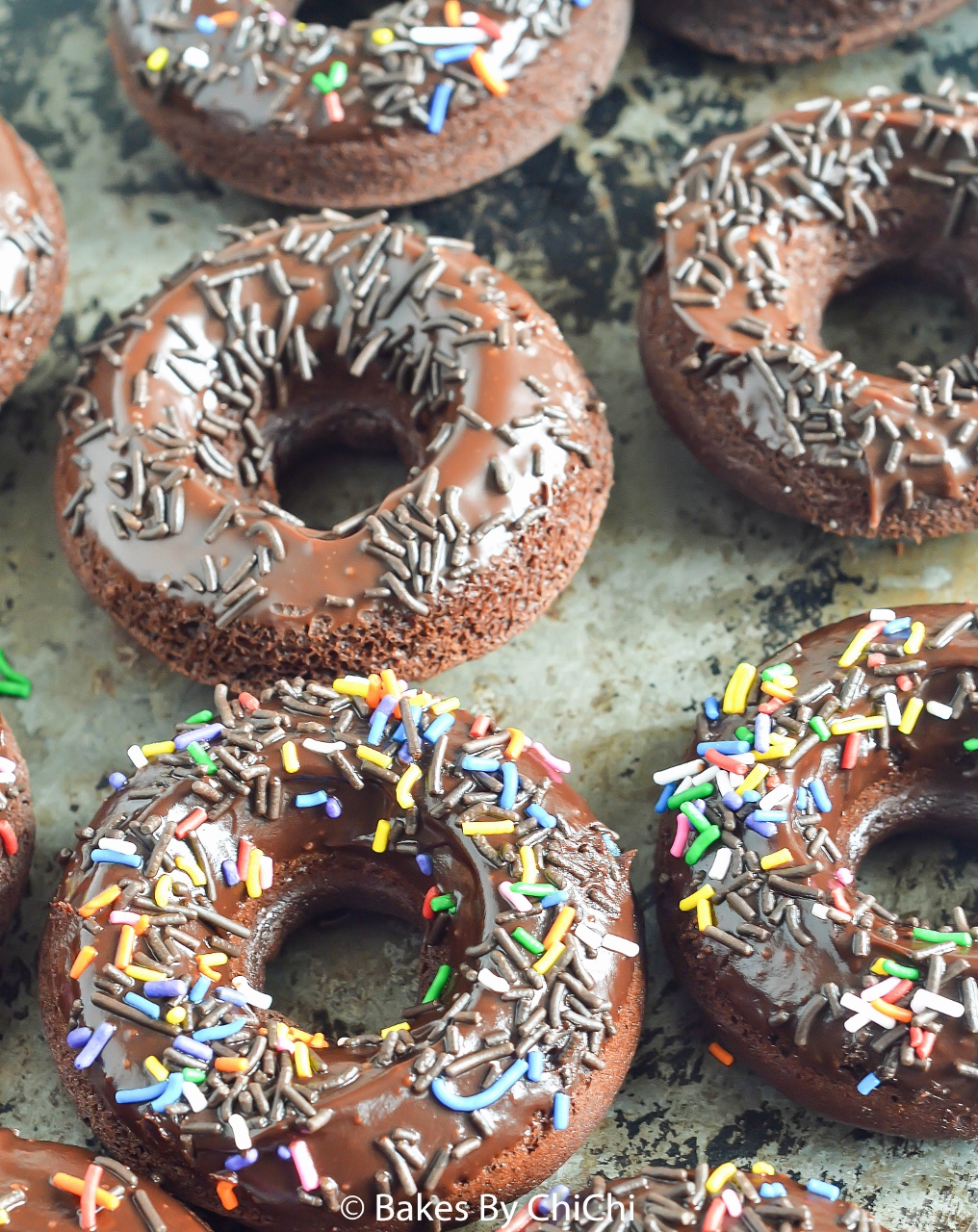 Ten minutes is all it takes for the chocolate cake doughnuts to bake. Once cooled, make a simple chocolate ganache with semi sweet chocolate, double cream and icing sugar(optional).
Chocolate ganache can be made two ways. Double cream is heated in a pan over medium heat till almost boiling , (once cream starts to bubble, take it off the heat). Pour the hot cream over chopped chocolate or chocolate chips. Stir gently with a whisk or rubber spatula until smooth.
The other way I make chocolate ganache is by melting the chocolate and cream in the microwave. Combine chopped chocolate and milk in microwave safe bowl. Heat in the microwave at 30 second bursts minute. Remove and use a rubber spatula or whisk to stir, making sure there are no lumps. If there lumps pop back into the microwave  and warm at 3o second bursts , until the chocolate has melted and smooth.
Dip cooled chocolate doughnuts in ganache and decorate with sprinkles.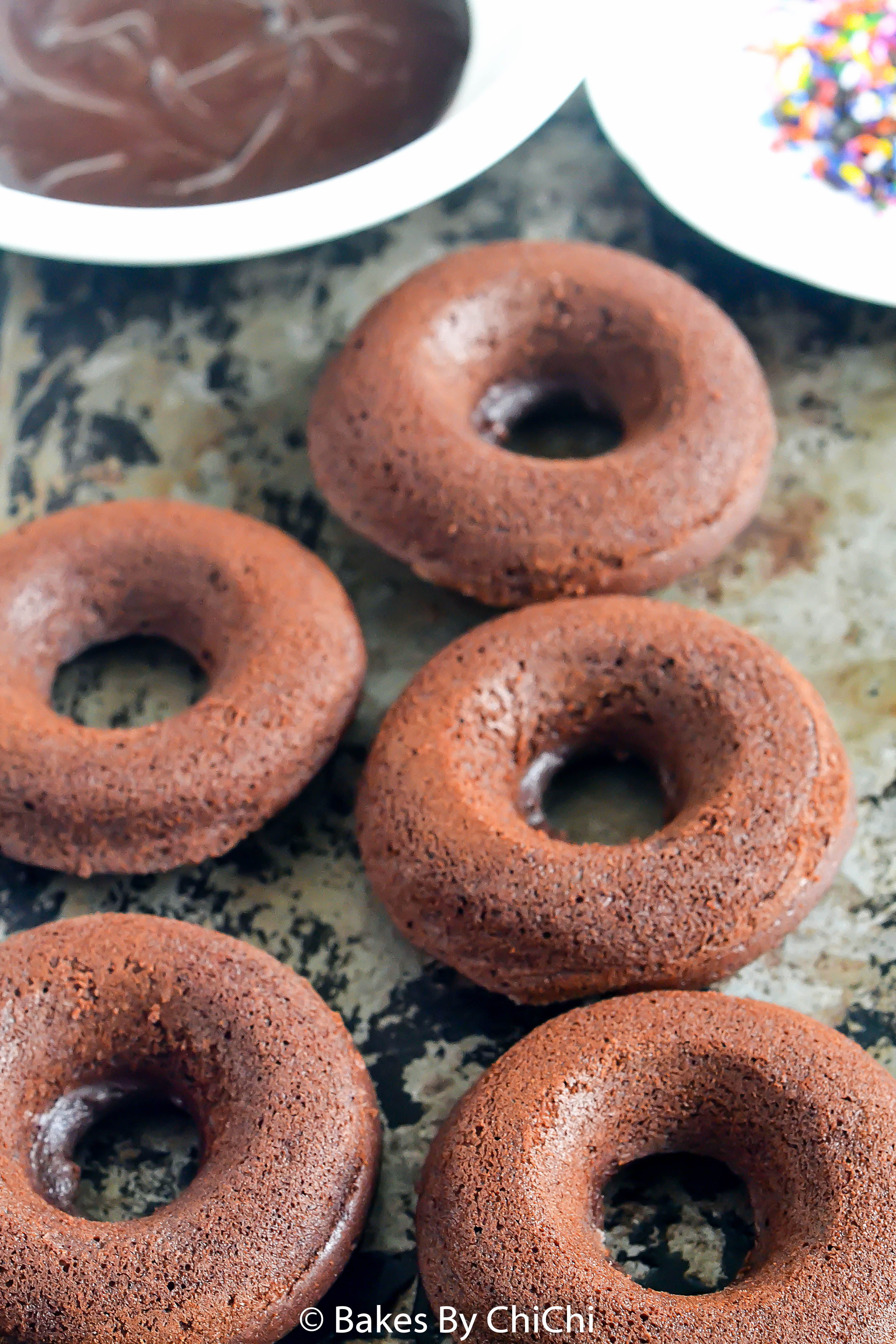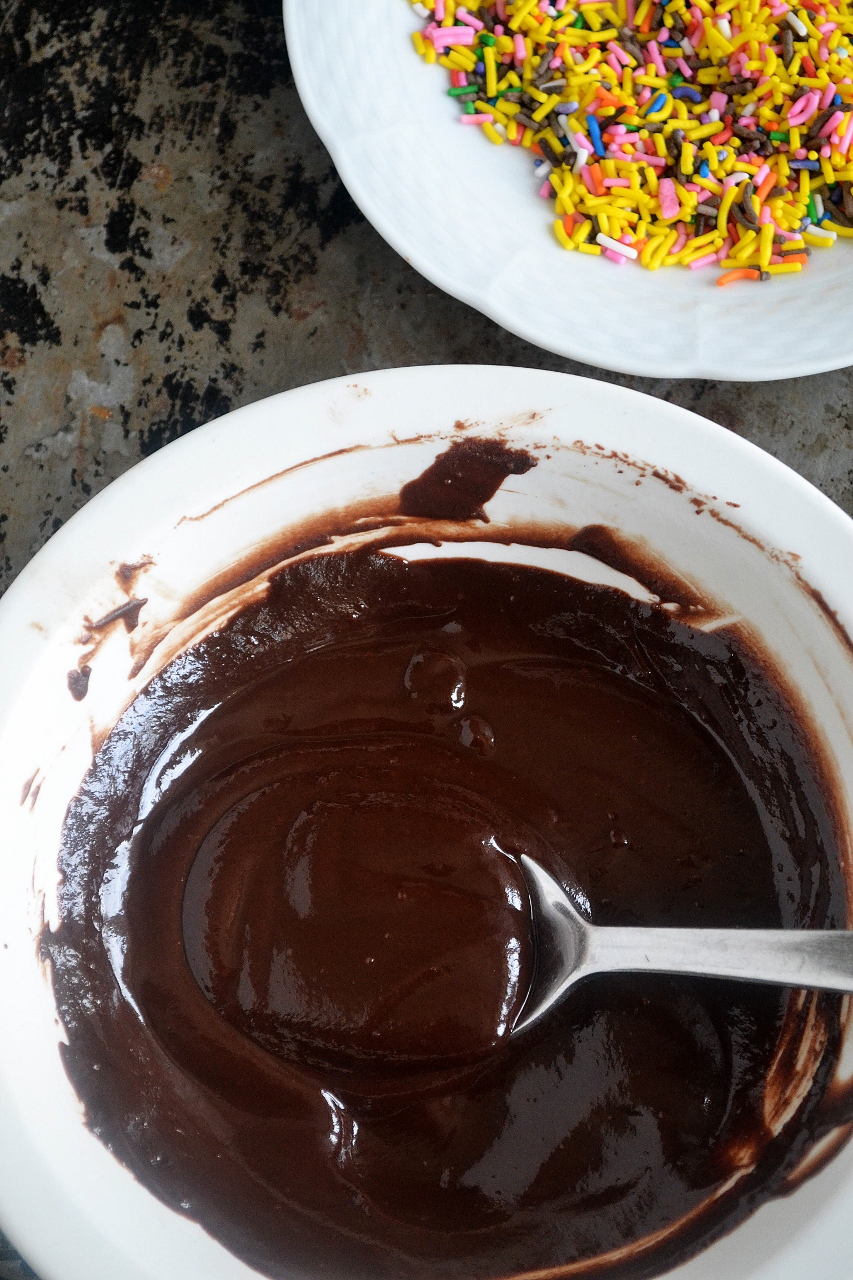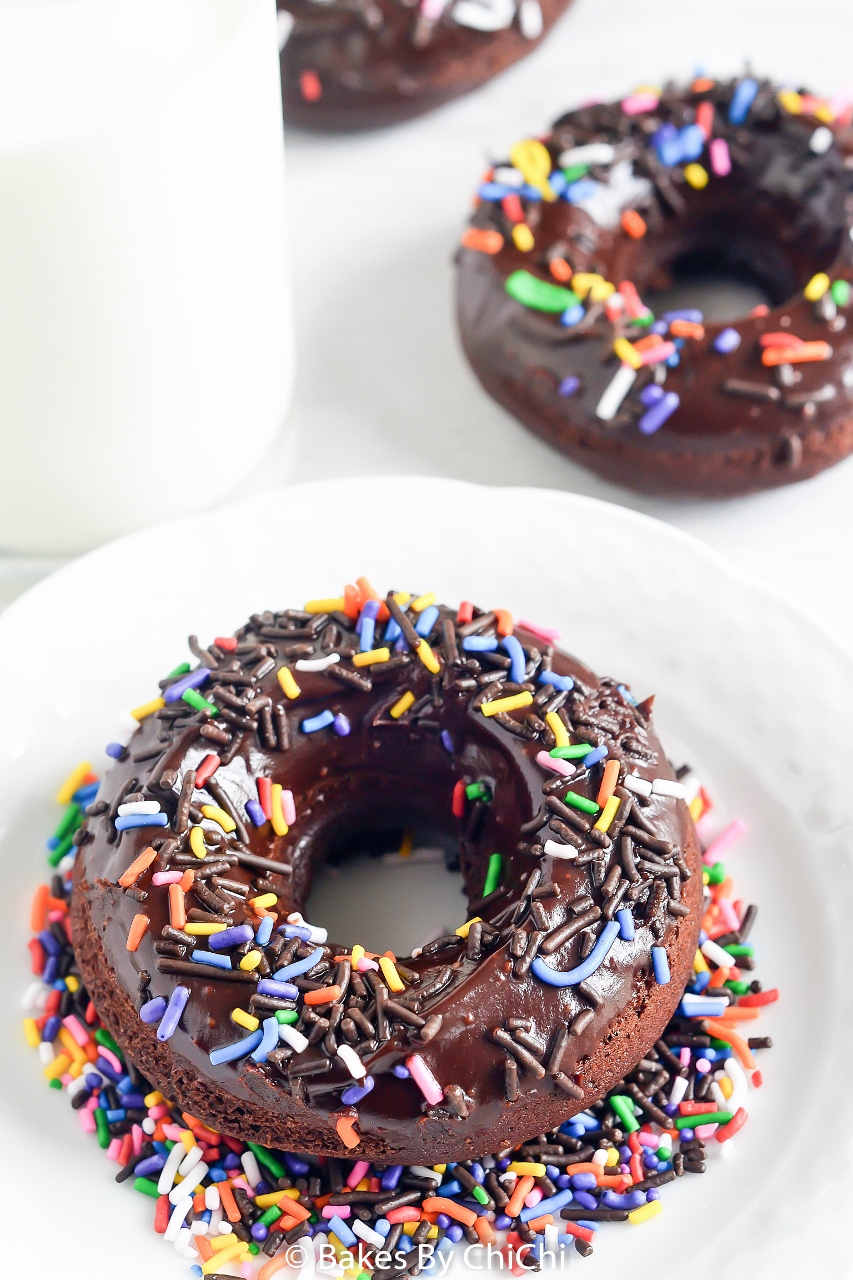 Soft extra chocolatey cake doughnuts with sprinkles is a treat to be enjoyed any time and not just on rainy days!!
Stay up to date with Bakes by ChiChi on:
Facebook | Instagram | Pinterest | Google Plus | Bloglovin
Baked Chocolate Cake Doughnuts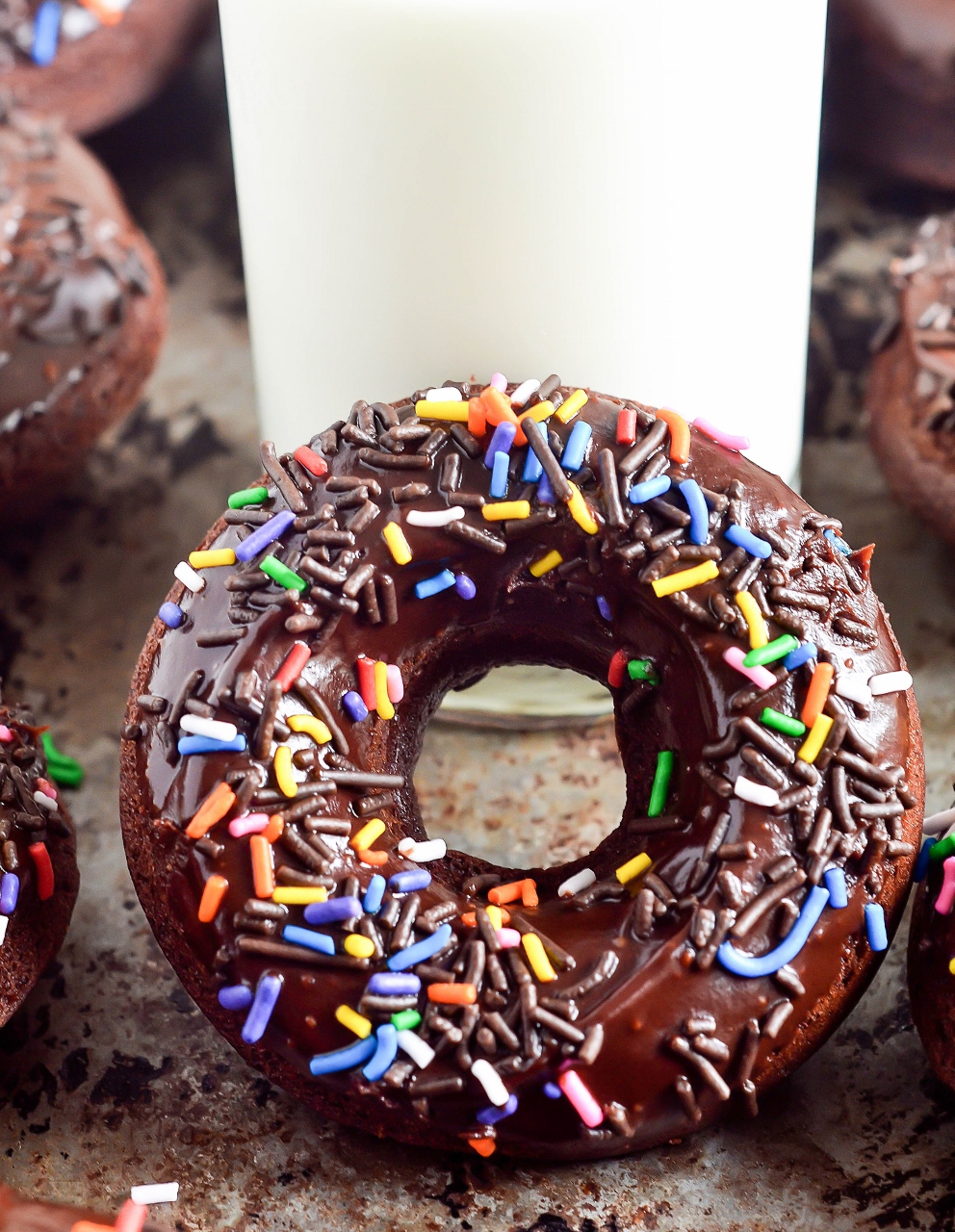 Ingredients
Chocolate Cake Doughnuts

120 g (1 cup ) plain flour
50 g (1/4 cup ) cocoa powder
1/2 teaspoon baking soda
1/4 teaspoon salt
90 g (1/2 cup) light brown sugar, packed
120 ml (1/2 cup) buttermilk
1 large egg
4 tablespoons unsalted butter, melted
1 teaspoon pure vanilla extract
1 teaspoon chocolate extract

Chocolate Ganache

100 g semi sweet chocolate
50 ml double cream
1 tablespoon icing sugar, sifted (optional)
sprinkles
Instructions
Chocolate Cake Doughnuts
Pre-heat the oven to 170 degrees celcius. Grease a 6 hole doughnut pan and set aside.
In a medium mixing bowl, whisk together flour, cocoa powder, baking soda, salt, light brown sugar and set aside.
Whisk together buttermilk, egg, melted butter, vanilla and chocolate extract until combined. Pour the wet ingredients into the dry ingredients and whisk together until well combined.
Fill a piping bag up with batter. Snip off end of piping bag and fill doughnut pan, two thirds full.
Bake for 10 minutes or until skewer inserted into one of the doughnuts come out clean. Leave doughnuts to rest for 5 minutes in pan before inverting onto a wire rack to cool completely. Bake remaining batter.
Allow doughnuts to cool completely before glazing with ganache.
Chocolate Ganache
Place chopped chocolate or chocolate chips and cream in a microwave safe bowl. Melt in 30 second bursts in microwave, stirring with a whisk after each time, until completed melted. Stir ganache gently with a whisk until smooth and no streaks of cream remain.
Dip the bottom of the doughnuts into the chocolate ganache and then cover with sprinkles. Leave doughnuts to rest, for the ganache to set slightly.
Doughnuts are best eaten on the day made or within 2 days of baking.
3.1
https://bakesbychichi.com/baked-chocolate-cake-doughnuts/