Fluffy, buttery and moist, these breakfast muffins are filled with lots of juicy blueberries , then topped with crunchy brown sugar and cinnamon.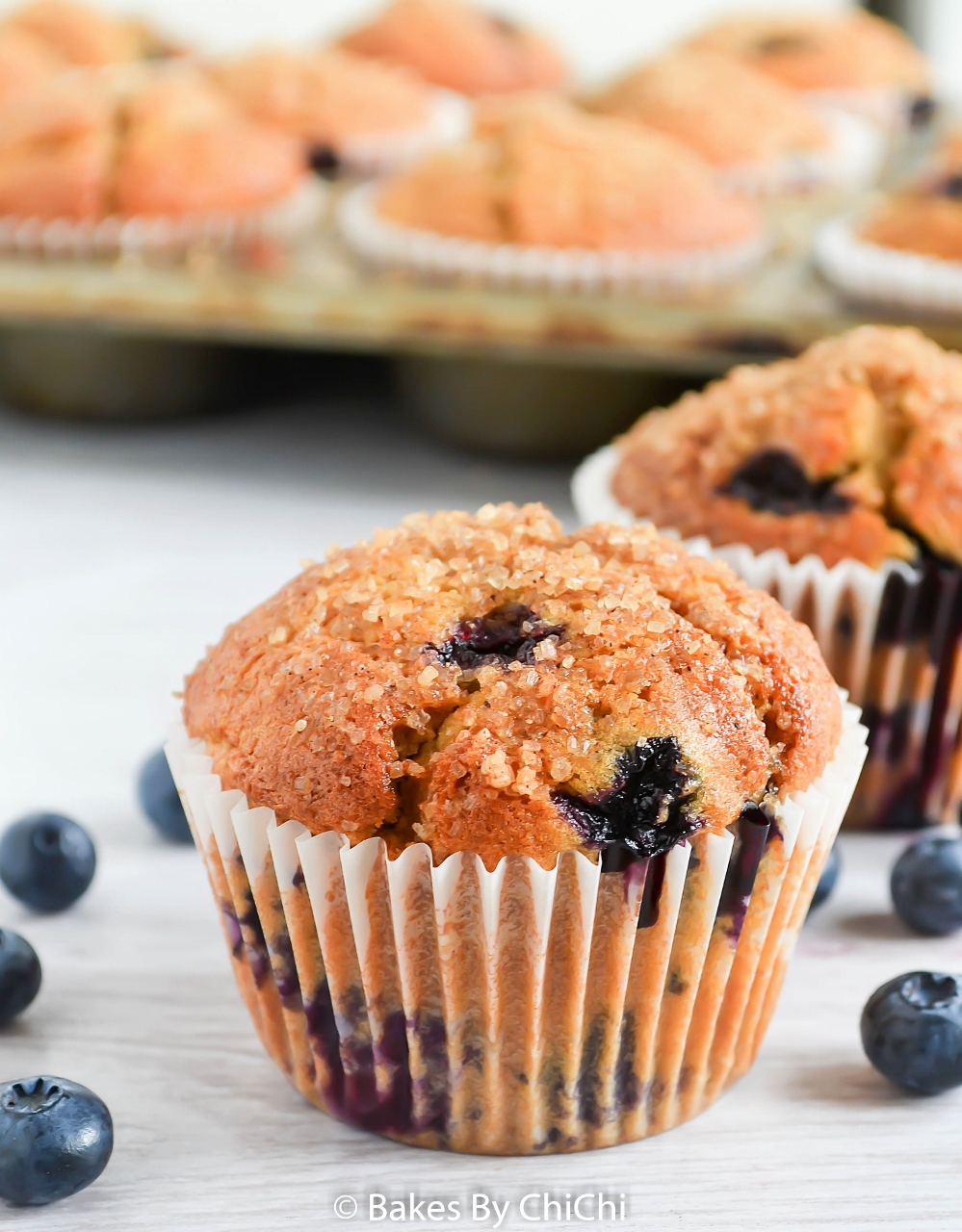 I just love blueberry muffins. It is one of my favourite breakfast treats. Until recently I hadn't attempted to make them. The first couple of times I made them, they turned out not so good. Into the bin they went. Why couldn't I get the bakery style muffins I so love?
So before I undertook another attempt at making muffins, I knew I had understand the science behind making delicious muffins. The recipe I am sharing today is simple and the batter can be whipped up in about 1o minutes.
Begin the blueberry muffin batter with room temperature butter.  It is easier to beat softened butter and sugar into a light and fluffy texture. This creates a tender crumb in the muffins. Also eggs can combine easier when at room temperature. They will disperse more evenly into the batter. And you are guaranteed light airy evenly baked muffins.
Take care not to over-mix when folding in flour mixture and liquids. It results in gluten forming.  And this may result in tough muffins.  It is okay to have lumpy batter. I used a hand whisk to gently fold in my flour mixture and buttermilk.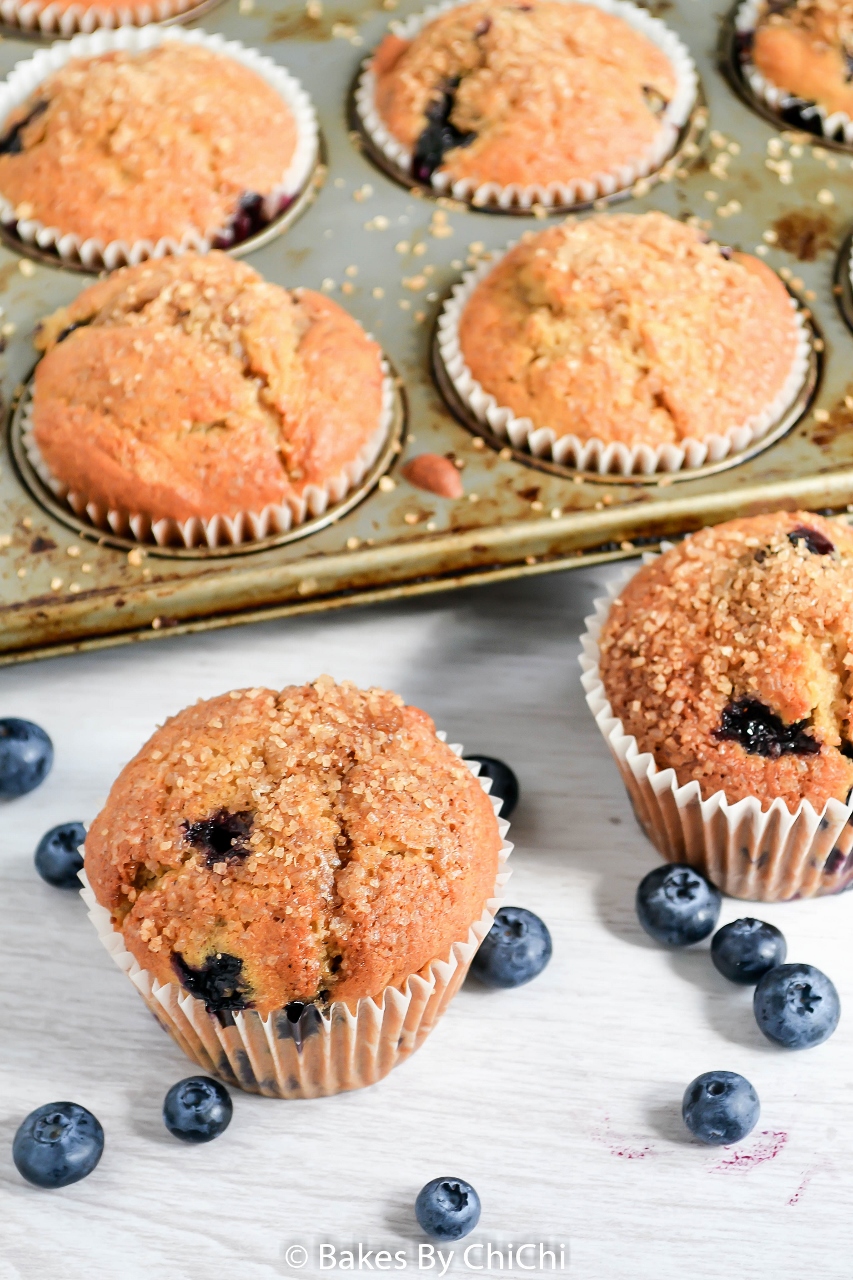 Today's recipe also contain two magical ingredients. Brown sugar and buttermilk.  I love baking with brown sugar because of the moisture and flavour it adds to baked goods. The molasses in brown sugar make the muffins all so soft and moist.
The tartness of the buttermilk adds a delightful subtle tang to the blueberry muffins. Buttermilk also contributes to the leavening of baked goods. When used together with baking soda it produces carbon dioxide, which gives the muffins their rise. If you haven't got any buttermilk at hand, make some by mixing in 1 tablespoon of lemon juice or white vinegar with 250 ml (1 cup) milk and leave to stand for 10 minutes.
Infuse spices like nutmeg and cinnamon into your muffins. They add so much flavour.  I sprinkled the top of my muffins with a streusel made with demerara sugar and cinnamon.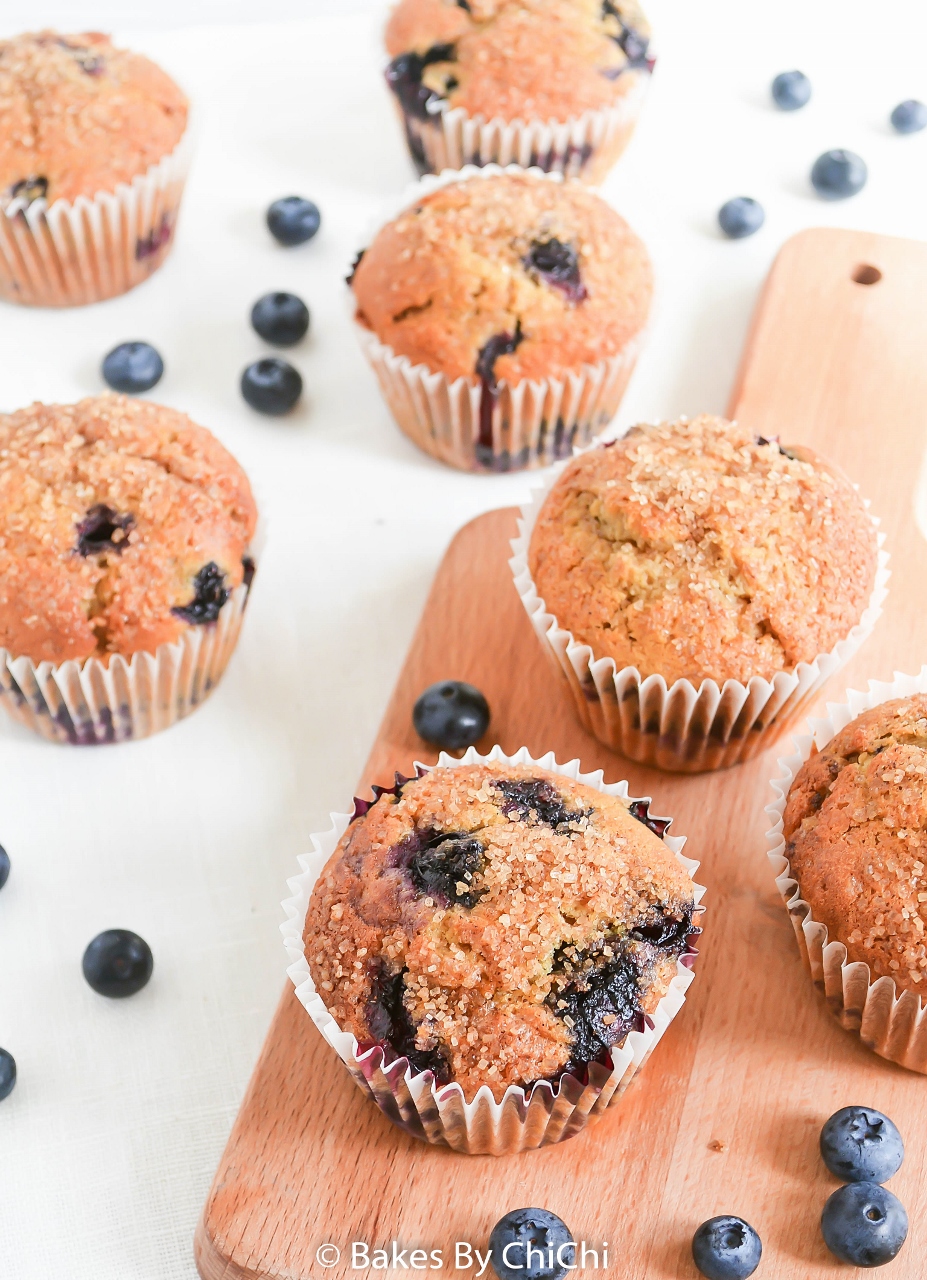 These muffins turned out so tender, moist and bursting with blueberries. What's also perfect about them is that they can be whipped up and baked in just 30 minutes.
Breakfast is served!!!
Stay up to date with Bakes by ChiChi on:
Facebook | Instagram | Pinterest | Google Plus | Bloglovin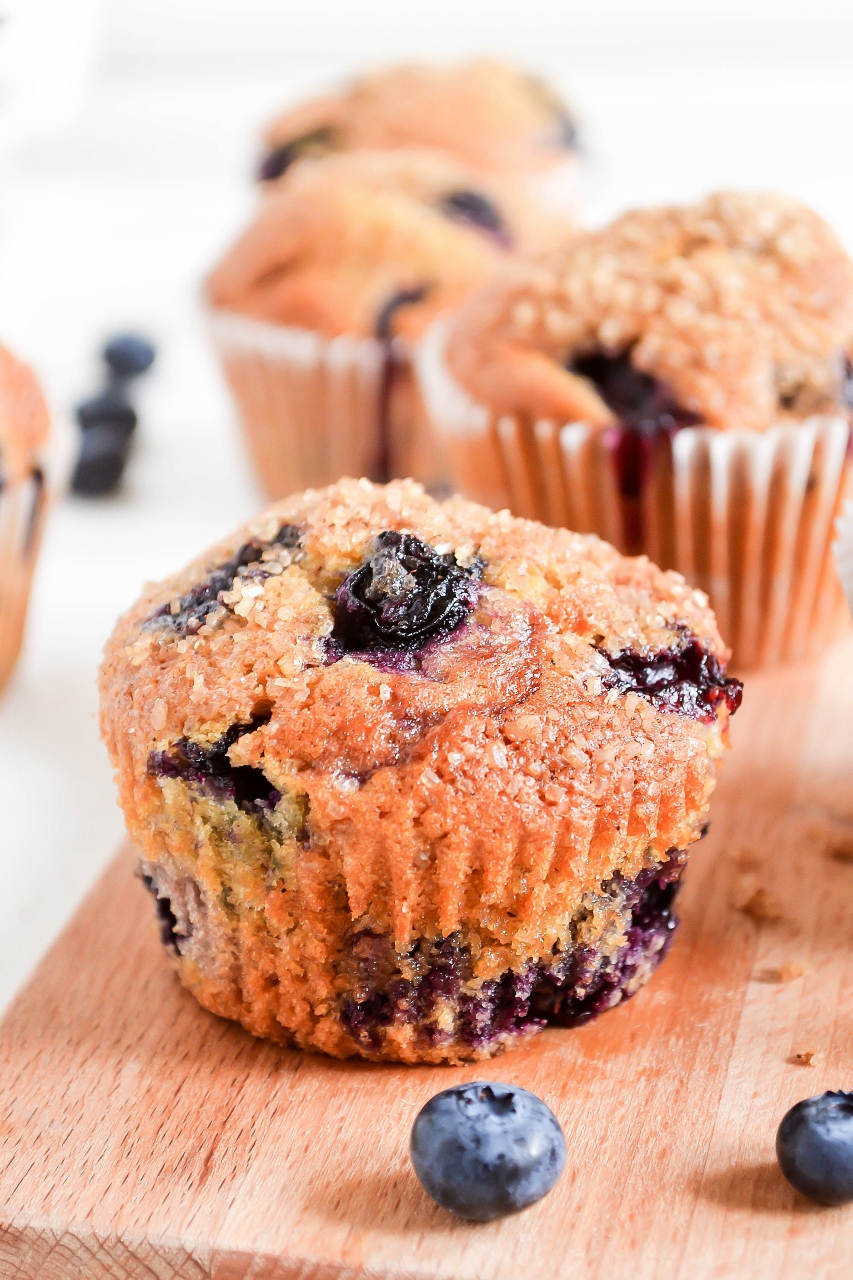 Ingredients
Blueberry Muffins

45 g (1/4 cup) demerara sugar
1 teaspoon cinnamon or mixed spice
120 g (1/2 cup) unsalted butter, room temperature
180 g (1 cup) brown sugar
2 eggs, room temperature
1 teaspoon vanilla extract
240 g (2 cups) plain flour
11/2 teaspoon baking powder
1/2 teaspoon bicarbonate of soda
1/4 teaspoon salt
120 ml(1/2 cup) buttermilk, room temperature
200 g (1 cup) blueberries
Instructions
Pre-heat oven to 170 degrees celcius. Line a muffin tin with cupcake liners.
Make brown sugar streusel by mixing demerara sugar and cinnamon in a small bowl. Set to one side.
In the bowl of stand mixer or using a hand mixer beat butter and brown sugar until fluffy, about 5 minutes.
Sift flour, baking powder, bicarbonate of soda and salt into a large bowl and set aside.
Add eggs at a time, beating well after each addition occasionally scrapping down the sides of bowl. Mix in vanilla extract.
Alternatively fold in using a whisk the flour mixture and buttermilk in 3 parts, beginning and ending with flour mixture. Gently fold in blueberries with a with a spatula or wooden spoon.
Fill cupcake liners to the top with batter and then top with brown sugar streusel. Bake for 20 minutes or until toothpick inserted comes out clean.
Leave muffins to cool briefly before serving.
3.1
https://bakesbychichi.com/brown-sugar-buttermilk-blueberry-muffins/