Light fluffy vanilla cupcake frosted with silky satiny strawberry swiss meringue buttercream.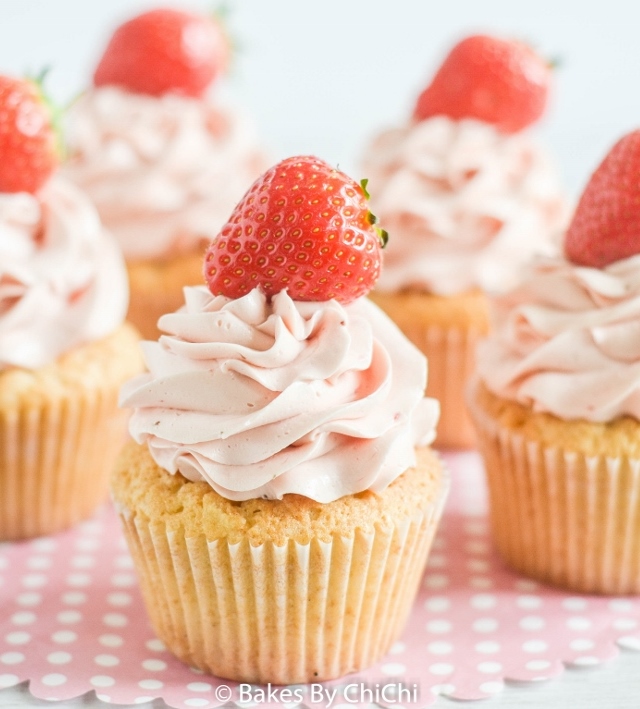 Happy May Day!!!
May 1st sees the official start to the British strawberry season as well as other berries. The weather is milder, there are longer days and more sunshine. Though we haven't had much sunshine this week. I get so excited when berry season starts, it means lots of different varieties of strawberries, blueberries , blackberries and much much more. In my garden we have wild blackberries bushes. Can't wait to harvest some blackberries, I am still thinking what to make with them.  Any suggestions? Would love to hear some.
Today I am sharing with you my favourite cupcake and buttercream recipe. Nothing beats a light fluffy vanilla cupcake. I have been tinkering around and baking lots many vanilla cupcake recipes for a long time. This is my go to recipe for a light, fluffy, moist vanilla cupcake.
Before making the vanilla cupcake, make sure all your butter, eggs and milk are at room temperature. 
Remove dairy products from fridge at least an hour before baking. Egg whites and yolks combine easier when at room temperature and will disperse more evenly into the batter. Batters made with room temperature ingredients mix together easily, are smooth and produce light airy evenly baked treats.
When I first started baking I was impatient that I missed these steps and resulted in dense or even hard cakes. You find when you try and cream cold butter with sugar, what you get is a clumpy mixture when infact you want the mixture to be fluffy.
If you are pressed for time, warm up your butter in the microwave a few seconds at time, checking often until softened.  Cold eggs can be brought to room temperature by placing them in a bowl of warm water for 10 – 15 minutes.
The buttercream recipe is my all time favourite, swiss meringue buttercream. Silky, velvety, delicious swiss meringue buttercream. It may be a bit time consuming, yet worth it. Swiss meringue buttercream is made with egg whites, sugar and butter.
My recipe is adapted from Sweetapolita. For successful swiss meringue buttercream
First make sure all equipment are grease free.  Pour a little vinegar or lemon juice into a paper towel and use to wipe all equipment. Any grease and we won't have the meringue bit.
Invest in a  jam or candy thermometer. The egg whites and sugar will have to be heated until the temperature reaches 160 degrees F.  If you haven't got a thermometer, once sugar melts and the egg whites are hot.
Don't panic if the swiss meringue buttercream looks curdled like scrambled eggs after you add the butter, keep whipping at a low speed and the mixture will come together.
To make the strawberry swiss meringue I added fresh pureed strawberries to the vanilla swiss meringue .  The amount of strawberry puree you add will be to taste. I love how the buttercream is bursting with strawberry flavour and natural taste of that the fresh strawberries give.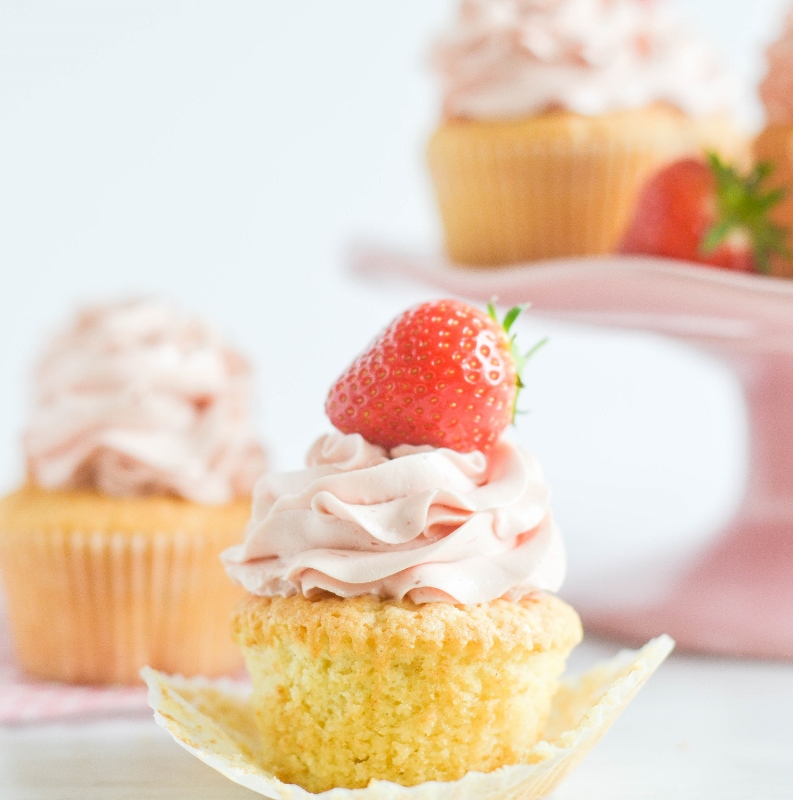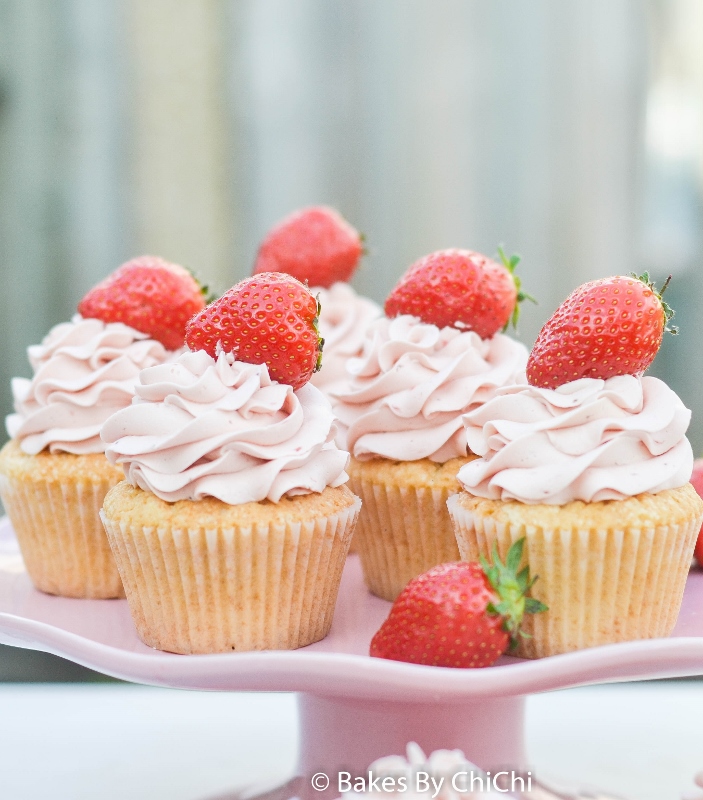 I love how the light fluffy vanilla cupcake paired with silky satiny strawberry swiss meringue. Simply delicious!!!
Stay up to date with Bakes by ChiChi on:
Facebook | Instagram | Pinterest | Google Plus | Bloglovin
Vanilla Cupcake with Strawberry Swiss Meringue Buttercream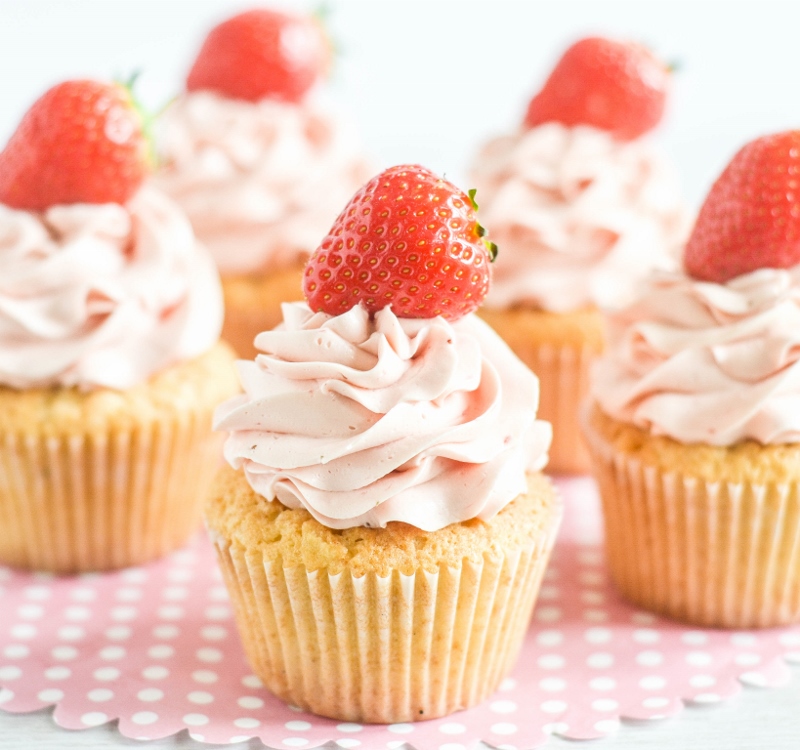 Ingredients
For Vanilla Cupcake

180 g (3/4 cup) unsalted butter, room temp
200 g (1 cup) caster sugar
2 eggs
1 egg white
2 teaspoons vanilla
180 g (11/2 cup) plain flour
11/2 teaspoons baking powder
1/4 teaspoon salt
60 ml (1/4 cup) milk, room temperature

For Strawberry Swiss Meringue Buttercream

250 g (11/4 cup) caster sugar
150 g ( 5 large) egg whites
360 g (11/2 cup) unsalted butter, cut into cubes and cool#
2 teaspoons vanilla extract
200 g (7.1 ounces) fresh strawberries, pureed
pinch of salt
few drops pink food colouring (optional)
Instructions
For Cupcake
Preheat oven to 170 degrees celcius. Line muffin tray with paper liners.
Sift flour, baking powder and salt and set aside.
In the bowl of stand mixer or using a hand mixer beat butter and sugar until fluffy, about 5 minutes
Add eggs and egg white one at a time, beating well after each addition occasionally scrapping down the sides of bowl. Mix in vanilla extract.
Alternatively add the flour mixture and milk in 3 parts, beginning and ending with flour mixture.
Divide batter among paper liners and bake for 20 minutes or until toothpick inserted comes out clean.
Remove cupcakes from oven and place on cooling rack for 10 minutes. Carefully remove cupcakes from pan and leave to cool completely on rack before frosting.
For Strawberry Swiss Meringue
Wipe bowl of mixer , attachments and whisk with a paper towel and lemon juice to remove any trace of grease.
In bowl of stand mixer combine sugar, egg whites and salt over a pot of simmering water. Gently whisk constantly until mixture is warm to touch and sugar has completely dissolved and or until temperature reaches 140 degrees F on a candy thermometer.
Using a whisk attachment starting to whisk until meringue is thick and glossy and completely cool, about 10 minutes.( Test by touching bottom of the bowl)
Switch to a paddle attachment and with mixer on low speed add butter cubes one at a time mixing well after each addition and beat until frosting is smooth. Add vanilla and beat on low speed until well combined.
Add a quarter cup or more of strawberry puree to mixture and beat until combined. If desired add pink food colour.
To Assembly
Insert a 1M or 2D nozzle into a piping bag and fill with strawberry buttercream and gently squeeze the piping bag and allow the buttercream to fall onto the cupcake. Keep piping round the cupcake, keeping the tip of the nozzle raised slightly above the cupcake. As you pipe make the circles smaller till you get to the centre of the cupcake.
3.1
https://bakesbychichi.com/vanilla-cupcake-with-strawberry-swiss-meringue-buttercream/