Crushed pineapple, shredded carrots, coconut and spices, this tropical cupcake has it all. With each bite, you get the tantalizing flavour of the tropics. This tropical cupcake is incredibly spiced and moist and just right for autumn.  The Pièce de résistance of this tropical cupcake, is the swirled ginger cream cheese frosting. The flavour of the ginger in the frosting is just right, not overpowering.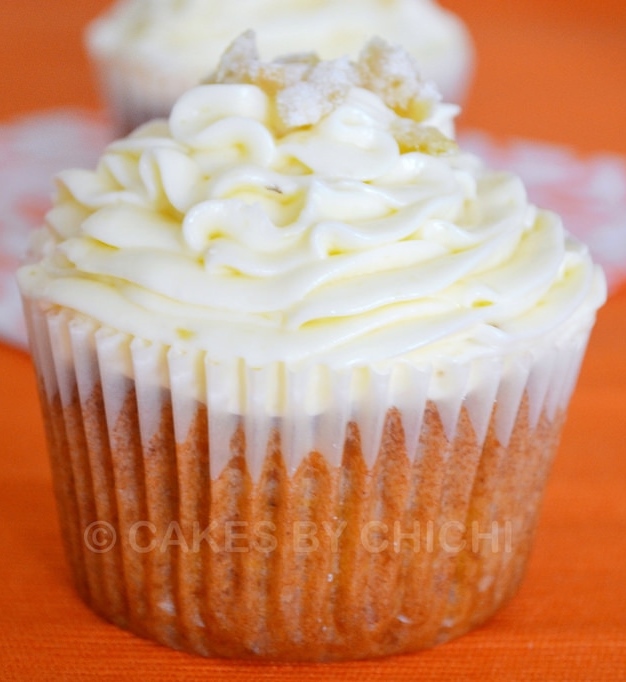 It is National cupcake week from 15th September to 27th september and this Tropical Cupcake frosted with ginger cream cheese is my first offering for the cupcake week. And also in celebration of cupcake week the lovely folks at Better Living are launching the Betta Bake A Cupcake Competition, looking for the creative cupcake. Being entered into the  #bettabakeoff competion is my Tropical Cupcake with Ginger Cream Cheese Buttercream . Wish me luck everyone!!!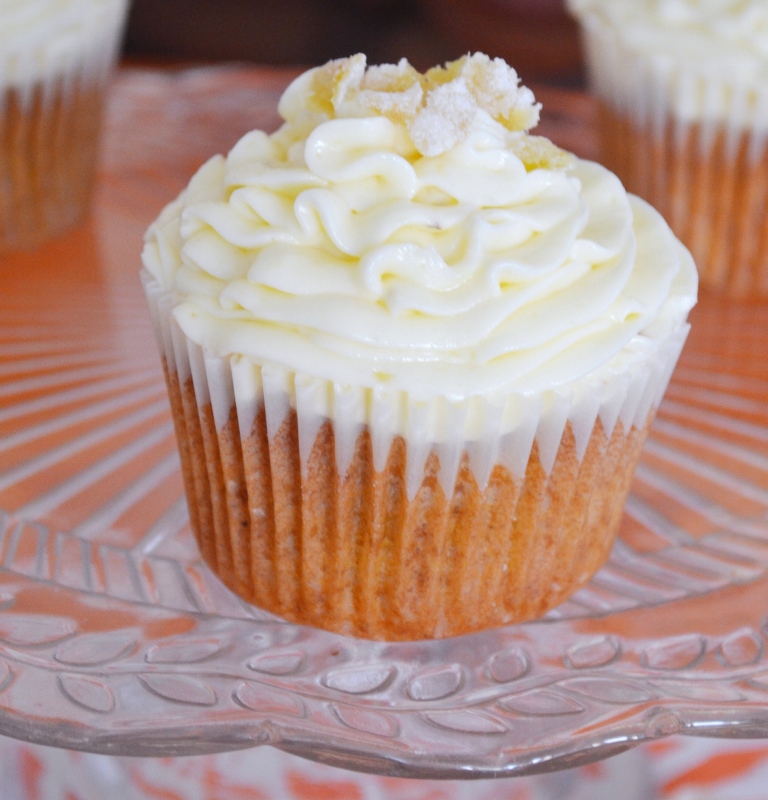 The wonderful thing about this recipe is that you don't even need a mixer, just one mixing bowl and a spatula.
This recipe starts out by measuring out of the ingredients. By all means use measuring cups to measure out ingredients , though a scale will give accurate measurements.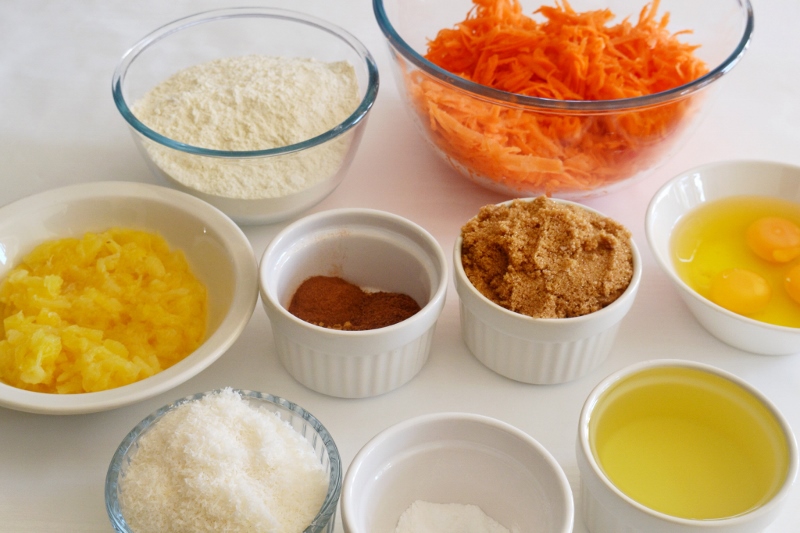 Then the flour, spices, sugar, dessicated coconut baking soda and powder go into the large mixing bowl. Beat in oil, eggs and vanilla extract . Crushed pineapple and shredded carrots are mixed into the batter. It's that simple. Then bake for 20-25 minutes at 170 degrees celcius.
Cooled and frosted with delicious ginger cream cheese.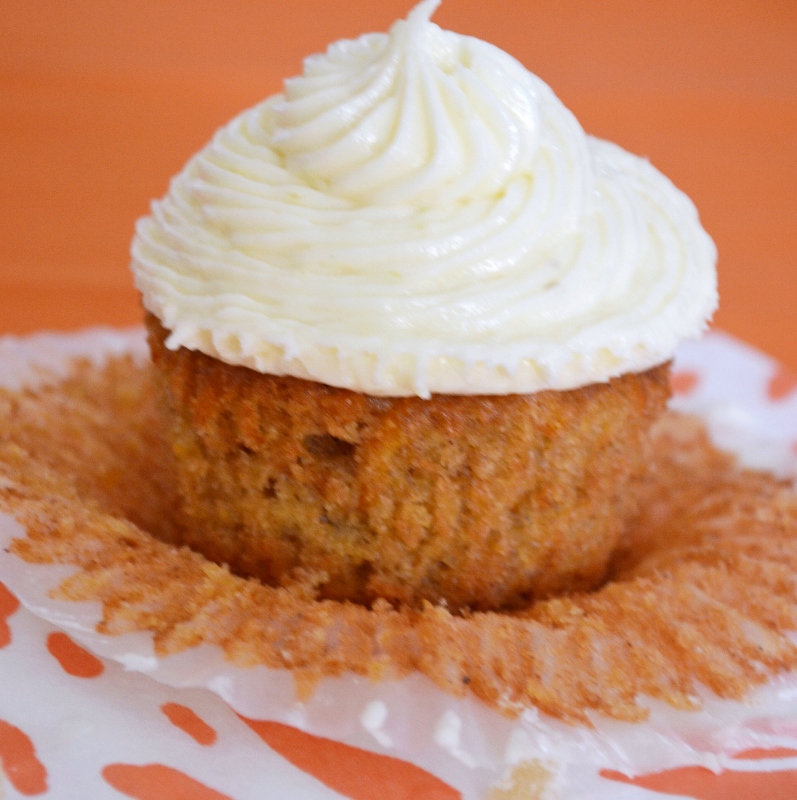 And topped with crystallised ginger for that added awesomeness. This Tropical Cupcake frosted Ginger cream cheese is one of my favourite recipes for autumn.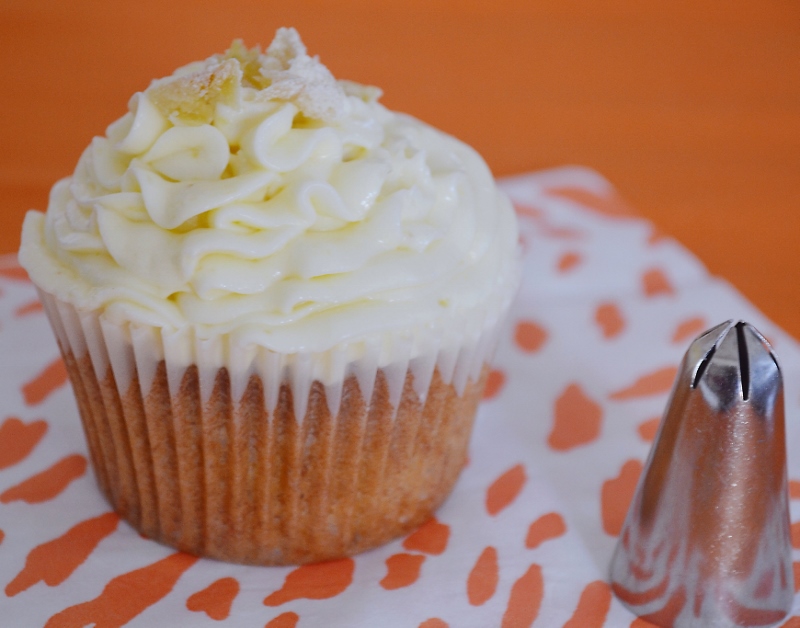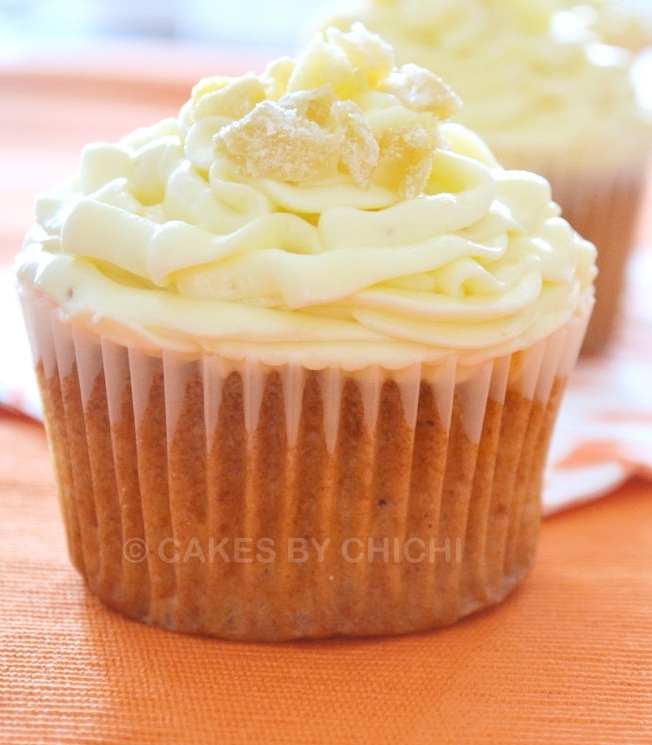 Tropical Cupcake with Ginger Cream Cheese Buttercream
Ingredients
Tropical Cupcakes

180g (11/2 cup) all purpose or plain flour
180g (1 cup) light brown sugar
1 teaspoon ground cinnamon
1 teaspoon ginger
1 tespoon nutmeg
11/4 teaspoon baking powder
1/4 teaspoon bicarbonate of soda
1/4 teaspoon salt
100g (1cup) desicatted coconut3 eggs
120ml (3/4 cup) sunflower oil
80ml (1/3 cup) crushed pineapple
200g (11/4 cup) finely grated carrots

Ginger Cream Cheese

60g (1/4 cup) unsalted butter , at room temperature
300g ( 3 cups) icing sugar
230g (8 oz ) cream cheese, at room temperature
2 teaspoons pureed ginger
2 tsp vanilla extract butter
Instructions
Tropical Cupcakes
Preheat oven to 170 degrees celcius.
Sift flour, spices, salt, sugar, baking powder and bicarbonate of soda into a bowl. Add desiccated coconut
Beat eggs and oil and add to dry ingredients and mix well.
Fold in crushed pineapple and grated carrot until incorporated.
Evenly fill cupcake cases with batter and bake for 20 - 25 minutes or until a toothpick inserted into centre of cupcake comes out clean
Remove from oven and place on cooling rack and leave to cool completely before frosting.
Ginger Cream Cheese Frosting
Beat butter until light. With the mixer on low speed slowly add icing sugar and beat until well combined.
Add cream cheese to mixture and beat until fluffy. Add pureed ginger and beat in vanilla extract.
Assemble
Pipe the frosting on the cupcakes using a closed star and ateco 866 piping nozzles. Using a circular motion pipe the frosting around the frosting cupcake lifting the nozzle slightly as you around each layer, Pipe the frosting inward and upward, making each circle smaller moving up.
Garnish with crystallized ginger if desired.
3.1
https://bakesbychichi.com/tropical-cupcake-with-ginger-cream-cheese-buttercream/
NEWS FLASH!!!!!
I am pleased to announce that the recipe on this post won the Betta Living Cupcake Competion