Red velvet cream cheese cookies which are soft, thick and loaded with chocolate chips and chunks.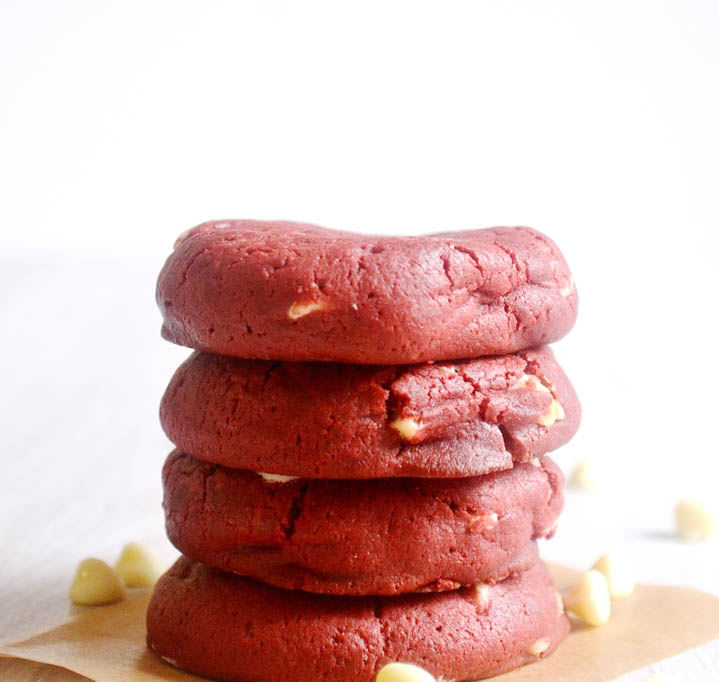 These soft baked red velvet cream cheese cookies have been on my to do list for a while.  After i made the Mini Cream Cheese Pound Cake, my taste buds where treated to the richness that cream cheese adds to baked foods.
To create this red velvet cream cheese cookie, I adapted my Brown Butter Cookie recipe. I substituited some of the butter for cream cheese. And let me tell you just how good these red velvet cream cheese cookies tasted after baking them.With each bite you get a luscious, rich, buttery flavour.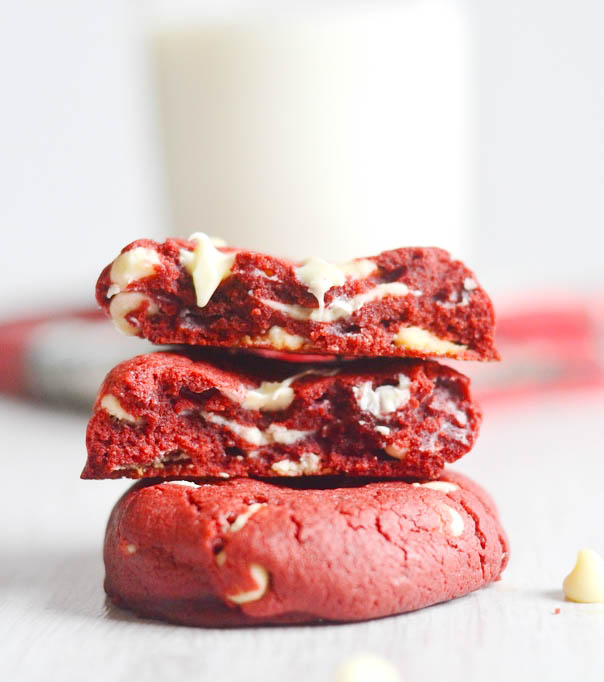 You also get the subtle hint of chocolate from the cocoa powder added to the batter. This red velvet cream cheese cookie is also packed with a combination of white chocolate chips and chunks. With each bite you are ensured chocolate, chocolate and more chocolate. I literally had to stop myself from eating them.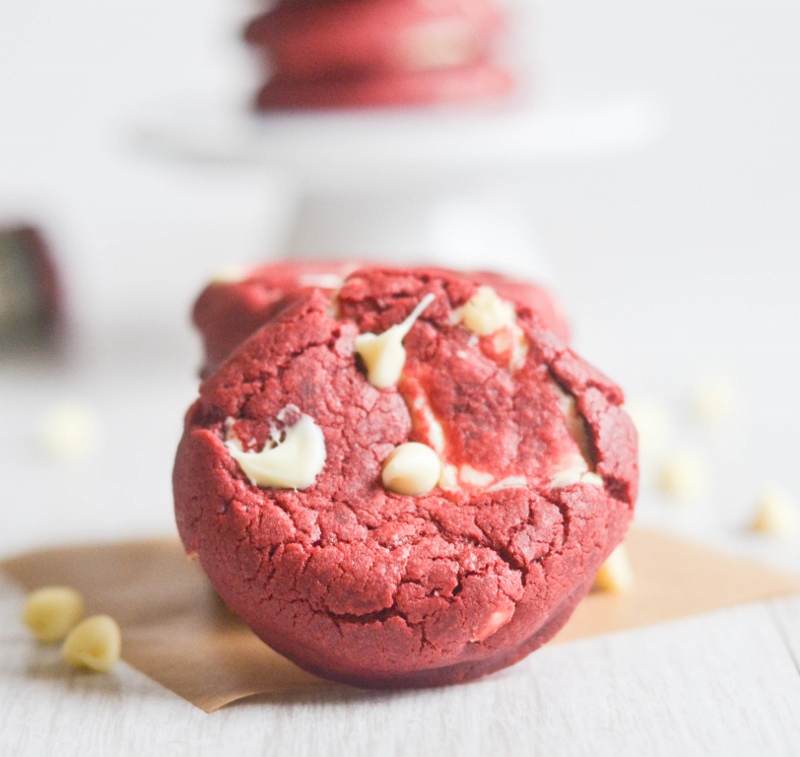 Soft Baked Red Velvet Cream Cheese Cookies
Ingredients
120g (1/2 cup) unsalted butter, room temperature
60g (1/4 cup) full fat cream cheese
135g (3/4 cup) brown sugar
50g (1/4 cup) caster sugar
210g (13/4 cup) plain / all purpose flour
15g (1/8 cup) cocoa powder
1 tsp baking soda
1 egg
2 teaspoon vanilla extract
1 teaspoon white vinegar
1 tablespoon milk
Red food colouring
Instructions
In the bowl of the mixer beat butter, sugar, cream cheese and sugars until light and fluffy, about 4 minutes.
Sift together flour, cocoa powder and baking soda, set aside.
In a jug whisk together egg, vanilla extract ,vinegar and milk and red food colouring. Add this to the sugar mixture and mix. Scrape down sides as needed.
With the mixer on a low speed, slowly add flour mixture and beat until combined.
Mix in white chocolate chips and chunks.
Wrap dough with plastic wrap and chill for at least 4 hours or overnight.
Preheat oven to 165 degrees Celsius and line baking sheet with parchment paper.
Remove dough from fridge and allow to soften for 10 minutes .
Scoop 3 tablespoons of dough and roll into balls and place on parchment paper leaving 2 inches between cookies.
Bake for 10 - 11 minutes. Centre of cookies may look slightly under cooked.
Remove from oven and cool on baking sheet for 5 minutes , then transfer to a cooling rack to cool completely.
Serve immediately or store in air tight container for up to 1 week.
Notes
I used 1/2 teaspoon of red colour paste Chilling the dough for this cookie is essential, if you want a thick cookie. Not chilling the cookie will make it spread more whilst baking.
3.1
https://bakesbychichi.com/soft-baked-red-velvet-cream-cheese-cookies/