The Best Homemade Mango Gelato – this rich and creamy tropical gelato is light and  refreshing. Bursting with ripe mango flavour, this fruity dessert is perfect for hot days. 
When it comes to gelato or ice cream flavours, I keep it simple by going for vanilla, however recently I tried this amazing mango gelato which converted me. And being me, I just had to make some at home. I found this brilliant recipe by Cristina Bowerman multi-talented chef which I adapted to make this mango gelato.
Mango is one of my favourite fruits.  During the summer months, different types of mangoes are available. My favourites are honey, Alphonso and  Kesar mangoes. They are sweet and their pulps are smooth and without stringy fibrous texture. It makes them perfect for making gelato. 
Fresh mangoes are the best, but over my side of the world, quality mangoes can be pricey or sometimes unavailable as they are seasonal. In place of that, you can use frozen chunks or tinned mango puree. 
Gelato is an Italian ice cream. It is made with milk and cream just like ice cream.  However gelato contains a greater proportion of whole milk to cream, whereas ice cream contains more cream than milk. The lower fat content of Gelato allows for flavours to burst through. Which makes it great base for adding in fresh fruits like mango. 
Let's get into making this Mango Gelato
To make the Mango Gelato you will need these ingredients:  
Mango –  Alphonso, Kesar or Honey mangos are absolutely delicious and have so much flavour.  Their flesh is smooth and not stringy which make them perfect for this recipe. You can use either fresh, canned puree or frozen mango chunks. 
Whole milk – The high fat content in whole milk is the key to making creamy ice cream. It prevents large ice crystals forming during the freezing process. I do not recommend using low fat milk as this will make your ice cream too icy and hard to scoop.  
Cream – You can use whipping or double cream. The high fat content in either of these creams coats the ice crystals, preventing them from enlarging. 
Skimmed milk powder – The milk powder absorbs excess water and gives a creamier flavour. 
Sugar – Caster or granulated sugar gives sweetness and adds body to the ice cream.
Liquid glucose – This helps reduce ice crystals, will add body, creaminess and stability to the ice cream. You can substitute it with corn syrup. 
Dextrose or Glucose powder – It  is less sweet than sugar, so by replacing some of the sugar with dextrose, we can make the ice cream less sweet . It also slows the freezing time and helps achieve a silky soft texture.
How to make the Mango Gelato
To start, make the base by heating milk and cream to 45° C.  Add a splash of the warm cream mixture to the glucose and stir until dissolved. Combine the dry ingredients and then whisk into the cream mixture.
Next transfer the gelato base to a bowl and set over an ice bath and whisk until cool. Chill the gelato base in the fridge overnight. 
Pour the mixture into an ice cream maker and churn following the machine's instructions. When the mixture is thickened, transfer to a freezer-safe container and allow to freeze for at least 3 hours.
Store your gelato in an airtight container in the freezer. I found these containers on Amazon they are great for storing the gelato. 
Before serving leave the gelato to come to room temperature for 10-20 minutes before scooping. Enjoy it in a cone. 
For more mango inspired recipes check these out: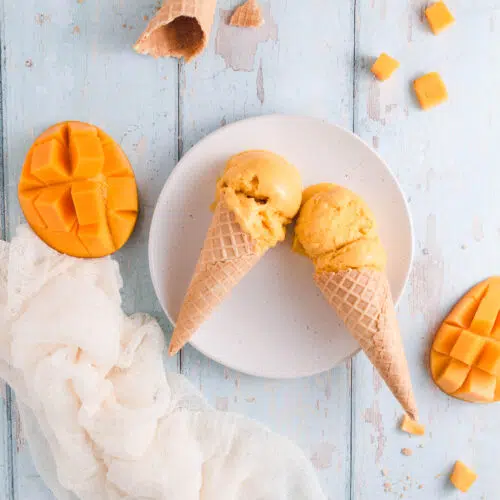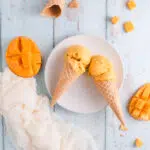 The Best Mango Gelato
This rich and creamy tropical gelato is light and  refreshing. Bursting with ripe mango flavour, this fruity dessert is perfect for hot days. 
Print
Pin
Rate
Equipment
Thermometer

Ice cream maker
Ingredients
325

ml

(1 ½ cups) whole milk

125

ml

(½ cup) whipping cream

2

tablespoons

liquid glucose

2

tablespoons

skimmed milk powder

50

grams

(¼ cup) caster sugar

5

teaspoons

dextrose or glucose powder

3

ripe mangoes

peeled and pureed, or 450 g can mango puree
Instructions
In a large saucepan, mix milk and cream in a saucepan and gently heat to 45°C.

In a small bowl, mix together glucose and a splash of the warm cream mixture. Stir until incorporated. Add the glucose mixture back to the pan.

Mix together milk powder, sugar and dextrose and whisk them into the milk mixture. Keep whisking to dissolve any lumps. Bring the mixture to 85°C and cook out for 5 minutes, stirring continuously. Stir in the mango puree and mix well.

Prepare an ice bath by filling a large bowl with ice and cold water (a metal container will chill faster than glass or plastic). Transfer the gelato base to a bowl and set over the ice bath. Whisk until cool.

Chill the gelato base in the fridge overnight.

Put the cooled gelato base in your ice cream maker and churn according to the machine instructions.

Transfer the gelato to an airtight freezer safe container and freeze for 2-3 hours before serving.
Nutrition Information
Serving:
128
g
|
Calories:
143
kcal
|
Carbohydrates:
22.09
g
|
Protein:
3.56
g
|
Fat:
5.15
g
|
Saturated Fat:
3.024
g
|
Polyunsaturated Fat:
0.263
g
|
Monounsaturated Fat:
1.475
g
|
Trans Fat:
0
g
|
Cholesterol:
16
mg
|
Sodium:
36
mg
|
Potassium:
200
mg
|
Fiber:
0.9
g
|
Sugar:
20.33
g
|
Vitamin A:
782
IU
|
Vitamin C:
20.5
mg
|
Calcium:
71
mg
|
Iron:
0.2
mg
If you made this recipe, I would love to hear from you.
Tag Bakes By Chichi on Instagram or hashtag #bakesbychichi