This tiramisu cake is delicious. It's layers of soft genoise sponge, soaked with coffee syrup, filled with luscious mascarpone cream and frosted with espresso buttercream.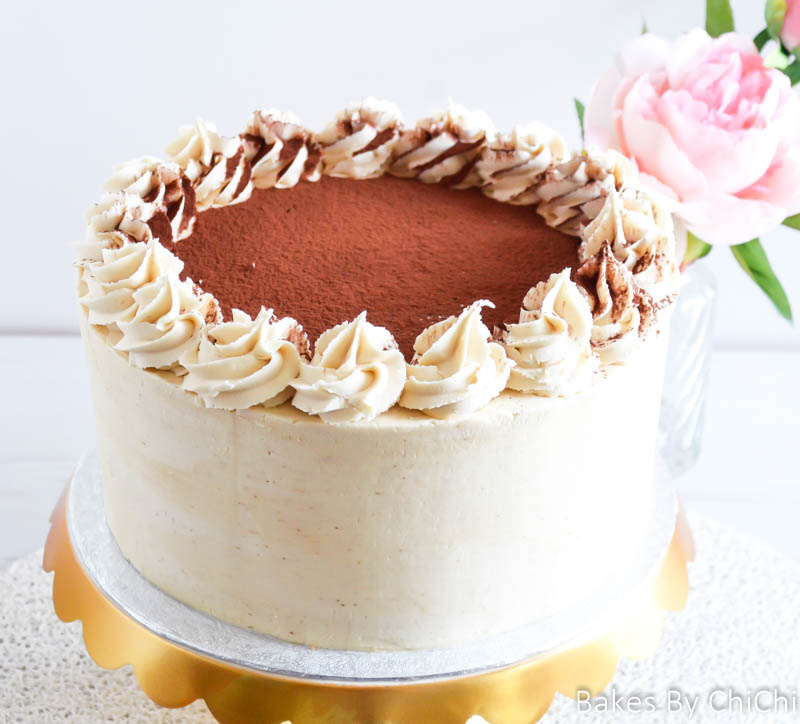 I hope everyone is having a good weekend. It's a bank holiday weekend in the UK, which means a longer weekend.
Speaking of work, I always need a cup of coffee to get me going before I hit that desk. But my daily coffee indulgence does add up. When I was approached to try out some alternative nespresso pods of Gourmesso, I was like yes thank you. No more queuing in the morning for my coffee fix and my purse won't cry as much. My favourite when I tried our the coffee is Soffio Vaniglia. This coffee has a fine vanilla aroma combined with a mild blend of South American Arabica beans and Asian Robusta beans. Did I mention that the altenative nespresso pods of Gourmesso capsules are compatible with Nespresso coffee machines and the capsules are cheaper than Nespresso capsules? I am all about saving money this year.
Not only do I enjoy drinking coffee, I also love using it to bake. Did you know that adding coffee to chocolate cake intensifies the taste of the chocolate??? That's my tip of the day.
Let's discuss this Tiramisu Cake. It started off with a genoise cake.This recipe was adapted from Paul Hollywood's summer fruit genoise. The light tender sponge forms the base for the Tiramisu Cake. Genoise is a dry cake which makes it perfect for soaking with syrups. Some genoise sponges contain no butter or very little butter. To make the perfect genoise cake, start off by beating eggs and sugar until thick and tripled in volume. This creates the tenderness and airiness of the cake. Sift in flour with a pinch of salt and then gently fold the flour into the egg mixture. Finally fold in melted butter. Divide the cake batter between prepared cake tins. Bake the cake batter for 25-30 minutes or until cakes are risen.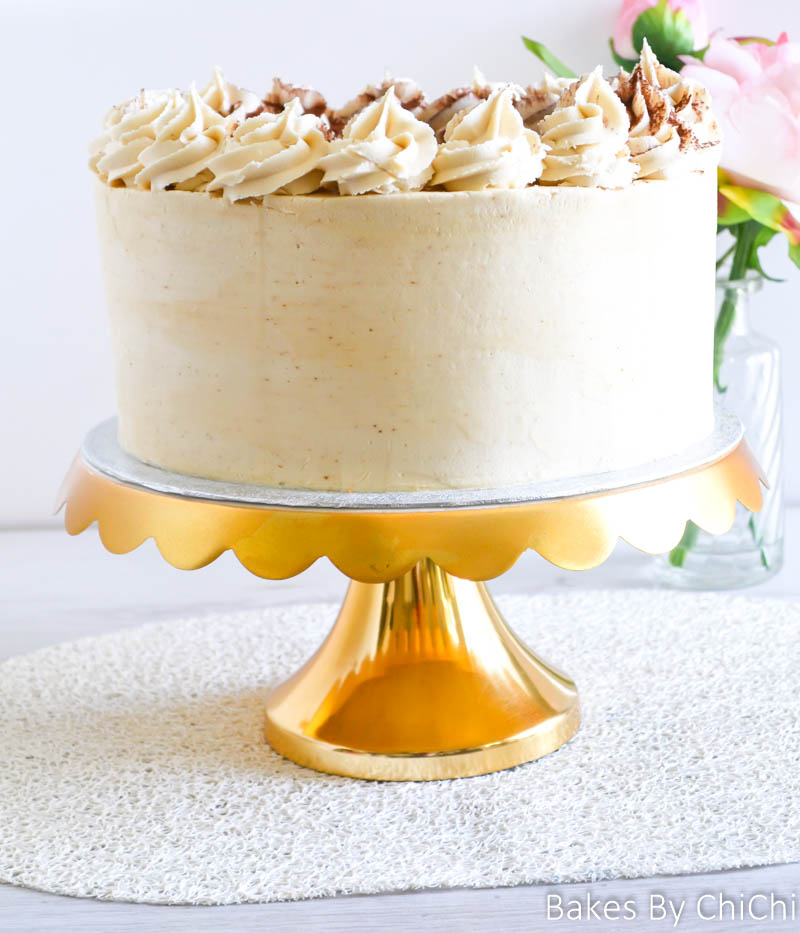 Whilst the cake cooled, I made a cup of espresso with the Gourmesso Soffio Vaniglia capsule. Into a pan, add the cup of espresso, 80 ml of water and 65 g of sugar then bring it to a boil over a low heat. Boil the coffee mixture until it is reduced by half and has a thin syrup consistency. Cool the syrup to room temperature and then brush over the layers of genoise cake.
Next comes the mascarpone cream filling for the layers. The filling is so so delicious. You could eat it all on it's own and forget about the cake. I think if I had to pick my number 1 filling for cakes and desserts then this would be it. I love mascarpone so much so that, I made a tart filled with mascarpone cream. Find the recipe for the strawberry mascarpone tart here.
To make the filling, combine mascarpone cheese, double or whipping cream and icing sugar in the bowl of a stand mixer. I use the whisk attachment and then whisk until thick like firmly whipped cream. Add vanilla and then cover and chill until needed. The filling will keep for up to 2 days.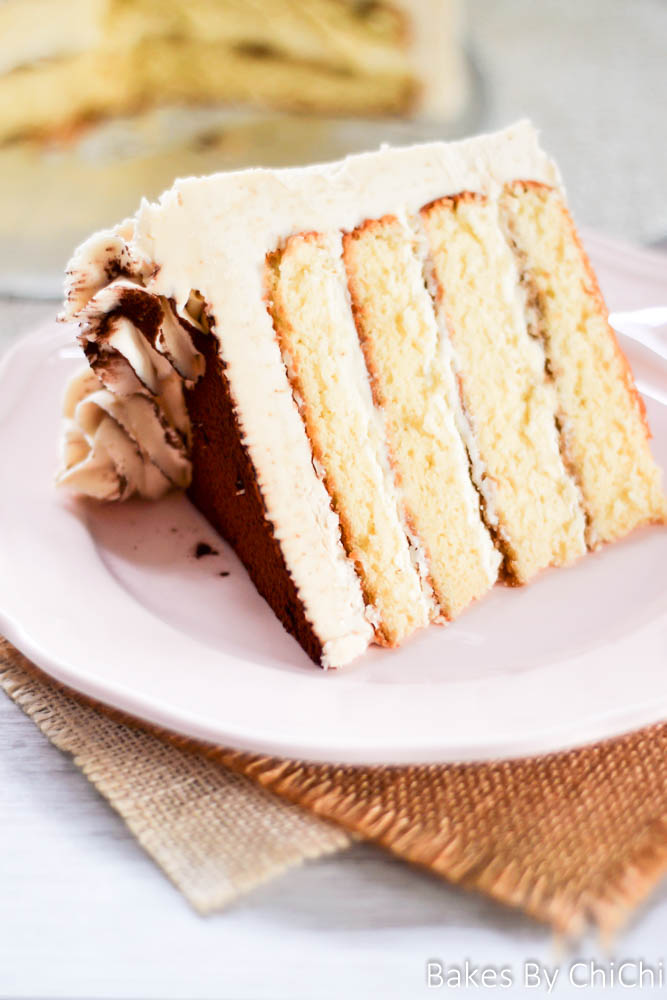 Finally make the espresso buttercream. Make the buttercream by beating butter, trex, icing sugar and whipping cream. Add a teaspoon of espresso.
Now it's time to put the Tiramisu cake together. I split each layer of cake into two. Place a layer of cake on cake board, brush with coffee syrup and then spread or pipe a layer of mascarpone cream. Repeat with the remaining layers of cake. Frost the side and top of the cake with coffee buttercream.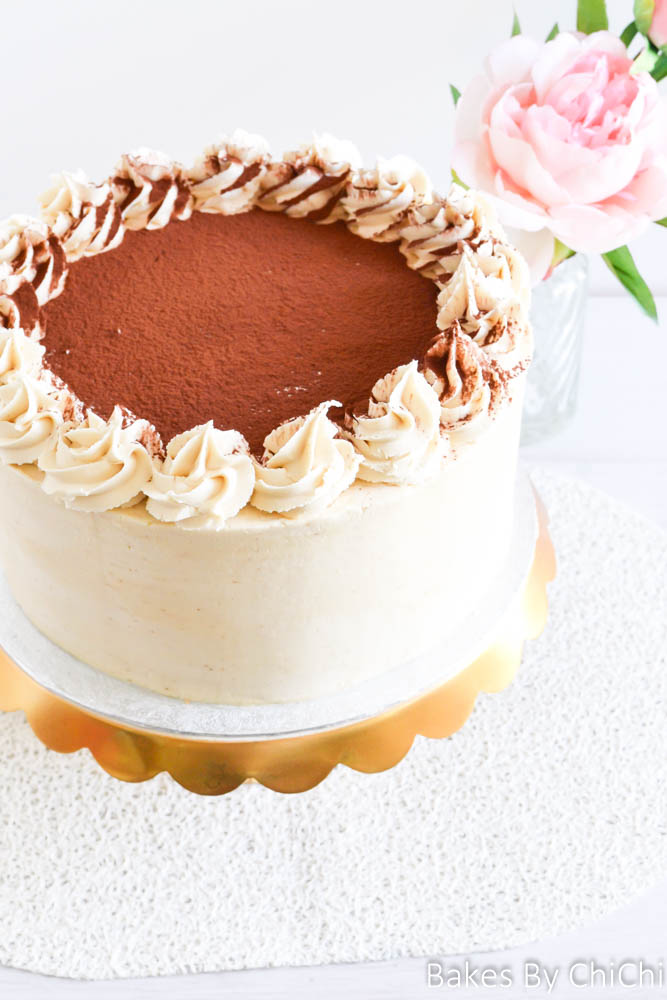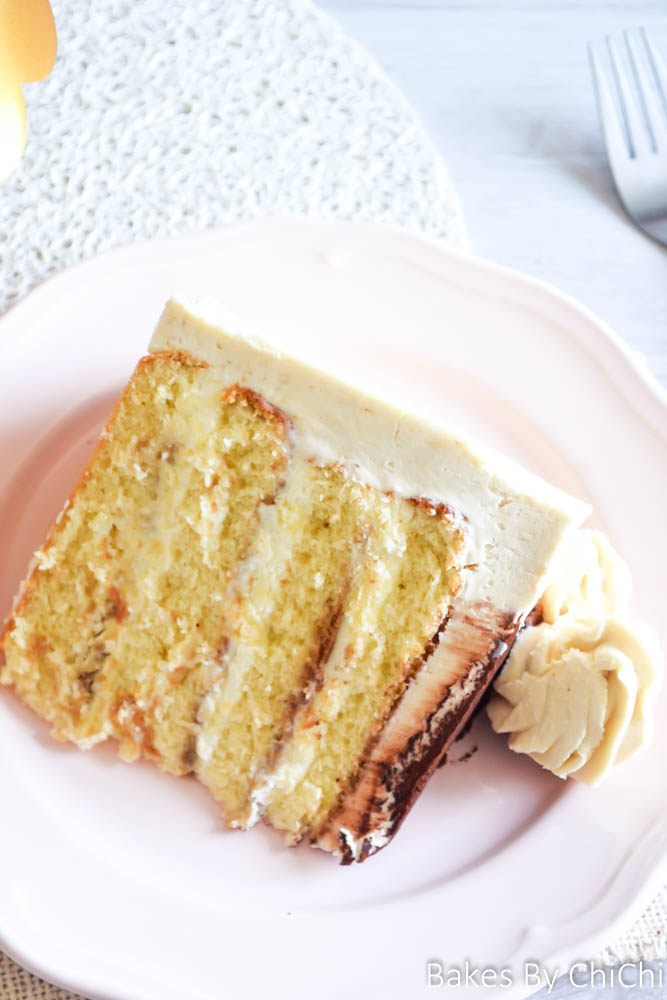 This tiramisu cake is the ultimate coffee fix. With each bite you get the flavour of coffee, soft cake and that luscious mascarpone cream.
Stay up to date with Bakes by ChiChi on:
Facebook | Instagram | Pinterest | Google Plus | Bloglovin
Tiramisu Cake with Espresso Buttercream
Layers of soft genoise sponge, soaked with coffee syrup, filled with luscious mascarpone cream and frosted with espresso buttercream.
Print
Rate
Ingredients
Genoise Cake
250

grams

(1 ¼ cups) caster sugar

8

eggs

250

grams

(2 cups) plain or all purpose flour

pinch of salt

50

grams

butter, melted
Coffee Syrup
30

ml

(2 tablespoons) brewed espresso

65

grams

(¼ cup plus 1 tablespoon) caster sugar

65

ml

(¼ cup plus 1 tablespoon) water
Mascarpone Cream
250

grams

(8.8 ounces) mascarpone cheese

250

grams

(1 cup) double or whipping cream

50

grams

(½ cup) icing sugar
Espresso Buttercream
250

grams

(1 cup) unsalted butter, room temperature

250

grams

(1 cup) shortening (Trex or Crisco)

1

kg

(10 cups) icing sugar, sifted

60-80

ml

(¼-⅓ cup) whipping cream

2

teaspoons

espresso powder
Instructions
Genoise Cake
Preheat the oven to 180°C.

Grease and line two 8 inch round cake tins with parchment or greaseproof paper.

Place the sugar and eggs in a large bowl of a stand mixer and whisk for at least 7 minutes until the mixture has trebled in size, thick and is pale.

Sift flour and salt together over the mixture and fold in gently, keeping in as much air as you can. Gently fold in the melted butter.

Divide the cake batter between prepared cake tins and bake for 25- 30 minutes or until the cakes are risen and springy to the touch. Remove from the oven and set aside to cool. When cool enough to handle, turn out on to a wire rack to cool completely.
Coffee Syrup
Stir espresso, water and sugar in a saucepan over a low heat until sugar has completely dissolved. Bring coffee syrup to a boil over medium heat, stirring frequently. Remove from heat and allow to cool completely before using.
Mascarpone Cream
In the bowl of a stand mixer fitted with a whisk attachment or using a hand whisk, whip mascarpone cheese, whipping cream and icing sugar, until thick, soft peaks form.
Espresso Buttercream
In bowl of mixer cream butter and shortening until light and creamy, about 5 minutes.

Sift in icing sugar and espresso powder. Beat well until combined. As frosting thickens add whipping cream.

Beat until frosting is light and fluffy.
Assemble Cake
Split cakes into two. Spread a thin layer of buttercream on the cake board.

Place the first layer of sponge on a 8 inch thin cake board, flat size down. Brush the cake with coffee syrup using a pastry brush (repeat this process with remaining layers of cake).

Place one layer of cake, flat side down on top and plop a big dollop of mascarpone cream in the middle. Spread the mascarpone cream carefully. Once it is nice and flat, stack the second cake, flat side down and spread another generous amount of mascarpone cream then repeat with the third cake. Then place final cake, flat side down.

Spread a thin layer of coffee frosting on the sides and then top of cake. It helps to use a turntable when frosting a cake. Hold a scraper flat against the side of the cake and then turn the turntable and scraper to make a nice, smooth coat of buttercream. Smooth the top of cake with scraper, drawing the peaks off the top edges of cake into the centre.

Chill crumb coated cake in fridge for 30 minutes until buttercream is nice and firm.

Once cake is chilled, cover evenly with buttercream using an off set spatula and then use a scraper to smooth the edges. Pipe decorative borders if desired. Dust the top of the cake with cocoa powder.
If you made this recipe, I would love to hear from you.
Tag Bakes By Chichi on Instagram or hashtag #bakesbychichi