The classic French crêpe is light and delicious. Perfect for any occasion, these delicate pancakes pair beautifully with sweet or savoury fillings.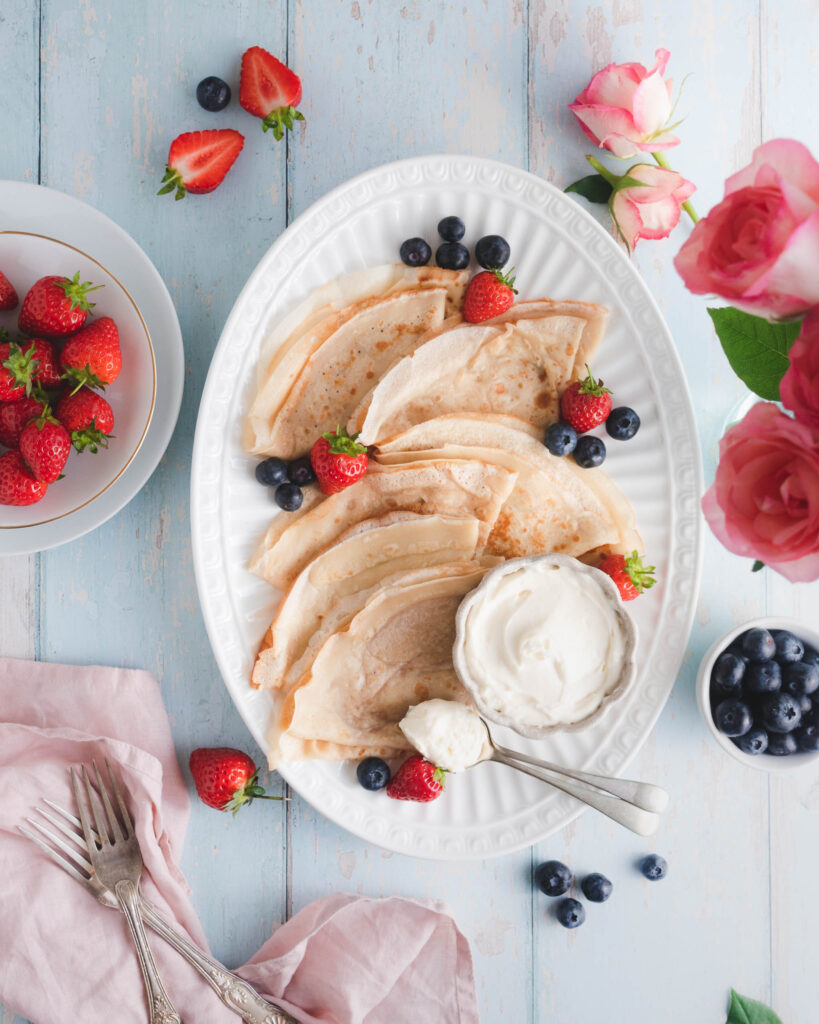 At least twice a month, I make crêpes. They sound fancy, don't they? But are so easy to make and you don't need any fancy equipment. I will be walking you through the steps in making these thin, delicate French pancakes. Once you get the hang of making the batter, it's smooth sailing.
What are Crêpes?
They are thin delicate French pancakes which can be eaten anytime of the day. It can either be a sweet or savoury dish. The crêpe batter does not contain any leavening agent. It is so thin, that when poured into a pan, you should be able to twirl the batter round the bottom of it.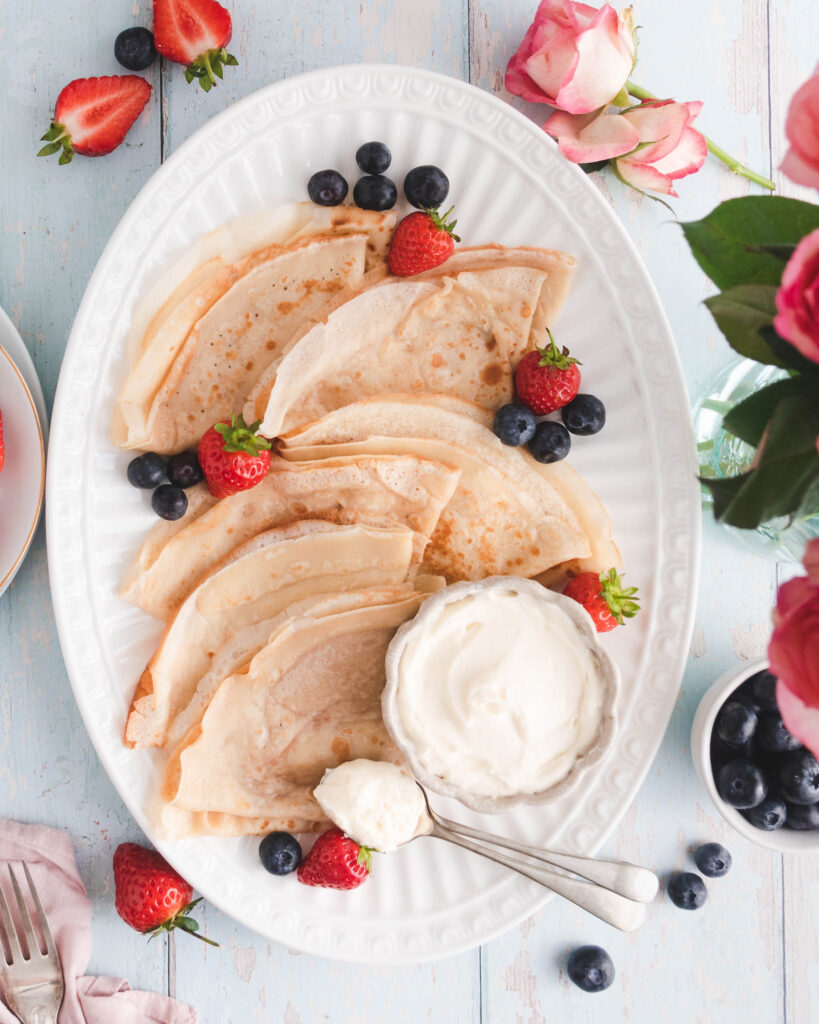 How to make Crêpes
The main ingredients for crêpes are flour, sugar, eggs, salt, milk, water, vanilla extract and melted butter. Add all the ingredients except the melted butter into a blender and give it a blend. If you don't have a blender, the batter can be made the traditional way, using a mixing bowl and whisk.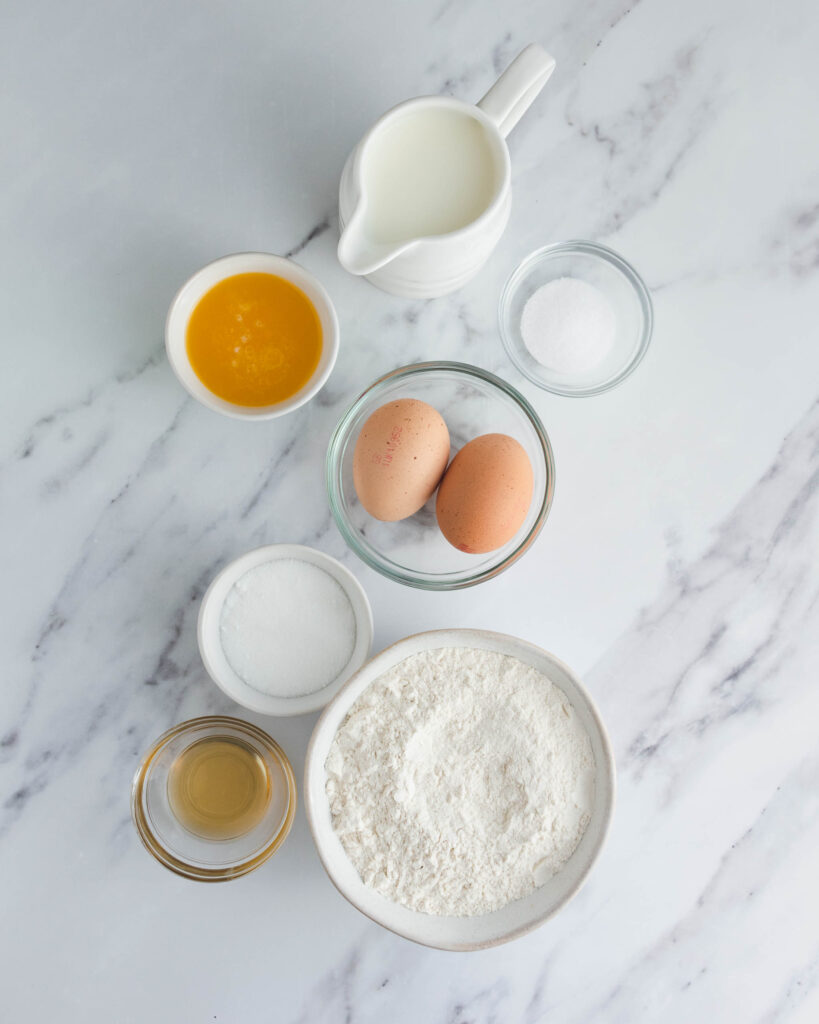 Let the batter rest for at least 30 minutes at room temperature. This allows the gluten in the flour to relax and allows it to fully absorb the liquid. Keep the batter in the fridge, if resting for more than 30 minutes. The batter can also be made the night before. You do not have to bring to room temperature before using. If the batter gets thick, thin with a tablespoon of water at a time, until it is thinned to the right consistency. Just before cooking, mix in the melted butter.
Heat a crêpe pan or a frying pan on medium heat. I use a 9 inch crêpe pan which takes 1/3 cup of batter per crêpe . If you are using a smaller size pan, reduce the amount of batter. Brush with melted butter and wipe off any excess using a paper towel. Pour the batter into the pan with either a measuring cup or ladle.
Cook the crêpe for one minute and then flip with a spatula and then fry the other side for 30 seconds.
Tips for Crêpes Success
Get the right consistency batter. Crêpe batter is thinner than your regular pancake batter. You want it thin enough so when you tilt and rotate the batter around the pan it quickly covers the bottom with a thin layer of batter.
Rest your batter. This allows the gluten to relax.
Cook your batter in a crêpe pan (*affiliate link). It makes a big difference in how thin you will be able to spread the batter.
Fry the crêpe with melted butter. It gives crispy edges and adds amazing flavour. With a pastry brush or paper towel coat the pan lightly with melted butter.
Lift and twirl the pan from so the batter coats the bottom of the whole pan evenly.
Topping and Fillings
There are a long list of toppings and fillings to serve with your crêpes.
Icing sugar
Whipped cream
Ice Cream
Fruit: Sliced strawberries, Raspberries, Chopped Mango, Blueberries and Bananas.
Sauces: Salted Caramel, Strawberry Sauce, Raspberry Sauce, Maple Syrup, Golden Syrup and Honey
Spreads: Nutella, Peanut Butter, Jam or Conserve.
Alcohol: Crêpes Suzette is one of the best known French desserts. The crêpes are swirled in a delicious orange sauce and then flambeed with a orange liqueur and brandy.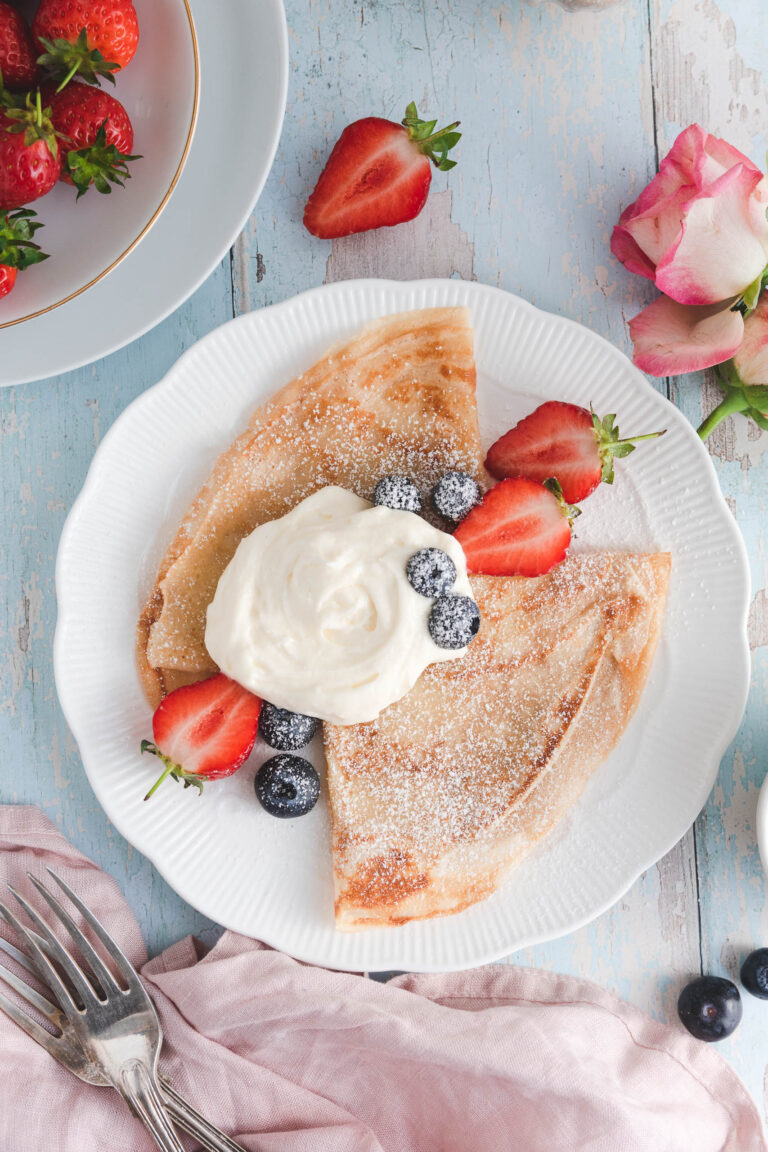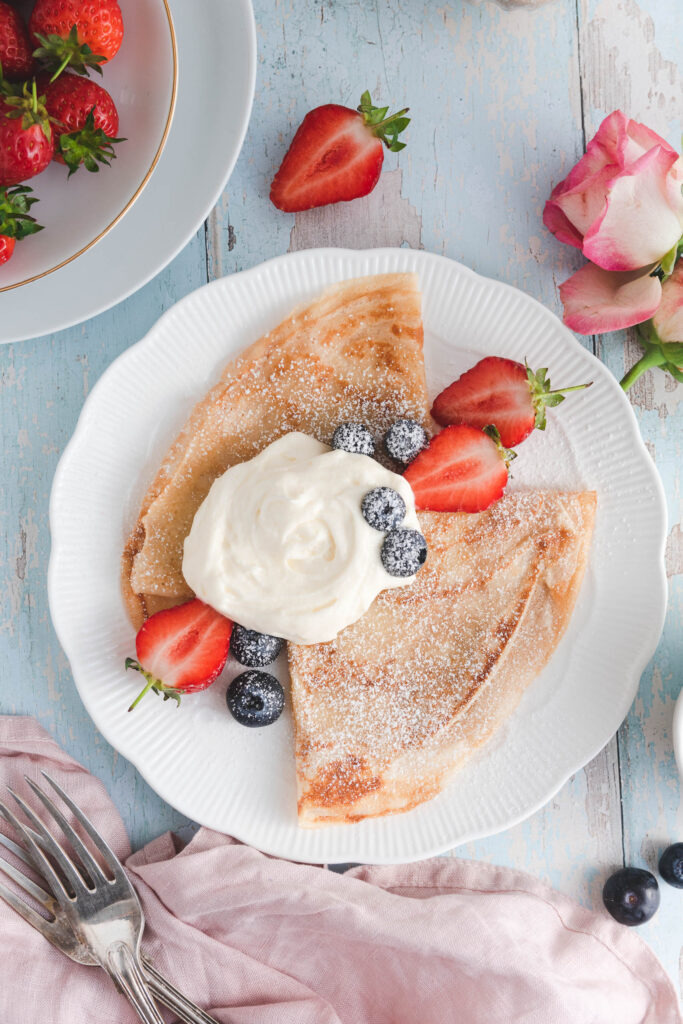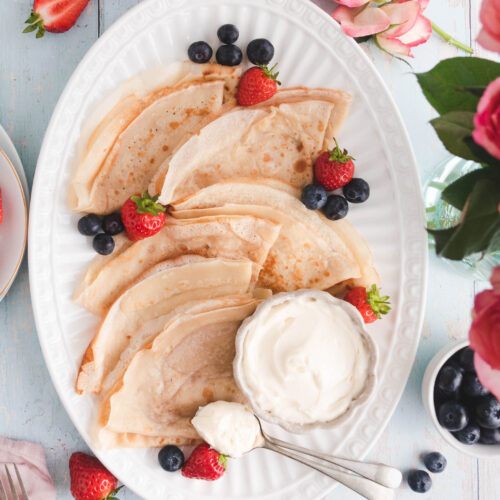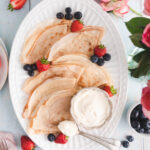 How to Make Classic French Crêpes
The classic French crêpe is light and delicious. Perfect for any occasion, these delicate pancakes pair beautifully with sweet or savoury fillings.
Print
Pin
Rate
Ingredients
120

grams

(1 cup) plain flour

2

tablespoons

caster or granulated sugar

¼

teaspoon

salt

240

ml

milk, room temperature

60

ml

(¼ cup) water

2

tablespoons

unsalted butter, melted, plus more for frying
Instructions
With a Blender
Add flour, sugar, salt, milk, eggs, water and vanilla extract to the blender. Blend on medium speed for 30 seconds until everything is combined. Pour into a large mixing bowl. Cover with cling film and leave to rest for 30 minutes. If making the night before, then chill in the fridge for up to 1 day.
Without a Blender
Beat eggs and set aside.

Add flour, sugar, and salt to a bowl. Whisk together to combine.

Make a well in the flour mixture and pour in the beaten egg. Using a whisk beat the eggs, bringing in a little flour until it is all incorporated. Slowly whisk in the milk and water into the mixture to make a smooth batter. Mix in vanilla extract. Leave batter to rest for 30 minutes.

Heat a crepe pan over medium heat. Stir in the melted butter into the crêpes batter. Brush the hot pan with a little extra melted butter and pour or scoop batter onto the pan. Tilt and rotate the pan to cover the bottom with a thin layer of batter. Cook for about 1 minutes until the top is set and the underside of crepe is golden brown. With a rubber spatula, loosen the edge of crepe and then carefully turn over and cook for 30 seconds , just to set. Turn out onto a plate.

Continue cooking remaining batter, stirring the batter occasionally. Brush the pan with a little melted butter when necessary.

Keep the crepes from sticking by placing a sheet of plastic wrap between each crepe.

Serve crêpes warm with your favourite fruits and fillings.
Notes
The crepes batter can be made the night before.  Cover mixing bowl tightly and store in the fridge until ready to cook. Batter will keep for up to  day. 
If the batter thickens, add a little milk or water to thin. 
Leftover cooked

crêpes can be stored in the fridge for up to 2 days. Re-heat in the microwave for 30 seconds to 1 minute. 
Nutrition Information
Calories:
1002
kcal
|
Carbohydrates:
127.3
g
|
Protein:
31.6
g
|
Fat:
40.9
g
|
Saturated Fat:
22.1
g
|
Cholesterol:
413
mg
|
Sodium:
970
mg
|
Potassium:
602
mg
|
Fiber:
3.2
g
|
Sugar:
37.8
g
|
Vitamin C:
349
mg
|
Calcium:
349
mg
|
Iron:
7
mg
If you made this recipe, I would love to hear from you.
Tag Bakes By Chichi on Instagram or hashtag #bakesbychichi