Grilled sweet and spicy barbecue chicken wings packed full of flavour. Serve these delicious chicken wings as an appetiser or as part of a meal.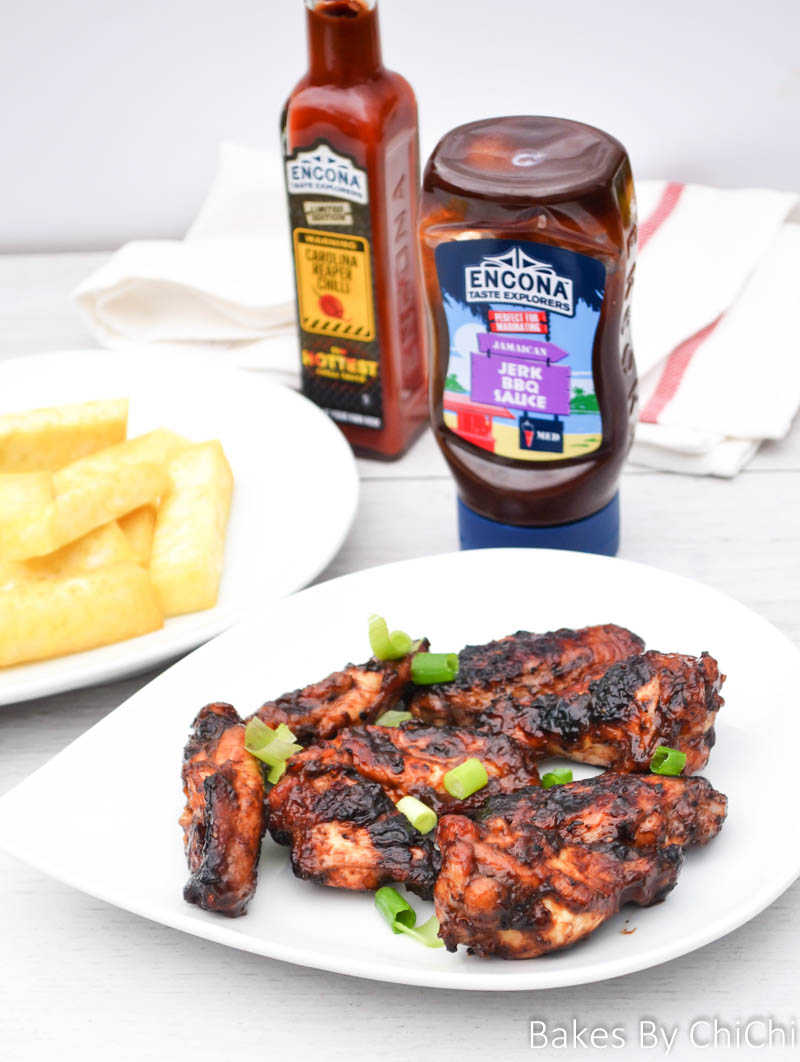 Summer is all about barbecues.  I live for grilled steaks marinated with suya pepper, seafood, and chicken. Nothing beats the smokey flavour that coal barbecues adds to meats grilled over it.
When it comes to barbecued meats, grilled chicken wings is always a winner.  The preparation of the chicken doesn't take long and can be marinated with vast array of spices and sauces.
There was this debate not to long ago about whether to rinse or wash chicken or not. I have always rinsed my chicken, and will keep doing it.  I start off by soaking the chicken wings in a solution of water and lemon juice for a few minutes. The chicken wings are rinsed off with cold water and then left to dry off in a colander before seasoning. Dry the chicken wings with a kitchen towel if you are pressed for time.
To give the chicken wings flavour, I used an array of dried spices.  I prefer to use dried spices when grilling chicken over a barbecue.  Garlic powder, ginger powder, salt, black pepper and Schwartz seasoning were used to season the chicken and left to marinate for about an hour while the barbecue was being lit.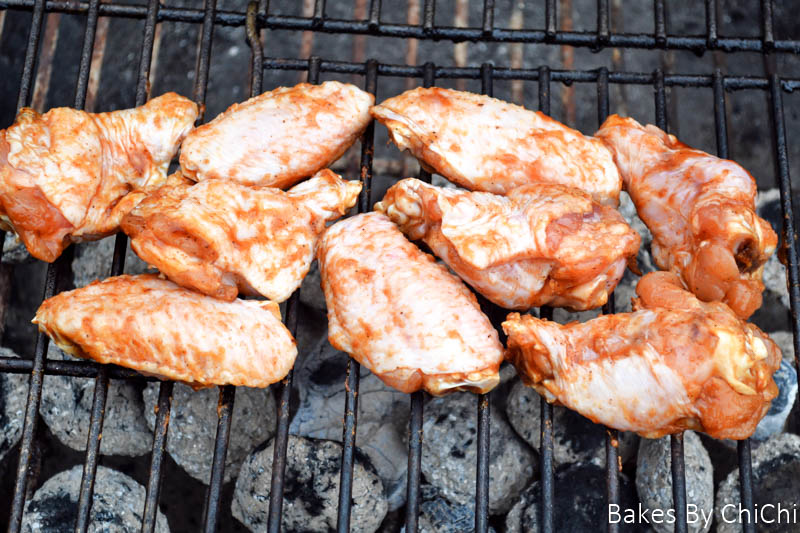 For grilling we use a kettle barbecue.  If you enjoy smokey flavours in your meat, then the kettle barbecue is for you. I am so rubbish at lighting barbecues, so I get my Mr to do that bit for me. He used briquettes as they burn slow.  It takes about 20 to 30 minutes to get the barbecue ready for grilling.
In July,  I received three Encona sauces to try out. Peri Peri Sauce, Jerk Barbecue Sauce and their new Carolina Reaper Chilli.  My honest opinion ….these three sauces are wonderful. I would absolutely recommend them to anyone.
Just before the chicken went on the barbecue I coated them with about 3 tablespoons of Encona Jerk Barbecue Sauce. The sauce gave the chicken the sweet and subtle spice I wanted. I would describe this sauce as a rich sweet barbecue with a hint of unmissable jerk seasoning.  The jerk barbecue sauce also doubles as a dip.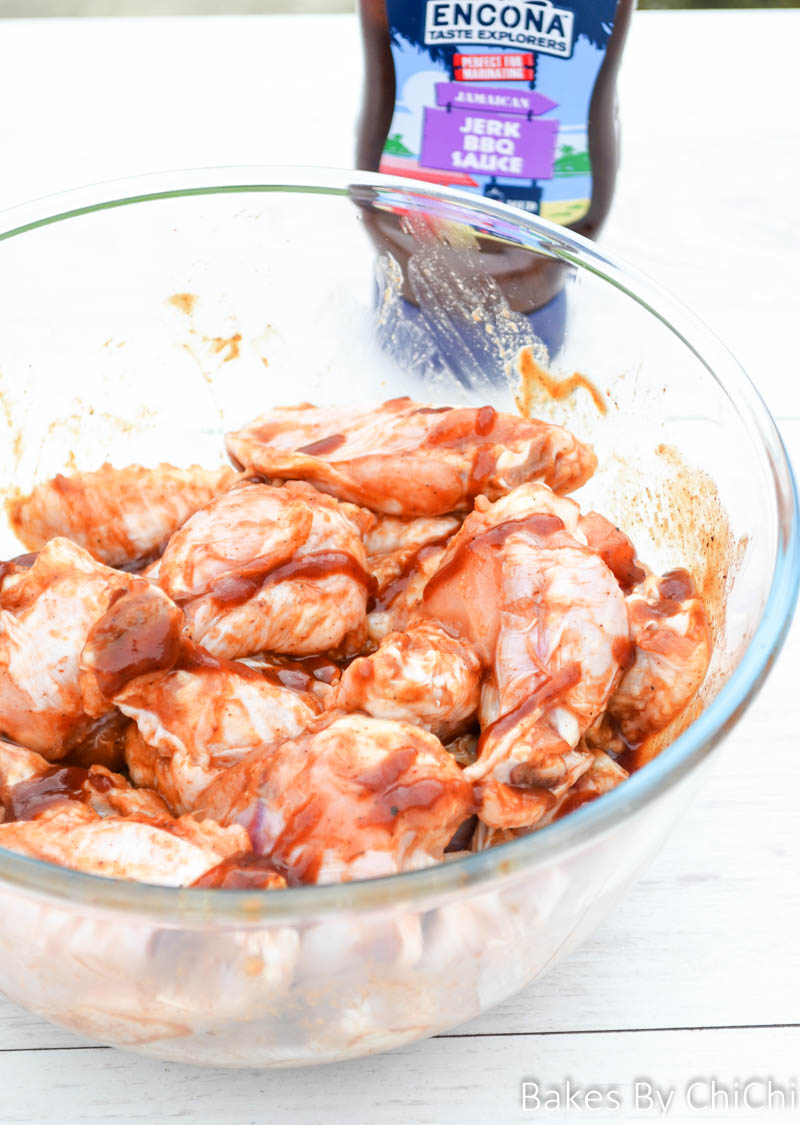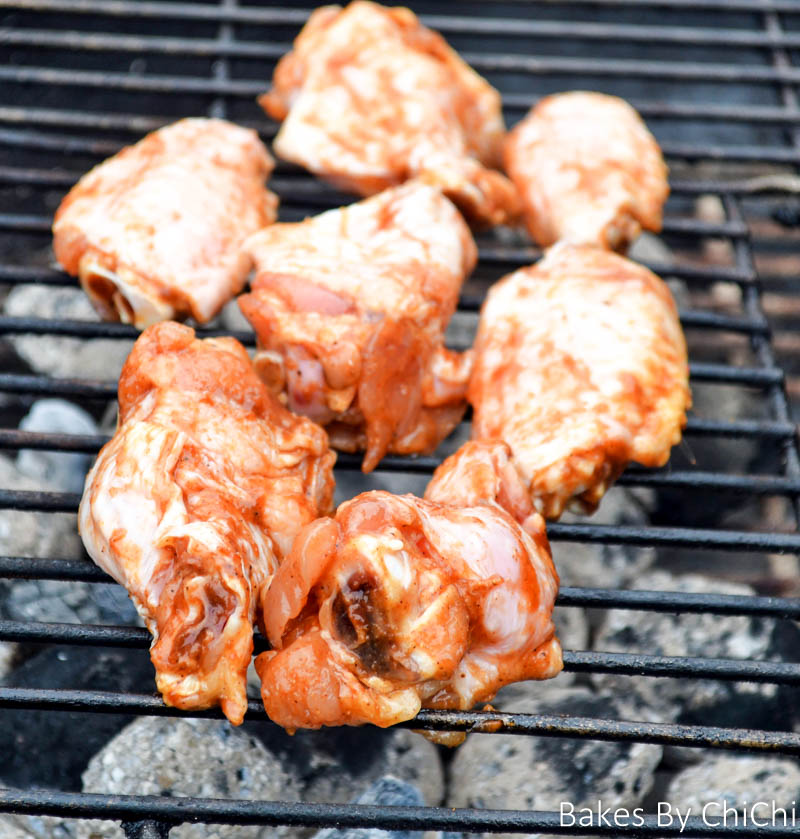 When the coal is ready, cook the chicken for about 3-5 minutes on direct heat then turn.
From then on it's just a matter of watching the chicken as it cooks. Grill the chicken on direct heat for about 10 minutes, then grill on indirect heat with the lid of the barbecue closed. It took about 20-25 minutes to grill the chicken. It all depends on how soft you like your chicken.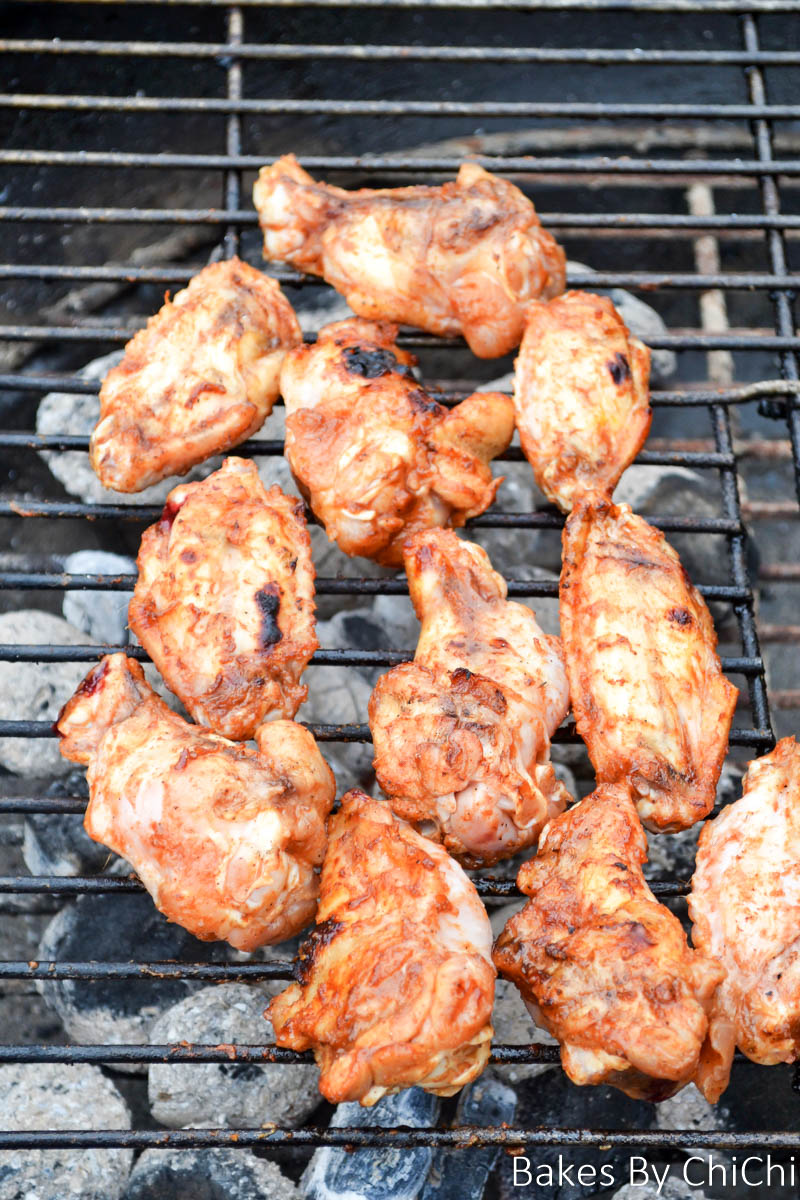 Whilst the chicken was grilling, I made some yam chips to go with it. Peel and cut yam into thick rectangular chunks and soak in cold salty water. I like my yam chips crunchy on the outside yet soft inside. To achieve this , I poured oil  into my chip pan and heated until hot. Add the yam and then turn down the heat of the cooker. I fry the yam chips for about 12- 15 minutes or until cooked.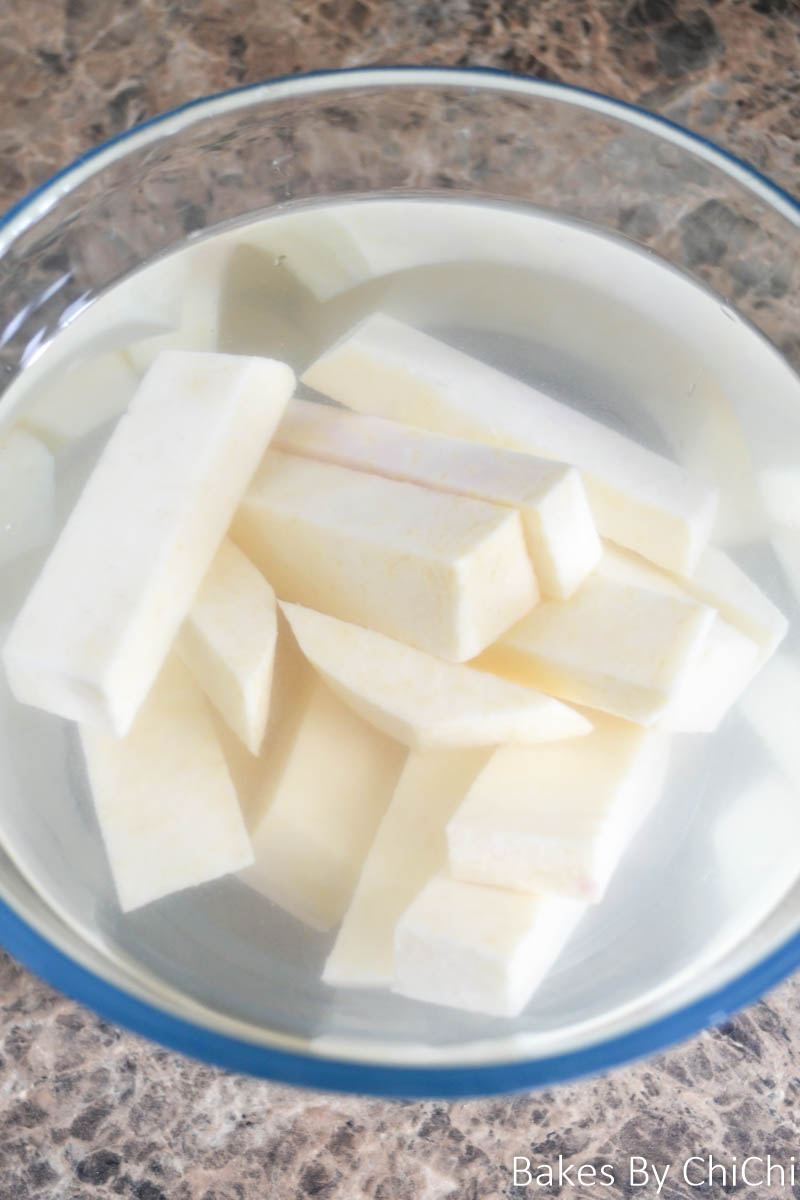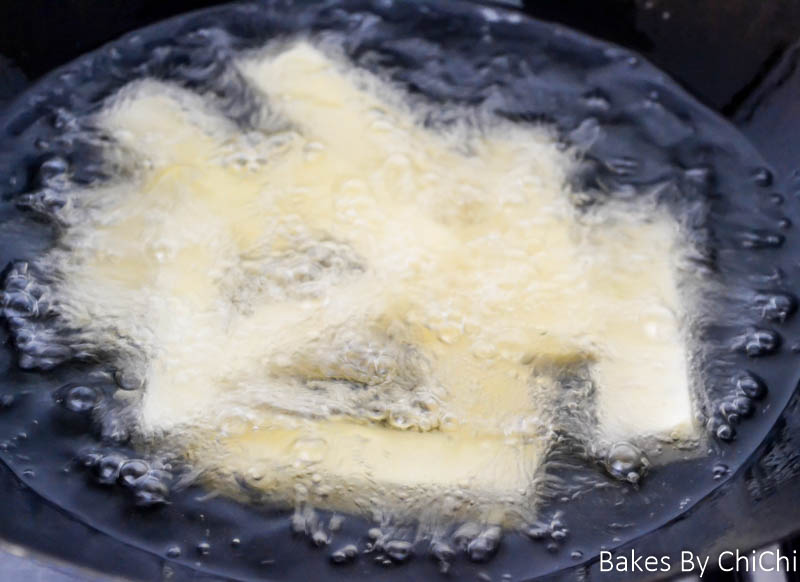 After grilling the chicken, toss them in Encona Jerk Barbecue Sauce.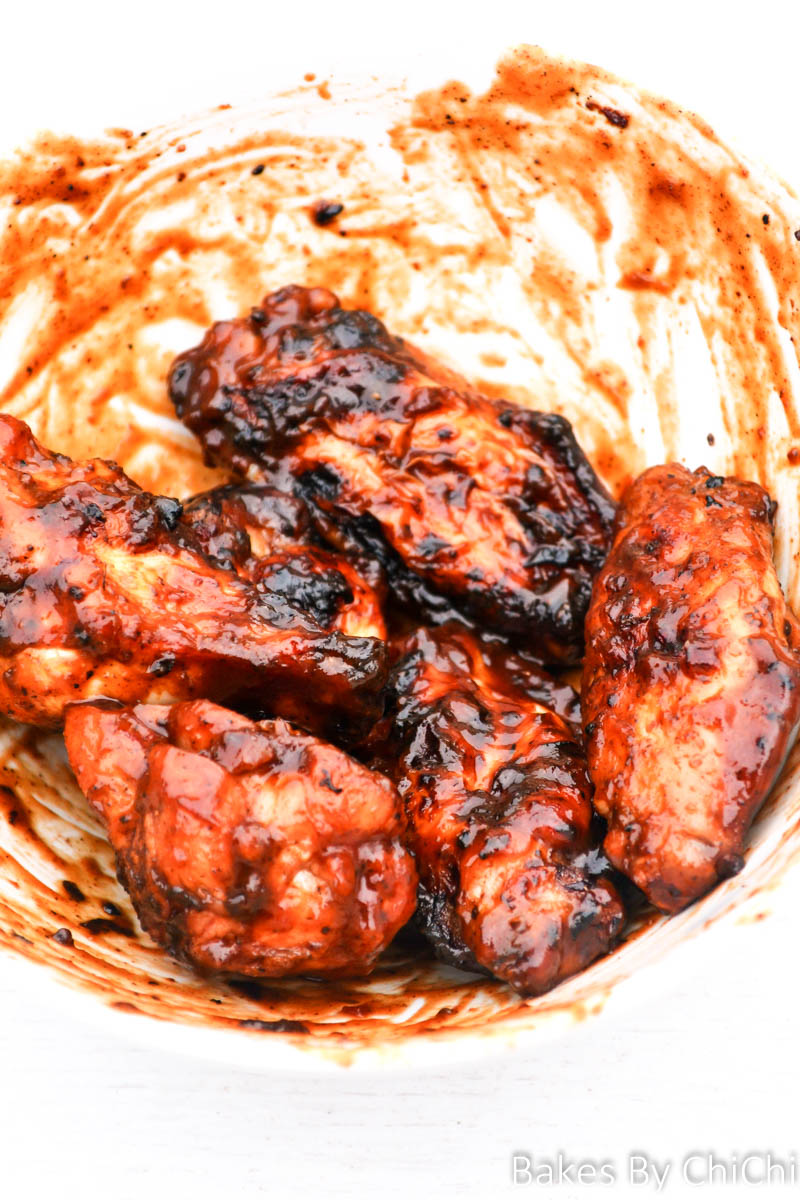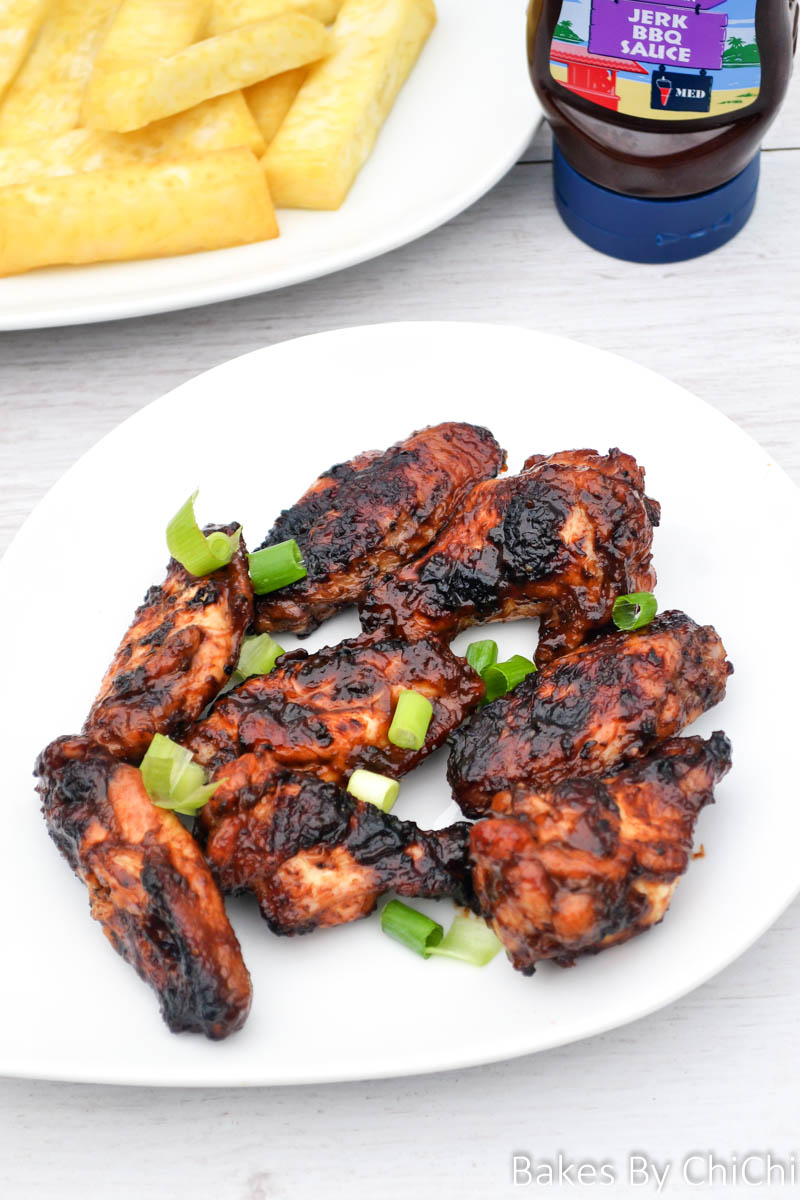 To serve the yam chips with, I needed a hot peppery dipping sauce. For that, I used the Carolina Reaper Chilli. This sauce comes with a warning label. For someone who loves spicy food, this sauce has the right amount of heat without being overpowering and surprisingly has flavour.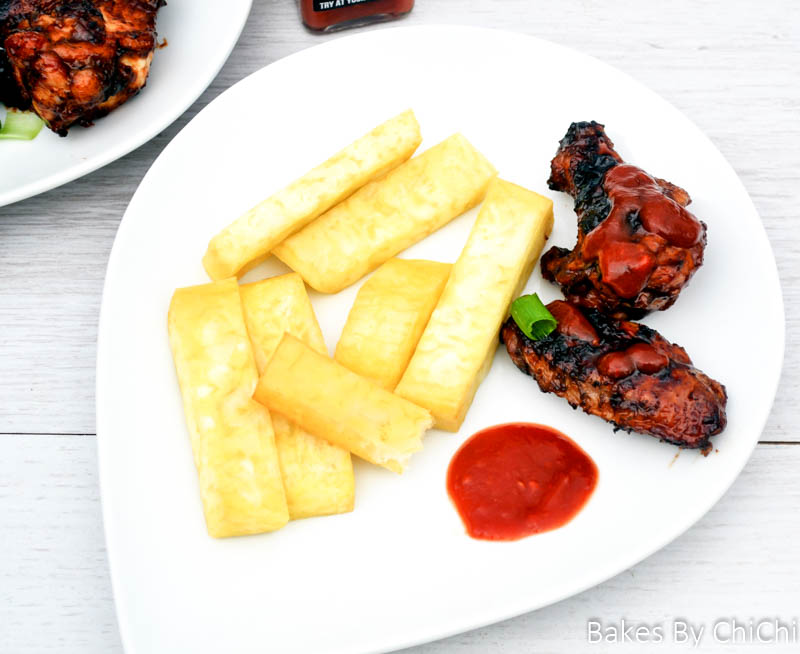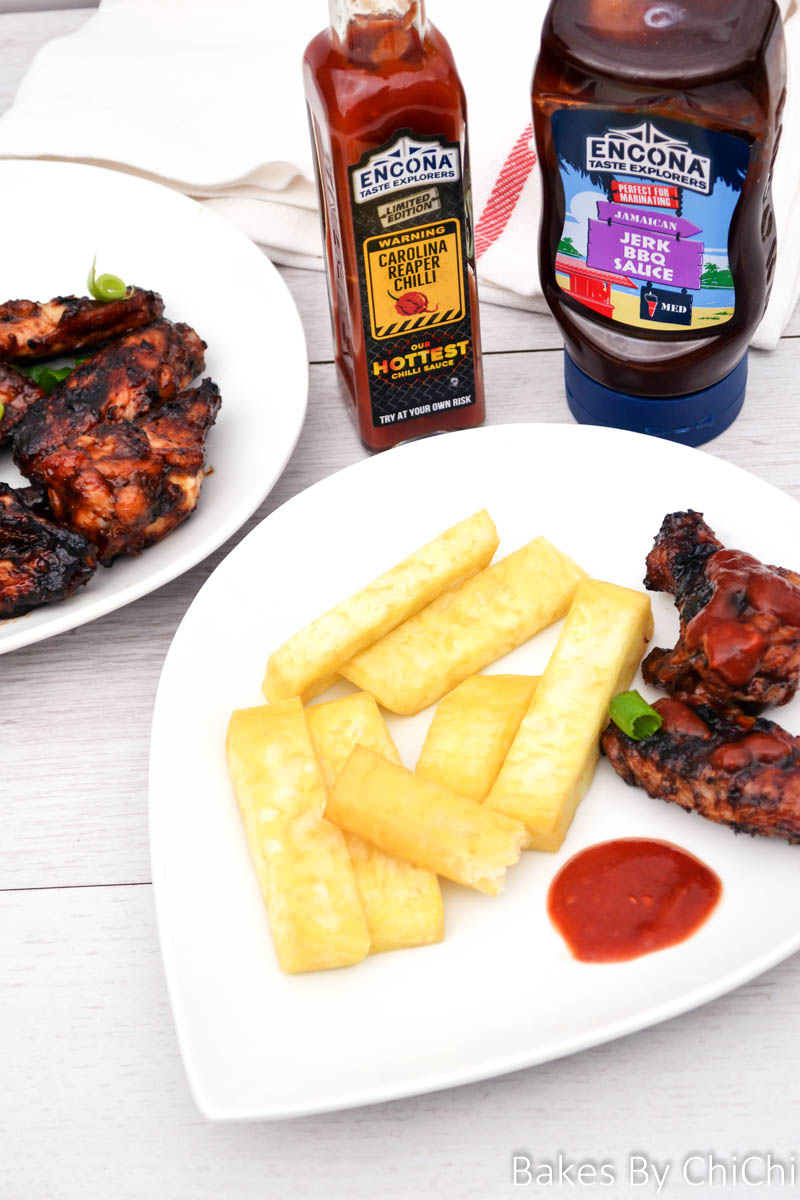 These chicken wings are juicy and have the perfect balance of sweet and spicy flavours.
Sweet and Spicy Barbecue Chicken Wings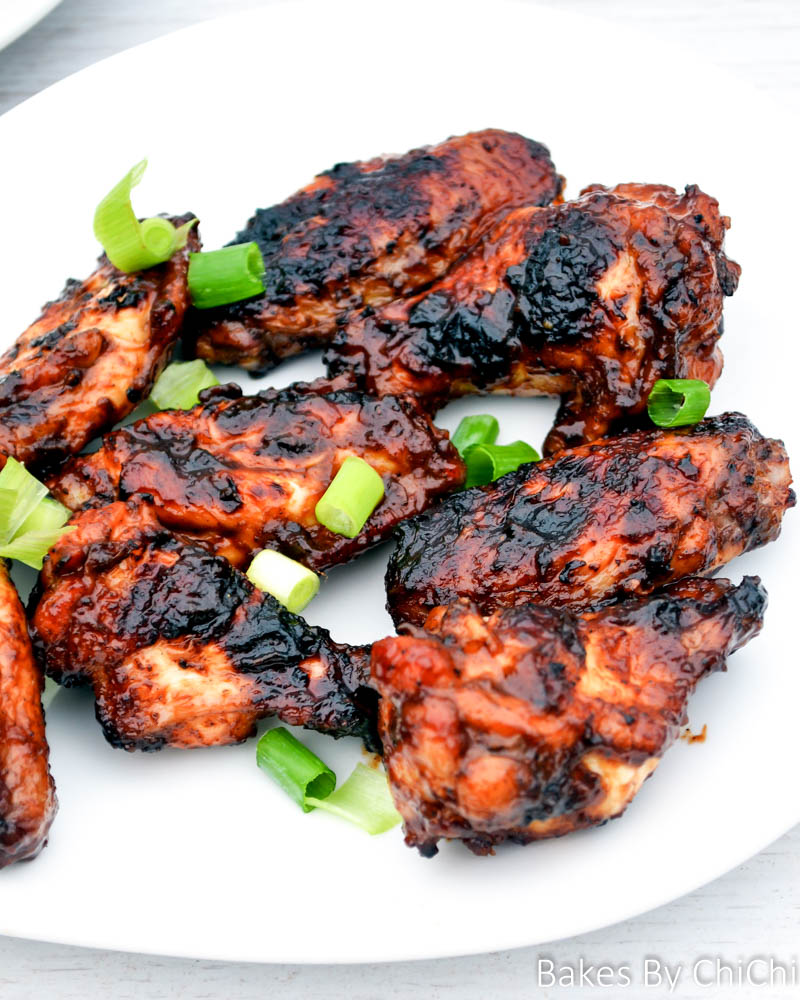 Ingredients
1.2 kg (2.2 lbs) chicken wings
2 teaspoons garlic powder
1 teaspoon ginger powder
1 teaspoon ground black pepper
2 teaspoons Schwartz season all
salt to taste
6 plus tablespoons encona jerk barbecue sauce, divided use
Instructions
Wash chicken wings with lemon juice and water. Dry the chicken wings with a kitchen towel.
Place chicken in a large mixing bowl and season with garlic powder, ginger powder, black pepper, schwartz season all, salt and three tablespoons of encona jerk barbecue sauce.
Leave to marinate for 1 hour, whilst you prepare the grill.
Light the grill up and wait until there is a film of ash covering the coal, this should take about 20 -25 minutes.
Drizzle chicken wings with a little oil (to stop it from sticking to the grill).
Place chicken wings on the grill. Grill on one side for 3-5 minutes then flip and cook for another 3-5 minutes.
Move the chicken away from the direct heat and grill the wings with the lid closed over indirect medium-high heat until the meat is no longer pink at the bone, for about 20 to 25 minutes, turning once or twice.
Remove from grill and mix with remaining encona jerk barbecue. Add a drizzle of carolina reaper sauce for more heat.
3.1
https://bakesbychichi.com/sweet-spicy-barbecue-chicken-wings/