This Mixed Berry Mascarpone Cake is layers of  genoise cake soaked with vanilla sugar syrup, filled with mixed berry compote and mascarpone cream.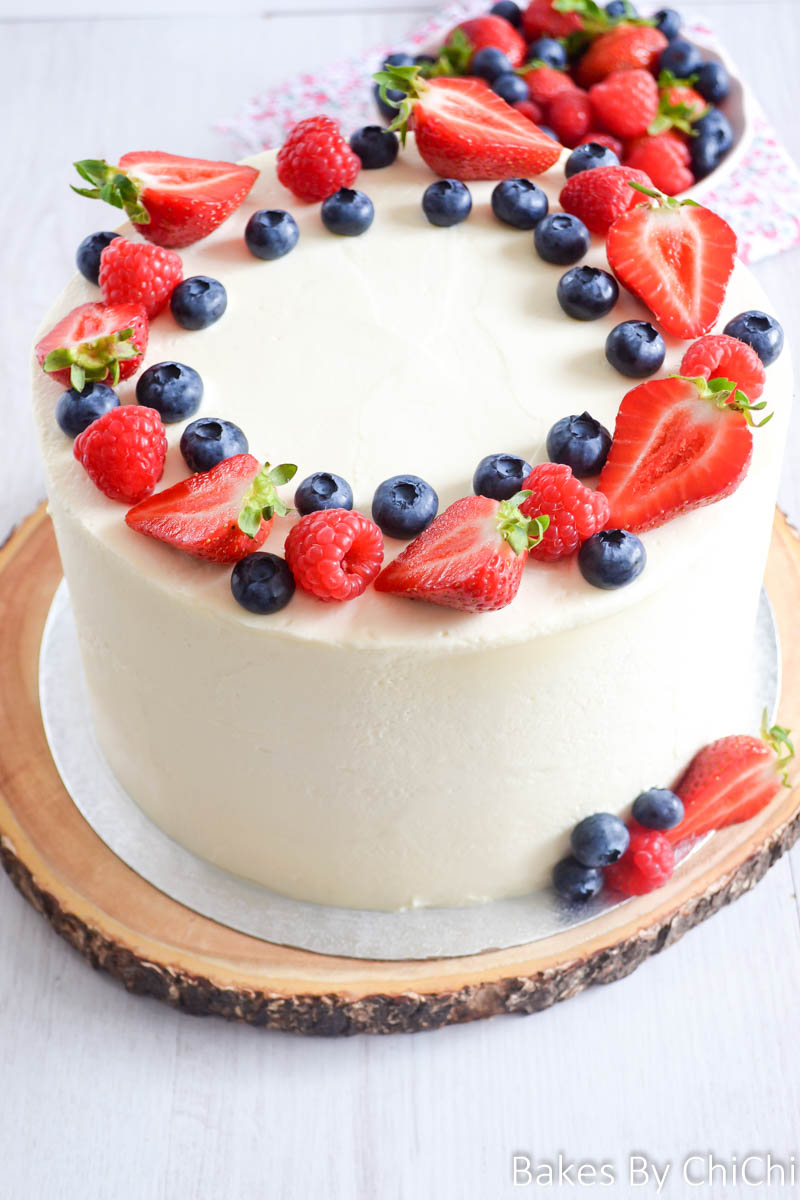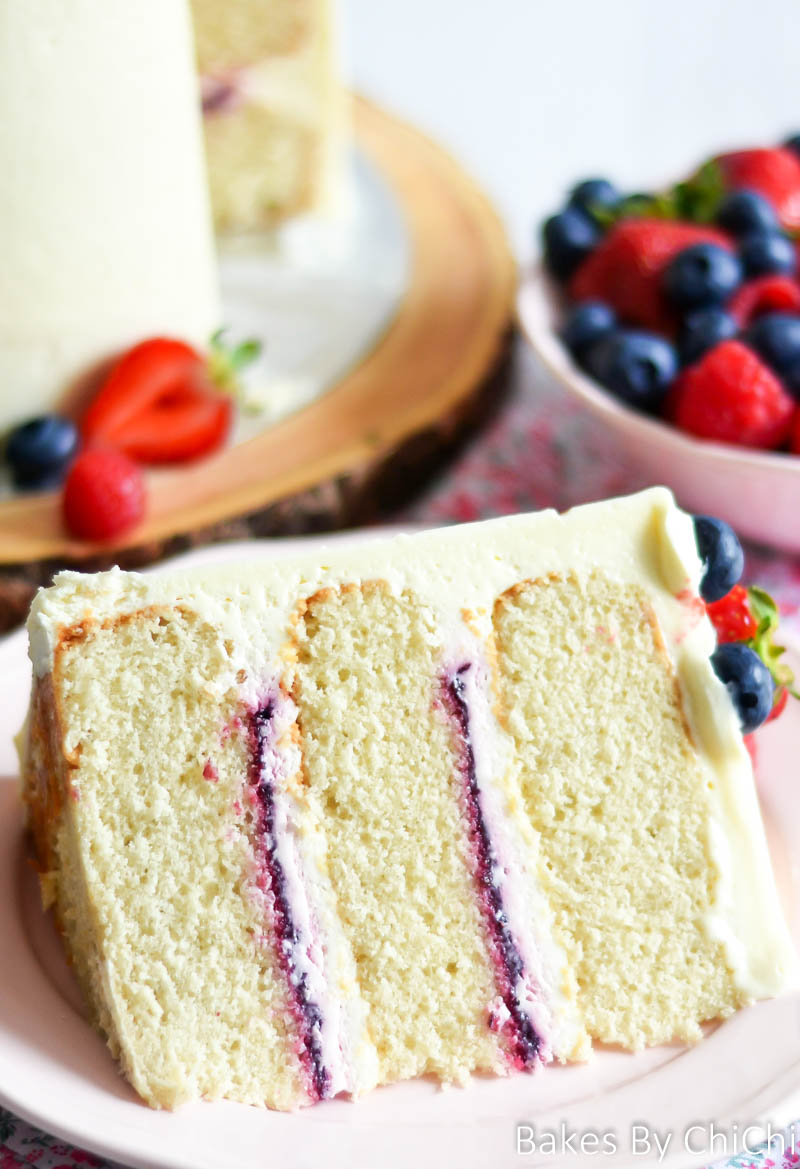 Hello September!!!  Hope everyone had a good summer. I know I did.
My daughter turned double digits. The big number 10. I remember bringing home this 7lbs 6oz baby who would not stop crying. In a years' time she will be off to secondary school. It's hard to take in that both my children are double digits. My son is almost 14. This is a lot to absorb. Where have the years gone?
With berry season  almost over I thought I would share this mixed berry mascarpone cake. Summer is always the best time to bake with berries. It's in abundance and not that expensive.
The cake starts off with a genoise sponge. This Italian sponge is light and tender. What I love about this cake is that it is not overly sweet which makes is ideal for soaking with syrups.  I used a simple vanilla sugar syrup to soak my cake with. To infuse the syrup into the genoise sponge,  brush the cake generously with the syrup using a pastry brush. Alternatively infuse the genoise sponges with liqueurs like amaretto, baileys or rum.
Another reason why I love genoise sponge is because it pairs perfectly with fruit. For this cake I used a variety of berries to make a compote. Strawberries, raspberry, blueberries, blackberries and cherries were pureed using a food processor and then cooked with sugar, lemon juice and corn starch until sauce has thickened.  The sauce was left to cool to room temperature before using.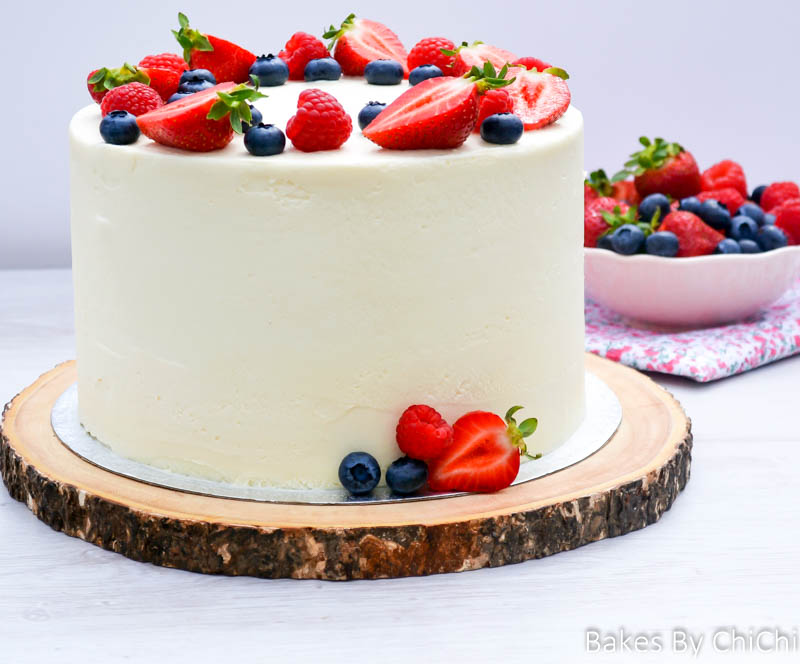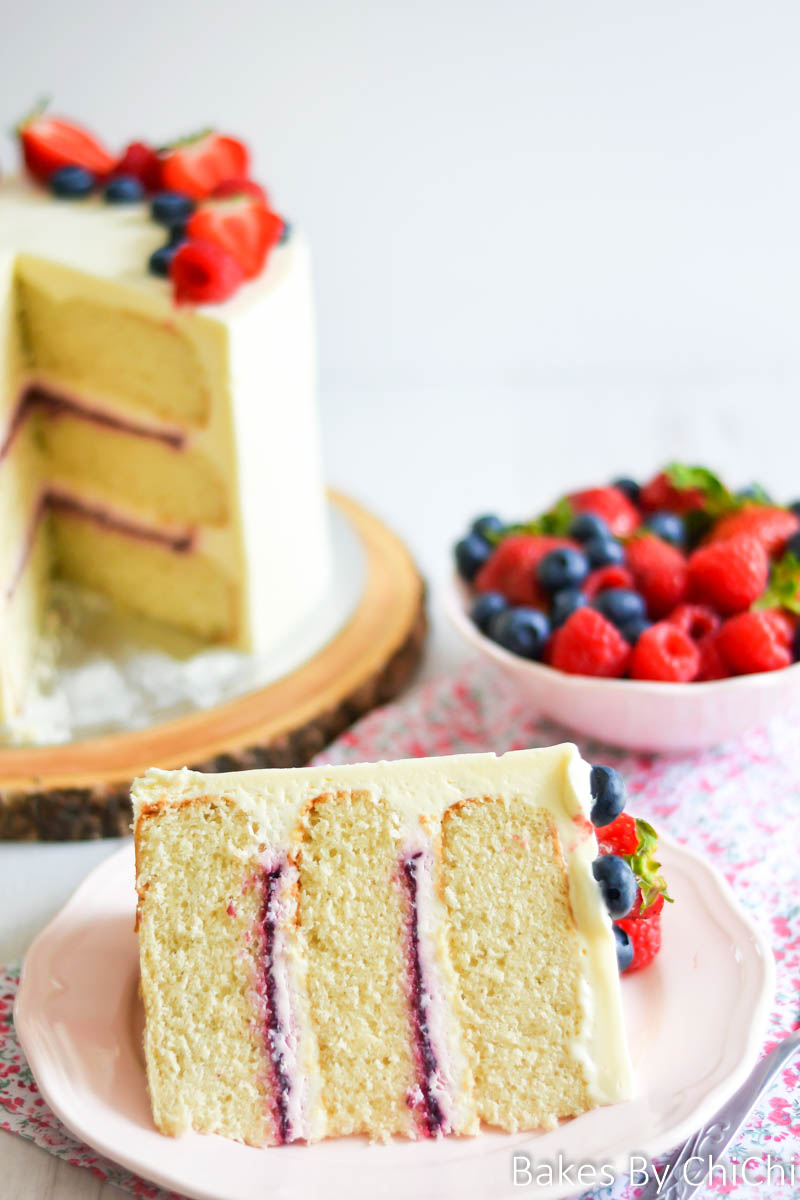 Make the mascarpone cream by  beating together mascarpone and cream. The combination of the cheese and cream creates a stable yet light frosting. The frosting is sweetened by adding icing sugar.
Assembly the mixed berry mascarpone cake by spreading genoise cake with berry compote and mascarpone cream. All three elements of the cake  together create a very delicious dessert.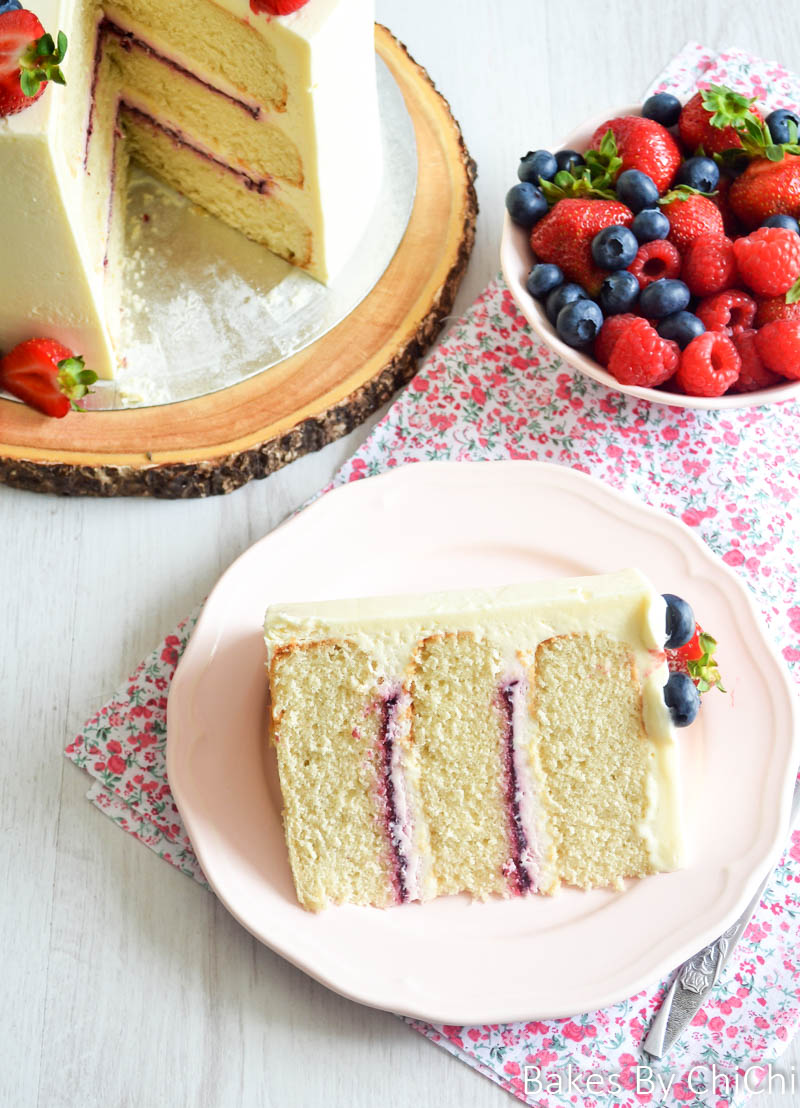 Mixed Berry Mascarpone Cake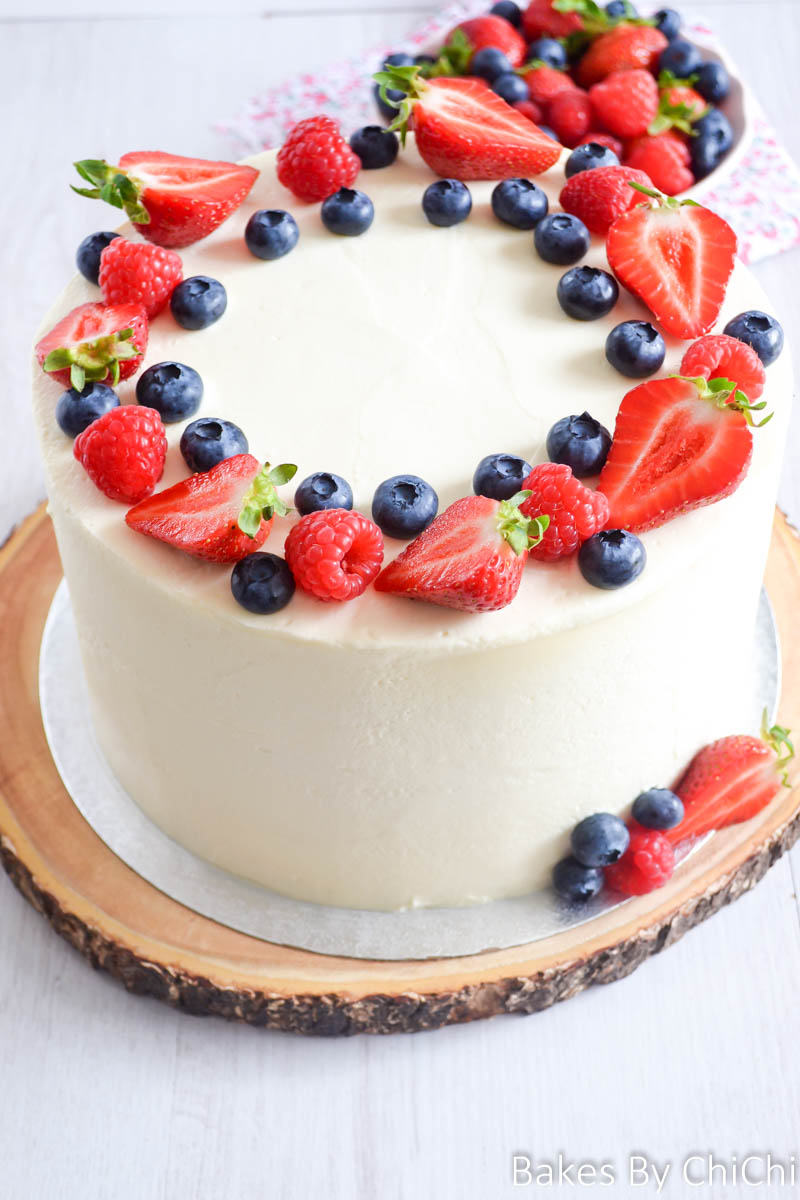 Ingredients
Genoise Cake

375 g caster sugar
12 eggs
375 g plain flour
pinch of salt
75 g butter, melted

Strawberry Compote

250 g (7 ounces ) mixed berries (fresh or frozen)
100 g (1/2 cup) sugar
1 lemon juiced
60 ml (1/4 cup) water
3 teaspoons cornflour

Vanilla Syrup

100 g (1/2 cup) caster sugar
120 ml (1/2 cup )water
1 teaspoon vanilla extract

Mascarpone Cream

750 g mascarpone cheese
600 g double or whipping cream
150 g icing sugar
Instructions
Genoise Cake
Preheat the oven to 180C.
Grease and line three 8 inch round cake tins with parchment or greaseproof paper.
Place the sugar and eggs in a large bowl of a stand mixer and whisk for at least 7 minutes until the mixture has trebled in size, thick and is pale.
Sift flour and salt together over the mixture and fold in gently, keeping in as much air as you can. Gently fold in the melted butter.
Divide the cake batter between prepared cake tins and bake for 25- 30 minutes or until the cakes are risen and springy to the touch. Remove from the oven and set aside to cool. When cool enough to handle, turn out on to a wire rack to cool completely.
Mixed Berry Compote
Puree berries and add to saucepan with sugar. Stir to coat the berries with sugar.
Cook berries over high heat, stirring occasionally for about 5 minutes.
Stir in lemon juice.
Mix water and cornstarch in bowl until combined. Add mixture a little at a time whisking frequently until sauce has thickened.
Remove from heat and let sauce cool to room temperature. Chill in fridge until ready to use
Vanilla Syrup
Stir water and sugar in a saucepan over a low heat until sugar has completely dissolved. Bring sugar syrup to a boil over medium heat, stirring frequently. Remove from heat and stir in vanilla extract. Allow to cool completely before using.
Mascarpone Cream
In the bowl of a stand mixer fitted with a whisk attachment or using a hand whisk, whip mascarpone cheese, whipping cream and icing sugar, until thick, soft peaks form.
To assemble
Place the first layer of genoise sponge on a 8 inch thin cake board, flat size down. Brush the cake with vanilla syrup using a pastry brush (repeat this process with remaining layers of cake). Fit a 1/2 inch round nozzle into a piping bag.
Pipe a dam of mascarpone cream around the cake. Fill the dam with mixed berry compote and use an off set spatula to spread the compote carefully. Add mascarpone cream to the top of the berry compote and spread over evenly.
Repeat with remaining 2 layers of genoise cake, until all three layers of cake are stacked.
Wrap the cake with a plastic cling film and chill for 1 hour.
Remove cake from fridge. Spread a thin layer of mascarpone cream on the sides and then top of cake. It helps to use a turntable when frosting a cake. Hold a scraper flat against the side of the cake and then turn the turntable and scraper to make a nice, smooth coat of cream. Smooth the top of cake with scraper, drawing the peaks o the top edges of cake into the centre.
Chill crumb coated cake in fridge for 1 hour until mascarpone has chilled.
Cover evenly with mascarpone cream using an off set spatula and then use a scraper to smooth the edges.
Decorate the top of the cake with fresh berries.
3.1
https://bakesbychichi.com/mixed-berry-mascarpone-cake/