Chunks of soft gooey brownie layered into a glass and drizzled with hot fudge sauce. Then topped with ice cream and layered with more brownie chunks. You want to reach for the hot fudge sauce again and drizzle some more over the brownies. Next top with whipped cream and then finish off this sundae with a drizzle of hot fudge sauce. Don't forget the cherry on top.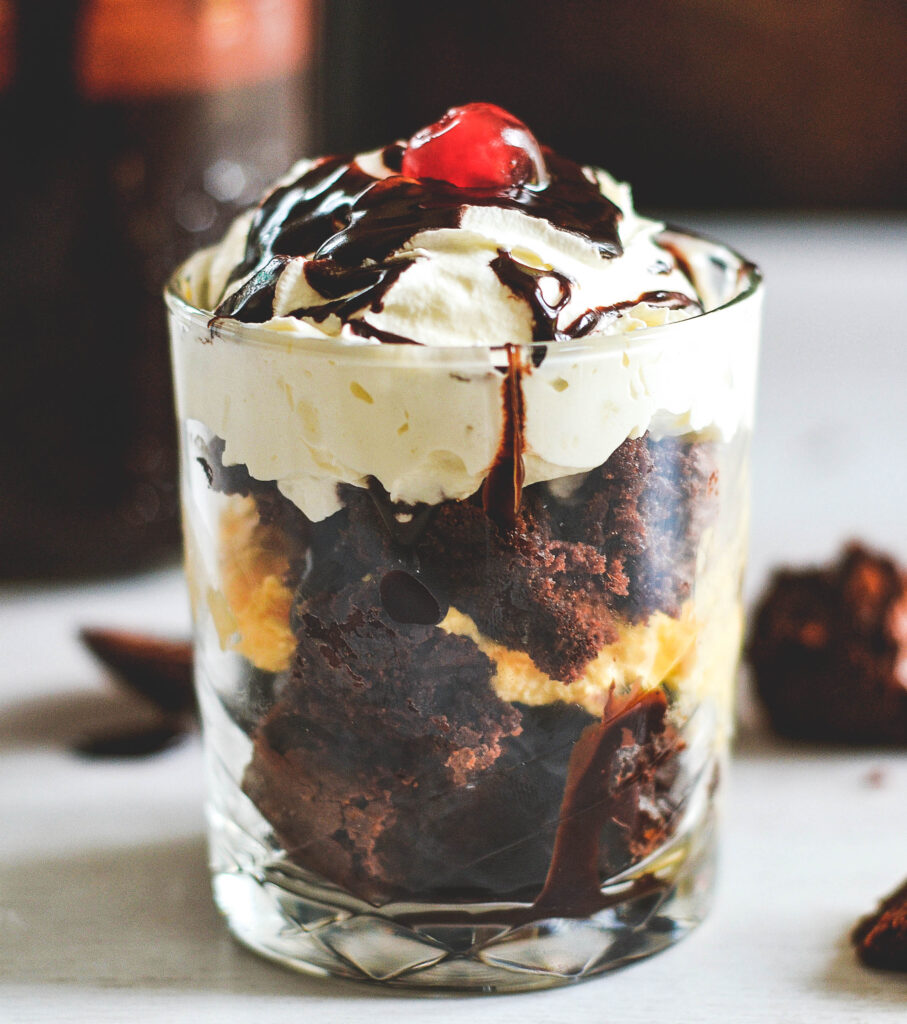 It is meant to be spring, but are we having spring like weather. Err, No!! Can the weather be at least consistent. Picking clothes for work has become annoying. Last week we had one day when it was really really warm, like summer warm and then the next day it was rain rain rain. Plus cold. Super annoying. Yesterday as well it was really warm and then today some more rain. Well you know what is needed during rainy miserable days like these, hot fudgy brownie sundaes. I baked me a fresh batch of soft gooey brownies, really can't seem to get enough of these brownies. They are that good. Whilst the brownies baked I got started on the homemade hot fudge sauce. This recipe is adapted from Brown Eyed Baker.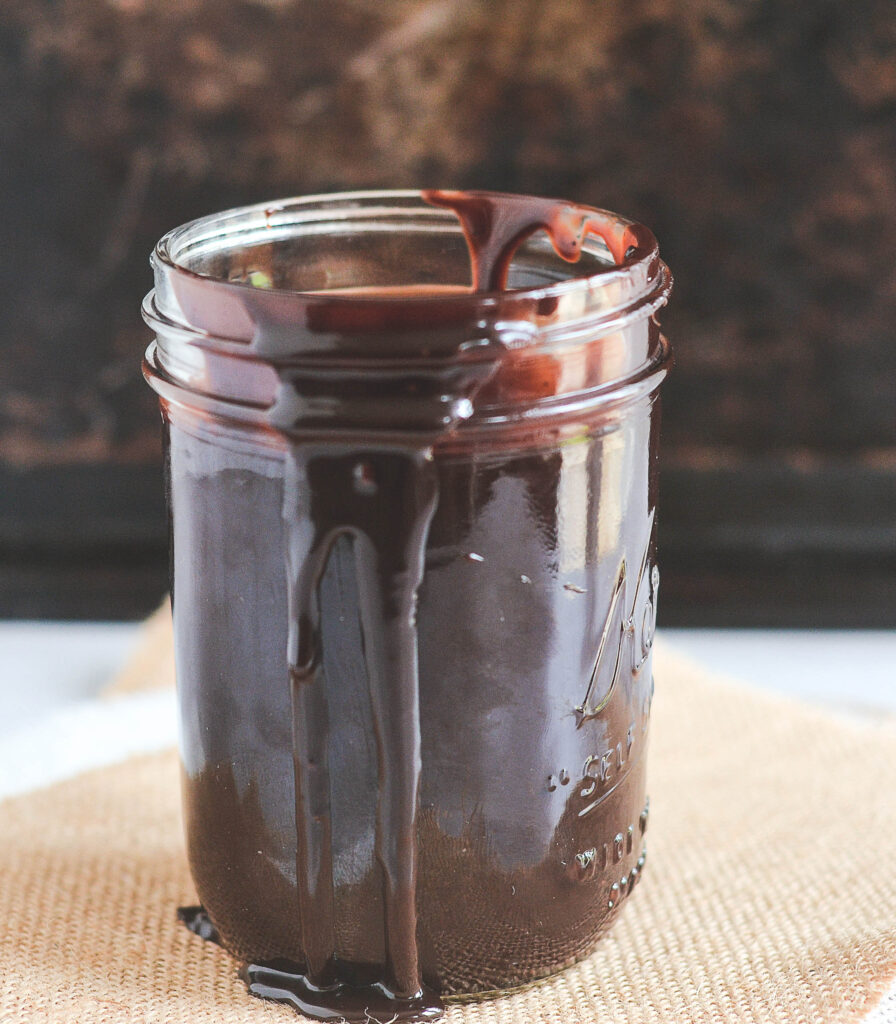 It is rich, thick , creamy and absolutely perfect for drizzling over the brownies. Made with chocolate, cocoa and chocolate liquor this homemade fudge is chocolatey. Best of all it is quick and easy to make. It takes 5 minutes to whip up this jar of goodness. Once you make this hot fudge sauce, there will be no buying of the shop made stuff ever.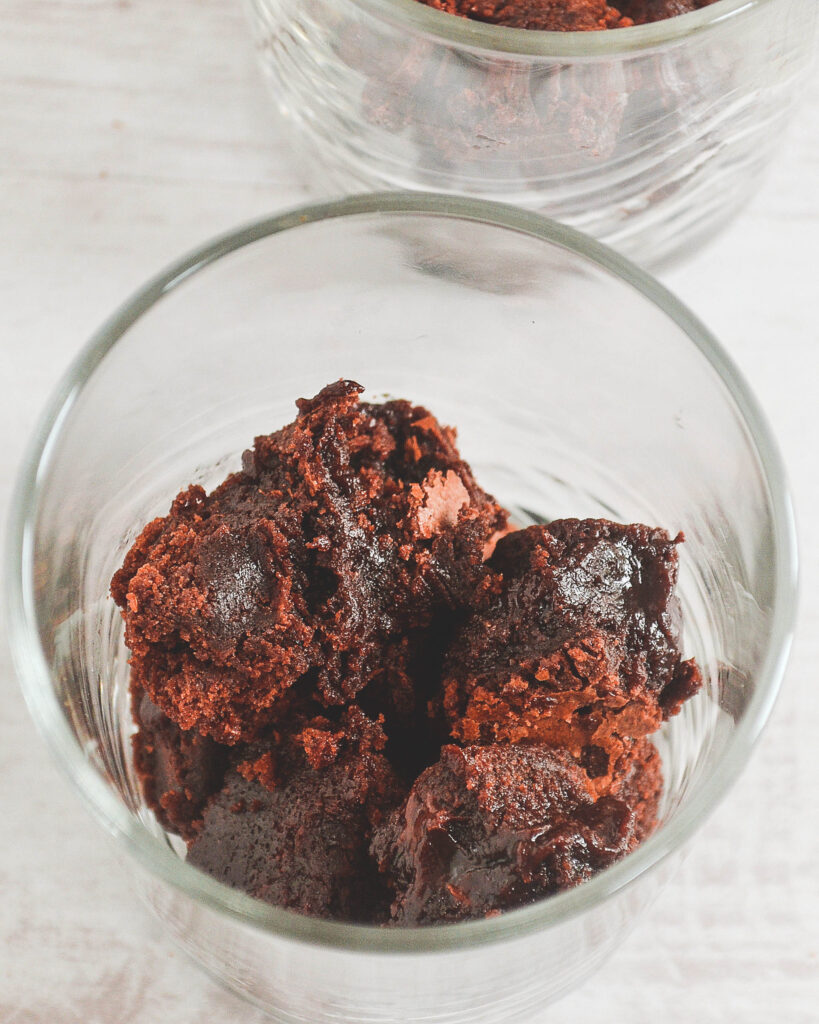 Putting together this dessert is very simple, it doesn't follow any assemble instructions. You can layer with as much brownies, hot fudge sauce , ice cream and whipped cream. Whatever you do, do not skimp on the fudge sauce. It is that good.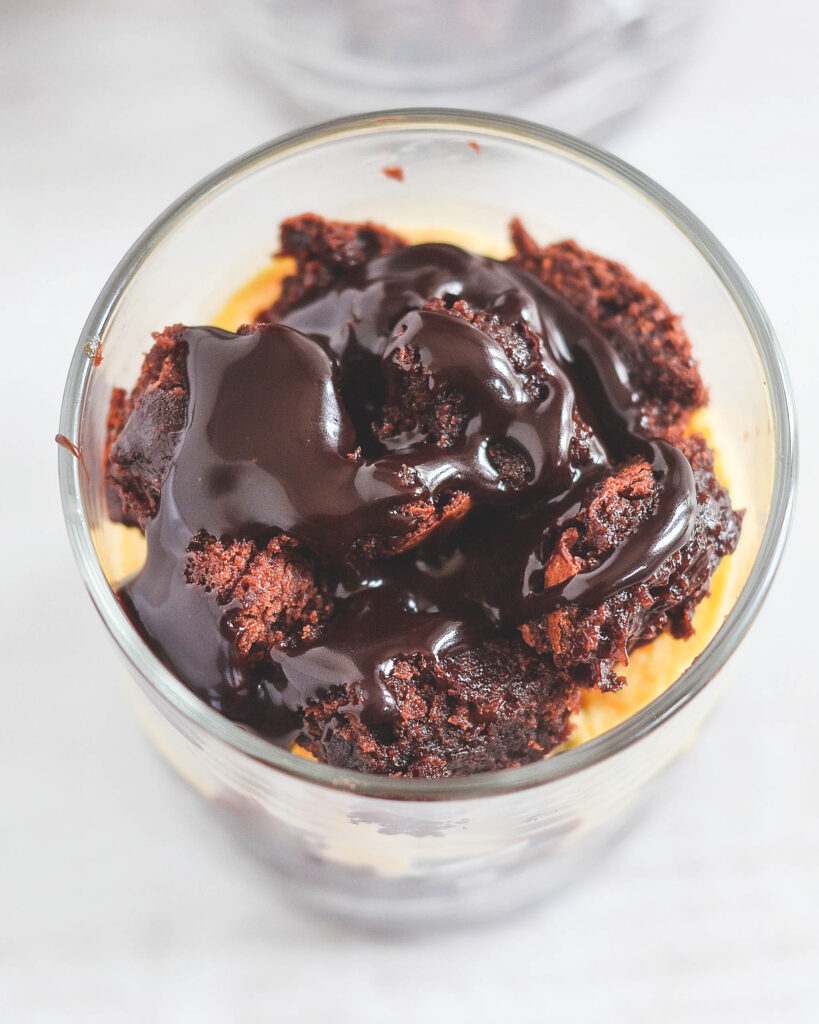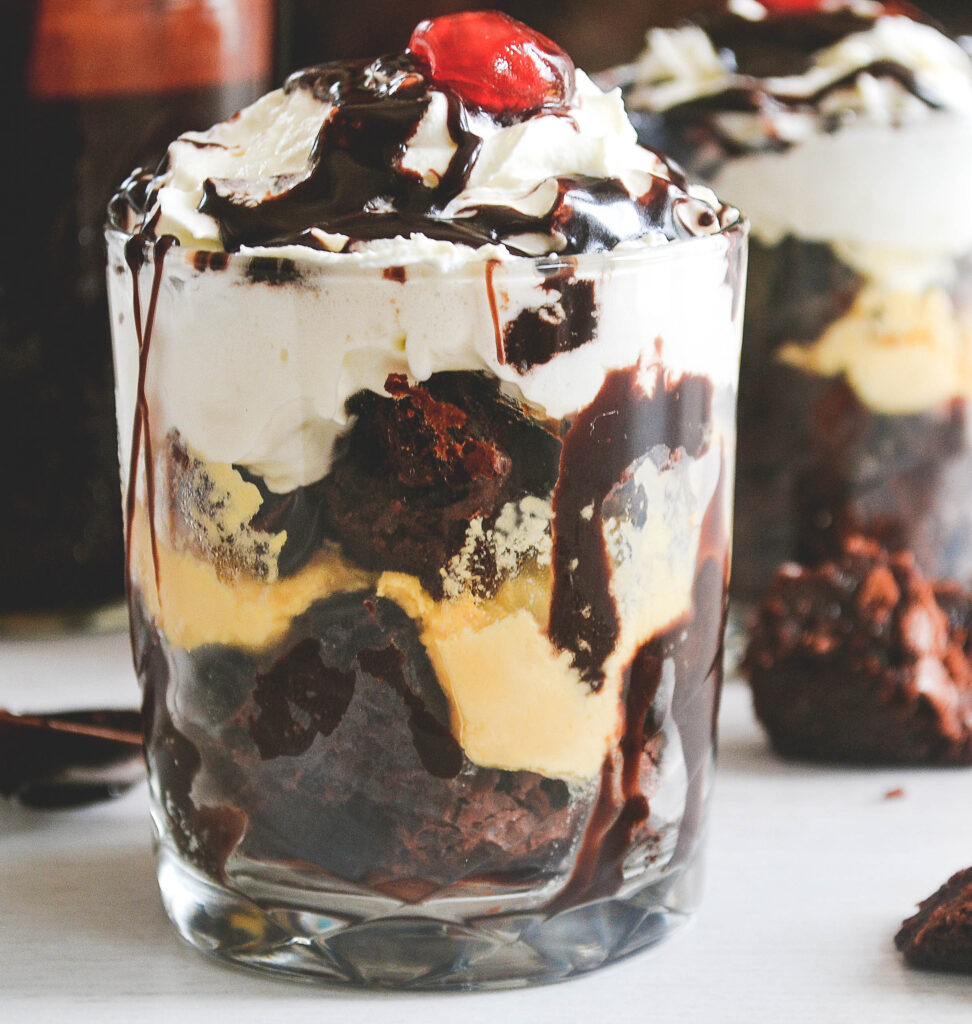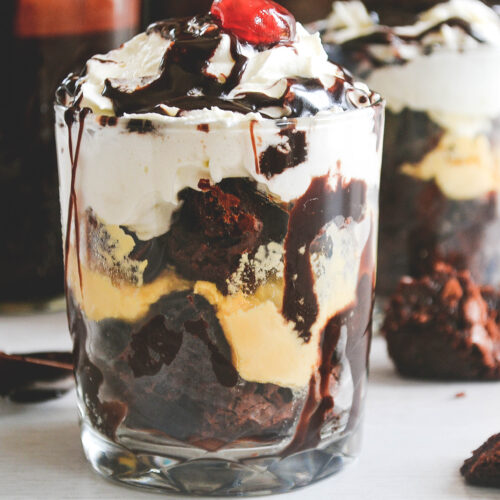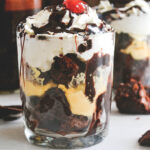 Hot Fudge Brownie Sundae
Chunks of soft gooey brownie layered into a glass and drizzled with hot fudge sauce, topped with ice cream and layered with more brownie chunks. Finish of whipped cream and a cherry on top.
Print
Pin
Rate
Ingredients
60

grams

(1/3 cup) brown sugar

50

grams

(1/4 cup) cocoa powder

80

ml

 (1/3 cup) whipping or heavy cream

80

ml

(1/3 cup) chocolate liqueur

168

grams

(6 ounces) semi sweet chocolate, divided use

120

grams

(1/2 cup ) golden syrup, or Light Corn Syrup

2

tablespoons

unsalted butter

1

teaspoon

vanilla extract

dash of salt

One batch of Soft Gooey Brownies

Your favourite vanilla ice cream

Whipped Cream
Instructions
In a pan stir together brown sugar, cocoa powder, whipping cream, chocolate liqueur and half of the chocolate (84 g or 3 ounces), syrup and salt .

Cook over medium heat, stirring, until the chocolate has melted. Bring mixture to a boil, then reduce heat to low and allow to simmer for 5 minutes, stirring frequently.

Remove pan from heat then add remaining chocolate, butter and vanilla. Stir until smooth.

Leave to cool for 30 minutes before using. Store leftover sauce in an airtight container in the fridge for up to 2 weeks. To use refrigerated sauce, reheat in the microwave for 30 seconds to 1 minute.
To assemble
Place chunks of the brownies in serving glasses or bowls.

Drizzle brownies with hot fudge sauce. Scoop ice cream among the glasses/bowls.

Drizzle with more hot fudge sauce. Top each glass off with whipped cream and then drizzle with hot fudge sauce. Finish with a cherry and ENJOY!!!
If you made this recipe, I would love to hear from you.
Tag Bakes By Chichi on Instagram or hashtag #bakesbychichi
Other Sauces