Cut this vanilla pinata cake to reveal mini Easter eggs inside. Find out how to make one yourself with my video.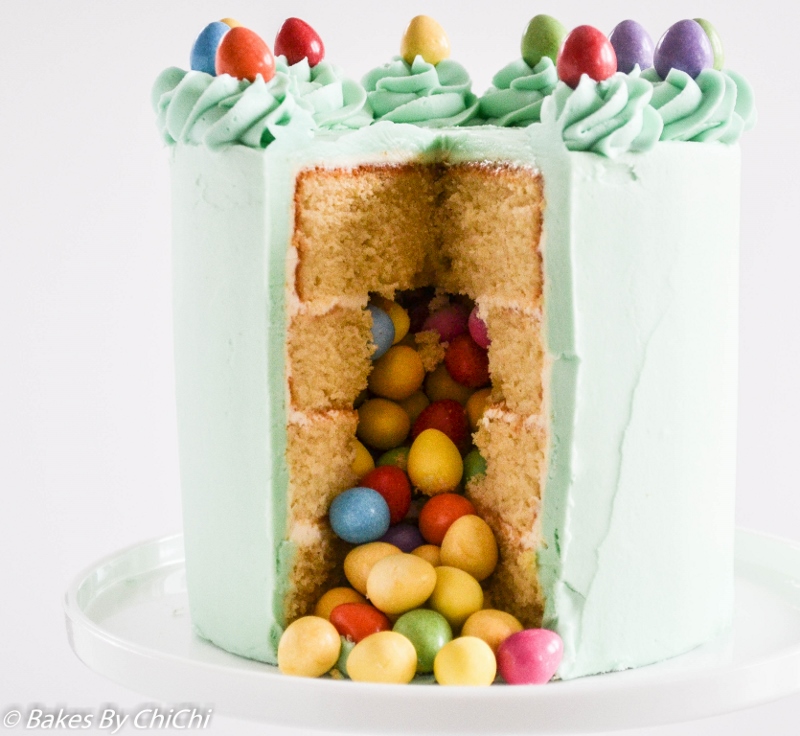 Easter is just round the corner and it seems like the right time to share this Easter Egg Pinata Cake i made. It is a fun easy cake to make and children will love it. The inside of the pinata cake can be filled with whatever sweets you like. I filled the centres of mine with mini Easter eggs.
I started out by baking a vanilla cake. You can use any recipe you like. What i will suggest though, is use a dense cake or if you use a fluffy cake be sure to chill the cake properly before cutting or carving the centres. It is just easier to carve dense and chilled cakes.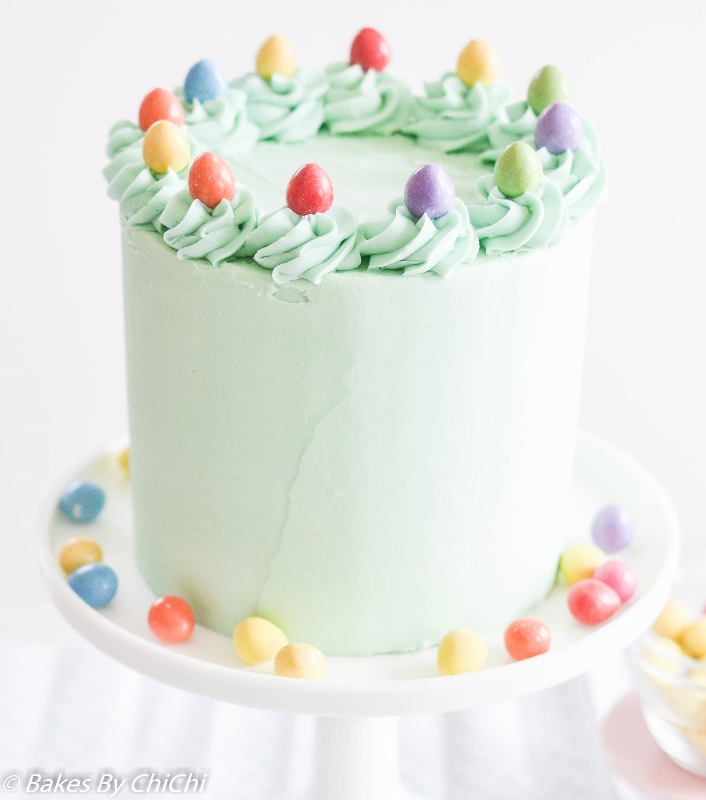 I love trying out different recipes for vanilla cake. The recipe I used for this pinata cake is a vanilla butter cake which I found on Sweetapolita. I adapted it slightly by using the entire egg in the recipe rather than separating and whisking the egg whites to stiff peaks and folding it in and substituted some of the milk for sour cream. The cake had a wonderful vanilla flavour and was absolutely delicious. It is quite soft so take care when removing from the tin. Once the cake chills, the crumbs settle and it is easy to cut.
Cake Tip- When trimming or carving a cake (like this pinata cake) it is always best to work with a very chilled or almost frozen cake.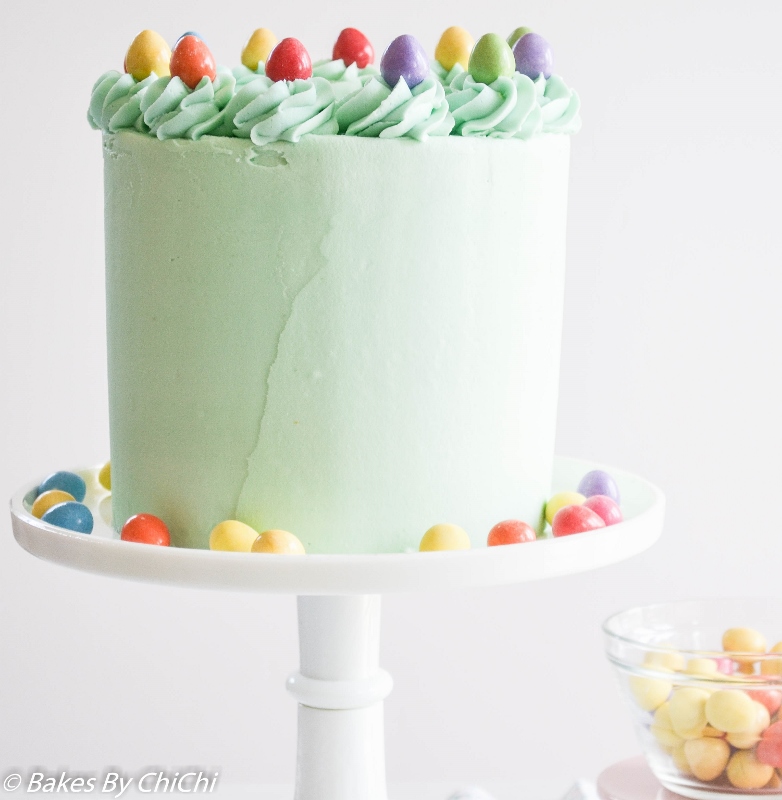 The frosting is my go to vanilla buttercream which is incredibly delicious. It is creamy , tastes like ice cream and just goes perfectly with the vanilla cake.
I baked four , 6 inch layers of vanilla cake. The first and last layer where left uncut and two had the centres cut out using circle cutter. Begin by placing the first layer of cake on a cake board and spread on some frosting. Then place one layer of cake without the centre and then apply some frosting, top with the 2nd layer without the centre. Fill the middle of the cakes with sweets of your choice. Then place the final layer of cake on top. I made video showing how it is made. If you have less than 4 minutes to spare you can have a look 🙂
Chill filled cake in the fridge for crumbs to settle then frost and decorate your cake. This was truly a fun cake to make. Have fun making yours.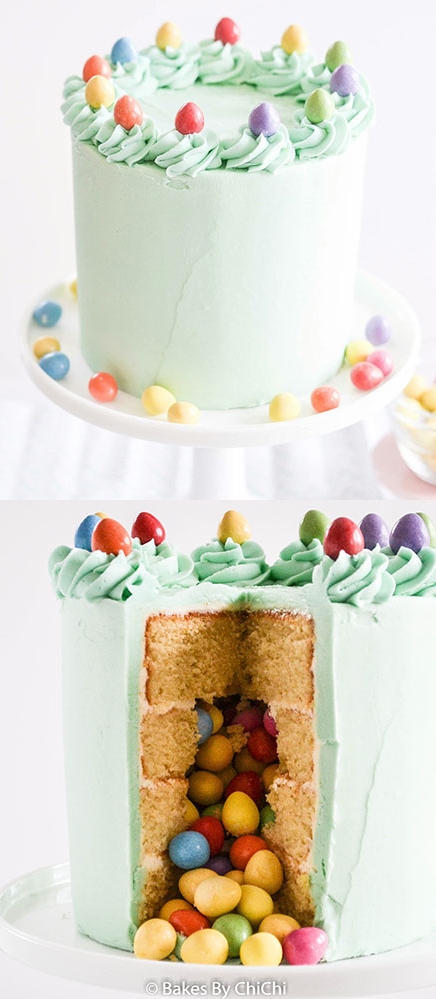 Easter Egg Vanilla Pinata Cake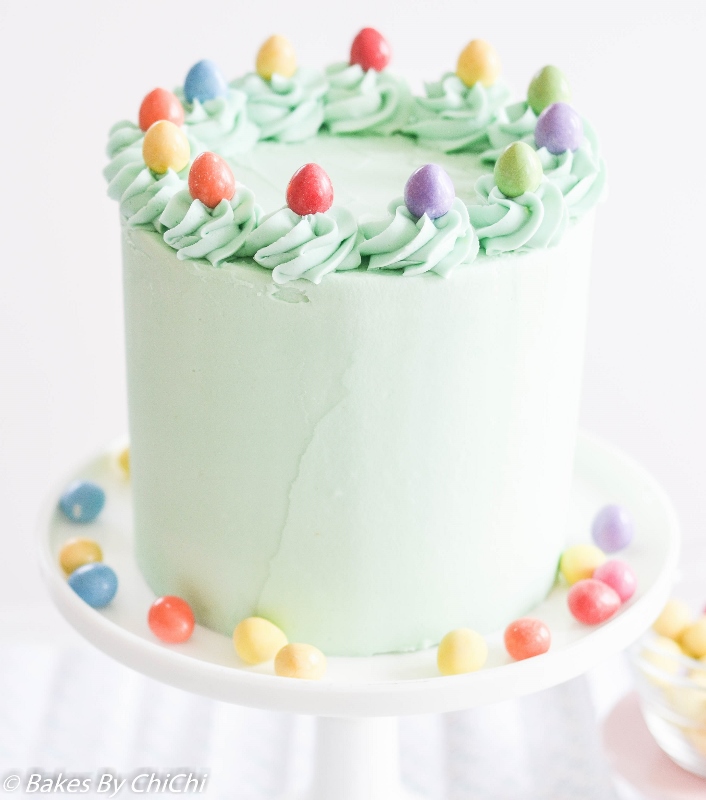 Ingredients
For Vanilla Butter Cake

360 g (1 1/2 cups) unsalted butter, room temp
400 g (2 cups) sugar
5 large eggs
2 teaspoons pure vanilla extract
480 g (4 cups) sifted cake flour
4 teaspoons baking powder
1/2 teaspoon salt
1/4 cup sour cream
3/4 cup (180 ml) milk, at room temperature

For Vanilla Buttercream

240g (1 cup) unsalted butter, room temperature
190g (1 cup) vegetable shortening (Trex)
800g (8cups) icing sugar
120ml (1/2 cup) whipping cream
2 teaspoons vanilla extract
You will also need
Mini Easter eggs or sweets of your choice
6 inch round cake board
Instructions
For Vanilla Butter Cake
Preheat oven to 170 degrees celcius. Grease bottom and sides of 4 , 6 -inch round cake tins and line bottom and sides with parchment paper.( I have 2, i baked 2 cakes first and reused them to bake the other two cakes.)
In the bowl of stand mixer beat butter and sugar until light and fluffy about 8 minutes.
Sift together flour, salt and baking powder, set aside.
Add eggs one after the other beating well after each addition. Add vanilla extract and beat until combined.
Mix in sour cream.
With mixer on low, alternately add the flour mixture and milk mixture, beginning and ending with flour mixture.
Divide batter evenly between cake tin. (I used a measuring cup)
Bake for 30 - 35 minutes or until tooth pick inserted in centre comes out clean. Leave to cool tin on wire racks for 10 minutes, then invert onto rack gently, discard parchment paper and cool completely.
For Vanilla Buttercream
In bowl of stand mixer beat butter and vegetable shortening until light and creamy , about 5 minutes.
Add icing sugar a cup at a time and beat well until combined. As frosting thickens add whipping cream and beat until frosting is light and fluffy. Add vanilla extract and beat until evenly incorporated.
To assemble
Cut out the centres of 2 layers of cake and set aside.
Spread a thin layer of icing on your cake board.
Place one uncut layer of cake , flat side down on top and plop a big dollop of icing in the middle. Spread the icing carefully. Once it is nice and flat, stack one cake with the centre cut out. Spread icing and place the second cake with the centre cutout on top.
Fill the hole with mini easter eggs or sweets of your choice.
Spread the icing on the cake and place the final cake on top.
Spread a thin layer of frosting on the sides and then on top of cake. It helps to use a turntable when frosting a cake. Hold a scraper flat against the side of the cake and then turn the turntable and scraper to make a nice, smooth coat of icing. Smooth the top of cake with scraper, drawing the peaks o the top edges of cake into the centre.
Chill crumb coated cake in fridge for 30 minutes until buttercream is nice and firm.
Once cake is chilled, cover evenly with buttercream using an off set spatula and then use a scraper to smooth the edges.
3.1
https://bakesbychichi.com/mini-easter-eggs-vanilla-pinata-cake/