Rich Devil's food cake, soaked with Guinness and condensed milk and frosted with whipped mascarpone frosting.  Hello St.Patrick's Day!!!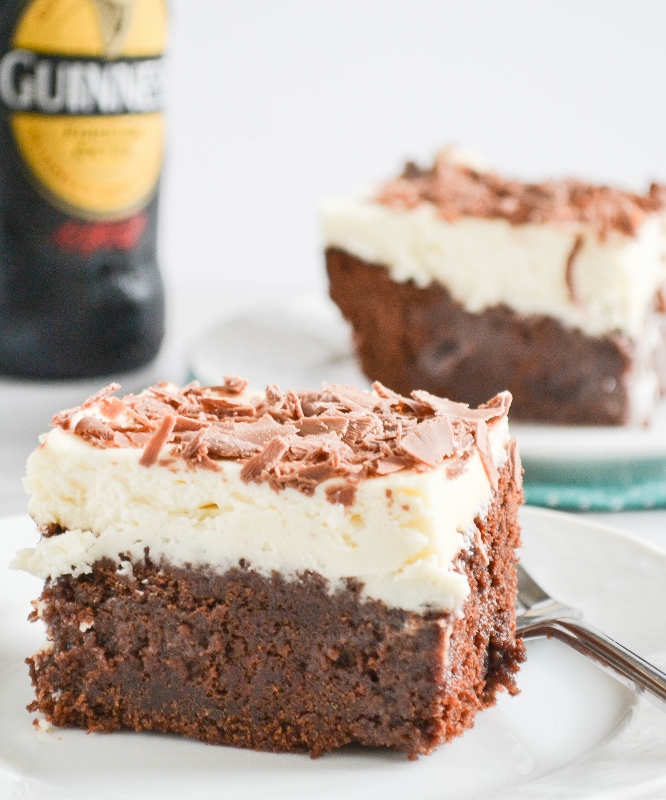 I have never made a poke cake and after seeing them on Pinterest i figured why not make one. A poke cake starts off with a baked cake, then holes are made in it using a straw , followed by a sauce or pudding poured over it so it seeps into the holes and finally frosted with a whipped frosting.
This poke cake started off with a baked Devil's food cake. The cake has both cocoa powder and melted chocolate in it, very chocolatey. Devil's food cake is simply beautiful, with a moist tender crumb. The recipe is quick and easy.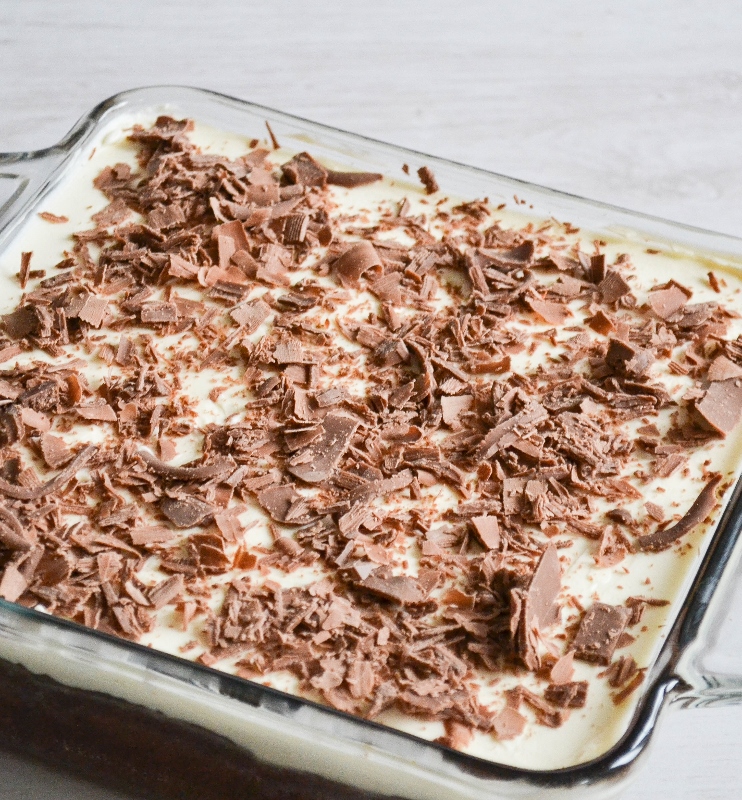 For the filling I mixed together condensed milk and Guinness. I mixed together half a can of condensed milk and a quarter cup guinness for the filling.  I used 3/4 of the mixture for the cake. Pour more of the mixture over the cake if you want.  Or enjoy the rest of the mixture as a drink splashed over ice.  I may not like Guinness on it own, but Guinness mixed with condensed milk is yummy.  Poke holes in the cake and pour the filling over the cake. I used a straw to make the holes.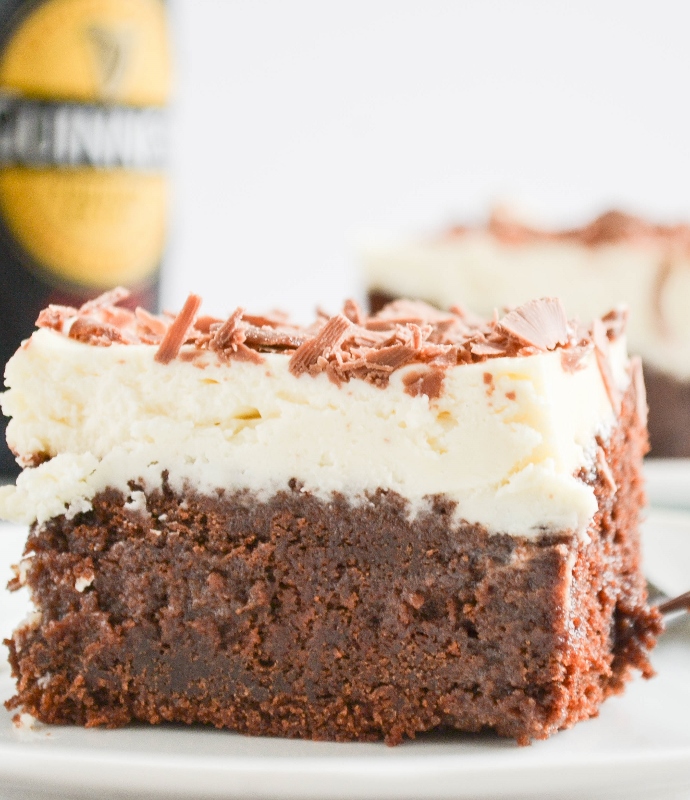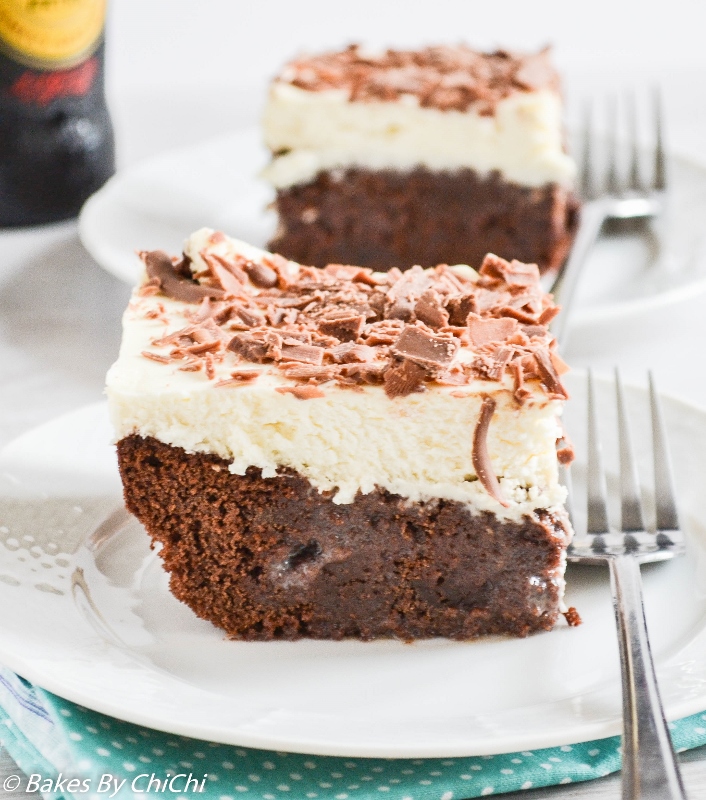 For the frosting I whipped together luxurious mascarpone cheese with double cream for about 2 minutes until it thick like firmly whipped cream. The mascarpone frosting was spread over the devil's food cake and sprinkled with chocolate shaving.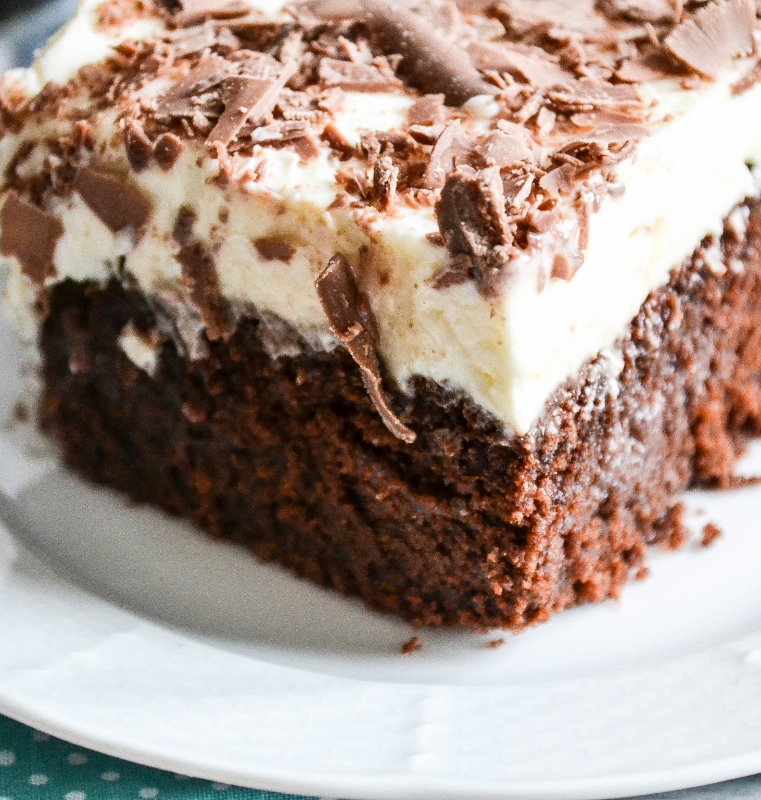 Best of all it is an easy and simple cake to make.  Plus it is absolutely moist and delicious. Make this for  a St Patrick's Day celebration or just make cos you want to.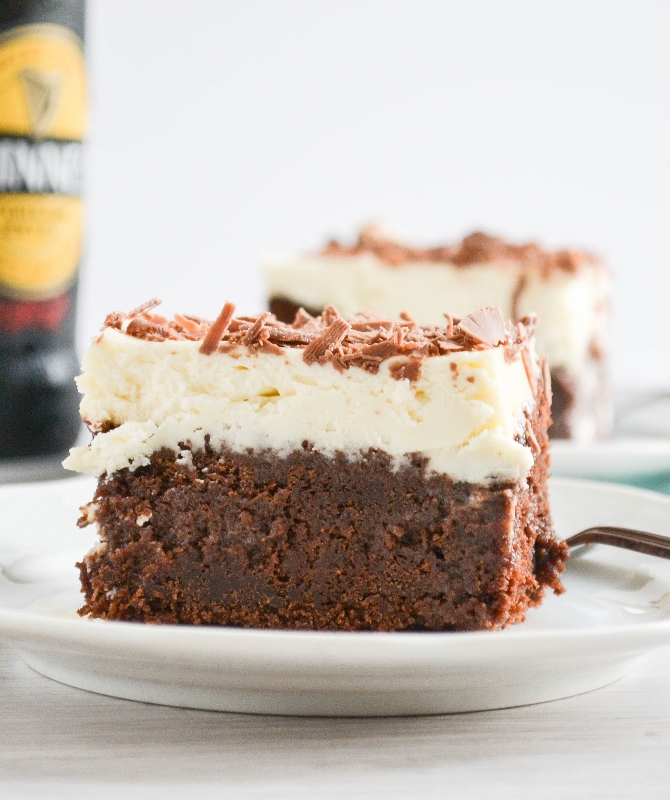 Stay up to date with Bakes by ChiChi on:
Facebook | Instagram | Pinterest | Google Plus | Bloglovin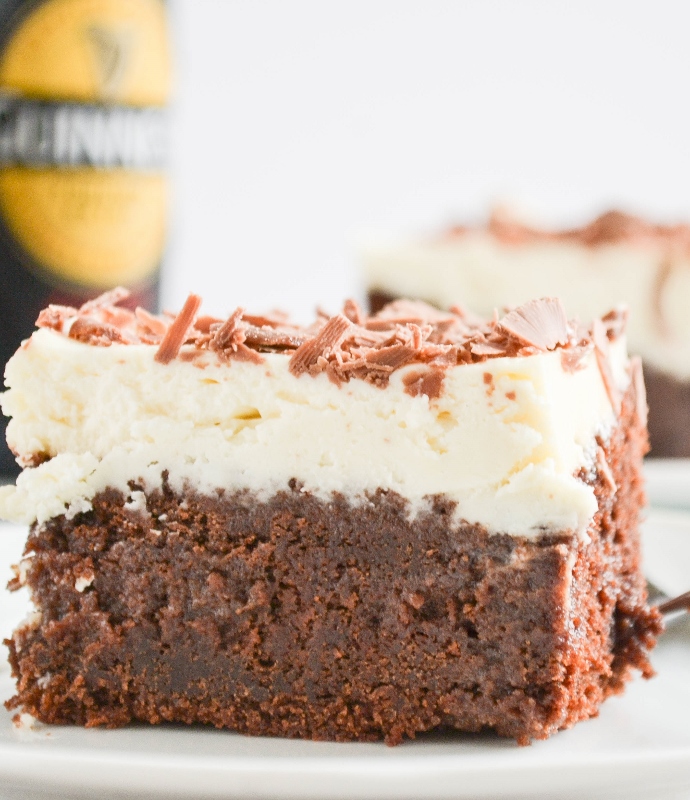 Ingredients
Devil's Food Cake

120g (1/2 cup) unsalted butter, room temperature
240g (11/3 cup) light brown sugar
50g semi sweet chocolate, chopped
90g cocoa powder
120ml (1/2 cup) boiling water
2 eggs
120ml (1/2 cup) buttermilk
1/2 teaspoon bicarbonate of soda
160g (11/3 cup) self raising flour
198g (7.5 ounces) condensed milk
60ml Guinness drink

Whipped Mascarpone Frosting

250g (1 cup) mascarpone cheese
240ml(1 cup) double cream
50g (1/2 cup) icing sugar
Instructions
Devil's Food Cake
Preheat the oven to 190 degrees celcius. Grease the base of an 8 inch square baking dish.
In a jug or deep bowl combine the chopped chocolate, cocoa and boiling water and whisk until smooth.
Sift the flour and bicarbonate of soda and set aside.
Cream butter and sugar together until light and fluffy, about 5 minutes.
Beat in vanilla extract and the eggs, one at a time, beating well after each addition.
Add the melted chocolate mixture into the mixture and beat until well blended.
With the speed of the mixer on low, add half the flour mixture, then the buttermilk and the rest of the flour mixture.
Pour the mixture into the baking dish and bake in the oven for 45 minutes or until a toothpick inserted in the centre of the cake comes out clean.
Remove cake from oven and allow cake to cool completely.
Whipped Mascarpone Frosting
Combine mascarpone cheese, double cream and icing sugar in the bowl of a stand mixer. Beat until thick like firmly whipped cream. Add vanilla. Cover and chill until needed. Will keep for up to 2 days.
To assemble
Poke holes in cake using a straw.
Combine condensed milk and guinness and pour over cake (I used about 3/4 of the mixture),
Spread mascarpone frosting over the cake.
Sprinkle top with chocolate shavings.
Cover cake and leave to set in fridge for 2 hours.
3.1
https://bakesbychichi.com/devils-food-poke-cake/