This Easy Baileys Chocolate Mousse is creamy, rich and deliciously decadent. Dark chocolate is infused with the sweet flavour of Irish Cream and lightened with whipped cream. It is super easy to make and doesn't contain any eggs. Finish off each mousse glass with a dollop of whipped Baileys cream and shavings of chocolate. This mousse is an impressive dessert to serve at any any occasion.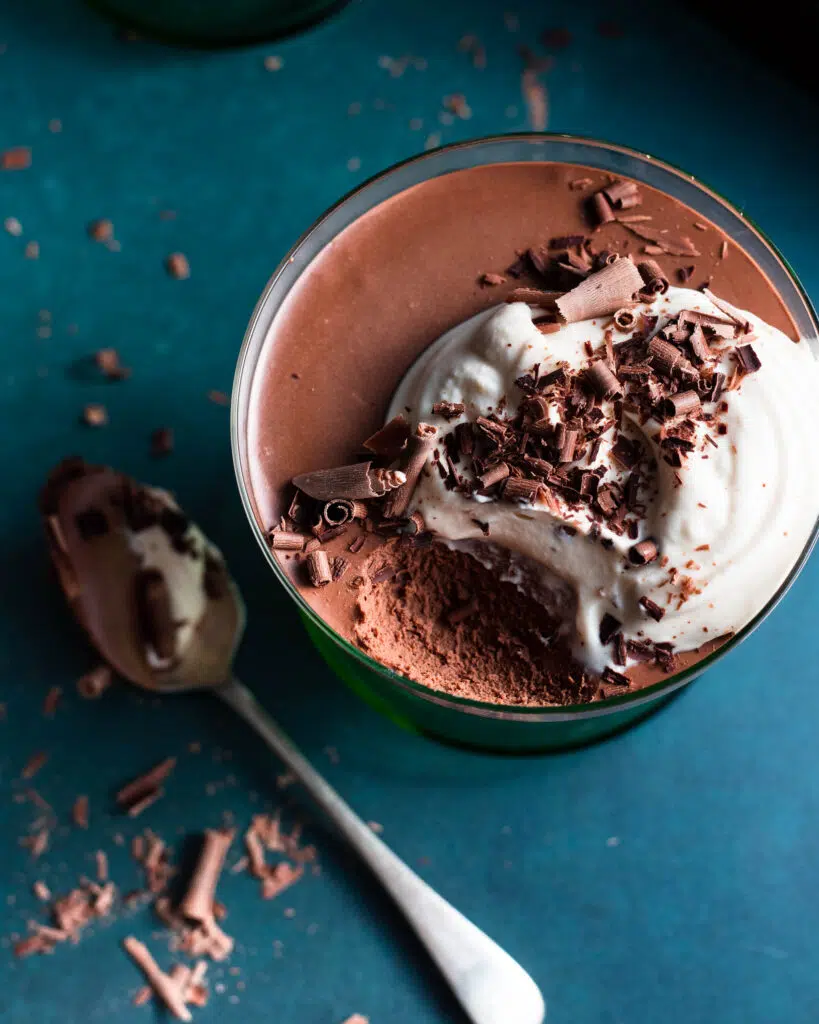 Baileys has always been a fave of mine.  For years it was my go to drink. I still keep a bottle of Baileys in the house mostly to use in drinks. Such as this creamy White Russian Cocktail and this rich indulgent hot beverage. 
Mousse is the French word for foam. It starts with a flavour base to which eggs are added. Classic mousse is made using raw eggs. To lighten the mousse, whipped egg whites are mixed in to make it light and fluffy. 
This recipe doesn't contain any eggs. It relies on softly whipped cream to aerate the mousse. Gelatin is added to give it body,  hold it's shape whilst leaving it tender enough to melt in your tongue. 
Ingredients for the Baileys Chocolate Mousse
All you need for this mousse are:
Dark Chocolate-for a truly chocolatey mouse use bittersweet dark chocolate which contains 60-70% dark cocoa.  It is important to use good quality dark chocolate for best tasting results. 
Whipping or Heavy Cream– creates a light and airy mousse. Whisk the cream to medium peaks before folding into the chocolate ganache. 
Baileys Irish Cream- Adds flavour to the mousse.
Gelatin – Gives the mousse body and helps it hold its shape.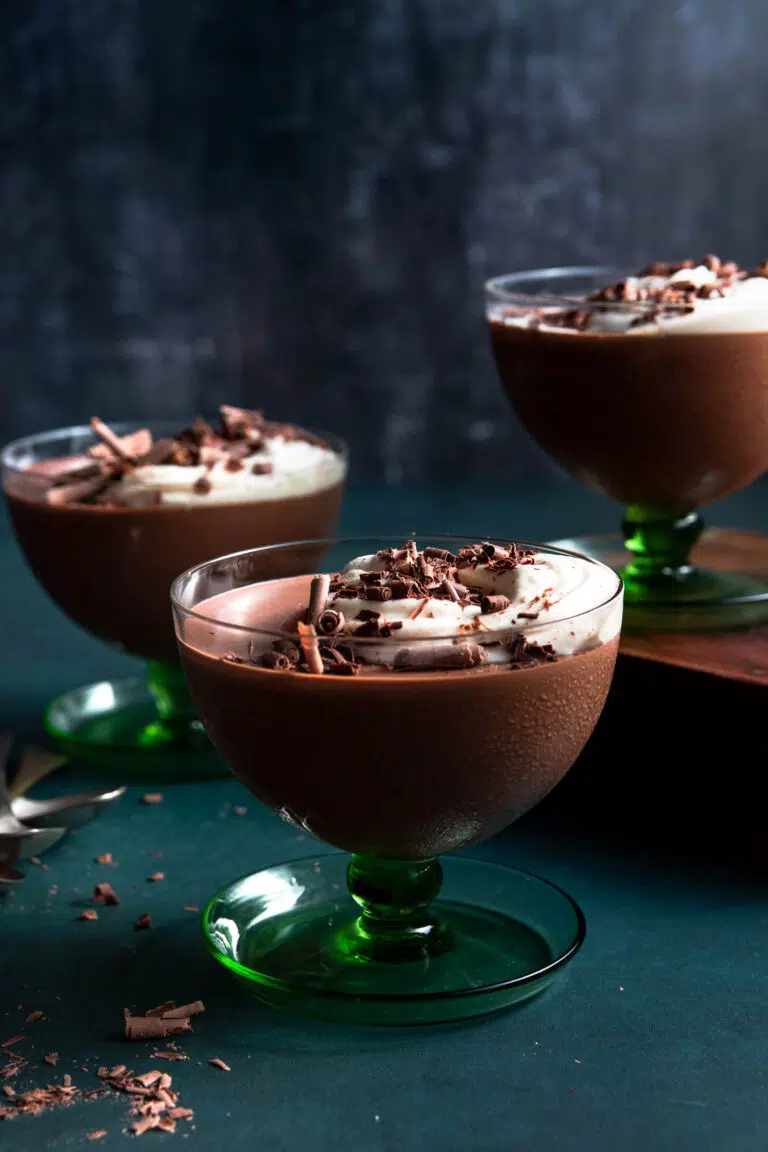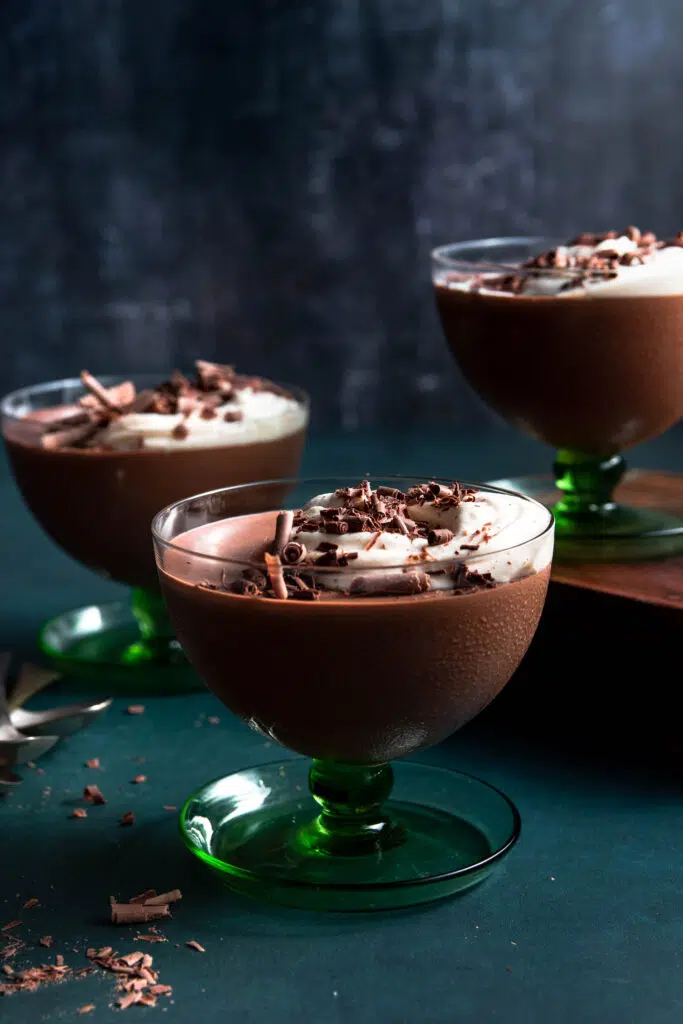 In a saucepan, heat the cream until it starts to just bubble on the sides. Remove from the heat and add the chocolate to the cream. Leave to sit for 1 minute and then stir to incorporate.  Whisk the chocolate mixture until smooth and glossy(This is chocolate ganache). Mix in Irish cream until combined. Leave to come to room temperature. 
Now whisk together gelatin and water in a small bowl. Leave it to bloom. When the ganache has come to room temperature, melt the gelatin in the microwave for 15 seconds until melted. Whisk the gelatin into the chocolate mixture. 
Finally whip the cream until soft peaks form. Gently fold the cream into the ganache. You do not want to deflate the cream.
Divide the mousse between individual glasses or ramekins. Chill in the fridge for at least an hour or until set.  
Finally whip some cream with Baileys Irish Cream and icing sugar until soft peaks form. Top each mousse with a dollop baileys cream and chocolate curls. 
How to serve Baileys Chocolate Mousse
This mousse is just fine on it's own. You can also add whipped cream or some fresh fruit. 
For more cookie recipes, check these out: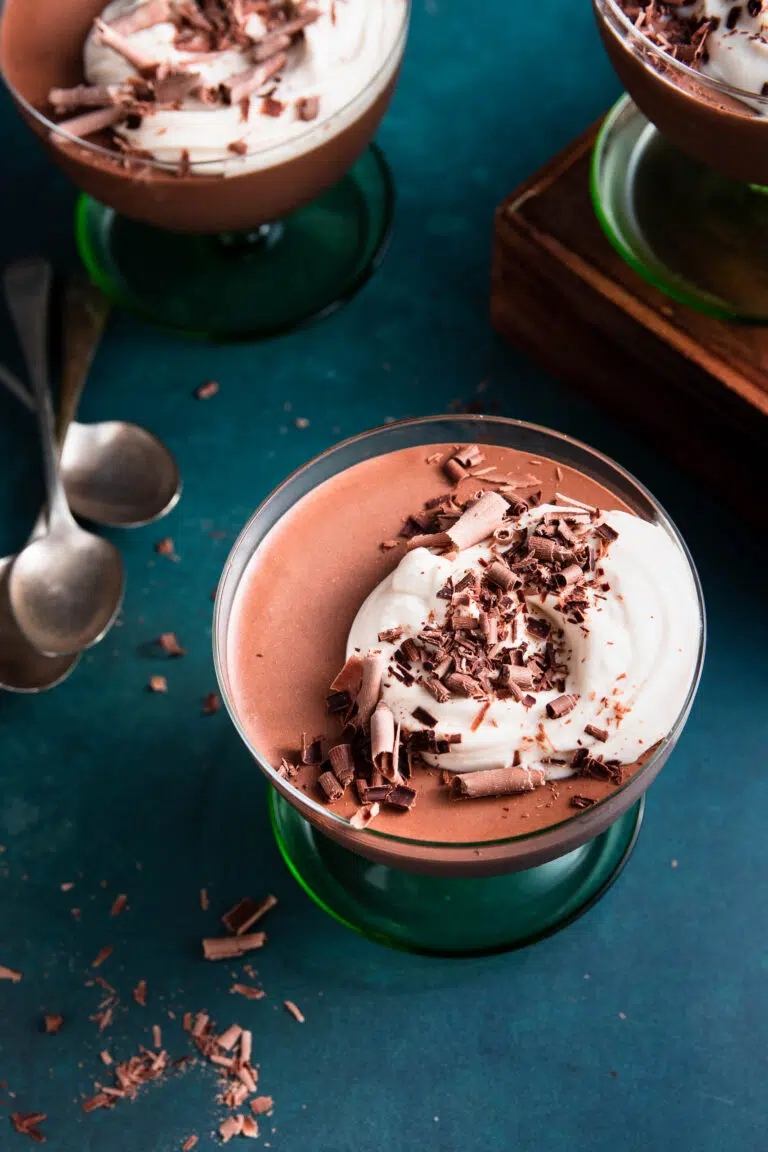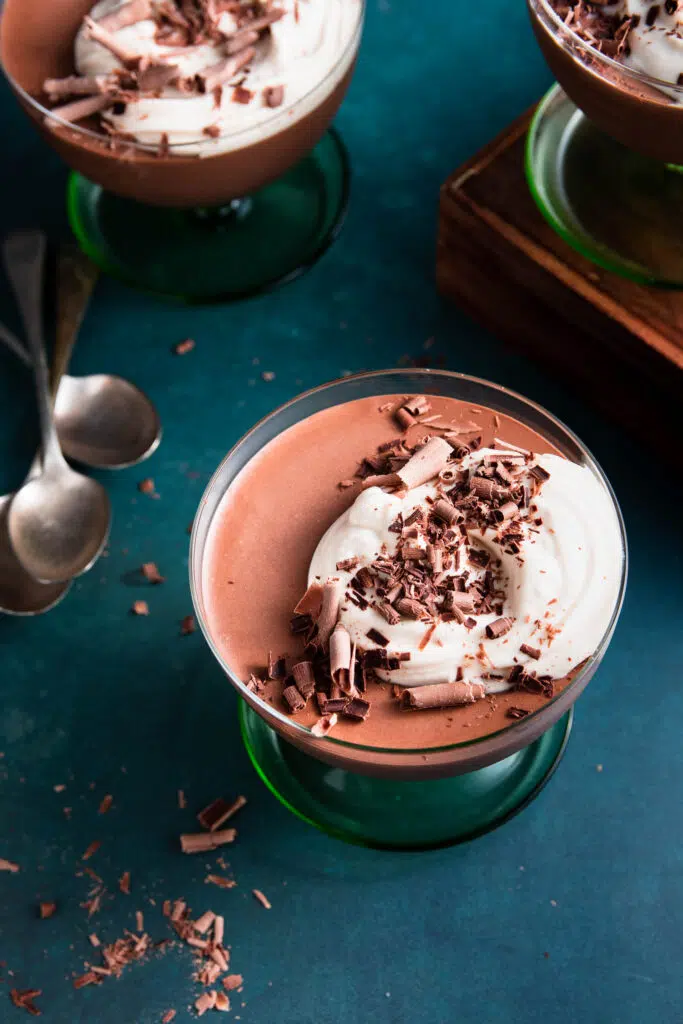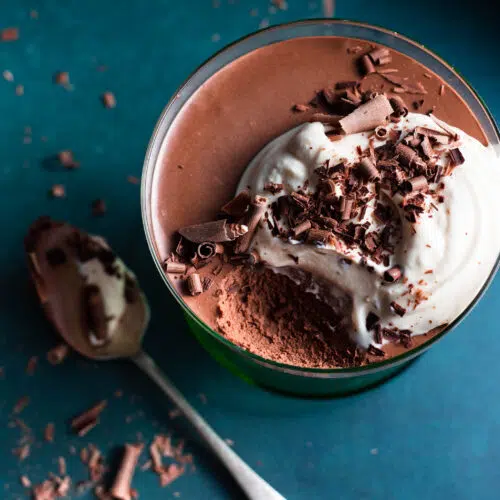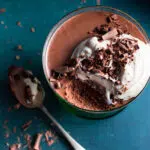 Ingredients
125

grams

dark chocolate, 60% - 70% cacao, chopped

300

ml

cold whipping cream, divided use

1

teaspoon

vanilla extract

2

teaspoons

gelatin powder

4

tablespoons

water

120

ml

(½ cup) Baileys Irish cream

3

tablespoons

icing sugar
Instructions
Place your mixing bowl and beaters in the fridge to chill for 1 hour. This will speed whipping the cream.

Chop the chocolate into small pieces and set aside.

Pour 120ml (½ cup) of cream into a saucepan and bring to a gentle simmer. Keep an eye on the cream, you do not want it to boil. Remove from heat when you see bubbles form at the side of the saucepan.

Pour over the chocolate to the cream let it sit for a minute to soften the chocolate. With a spatula and metal spoon, gently stir until combined and the ganache is smooth and glossy,

Mix in 60 ml (¼cup) Baileys and leave the chocolate ganache to come to room temperature.

Whisk together gelatin and water in a small bowl and allow gelatin to bloom. Heat in the microwave for 15 seconds or until melted. Whisk gelatin into chocolate mixture.

In the bowl of stand mixture (or using a hand mixer) whip up 120 ml l of cream until it just holds medium peaks

Gently fold the whipped cream into the chocolate mixture. Transfer to serving glasses and ramekins. Refrigerate the mousse and let it set for about an hour.

Whip together 60ml cream, 30ml Irish cream and icing sugar until it just holds stiff peaks. Pipe or spoon onto mousse.
Notes
Images updated 19/03/2022
Nutrition Information
Calories:
1058
kcal
|
Carbohydrates:
69.6
g
|
Fat:
67.5
g
|
Saturated Fat:
42.8
g
|
Cholesterol:
203
mg
|
Sodium:
184
mg
|
Potassium:
234
mg
|
Fiber:
1.4
g
|
Sugar:
56.6
g
|
Calcium:
146
mg
|
Iron:
1
mg
If you made this recipe, I would love to hear from you.
Tag Bakes By Chichi on Instagram or hashtag #bakesbychichi