Succulent easy sweet and sour pork that can be rustled up in 30 minutes. This popular Chinese dish is made with crispy fried pork, bells peppers, pineapple and homemade sweet and sour sauce.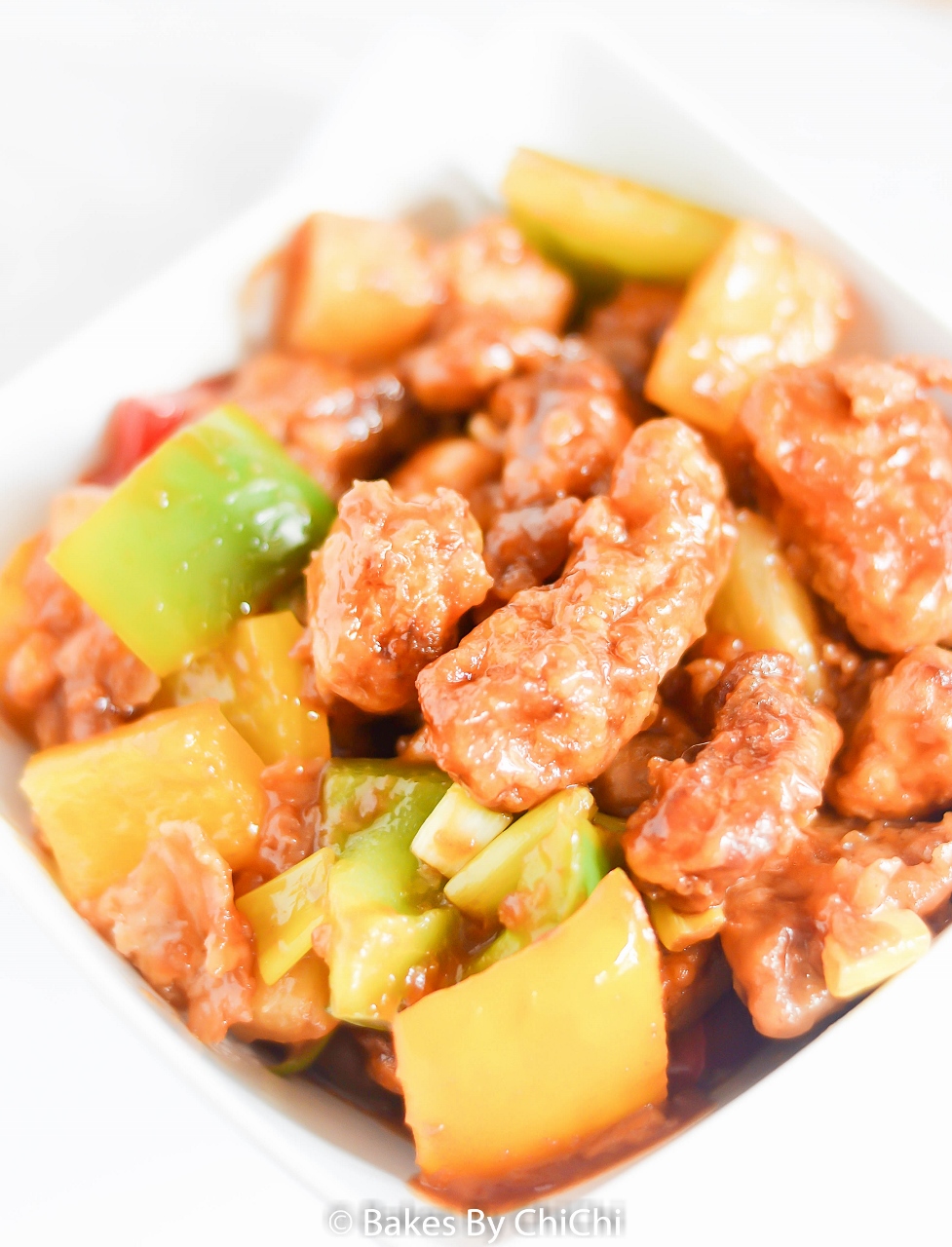 I cannot believe it's just a month to Christmas. Where has 2015 gone?? This year has been a year of me trying out new things. One of them has been me being a frequent member at the gym and working out with a personal trainer. I ask myself each time I work out with my PT Adam, who sent me. Why am I torturing myself? But at the end of it all it's worth it. Another new I have done this year is make dishes I would usually only eat in restaurants at home. This sweet and sour pork is one of such dishes.
Sweet and sour pork is a very popular dish you will find on the menu of most Chinese takeouts. The sweet and tangy flavours of sauce never fail to please. My dish began with seasoning the pork. For this dish you will need pork loins or tenderloins, cut into bite size cubes and and seasoned with Chinese five spice, salt, soy sauce and rice wine. Leave the pork to marinate for 15-20 minutes.
Next onto the piece de resistance , the sweet and sour sauce. For the sour part we have rice vinegar, plum sauce, soy sauce and worcestershire sauce Then ketchup, oyster sauce and brown sugar to sweeten up the sauce. And finally cornstarch to thicken the sauce. Prepare the sauce by mixing all the ingredients together in a small saucepan. Bring to a boil and once the sauce thickens slightly remove from heat.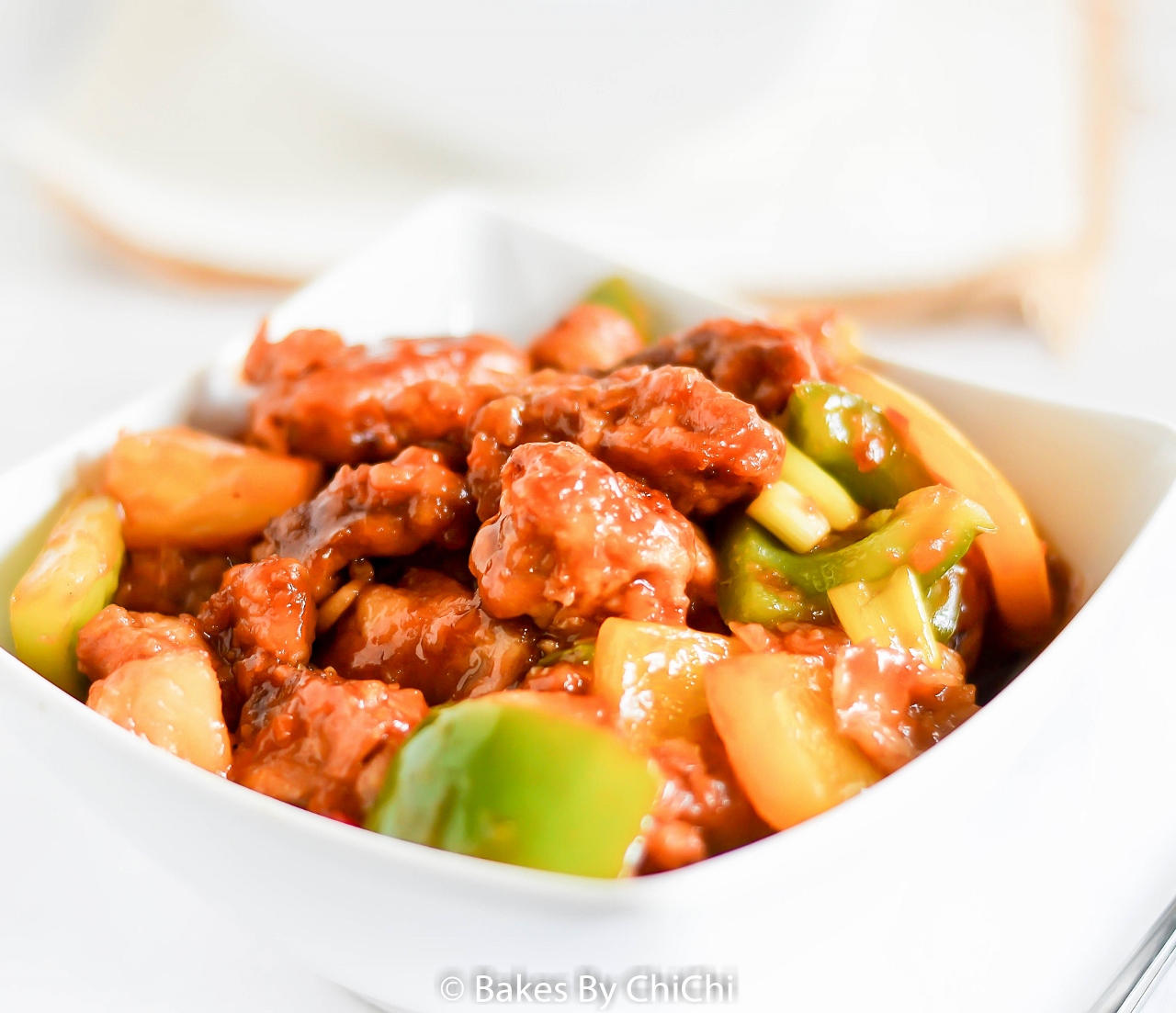 Another important part of this dish, is getting your pork all nice and crispy. Heat up some oil in a wok until it is moderately hot. Dust the pork with flour, dip in beaten egg and coat again with flour. Deep fry the pork in for 3-4 minutes, stirring to separate the pieces.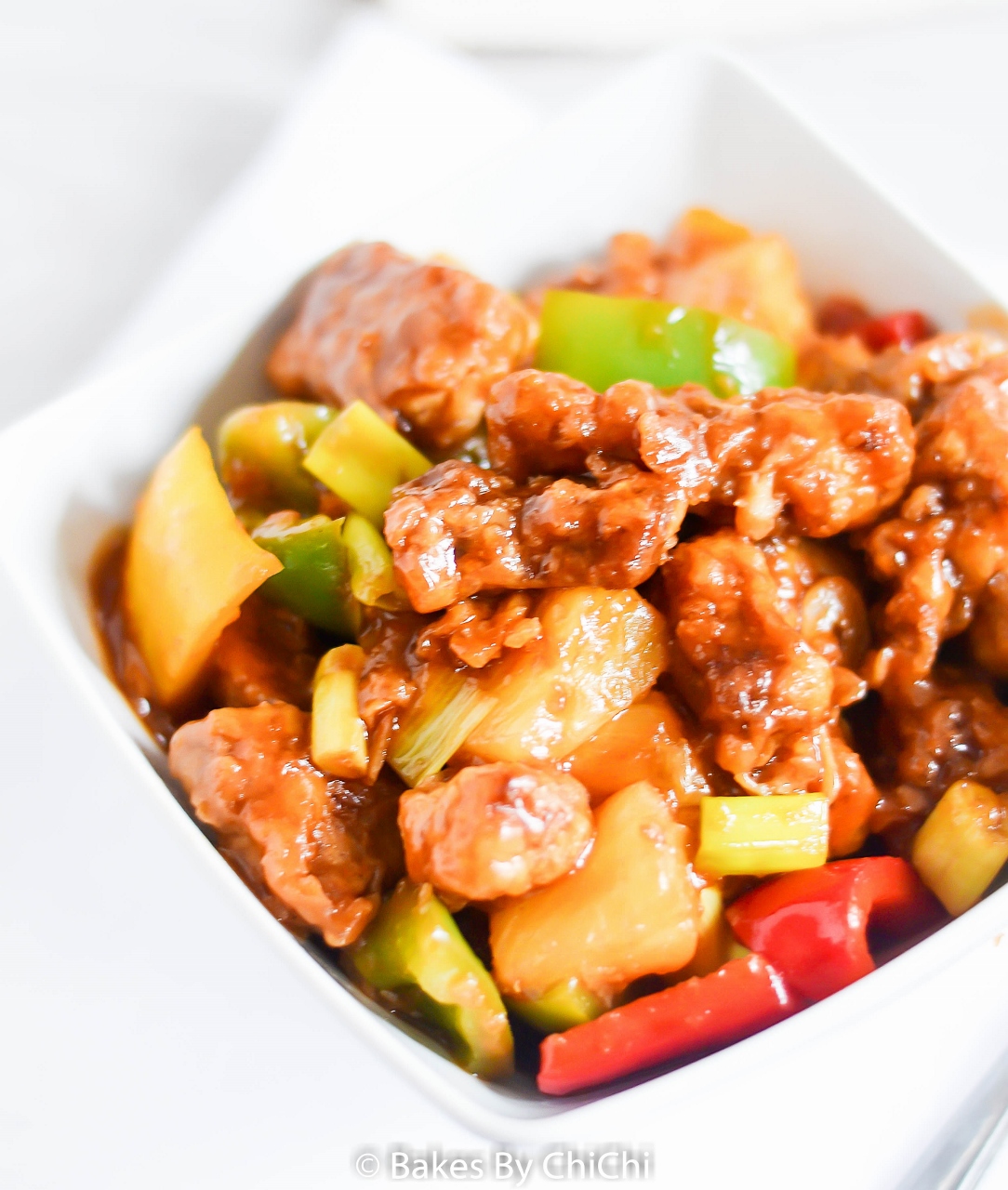 Once you have your sweet and sour sauce and crispy pork ready, the dish can be put together in less than 10 minutes. And it's delicious.
Stay up to date with Bakes by ChiChi on:
Facebook | Instagram | Pinterest | Google Plus | Bloglovin
or you can subscribe to my weekly newsletter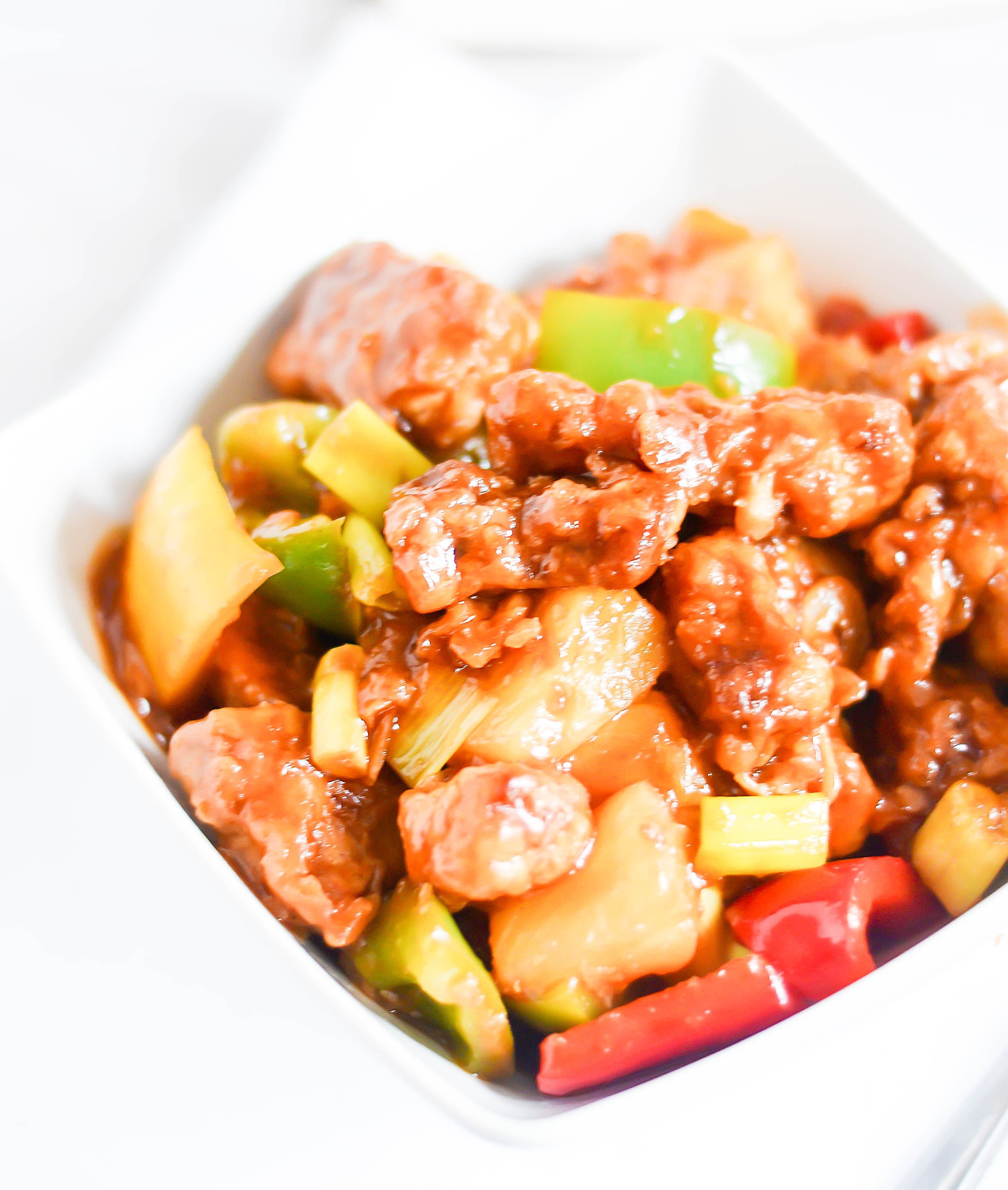 Ingredients
17 ounces pork loin
1 garlic clove, finely chopped
3 spring onion, cut into short slices
1 green bell pepper, cut into pieces
1 yellow bell pepper, cut into pieces
2 pieces canned pineapple ring, chopped
vegetable or sunflower oil, for deep frying

To season pork

1/4 teaspoon Chinese 5 spice
1/4 teaspoon salt
1 teaspoon light soy sauce
1 tablespoon Chinese rice wine

To coat

3 tablespoons plain flour
1 egg, lightly beaten

For the sauce

2-3 tablespoons rice vinegar
1 tablespoon tomato ketchup
1 teaspoon plum sauce
1 teaspoon brown sugar
1 tablespoon light soy sauce
1 tablespoon Worcestershire sauce
1 teaspoon oyster sauce
1 teaspoon corn flour
120 ml (1/2 cup )water
Instructions
Cut the pork into bite size cubes and place in a mixing bowl. Add Chinese 5 spice, salt, soy sauce and Chinese rice wine and marinate for 15-20 minutes.
Mix the sweet and sour ingredients in a small saucepan. Bring the mixture to a boil. Remove from the heat and set aside.
Coat the pork lightly with flour, dip in the beaten egg and coat with more flour. Heat the oil in a wok and deep fry the pork in batches for 3-4 minutes, until golden brown. Remove and drain on paper towels.
Clean your wok and heat a tablespoon of oil. Add chopped garlic, spring onions, green pepper and pineapple pieces. Stir-fry for 30-40 seconds , then add add sweet and sour sauce. Bring to a boil and transfer pork pieces into the wok. Stir to mix, then serve.
3.1
https://bakesbychichi.com/chinese-sweet-and-sour-pork/