Fluffy buttery yellow cupcake frosted with chocolate buttercream and topped with a white chocolate candy cane bark.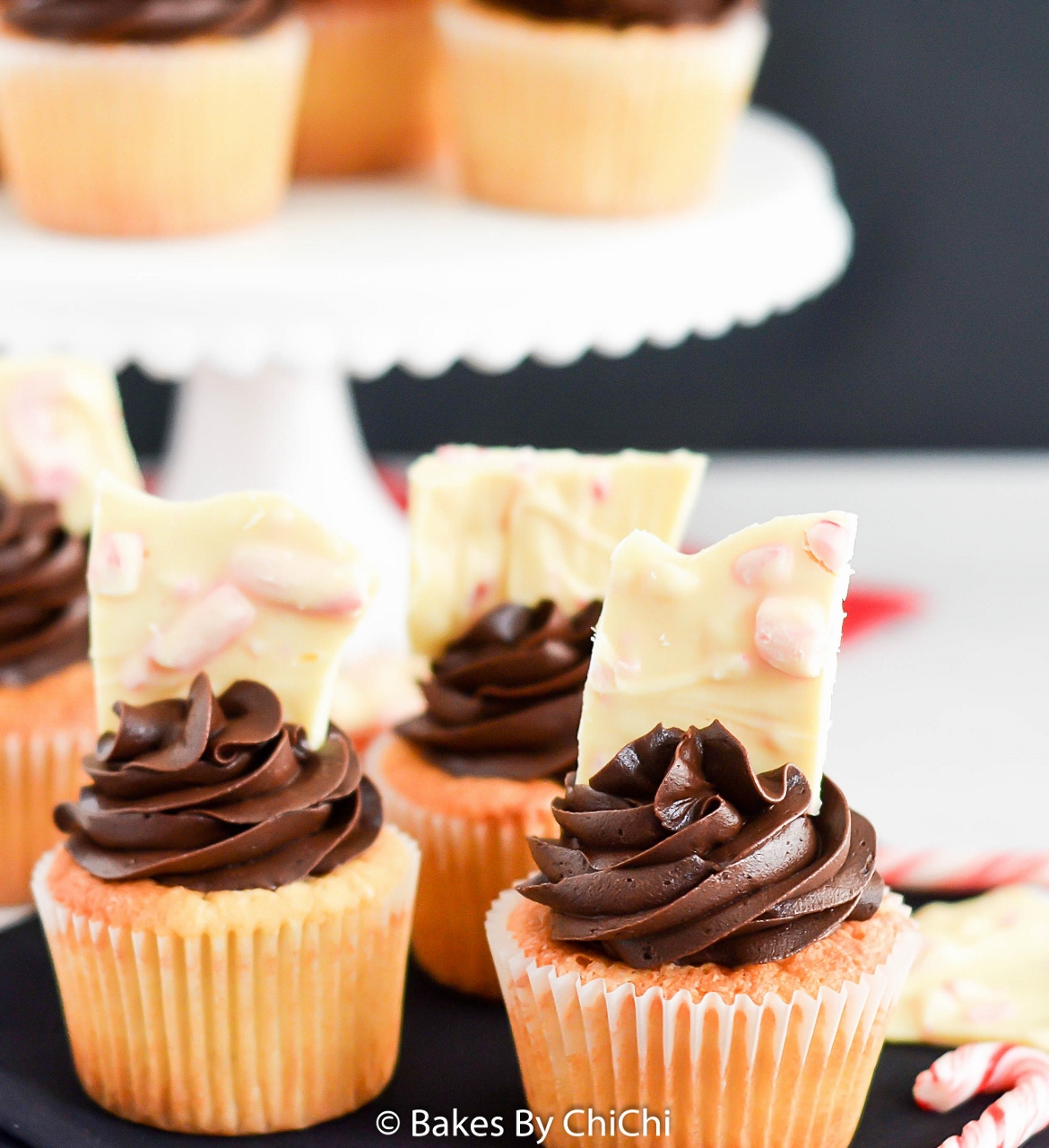 Hello December!!! Hello Candy Cane Season!!
December is the month I tell myself I can eat guilt free, because in January I can detox. Well this year all things in moderation. Which is why when I made these chocolate frosted yellow cupcakes topped with white chocolate candy cane bark, I ate one and quickly gave the rest away. This cupcake combines some of my favourite treats. White chocolate is one of guilty pleasures and also candy canes.
Making the white chocolate candy cane bark is pretty easy. Usually I would melt chocolate in the microwave, but with white chocolate I do it over a barn marie. White chocolate has a low burning point of 110 degrees celcius. Using the barn marie method guarantees the greatest level of temperature control. The last thing you want is the chocolate burning. Chop up your favourite white chocolate into little pieces. Heat some water in a pan over medium heat until it boils. Set a heat proof bowl over the top of the pan, making sure the bottom of the bowl does not touch the water. Add the chocolate to the bowl and stir occasionally until the chocolate until it melts. Remove the bowl from the top of the saucepan. And leave melted chocolate to cool for about a minute and then stir in some crushed candy cane. Spread the melted chocolate using an offset spatula on a baking sheet covered with baking paper. Refrigerate until the chocolate sets, about 30 minutes.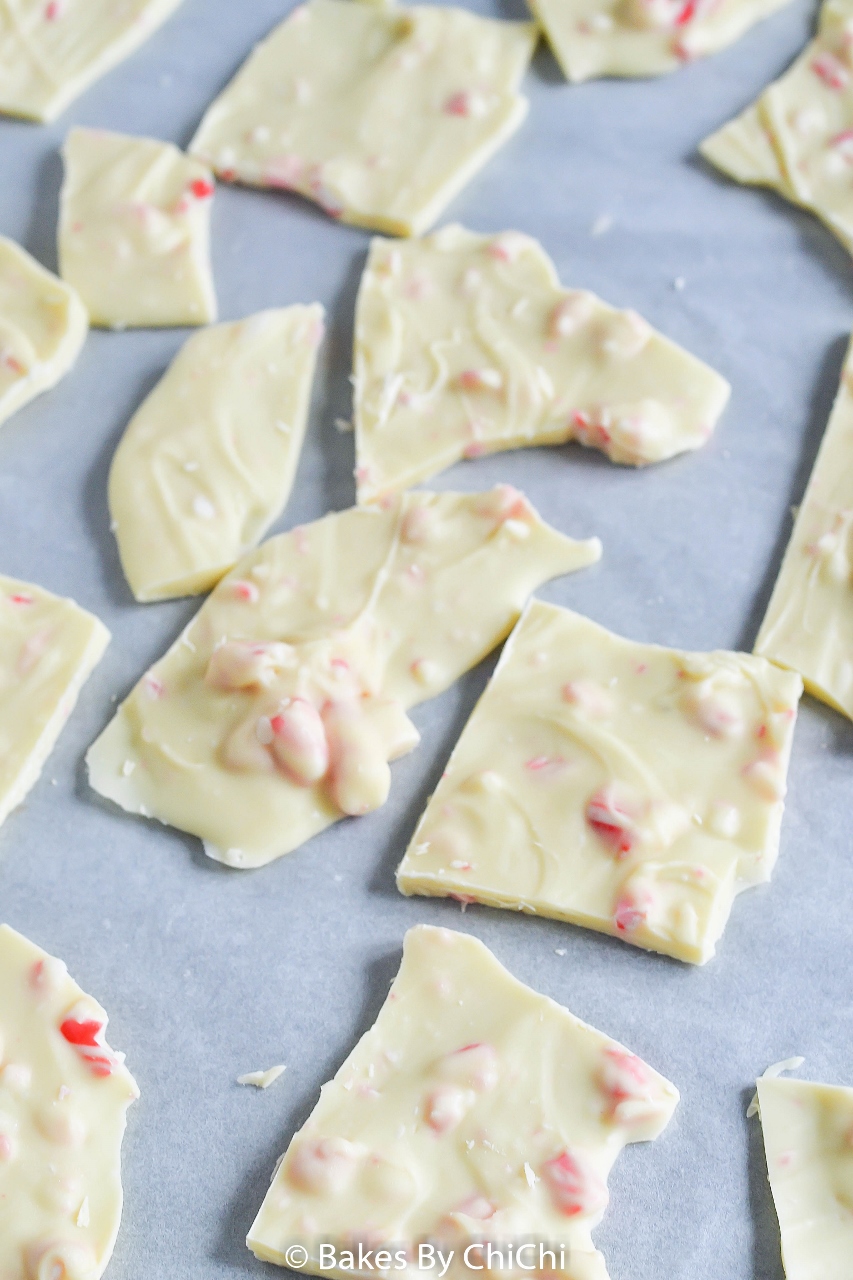 These yellow cupcakes are light, rich, buttery and moist. And perfect for celebrations. The yellow cupcakes come together easily and fuss free. It is made with ingredients you are likely to find in your kitchen cupboard. The richness of the cupcakes is thanks to the addition of egg yolks to the batter. Perfect!!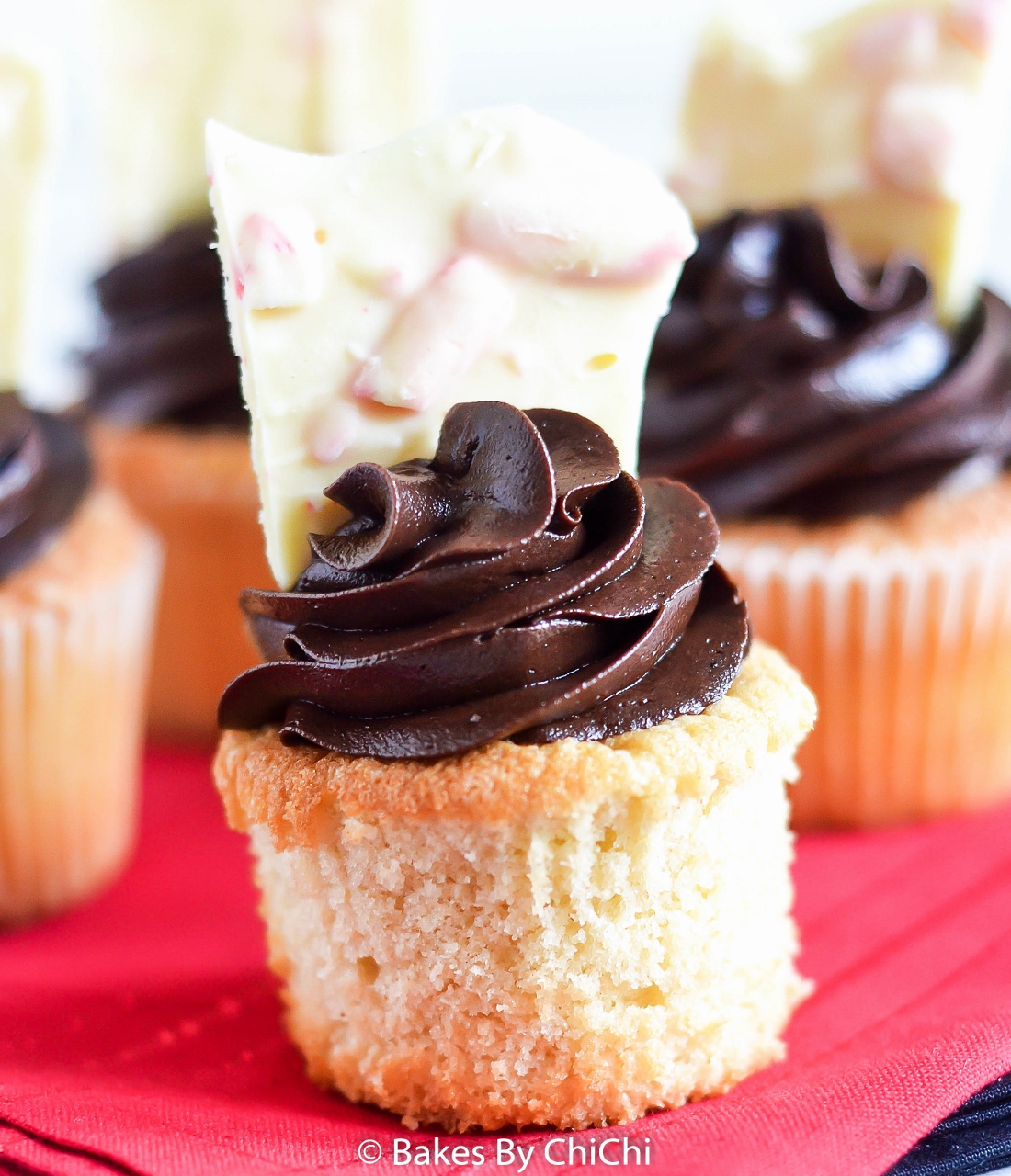 Now the frosting is my go to chocolate buttercream. It has a combination of melted chocolate and cocoa powder. This frosting is so delicious and amazing. Chocolatey, smooth and pipes onto the cupcake like a dream, just how I like it. Swirl this yummy chocolate buttercream high on your yellow cupcake and top with a white chocolate candy cake bark.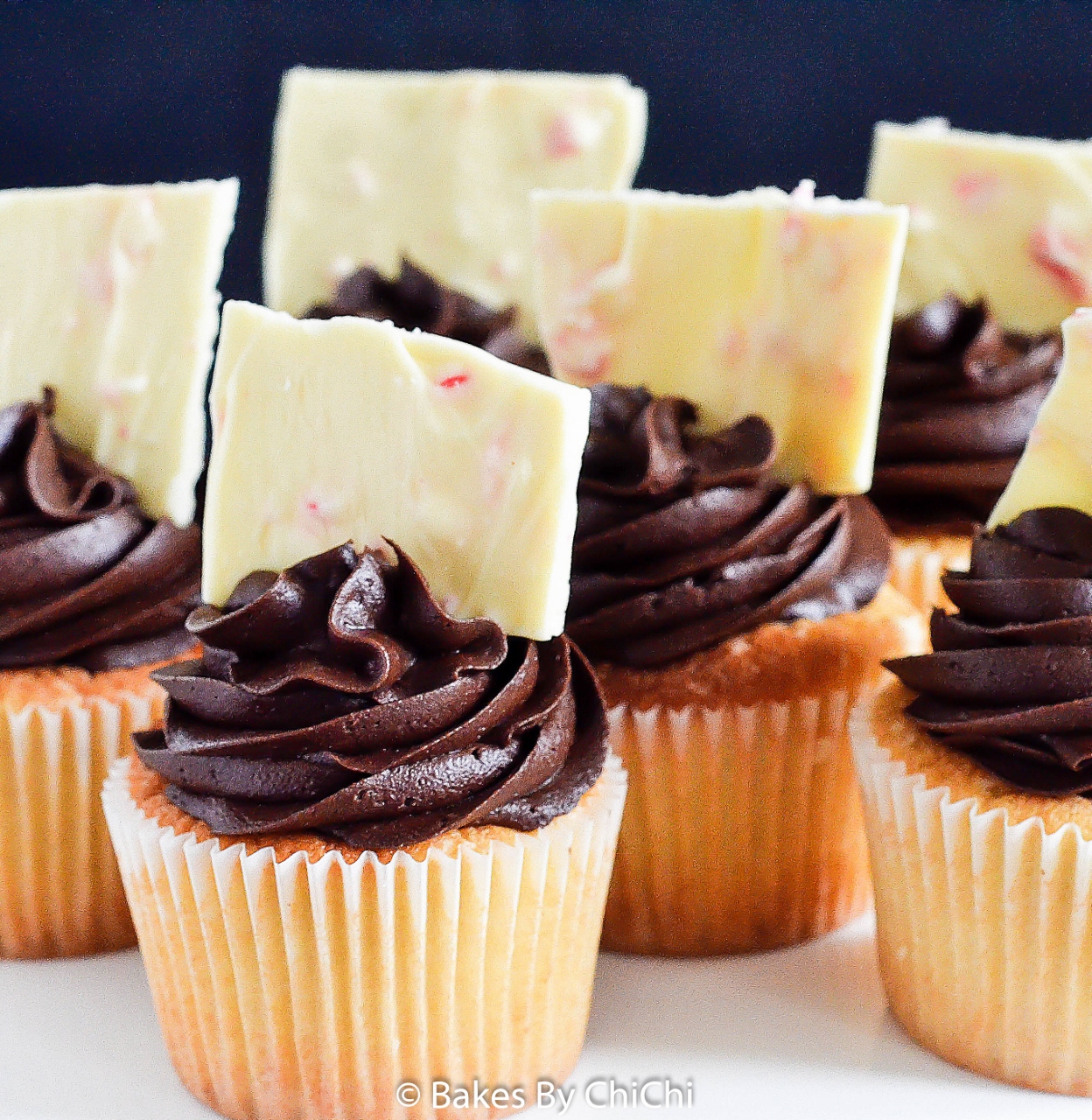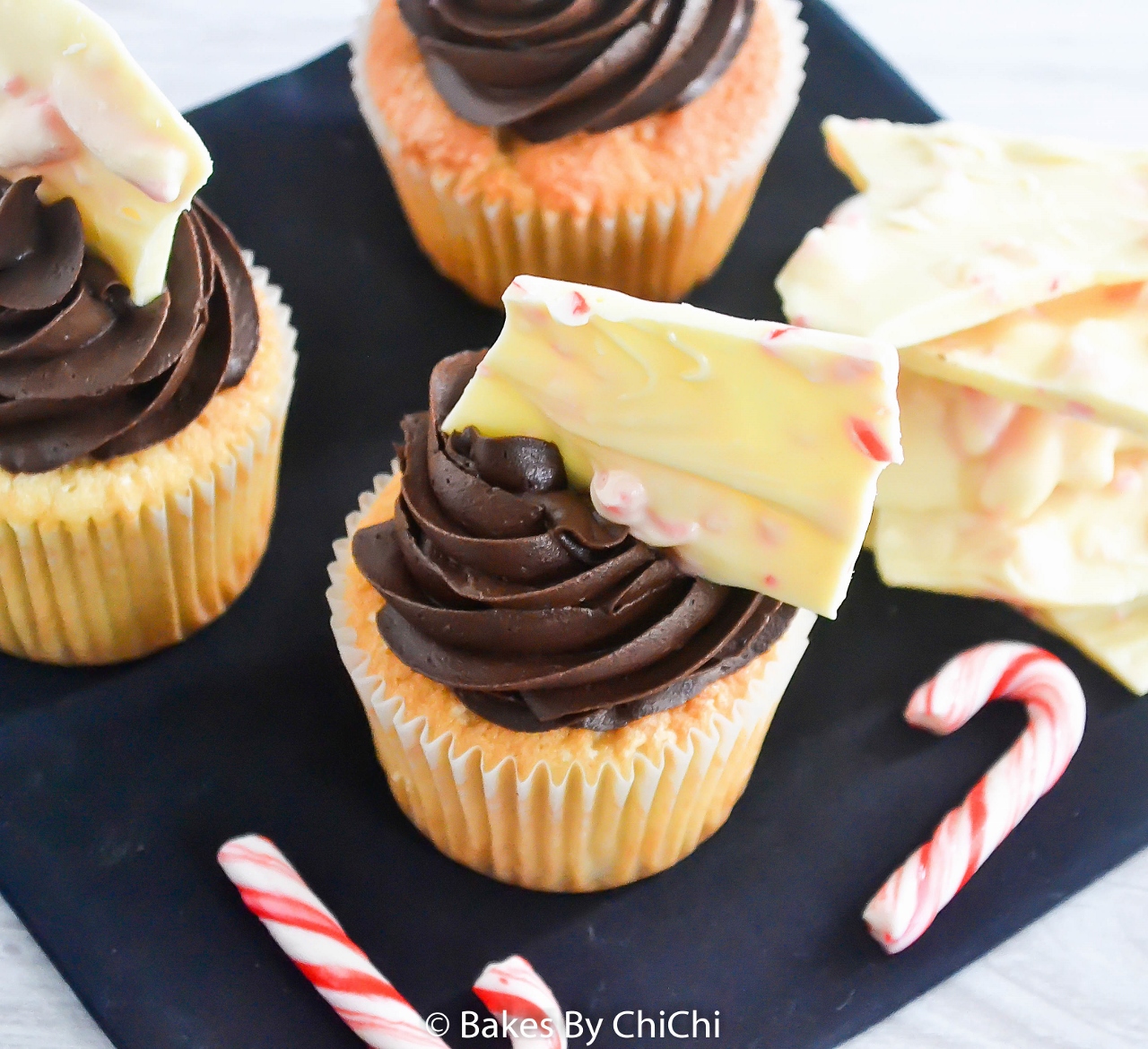 I think these cupcakes are just perfect for any Christmas celebration 🙂
Stay up to date with Bakes by ChiChi on:
Facebook | Instagram | Pinterest | Google Plus | Bloglovin
or you can subscribe to my weekly newsletter
Chocolate Frosted Yellow Cupcake and White Chocolate Candy Cane Bark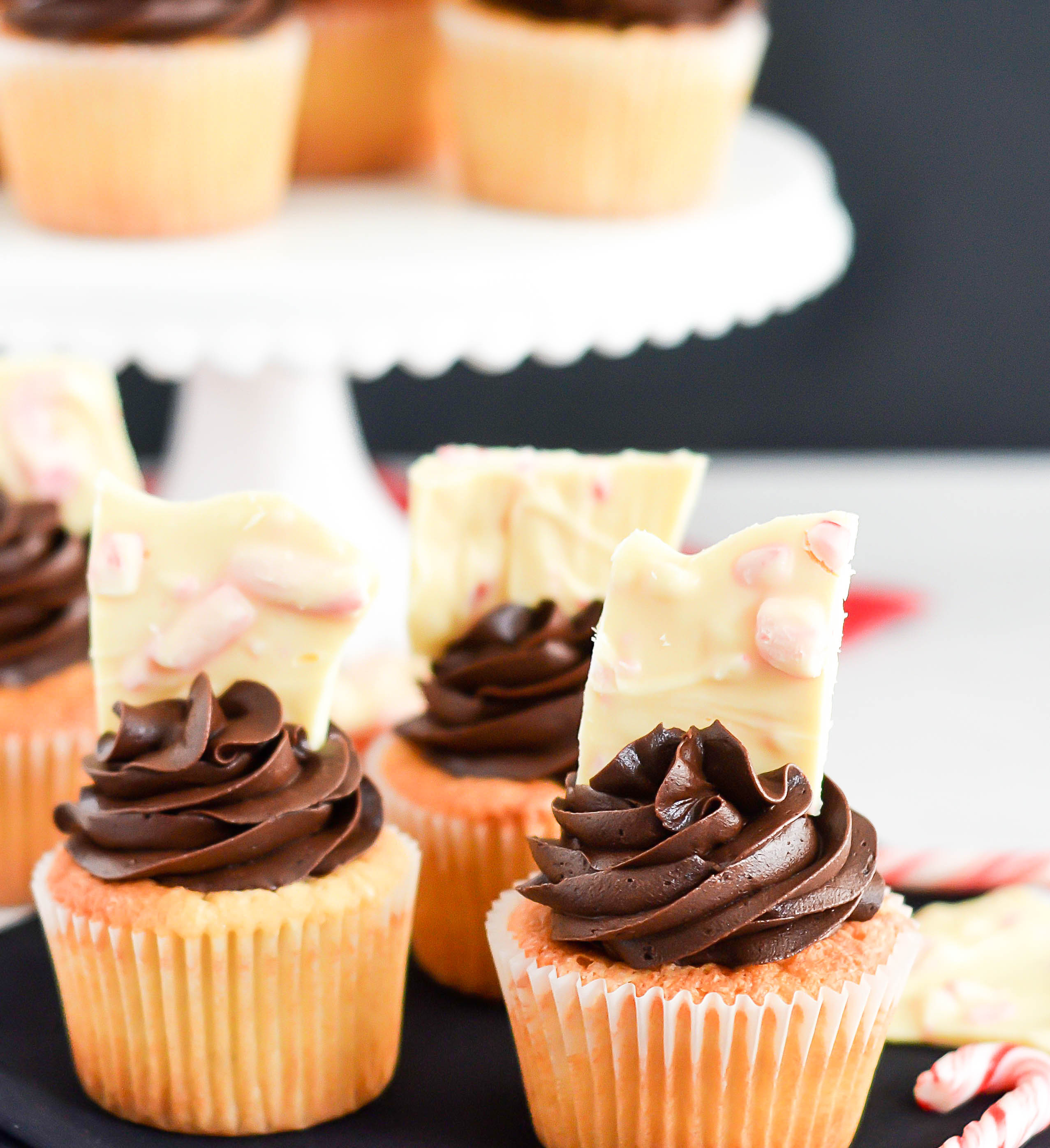 Ingredients
White Chocolate Candy Cane Bark

200 g (7 ounces) white chocolate bars, chopped
10 small candy canes, crushed

Yellow Cupcakes

170 g (3/4 cup) unsalted butter, room temperature
200 g (1 cup) caster or granulated sugar
1 whole egg
2 egg yolks
2 teaspoons vanilla extract
300 g (21/2 cups) plain flour
2 1/2 teaspoons baking powder
1/2 teaspoon salt
240 ml (1 cup) milk

Chocolate Buttercream

200 g semi sweet chocolate, chopped
240 g (1 cup) unsalted butter, room temperature
80 g (1/2 cup) trex or crisco
400 g (4 cups) icing sugar, sifted
100 g (1 cup) cocoa powder
120 ml (1/2 cup) whipping or double cream
2 teaspoons vanilla extract
Instructions
White Chocolate Candy Cane Bark
Line a baking tray with parchment paper and set aside.
Chop chocolate bar into pieces or grate into a heatproof bowl.
Sit over a saucepan of barely simmering water (a bain marie) , stirring occasionally until completely melted.
Remove from heat and leave to cool for about a minute or two.
Stir in crushed candy canes and using an offset spatula, spread the melted chocolate in an even layer on the prepared baking tray. Place the tray in the fridge until hard and set, about 30 minutes
Using a sharp knife cut bark into pieces.
Yellow Cupake
Preheat oven to 160 degrees celcius. Line a 12 muffin tin with cupcake cases
In the bowl of stand mixer beat butter and sugar until light and fluffy about 8 minutes.
Sift together flour, salt and baking powder, set aside.
Add egg yolks and whole egg one after the other beating well after each addition. Add vanilla extract and beat until combined.
With mixer on low, alternately add the flour mixture and milk mixture, beginning and ending with flour mixture.
Fill cupcake cases to two thirds full. Bake for 18 - 20 minutes or until tooth pick inserted in centre comes out clean.
Remove cupcakes from oven and place on cooling rack for 10 minutes. Carefully remove cupcakes from pan and leave to cool completely on rack before frosting.
Chocolate Buttercream
Put chocolate in a bowl and microwave at 30 second bursts until melted. Set aside and let cool to room temperature.
In the bowl of stand mixer or using a hand mixer beat butter and trex until creamy about 3 minutes.
Sift in icing sugar and cocoa powder , then beat. As frosting thickens add cream and beat until frosting is light and fluffy
Beat in vanilla extract and melted chocolate beat until evenly incorporated,
Increase speed of mixer and beat until buttercream is smooth
To assemble
Insert a 1M or 2D nozzle into a piping bag and fill with chocolate buttercream and gently squeeze the piping bag and allow the buttercream to fall onto the cupcake. Keep piping round the cupcake, keeping the tip of the nozzle raised slightly above the cupcake. As you pipe make the circles smaller till you get to the centre of the cupcake. Top with a white chocolate candy cane bark.
3.1
https://bakesbychichi.com/chocolate-frosted-yellow-cupcake-topped-with-white-chocolate-candy-cane-bark/