Tasty, spicy black eyed beans stew cooked with tomatoes, scotch bonnet peppers, ginger, garlic and onions. A delicious vegetarian meal from Ghana. Black eyed beans stew can be eaten on it own or served with fried plantain.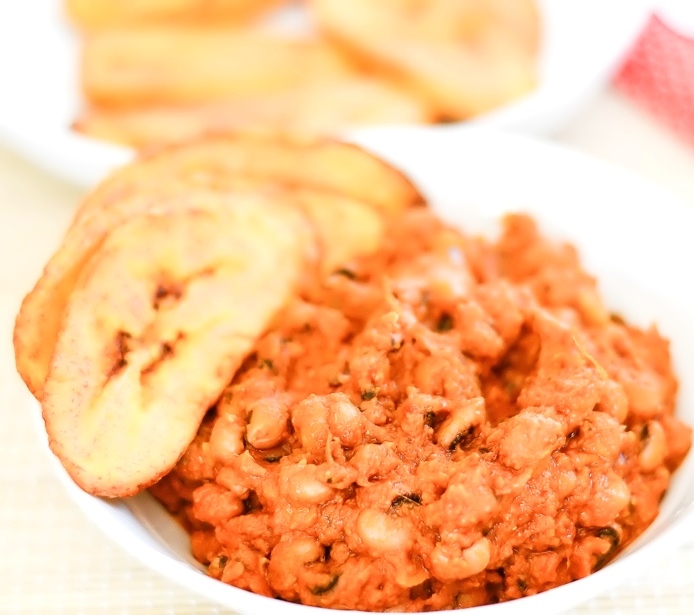 When I moved to London many years ago, my cooking skills were abysmal to say the least. For about three months it was takeaways for me. Not very practical, plus it started to become expensive. The craving for home cooked food got so intense I was on the phone to my mum in Ghana. My mum talked me through making lots of my favourite meals. That began my cooking adventures. Years later I can rather proudly call myself a good cook. Not as good as my mum though.

Black eyed beans stew was a dish I grew up eating in Ghana. I had this aunt who made the best beans stew, hers was just mouthwatering delicious. This dish is also known in Ghana by it's popular name 'red red'. Palm oil is used to cook the tomato sauce base for this dish and that's what gives it the name 'red red'.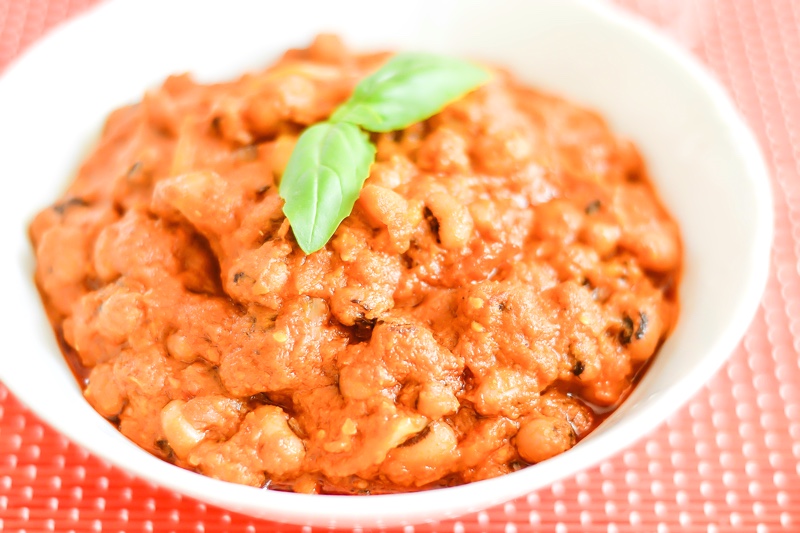 To make this black eyed beans stew, I start by soaking the beans in water overnight. This is to reduce cooking time. Not entirely necessary, but helpful. Beans are cooked for about an 1 hour to 1 and a half hours till they are soft. If you like your beans with a bit of a bite, just reduce cooking time.
Whilst the black eyed beans cook, you can start to make the tomato sauce base for this dish. The sauce is combination of tomatoes, scotch bonnet peppers, ginger, onions and garlic. This sauce creates a flavourful delicious base to cook your beans in. It is spicy without being too over powering and all the flavour just marries together well with the beans.
Start off by sauteeing chopped onions in heated palm oil. Add a pureed mix of ginger, garlic and onions and cook for 5 minutes. To that you will add a blended mix of tomato and scotch bonnet peppers. Stir the mixture, turn down heat to low and then leave to cook for 30 minutes. Once the stew is cooked you can stir in the cooked beans , season with prawn stock cube and salt. Leave beans stew to simmer for 10 minutes and it is ready.
I have shared a short tutorial showing on how to make black eyed beans stew. Please cick here to subscribe to my YouTube Channel 🙂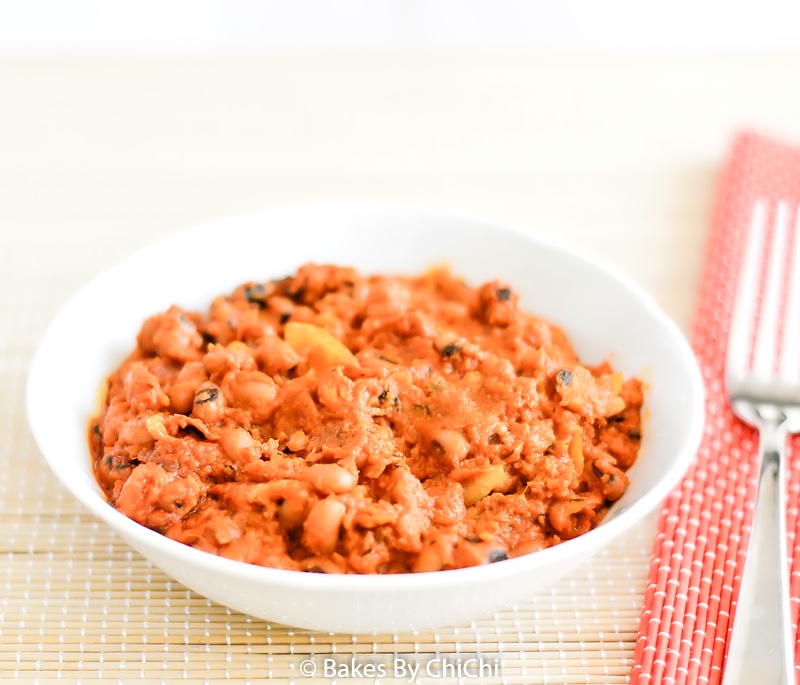 You can always eat this dish on it's own, but I think it's best eaten with fried plantain. A perfect balance of savoury and sweet.
Frying plantain takes about 5 minutes tops. Pre -heat up some oil in a frying pan. Peel and slice your plaintain into diagonal pieces , sprinkle with salt (optional) and toss. When oil is hot gently lay plantains onto hot oil and fry until both sides brown. Remove with slotted spoon and drain on sieve or paper towel.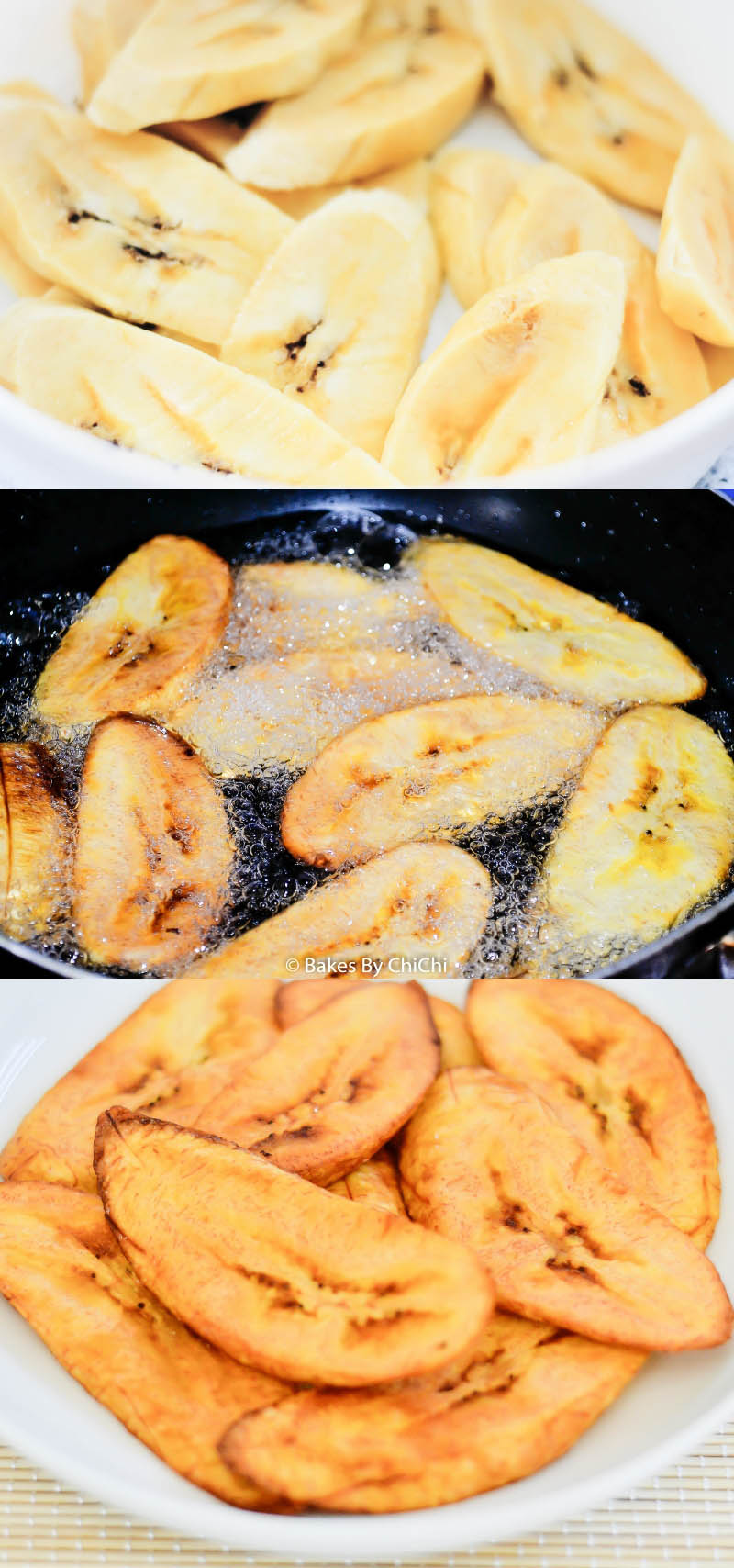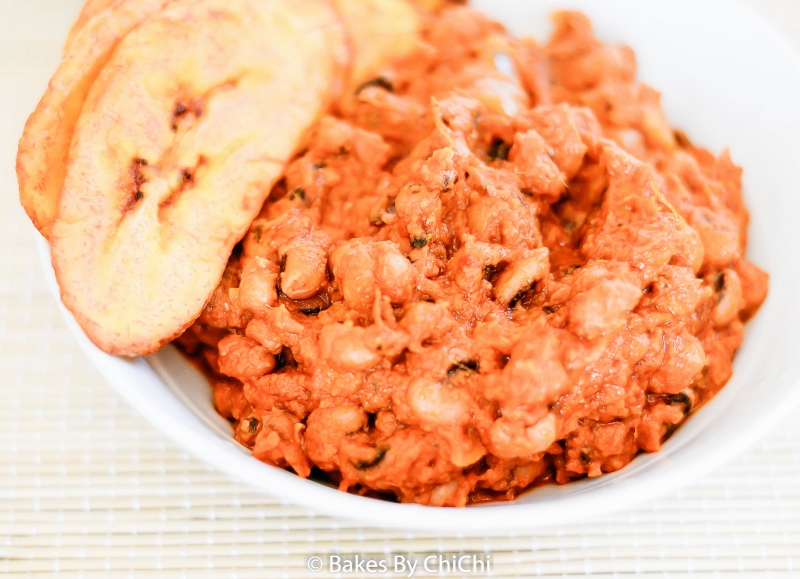 Serve black eyed beans stew with fried plantain and enjoy!!!
Black Eyed Beans Stew "Red Red"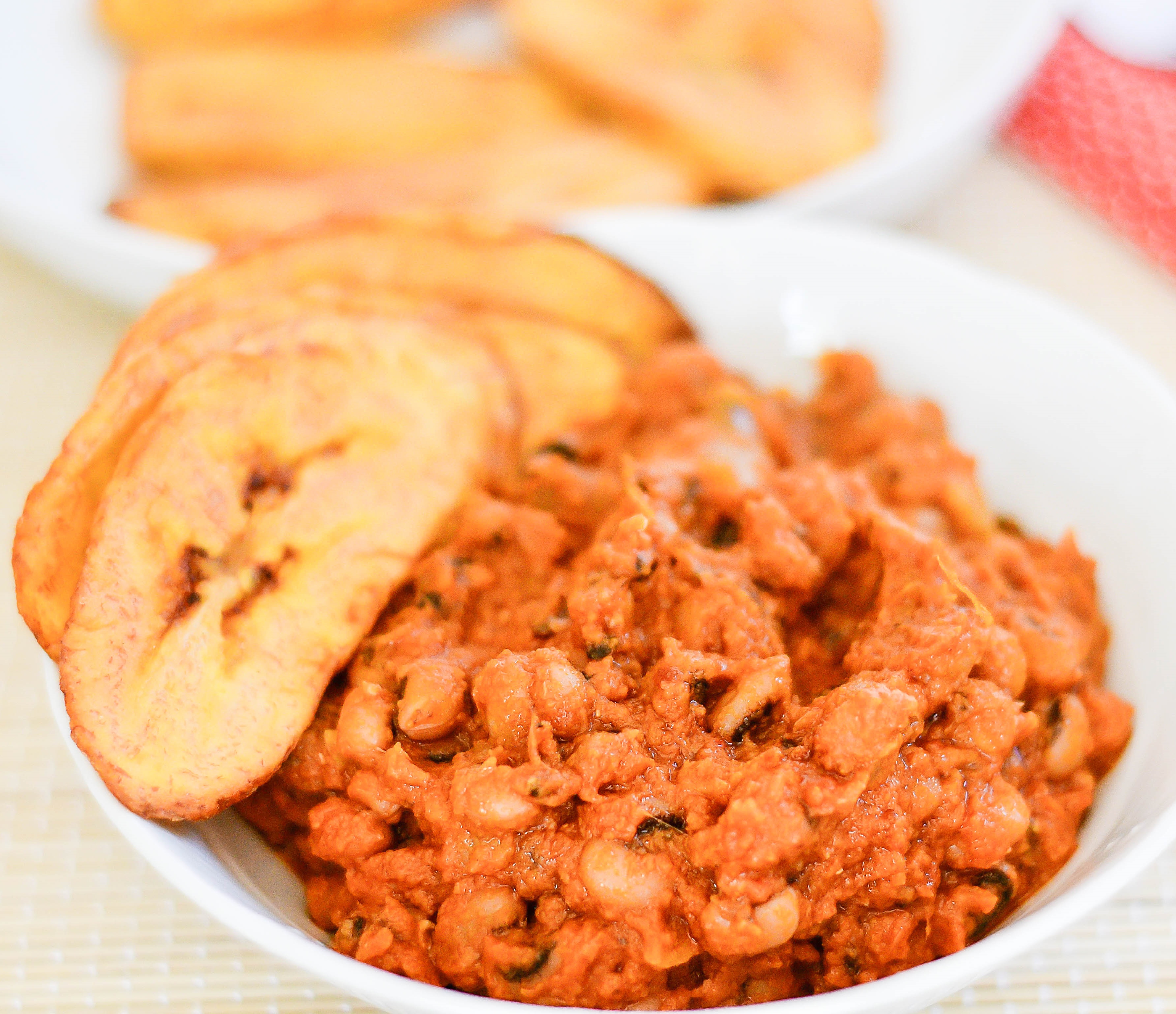 Ingredients
400 g (2 cups) dried black eyed beans
4 tablespoons palm oil
2 medium onions
4 garlic cloves
50 g (4 inch ) ginger
2 X tins 400 g plum tomatoes
2 scotch bonnet pepper
1 prawn stock cube
Salt to taste
Instructions
Place black eyed beans in colander and rinse with cool running water. Add beans to a pot and cover with 1.2 litres (5 cups) of water. Cover the pot and leave beans to soak overnight.
Drain water from beans add to a pot. Boil water in a kettle and cover beans with it. There should be about 2- 3 inches of boiling water in the pot. Cook for 60 to 90 minutes, or until beans are soft.
Chop one onion into chunks and set aside.
Puree together 1 onion, garlic cloves and ginger and set aside.
Heat palm oil in pot until hot. Saute the onions until soft for about 2 - 5 minutes. Mix in 5 tablespoons of onion, garlic and ginger mix and leave to cook for 5 minutes.
Blend tomatoes and scotch bonnet peppers until smooth. Add the tomato mixture to the pot, plus half a cup of water and mix. Turn heat down to low and cook tomato sauce for 30 minutes, stirring in between.
Mix cooked beans into tomato sauce. Season with a prawn stock cube and salt to taste.
Leave to simmer for 10 minutes. Serve with fried plantain
Notes
Amount of scotch bonnet peppers can be adjusted to suit palate. Remove seeds from peppers to reduce heat.
3.1
https://bakesbychichi.com/black-eyed-beans-stew-red-redvideo/