Amaretto Peach Almond Galette – Bursting with sweet peaches this rustic galette is a delightful summer treat. Made with juicy peaches macerated with amaretto liqueur and brown sugar then layered over a flaky pie crust. Enjoy this dessert warm with ice cream.
Sometimes, I want a dessert which is easy and uncomplicated without compromising on the taste. That's where galettes come in. They are rustic fuss free pies that are quick to put together. They don't require perfection in their look, all you need is a good pie crust. And with peaches in season, I though why not use them to make a galette. 
Peaches are one of my favourite summer fruits. They are juicy and sweet. I have used them in drinks, like this Sparking Peach Pear Apricot Lemonade, but I have never actually baked them. I usually shy away from baking fruit as some get soft and mushy, which isn't actually a bad thing, however I like mine to still stay firm and hold their texture. And peaches deliver on this.
Let's talk about this Peach Galette
It brings together a flaky pie crust, sweet juicy peaches, sweet Amaretto liqueur (I used Disaronno) and almond flakes. Trust me, this dessert is everything. The perfect balance of sweet and savoury. 
It starts off with a flaky  pastry dough. The dough has specks of fat which will ensure a flaky pie crust. 
The filling is next, fresh juicy peaches, a little brown sugar and amaretto liqueur. Toss them all together and leave to macerate for 30 minutes. This is a key step, so don't leave it out. The result is a juicy fruit slices with a deep flavour
Ingredients for making this Amaretto Almond Peach Galette
Plain or All Purpose Flour– Start off with some good quality flour. You want use one with a low protein content. Between 9-12%. 
Salt– This brings out the flavour
Cold Butter–  Using cold butter prevents the fat from melting.  Butter also adds flavour to the crust. 
Vegetable Shortening – This aids in creating a flaky melt in your mouth crust. 
Iced Water- to bind and keep the dough cold
Peaches– Fresh juicy peaches are best. If you haven't that, then use tinned peaches.  You could also use other stone fruit like plums or apricots. 
Brown Sugar– Adds sweetness to the filling
Amaretto– This almond liqueur adds flavour to the filling. Almond essence can be used in place of this. 
Corn starch– Helps thicken the filling. 
Tips on how to get the a Flaky Pie Crust
The key to getting a flaky crust is to use cold fat. You want to keep the dough cold.  During the baking process, the fat melts and leaves behind multiple layers of crispy flaky layers. 
Use just enough water to bind the dough together. Too much water will require more dough and result in a tough dough. Too little water will result in a crumbly dough and difficult to roll out. 
Finally, let the dough rest in the fridge before using. This aids in relaxing the gluten and keeps the dough cold.
When it's time to roll out your dough, remove it from the fridge. 
Roll out the dough, into a circle. It doesn't have to be perfect. Remember this is a free form pie. Now layer your fruits over the pastry, leaving a 2.5 inch border all around and then fold over . Reserve the juices in bowl, mix in some corn starch to thicken and then pour over the fruit. Brush with egg wash (egg and milk), sprinkle with almond flakes, then bake. 
Slice the warm galette  and serve with ice cream. Every bite is full of flaky pastry and sweet juicy peaches.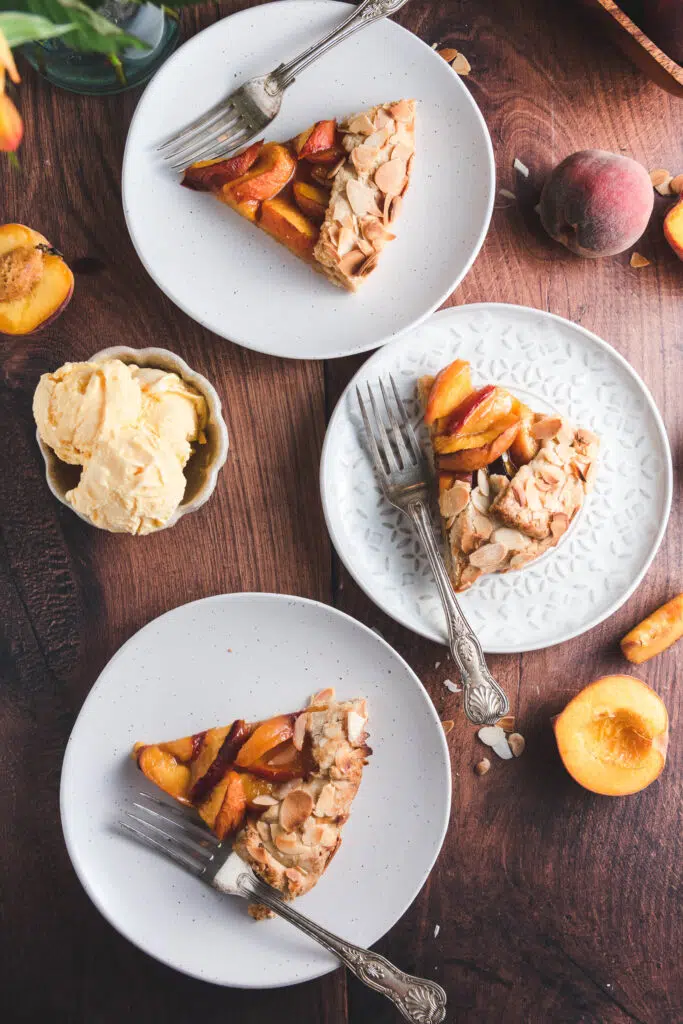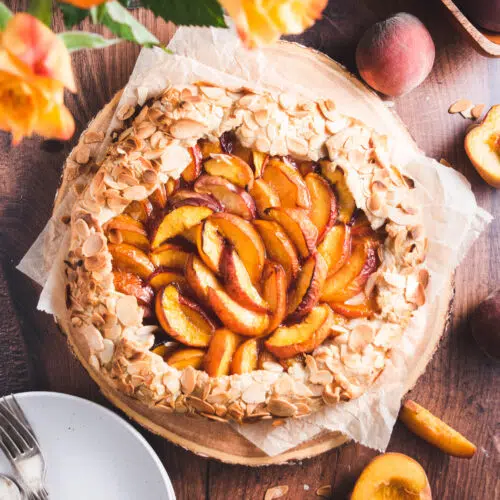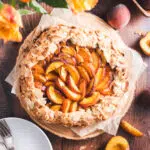 Ingredients
Flaky Pie Pastry
5

tablespoons

cold unsalted butter, cubed

3

tablespoons

cold vegetable shortening

220

grams

(1 ¾ cups plus 2 teaspoons) plain or all purpose flour

1

tablespoons

sugar, optional

¼

teaspoon

salt

60

ml

(4 tablespoons) ice water

flaked almonds
Peach Filling
4-6

peaches, pitted and sliced

2

teaspoons

brown sugar

30

ml

(2 tablespoons) amaretto liqueur

1

teaspoon

corn starch
Instructions
In a large mixing bowl, combine the flour, sugar, salt and stir to mix. Scatter the butter cubes and shortening pieces over the flour mixture.

Using a pastry blender or two forks cut in the butter and shortening until the mixture forms small large coarse crumbs.

Drizzle the ice water over the mixture and toss with the fork until the dough is evenly moist and begins to come form large clusters, but doesn't form a ball.

Transfer the pie dough to a clean work surface. Using floured hands, gently work the dough enough just to form a ball.

Shape the dough into into a disc and wrap tightly in cling film or plastic wrap. Refrigerate for at least 1 hour or overnight.

In a large mixing bowl, stir peaches, brown sugar and amaretto. Leave to marinate for 30 minutes.

Pre-heat oven to 180°C F/200°C/400°F. Line a large baking pan with baking or parchment paper.

Remove the dough from fridge. If it is too cold to roll out, let it stand at room temperature for 10 minutes. Lightly flour a work surface. Roll out the dough into a 12 inch circle (it doesn't have to be perfect). Trim off any ragged edges to make a clean even circle, if desired. Carefully use the rolling pin to transfer the dough onto the prepared baking sheet.

Leaving a 2 inch ( 5 cm) border, arrange the peaches( not the juices) in the centre of the dough. Fold the edges up and over the filling, forming loose pleats all around the edge. Mix the juice left in the bowl with corn starch and pour over the fruit. Brush the pleated dough with egg wash and sprinkle it with flaked almonds.

Bake for 30-35 minutes. Transfer to a wire rack and leave to cool before slicing and serving. Serve warm or at room temperature,
Notes
The pie dough can be made at least 2 days ahead and chilled in the fridge.
Make sure the fats and water are very cold. This results in a flaky pie crust. 
Prevent soggy bottoms by mixing the liquid left by the filling with corn starch
If you made this recipe, I would love to hear from you.
Tag Bakes By Chichi on Instagram or hashtag #bakesbychichi