Soft gooey cookie bars filled with creamy nutella and chocolate chips. An absolutely amazing decadent treat.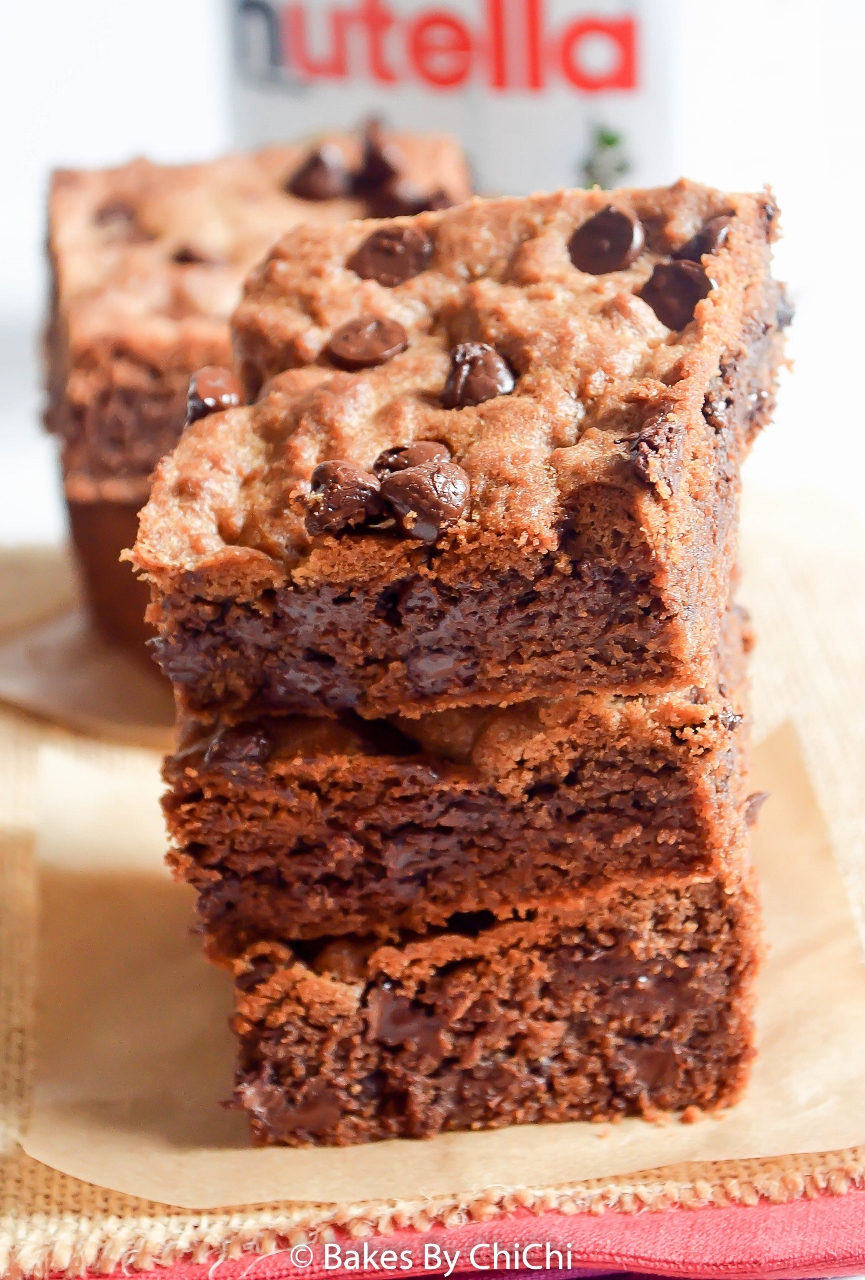 Sometimes you just want a soft thick gooey cookie to sink your teeth into, thin cookies just won't cut it. That is were these nutella cookie bars come in. You see I love nutella, well not just me. Esme does as well. My love for nutella can be found on nutella cupcakes, vanilla and nutella marble cake, doughnut holes filled with nutella and nutella ice cream.
Making these cookie bars are so easy.  I adapted my favourite cookie dough recipe to make these cookie bars. Some of the butter was swapped for nutella. Once the cookie dough is made, press into an 8 inch square cake tin. Then sprinkle lots of chocolate chips over the top.  Be sure to line the tin with greaseproof or parchment paper. Doing this will make removing the cookie bar from the tin so so easy.
Added plus, no scooping into balls and no chilling time required.  Bake for 25 -30 minutes or until top cookie is golden brown.
The cookies turned out so soft, rich , moist, buttery and all so gooey on the inside.  Wait for cookie to cool before slicing. That is if you can hold off till the cookie cools. I had my knife in slicing away before the cookie cooled. No wonder the cookie bars didn't last long. They barely made it to the photography stage, we just kept picking at them.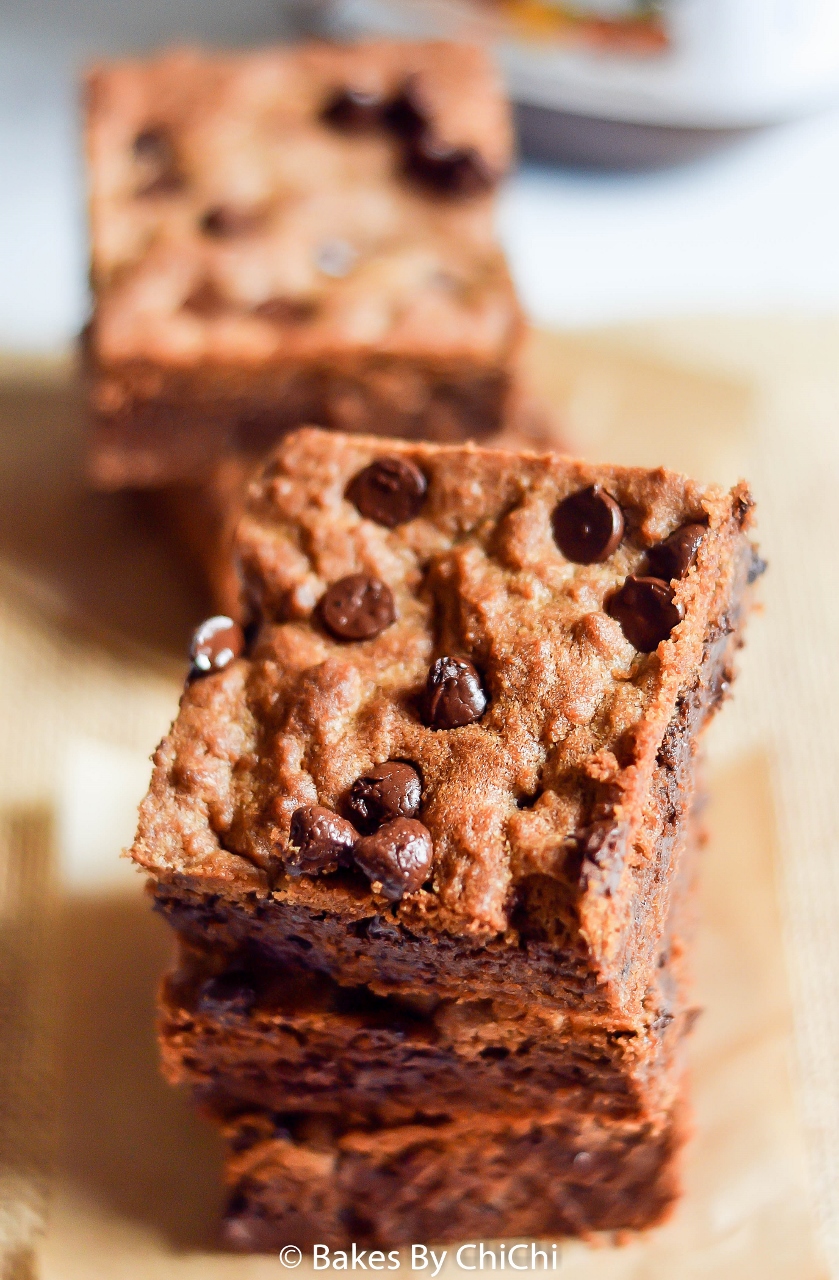 These  nutella cookie bars are the ultimate comfort food.  Gooey nutella explodes in your mouth with each bite . The cookie bars taste just magical and nutella-licious!!!!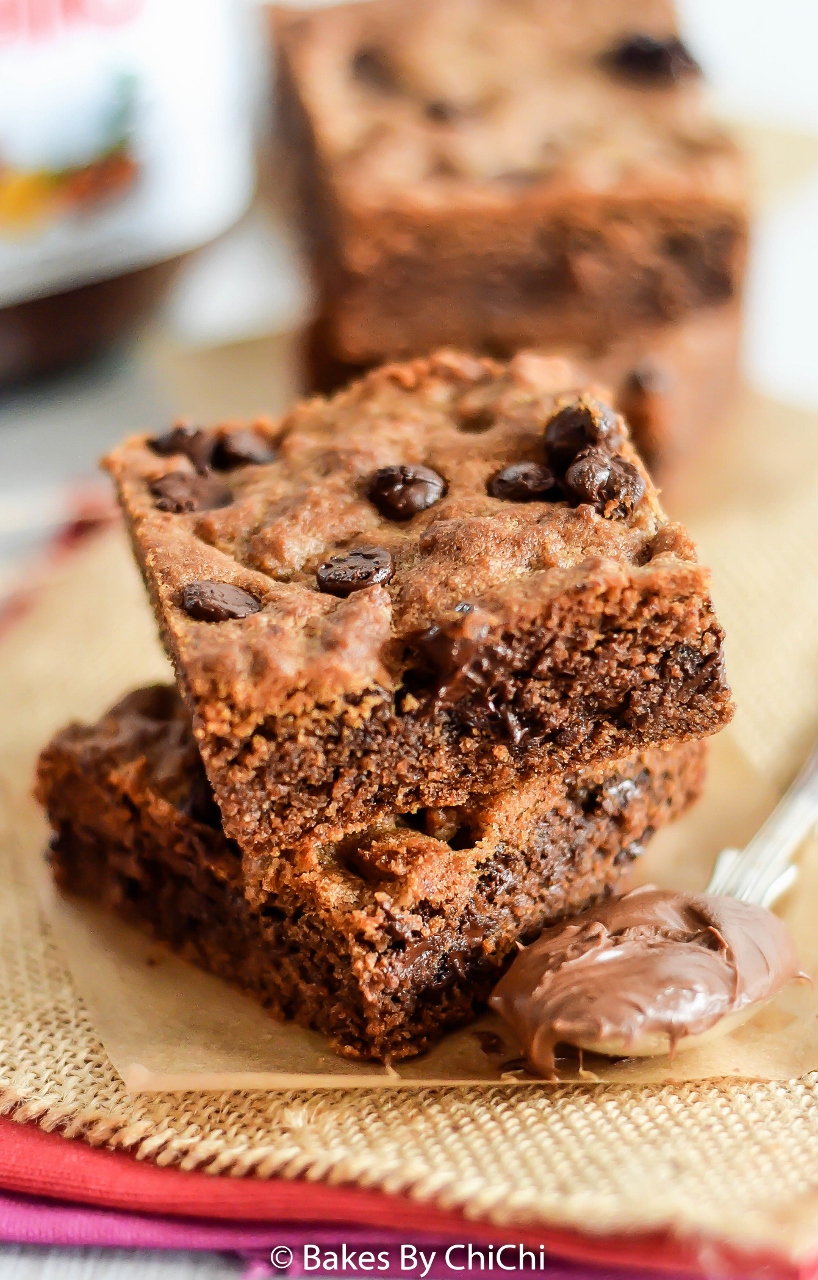 Stay up to date with Bakes by ChiChi on:
Facebook | Instagram | Pinterest | Google Plus | Bloglovin
or you can subscribe to my weekly newsletter
Soft Gooey Nutella Cookie Bars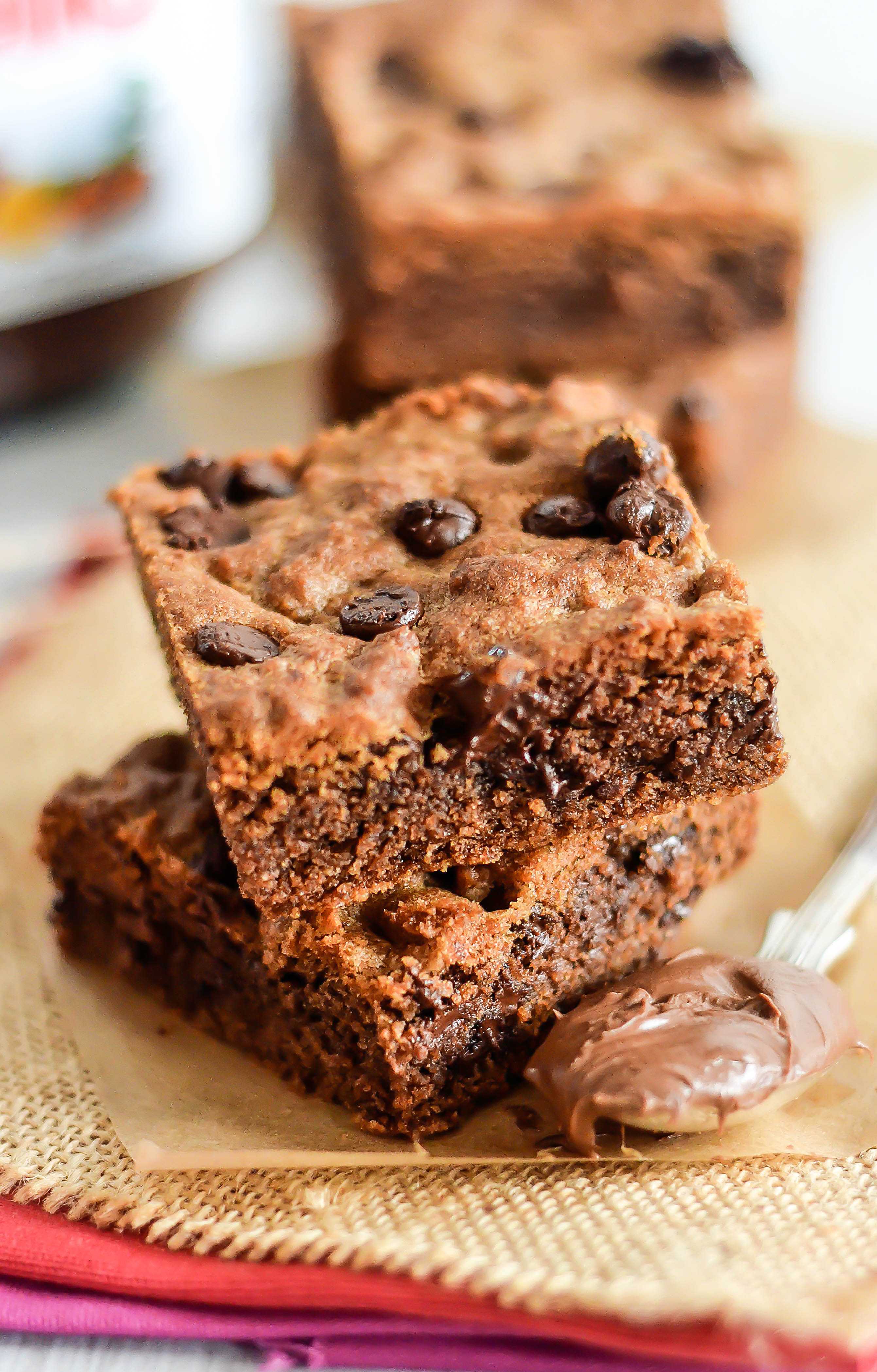 Ingredients
120g (1/2 cup) butter
90 g (1/2 cup) brown sugar
50 g (1/4 cup) caster sugar
120 g (1/3 cup) nutella (stir well before adding)
1 egg
2 teaspoons vanilla extract
240 g (2 cups) plain flour
2 teaspoons corn starch
1 teaspoon baking soda
1/2 teaspoon salt
200g (1 cup) semi sweet chocolate chip
Instructions
Preheat oven to 165 degrees celcicius. Grease and line with greaseproof paper an 8 inch square pan.
In the bowl of stand mixer beat butter, nutella and sugar until light and fluffy, about 5 minutes. Add egg, mixing well until combined. Scrap sides as needed. Add vanilla extract.
Sift flour, corn flour, salt and baking soda into mixture. Mix until combined on low speed.
Fold in chocolate chips.
Scoop dough into tin and press evenly into tin.
Bake cookie dough batter in oven for 25 - 30 minutes or until cookie cake is golden brown
Let them cool completely before attempting to slice. Store in an airtight container for up to 4 days.
3.1
https://bakesbychichi.com/soft-gooey-nutella-cookie-bars/