Delicious cream scones served warm with mascarpone cream and raspberry jam.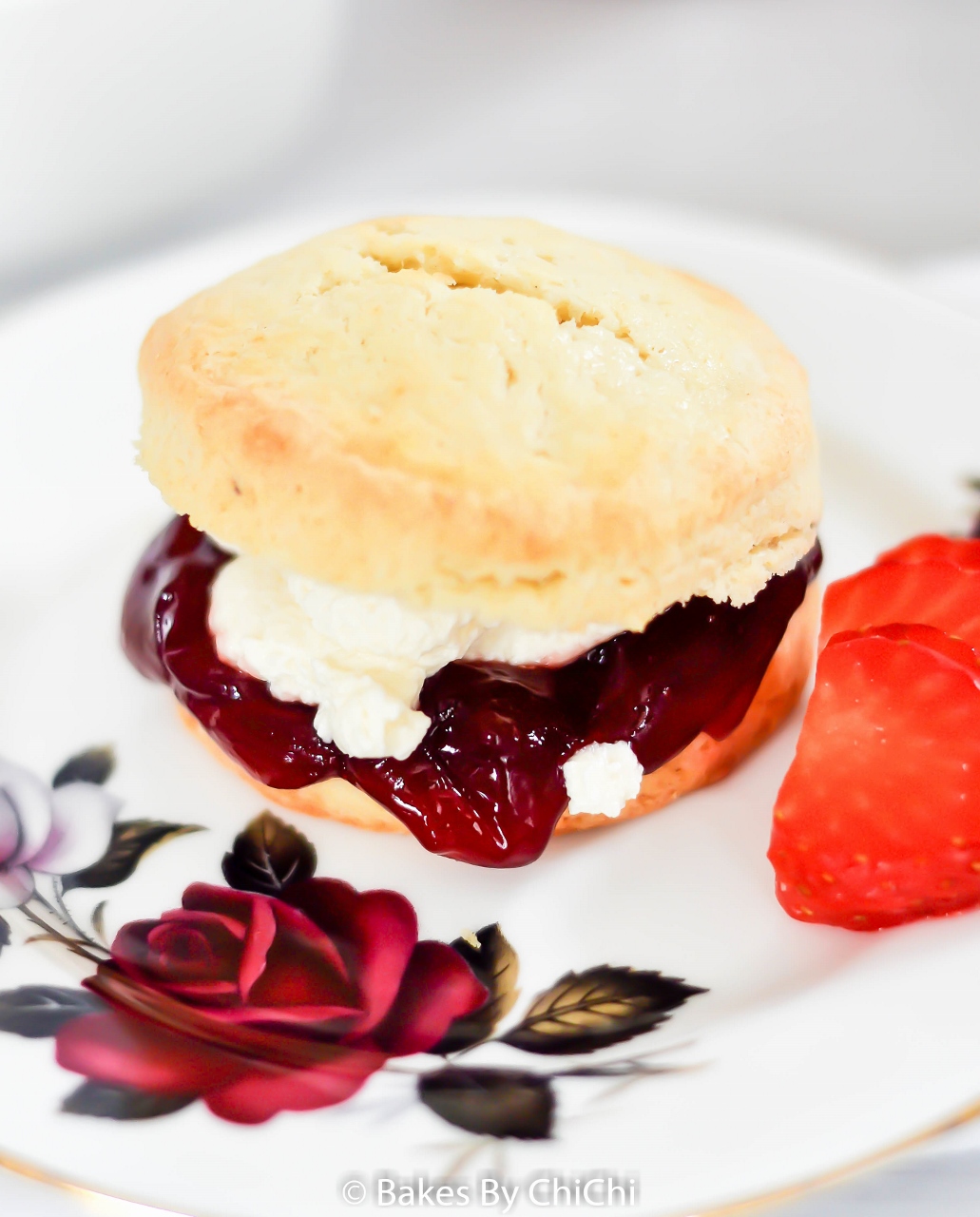 This summer my bestie and I said we would pick a day get glammed up for Afternoon Tea at one of London's best tea rooms. Afternoon tea is an assortment of sandwiches, pastries and my favourite scones served with tea or champagne. We had our eye on having afternoon tea at The Ritz.  According to the internet, afternoon tea owes it origins to Anna, the 7th Duchess of Bedford. She came up with this ritual after being weakened and irritated by hunger pangs. Back in the early 1800s it was common to eat only two main meals a day, breakfast and dinner. The solution for the Duchess was to have tea and a snack each afternoon. Friends were later on invited to join her. The practice became so popular other hostesses picked up the idea and it became fashionable to sip tea and eat sandwiches during the day.
Afternoon tea didn't happen for us. There was work, lots of  summer barbecues and family life. We just couldn't get a date sorted. So why not being afternoon tea to my home, well the scone bit of it. Perfect delicate scones with a slightly crisp exterior, light airy inside and a rich buttery flavour.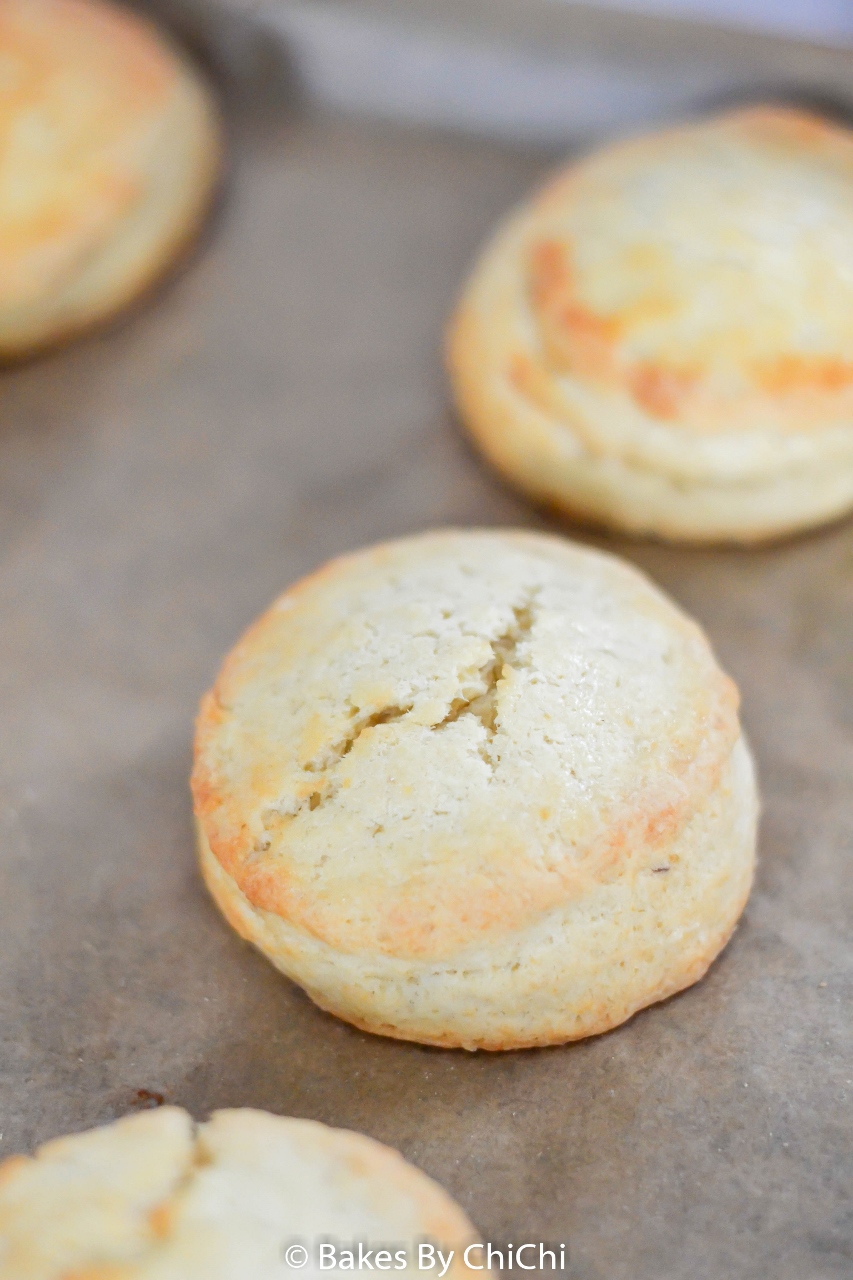 Today's scones are cream based and have frozen butter in it.  Cream and frozen butter are important ingredients in the making of these scones.  No substitutions please. The cream make the scones incredibly moist. And the frozen butter keeps the dough nice and cold. I incorporated the frozen butter by grating over the flour and then tossing lightly to coat the shreds of butter with the flour.  Whilst baking ,crumbs of butter will release little pockets of air, that make the scones all airy as well as light on the inside.
Another secret to making beautiful light airy scones, is not to over knead. Use a light touch when mixing the ingredients together.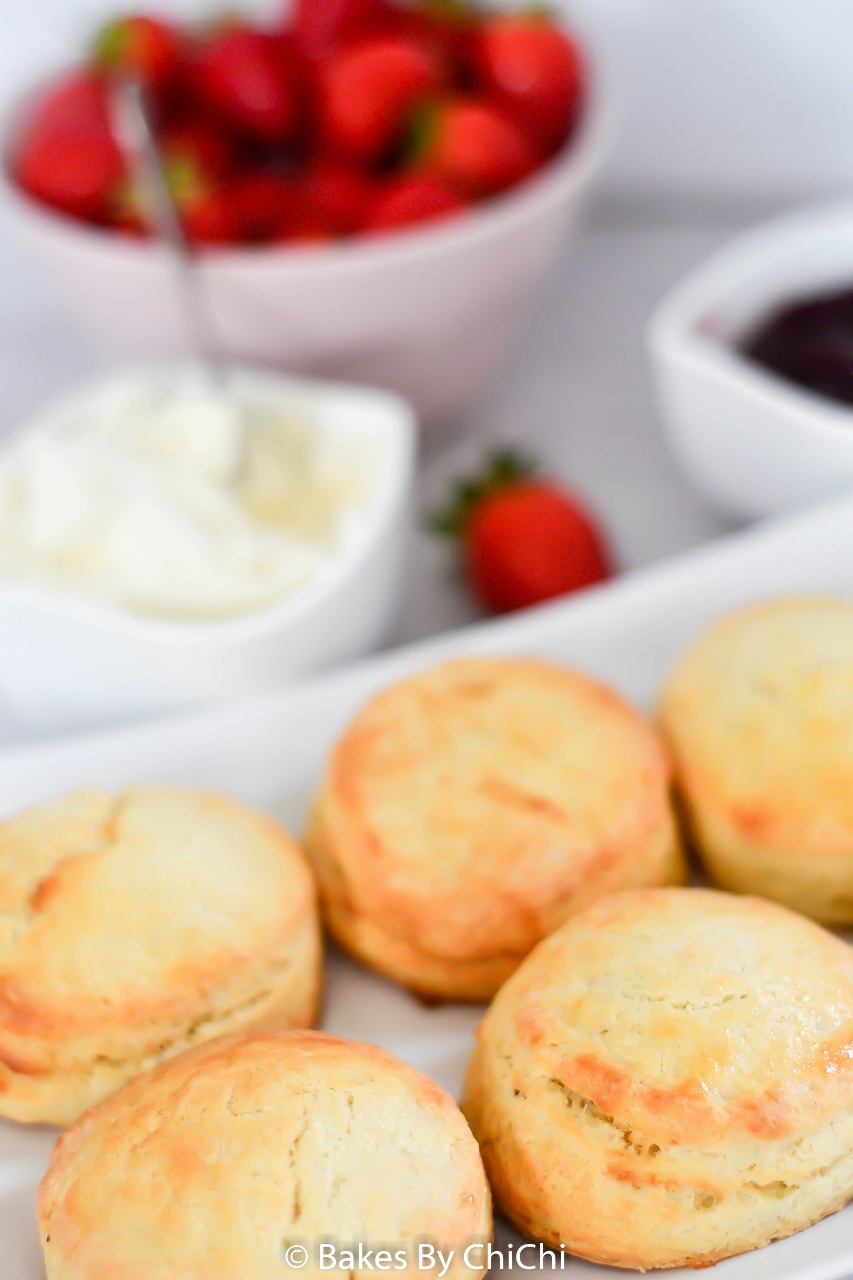 Traditionally scones are served with clotted cream and jam. If like me, you can't get your hands on clotted cream, I found an amazing substitute. Whipped mascarpone cream and a dash of vanilla extract!!  With the nice and delicate flavours  mascarpone has, it pairs well with fruit and is perfect to serve the scones with.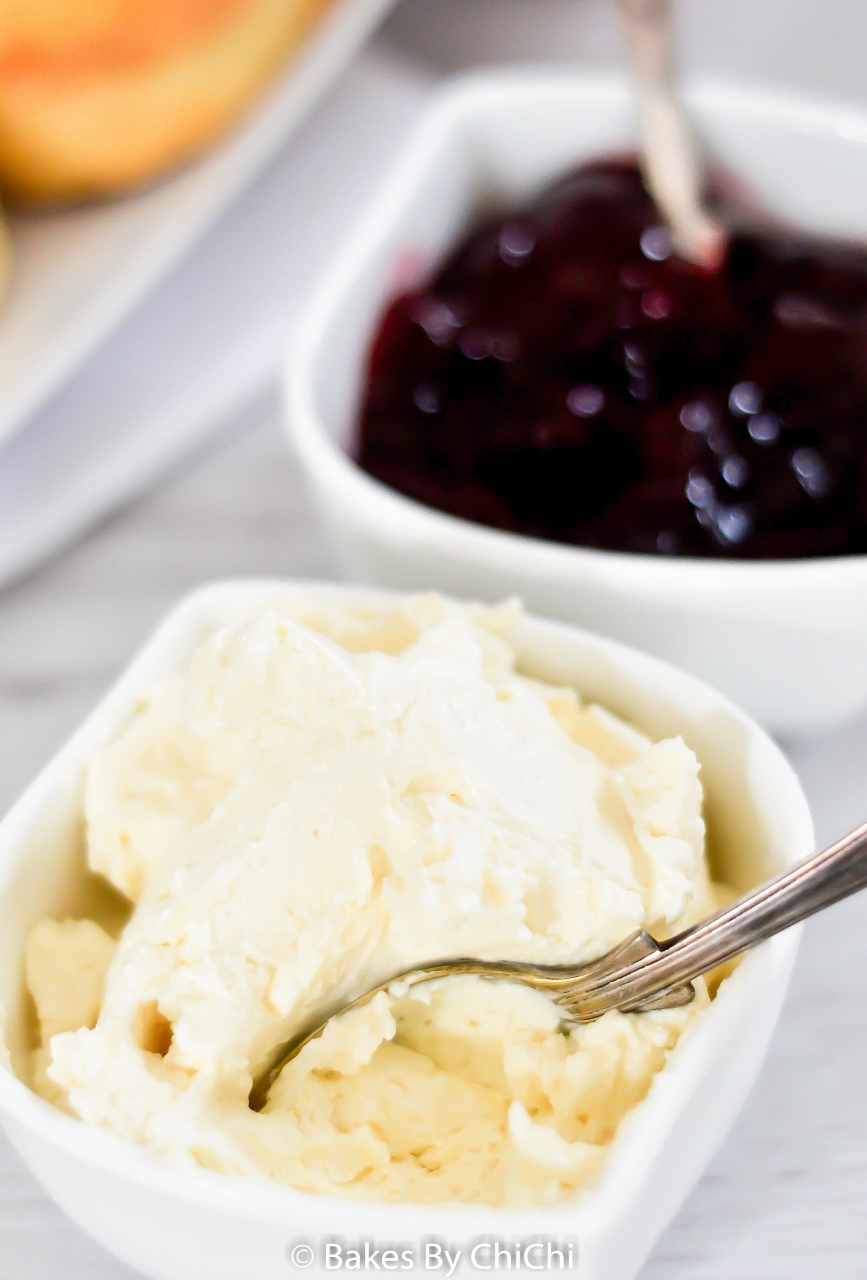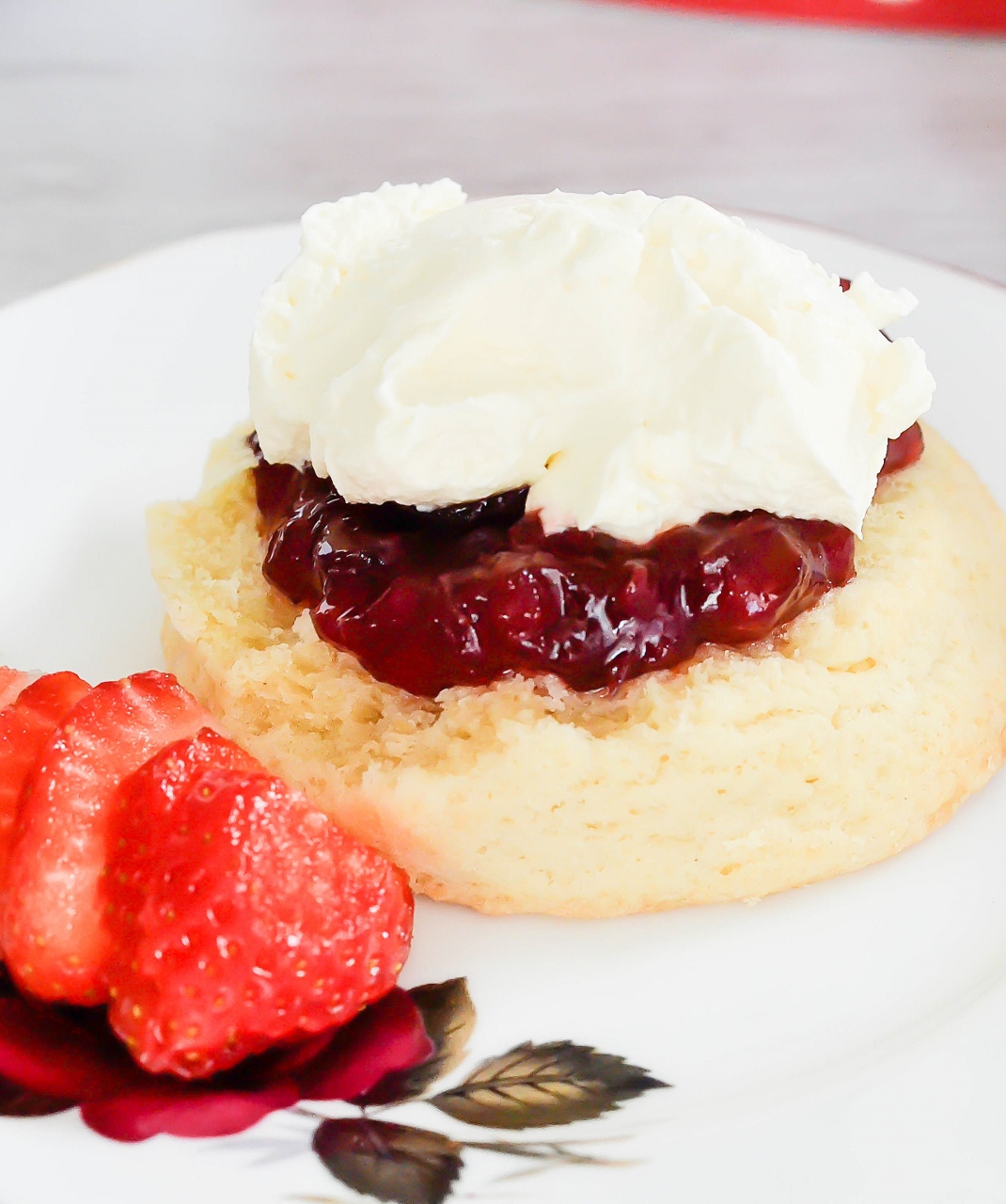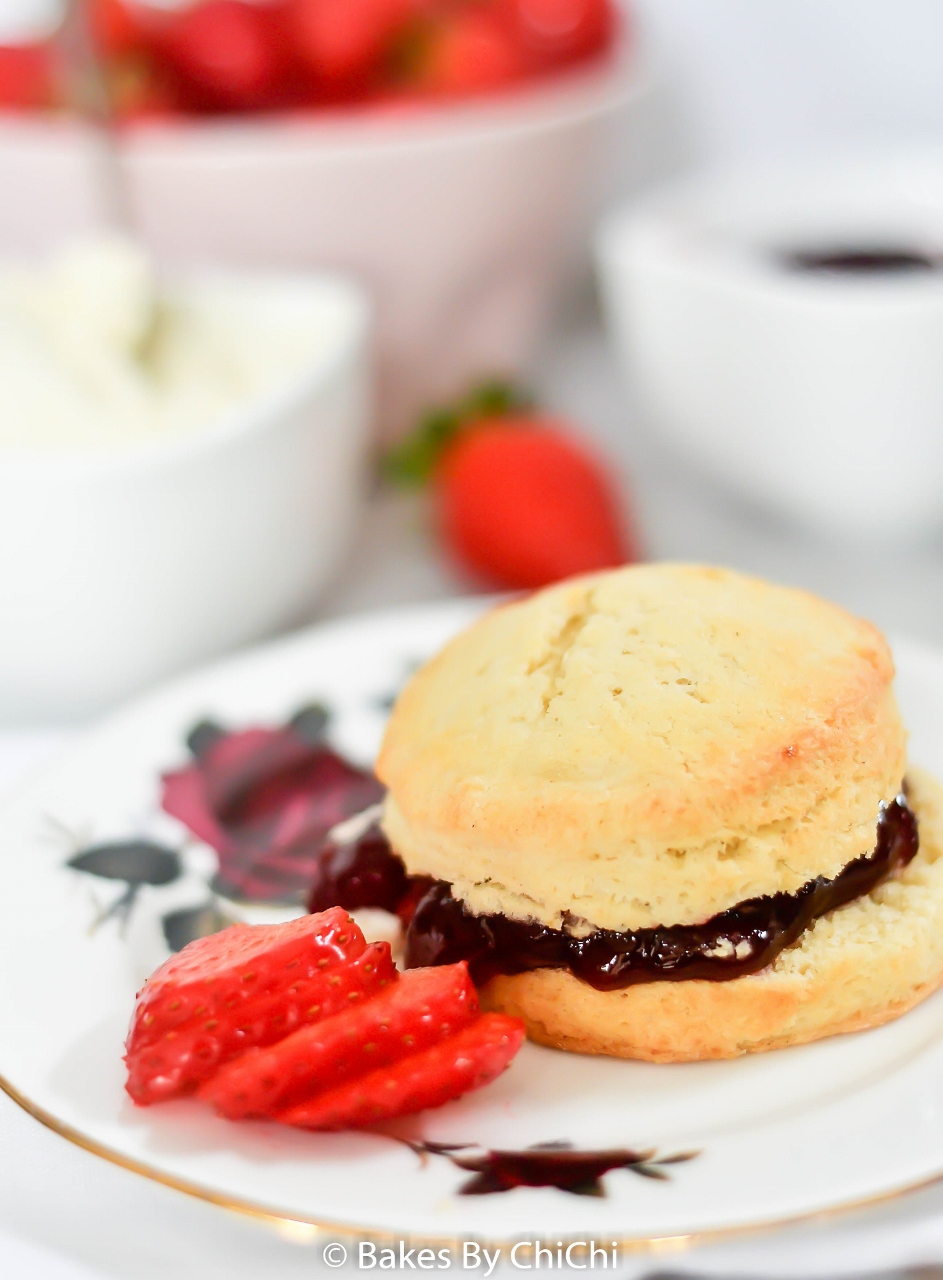 Bring afternoon tea to you with these delicious cream scones.
Stay up to date with Bakes by ChiChi on:
Facebook | Instagram | Pinterest | Google Plus | Bloglovin
Afternoon Tea Cream Scones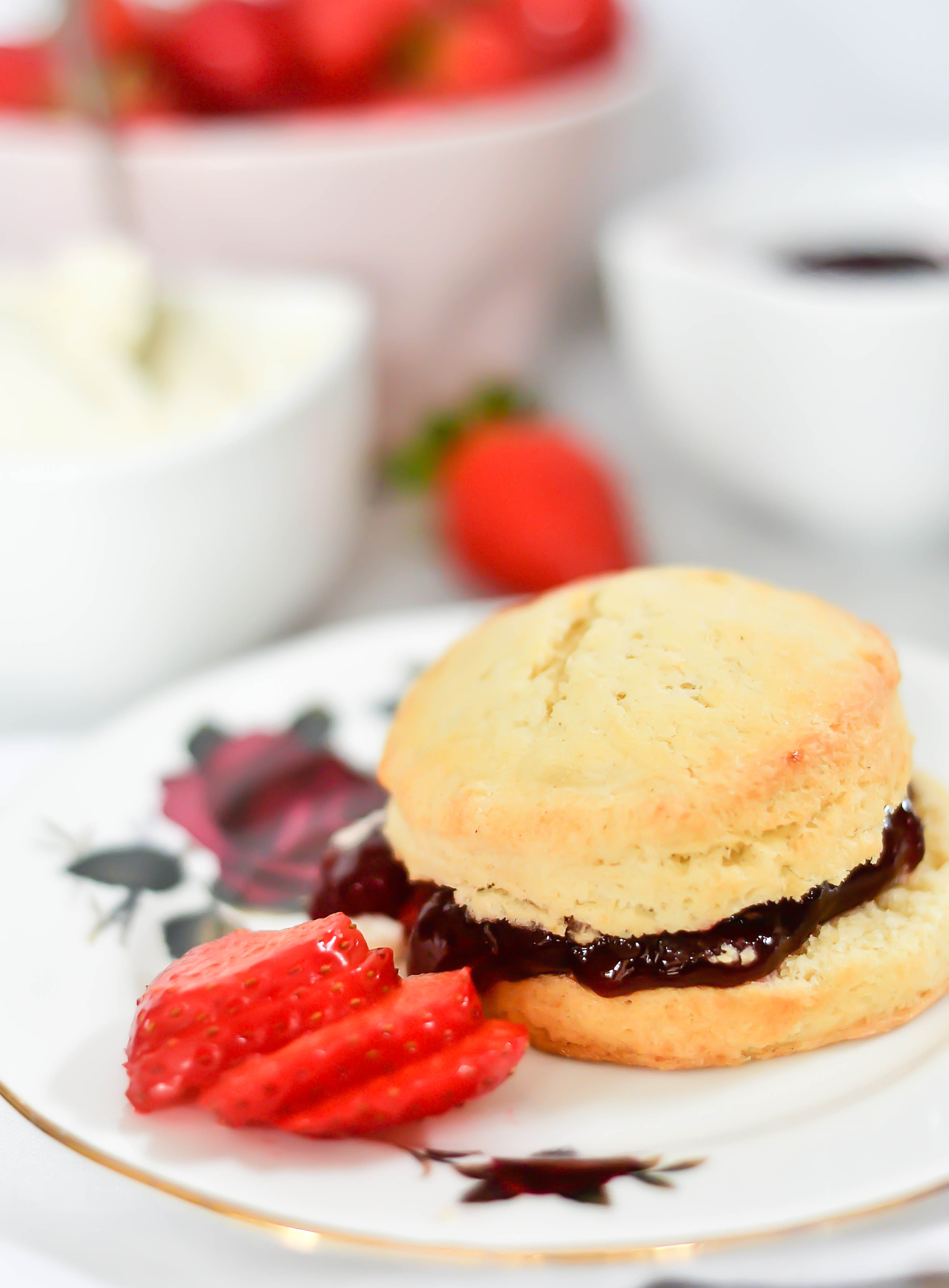 Ingredients
Cream Scones

300g (2 1/2 cups) plain flour
2 rounded tsp baking powder
1/2 teaspoon nutmeg (optional)
75g ( 1/4 cup + 1 tbsp) frozen butter
50g (1/4 cup) sugar
1 large egg
1 teaspoon vanilla extract
240 ml (1 cup) double cream
Mascarpone Cream
125 g (1/2 cup) mascarpone cheese
125 g (1/2 cup) double cream
1 teaspoon icing sugar (optional)
1/2 teaspoon vanilla extract
Instructions
Cream Scones
Heat the oven to 220 degrees Celsius. Lightly grease or line a baking sheet with greaseproof paper.
Sift the flour, baking powder and nutmeg into a bowl. Grate the frozen butter using a box grater over the flour. Toss the frozen butter and flour together using your fingers or two knives, until the mixture resembles fine breadcrumbs.
Stir in sugar. In a jug or small bowl beat the egg, cream and vanilla extract together. Put about 2 tbsp aside in a cup for later.
Pour cream mixture into flour mixture and mix gently with your hands or a wooden spoon until the dough comes together.
Lightly flour a work surface and turn dough onto it. Sprinkle the dough with a little bit of flour and then gently knead the dough until it is a little smoother.
Flatten it to a thickness of 1/2 an inch. Use a 21/2 inch cutter (smooth edged cutters tend to cut more cleanly giving a better rise) plunge into the dough, straight down then lift it out straight out. Repeat process. Gently push dough together, knead, flatten and cut out more scone.
Arrange on the prepared baking sheets and brush the tops with the reserved beaten cream mixture.
Bake for 10 - 12 minutes until well risen and golden on top.
Transfer to wire rack and leave to cool.
Mascarpone Cream
Combine mascarpone cheese, double cream and icing sugar in the bowl of a stand mixer. Beat until thick like firmly whipped cream. Add vanilla. Cover and chill until needed. Will keep for up to 2 days.
3.1
https://bakesbychichi.com/afternoon-tea-cream-scones/